Name

Nigel Godrich





Role

Record producer






Born

28 February 1971 (age 44) Westminster, London, England (

1971-02-28

)


Genres

Alternative rock, experimental rock, electronic




Occupation(s)

Recording engineer, record producer, musician, DJ




Instruments

Keyboards, synthesizer, sampler, sequencer, drum machine, laptop, guitar, bass guitar, piano, percussion, turntables, vocals




Associated acts

Radiohead, Atoms for Peace, Ultraista




Movies

The King of Limbs: Live from the Basement




Albums

Amok, Judge, Jury and Executioner, Ultraista Remixes, Ultraista




Music groups

Atoms for Peace (Since 2009), Ultraista




Awards

Grammy Award for Best Alternative Music Album, Grammy Award for Best Engineered Album, Non-Classical




Similar People

Thom Yorke, Joey Waronker, Mauro Refosco, Flea, Stanley Donwood
Thom yorke and nigel godrich talks to zane lowe on bbc radio 1
Nigel Timothy Godrich (born 28 February 1971) is an English record producer, recording engineer and musician. He is best known for his work with the English rock band Radiohead, having produced all of their studio albums since OK Computer (1997); he has been dubbed the "sixth member" of the band, in an allusion to George Martin being called the "Fifth Beatle". Godrich has also worked extensively with Radiohead singer Thom Yorke on his solo material, and is a member of the bands Atoms for Peace (with Yorke) and Ultraísta. Other acts Godrich has worked with include Beck, Paul McCartney, U2, R.E.M. and Roger Waters. He is the creator of the music webseries From the Basement.
Contents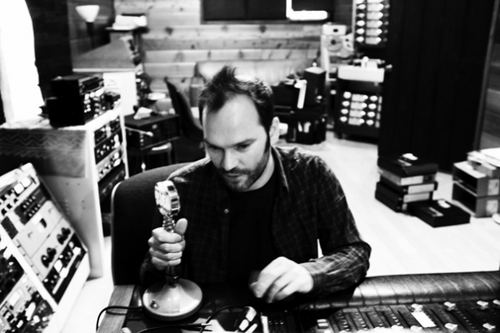 Thom yorke nigel godrich live in berlin 2013 full concert
Early years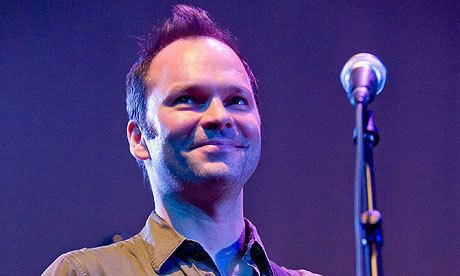 Nigel Godrich was born in Westminster, London, the son of a BBC sound supervisor. He was educated at William Ellis School in North London, where he shared classes with his friend and future Zero 7 member Henry Binns. Originally a musician (a guitarist inspired by Jimi Hendrix and Frank Zappa), he became interested in sound engineering and studied at the School of Audio Engineering. After graduating, Godrich became a junior staff member at the Audio One studio complex, working primarily as a "tea boy".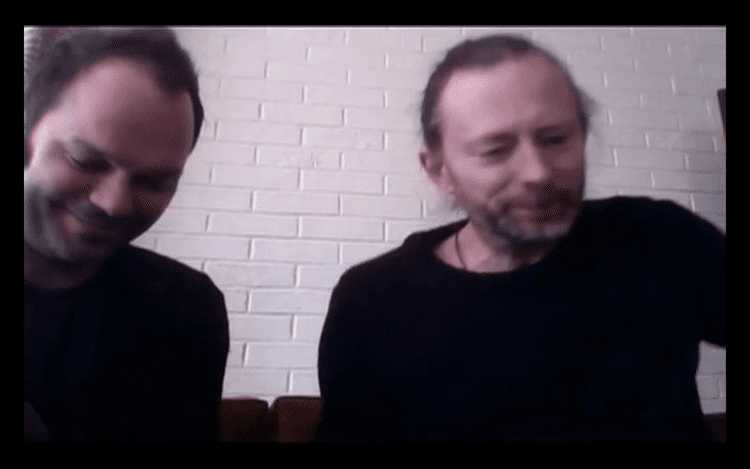 After the closure of Audio One, Godrich became the house engineer at Rak Studios, where he became a frequent tape operator for producer John Leckie, with whom he worked on albums by Ride and Denim. In 1995, Godrich left Rak to work with Binns on electronic dance music at their collective Shabang studio. Within six months he began working with mainstream acts including McAlmont & Butler and Radiohead.
Radiohead (1994–present)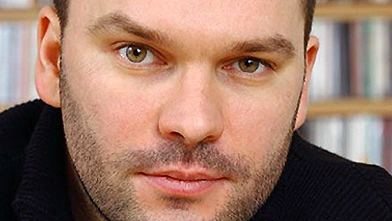 Godrich is best known for his work with the rock band Radiohead. Godrich first worked with Radiohead when Leckie hired him to engineer two songs for their 1994 EP My Iron Lung. The band nicknamed him "Nihilist", approving of his efforts to take their sound in new directions. He went on to engineer Radiohead's second album The Bends (1995), working under Leckie as producer. When Leckie left the studio to attend a social engagement, Radiohead and Godrich stayed in the studio to record B-sides, one of which, "Black Star", was eventually included on the album. In 1995, Godrich produced Radiohead's charity single "Lucky", plus the B-sides "Bishop's Robes" and "Talk Show Host", released on the "Street Spirit (Fade Out)" single.
Radiohead invited Godrich to produce their third album, OK Computer (1997). Working in improvised studios without the supervision of veterans or record labels, he and the band learned as they went, and later credited the open process with the record's success. In 2013, Godrich told the Guardian: "OK Computer was such a big thing for me because I was given power for the first time. Some of these incredibly intelligent and insightful people said 'do what you want' to me so I worked my arse off for them and together we did something that represents where we all were at the time. And it stuck for some reason. People got it, so that changed my life." He has produced every Radiohead release since, and won the Grammy Award for Best Engineered Non-Classical Album for Hail to the Thief (2003). Godrich's father died during the recording of Radiohead's ninth album, A Moon Shaped Pool (2016); he wrote: "Making this album was a very intense experience for me. I lost my dad in the process. Hence a large piece of my soul lives here in a good way."
In 2006, CBC described Godrich's longtime collaboration with Radiohead as "the most adventurous band-producer partnership in modern rock". He has been dubbed the "sixth member" of the band, in an allusion to George Martin being called the "Fifth Beatle". In 2016, Godrich said: "I can only ever have one band like Radiohead who I've worked with for this many years. That's a very deep and profound relationship. The Beatles could only have ever had one George Martin; they couldn't have switched producers halfway through their career. All that work, trust, and knowledge of each other would have been thrown out of the window and they'd have to start again."
Thom Yorke and Atoms for Peace
Godrich produced both of Radiohead singer Thom Yorke's solo albums, The Eraser (2006) and Tomorrow's Modern Boxes (2014). Describing his collaborative process with Godrich, Yorke said: "[The Eraser song] 'Black Swan', back in the day, was a six-minute load of crap. Except for this one juicy bit, and [Godrich] goes past and goes, 'That bit. Fuck the rest.' Usually it's something like that."
In 2009, to perform songs from The Eraser, Godrich and Yorke formed Atoms for Peace, with Godrich on guitar, keyboards and synthesisers. The band also includes bassist Flea of the Red Hot Chili Peppers, drummer Joey Waronker of Beck and R.E.M., and percussionist Mauro Refosco of Forro in the Dark. They played eight North American shows in 2010. In February 2013, they released an album, Amok, again produced by Godrich, followed by a tour of Europe, the US and Japan.
Other projects
Following his success with OK Computer, Godrich mixed most of Natalie Imbruglia's hit album Left of the Middle (1997) and R.E.M.'s Up (1998). He also produced Pavement's final album Terror Twilight (1999). Godrich has collaborated with American singer-songwriter Beck several times, on Mutations (1998), Sea Change (2002) and The Information (2006). The first two of these albums, particularly Sea Change, were noted for their atmospheric folk/pop sound, a major departure from the sample-heavy, spontaneous style Beck was best known for. Godrich has also worked with Travis three times, producing their commercial breakthrough The Man Who (1999), the follow-up The Invisible Band (2001) and The Boy With No Name (2007), although the band also worked with Brian Eno and Mike Hedges on the latter album.
In 2001, Godrich remixed U2's track "Walk On" for its single release. Godrich also mixed and contributed additional production on the French electronic group Air's albums Talkie Walkie (2004) and Pocket Symphony (2007). He produced the 20th anniversary version of "Do They Know It's Christmas?", released in December 2004.
In 2002, Godrich was hired by the Strokes to record their follow-up to Is This It, but was fired when their work together, according to the band, proved "soulless". Paul McCartney hired Godrich to produce his album Chaos and Creation in the Backyard (2005) after being recommended by Beatles producer George Martin. Godrich fired McCartney's touring band, and demanded that McCartney abandon songs Godrich found clichéd, over-sentimental, or subpar. The album was nominated for several Grammys including Album of the Year, and Godrich was nominated for Producer of the Year.
In 2010, Godrich worked with Beck to compose the score for Scott Pilgrim vs. the World, his first film work. Since 2012 Godrich has been a part of Ultraísta, along with drummer Joey Waronker and singer Laura Bettinson; they released an album in October that year. In 2015, Godrich made a cameo appearance as a Stormtrooper in Star Wars: The Force Awakens. He mixed the Red Hot Chili Peppers' eleventh studio album, The Getaway (2016). He produced the fifth solo album by Roger Waters, Is This the Life We Really Want?, released in June 2017.
From the Basement (2006–2009)
In September 2006, it was announced that Godrich, along with producer Dilly Gent, producer James Chads and John Woollcombe, were shooting the music series From the Basement, filmed from London's Maida Vale Studios.
The series was to focus on intimate, live performances by musicians without a host or an audience. Godrich told Pitchfork Media in an interview, "We've got a lot of people that I'd like to see on the show [that] we're talking to. [But] I don't want to mention their names. Obviously, I'm really interested to capture some really iconic, bigger names– really the whole point is to get people who are having their moment, to try and get a definitive record of what they're doing."
Godrich first conceived From the Basement as a means of authentically documenting music being made. Drawing further inspiration from British television music series The Old Grey Whistle Test, Godrich came upon the idea of a television programme. Despite early reports, From the Basement did not initially appear on British television, because of not taking on corporate sponsors.
Originally when the pilot was in production, From The Basement was to be an online programme only. However, this was not feasible as it did not generate enough money to produce the episodes to the quality level desired. Instead, the producers went to international TV networks to receive money up front to produce the series.
The series did eventually air on television; the first UK broadcast was on Sky Arts on 1 December 2007, featuring four songs performed by Radiohead frontman Thom Yorke on 8 December 2007. The United States premiere was on Rave HD on 22 February 2008, followed by a run on Independent Film Channel, as part of the network's "Automat" block of television programmes in the autumn of 2008.
On 3 November 2008, the series of performances was released on DVD.
References
Nigel Godrich Wikipedia
(Text) CC BY-SA