Actor jeeva scenes back to back vol 2 telugu movie scenes sri balaji video
Jeeva (Telugu: జీవ; born 30 November 1952) is an Indian film actor from Andhra Pradesh who is known for his bit parts in Hindi and Telugu cinema. He acted in more than 1000 films. He has been working in films since 1984 and is well known for his negative roles in various Ram Gopal Varma films, particularly Satya (Jagga), Ab Tak Chhappan (Commissioner Suchak) and Sarkar (Swami Virendra).He has acted around 250 Movies in Telugu and Hindi.
Contents
Personal life
He was born as Kocharla Dayaratnam. K. Balachander changed his name to Jeeva.
Career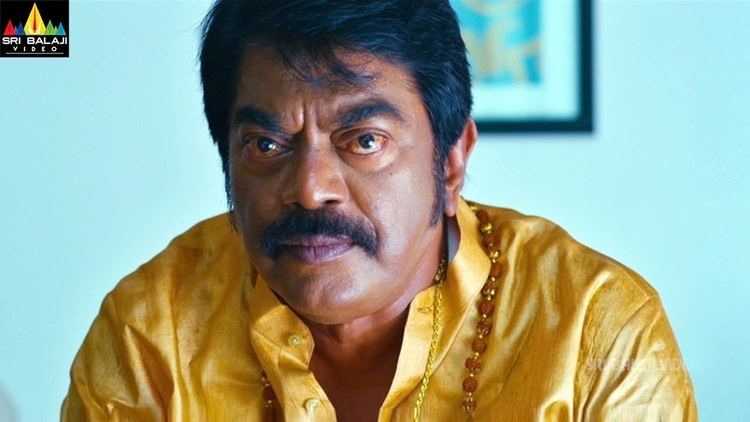 He made his debut as an actor with the film Tholi Kodi Koosindi directed by K. Balachander. He was selected for this role from a number of aspirants. Later he worked with popular directors like Ram Gopal Varma, Vamsy, Krishna Vamsi, Puri Jagannadh etc.
Telugu
{{
786 (Khaidi Premakatha) (2005)
Aada Bomma (1988)
Aadavari Matalaku Ardhalu Verule (2007)
Abbaigaru (1993)
Adavi Chukka (2001)
Adrustam (2002)
Andhrawala (2004)
Agni Samadi (1983)
Alaa 5 March (2007)
Allare Allari (2007)
Amma Durgamma (1996)
Amma Nagamma (1996)
Ammo Bomma (2001)
Ammulu
Amruta Varsham
Andari Kosam
Anna (1994)
Anna Thammudu (1990)
Andaru Dongale Dorikithe (2004)
Anjaneyulu (2009)
Apparao Driving School (2004)
Asadhyudu (2006)
Ashok (2006)
Atadevaru
Athade Oka Sainyam (2004)
Attha Nee Koduku Jagaratha
Avunu Valliddaru Ista Paddaru (2001)
Ayodhya Ramayya
Badrachalam (2001)
Balu ABCDEFG (2005)
Bandipotu Rudramma (1983)
Bangarukonda
Bank (2008)
Bebuli Veta (1985)
Bendu Apparao R.M.P (2009)
Bhadra (2005)
Bhadradri (2008)
Bhageeratha (2005)
Bhajantrilu (2007)
Bhale Khaidilu (1992)
Bharatha Simham
Bharatham Lo Sankaravam (1984)
Bhookailas (2007)
Black & White (2008)
Blade Babji (2008)
Bobbili Brahmanna (1984)
Brahma
Brahma Nayudu (1987)
Bujjigadu (2008)
Chakram (2005)
Chandamama (2007)
Chandi Chamundi (1983)
Charminar (2003)
Chatrapati (2005)
Chattam (2011)
Cheekati Suryulu (1998)
Chettu Kinda Pleader (1989)
Chilakkottudu (1997)
Chinna
Chinnari Devata (1987)
Chirujallu (2001)
Damarukam (2012)
Desamuduru (2007)
Detective Narada (1992)
Deva (1999)
Deyyam (1996)
Dhaku Rani (1986)
Dhanush (2003)
Don (2007)
Donga Police (1992)
Donga Ramudu & Party (2003)
Dongodu (2003)
Dongodu Vachadu
Dopidi Dongalu
Dongala Bandi (2008)
Druva Nakshatram (1989)
Durga
Encounter (1997)
English Pellam East Godavari Mogudu (1999)
Evadi Gola Vaadidhi (2005)
Friends Colony (2008)
Gajibiji (2008)
Gamyam (1998)
Ganapathi
Ganesh (1998)
Gandipeta Rahasyam (1989)
Gharana Donga (1980)
Giligintalu (2009)
Gopi Gopika Godavari (2009)
Gorintaku (2008)
Gulabi (1995)
Hey Rama Enti Gola
High Class Atta Low Class Alludu (1997)
Hit List
Iddaru Atthala Muddula Alludu
Idiot (2002)
Indrajit (1990)
Indrajit
Itlu Sravani Subramanyam (2001)
Jagadguru Sri Kasi Nayana Charitra
Jaji Malli
Jay Bhetala (1985)
John Appa Rao 40 Plus (2008)
Joker Mama Super Alludu (1992)
Julayi (2012)
Kabaddi Kabaddi (2003)
Kaliyuga Divam
Kamrade
Karuninchina Kanaka Durga (1992)
Kathi Kantha Rao (2010)
Kevvu Keka (2013)
Khaidigaru (1998)
Kokila (1990)
Kokilamma (1983)
Konchem Touch Lo Unte Cheptanu
Kshudra (2008)
Kuberulu (2008)
Kulanna (1999)
Kuli (1988)
Kunti Putrudu (1993)
Lagna Patrika (2002)
Lankeswarudu (1989)
Maa Ayana Sundarayya
Madatha Kaja (2011)
Maisamma IPS (2007)
Mangatayyaru Tiffin Center (2008)
Manoharam (2000)
Mantra (2007)
Mantra Dhandam (1985)
Maruti
Mass (2004)
Mestri Ukruvaram Mahalakshmi (1992)
Moguds Pellams (2005)
Mounam (1995)
Mrugam (1996)
Mudda Banti Puvvu
Mulla Kiritam
Namo Venkatesa (2010)
Panchamuki
Raksha (2008)
Ranam (2006)
Salam Hyderabad
Saleem (2009)
Samanthakamani (2017)
Samardhudu (2009)
Sambayya (1999)
Sambhavam (1998)
Sanchalanam
Savitri (2016)
Shatruvu
Shock (2006)
Shole
Simha Garzana (1995)
Sita Rama Kalyanam
Siva...
Siva Ram
Sivudu
Soggadu (2005)
Sombheri (2008)
Sontha Ooru (2009)
Sorry Naaku Pellaindi (2004)
S.P. Bayankar (1984)
Sri (2005)
Sri Krishna 2006 (2006)
Sri Mahalakshmi (2007)
Sri Ramulayya (1999)
State Rowdy (2007)
Sultan (1999)
Sundaraniki Tondara Ekkuva (2006)
Swamy (2004)
Swarajyam (1983)
Swargam Narakam
Swarnakka (1998)
Swamy Ra Ra (2013)
Tagore (2003)
Tata Birla Madhyalo Laila (2006)
Telangana (1999)
Telugu Veera Levara (1995)
Terror (1985)
The End
The Great Indians
Thikka (2012)
Tholi Kodi Koosindi (1980)
Tinnama Padukunnama, Tellarinda (2008)
Toss (2007)
Uregimpu (1988)
Varasudu (1993)
Varasudu Vachadu (1988)
Vasthavam (1993)
Veedevadandi Babu (1997)
Veedhi (2006)
Veedhi Rowdy
Veduka
Velugu Needalu (1999)
Venky (2004)
Vijaya Rama Raju (2000)
Villain (2003)
Vishnu Chakram
Viyyalavari Kayyalu (2007)
Wall Poster (2008)
Yamadutalu (1984)
Yuvasena (2004)
Yavvana Poratam
Yes Nenante Nene (1994)
Hindi
Lahore (2009) .... Kunjal Bhaskar Reddy
Ram Gopal Varma Ki Aag (2007) .... Dhaania
Yatra (2007)
Darwaza Bandh Rakho (2006) .... Sharat Shetty
Sarkar (2005) .... Swami Virendra
D: Underworld (2005)
Ab Tak Chhappan (2004) .... Commissioner M.I. Suchek
Satya (1998) .... Jagga Hyderabadi
Tamil
Vettaikaaran (2009)
Nallavanukku Nallavan (1984)
Kannada
Super (2010)
Malayalam Ahimsa ( 1982 )
References
Jeeva (Telugu actor) Wikipedia
(Text) CC BY-SA