Country

India


State

Gujarat


District

Jamnagar




Mayor

Dinesh Patel





Population

443,518 (2001)




Area

53.3 km2


Region

Saurashtra




Founded

1540 A.D.




Literacy

82.58%(2011)







Colleges and Universities

Gujarat Ayurved University, M.P. Shah Medical College, Government Dental College




Languages spoken

Gujarati, Hindi, English

Map of Jamnagar
Jamnagar ( pronunciation ) is a city located on the western coast of India in the state of Gujarat in Saurashtra (region). It is the administrative headquarters of the Jamnagar District. Jamnagar is the largest city on the westernmost side of India.
Contents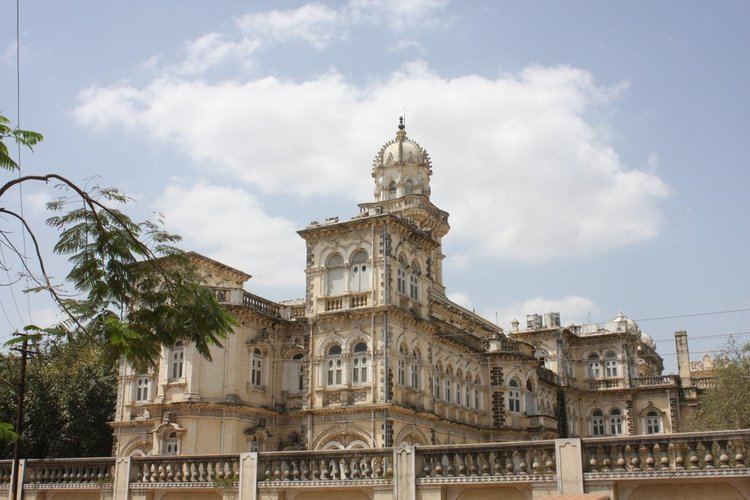 The modern look of the city was initially given by Jam Saheb Shri Ranjitsinhji, who actual built the city with all the modern infrastructure of that era was done during his reign during 1920s, the city was thereafter substantially developed by Jam Saheb Shri Digvijaysinhji Ranjitsinhji in the 1940s, when it was part of the Princely state of Nawanagar. The city lies just to the south of the Gulf of Kutch, some 337 kilometres (209 mi) west of the state capital, Gandhinagar.
India's largest private petroleum company, Reliance Industries, has established the world's largest oil refinery near the village of Moti Khavdi in Jamnagar district. The Essar Oil refinery is located in the nearby town of Vadinar.
Wap4 jamnagar jammu sindhu panch pipila
History
Nawanagar was founded by Jam Rawal in 1540 as the capital of the eponymous Princely state. Jamnagar, historically known as Nawanagar (the new town), was one of the most important and the largest Princely states of the Jadejas in the Saurashtra region. It was a 13 gun salute state. According to Pauranik literature, Lord Krishna established his kingdom at Dwarka town in Jamnagar district, after migrating from Mathura, and accordingly, it is to the Yadava race that the Jams of Nawanagar trace their ancestry.
According to historical records, Bahadurshah, the emperor of Gujarat, bestowed upon Jam Lakhaji twelve villages in recognition of his role in the siege of Pawagadh. Jam Lakhaji, however, was killed by his cousins, Tamachi Deda and Jam Hamirji Jadeja, after he took possession of the villages. His son, Jam Rawal, thereafter murdered his father's killers and became ruler of Cutch.
Hamirji's two sons Khengarji and Sahibji fled to Delhi to pay obeisance to the Mughal Emperor Humayun. During a lion hunt, the two brothers saved the Emperor from being killed by a lion. As a reward for their valor, an army was sent with them to regain their kingdom. When Jam Sri Rawalji heard of the two princes coming back to the Kutch with the imperial army, he prepared for battle.
One night, Goddess Ashapuraji, the supreme deity of the Jadeja Clan of Rajputs, came to Jam Sri Rawalji in a dream and told him that although he had broken an oath taken in her name not to kill Hamirji, even though he was the person responsible for his death, she had refrained from punishing him because he had at all other times honoured her, but he was no longer to dwell in Cutch.
Jam Sri Rawalji and his entourage marched out of Cutch, attacked and killed Tamachi deda, the main conspirator in the killing of his father, and conquered the town of Amran and its dependencies. Jam Sri Rawalji bestowed the rule of Dhrol province on his younger brother Hardholji, who was later killed in battle at Mithoi near Khambhalia, whereupon the throne passed on to his eldest son, Jasoji. Jam hri Rawalji conquered parts of Saurashtra and formed his kingdom with 999 villages named it as Halar.
Once on a hunting trip in present-day Jamnagar, a hare was found to be brave enough to turn on the hunting dogs and put them to flight. Deeply impressed by this, Jam Sri Rawalji thought that if this land could breed such hares, the men born here would be superior to other men, and accordingly he made this place his capital.
On the seventh day of the bright half of the month of Shrawan, V.S. 1956 (August 1540) on the banks of the rivers Rangmati and Nagmati, he laid the foundation of his new capital and named it Nawanagar (new town), which after few centuries came to be known as Jamnagar, meaning the town of the JAM's.
Climate
Jamnagar has a hot semi-arid climate (Köppen: BSh). There are three defined seasons. The "hot" season lasts from March to May and is extremely hot and humid, before giving way to the "wet" season with extremely erratic monsoonal rainfall that averages around 630 millimetres (25 in) but has varied from less than 100 millimetres (3.9 in) in 1911 and 1939 to over 1,500 millimetres (59.1 in) for the district in 2010. Tropical cyclones sometimes affect the region during this period. The "cool" season from October to February remains hot during the day but has negligible rainfall, low humidity and cool nights, so it is by far the most comfortable time of year.
The highest recorded temperature was 47 °C (117 °F) on May 5, 1990, while the lowest recorded temperature was 1 °C (34 °F) on February 5, 1984.
Demographics
At the time of the 2011 Indian census, Jamnagar had a population of 479,920, and its urban agglomeration 600,943. Jamnagar has an average literacy rate of 82.14%, higher than the national average of 74.04%: male literacy is 86.90%, and female literacy is 77.05%. In Jamnagar, 10% of the population is under 6 years of age. Males constitute 53% of the population and females 47%. In 2011, the sex ratio in Jamnagar was 939 females per 1000 males. The urban development authority of Jamnagar is Jamnagar Area Development Authority (JADA).
Culture
Most residents of Jamnagar are Gujarati and speak the Gujarati language. A small portion of the population speak the Kutchi language, which is written in the Gujarati script but not mutually intelligible with Gujarati. The Kathiawadi language (which is a colloquial dialect of Gujarati) is widely used for day-to-day communication. Major communities include the [[Jadeja],]Charan(Gadhvi), Satvaras (Dalvadis), Ahirs (Yadav), Patels, Bhanushalis, Rajputs, Mers, Jains, Lohanas, Brahmins, Bhoi(Bhoiraj) and Vaghers (Muslim and Hindu), and Khavas (Sorathiya).
The Marine National Park, the only marine sanctuary in India, is near Jamnagar, on the coral reef island of Pirotan. Jamnagar is well known for its four marble Jain temples: Vardhman Shah's Temple, Raisi Shah's Temple, Sheth's Temple, and Vasupujya Swami's Temple; all built between 1574 and 1622. The Bala Hanuman Temple in Jamnagar is also very famous and is listed in The Guinness Book of World Records for the longest continuous chanting of "Ram Dhun" (since 1 August 1964). Also in the Guinness Book of Records is the world's largest Rotla, which weighed 63.99 kg (141 lb 1 oz) and was made by the Shree Jalarm Mandir Jirnodhar Samitee organisation at the Jalaram Temple, Jamnagar, on 15 January 2005.
Religion
Jamnagar contains several ancient temples, such as Sidhnath Mahadev Temple in the Jamnagar city area, the historic Navlakhi Temple in Ghumli, very ancient Kileshwar Temple in the Barda Hills, the ancient Sun Temple at Gop and the Bhid Bhanjan Temple built by the JAM Saheb. Bala Hanuman is highly venerated among the devotees of Rama. The Bala Hanuman Temple is noted for the continuous chanting of the mantra "Sri Ram, Jai Ram, Jai Jai Ram". Started on 1 August 1964, the chant continues for 24 hours a day, in shifts, and is still continuing. This has earned the temple a place in the Guinness Book of World Records Click here to know how many years
There are many Shiv Temples within the city, such as Badri Kedar Nath, Nilkanth Mahadev Temple and Bhid Bhanjan Mahadev Temple near the Town Hall and the Kashi Vishwanath Temple on the K.V. Road.
Jamnagar is well known for its four marble Jain temples: Vardhman Shah's Temple, Raisi Shah's Temple, Sheth's Temple, and Vasupujya Swami's Temple. All were built between 1574 and 1622. There are more than 30 Jain Temples in Jamnagar.
19% of Jamnagar District's population is Muslim. The local population has long given up its ancestral fishing business, and adopted many new age professions as the local economy has picked up due to the industrialisation of Jamnagar and the arrival of several giant companies.
Brass Parts
It was formerly known as 'Brass City', since it houses more than 5,000 large-scale and 10,000 small-scale workshops manufacturing brass items in and around the industrial estates of Shankar Tekari, GIDC Phase-III, M P Shah Udhyognagar and Dared GIDC-II Industrial estate. Brass parts & Extruded Rods produced here are used in number of products. Also some parts are exported to Europe, United States, China and many other countries around the world. Jamnagar has the largest production of Brass items in the country.
Refineries
Jamnagar is known as 'World's Oil City' because the world's biggest oil refinery, belonging to Reliance Industries, and a smaller one belonging to Essar Oil are located in Jamnagar. The Jamnagar Refinery is a private sector crude oil refinery owned by Reliance Industries Limited. The refinery was commissioned on 14 July 1999 with an installed capacity of 661,000 barrels per day (105,100 m3/d). It is the largest refinery in the world. The refinery is currently undergoing a massive expansion, scheduled for commissioning in 2008, that will double its capacity to 1.2 million barrels per day (190,000 m3/d).
According to an article in the 28 April 2008 issue of Fortune Magazine, the Reliance Industries oil refinery at Jamnagar will produce 1.2 million US gallons (4,500 m3) of petroleum, or 5% of the world's capacity, after the expansion is completed in December 2008. The expansion began in October 2005 and is being managed by San Francisco-based Bechtel Corporation. The expanded refinery covers an area equal to 1/3 the size of Manhattan. The refinery has an advanced design, so that it can process a wide range of crude oils, including heavy high-sulfur sour crude, which many refineries cannot handle. Reliance Industries has said that the refinery's output is for export only and will not be sold domestically within India. Reliance is targeting the US market for gasoline and the European market for diesel. The refinery is owned by Reliance's Reliance Petroleum Ltd. unit, in which US oil company Chevron Corp. has a 5% stake. The Essar refinery is also going under a massive expansion along with construction of private jetty. The GSFC also has a plant in out skirts of Sikka village which is apparently close to the Reliance refinery.
Armed Forces
Jamnagar has base stations of all three wings of Defence: the Indian Air Force, Indian Army, and Indian Navy. Geographically Jamnagar supports all branches of defence, as it has access to the sea for the Indian Navy and a large air base due to the city's strategic location close to Pakistan.
Port
The city has an all-weather intermediate seaport, Bedi Port, seven kilometres away, through which various merchandise is imported and exported. According to the recent figures available from the local Port Office, in 2007–2008 exports were 3,912,402 metric tons and imports 1,388,181 metric tons, for a total 5,300,583 metric tons. The major commodities exported from this port are bauxite, soya meal extracts, and ground nut extracts, while the imports include coal, fertiliser and other items. The port has a draft of 7 metres so cargo vessels are anchored mid sea and then barges transport the cargo to the port. Vessels with up to 180,000 MT can be handled at the Bedi port.
Bauxite Mines
Also Jamnagar has huge reserves of bauxite, contributing 96% of the total production in the state.
Jamnagar is also famous for its Bandhni clothes. Approximately 10% of Jamnagar derives its income from this industry; this clothing is traditional in Jamnagar, and it is exported outside of India.
Airport
The city has an airport (IATA: JGA – ICAO: VAJM) with a daily direct flight to Mumbai. The airport is a military enclave of the Indian Air force which allows commercial flights.
Rail
Jamnagar has a railway station connected with a variety of destinations across India. Jamnagar has 4 daily trains to Mumbai and weekly trains to the major cities of north, east and south of country.
Road
There are many Private bus service providers with coaches running between Jamnagar and Bhuj, Ahmedabad, Surat, Vadodara, Mumbai, Pune many other major cities of Gujarat and other states as well. Apart from private bus services, State Transport has bus services to almost all cities of Gujarat State & inter state transport facilities as well.
Local
The Jamnagar Municipal Corporation runs local buses in the city. Also auto rickshaws are available everywhere. Recently, Ola Cabs has started its operations here along with Taxi for Sure.
Education
Jamnagar has many schools including private, government granted schools. The M.P. Shah Medical College is considered to be one of the top colleges in India for Medical studies. The Gujarat Ayurved University in Jamnagar is considered to be the best university in the world for Ayurvedic studies & has students from all around the globe. Besides this, there are several colleges for arts, commerce and science. Jamnagar also has Government Dental College & Hospital.
Primary & Secondary Institutes
Shree Satya Sai Vidyalaya
St. Xavier's High School
Kumar Mandir
P V Modi
Shree L.G. Haria
St. Ann's School
St. Gregorios High School
St. Mary's High School
Shree Rastradeep Vidhyalay
G.D.SHAH HIGH SCHOOL
The Patel Academy
CBSE Affiliated schools
Sainik school balachadi ,jamnagar
Air Force School Jamnagar
Delhi Public School, Jamnagar
Jawahar navodaya vidyalaya
Kendriya Vidhalaya I.N.S Valsura
Kendriya vidhalaya Infantry line
Kokilaben Dhirubhai Ambani Vidyamandir
Nand Vidya Niketan
Sarojben Memorial International School
Shri D.C.C. Vividh lakshi High School
SDCCL Public School
TATA Chem DAV Public School
Sunflower School, Jamnagar
Gujarat Board Affiliated schools
Kalindi International School
Pranami High school
Nand Vidya Niketan Essar School
Shreemati Parvati devi Vidhya mandir and Shree Shastri Tryambakram High school
St. Francis School
Engineering Colleges
Government polytechnic college
Kalyan Polytechnic Institute
Shree Kankeshwari Deviji Institute of Technology
krishna Institute of Engineering Technology
Arts, Commerece, Science, Management & I.T. Colleges
A K Doshi
Smt. C.Z.M. Gosrani B.C.A. College
Shri JVIMS-KBS M.C.A. College
Shri JVIMS-BTV M.B.A. and M.A.M. College
D.D. Nagda College Campus
G.H.G Commerce College
H J Doshi
National Computer College
M P Shah College
SVET College
Shree D K V Arts & science College
Shri Vidhyasagar Infotech College
V M Mehta College
University
Medical Colleges
M P Shah Medical College
Dental College
Government Dental College & Hospital
Places of interest
Darbargadh Palace
Darbargadh (Maharajah's palace), the old royal residence of Jam Saheb and the most important historical complex in Jamnagar, reflects the fusion of Rajput and European styles of architecture. The semi-circular palace complex consists of a number of buildings with very fine architectural features and detailing. It has some fine examples of stone carvings, wall paintings, fretwork jali-screens, ornamental mirrors, carved pillars and sculpture. The walls outside have carved jarokha balconies in the Indian tradition, a carved gate and Venetian-Gothic arches. The earthquake in 2001 caused significant damage to the Darbargadh.
Lakhota Fort

This small palace, on an island in the middle of Lakhota Lake, once belonged to the Maharaja of Nawanagar. This fort-like palace has semi-circular bastions, turrets, a pavilion with guard-rooms housing swords, powder flasks and musket loops. An arched stone bridge with a balustrade connects the Lakhota Palace with the town. Today it houses a small museum. The fort museum has a good collection of sculptures that spans a period from the 9th to the 18th century and pottery found in ruined medieval villages from the surrounding area. The museum is reached by a short causeway from the northern side of Ranmal Lake and is open daily except on Wednesdays.
Willingdon Crescent
The impressive Willingdon Crescent was constructed by Ranjit Singh, inspired by his European journey. It comprises arcades of cusped arches, larger on the ground floor and smaller on the upper storey, pilasters on the curving walls, and balusters on the parapet. The statue of Jam Saheb is situated in the centre of the crescent. The 2001 Gujarat earthquake caused only slight damage to this shopping area.
Pratap Vilas Palace
The beautiful Pratap Vilas Palace, built during the rule of His Royal Highness Ranjitsinhji, is a distinct place to visit for a variety of reasons. It has European architecture with Indian carvings that give it a totally distinct appeal. It was built as an imitation of the Victoria Memorial Building in Calcutta, but the domes built on it are according to Indian architecture, three of them made of glass. Carvings of creepers, flowers, leaves, birds and animals on the columns make the palace lively. Damage in the 2001 earthquake caused a costly loss of some parapets, and the separation of some upper walls at the roof level in some corners. Visitors are not allowed in.
Kotha Bastion
The Kotha Bastion contains a fine collection of sculptures, coins, inscriptions and copper plates and the skeleton of a whale. One of its most interesting sights is an old well where the water can be drawn by blowing into a small hole in the floor.
Dhanvantri Mandir
Dhanvantri Mandir was built under the personal supervision of Dr. Pranjivan Manekchand Mehta, Chief Medical Officer of Guru Govindsingh Hospital. After independence it gained the status of Ayurveda University. It has a good library, workshops and has been a place for research and international seminars on Ayurveda, an ancient Indian medicinal system.
Solarium
Also known as the Ranjit Institute of Poly-Radio Therapy, the Solarium was built by Jam Shri Ranjitsinhji during his rule by bringing in an expert from France. This slowly revolving tower provides full daylong sunlight for the treatment of skin diseases. With the destruction of two similar solaria in France during World War II, this is probably now the only one of its kind in the world, and certainly in Asia. Due to advancement in medicine and treatment it is now obsolete and not in working condition for the treatment.
Bhujio Kotho

Bhujio Kotho is well known among tourists due to its height and circumference. It is on the bank of the Lakhota Tank, near Khambhaliya Gate. This monument has five floors, and is believed to have been constructed for protection during the invasions. On the first floor there were guns placed in each direction, and in the walls, holes for rifles are found. On the upper floor a tank with a dancing peacock on its peak was constructed to store water. Unfortunately, in an earthquake in 2001 Bhujio Kotho partially collapsed and visits are now prohibited due to safety concerns.
Bohra Hajira
The Bohra Hajira is also worth a visit. On entering Jamnagar City by road on the Rajkot Highway, one can see this magnificent structure on the banks of the river. Permission has to be obtained before visiting the place. Many years back boats used to sail on the Rangmati and Nagmati Rivers, but presently the water level is low; often the river dries up and the river bed is used for hosting the Shravan Month Fairs.
Jam Ranjitsinhji Park (Ranjit Sagar Dam)
The Municipal Corporation of Jamnagar has recently developed a Park near Ranjit Sagar Dam. The park has a beautiful garden with colourful fountains. There are also rides for children. The park remains open from 10am to 8pm on all days except Sunday and Monday. On Sunday the park remains open till 10pm and on Monday it is closed for maintenance.
Khijadiya Bird Sanctuary
Khijadiya Bird Sanctuary is located approximately 30 kilometres from Jamnagar. It is the largest bird sanctuary in Gujarat. About 300 species of Migratory birds visit this place every year. It is a great place for nature photographers. Visitors from around the world come to Khijadiya every year.
Balachadi Beach
The balachadi beach is located 27 kilometres from Jamnagar. It is a beautiful beach where one can enjoy nature without any hussles of the city. During the World War II, the then ruler of Jamnagar, Jam Digvijaysinh built a summer camp for polish refugee children seeking shelter from the Nazi after they were denied entry at the Mumbai Port. Later it was converted into present day Sainik School, Balachadi
Temples
Vardhman Shah's Temple
Vardhman Shah's Temple is a delightful shrine and one of the four main Jain temples in Jamnagar. The foundation stone of this shrine was laid in 1612, during the reign of Jam Jasaji I, and it was completed in the year 1620. Fifty-two very small temples or 'Deri' were built around the temple in 1622. This temple is dedicated to Adinathji, first tirthankar of Jainism.
Shantinath Mandir
Shantinath Mandir is situated south-west of Bedi Gate in Jamnagar. The temple has intricate carvings and the walls are adorned with fine murals, which depict the lives of Jain saints. The floor is made of marble and decorated with distinctive Jain patterns in yellow, black, white and red.
Mota Ashapura Maa Temple The Goddess (Kuldevi) of the Jadeja clan of Rajputs who ruled this place. The temple is located in the east part of Jamnagar where the entrance (gate) leads into the city and is close to Darbargadh in the old city area.
Bala Hanuman Temple
The Bala Hanuman Temple is on the south-eastern side of Ranmal Lake. The temple is famous for the continuous 24-hour chanting of the mantra 'Sri Ram, Jai Ram, Jai Jai Ram', since 1 August 1964. This devotion has earned Bala Hanuman Temple a place in the Guinness Book of Records. Thousands of devotees visit the temple every year. Early evening is a particularly good time to visit the temple.
Bholeshwar Mahadev Temple
Bholeshwar Mahadev Temple is approx 2 km away from village murila of Tehsil Lalpur. The temple is situated on the bank of the River Dhandhar. This temple is famous for its fair on Shravani Amas.
Navtanpuri Dham
Shri Navtanpuri Dham popularly known as Khijada Mandir situated in Jamnagar, Gujarat was founded by Nijanand Swami Shri Devchandreji the former Achraya of Shri Krishna Pranami Sampradaya in 1630 A.D. He was a realized Soul. Formerly this holy place was a garden. According to the Pranami Vitak-tradition once Shri Devchandraji went to the garden and took a small twig of a Khijda tree for cleaned his teeth and then tearing into two, planted them into the ground. During the course of time they grew into two big trees and both the trees are still attached to the main wall of the shrine. Due to this the temple is known as "Khijada Mandir" all around.
Parks and Gardens
Khijadia Bird Sanctuary
Khijadia Bird Sanctuary, located 10 kilometres (6.2 mi) north east of Jamnagar, features a seasonal freshwater shallow lake, inter-tidal mudflats, creeks, saltpans, saline land and mangrove scrub. The place is a known breeding ground of the Great Crested Grebe. Apart from this, the Little Grebe, Purple Moorhen, Coot, Black-winged Stilt and Pheasant-tailed Jacana are also recorded breeding here. Raptors, including harriers, eagles, hawks and falcons are also spotted here. The sanctuary also shelters migratory birds such as swallows, martins, wagtails and various waterfowl. It is considered an important site for ecological research and education.
Marine National Park
India's first marine sanctuary has various parts open to the public: one of them is Pirotan Island, which is about 16 nautical miles (30 km) away in the Arabian Sea near Jamnagar and spreads over an area of about 458 kilometres (285 mi). Located about 7 kilometres (4.3 mi) from the city centre, the Marine National Park and Sanctuary comprises an archipelago of 42 islands noted for their coral reefs and mangroves. It is possible to see dolphins, fin-less porpoises and sea turtles and a variety of colourful tropical fish. The place is very beautiful. The entire forest has various marine life forms. The area also attracts a huge number of birds.
Rozi and Bedi Ports
Rozi and Bedi are two important ports close to Jamnagar, Rozi Port on the shore of the Gulf of Kutch and Bedi Port two nautical miles (4 kilometres (2.5 mi)) inland on the Rangamati River. These attractive waterside picnic spots offer excellent facilities for fishing and angling.
Cremation Park
Cremation Park is situated 10 minutes north of the city centre. The park holds statues of saints and deities, as well as scenes from the Ramayana. This is an interesting place to visit. The Circle of Life, showing the stages in the life of man, is also considered thought-evoking.
Jogger's Park
This is a new botanical garden in the city opposite to the Palace Ground, and its official name is Gulab Kunvarbaa Udhyan. It was very much used by the daily walkers and joggers of the city. The park however has been closed for public since months.
Food
Just like people in other parts of Gujarat, people of Jamnagar also fall in the category of 'foodies'. Prime attraction for the tourists is the 'Jamnagari Mukhvaas' and the special 'Dry fruit Kachori'. For those who have a sweet tooth, the city is no disappointment to you too since there are number of milk and dry fruit sweets shops famous for their respective specialities. For the street food lovers, the streets of Patel Colony will serve as a perfect delight to you; serving all sorts of Indian cuisines including chaats, Chinese, South-Indian, Ice-creams, and much more. Also, for the sophisticated ones there are a good number of hotels and restaurants across the city to fill up your tummies with multiple cuisines. Apart from local restaurants, the city houses franchises of chains like Subway, Domino's and others.
Starting up the mornings with 'jalebi-fafda and papaya sambharo' and ending the day with a 'Heera - Moti icecream' from Ram dairy seems like a perfect 'Jamnagiri' lifestyle.
Media and Communication
Daily local as well as national newspapers are available in Jamnagar in multiple languages such as The Times of India, Economic Times, Indian Express, and Business Standard. Local newspapers include Nobat, Bhoomi, Aajkaal, Lokwat, The Princely State. All India Radio Airs at 100.1 MHz. Various cable operators like GTPL are available along with DTH services from Tata Sky, Airtel, DishTV, Videocon D2H. Broadband services are provided by the BSNL. Reliance will soon start its 4G service, Reliance Jio. All mobile operators including Vodafone, Airtel, Idea, Reliance, BSNL, Tata Docomo are available in Jamnagar.
Newspaper
Many local newspapers are published from Jamnagar in Gujarati & English language:
Entertainment
Jamnagar has a few single screen cinemas, as well as several multiplex cinemas, one near Samarpan Hospital and one in the Reliance Mart 30 km from the city. The city's town hall is used for local cultural programs, shows and plays. Recently, a new mall has been built on the aerodrome road called Crystal Mall.
Sports
Cricket is a major sport in Jamnagar. A number of Indian Test cricketers originate from Jamnagar, including Vinoo Mankad, Salim Durrani, Karsan Ghavri, Kumar Indrajitsinhji, Ajay Jadeja and Ravindra Jadeja. There is a cricket ground called the Ajitsinhji Pavilion which was built in 1908 by HH Shri Jam Ranjitsinji which signifies the long relationship of Jamnagar with the sport. The city has a sports complex built by the municipal corporation which has a swimming pool, badminton court and various other facilities. There is also an 80-year-old sports club (Summair Sports Club), which was built by the erstwhile rulers of Jamnagar. It has a swimming pool, tennis, squash and badminton courts, a billiard hall, a table tennis facility and a hotel.
The Ranji Trophy and Duleep Trophy Indian cricket competitions are named in memory of princes of Jamnagar.
Notable people
The following individuals were born in Jamnagar:
Ranjitsinhji, former test cricketer and Jam Sahib of Nawanagar
Ajay Jadeja, former ODI cricketer
Ravindra Jadeja, ODI cricketer
Vinoo Mankad, former test cricketer
Remo D'Souza, dancer, choreographer, actor and film director
Cooking indian food in gujarat by street food & travel tv india
Craziest indian food | bhaji con | by street food & travel tv india
Masala chai in jamnagar gujarat | indian tea making by street food & travel tv india
References
Jamnagar Wikipedia
(Text) CC BY-SA