Nickname(s)

Reggae Boyz




Most caps

Ian Goodison (128)




Home stadium

Independence Park




Founded

1910




Arena/Stadium

Independence Park




Head coach

Theodore Whit




Sub-confederation

CFU (Caribbean)




Top scorer

Luton Shelton (35)




FIFA code

JAM




Manager

Winfried Schäfer




Captain

Rodolph Austin




Confederation

CONCACAF (North America)







Association

Jamaica Football Federation
reggae boyz train in preparation for concacaf world cup qualifier against mexico sportsxplorer
The Jamaica national football team is controlled by the Jamaica Football Federation (JFF), the governing body for football in Jamaica. A member of CFU and CONCACAF, Jamaica has won the Caribbean Cup six times, with their latest win being the 2014 Caribbean Cup when they have beat Trinidad and Tobago in the finals. Jamaica finished as the runner-up in the 2015 CONCACAF Gold Cup, which was its best performance in the competition; losing to Mexico.
Contents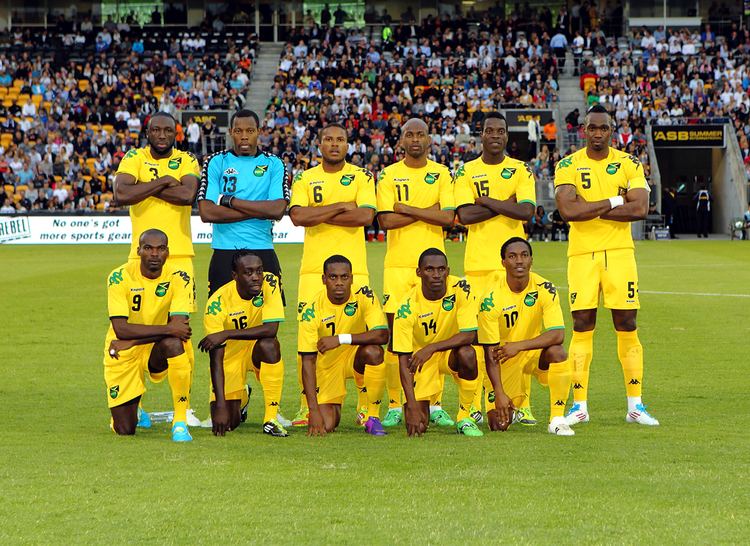 Jamaica qualified once for the FIFA World Cup, in 1998. It is, along with the United States, Honduras and Costa Rica, one of the rare teams from the CONCACAF region to draw against Mexico in the Estadio Azteca in a World Cup qualifier match.
Early 20th century
Jamaica's first international appearance was against their Caribbean neighbours Haiti in 1925. They were invited to the French-speaking Caribbean island by Andre Chevalon, president of the United Sporting Society and it was for a three-match series between the 2 countries. Jamaica won all three games by 1–0, 2–1 and 3–0. The following year Jamaica hosted Haiti at Sabina Park and won by 6–0. Haiti remained frequent opponents and it was not until 1932 that their run of defeats was broken with a 4–1 home win in Port-au-Prince.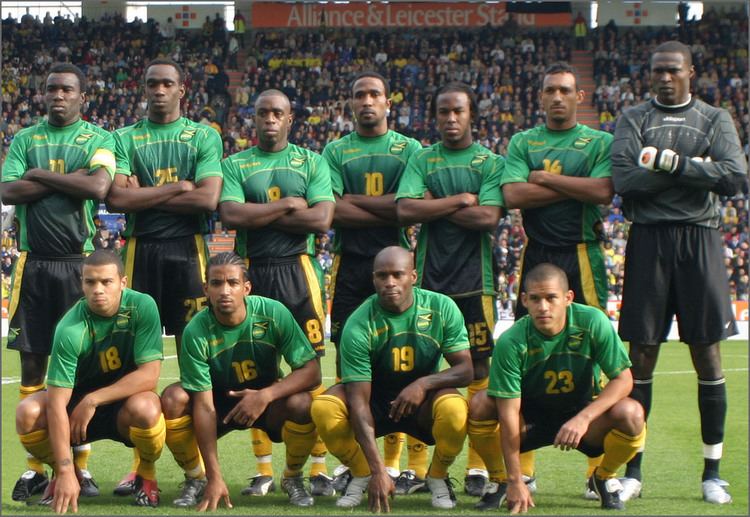 Between 1925 and when Jamaica gained its independence in 1962, Jamaica had regular games with Trinidad and Tobago, Haiti, Cuba and clubs like Racing and Violette from Haiti, Corinthians of Britain, Tigres from Argentina, and even a series of matches with a Caribbean All Stars team in 1952. The Caribbean All Star team included such notables as Michael (The Ruin) Kruin from Suriname and also representing Jamaica were Lindy Delapenha and Gillie Heron. The four games were shared equally with Jamaica winning the second 2–1 and the fourth 1–0 and the All Stars winning the first 5–1 and the third 1–0.
Those friendly international games were the start of Jamaica's football journey with most of the home matches being played at Sabina Park. Many clubs were established during this time including Kensington, Melbourne, Kingston, Lucas and St. George's Old Boys, thus providing the talent Jamaica needed at the times.
Post independence (1962)
In 1965, under the leadership of Brazilian coach Jorge Penna, Jamaica made its first attempt at World Cup qualifying. This was for the 1966 World Cup finals in England. The preliminary group included Cuba and the Netherlands Antilles. Jamaica's first game was against Cuba which they won 2–0 at Jamaica's National Stadium. In the qualifying match against the Netherlands Antilles, Jamaica also had a 2–0 victory with both goals coming.
In the away games Jamaica was held to a goalless draw with the Netherlands Antilles and suffered an unexpected 2–1 defeat to Cuba. Jamaica then advanced to the final group of 3 which included Costa Rica and Mexico. The winner in this group would represent the CONCACAF region. Jamaica lost at home to Mexico 3–2 and in the return leg in Mexico City, the high altitude proved too much for the Jamaicans and they were defeated 8–0.
1970s
In 1968, coach George Hamilton took leadership as Jamaica made an attempt to qualify for the 1970 World Cup Finals in Mexico. Jamaica had only a couple remaining players from the previous World Cup team and had to rebuild because most of the players had retired or migrated to North America and England.
Jamaica lost all of their qualifying games in that year. Jamaica's participation in the 1973 CONCACAF Championship qualification elimination saw the suspension of 17 players on the team because of poor behaviour on a tour to Bermuda. Jamaica withdrew from the elimination to restructure their team. For the 1978 FIFA World Cup qualifying, Jamaica was eliminated by Cuba after two losses (3–1 at the National Stadium and then 2–0 in Havana).
1980s
Jamaica did not participate in the qualifyings for the 1982 and 1986 World Cups, in the former due to insufficient funds and a poorly prepared team, and the later because the team was suspended for affiliation fees that were due to FIFA.
1990s
For the 1989 CONCACAF Championship qualification qualifying with coach Geoffery Maxwell, Jamaica won both preliminary games against Puerto Rico 1–0 in Jamaica and 2–0 at Puerto Rico. In the next round, the United States were their next opponents and the first leg was a goalless draw. Jamaica lost the return leg in the US 5–1, ending their qualifying attempt.
In qualification for the 1994 World Cup, Jamaica first beat Puerto Rico 2–1 and was then was put in a group with Bermuda, Canada, and El Salvador, from which two teams would advance to the final round. Jamaica tied 1–1 with Canada and Bermuda and then lost 2–0 to El Salvador, 1–0 to Canada, 2–1 to El Salvador. Jamaica then beat Bermuda 3–2 but did not qualify.
In 1994, Brazilian manager René Simões was hired, along with National coach Carl Brown, with the goal of qualifying for the 1998 FIFA World Cup. Simões searched for players – discovering some working at hotels, British players of Jamaican descent, and Jamaicans who played in English clubs – and funding. The Jamaican team became a "Powerhouse" in the Caribbean region and received "Best Mover" award by FIFA in 1996. Jamaica made history in 1997 becoming the first English-speaking Caribbean country to qualify for a World Cup.
In the 1998 World Cup, Jamaica ended up in Group H, along with Argentina, Croatia, and Japan. Their first game was a 3–1 defeat to Croatia in Lens, with Robbie Earle scoring Jamaica's goal. It was followed by a 5–0 defeat to Argentina at Paris' Parc des Princes. Jamaica ended its participation with a 2–1 victory over Japan in Lyon, with Theodore Whitmore scoring both goals. The team finished 22nd out of the 32 teams.
2000s
In the 2002 World Cup Qualification, Jamaica finished 5th overall at the CONCACAF's final round.
The squad struggled in 2006 and 2007, leading some Jamaicans to dub them The Reggae Toyz. The team did not make it past the first stage of 2007 Caribbean Cup qualifying despite hosting the round, eliminating Jamaica from the 2007 CONCACAF Gold Cup. The team also fell during the second round of the 2006 World Cup qualification.
In July 2006, ESPN FC reported that Sven-Göran Eriksson, who had just left England, had turned down the chance to manage Jamaica, as well as an unknown Champions League club.
Theodore Whitmore lead the team to impressive victories over El Salvador and Guatemala in the latter part of 2007. However, with the return of former coach Renê Simões (who led Jamaica to the 1998 World Cup), there was heavy optimism in the Reggae Boyz camps. Jamaica started their Road To South Africa 2010 campaign in fine form beating Bahamas 7–0 at home, 6–0 away. They then fought to a hard 1–1 draw with Canada but lost to Mexico and Honduras due to what was considered poor team selection from Renê Simões, which then in turn led to his firing.
Jamaica announced that Jamaica-born John Barnes would take over as manager in November 2008, with former Reggae Boy Theodore Whitmore leading the team in the interim. Jamaica were at the bottom of Group 2 in the 3rd round, but high performances saw them move up in the table. The team battled hard to 1–0 victories over Mexico and Honduras. However, the Boyz fell just short of advancing to the final round.
They managed an impressive 3–0 victory over Canada in their final third round match but failed to move on as Mexico advanced on goal difference after a 1–0 loss to Honduras. After this Theodore Whitmore decided to begin early preparation for the 2014 FIFA World Cup. They vowed to play at least one friendly a month. The squad held South Africa to a goalless draw before 15,000 spectators at Vodacom Park, South Africa.
2010s
Jamaica played three friendly matches to start of 2010, a 1–0 win over Canada at the National Stadium in Jamaica during January, 21 scored by Ricardo Fuller; a 2–1 defeat to Argentina at Mar del Plata on February, with Ryan Johnson scoring a goal; and a 2–0 defeat to South Africa in Germany on April. In August, Jamaica started their preparations for defending their Digicel Cup title with a comprehensive 3–1 win over Trinidad and Tobago in Port of Spain. On 5 December 2010, Jamaica defended their Digicel Cup title with a 5–4 PK win in the 2010 Caribbean Championship.
Jamaica started off strong in their opening 2011 Gold Cup match against Grenada winning 4–0. Jamaica again showed a strong performance after beating Guatemala 2–0 (a brace from Demar Phillips), therefore qualifying to the quarterfinals where they faced the US. Jamaica's Gold Cup campaign ended as they lost 2–0 .
2014 World Cup qualification attempt
In 2012 Jamaica successfully advanced to the CONCACAF Hexagonal under the guidance of Theodore Whitmore.
After six matches under Theodore Whitmore, the coach resigned after a series of poor results which included two draws and four losses. In July 2013, the J.F.F. announced Winfried Schäfer as Head Coach for the remain of the 2014 World Cup qualification campaign. The JFF continued changing their technical staff following the resignation of Alfredo Montesso as Technical Director.
2014
Jamaica won the Caribbean Cup in November and qualified for the Copa América Centenario.
2015
Jamaica appeared at the 2015 Copa América in Chile as an invited team. The team was eliminated after losing all three of its Group B matches 1–0 – to Uruguay, Paraguay and Argentina.
A few weeks later, in Gold Cup 2015, Jamaica reach their first final of this tournament finals after beating USA 1–2 in the semi-final. Previously, the Jamaican team qualified first of their group, and beating Haiti 1–0 in the quarter-finals.
Stadium
The team plays their games at Independence Park, known locally as The Office, which is located in Kingston. The stadium opened in 1962 and holds 35,000 people. It got its name The Office from their 50 match unbeaten run from 1995–2001.
Kits
The kits used from 2008 to 2015 were from Italian kit provider Kappa, they debuted in their current set at the beginning of the World Cup qualifying campaign against The Bahamas. Previously there were outfitted by Uhlsport, a German apparel company. The JFF has received significant support from the United Arab Emirates-based sporting company, through a kit contract which will see all 11 national teams, both male and female, being outfitted by Romai Sportswear.
The home kit is a yellow shirt, black shorts, and yellow socks. The away is a green, yellow, and green set. There is also a black away kit.
Honours
Caribbean Cup: 6
CONCACAF Championship record
1963 – 1st round
1965 – Did not enter
1967 – Did not qualify
1969 – 6th place
1971 – Did not qualify
1973 – Did not enter
1977 – Withdrew
1981 – Did not enter
1985 – Withdrew
1989 – Did not qualify
Caribbean Cup record
1989 – Did not qualify
1990 – Tournament abandoned before third place match, which Jamaica was due to play
1991 – Winners
1992 – Second place
1993 – Second place
1994 – Did not qualify
1995 – Group stage
1996 – Group stage
1997 – Third place
1998 – Winners
1999 – Third place shared
2001 – Group stage
2005 – Winners
2007 – Did not qualify
2008 – Winners
2010 – Winners
2012 – Group stage
2014 – Winners
Copa América record
The Copa América includes two invited teams, with Jamaica first appearing as an invitee for the 2015 tournament. In addition, they have qualified as winners of the 2014 Caribbean Cup for the special Centernario tournament in 2016.
2015 – Group Stage (as invitees)
Centenario, 2016 – Group Stage
Key
Win Draw Loss
Current squad
The following 20 players were called up for a friendly match vs Honduras on February 16, 2017.
Caps and goals as of February 16, 2017 after the game against Honduras.
Recent call-ups
The following players have also been called up to the Jamaica squad in the past 12 months.
Records
As of 6 September 2016
Players in bold text are still active with Jamaica.
UB40s
The term UB40 is used in Jamaica to describe players born in the United Kingdom who have gone on to represent Jamaica at international football. The term is a nod to the reggae band UB40 whose members were born in the United Kingdom.
References
Jamaica national football team Wikipedia
(Text) CC BY-SA