A multibillionaire, Kolomoyskyi is rated as the second or third richest person in Ukraine (after Rinat Akhmetov and/or Viktor Pinchuk) since 2006. and 377th richest person in the world by the Forbes (as of 2011). In March 2015 The Economist listed his net worth as $1.36 billion. Kolomoyskyi is the leading partner of the Privat Group and a de facto chairman of the FC Dnipro Dnipropetrovsk.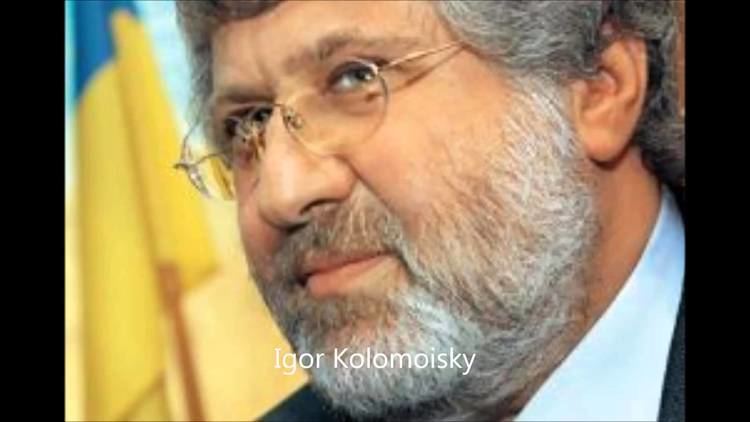 Ihor Kolomoyskyi's name in English is also spelled as Igor/Ihor Kolomoyskyi/Kolomoysky/Kolomoisky/Kolomoiskiy/Kolomoyskiy.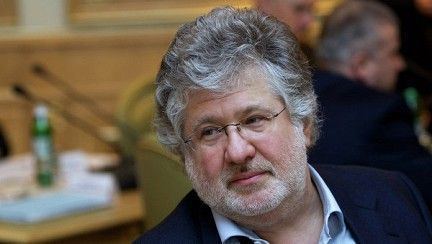 Kolomoyskyi is often nicknamed Benya (Беня) (which is a Russian-Jewish short name popular in the early 20th century) and Bonifatsiy after a character in the popular Soviet animated film "Каникулы Бонифация" ("Bonifacy's holidays") made in 1965 by Soyuzmultfilm, whose image is visually similar to Kolomoyskyi's in appearance and hairstyle.
Kolomoyskyi was born in a Jewish family of engineers. Kolomoyskyi graduated from the Dnipropetrovsk Metallurgical Institute in 1985. He is married with two children.
Kolomoyskyi is the co-founder of the PrivatBank (and its informal Privat Group, respectively) and was appointed Chairman of its Board of Directors in 1997. Other fields of activity include: ferroalloys, finance, oil products, mass media, metal and petroleum industries (also in Russia and Romania).
Kolomoysky has a triple Ukrainian-Israeli-Cyprus citizenship, despite the law penalizing dual citizenship in Ukraine. By way of explanation, Kolomoyskyi stated that: "The constitution prohibits double citizenship but triple citizenship is not forbidden."
Through PrivatBank he controls Aerosvit Airlines, Dniproavia and Donbassaero. Through the asset management company Mansvell Enterprises Limited, he controls Skyways Express, City Airline, and Cimber Sterling aviation companies. He also has media interests in the 1+1 Media Group, which operates eight Ukrainian TV channels.
Kolomoyskyi is a billionaire listed in 2007 by Forbes as the 799th-richest man in the world (with 3.8 billion dollars, in 2010 Kyiv Post estimated his wealth at $6.243 billion.) In March 2012 Forbes placed him 377th with $3 billion. In 2010 Kyiv Post listed Kolomoyskyi as the second richest person in Ukraine; in 2012 Forbes rated him the third richest person in Ukraine. In these lists Kolomoyskyi has only been surpassed in wealth by Rinat Akhmetov or/and Viktor Pinchuk. In March 2015, after the sharp decline in the value of the Ukrainian hryvnia, The Economist listed his net worth as $1.36 billion.
Since 2010 rumors were circulating that Kolomoiskyi's assets were coming under pressure from the authorities. Kolomoiskyi controls his business empire from Switzerland.
Kolomoyskyi has used Privat's "quasi-military forces" to enforce hostile takeovers of companies, sending a team of "hired rowdies armed with baseball bats, iron bars, gas and rubber bullet pistols and chainsaws" to forcibly take over a Kremenchuk steel plant in 2006, and has used "a mix of phony court orders (often involving corrupt judges and/or registrars) and strong-arm tactics" to replace directors on the boards of companies he purchases stakes in. Kolomoyskyi was criticized by Mr Justice Mann in a court case in London involving an attempted hostile takeover of an oil company, with the judge stating that he had "a reputation of having sought to take control of a company at gunpoint in Ukraine" and that there were "strong grounds for doubting the honesty of Mr Kolomoyskyi".
Following the 2014 Russian annexation of Crimea the Crimean assets of Kolomoyskyi have been nationalized; according to Crimean leader Sergey Aksyonov this was "totally justified due to the fact that he is one of the initiators and financiers of the special anti-terrorist operation in the Eastern Ukraine where Russian citizens are being killed". In response Kolomoyskyi has filed a complaint against Russia at the Permanent Court of Arbitration; according to Russia the court has no jurisdiction over the matter and that it will not participate in proceedings.
Analysts have listed Kolomoyskyi as an ally of Ukrainian politician Yulia Tymoshenko and her Bloc Yulia Tymoshenko. Although according to RIA Novosti (in January 2010), Kolomoysky relations with Tymoshenko "were soured some time ago, probably due to his refusal to finance Tymoshenko's election campaign" in 2010. Croatian newspaper Nacional claimed in September 2007 that Kolomoyskyi had become an ally of (then) Ukrainian President Victor Yushchenko and had financed Yushchenko's Our Ukraine–People's Self-Defense Bloc.
In the 2012 Ukrainian parliamentary election Kolomoyskyi was perceived as being one of UDAR's main sponsors. This has been denied by UDAR.
On 2 March 2014, amidst the 2014 pro-Russian conflict in Ukraine, acting President Oleksandr Turchynov appointed Kolomoyskyi governor of Dnipropetrovsk Oblast. Two days later, Russian President Vladimir Putin described Kolomoyskyi as a "unique crook," and said that the citizens of Dnipropetrovsk were not happy with his appointment as Governor of Dnipropetrovsk Oblast. According to Putin, Roman Abramovich has been cheated by Igor Kolomoyskyi. Putin claimed that Kolomoyskyi had reneged on a contract with Abramovich, saying "He [Kolomoyskyi] even managed to cheat our Roman Abramovich two or three years ago. Scammed him, as our intellectuals like to say. They signed some deal, Abramovich transferred several billion dollars, while this guy never delivered and pocketed the money. When I asked him [Abramovich]: "Why did you do it?" he said: "I never thought this was possible." In contrast, The Daily Beast, a US publication, wrote in mid-June 2014 that Kolomoyskyi enjoyed the local population's strong support. "I don't care if he's like Hitler, as long as he prevents war coming here," says a local restaurateur.
In April 2014 Kolomoyskyi offered a bounty for the capture of Russian-backed militants and incentives for the turning in of weapons. He also is believed to have spent $10 million to create the Dnipro Battalion, and also funds the Aidar, Azov, Dnepr 1, Dnepr 2, and Donbas volunteer battalions.
Russia is asking for Kolomoyskyi to be put on Interpol's wanted list. On 2 July 2014 a Russian District Court authorized his arrest in absentia for "organizing the killing of civilians".
In March 2015, after the dismissal of Oleksandr Lazorko, who was a protege of Kolomoyskyi, as a chief executive of UkrTransNafta, Ukraine's state-owned oil pipeline operator, men reported to be Kolomoyskyi's personal militia raided the UkrTransNafta's headquarters to expel the new government-appointed chief from the office. While Lazorko was in charge the state-owned pipelines had been delivering oil to an Kolomoisky-owned refinery in preference to competitors. According to Kolomoyskyi the raids were done with the aim to protect the companies from raiders and he related to it as a "PR-stunt to improve the ratings of smaller parties".
On March 25, 2015, Ukrainian President Petro Poroshenko signed a decree dismissing Kolomoyskyi from the post of Dnipropetrovsk RSA Head, saying "Dnipropetrovsk region must remain a bastion of Ukraine in the East and protect peace". Kolomoyskyi was replaced by Valentyn Reznichenko.
Kolomoyski is a prominent supporter of Ukraine's Jewish community and the president of the United Jewish Community of Ukraine. In 2010, he was appointed as the president of the European Council of Jewish Communities after promising the outgoing president he would donate $14 million, with his appointment being described as a "putsch" and a "Soviet-style takeover" by other EJCJ board members. After several ECJC board members resigned in protest, Kolomyski quit the ECJC and, together with fellow Ukrainian oligarch Vadim Rabinovich, founded the European Jewish Union.
After leaving the Governor of Dnipropetrovsk Oblast post, Kolomoyskyi obtained a U.S. Visa. He moved to mainly reside in Switzerland, also spending time in the United States.
In 2015 Victor Pinchuk brought a $2 billion civil action against Kolomoyskyi and Gennadiy Bogolyubov in the High Court of Justice in London over the 2004 purchase of a Ukrainian mining company. Allegations made include murder and bribery. In January 2016 an undisclosed out of court settlement was reached just before the trial was due to start.
In January 2016 Kolomoyskyi brought a complaint in the Permanent Court of Arbitration against Russia, alleging he was deprived of his right to operate a passenger airport in Crimea after Russia's annexation of Crimea in 2014. A criminal case against Kolomoisky was also started in Russia in January 2016, where he is accused of organizing murders and the use of prohibited methods of warfare.
During its November 2016 party congress Kolomoyskyi was elected into the party leadership of (the political party) UKROP.