Preceded by

Alexander Nazarov




Name

Roman Abramovich




Nationality

Russian



Preceded by

Ken Bates




Succeeded by

Roman Kopin


Role

Businessman






Full Name

Roman Arkadyevich Abramovich




Born

24 October 1966 (age 54) Saratov, Russian SFSR, Soviet Union (

1966-10-24

)


Residence

Chelsea, London, United Kingdom




Occupation

Businessman, investor, politician




Spouse

Irina Malandina (m. 1991–2007), Olga Yurevna Lysova (m. 1987–1990), Dasha Zhukova


Children

Arkadiy Abramovich, Anna Abramovich, Ilya Abramovich, Arina Abramovich, Sofia Abramovich


Organizations founded

Millhouse Capital, Gazprom Neft, Rusal, Runicom Ltd., Mekong


Education

School No. 232 (1974–1983), Ukhta School No. 2




Parents

Irina Vasilevna Abramovich, Arkadiy Abramovich


Similar People

Dasha Zhukova, Arkadiy Abramovich, Boris Berezovsky, Jose Mourinho, Alisher Usmanov
Roman Arkadyevich Abramovich (Russian: Рома́н Арка́дьевич Абрамо́вич, [rɐˈman ɐrˈkadʲjɪvʲɪtɕ ɐbrɐˈmovʲɪtɕ]; born 24 October 1966) is a Russian billionaire businessman, investor, and politician.
Contents
Abramovich is the primary owner of the private investment company Millhouse LLC, and is best known outside Russia as the owner of Chelsea Football Club, a Premier League football club.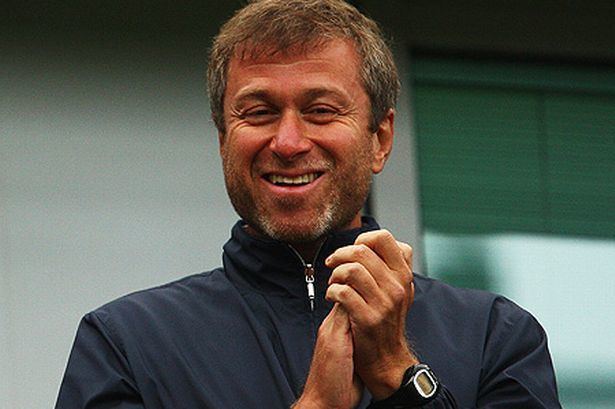 According to Forbes 2016 billionaire list, Abramovich's Net worth was US$7.6 billion, making him the 13th-richest person in Russia, and the 151st-richest person in the world. The same year, The Sunday Times estimated his net worth at ₤6.40 billion.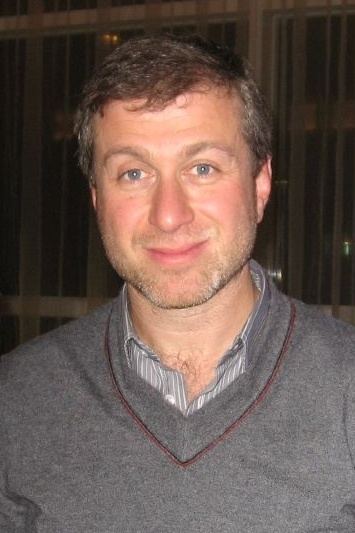 Family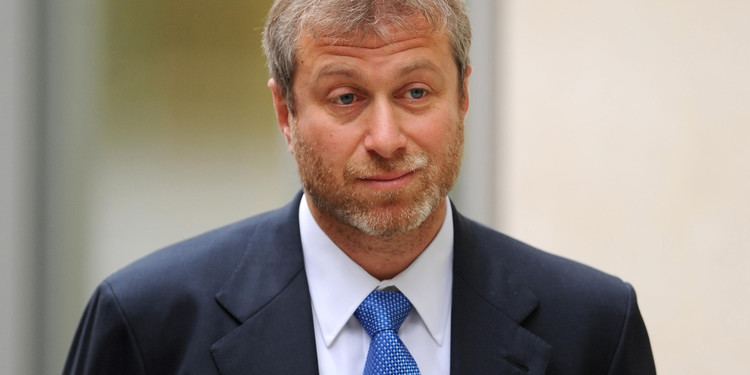 His family is Jewish. Abramovich's family is from Tauragė, Lithuania, with the Lithuanian spelling of the family name being Abramavičius. His father Arkady (Aron) Abramovich (1937–1970) was a state office manager, while his grandfather Nahim (Nahman) Abramovich (1887–1942) was a businessman. Nahim (Nahman) Abramovich was born in Erzvilkas, Lithuania and his wife (Roman Abramovich's paternal grandmother) was Tauba (maiden name Berkover) - born in Jurbarkas, Lithuania. They were married in Tauragė, Lithuania in 1925. Abramovich's mother is Irina Michalenko, his maternal grandfather was Vassili Michalenko, and his maternal grandmother was Faina Grutman. Abramovich is Chairman of the Federation of Jewish Communities of Russia (which is allied with Putin's administration), and donates money to the Chabad movement.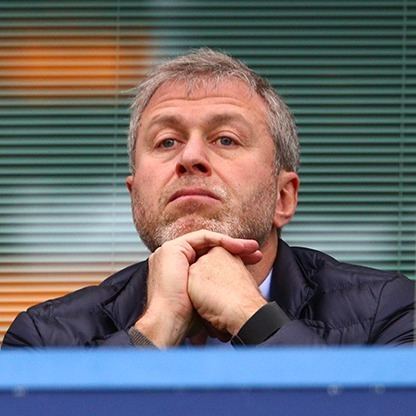 Abramovich has been married three times. In December 1987, he married Olga Yurevna Lysova; they divorced in 1990. In October 1991, he married a former Russian Aeroflot stewardess, Irina Vyacheslavovna Malandina. They divorced in 2007. He and Malandina have five children; Ilya, Arina, Sofia, Arkadiy and Anna. On 15 October 2006, the News of the World reported that Irina had hired two top UK divorce lawyers, following reports of Abramovich's close relationship with the then 25-year-old Dasha Zhukova, the former girlfriend of the tennis player Marat Safin and daughter of a prominent Russian oligarch, Alexander Radkin Zhukov. It was speculated that a future divorce settlement (amounting to a conjectured £5.5 billion (€6.5 billion)) might be the highest ever on record. The Abramoviches replied that neither had consulted attorneys at that point. However, they later divorced in Russia in March 2007, with a settlement reported as being US$300 million (€213 million). Abramovich married Zhukova in a private ceremony in 2008, and they have two children, a son, Aaron Alexander, and a daughter, Leah Lou.
Business career
Abramovich started his multi-billion-dollar business during his army service. After a brief stint in the Soviet Army, Abramovich married his first wife, Olga. Abramovich first worked as a street-trader, and then as a mechanic at a local factory. At the peak of perestroika, Abramovich sold imported rubber ducks from his Moscow apartment.
Abramovich attended the Gubkin Institute of Oil and Gas in Moscow (where he sold retreaded car tyres as a sideline), then traded commodities for Runicom, a Swiss trading company.
In 1988, as perestroika opened up opportunities for privatization in the Soviet Union, Abramovich got a chance to legitimise his old business. He and Olga set up a company making dolls. Within a few years his wealth spread from oil conglomerates to pig farms. and he also started investing in other businesses. Abramovich set up and liquidated at least 20 companies during the early 1990s, in sectors as diverse as tyre retreading and bodyguard recruitment.
From 1992 to 1995, Abramovich founded five companies that conducted resale, produced consumer goods, and acted as intermediaries, eventually specializing in the trading of oil and oil products. However, in 1992 he was arrested and sent to prison in a case of theft of government property: AVEKS-Komi sent a train containing 55 cisterns of diesel fuel, worth 3.8 million roubles, from the Ukhta Oil Refinery; Abramovich met the train in Moscow and resent the shipment to the Kaliningrad military base under a fake agreement, but the fuel arrived in Riga. Abramovich co-operated with the investigation, and the case was closed after the oil production factory was compensated by the diesel's buyer, the Latvian-US company, Chikora International.
In 1995, Abramovich and Boris Berezovsky, an associate of President Boris Yeltsin, acquired the controlling interest in the large oil company Sibneft. The deal was within the controversial loans-for-shares program and each partner paid US$100 million for half of the company, above the stake's stock market value of US$150 million at the time, and rapidly turned it up into billions. The fast-rising value of the company led many observers, in hindsight, to suggest that the real cost of the company should have been in the billions of dollars. Abramovich later admitted in court that he paid huge bribes (in billions) to government officials and obtained protection from gangsters to acquire these and other assets (including aluminium assets during the aluminium wars).
Thus the main stages of Abramovich's financial career were January 1989 to May 1991, as chairman of the Comfort Co-op (manufacturer of plastic toys), and May 1991 to May 1993, as director of the ABK small enterprise in Moscow. According to various sources, from 1992 to 1995 Roman Abramovich set up five companies engaged in the production of consumer goods and selling-and-buying. In May 1995, jointly with Boris Berezovsky, he set up the P.K. Trust close joint-stock company. In 1995 and 1996, he established another 10 firms: Mekong close joint-stock company, Centurion-M close joint-stock company, Agrofert limited liability company, Multitrans close joint-stock company, Oilimpex close joint-stock company, Sibreal close joint-stock company, Forneft close joint-stock company, Servet close joint-stock company, Branco close joint-stock company, Vector-A limited liability company, which, again together with Berezovsky, he used to purchase the shares of the Sibneft public company.
The Guardian describes Abramovich's career as follows:
By 1996, at the age of 30, Abramovich had become so rich and politically well-connected that he had become close to President Boris Yeltsin, and had moved into an apartment in the Kremlin at the invitation of the Yeltsin family. In 1999, and now a tycoon, Abramovich was elected governor of Russia's remote, far eastern province of Chukotka, and has since lavished £112 million (€132 million) on charity to rebuild the impoverished region. The identikit image being pieced together for us was of a self-made man who was not only powerful and wealthy, but acutely aware of those who had done less well in the tumultuous 1990s, when the Soviet Union fell.
Friendship with Boris Berezovsky
In 1992, Abramovich founded Mekong. He began selling oil from Noyabrsk. Eventually, he met fellow Russian businessman and entrepreneur Boris Berezovsky.
According to two different sources, he first met Berezovsky either at a meeting of the Russian businessmen in the Caribbean in 1993 or in the summer of 1995 on the yacht of his friend Pyotr Aven.
Berezovsky introduced Abramovich to "the family", the close circle around the then president, Boris Yeltsin, which included his daughter Tatyana Dyachenko and chief security adviser, Alexander Korzhakov.
Together with Berezovsky, Abramovich founded the offshore company Gibraltar-registered Runicom Ltd. and five Western European subsidiaries. Abramovich headed the Moscow affiliate of the Swiss firm, Runicom S.A. In August 1995, Sibneft was created by Boris Yeltsin's presidential decree. It was rumored that Abramovich was the chief of the organization with Berezovsky promoting the business in higher circles.
Acquisition of Sibneft, aluminium wars, and loans-for-shares
In 1995, Abramovich and Berezovsky acquired a controlling interest in the giant Soviet oil company Sibneft. Affiliates of Abramovich, with affiliates of Boris Berezovsky, purchased Sibneft for US$100.3 million (the company was worth US$2.7 billion at that time). As of 2000, Sibneft produced around US$3 billion worth of oil annually. Abramovich established several "fly-by-night" firms and together with his friend Boris Berezovsky used them to acquire the stock of Sibneft. As a result, the tycoon managed to pay for the company 25 times less than the market price. Bought for a total of US$200 million, Sibneft is now worth seventy five times as much.
The Times claimed that he was assisted by Badri Patarkatsishvili. This acquisition was under the controversial loans-for-shares programme initiated by President Boris Yeltsin. After Sibneft, Abramovich's next target was the aluminium industry. After privatisation the 'aluminium wars' led to murders of smelting plant managers, metals traders and journalists as groups battled for control of the industry. Abramovich famously emerged as the winner of the aluminium wars. The Times stated that in a BBC investigation into Abramovich's wealth, reporter John Sweeney noted that, after the oligarch (Abramovich) emerged at the top of the trade, the murders stopped.
Relationship with Boris Berezovsky and Badri Patarkatsishvili
The Times also notes:
Mr Abramovich discloses that there was a showdown at St Moritz airport in Switzerland in 2001 when Mr [Badri] Patarkatsishvili asked him to pay US$1.3 billion (€925 million) to Mr Berezovsky. "The defendant agreed to pay this amount on the basis that it would be the final request for payment by Mr Berezovsky and that he and Mr Patarkatsishvili would cease to associate themselves publicly with him and his business interests." The payment was duly made.
Mr Abramovich was also willing to pay off Mr Patarkatsishvili. He states that he agreed to pay US$585 million (€416 million) "by way of final payment".
Mr Abramovich denies that he helped himself to Mr Berezovsky's interests in Sibneft and aluminium or that he threatened a friend of the exile. "It is denied that Mr Abramovich made or was party to the alleged explicit or implicit coercive threats or intimidation," he states.
According to court-papers submitted by Abramovich and seen by The Times (UK), Abramovich mentions in the court-papers:
Prior to the August 1995 decree [of Sibneft's creation], the defendant [Abramovich] informed Mr Berezovsky that he wished to acquire a controlling interest in Sibneft on its creation. In return for the defendant [Abramovich] agreeing to provide Mr Berezovsky with funds he required in connection with the cash flow of [his TV company] ORT, Mr Berezovsky agreed he would use his personal and political influence to support the project and assist in the passage of the necessary legislative steps leading to the creation of Sibneft.
Mr Patarkatsishvili did ... provide assistance to the defendant in the defendant's acquisition of assets in the Russian aluminium industry.
According to the Mirror Online, Abramovich paid Berezovsky tens, and even hundreds, of millions every year for "krysha", or mafia protection.
$15 million investment in Music Messenger
In 2015, Abramovich invested and led a $30 million round of funding in Israeli music sharing start-up Music Messenger founded by OD Kobo. Besides Abramovich, several well-known people in the global music industry also took part in the company's previous round, among them David Guetta, Nicki Minaj, Tiësto, Avicii, will.i.am, Benny Andersson and others.
Boris Yeltsin
By 1996, at the age of 30, Abramovich had become close to President Boris Yeltsin, and had moved into an apartment inside the Kremlin at the invitation of the Yeltsin family.
In 1999, the 33-year-old Abramovich was elected governor of the Russian province of Chukotka. He ran for a second term as governor in 2005. The Kremlin press service reported that Abramovich's name had been sent for approval as governor for another term to Chukotka's local parliament, which confirmed his appointment on 21 October 2005.
Vladimir Putin
Abramovich was the first person to originally recommend to Yeltsin that Vladimir Putin be his successor as the Russian president. When Putin formed his first cabinet as Prime Minister in 1999, Abramovich interviewed each of the candidates for cabinet positions before they were approved. Subsequently, Abramovich would remain one of Putin's closest confidants. In 2007 Putin consulted in meetings with Abramovich on the question of who should be his successor as president; Medvedev was personally recommended by Abramovich.
Chris Hutchins, a biographer of Putin, describes the relationship between the Russian president and Abramovich as like that between a father and a favorite son. Abramovich himself says that when he addresses Putin he uses the Russian language's formal "Вы" (like Spanish "usted", German "Sie", Italian "lei" or French "vous"), as opposed to the informal "ты" (Spanish "tú", German "du", Italian "tu" or French "tu"). Abramovich says that the reason is because 'he is more senior than me'. Within the Kremlin, Abramovich is referred to as "Mr A".
Duma member
In 1999, Abramovich was elected to the State Duma as the representative for the Chukotka Autonomous Okrug, an impoverished region in the Russian Far East. He started the charity Pole of Hope to help the people of Chukotka, especially children, and in December 2000 was elected governor of Chukotka, replacing Alexander Nazarov.
Governor
Abramovich was the governor of Chukotka from 2000 to 2008. It has been estimated that he spent over US$1.3 billion (€925 million) of his own money on the region, which now has one of the highest birth rates in Russia. Under Abramovich, living standards improved, schools and housing were restored and new investors were being drawn to the region.
In 2003, Abramovich was named Person of the Year by Expert, a Russian business magazine. He shared this title with Mikhail Khodorkovsky.
Abramovich was awarded the Order of Honour for his "huge contribution to the economic development of the autonomous district [of Chukotka]", by a decree signed by the President of Russia.
Resignation
In early July 2008 it was announced that President Dmitri Medvedev had accepted Abramovich's request to resign as governor of Chukotka, although his various charitable activities in the region would continue. In the period 2000–2006 the average salaries in Chukotka increased from about US$165 (€117/£100) per month in 2000 to US$826 (€588/£500) per month in 2006.
Controversies
Roman Abramovich has been alleged to be involved in various wrongdoings. The Times said that Abramovich "famously emerged triumphant after the 'aluminium wars', in which more than 100 people are believed to have been killed in gangland feuds over control of the lucrative smelters."
Boris Berezovsky allegations
Boris Berezovsky (his one-time business partner) alleged in 2008 that Abramovich harassed him with "threats and intimidation" to cheat him to sell his valuable shares at less than their true worth.
In 2011 Berezovsky brought a civil case against Abramovich, called Berezovsky v Abramovich, in the High Court of Justice in London, accusing Abramovich of blackmail, breach of trust and breach of contract, and seeking over £3 billion in damages.
On 31 August 2012, the High Court dismissed the lawsuit. The High Court judge stated that because of the nature of the evidence, the case hinged on whether to believe Berezovsky or Abramovich's evidence. The judge found Berezovsky to be "an unimpressive, and inherently unreliable witness, who regarded truth as a transitory, flexible concept, which could be moulded to suit his current purposes", whereas Abramovich was seen as "a truthful, and on the whole, reliable witness".
Bribery
In 2008 The Times reported that Abramovich admitted that he paid billions of dollars for political favours and protection fees to obtain a big share of Russia's oil and aluminium assets as was shown by court papers obtained by The Times.
Allegations of illegal share-dilution
Yugraneft, an affiliate of Sibir Energy, is seeking billions of dollars in damages in a lawsuit in London against Roman Abramovich and his investment company Millhouse Capital, alleging that it was cheated out of its Russian assets. The proceedings "involve substantial claims to recover the proceeds of the diluted interest", said Sibir Energy, a company co-owned by the billionaire Shalva Chigirinsky.
Arrest for theft
In 1992, he was arrested in a case of theft of government property. AVEKS-Komi sent a train containing 55 cisterns (tankers) of diesel fuel, worth Р3.8 million (Roubles), from the Ukhta Oil Refinery (Case No. 79067 for the large-scale theft of state property); Abramovich met the train in Moscow and resent the shipment to the Kaliningrad military base under a fake agreement, but the fuel arrived in Riga. Abramovich cooperated with the investigation, and the charges were dropped after the oil production factory was compensated by the diesel's buyer, the Latvian-U.S. concern Chikora International.
Allegations of loan fraud
An allegation emerging from a Swiss investigation links Roman Abramovich, through a former company, and numerous other Russian politicians, industrialists and bankers to using a US$4.8 billion (€3.4 billion) loan from the IMF as personal slush fund; an audit sponsored by the IMF itself determined that all of the IMF funds had been used appropriately.
In January 2005, the European Bank for Reconstruction and Development (EBRD) indicated that it would be suing Abramovich over a £9 million (US$14.9 million/€10.6 million) loan. The EBRD said that it is owed US$17.5 million (€12.45 million/£10.6 million) by Runicom, a Switzerland-based oil trading business which had been controlled by Abramovich and Eugene Shvidler. Abramovich's spokesman indicated that the loan had previously been repaid.
Antitrust law violation in Russia
Russia's antitrust body, the Federal Antimonopoly Service, claimed that Evraz Holding, owned in part by Abramovich, had breached Russian competition law by offering unfavorable terms for contractors and discriminating against domestic consumers for coking coal, a key material used in steel production.
Dispute with Kolomoyskyi
According to Putin, Abramovich has been cheated by Igor Kolomoyskyi. Putin claimed in 2014 that Kolomoyskyi had reneged on a contract with Abramovich, saying "He [Kolomoyskyi] even managed to cheat our oligarch Roman Abramovich two or three years ago. Scammed him, as our intellectuals like to say. They signed some deal, Abramovich transferred several billion dollars, while this guy never delivered and pocketed the money. When I asked him [Abramovich]: 'Why did you do it?' he said: 'I never thought this was possible.'"
Chelsea F.C.
In June 2003, Abramovich became the owner of the companies that control Chelsea Football Club in West London. The previous owner of the club was Ken Bates, who went on to buy Leeds United. Chelsea immediately embarked on an ambitious programme of commercial development, with the aim of making it a worldwide brand on a par with footballing dynasties such as Manchester United and Real Madrid, and also announced plans to build a new state-of-the-art training complex in Cobham, Surrey.
Chelsea finished their first season after the takeover in second place in the Premier League, up from fourth the previous year. They also reached the semi-finals of the Champions League, which was eventually won by surprise contender Porto, managed by José Mourinho. For Abramovich's second season at Stamford Bridge, Mourinho was recruited as the new manager, replacing the incumbent Claudio Ranieri. Chelsea ended the 2004–05 season as league champions for the first time in 50 years and only the second time in their history. Since the takeover, the club have won 13 major trophies – the UEFA Champions League, the UEFA Europa League, the Premier League five times, the FA Cup four times (with 2010 providing the club's first ever league and FA Cup double), and the League Cup three times, making Chelsea the second most successful English trophy winning team in the decade with 15 honours, behind only Manchester United with 17 honours in the same time span.
It was argued that Abramovich's involvement with Chelsea distorted the football transfer market throughout Europe, as his wealth often allowed the club to purchase players virtually at will. That has changed in recent years, but he did sanction the transfer of Andriy Shevchenko for a then-British record transfer fee of around £30 million (€35.3 million).
In the year ending June 2005, Chelsea posted record losses of £140 million (€165 million) and the club was not expected to record a trading profit before 2010, although this decreased to reported losses of £80.2 million (€94.3 million) in the year ending June 2006. In a December 2006 interview, Abramovich stated that he expected Chelsea's transfer spending to fall in years to come.
Abramovich is present at nearly every Chelsea game and shows visible emotion during matches, a sign taken by supporters to indicate a genuine love for the sport, and usually visits the players in the dressing room following each match. This stopped for a time in early 2007, when press reports appeared of a feud between Abramovich and manager Mourinho regarding the performance of certain players, notably Andriy Shevchenko.
In the early hours of 20 September 2007, Mourinho announced his exit as Chelsea manager by mutual consent with the club following a meeting with the board. The former Israel coach and Chelsea's director of football, Avram Grant, was named as his replacement. Ever since Grant had joined Chelsea in 2007, there had been friction between him and Mourinho. Mourinho reportedly told Grant not to interfere in team affairs but, with Abramovich's backing, Grant's profile at the club rose after he was made a member of the board. This event apparently did not go down well with Mourinho and may have contributed to his surprise departure. Grant led Chelsea to the position of runners-up in the Premiership and the club's first appearance in the Champions League final, beaten by Manchester United on both accounts. Nevertheless, on 24 May 2008, Grant was sacked as manager by Abramovich.
On 11 June 2008, it was announced that Luiz Felipe Scolari, who had taken Brazil to World Cup glory in 2002, would be taking over as manager, but he only lasted until 9 February 2009 before being sacked. In February 2009, acclaimed coach Guus Hiddink was appointed caretaker manager for the rest of the 2008/09 season, delivering Chelsea's first post-Mourinho trophy with the FA Cup.
Hiddink was replaced by another former European Cup winning boss, Carlo Ancelotti. In May 2010, Ancelotti took Chelsea to their first league and FA Cup "double" in his first season as manager. The following season, in January 2011, Spanish footballer Fernando Torres completed his move to Chelsea on a  5 1⁄2-year contract on 31 January for an undisclosed fee, reported to be £50 million, which set a new record for a British transfer and made him the fourth most expensive footballer in history. Ancelotti was sacked as manager at the end of his second season with the club in May 2011, after Chelsea's impressive form at the start of the campaign collapsed spectacularly during the winter months.
André Villas-Boas, after taking Porto to a Europa League triumph, and having previously worked alongside Mourinho at Stamford Bridge, was appointed as Abramovich's seventh manager of Chelsea on 22 June 2011. Villas-Boas, however, was sacked in on 4 March due to a bad run of form, with only one win in 11 games. The next manager was Roberto Di Matteo, who was appointed to this role after winning the Champions League and the FA Cup serving in a caretaker capacity. Di Matteo was also sacked on 21 November 2012 after their 3–0 loss to Juventus. Former Liverpool boss Rafael Benítez was appointed as manager for the remainder of the club's campaign. He won Chelsea the 2012–13 UEFA Europa League against Benfica before leaving at the end of his term as interim manager.
After the 2012–13 season, Benítez left Chelsea, whereupon José Mourinho returned as manager, signing a four-year deal. On 1 July 2013, Chelsea celebrated ten years under Abramovich's ownership. Before the first game of the 2013–14 season against Hull City on 18 August 2013, the Russian thanked Chelsea supporters for ten years of support in a short message on the front cover of the match programme, saying, "We have had a great decade together and the club could not have achieved it all without you," "Thanks for your support and here's to many more years of success."
CSKA Moscow
In March 2004, Sibneft agreed to a three-year sponsorship deal worth €41.3 million (US$58 million) with the Russian team CSKA Moscow. Although the company explained that the decision was made at management level, some viewed the deal as an attempt by Abramovich to counter accusations of being "unpatriotic" which were made at the time of the Chelsea purchase. UEFA rules prevent one person owning more than one team participating in UEFA competitions, so Abramovich has no equity interest in CSKA. A lawyer, Alexandre Garese, is one of his partners in CSKA.
Following an investigation, Abramovich was cleared by UEFA of having a conflict of interest. Nevertheless, he was named "most influential person in Russian football" in the Russian magazine Pro Sport at the end of June 2004. In May 2005, CSKA won the UEFA Cup, becoming the first Russian club ever to win a major European football competition. In October 2005, however, Abramovich sold his interest in Sibneft and the company's new owner Gazprom, which sponsors Zenit Saint Petersburg, cancelled the sponsorship deal.
Russian national team
Abramovich also played a large role in bringing Guus Hiddink to Russia to coach the Russia national football team. Piet de Visser, a former head scout of Hiddink's club PSV Eindhoven and now a personal assistant to Abramovich at Chelsea, recommended Hiddink to the Chelsea owner.
National Academy of Football
In addition to his involvement in professional football, Abramovich sponsors a foundation in Russia called the National Academy of Football. The organization sponsors youth sports programs throughout the country and has constructed more than fifty football pitches in various cities and towns. It also funds training programs for coaches, prints instruction materials, renovates sports facilities and takes top coaches and students on trips to visit professional football clubs in England, the Netherlands and Spain. In 2006 the Academy of Football took over the administration of the Konoplyov football academy at Primorsky, near Togliatti, Samara Oblast, where over 1,000 youths are in residence, following the death at 38 of its founder, Yuri Konoplev.
Wealth
According to Forbes, as of March 2016, Abramovich had a net worth of US$7.6 billion, ranking him as the 151th richest person in the world. In March 2017, Bloomberg estimated his wealth as US$10.4 billion. Prior to the 2008 financial crisis, he was considered to be the second richest person living within the United Kingdom. Early in 2009, The Times estimated that due to the global economic crisis he had lost £3 billion from his £11.7 billion wealth.
Charitable donations
Abramovich reportedly donated more money to charity than any other living Russian. Between 2009 and 2013, Abramovich donated more than US$2.5 billion to build schools, hospitals and infrastructure in Chukotka. In addition, Evraz Plc (EVR), the steelmaker partly owned by Abramovich, donated US$164 million for social projects between 2010 through 2012, an amount that is excluded in Abramovich's US$310 million donations during this period.
Abramovich has reportedly spent approximately GB£1.5 bn on the Pole of Hope, his charity set up to help those in the Arctic region of Chukotka, where he was governor.
Art
Roman Abramovich sponsored an exhibition of photographs of Uzbekistan by renowned Soviet photographer Max Penson (1893–1959) which opened on 29 November 2006 at the Gilbert Collection at Somerset House in London. He previously funded the exhibition "Quiet Resistance: Russian Pictorial Photography 1900s–1930s" at the same gallery in 2005. Both exhibits were organized by the Moscow House of Photography.
In May 2008, Abramovich emerged as a major buyer in the international art auction market. He purchased Francis Bacon's Triptych 1976 for €61.4 million (US$86.3 million) (a record price for a post-war work of art) and Lucian Freud's Benefits Supervisor Sleeping for €23.9 million (US$33.6 million) (a record price for a work by a living artist).
His partner Dasha Zhukova is managing a Garage Center for Contemporary Culture - gallery of contemporary art in Moscow that was initially housed in the historical Bakhmetevsky Bus Garage building by Konstantin Melnikov. The building, neglected for decades and partially taken apart by previous tenants, was restored in 2007–2008 and reopened to the public in September 2008. Speed and expense of restoration is credited to sponsorship by Abramovich.
Yachts
Abramovich has become the world's greatest spender on luxury yachts, and always maintains a fleet of yachts which the media have called "Abramovich's Navy":
Current boats:
Former boats:
Aircraft
He owns a private Boeing 767-33A/ER, registered in Aruba as P4-MES. It is known as The Bandit due to its livery. Originally the aircraft was ordered by Hawaiian Airlines but the order was cancelled and Abramovich bought it from Boeing and refitted it to his own requirements by Andrew Winch, who designed the interior and exterior. The aircraft was estimated in 2016 to cost US$74 million and its interior is reported to include a 30-seat dining room, a boardroom, master bedrooms, luxury bathrooms with showers, and a spacious living room. The aircraft has the same air missile avoidance system as the Air Force One. Abramovich also owns a Dassault Falcon 7X with registration LX-MES. It's called the Mini Bandit due to having a similar livery to The Bandit.
New Year's Eve celebrations
In 2009, Abramovich had Beyoncé, Gwen Stefani and Prince sing at his New Year's Eve event at his estate on the Caribbean island of St Bart's. In 2011, Abramovich hired the Red Hot Chili Peppers to perform for a reported £5m. The performance by Red Hot Chili Peppers included a special appearance from Toots Hibbert of Toots and the Maytals. Abramovich reportedly spent £5 million on a total of 300 guests, including George Lucas, Martha Stewart, Marc Jacobs and Jimmy Buffett.
References
Roman Abramovich Wikipedia
(Text) CC BY-SA