Preceded by

Andriy Parubiy




Preceded by

Viktor Yanukovych




Children

Kyrylo Turchynov




Prime Minister

Arseniy Yatsenyuk




Spouse

Hanna Turchynova




Succeeded by

Volodymyr Groysman




Name

Oleksandr Turchynov




Preceded by

Volodymyr Rybak




Succeeded by

Petro Poroshenko







Role

Former Acting President of Ukraine




Education

National Mining University of Ukraine, National Metallurgical Academy of Ukraine




Political party

Hromada, All-Ukrainian Union "Fatherland", People's Front




Previous offices

Acting President of Ukraine (2014–2014)




Similar People

Arseniy Yatsenyuk, Yulia Tymoshenko, Petro Poroshenko, Arsen Avakov, Viktor Yanukovych
Ukraine s acting president oleksandr turchynov attends military exercise
Oleksandr Valentynovych Turchynov (Ukrainian: Олександр Валентинович Турчинов; born 31 March 1964) is a Ukrainian politician, screenwriter, and economist. He is the current Secretary of the National Security and Defence Council of Ukraine.
Contents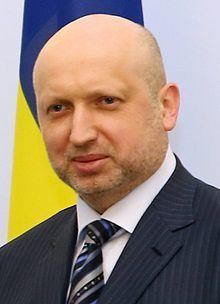 Turchynov is a former acting President of Ukraine from the removal from power of President Viktor Yanukovych on 21 February 2014. until Petro Poroshenko was sworn in as Ukrainian President on 7 June 2014. He then became Chairman of the Ukrainian Parliament until 27 November 2014. Turchynov also served as acting Prime Minister in 2010 (when he was the First Vice Prime Minister in the absence of a prime minister after Yulia Tymoshenko's government was dismissed on 3 March 2010) until the Verkhovna Rada (Ukrainian parliament) appointed Mykola Azarov as Prime Minister on 11 March 2010.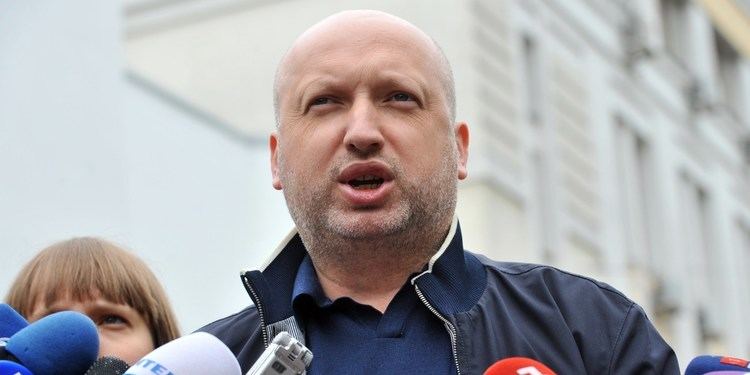 Turchynov was the first deputy chairman of the political party Batkivshchyna (All-Ukrainian Union "Fatherland") and a close associate of party leader Yulia Tymoshenko. He started the new political party People's Front in September 2014, now together with Prime Minister Arseniy Yatsenyuk.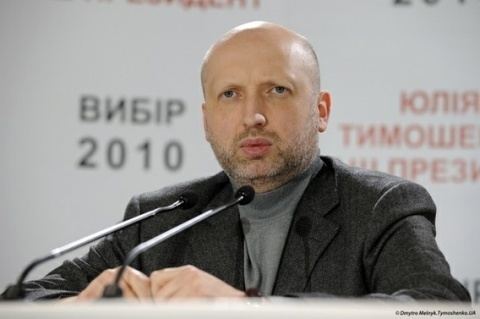 Ukraine s acting president oleksandr turchynov on monday inspected troops training near kiev to repe
Biography
Oleksandr Turchynov was born in Dnipropetrovsk. He graduated from the Dnipropetrovsk Metallurgical Institute in 1986, after which he worked at Kryvorizhstal, a large Ukrainian steel producer. From 1987 to 1990, he served as head of the agitation and propaganda division of the Dnipropetrovsk Oblast Komsomol (Communist Youth League) Committee, which was led by Serhiy Tihipko. Tihipko and Turchynov became political advisers of Leonid Kuchma, then head of Dnipropetrovsk-based Pivdenmash missile manufacturer. Kuchma and his entire team, including Tihipko and Turchynov moved to Kiev in 1992, after Kuchma was appointed Prime Minister. In 1993 Turchynov was formally appointed an advisor on economic issues to Prime Minister Kuchma.
Turchynov is an old ally of Yulia Tymoshenko, another prominent Ukrainian political figure from Dnipropetrovsk. They used to have a common business in Dnipropetrovsk. In December 1993, Turchynov co-founded and became Vice President of Ukrainian Union of Industrialist and Entrepreneurs. In 1994 he created the political party Hromada together with Pavlo Lazarenko, a business ally of Tymoshenko. Turchynov was also director of the Economic Reforms Institute from January 1994 to March 1998 and was head of the Ukrainian National Academy of Sciences' Laboratory of Shadow Economy Research.
Political life
In 1998, he was elected to parliament as a member of Hromada but after the scandal around Lazarenko, he left the faction and party (during May 1999) together with Yulia Tymoshenko's All-Ukrainian Union "Fatherland". He was re-elected to parliament in 2002 and 2006 as part of the BYuT.
On 4 February 2005, Turchynov was appointed and served as the first‐ever civilian head of the Security Service of Ukraine (SBU).
In August 2007, Turchynov replied to the accusation that his stance on same-sex marriage is typically conservative, "I do not agree. If a man has normal views, then you label him a conservative, but those who use drugs or promote sodomy, you label them a progressive person. All of these are perversions".
In the spring of 2008, he was the Yulia Tymoshenko Bloc and the Our Ukraine–People's Self-Defense Bloc candidate for the Mayor of Kiev election he placed second at the election with 218,600 votes (19.13% of total vote).
In December 2009, during the 2010 Ukrainian presidential election campaign Turchynov accused President Viktor Yushchenko and opposition leader Viktor Yanukovych of coordinating their actions in their attempts to topple the Second Tymoshenko Government. From December 2009 till March 2010, the adviser to Turchynov in the Cabinet of Ministers of Ukraine was Andriy Slyusarchuk, a Ukrainian fraudster.
On 4 March 2010, after the fall of the second Tymoshenko Government, former Prime Minister Yulia Tymoshenko resigned from that post on 4 March 2010 and Turchynov was empowered to fulfill the Prime Minister's duties until a new government was formed. On 11 March 2010 the Azarov Government was elected and Mykola Azarov was appointed Prime Minister the same day.
In 2012 he was re-elected into parliament on the party list of "Fatherland".
On 22 February 2014, he was elected as speaker of Verkhovna Rada. On 23 February 2014, Turchynov was designated as acting President of Ukraine following the impeachment of Viktor Yanukovych. On 25 February Turchynov assumed the (Presidential power of) command of the Ukrainian Armed Forces.
On 14 April 2014, while talking on the phone with Secretary-General Ban Ki Moon, Turchynov asked for the United Nations's support regarding the crisis in eastern Ukraine, to which the Secretary-General replied that peacekeepers may be sent in should Russia withhold its veto. Meanwhile, Turchynov issued a deadline to the pro-Russian insurgents to disarm and dismantle their barricades, but the deadline passed without incident. Before he issued a deadline, which was scheduled for 9 am, he tried to negotiate with insurgents and even proposed to hold referendum on the same day as elections which will be on 25 May. His proposition was questioned by journalists who feared that the referendum might be sabotaged by pro-Russia insurgents.
On 20 April 2014, Turchinov covertly ordered Dmytro Yarosh to lead 20 Right Sector members to sabotage a separatist-controlled television tower, leading to the first combat fatalities of the Siege of Sloviansk, according to an interview given by Dmytro Yarosh on 22 April 2016.
Petro Poroshenko was elected President of Ukraine on 25 May 2014. Poroshenko was sworn in as Ukrainian President on 7 June 2014, this ended the presidential powers of Turchynov.
On 10 September 2014, Turchynov became founding member the new party People's Front.
On 21 September 2014, he said that Russia doesn't admits that their soldiers are fighting in Ukraine. He also stated that Russia is the main aggressor and that during the conflict his nation have lost over 1,000 lives with 100s missing. During the same Facebook message he compared the conflict to the butterflies, a metaphor to one of Ray Bradbury's works.
Turchynov was elected his party's faction leader on 27 November 2014.
On 16 December 2014, President Poroshenko appointed Turchynov as Secretary of the National Security and Defence Council of Ukraine.
Controversies
In February 2006 state prosecutors opened a criminal case against Turchynov and his SBU deputy Andriy Kozhemyakin for destroying a file about FBI Ten Most Wanted Fugitive, organized crime boss Semyon Mogilevich, from the SBU archive. The case was dismissed four months later. WikiLeaks documents mention Turchynov, then head of Ukraine's SBU, as having destroyed documents implicating Yulia Tymoshenko's alleged connections to Mogilevich.
Early March 2014 Vladimir Putin, President of the Russian Federation, stated he did not regard Turchynov as the legitimate Ukrainian President.
Non-official activities
In 2004 Turchynov published a book Illusion of Fear. In 2005 he also wrote a script to the same name movie that is based on the book. The movie was released in Ukraine in September 2008 and was the 2008 Ukrainian submissions for the Academy Award for Best Foreign Language Film.
Personal life
His wife is Hanna Turchynova (born 1970), PhD, Head of Foreign Languages at National Pedagogical Dragomanov University. They have one son, Kyrylo (born 1994), a student that finished his master's degree thesis in 2014.
Turchynov is known for abstaining from tobacco and alcohol. He is part of the 1% of Ukraine's population that identify as being Protestant. Although some in the media have reported that he is a pastor, the Associated Baptist Press and the European Baptist Federation report that he is an elder and occasional lay preacher at his Kiev church, the Word of Life Center, which is a member of the Evangelical Baptist Union of Ukraine.
References
Oleksandr Turchynov Wikipedia
(Text) CC BY-SA