Vice President

Namadi Sambo




Succeeded by

Muhammadu Buhari




Name

Goodluck Jonathan





Preceded by

Atiku Abubakar




Preceded by

Umaru Yar'Adua




Spouse

Patience Jonathan







Preceded by

Diepreye Alamieyeseigha




Full Name

Goodluck Ebele Azikiwe Jonathan




Born

20 November 1957 (age 58) Ogbia, Nigeria (

1957-11-20

)


Political party

People's Democratic Party




Alma mater

University of Port Harcourt




Role

Former President of Nigeria




Children

Ariwera Jonathan, Aruabi Jonathan




Siblings

Nancy Jonathan-Olei, Meni Jonathan




Parents

Eunice Jonathan, Lawrence Jonathan




Similar People

Muhammadu Buhari, Patience Jonathan, Olusegun Obasanjo, Abubakar Shekau, Ariwera Jonathan




Profiles




Facebook
no no no president goodluck jonathan no regrets over suspending nigeria s whistle blowing
Goodluck Ebele Azikiwe Jonathan GCFR BNER GCON (born 20 November 1957) is a former President of Nigeria, having served from 2010 to 2015. He served as Vice-President of Nigeria from 2007 to 2010 and as Governor of Bayelsa State from 2005 to 2007.
Contents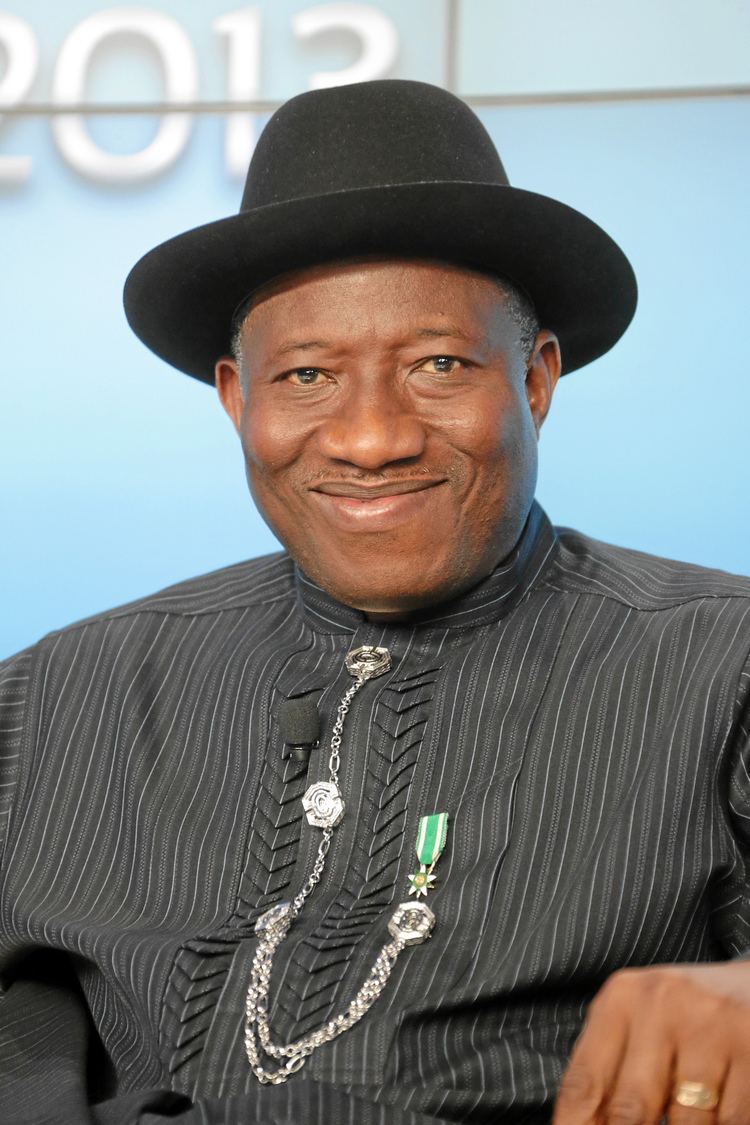 He contested and lost the 2015 presidential election, upon which he conceded defeat and became the first sitting Nigerian president to do so. Jonathan's term as President of Nigeria ended on 29 May 2015, with Muhammadu Buhari becoming the new president.
Goodluck jonathan former president of nigeria talking about tanzanian national elections
Early life and education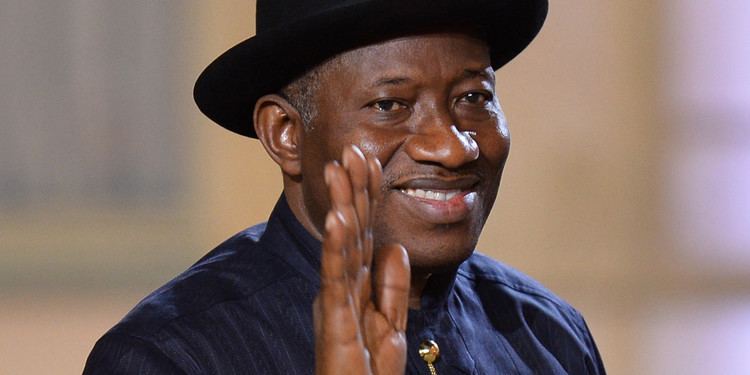 Jonathan was born in what is now Bayelsa State to a family of canoe makers. Jonathan holds a B.Sc. degree in Zoology in which he attained Second Class Honours. He holds an M.Sc. degree in Hydrobiology and Fisheries biology, and a PhD degree in Zoology from the University of Port Harcourt. Before he entered politics in 1998, he worked as an education inspector, lecturer, and environmental-protection officer.
Personal life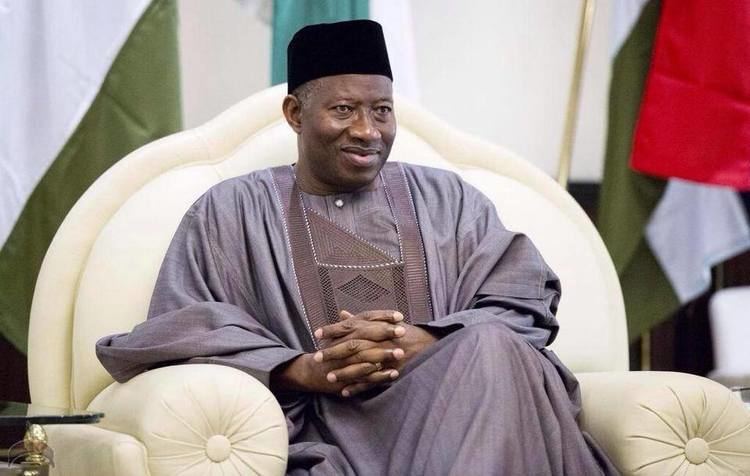 Jonathan and his wife Patience have two children. He is a Christian, and he comes from the Ijaw ethnic group.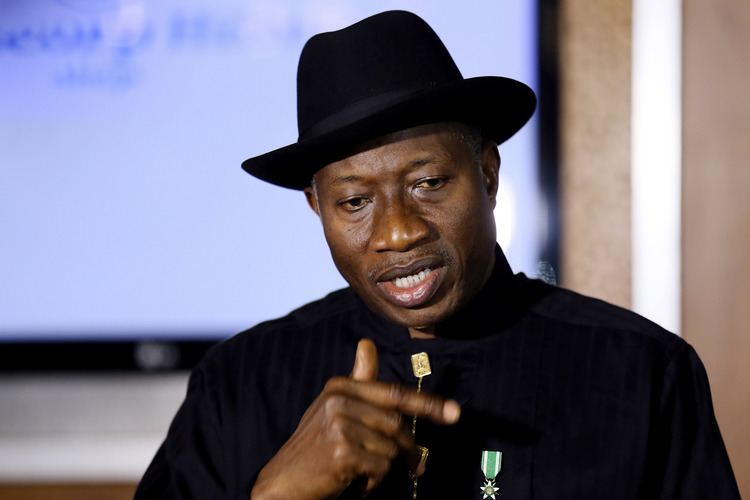 In 2007, President Jonathan declared his assets worth a total of ₦ 295,304,420 Naira ($1,845,652 USD). However, on 9 October 2014, the richestlifestyle.com website ranked Mr Jonathan sixth on its list, claiming his net worth was about $100m (£62m). He threatened to sue the website, claiming it "was an attempt to portray him as corrupt." The page was removed, but was then published by another website which estimated Jonathan's net wealth at $10 million.
Deputy Governor of Bayelsa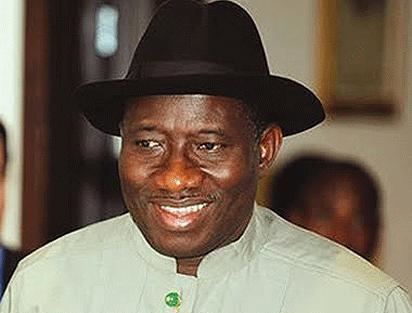 On 29 May 1999, Jonathan was sworn in as Deputy Governor of Bayelsa alongside Diepreye Alamieyeseigha who named in as the governor of the state on the platform of PDP. Jonathan served as Deputy Governor until December 2005.
Governor of Bayelsa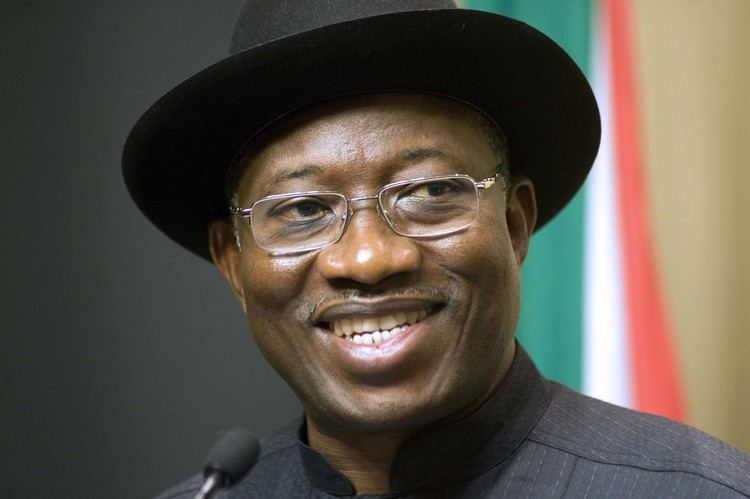 On 9 December 2005, Jonathan, who was Deputy Governor at the time, was sworn in as Governor of Bayelsa State upon the impeachment of the current Governor Diepreye Alamieyeseigha by the Bayelsa State Assembly after being charged with money laundering in the United Kingdom. In September 2006, Jonathan was marred by reports released by Wikileaks claiming his wife was indicted for money-laundering by Nigeria's anti-crime agency, the Economic and Financial Crimes Commission (EFCC). The report proved to be false. The head of the EFCC stated that "Mrs. Jonathan was not in any way involved in any case of money laundering investigated by the EFCC".
Vice-presidency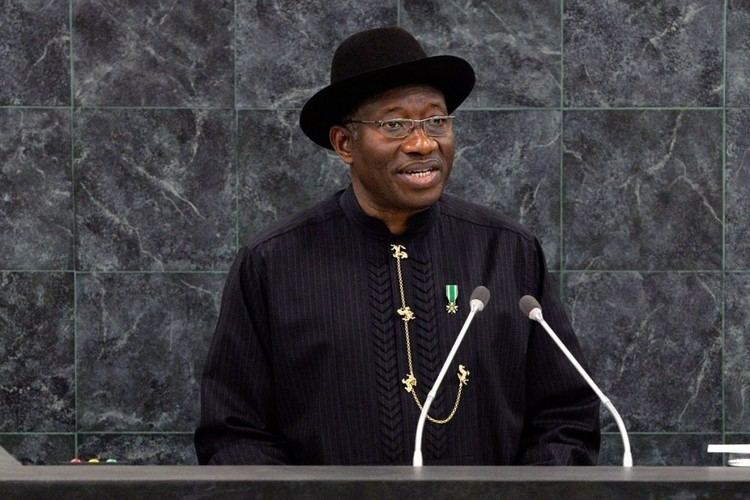 As Vice-President, Jonathan took a very low profile. While recognising the constitutional limits of the Vice-President's office, he participated in cabinet meetings and, by statute, was a member of the National Security Council, the National Defence Council, the Federal Executive Council, and was the Chairman of National Economic Council.
Vice-President Jonathan was instrumental in negotiating an agreement with many of the major militant groups in the Niger Delta, who were mostly his fellow Ijaws, to lay down their weapons and stop fighting as part of a government amnesty.
Acting president
On 9 February 2010, a motion from the Nigerian Senate invested Goodluck Jonathan as acting President of the Federation because President Yar'Adua went to Saudi Arabia in November 2009 for medical treatment. On 10 February 2010, during his first day as acting president, Jonathan announced a minor cabinet reshuffle. Prince Adetokunbo Kayode, who was the Labour Minister, was named Minister of Justice, to replace Mr Mike Aondoakaa. Aondoakaa was named as the Minister of Special Duties, and his counterpart Ibrahim Kazaure was named Minister of Labour.
Acting President Jonathan also promised to continue implementing the Seven-point agenda policy framework of President Umaru Musa Yar'adua.
Order of succession
In accordance with the order of succession in the Nigerian constitution following President Umaru Yar'Adua's death on 5 May 2010, Vice-President Goodluck Jonathan was sworn in as the Acting President of the Federal Republic of Nigeria on 6 May 2010, becoming Nigeria's 14th Head of State. He cited anti-corruption, power and electoral reforms as focuses of his administration. He stated that he came to office under "very sad and unusual circumstances".
On 18 May 2010, the National Assembly approved Jonathan's nomination of former Kaduna State governor, Namadi Sambo, for the position of Vice-President.
2011 presidential campaign and elections
On 15 September 2010, Jonathan announced on Facebook that he had decided to run for public office on his own for the first time, in the race for the presidency of Nigeria in 2011.
In the contest for the Peoples Democratic Party nomination, Goodluck Jonathan was up against the former vice-president Atiku Abubakar and Mrs. Sarah Jubril. On 13 January 2011 the primary election results were announced in Eagle Square, Abuja. Jonathan was declared winner with a victory in two-thirds of the states of the Federation counted.
For the general election in 2011, Jonathan and Vice-President Sambo attended political events and travelled the country to campaign for the nation's highest office. Jonathan won the general election against General Muhammadu Buhari and his running mate Pastor Tunde Bakare with 59% of the votes. On 18 April, Jonathan was declared the winner of the election.
Roadmap for Power Sector Reform
On 2 August 2010, Jonathan launched his 'Roadmap for Power Sector Reform'. Its primary goal was to achieve stable electricity supply in Nigeria.
Historically, the Nigerian Power Sector has been plagued by blackouts. Economists estimate that power outages have cost Nigeria, Africa's biggest economy, billions of dollars in imported diesel for generators and lost output. In a study conducted by the World Bank, a lack of access to financing and electricity were cited as Nigeria's main obstacles to development, surpassing corruption. President Jonathan has overseen the privatisation of Nigeria's power sector with the end goal being the establishment of an efficient and reliable power supply infrastructure for the Nigerian population. The Power Holding Company of Nigeria, which acted as the nation's electricity provider, has been broken up into 15 firms, with Nigeria handing over control of state electricity assets to 15 private bidding companies. The Nigerian government contracted for the services of CPCS Transcom Limited, a Canada-based consulting firm specialising in transportation and energy infrastructure projects, to act as the transaction adviser for the handover of state electricity assets.
Youth Enterprise with Innovation in Nigeria
On 11 October 2011, President Jonathan launched the Youth Enterprise with Innovation in Nigeria (YOUWIN) Initiative which he stated would be an innovative business plan competition that harnesses the creative energies of young people between the ages of 18 and 35. The YOUWIN Initiative is expected to create between 40,000 and 50,000 sustainable jobs by 2014.
Lead poisoning incident
In January 2013, Jonathan reportedly promised $4 million to assist in cleaning up villages that have been affected by a lead poisoning incident. Over 400 children have died and Human Rights Watch said that releasing the funds "could be lifesaving for countless children."
Transformation Agenda
In 2011, President Jonathan launched the Transformation Agenda. The Agenda is based on a summary of how the Federal Government hopes to deliver projects, programmes, and key priority policies from 2011 to 2015, coordinated by the National Planning Commission (NPC).
On 11 September 2013, President Jonathan sacked the creator and coordinator of the Transformation Agenda, Shamsudeen Usman, the Minister of National Planning, along with eight other cabinet ministers amid a rift in the People's Democratic Party (PDP).
Foreign policy
According to President Jonathan, Nigeria's foreign policy was reviewed to reflect a "citizen-focused" approach, designed to "accord this vision of defending the dignity of humanity the highest priority" and connect foreign policy to domestic policy, while placing a greater emphasis on economic diplomacy.
2015 presidential campaign and elections
On 31 March 2015, Jonathan conceded the election to challenger Muhammadu Buhari, who was sworn in to succeed him on 29 May 2015. Jonathan said in a statement he issued on 31 March 2015 that "Nobody's ambition is worth the blood of any Nigerian."
Security challenges
On 26 August 2011, after the UN building in Abuja was bombed by Boko Haram, Jonathan announced that it was an attack not merely on Nigeria, but on the international community. He told reporters that "we would work together with the UN and other world leaders to ensure that terrorism is brought under control."
In response to the Movement for the Emancipation of the Niger Delta's attack on an oil pipeline on 4 February 2012 in Bayelsa, the Senate President David Mark stated that the security situation in the country was "intolerable".
On 14 May 2013, Jonathan declared a state of emergency in three northeastern Nigerian states, Borno, Yobe, and Adamawa, to curtail the activities of Boko Haram. Although initially offering amnesty, by June 2013 he ordered a 20-year jail term for anyone found to be in support of Boko Haram.
On 16 January 2014, it was reported that Jonathan had sacked his military high command in response to their inability to end the Islamist-led insurgency in Northern Nigeria.
Jonathan's administration was heavily criticized for its failure to bring back the over 200 schoolgirls abducted by Boko Haram. Many demonstrations called for the government to be more responsive; Jonathan asked that demonstrators focus on blaming Boko Haram itself for the abductions. Jonathan initially denied that there had been any abduction at all, but then later signaled his government would do a prisoner release in exchange for the kidnapped girls. Discussions then took place in Paris with foreign ministers from France, Britain, the United States and Israel, where he agreed no deals should be struck with terrorists. He then called off the exchange at the last minute on 24 May 2014. This about-turn reportedly enraged Boko Haram leaders.
World Cup 2010
In 2010 after the Nigerian football team failed to progress beyond the group stage at FIFA World Cup in South Africa, Jonathan declared a two-year ban on the country's national football team from all international competitions and ordered an audit into the way the funds allocated for the team were spent. FIFA, the world football governing body, resisted the investigation and stated that it would expel Nigeria from world football if the government interfered. FIFA called for advice from Amos Adamu, the director general of Nigeria's National Sports Commission, who was sacked in the wake of a corruption scandal. After the world governing body threatened to suspend $8 million due to Nigeria for its participation in the World Cup, Jonathan bowed to pressure and lifted the ban.
Removal of fuel subsidy
On 13 December 2011, the 2012 fiscal year's budget removed any provisions for the existing fuel subsidy. According to a poll carried out by the Alliance for Credible Elections (ACE- Nigeria), 80% of Nigerians opposed the plan to remove the fuel subsidy.
On 1 January 2012, the Jonathan administration announced the start of a controversial plan to end fuel subsidies. The government followed the advice of international experts that claimed the fuel subsidy ($8 billion per year, or 25% of the government annual budget) was not sustainable. Brookings Institution, a think tank, praised the government's move, arguing that the subsidy crowds out other development spending, like education, and that it discourages investment in the country's economic lifeblood, the oil sector.
Many prominent Nigerians spoke out against the removal of the subsidy. Former Petroleum Minister Professor Tam David-West has spoken out and expressed concern that the planned removal of the fuel subsidy will squeeze the economy, increase inflation, and hurt both businesses and the public.
A former military Head of State and a former Minister for Petroleum & Natural Resources, General Buhari, urged President Jonathan not to remove the fuel subsidy and to tackle corruption.
General Yakubu Gowon, another former military Head of State, warned the government that the country's infrastructure should be revived before fuel subsidy removal steps were taken.
Former military president Gen. Ibrahim Babangida joined millions of Nigerians protesting against the removal of the fuel subsidy by the Jonathan administration, saying that the action is ill-timed.
Following the Nigeria Labour Congress' warning that the country faces many strikes, the country unions followed up with strikes that were matched with civil protests from 9–13 January 2012. Protesters and groups called for President Jonathan to resign over the removal of fuel subsidies. After five days of national protests and strikes, on 16 January, Jonathan announced that the pump price of petroleum would be 97 naira per litre compared with a post-subsidy level of 147 naira.
Renaming of the University of Lagos
In May 2012, President Jonathan changed the name of the University of Lagos to the Moshood Abiola University in honour of the late MKO Abiola. The action drew attention from critics; among them were pro-Abiola advocates and parties involved with the university. Some critics cited that the President did not submit an appropriate bill to the legislature for the change; that the University's brand name should not be tampered with. The UNILAG Alumni Association commented that although they do not have prejudice against MKO Abiola, they were concerned "that neither the Governing Council nor the University Senate nor any other stakeholder was consulted before the change was announced." Bola Tinubu congratulated Jonathan for taking action, but urged him to "do it right", adding that "we must be careful not to localise or sectionalise MKO". The President has attempted to regularise the renaming of the school by submitting a bill for an amendment of the University's establishing law to the legislature.
Same Sex Marriage Prohibition Act
In January 2014, Jonathan signed into law the Same Sex Marriage Prohibition Act after it was passed by the Senate and House of Representatives. The law prohibits gay relationships, membership and other involvement in gay societies and organisations and gay marriages. The bill comes after international polls showed that 98% of Nigerians did not think homosexuality should be accepted by society, the highest percentage of any country surveyed. Penalties can be up to 14 years in prison for gay marriages and up to 10 years for other violations of the law. Within a short period, the federal police department compiled a list of 168 gay people who would subsequently be jailed. Within days 38 lesbian and gay people had been jailed, with arrests beginning during Christmas. The anti-LGBT bill stipulates that those who withhold the details of LGBT individuals face prison terms of up to five years. His decision and the law itself have been described as controversial, but according to a poll, 92% of Nigerians supported the ban.
October 2010 Independence Day bombing
During his South African magistrate court trial on 2 May 2012, the former leader of the Movement for the Emancipation of the Niger Delta (MEND), Henry Okah, insisted that President Jonathan masterminded the October 2010 Independence Day bombing. Okah told the court that President Jonathan and his aides organised the attacks in Abuja in a desperate political strategy to demonise political opponents, including former military President General Ibrahim Babangida, and to win popular sympathy ahead of the 2011 elections.
The Nigerian Presidency has denied these allegations of terrorism leveled against President Jonathan. A media statement was issued on 2 May 2012, acknowledging the accusations from Okah. The statement went on to say that: "The Presidency categorically affirms that these allegations are false in their entirety and without any factual foundation." The Presidency also expressed no interest in commenting further for the time being, but planned to "make a full representation on the matter to the court when the trial opens."
In January 2013, Okah was found guilty by a South African court of 13 terrorism-related charges and sentenced to 24 years in jail. In January 2015, Jonathan stated that, due to his refusal to award MEND a higher share of the oil wealth, Okah bombed Abuja with the purpose of assassinating Jonathan.
Corruption
Jonathan's government has largely been described as corrupt. According to The Economist, corruption flourished under the Jonathan administration, "who let politicians and their cronies fill their pockets with impunity." Large sums of money have been used improperly multiple times, with ₦ 3.98 trillion Naira ($20 billion USD) allegedly going missing and ₦ 398 billion Naira ($2 billion USD) of military funds allegedly dispersed amongst high-ranking officials. In addition, Jonathan was alleged to have personally ordered over ₦ 3 trillion Naira ($15 billion USD) from the Central Bank of Nigeria to support his election and other self-seeking projects under the guise of an intervention fund for national stability. Charles Soludo, a professor of economics and former governor of the Central Bank of Nigeria, equated Jonathan's financial recklessness to that of former Ugandan president Idi Amin. Ngozi Okonjo-Iweala, an economist and former Finance Minister of Nigeria, pegged Jonathan's administration as the main cause of Nigeria's economic woes in a lecture at George Washington University, although she later denied it.
Since May 2015, the Muhammadu Buhari administration reportedly has been fighting corruption that arose under Jonathan. Many former political office holders and appointees that served under Jonathan, as well as party members, have been arrested on various corruption charges. It is alleged that some, including former Finance Minister Nenadi Usman, have returned part of the money they stole. Many of the corrupt officials that have been arrested have stated that they acted under Jonathan's instructions. It remains unclear whether or not Jonathan, who is believed to have either masterminded or condoned the corruption, will be arrested.
References
Goodluck Jonathan Wikipedia
(Text) CC BY-SA