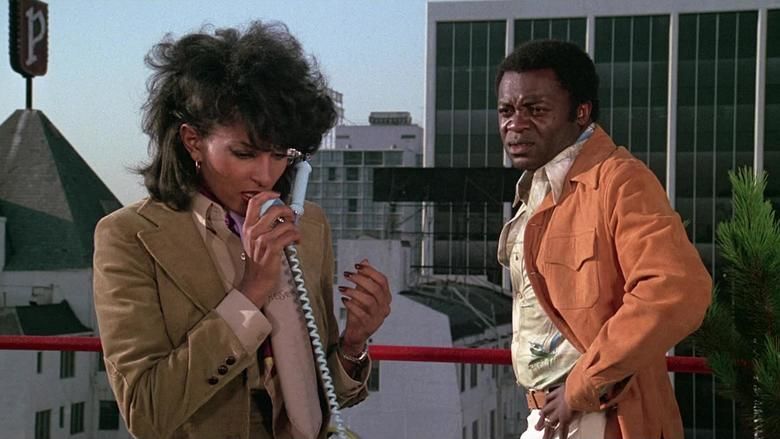 Friday Foster (Grier) is an ex-magazine model turned magazine photographer who refuses to heed her boss's admonitions against becoming involved in the stories to which she is assigned. After witnessing an assassination attempt on the nation's wealthiest African American Blake Tarr (Thalmus Rasulala) and then seeing her best friend Cloris Boston (Miles) murdered, Friday finds herself targeted for death. She teams up with private detective Colt Hawkins (Kotto) to investigate, and soon the two are hot on the trail of a plot to eliminate the country's African-American political leadership.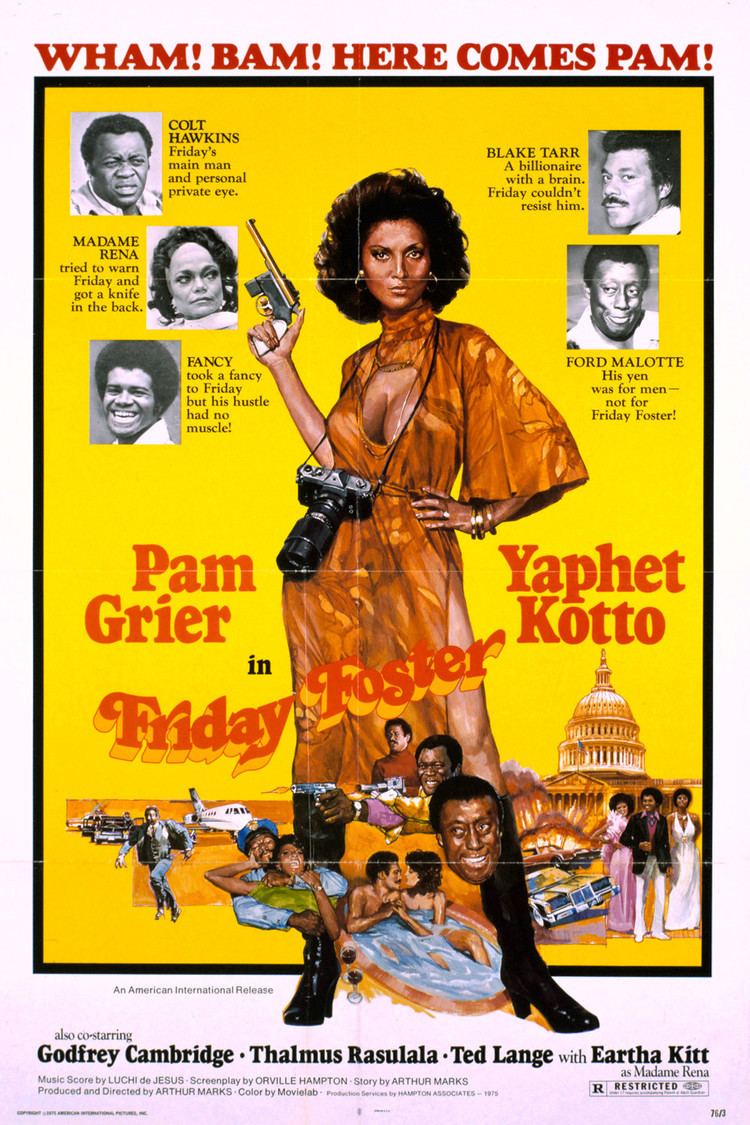 Pam Grier — Friday Foster
Carl Weathers — Yarbro
Eartha Kitt — Madame Rena
Edmund Cambridge — Jake Wayne
Godfrey Cambridge — Ford Malotte
Jason Bernard — Charles Foley
Jim Backus — Enos Griffith
Julius Harris — Monk Riley
Paul Benjamin — David Lee Hart
Rosalind Miles — Cloris Boston
Scatman Crothers — Noble Franklin
Ted Lange — Fancy Dexter
Thalmus Rasulala — Blake Tarr
Tierre Turner — Cleve
Yaphet Kotto — Colt Hawkins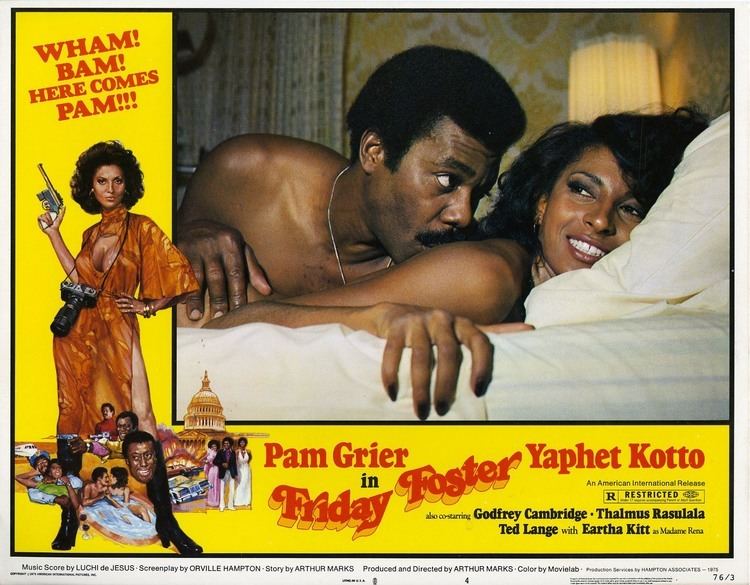 The movie reflects a lot of the ideologies of and issues exposed by the Black Power Movement—Black unity, self-determination and the threat of systemic oppression.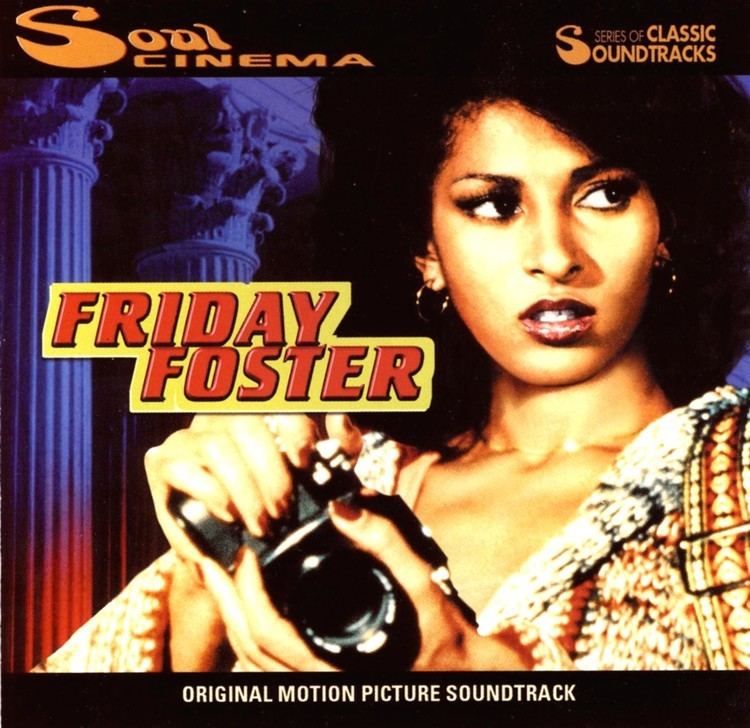 One of the most prevalent themes throughout the film is Black unity and self-determination, ideologies of Black nationalism adopted by the Black Power movement. Black unity and self-determination preached the unification of all Blacks, regardless of class, gender and nation, under a common struggle and oppressor in order to create their own nationhood. Friday Foster touches on the national and local levels of Black unity and self-determination through family, community and commerce.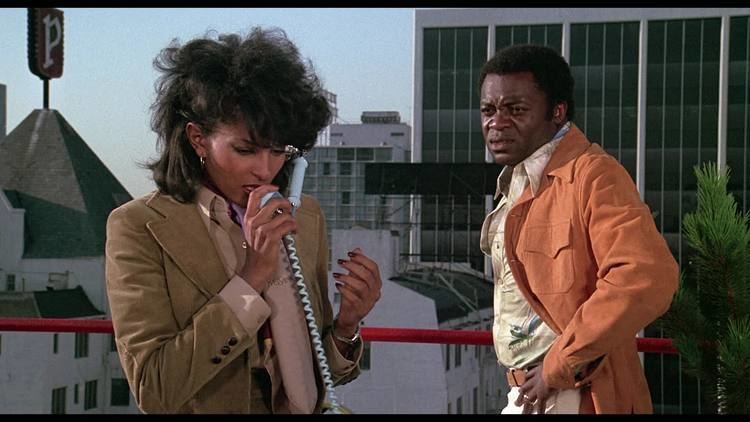 Uplifting the Black family was an important part of Black unity and self-determination. The Black family, especially Black women, was expected to play an important role in shaping the next generation. Although the viewer never see who Friday's parents are, her younger brother, Cleave, whom she cares for, is a presence in the film. Cleave represents the next generation in this film. He is intelligent, young, brave and quick witted as we can see from his interactions with the neighborhood pimp, Fancy, but also innocent. Friday's mission to find and have the hitmen arrested is also a mission to protect her younger brother (the next generation). This mission becomes clear in the scene where the hitman tries to kill Friday in her apartment. Her younger brother, not knowing anything about the present danger directs the hitman to their apartment. In doing this, the film induces fear, not only for Friday's life, but her bother's also. As we are to assume that Friday is his only family, if she were to die, her brother would become an orphan and might fall victim to the common traps of Black life—poverty, drugs, gangs, etc. Grier herself talks about the disintegration of Black family in an interview with Ebony.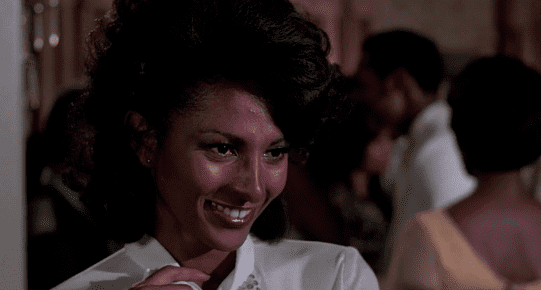 People are not going to church anymore. There's more corruption, more kids dropping out, more young girls from the ages for 13 to 16 who are becoming pregnant. Families have disintegrated. Our parents aren't as strict today. They're not showing that hard, firm love like they used to. I feel we have just lost respect for one another as human beings.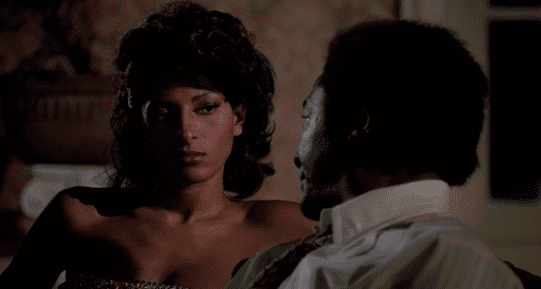 Protecting the next generation from the criminal life would give them the opportunity to be better educated than the last and be leaders in the community and promote Black unity. Education was an important part of Black Power. It was believed that "treating black children as creative, educable beings (rather than aberrant or dysfunctional ones), these revamped institutions would emphasize racial and cultural difference in a positive way--by nurturing a youngster's sense of self and instilling respect for collective responsibility and action." By doing this, every generation would come and help build their community in the same way that they were helped.
The film introduces viewers to comedic versions of two common characters within the Black community—the Black cop and the pimp. Although comedic, these characters are essential to the themes of Black Power that reverberate throughout the film. As expressed by Stokely Carmichael, "...black Americans have two problems: they are poor and they are black. All other problems arise form this two-sided reality: lack of education, the so-called apathy of black men." These characters are a part of a disillusioned older generation caught in the claws of systemic oppression, poverty and being Black. The cop is portrayed as lazy, when in reality he is probably overworked and disillusioned by his job. Throughout the film, he is constantly asking for a beer and refuses to investigate the murder of Cloris any further despite the insistence from Friday and Colt based on evidence. The cop is a representation of what happens when Black people work for a government that does not support them and understand that justice will never land on their side. On the other hand, Fancy, the pimp, is a representation of what could happen to Black men when they are not protected and properly educated, because of poverty. Both of these men represent possibilities for Cleve's future if Friday cannot protect him.
In the film, there are a lot of Black business owners and Black bosses, for example, Friday's boss at Glance Magazine. Although it is unclear as to whether or not he owns the magazine, it is clear that he has a lot of power and influence in the city. He is able to get Friday out of jail after she steals the hearse and even the white antagonist acknowledges the power of Glance Magazine backing Friday in her plans to stop Black Widow. The film also shows a Black female business owner, Madam Rena, the fashion designer who has connections to some of the richest men in D.C.
Beyond the already established businesses, the movie also promotes the idea of educating the young in commerce. The first time the movie shows Cleve, he is counting money in a closet filled with presents. Further into the movie, it is shown that he is getting this money by selling the gifts that Fancy brings for Friday. When asked whether or not he is hustling now, he responds, "Nope, strictly Black capitalism." Generating wealth within the Black community and teaching the young about the systems of economics would give the community the opportunity to rebuild and create a better nation.
In the midst of solving the murder of two of her friends as well as the attempted murder of Black billionaire, Blake Tarr, Friday uncovers a political movement that plans to unify all of the black politicians. As the movie shows, this would be the first time the Black politicians all worked together to tear down "walls of prejudice and discrimination." The unity of Black politicians would mean a stronger Black presence in government and Black power. Going back to Stokely Carmichael, "Politically, black power means what it has always meant to SNCC: the coming-together of black people to elect representatives and to force those representatives to speak to their needs." This is harmful to the system that is already in place and does not work for the enrichment of the Black community. A stronger Black presence in government would also mean that the government would have to acknowledge and work to fix Black problems. In order to do this, it would have to restructure the system.
However, the omnipresent threat of White supremacy is always a problem. In the movie, this threat is working to destroy Black Power by killing all of the Black leaders a part of the movement for Black political unity. "Suppose you wanted to destroy Black Power. What better way then to get all the leaders together and wipe them out." This shows the length that white supremacists would go to stop equality. This isn't a far stretch considering that many leaders of the Civil Rights Movement were either assassinated or attacked to stop the movement. The most disturbing part however, is that the person coordinating the attack for the white man is a black man, Charles Folley. This confuses Friday, who doesn't understand how someone Black could work against their own community. But, as the senator points out, "Some n****** will do anything for a dollar." This demonstrates the need for Black unity and commerce as a means of getting out of poverty and the white man's money.
Grier said,"I took the parts no other Hollywood starlet would touch because they didn't want to be demeaned or mess up their nails. It was a risk but I didn't know any better and somehow I came out on top" in response to a question about the heavy sexual visuals in her films. She also made the point of saying that she took those roles, because they were the only ones available to Black actresses at the time. However, as she gained more autonomy she was able to control how her character was portrayed in films. This film has less nudity than Grier's more popular films Foxy Brown and Coffy, but it also says a lot about the treatment of women during this period. In Friday Foster, the protagonist is a brave, intelligent woman who refuses to sit on the sidelines while the men take all the action. However, the empowered protagonist is still affected by sexism.
In her interview with Ebony magazine, Grier says, "Half the black men do not respect women. They do not respect their little sisters; they're still using profanity in front of them." This type of sexism is prevalent in Friday Foster. Although educated, Friday still has to use her body in order to get the results and information that she wants from the male characters. For example, when going to take pictures of Blake Tarr, she flirts heavily with airport security in order to pass him. Although he knows what she is there for, he still entertains her attempts before he lets her in. This shows how women were forced to obtain power through men during the time. Many Black women during this time were expected to raise families or, if they wanted to be actively a part of the Black Power movement, answer phones and support the men. Most famous women that were a part of the Black Panther Party were famous by their association to Black men.
This is shown in the movie when Ford Malotte tells her "Go home, get laid, have a baby" and says to Colt, her male companion, "Tell your liberated little woman..." By doing this, he is dismissing her using her gender role and telling the man to control her. Unfortunately, that isn't the only bout of sexism that she or the other women in the film encounter. When Cloris's death is said to happen, because of a drug scandal, Friday tries to tell the police differently and he dismisses her by repeatedly asking her about the drugs.
However, the fact that the protagonist of the film is a woman who perseveres despite being belittled by the men surrounding her shows how the movie also reflects feminist issues. Grier told Jet magazine, "I want to show them I'm not just another body for the camera but a serious actress." Similarly, Friday is attempting to show the men that she is a real journalist. She also reflects on the intersectionality of her identities as a Black woman. In the film, when Blake Tarr asks about her she says, "First, I'm a woman."