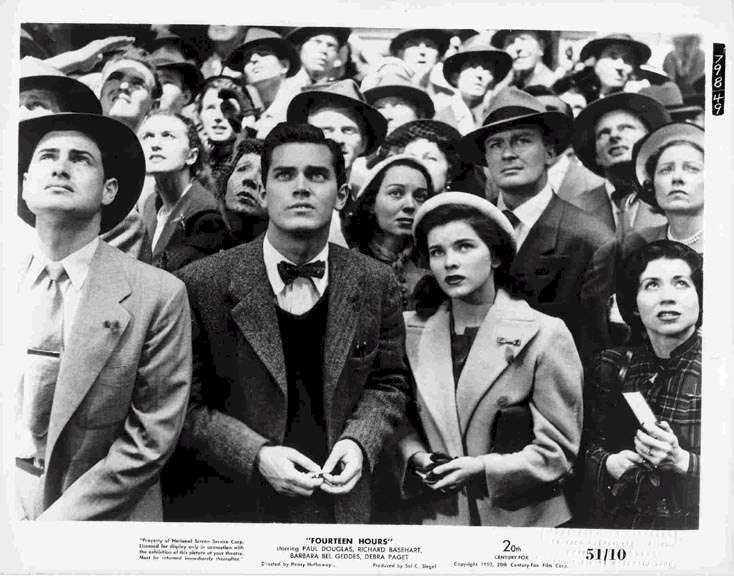 Early one morning, a room-service waiter at a New York City hotel is horrified to discover that the young man to whom he has just delivered breakfast (Basehart) is standing on the narrow ledge outside his room on the 15th floor. Charlie Dunnigan (Douglas), a policeman on traffic duty in the street below, tries to talk him off the ledge to no avail. He is ordered back to traffic patrol by police emergency services deputy chief Moksar (Da Silva), but he is ordered to return when the man on the ledge will not speak to psychiatrists summoned to the scene. Coached by a psychiatrist (Martin Gabel), Dunnigan tries to relate to the man on the ledge as one human to another.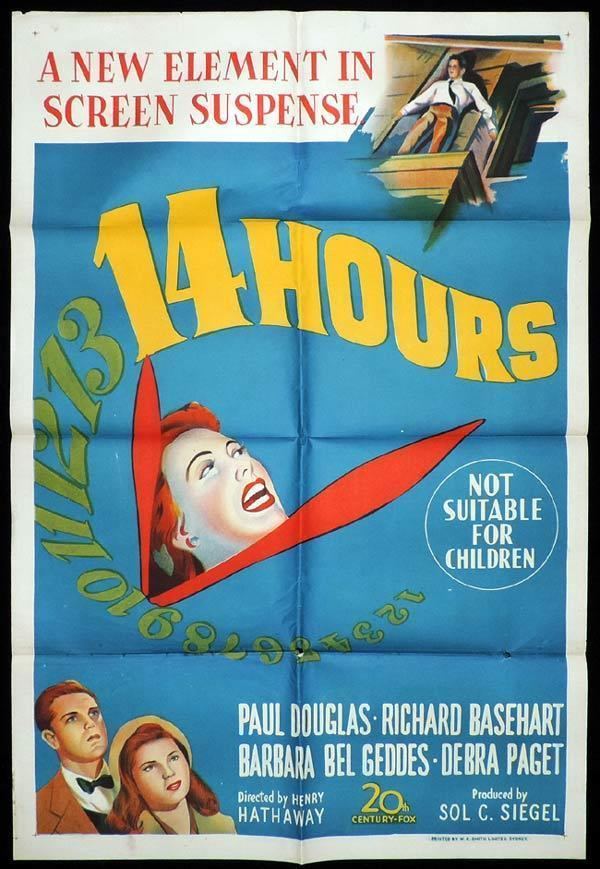 The police identify the man as Robert Cosick and locate his mother (Agnes Moorehead), but her overwrought, hysterical behavior only upsets Cosick and seems to drive him toward jumping. His father (Keith), whom he despises, arrives. The divorced father and mother clash over old family issues, and the conflict is played out in front of the police. Dunnigan seeks to reconcile Robert with his father, whom Cosick has been brought up to hate by his mother. Dunnigan forces Mrs. Cosick to reveal the identity of a "Virginia" mentioned by Robert, and she turns out to be his estranged fiancee.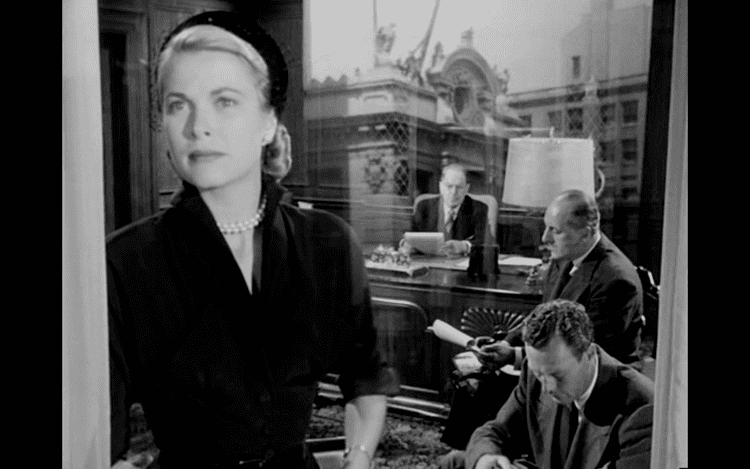 While this is happening, a crowd is gathering below. Cab drivers are wagering on when he will jump. A young stock-room clerk named Danny (Hunter) is wooing a fellow office worker, Ruth (Debra Paget), whom he meets by chance on the street. A woman (Grace Kelly) is seen at a nearby law office, where she is about to sign the final papers for her divorce. Amid legal formalities, she watches the drama unfold. Moved by the tragic events, she decides to reconcile with her husband.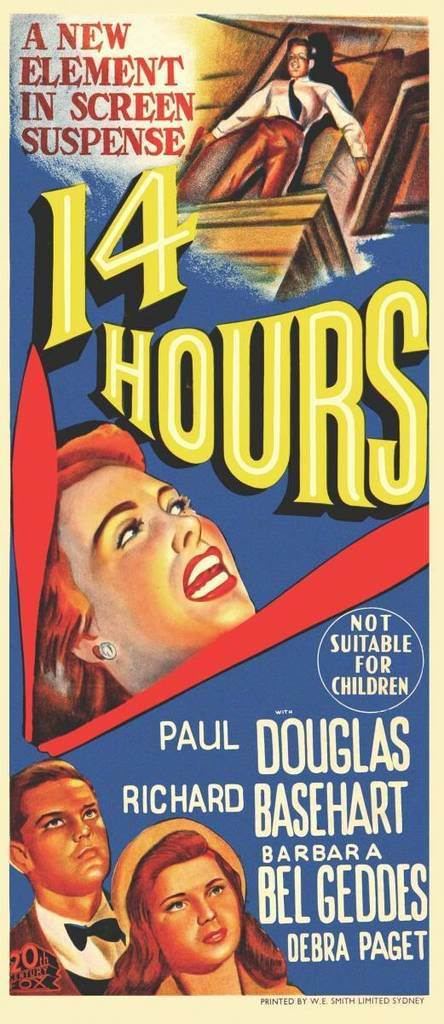 After a while, Dunnigan convinces Cosick everyone will leave the hotel room so that he can rest. As Cosick steps in, a crazy evangelist sneaks into the room and Cosick goes back to the ledge. This damages his trust in Dunnigan, as does an effort by police to drop down from the roof and grab him. As night falls, Virginia (Barbara Bel Geddes) is brought to the room, and she pleads with Robert to come off the ledge, to no avail. All the while, the police, under the command of Moksar, are working to grab Robert and put a net below him.
Dunnigan seems to make a connection with Cosick when he talks about the good things in life, and he promises to take Cosick fishing for "floppers" (flounder) on Sheepshead Bay. Cosick is about to come inside when a boy on the street accidentally turns on a spotlight that blinds Robert, and he falls from the ledge. He manages to grab a net that the police had stealthily put below him, and he is hauled into the hotel. Dunnigan is greeted by his wife and son, and Danny and Ruth walk the street hand in hand.
Paul Douglas as Charlie Dunnigan
Richard Basehart as Robert Cosick
Barbara Bel Geddes as Virginia Foster
Debra Paget as Ruth
Agnes Moorehead as Christine Hill Cosick
Robert Keith as Paul E. Cosick
Howard Da Silva as Deputy Chief Moskar
Jeffrey Hunter as Danny Klempner
Martin Gabel as Dr. Strauss
Grace Kelly as Mrs. Louise Ann Fuller
Frank Faylen as Walter, room service waiter
Jeff Corey as Police Sgt. Farley
James Millican as Police Sgt. Boyle
Donald Randolph as Dr. Benson
The New Yorker singled out Basehart's performance for praise, saying that he "succeeds in conveying the notion that he is indeed sorely beset."
The New York Times film critic, Bosley Crowther, praised the "gripping suspense, absorbing drama and stinging social comment in this film." Crowther said: "Fitly directed by Henry Hathaway in a crisp journalistic style and played to the hilt down to its 'bit' parts, it makes a show of accelerating power." Crowther praised Basehart's "startling and poignant" performance, and said that Douglas "takes the honors as the good-natured cop who finds all his modest resources of intelligence and patience taxed by this queer case." He also praised Da Silva, Moorehead, and the other supporting players for bringing "personality and credibility to this superior American film."
Time Out Film Guide said that this "vertiginous melodrama recounts the event in professional low-key journalistic fashion." Comparing the movie to the film noir Ace in the Hole, Time Out observed that "the emphasis is as much on the reaction of bystanders as on the plight of the would-be suicide."
The film was nominated an Academy Award for Best Art Direction (Lyle R. Wheeler, Leland Fuller, Thomas Little, Fred J. Rode).
Fourteen Hours was listed as among the top-10 motion pictures of 1951 by the National Board of Review of Motion Pictures. For his performance in the movie, Basehart won the 1951 award for best actor by the board. The film also was nominated for the BAFTA award for best film from any source. Hathaway was nominated for the Golden Lion Award at the Venice Film Festival, and Paxton was nominated for a Writers Guild of America award for his screenplay.
Despite good reviews and a strong push by the studio to publicize the movie, with Paul Douglas appearing on the cover of Life, Fourteen Hours faded into obscurity. When the film was shown in revival at a Los Angeles Theater in 2003, only one print survived. However, the title was included in Twentieth Century Fox's "Fox Film Noir" DVD series in 2006.
Writing in Dark City: The Lost World of Film Noir, author Eddie Muller wrote: "It's a tense depiction of one man's personal despair, amid the teeming concrete indifference of the modern city."
In 1955, it was remade as Man on the Ledge, starring Cameron Mitchell, as an episode of The 20th Century Fox Hour.
In 2012, another remake was released as Man on a Ledge, starring Sam Worthington and Elizabeth Banks in the lead roles.