Years active

1983–present




Name

Eric Bogosian





Role

Actor




Spouse

Jo Anne Bonney (m. 1980)







Born

April 24, 1953 (age 70) (

1953-04-24

) Woburn, Massachusetts, United States


Occupation

Actor, playwright, monologuist, novelist, historian


Website

http://www.ericbogosian.com


Plays

Talk Radio, suburbia, Pounding Nails in the Floor with my Forehead, Drinking in America


Children

Travis Bogosian, Harris Wolf Bogosian




Books

Sex, Drugs, Rock & Roll, Mall: A Novel, Wasted beauty




Movies and TV shows

Law & Order: Criminal I, Under Siege 2: Dark Terri, Talk Radio, SubUrbia, Dolores Claiborne


Similar People

Everett McGill, Jo Anne Bonney, Kathryn Erbe, Vincent D'Onofrio, Chris Noth
Malzberg eric bogosian american hit squad avenged armenian genocide
Eric Bogosian (born April 24, 1953) is an American actor, playwright, monologuist, novelist and historian.
Contents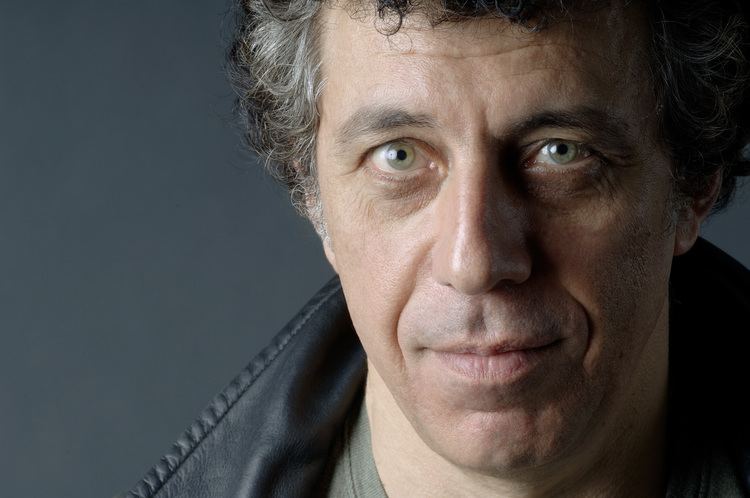 Eric bogosian operation nemesis
Personal life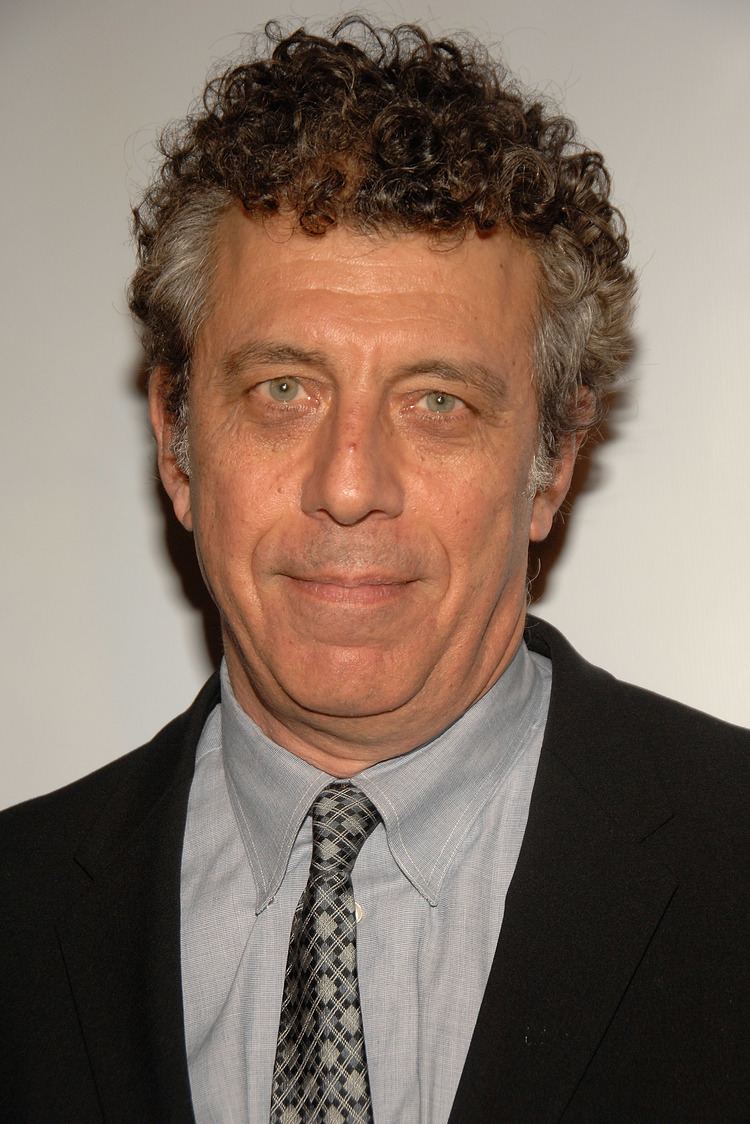 Bogosian, an Armenian-American, was born in Woburn, Massachusetts, the son of Edwina (née Jamgochian), a hairdresser and instructor, and Henry Bogosian, an accountant. He attended the University of Chicago before graduating from Oberlin College.
Career
Bogosian is an author and actor known for his plays Talk Radio and subUrbia as well as numerous one-man shows. In recent years he has starred on Broadway in Donald Margulies' Time Stands Still, published three novels, and was featured on Law & Order: Criminal Intent as Captain Danny Ross.
Solos
Between 1980 and 2000, six major solos written and performed by Eric Bogosian were produced Off-Broadway, garnering him three Obie Awards as well as the Drama Desk award. His first two solos, Men Inside and funHouse were presented at the New York Shakespeare Festival. His third, Drinking in America, was produced by American Place Theater. Sex, Drugs, Rock & Roll, Pounding Nails in the Floor with My Forehead and Wake Up and Smell the Coffee were all produced commercially Off-Broadway by Frederick Zollo.
In addition to Bogosian's touring the United States and Europe, the solos have been produced featuring other actors in Argentina, Brazil, Italy and Poland.
Plays
Eric Bogosian is the author of six produced plays, including Talk Radio at the New York Shakespeare Festival, which was nominated for a Pulitzer Prize and subsequently adapted to film by Oliver Stone, garnering Bogosian the prestigious Berlin Film Festival Silver Bear. In 2007 a Broadway revival of Talk Radio directed by Robert Falls starred Liev Schreiber. subUrbia, directed by Robert Falls and produced by Lincoln Center Theater, was adapted to film by Richard Linklater. Other titles include Griller (Goodman Theater); Humpty Dumpty (The McCarter); Red Angel (Williamstown Theater Festival) and 1+1 (New York Stage and Film). Bogosian's one-person drama, Notes from Underground has had several productions, most recently starring Jonathan Ames at Performance Space 122.
Stage
In addition to his many appearances in his solo work and starring in his play, Talk Radio, Bogosian has also starred in Stephen Adly Guirgis' The Last Days of Judas Iscariot directed by Philip Seymour Hoffman (LAByrinth) and Donald Margulies' Time Stands Still directed by Daniel Sullivan (Manhattan Theater Club/Broadway).
Film
Bogosian's plays Talk Radio and subUrbia were adapted to film as was his solo, Sex, Drugs, Rock & Roll. He has starred in several films including Talk Radio, Under Siege 2: Dark Territory and Wonderland. In addition he has been featured in films by such directors as Woody Allen, Robert Altman, Taylor Hackford, Atom Egoyan and Agnieszka Holland.
Television
In television, Bogosian is best known for his starring role as Captain Danny Ross in the series Law & Order: Criminal Intent. In addition, he has appeared as a guest star on dramas and in 1994 created with Steven Spielberg the series High Incident for ABC television. He portrayed Barney Greenwald, defense attorney, in the TV film The Caine Mutiny Court Martial. He also appeared in the episode "His Story" on Scrubs as Dr. Cox's therapist and was recurring character Lawrence Boyd in Billions' second season.
Books
Bogosian is the author of three novels published by Simon & Schuster: Mall, Wasted Beauty, and Perforated Heart. All of his dramatic work is in print, published by Theater Communication Group. In 2015, he published Operation Nemesis: The Secret Plot that Avenged the Armenian Genocide, a history of Operation Nemesis which involved a group of Armenian assassins who set out to avenge the deaths of the one and a half million victims of the Armenian Genocide.
Dance
Bogosian founded the dance series at The Kitchen. During his charter tenure there, he produced the first concerts in New York City by Bill T. Jones and Arnie Zane, Karole Armitage and Molissa Fenley as well as dozens of other choreographers. In 2006 Bogosian acted as producer on the New York City Ballet's documentary, Bringing Back Balanchine.
Awards
Bogosian is a Guggenheim fellow and the recipient of two fellowships from the National Endowment for the Arts.
Writing credits
Men in Dark Times
Scenes from the New World
Sheer Heaven (1980)
Men Inside (1981)
The New World (1981)
FunHouse (1983)
Drinking in America (1986) (Winner of the Drama Desk Award for Outstanding One-Person Show)
Talk Radio (1987) (also film version 1988)
Sex, Drugs, Rock & Roll (1990)
Notes from the Underground (1993)
Pounding Nails in the Floor with My Forehead (1994)
subUrbia (1994) (also film version 1996)
Griller (1998)
Mall (2000)
Wake Up and Smell the Coffee (2000)
Humpty Dumpty (2004)
Non-profit Benefit
Red Angel
Wasted Beauty (2005)
Perforated Heart (novel) (2009)
General of Hot Desire (one act play)
Operation Nemesis (2015)
Filmography
Actor
2022
Interview with the Vampire (TV Series)
as
Daniel Molloy
- The Thing Lay Still (2022) - Daniel Molloy
- Like Angels Put in Hell by God (2022) - Daniel Molloy
- A Vile Hunger for Your Hammering Heart (2022) - Daniel Molloy
- -The Ruthless Pursuit of Blood with All a Child's Demanding (2022) - Daniel Molloy
- Is My Very Nature That of a Devil (2022) - Daniel Molloy
- - After the Phantoms of Your Former Self (2022) - Daniel Molloy
- In Throes of Increasing Wonder- (2022) - Daniel Molloy
2017
Billions (TV Series)
as
Lawrence Boyd
- Victory Smoke (2021) - Lawrence Boyd
- Flaw in the Death Star (2018) - Lawrence Boyd
- Ball in Hand (2017) - Lawrence Boyd
- Golden Frog Time (2017) - Lawrence Boyd
- With or Without You (2017) - Lawrence Boyd
- Victory Lap (2017) - Lawrence Boyd
- Indian Four (2017) - Lawrence Boyd
- Currency (2017) - Lawrence Boyd
- The Oath (2017) - Lawrence Boyd
- Optimal Play (2017) - Lawrence Boyd
- Dead Cat Bounce (2017) - Lawrence Boyd
2021
The Disaster Dreams (Short)
as
Voice from Car (voice)
2018
Succession (TV Series)
as
Gil Eavis
- This Is Not for Tears (2019) - Gil Eavis
- DC (2019) - Gil Eavis
- Vaulter (2019) - Gil Eavis
- Nobody Is Ever Missing (2018) - Gil Eavis
- Pre-Nuptial (2018) - Gil Eavis
- Prague (2018) - Gil Eavis
- Austerlitz (2018) - Gil Eavis
2019
Instinct (TV Series)
as
Harry Kassabian
- One-of-a-Kind (2019) - Harry Kassabian
2016
The Get Down (TV Series)
as
Roy Asheton
- Only from Exile Can We Come Home (2017) - Roy Asheton
- Gamble Everything (2017) - Roy Asheton
- The Beat Says, This Is the Way (2017) - Roy Asheton
- One by One, Into the Dark (2017) - Roy Asheton
- Unfold Your Own Myth (2017) - Roy Asheton
- Raise Your Words, Not Your Voice (2016) - Roy Asheton
- Darkness Is Your Candle (2016) - Roy Asheton
2017
Rebel in the Rye
as
Harold Ross
2015
Daytona (Short)
as
Sam Calhoun (voice)
2015
Elementary (TV Series)
as
Collin Eisely
- A Stitch in Time (2015) - Collin Eisely
2014
The Good Wife (TV Series)
as
Nelson Dubeck
- Dramatics, Your Honor (2014) - Nelson Dubeck
- A Few Words (2014) - Nelson Dubeck
- Parallel Construction, Bitches (2014) - Nelson Dubeck
2014
Listen Up Philip
as
The Narrator (voice)
2010
Don't Go in the Woods
as
Executive
2006
Law & Order: Criminal Intent (TV Series)
as
Captain Danny Ross
- Loyalty: Part 1 (2010) - Captain Danny Ross
- Revolution (2009) - Captain Danny Ross
- Alpha Dog (2009) - Captain Danny Ross
- Major Case (2009) - Captain Danny Ross
- All In (2009) - Captain Danny Ross
- Passion (2009) - Captain Danny Ross
- Lady's Man (2009) - Captain Danny Ross
- Salome in Manhattan (2009) - Captain Danny Ross
- Family Values (2009) - Captain Danny Ross
- The Glory That Was- (2009) - Captain Danny Ross
- Folie a Deux (2009) - Captain Danny Ross
- Astoria Helen (2009) - Captain Danny Ross
- Faithfully (2009) - Captain Danny Ross
- In Treatment (2009) - Captain Danny Ross
- Identity Crisis (2009) - Captain Danny Ross
- Rock Star (2009) - Captain Danny Ross
- Playing Dead (2009) - Captain Danny Ross
- Frame (2008) - Captain Danny Ross
- Last Rites (2008) - Captain Danny Ross
- Neighborhood Watch (2008) - Captain Danny Ross
- Legacy (2008) - Captain Danny Ross
- Ten Count (2008) - Captain Danny Ross
- Vanishing Act (2008) - Captain Danny Ross
- Reunion (2008) - Captain Danny Ross
- Please Note We Are No Longer Accepting Letters of Recommendation from Henry Kissinger (2008) - Captain Danny Ross
- Assassin (2008) - Captain Danny Ross
- Betrayed (2008) - Captain Danny Ross
- Contract (2008) - Captain Danny Ross
- Purgatory (2008) - Captain Danny Ross
- Senseless (2007) - Captain Danny Ross
- Untethered (2007) - Captain Danny Ross
- Offense (2007) - Captain Danny Ross
- Self-made (2007) - Captain Danny Ross
- Courtship (2007) - Captain Danny Ross
- Depths (2007) - Captain Danny Ross
- Lonelyville (2007) - Captain Danny Ross
- Smile (2007) - Captain Danny Ross
- Seeds (2007) - Captain Danny Ross
- Amends (2007) - Captain Danny Ross
- Renewal (2007) - Captain Danny Ross
- Endgame (2007) - Captain Danny Ross
- Bombshell (2007) - Captain Danny Ross
- Rocket Man (2007) - Captain Danny Ross
- Silencer (2007) - Captain Danny Ross
- Players (2007) - Captain Danny Ross
- 30 (2007) - Captain Danny Ross
- Brother's Keeper (2007) - Captain Danny Ross
- Flipped (2007) - Captain Danny Ross
- Albatross (2007) - Captain Danny Ross
- Privilege (2007) - Captain Danny Ross
- World's Fair (2007) - Captain Danny Ross
- Weeping Willow (2006) - Captain Danny Ross
- Blasters (2006) - Captain Danny Ross
- The War at Home (2006) - Captain Danny Ross
- Country Crossover (2006) - Captain Danny Ross
- Masquerade (2006) - Captain Danny Ross
- Bedfellows (2006) - Captain Danny Ross
- Maltese Cross (2006) - Captain Danny Ross
- Siren Call (2006) - Captain Danny Ross
- Tru Love (2006) - Captain Danny Ross
- Blind Spot (2006) - Captain Danny Ross
2008
Cadillac Records
as
Alan Freed
2006
Love Monkey (TV Series)
as
Phil Leshing
- Coming Out (2006) - Phil Leshing
- Mything Persons (2006) - Phil Leshing
- Opportunity Knocks (2006) - Phil Leshing
- Nice Package (2006) - Phil Leshing
- Pilot (2006) - Phil Leshing
2004
Blade: Trinity
as
Bentley Tittle
2004
King of the Corner
as
Rabbi Evelyn Fink
2003
Untitled New York Pilot (TV Movie)
2003
Charlie's Angels: Full Throttle
as
Alan Caulfield
2003
Scrubs (TV Series)
as
Dr. Gross
- His Story (2003) - Dr. Gross
2002
Igby Goes Down
as
Mr. Nice Guy
2001
Wake Up and Smell the Coffee
as
All
2001
Shot in the Heart (TV Movie)
as
Larry Schiller
2001
Blonde (TV Mini Series)
as
Otto Ose
- Episode #1.2 (2001) - Otto Ose
- Episode #1.1 (2001) - Otto Ose
2001
Third Watch (TV Series)
as
Lt. Lewis
- The Self-Importance of Being Carlos (2001) - Lt. Lewis
2000
Welcome to New York (TV Series)
as
Robby
- The Crier (2000) - Robby
2000
Gossip
as
Professor Goodwin
1999
The Wedding Toast (Short)
as
Toaster
1999
Beggars and Choosers (TV Series)
as
Eric Bogosian
- Sex, Drugs & Videotape (1999) - Eric Bogosian
1998
Safe Men
as
Edward Templeton Sr. (voice)
1998
A Bright Shining Lie (TV Movie)
as
Doug Elders
1997
Deconstructing Harry
as
Burt
1997
Office Killer
as
Peter Douglas (uncredited)
1996
Beavis and Butt-Head Do America
as
Ranger at Old Faithful / Press Secretary / Lieutenant at Strategic Air Command (voice)
1996
The Substance of Fire
as
Gene Byck
1995
Under Siege 2: Dark Territory
as
Travis Dane
1995
Dolores Claiborne
as
Peter
1994
Witch Hunt (TV Movie)
as
Sen. Larson Crockett
1993
The Thief and the Cobbler
as
Phido the Vulture (Miramax version) (voice)
1993
The Larry Sanders Show (TV Series)
as
Stan Paxton
- Larry's Partner (1993) - Stan Paxton
1992
Law & Order (TV Series)
as
Gary Lowenthal
- Night & Fog (1993) - Gary Lowenthal
- Conspiracy (1992) - Gary Lowenthal
1992
Helmet: Give It (Music Video)
as
Man
1990
Last Flight Out (TV Movie)
as
Larry Rose
1989
Suffering Bastards
as
Mr. Leech
1988
The Caine Mutiny Court-Martial (TV Movie)
as
Lt. Barney Greenwald
1987
Chasing the Dragon (Short)
1987
Arena Brains (Short)
as
The Entertainer
-1987
Alive from Off Center (TV Series)
as
Various Characters
- Funhouse (1987) - Various Characters
- Made for TV - (voice)
1986
Crime Story (TV Series)
as
Dee
- Old Friends, Dead Ends (1986) - Dee
- Pilot (1986) - Dee
1986
Reading Rainbow (TV Series)
as
Conan the Librarian
- Alistair in Outer Space (1986) - Conan the Librarian (voice)
1985
The Twilight Zone (TV Series)
as
Jackie Thompson (segment "Healer")
- Healer/Children's Zoo/Kentucky Rye (1985) - Jackie Thompson (segment "Healer")
1985
The Stuff
as
Supermarket Clerk (uncredited)
1985
Tales from the Darkside (TV Series)
as
Junkie
- The Tear Collector (1985) - Junkie
1985
Miami Vice (TV Series)
as
Zeke
- Milk Run (1985) - Zeke
1984
Special Effects
as
Neville
1983
Jim Capaldi: That's Love (Music Video)
as
Man
1983
Born in Flames
as
CBS Technician
Writer
2010
Bitter Sauce (Short) (story)
2008
Television Theater (TV Series) (play - 1 episode)
- Seks, prochy i rock and roll (2008) - (play)
2007
Red Angel (Short) (play "Red Angel")
2001
Wake Up and Smell the Coffee
1999
The Wedding Toast (Short)
-
High Incident (TV Series) (creator - 32 episodes, 1996 - 1997) (creative consultant - 1 episode, 1996) (story - 1 episode, 1996) (teleplay - 1 episode, 1996)
- Shootout (1997) - (creator)
- Starting Over (1997) - (creator)
- Camino High (1997) - (creator)
- Remote Control (1997) - (creator)
- Show Me the Money (1997) - (creator)
- Excessive Force (1997) - (creator)
- Hot Wire (1997) - (creator)
- Black & Blue (1997) - (creator)
- Knock, Knock (1997) - (creator)
- No Money Down (1997) - (creator)
- My Brother's Keeper (1997) - (creator)
- Christmas Blues (1996) - (creator)
- Warrant Peace (1996) - (creative consultant) / (creator)
- Bullet the Blue Sky (1996) - (creator)
- Change Partners (1996) - (creator)
- Shake, Rattle & Roll (1996) - (creator)
- Masquerade (1996) - (creator)
- The Godfather (1996) - (creator)
- Who'll Stop the Bombs? (1996) - (creator)
- Welcome to America (1996) - (creator)
- Nobody Walks in El Camino (1996) - (creator)
- Hello/Goodbye (1996) - (creator)
- The Lady or the Tiger (1996) - (creator)
- Truth or Consequences (1996) - (creator)
- 52 Car Pick-Up (1996) - (creator)
- Follow the Leader (1996) - (creator)
- Father Knows Best (1996) - (creator)
- Sometimes a Vague Notion (1996) - (creator)
- Women & Children First (1996) - (creator)
- Coroner's Day Off (1996) - (creator)
- Till Death Do Us Part (1996) - (creator)
- Pilot (1996) - (creator) / (story) / (teleplay)
1996
SubUrbia (play) / (screenplay)
1991
Sex, Drugs, Rock & Roll (Documentary) (play) / (screenplay)
1988
Talk Radio (play) / (play creator) / (screenplay)
1987
Chasing the Dragon (Short)
1986
Funhouse (TV Special)
Miscellaneous
1996
High Incident (TV Series) (creative consultant - 10 episodes)
- Shootout (1997) - (creative consultant)
- Camino High (1997) - (creative consultant)
- Excessive Force (1997) - (creative consultant)
- Black & Blue (1997) - (creative consultant)
- Knock, Knock (1997) - (creative consultant)
- No Money Down (1997) - (creative consultant)
- Christmas Blues (1996) - (creative consultant)
- Change Partners (1996) - (creative consultant)
- Masquerade (1996) - (creative consultant)
- Till Death Do Us Part (1996) - (creative consultant)
Producer
1996
High Incident (TV Series) (executive producer - 1 episode)
- Pilot (1996) - (executive producer)
Director
2014
100 Monologues (TV Series short)
Soundtrack
1996
SubUrbia (lyrics: "Man Invisible", "Salvation")
Thanks
2019
It Takes a Lunatic (Documentary) (very special thanks)
2017
Intent to Destroy: Death, Denial & Depiction (Documentary) (special thanks)
2016
The Promise (the filmmakers would like to thank)
2012
Keep the Lights On (thanks)
2000
In the Weeds (special thanks)
1998
Frogs for Snakes (special thanks)
Self
2021
Make Me Famous (Documentary)
as
Self -
2019
It Takes a Lunatic (Documentary)
as
Self
2019
Really Famous with Kara Mayer Robinson (TV Series)
as
Self - Guest
- Eric Bogosian (2019) - Self - Guest
2017
King Cohen (Documentary)
as
Self
2017
Intent to Destroy: Death, Denial & Depiction (Documentary)
as
Self
2017
ASSSSCAT 3000: New York (TV Series)
as
Self - monologist
- Eric Bogosian (2017) - Self - monologist
2016
Robert Klein Still Can't Stop His Leg (Documentary)
as
Self
2015
WTF with Marc Maron (Podcast Series)
as
Self - Guest
- Eric Bogosian (2015) - Self - Guest
2015
Vice News (TV Series documentary)
as
Self
- Adam Driver Brings Monologues to the Military: Arts in the Armed Forces (2015) - Self
2015
Tavis Smiley (TV Series)
as
Self
- Episode dated 28 April 2015 (2015) - Self
2013
Spotlight on Broadway (TV Series)
as
Self - Narrator
- The Music Maestros (2013) - Self - Narrator
- The Moderns (2013) - Self - Narrator
- The Drama Queens (2013) - Self - Narrator
- The Survivors (2013) - Self - Narrator
- The Impresarios (2013) - Self - Narrator
- The Namesakes (2013) - Self - Narrator
2010
MindFlux (Documentary)
as
Self
2010
Theater Talk (TV Series)
as
Self - Guest
- Donald Margulies and Eric Bogosian on "Time Stands Still" (2010) - Self - Guest
2008
Guest of Cindy Sherman (Documentary)
as
Self
2007
To My Great Chagrin: The Unbelievable Story of Brother Theodore (Documentary)
as
Self
2007
Charlie Rose (TV Series)
as
Self - Guest
- Episode dated 2 April 2007 (2007) - Self - Guest
2005
The Late Late Show with Craig Ferguson (TV Series)
as
Self - Guest
- Episode #1.79 (2005) - Self - Guest
2004
Bill Hicks Live: Satirist, Social Critic, Stand-up Comedian (Video)
as
Self
2004
The First Amendment Project: No Joking (TV Movie documentary)
as
Self
2003
Khachaturian (Documentary)
as
Narrator (voice)
2000
The Directors (TV Series documentary)
as
Self
- The Films of Paul Schrader (2002) - Self
- The Films of Oliver Stone (2000) - Self
2001
Headliners & Legends with Matt Lauer (TV Series documentary)
as
Self
- Chris Rock (2001) - Self
1998
Enemy of the People (Documentary)
as
Narrator
1998
Totally Bill Hicks (Video documentary)
as
Self
1997
The Trial of Adolf Eichmann (TV Movie documentary)
as
Franz Meyer (voice)
1994
Late Night with Conan O'Brien (TV Series)
as
Self - Guest
- Mary Tyler Moore/Eric Bogosian/Bill Burr (1997) - Self - Guest
- Eric Bogosian/Crystal Bernard/Jen Trynin (1995) - Self - Guest
- Eric Bogosian/Rich Hall/Grant Lee Buffalo (1994) - Self - Guest
1994
It's Just a Ride (TV Movie documentary)
as
Self
1994
Comic Relief VI (TV Special documentary)
as
Self
1993
Naked in New York
as
Self
1993
Alan King: Inside the Comedy Mind (TV Series)
as
Self
- Eric Bogosian (1993) - Self
1992
Oliver Stone: Inside Out (TV Movie documentary)
as
Self
1991
Sex, Drugs, Rock & Roll (Documentary)
as
Various Characters
1990
1990 MTV Video Music Awards (TV Special)
as
Self - Presenter
1989
Decade (TV Movie documentary)
as
Self
1989
The Media Show (TV Series documentary)
as
Self - Guest
- Episode #4.14 (1989) - Self - Guest
1989
The Arsenio Hall Show (TV Series)
as
Self - Guest
- Episode #1.12 (1989) - Self - Guest
1987
Vandemonium Plus (TV Movie documentary)
as
Jim Baker
1986
Funhouse (TV Special)
as
Various
1986
New Wave Comedy (Documentary)
as
Self
1983
Riverside (TV Series)
as
Self
- Episode #3.3 (1983) - Self
Archive Footage
1993
But... Seriously (TV Special documentary)
as
Self
References
Eric Bogosian Wikipedia
(Text) CC BY-SA