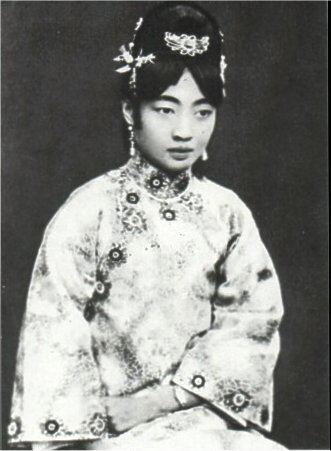 Wanrong's full birth name was Gobulo Wanrong (郭布羅·婉容); she is referred to as simply Wanrong because Manchus were usually referred to by their given names only. Her courtesy name was Muhong (慕鴻) and her art name was Zhilian. She also adopted a Western name, Elizabeth, which was inspired by Elizabeth I of England.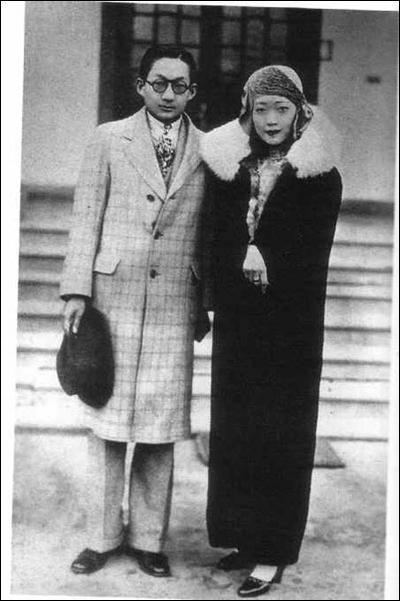 Wanrong was born in the Gobulo clan (郭布羅氏), which is of Daur ancestry and under the Plain White Banner of the Eight Banners. Her father was Rongyuan (榮源), who served as a Minister of Domestic Affairs (內務府大臣) in the Qing imperial court. Wanrong's biological mother, Lady Aisin-Gioro, was the fourth daughter of Yuzhang (毓長) and a granddaughter of Puxu (溥煦). She died from childbed fever after giving birth to Wanrong. Wanrong was raised by her stepmother, Hengxiang (恆香), who was the second daughter of Yulang (毓朗) and also a granddaughter of Puxu. Hengxiang left a deep impression on Wanrong because she doted on Wanrong and treated her like a real daughter. Wanrong had one full brother, Runliang (潤良), who was older than her by two years. She also had a half-brother, Runqi (潤麒), who was younger than her by six years. The family lived in a hutong near Di'anmen in Beijing's Dongcheng District.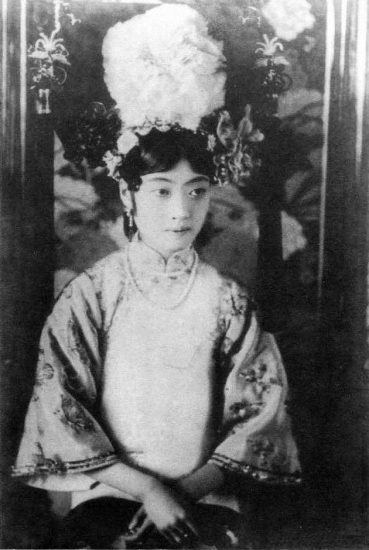 Unlike many of his contemporaries, Rongyuan believed in gender equality so he arranged for Wanrong to be educated in the same manner as her brothers. Wanrong attended an American missionary school in Tianjin, where she learnt the English language and played the piano under the tutelage of Isabel Ingram.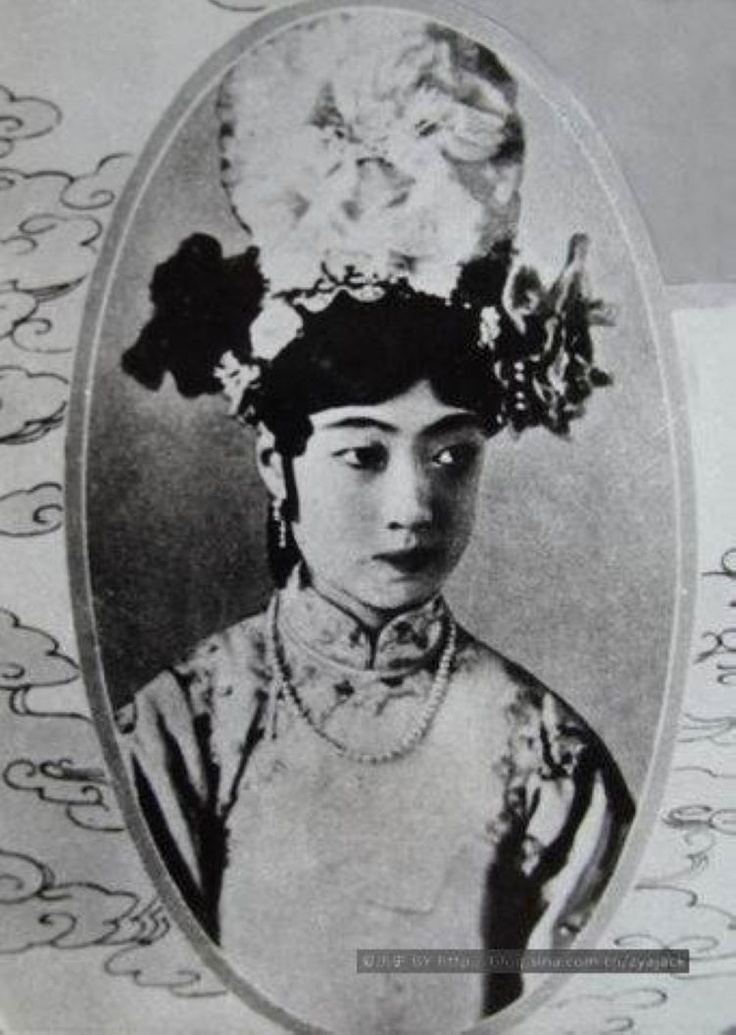 The Qing dynasty was overthrown in 1911 and replaced by the Republic of China, marking the end of thousands of years of imperial rule in China. The former imperial family were granted special privileges by the Republican government, which allowed them to retain their imperial titles and be treated with respect. Puyi, the abdicated Last Emperor, was given permission to hold an imperial-style wedding in the Forbidden City.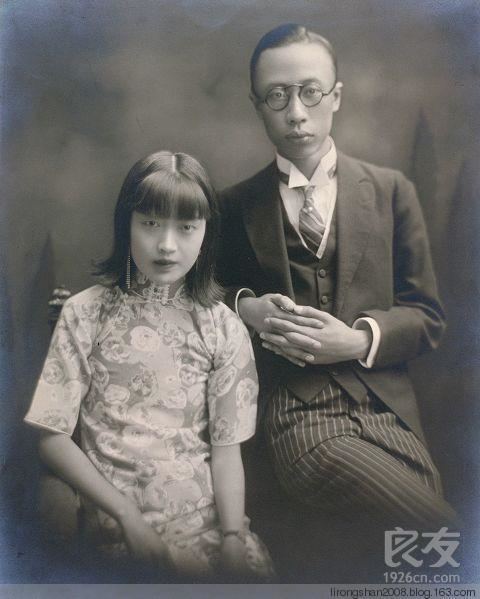 The four dowager consorts – the widows of the Tongzhi and Guangxu Emperors – and Prince Chun (Puyi's biological father) showed Puyi a selection of photographs of young women for him to choose. As the photographs were of poor quality, Puyi had trouble distinguishing among them. He decided that it did not matter who he chose, so he eventually selected Wenxiu. However, after further discussion with the imperial family, Wenxiu was revealed to be actually a 12-year-old girl. They suggested that Puyi choose Wanrong, who was about the same age as him and had a similar family background as him. Since he had already chosen Wenxiu, they decided that he marry both Wanrong and Wenxiu as his primary and secondary spouses to fulfil a Manchu tradition. After Wanrong was selected, a group of palace eunuchs were sent to her home to prepare her for an imperial wedding. Wanrong received an extensive amount of instruction in how to behave like an empress.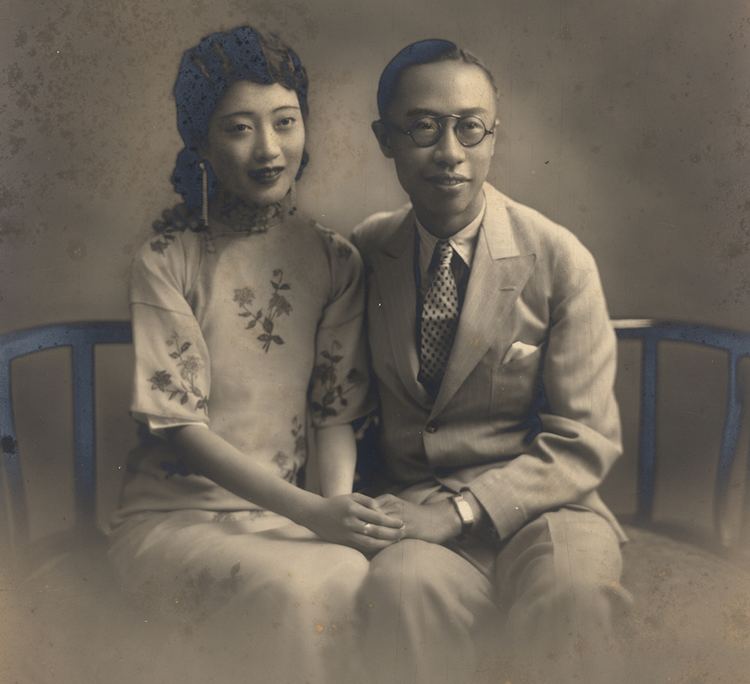 Puyi frequently made telephone calls to Wanrong, requesting that she promise to make him feel less lonely, and she agreed. Wanrong wept numerous times before and during her wedding because she knew that her days of freedom and happiness would end after she entered the Forbidden City. Puyi and Wanrong's wedding took place on 30 November 1922 at 0300 hours according to Manchu custom.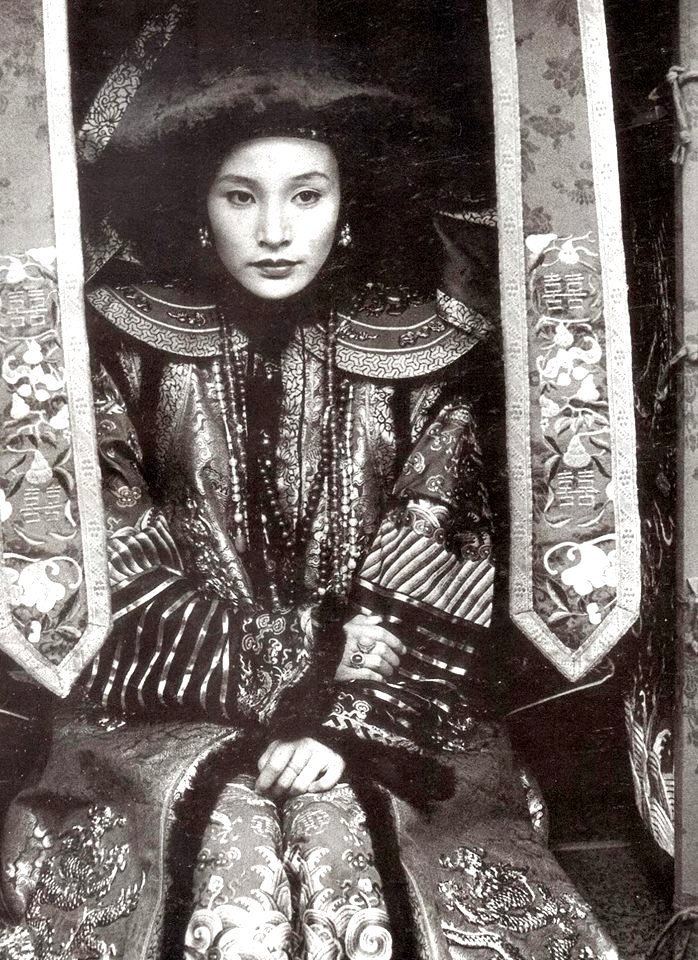 Quotation during their phone call in the afternoon from Puyi to Wanrong: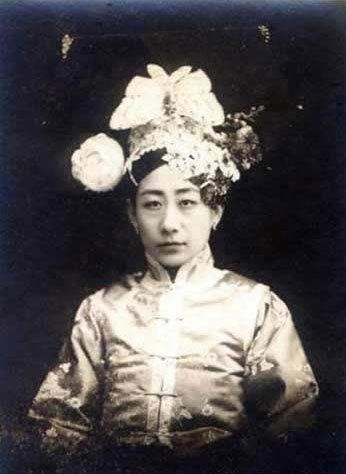 Wanrong's marriage to Puyi turned out to be an unhappy one. Initially, life in the Forbidden City was full of daily rituals and observances for her, such that she often had to stay up studying until late at night with her tutor, Isabel Ingram. Puyi would frequently interrupt her studies by stopping in to see what they were doing, playing pranks, or calling Wanrong on the phone. Despite these interruptions, Wanrong remained a dedicated student and surprised her tutor with her progress. Wanrong also received visits from her friends and family members from time to time. She enjoyed photography, reading mystery novels, playing the piano, and writing in English.
In accordance with some historians, Puyi and Wanrong did not consummate their marriage and they remained childless. Wanrong was known to have had some form of mental illness, which appeared to be curable by opium. She started smoking opium, with permission from Puyi, and gradually became addicted to it. Later on, she began to smoke tobacco too. In December 1923, she donated 600 silver coins to famine relief efforts and earned praise from around the world.
In October 1924, the warlord Feng Yuxiang seized control of Beijing in a coup. He forced Puyi and his family out of the Forbidden City on 5 November. They went to the Quiet Garden Villa within the Japanese concession in Tianjin. In the villa, they lived in relative peace and enjoyed an active public and social life. Wanrong also adopted a Western name, Elizabeth (inspired by Elizabeth I), in response to Puyi's Western name, Henry (inspired by Henry VIII of England).
Wanrong found various avenues for entertainment in Tianjin: theatre, dancing, skating, horse-riding, sports, shopping, etc. She was a heavy shopper – shopping was a technique she used to compete with Wenxiu for Puyi's affection and attention. Whenever Puyi bought something for one of them, the other would insist that Puyi buy for her too. Puyi also showed a preference for Wanrong and spent more time with her, which eventually led to Wenxiu divorcing him in 1931. Puyi blamed Wanrong for forcing away Wenxiu and consequently neglected her after that. When the 1931 Yellow River floods broke out, Wanrong donated her jewellery and silver coins to disaster relief efforts and gained much publicity throughout China.
The American journalist Nora Waln met and befriended Wanrong in Tianjin in 1927. Waln described Wanrong as a person of wit, intelligence, and remarkable beauty. Wanrong told Waln of the Manchu wedding pageant when she married Puyi in 1922, of their two years of living in the Forbidden City, and of their being driven out by Feng Yuxiang in 1924.
Around December 1931 or January 1932, Yoshiko Kawashima, acting under instruction from the Japanese Kwantung Army, fetched Wanrong from Tianjin to Dalian and then to Lüshun to meet Puyi, who had accepted an offer from the Empire of Japan to head the puppet state of Manchukuo in Manchuria (northeastern China) in the hope of restoring the Qing dynasty. They were relocated to Changchun, Jilin, which was renamed "Hsinking" (新京; lit. "new capital") in March 1932.
In Hsinking, Wanrong was closely monitored by the Japanese and had to do as they instructed. She began to detest the Japanese and secretly planned to escape on two occasions. Wellington Koo recalled in his memoirs that when he was in Dalian, he once met an antique merchant who said he was sent by Wanrong to seek his help in escaping from Hsinking. Koo could not help her because of his status then. In another incident, around August or September 1933, when the wife of Zhao Xinbo (趙欣伯), a Manchukuo official, was preparing to leave for Japan, Wanrong approached her and asked her for help. However, Wanrong's plan was discovered by Puyi's sister, Yunying, who was in Japan then. Yunying told Puyi about it; Wanrong's plan to escape failed again.
On 1 March 1934, the Japanese government proclaimed Puyi as the Emperor of Manchukuo and Wanrong as his Empress. The couple lived in the Russian-built Weihuang Palace (now the Museum of the Imperial Palace of the Manchu State), a tax office that had been converted into a temporary palace while a new structure was being built. Apart from Puyi's coronation in 1934, Wanrong only made one other public appearance as Empress of Manchukuo, when Prince Chichibu visited Manchukuo on behalf of the Shōwa Emperor to mark close ties between Japan and Manchukuo. Due to Puyi's neglect and her loneliness in Manchukuo, Wanrong took to smoking tobacco mixed with small doses of opium as a relaxant. Over time, she became a heavy opium addict and was reportedly smoking two ounces of opium daily by 1938. Her monthly spending also increased by twice the original amount, and most of it was spent on opium.
While Puyi was on an extended stay in Japan, out of loneliness, the opium addicted Wanrong had secret affairs with two of Puyi's aides, Li Tiyu (李體玉) and Qi Jizhong (祁繼忠), and bore an illegitimate daughter. Puyi was severely reprimanded by the Japanese when the affair was discovered, so he vented his frustration on Wanrong by beating her. She insisted that Puyi either acknowledge the child as his, or allow the child to be raised outside the imperial household. But Puyi ignored her and upon delivery the infant was killed. Wanrong was immediately removed by Puyi's Japanese handlers to a remote hospital. There are two accounts of what happened to Wanrong after her daughter's death. One account said that Puyi lied to her that her daughter was raised by a nanny hired by her brother, and Wanrong never knew about her daughter's death. The other account said that Wanrong found out about her daughter's infanticide and lived in a constant daze of opium consumption since then. She became a superstitious believer in luck and spat and blinked at whatever she thought was unlucky. She also ate ravenously at dinner parties and refused to make a display of good manners. Even her father stopped visiting her in Manchukuo due to her drastic transformation.
In August 1945, during the Evacuation of Manchukuo in the midst of the Soviet invasion of Manchuria, Puyi attempted to flee from Manchukuo because his immediate entourage was at risk of arrest. He left behind Wanrong, his concubine Li Yuqin, and other imperial household members. Wanrong, along with her sister-in-law Saga Hiro and the rest of her group, tried to flee to Korea but were captured by Chinese Communist guerrillas in Dalizigou (in present-day Linjiang, Jilin) in January 1946. They were transferred to different prison camps in Tonghua, Changchun, Yongji and Dunhua. By then, Wanrong's opium supply had run out for a long time and she was suffering from the effects of withdrawal. When the National Revolutionary Army bombed Jilin, Wanrong and Saga were moved to a prison in Yanji.
While suffering from the symptoms of opium withdrawal in Yanji, Wanrong was cared for in her most frail and vulnerable state by her sister-in-law, Saga Hiro, despite her professed hatred and distrust for the Japanese. During this time, Wanrong hallucinated being the empress in the Forbidden City again; in one incident, she spoke in a commanding tone to the prison guards, who laughed at her in response. After Saga was separated from her, Wanrong died in prison at the age of 39 on June 20, 1946 from the effects of malnutrition and opium withdrawal in a pool of her own bodily fluids. Her place of burial is unknown. Some said she was wrapped in a piece of cloth and discarded in the hills north of Yanji while others claimed that she was buried in the south of Yanji. Her remains were never found.
Three years later, Puyi learnt from a letter written by Saga Hiro to Pujie that Wanrong had died. He was emotionless. On 23 October 2006, Wanrong's younger brother, Runqi, conducted a ritual burial for his sister at the Western Qing tombs near Beijing. A monument containing a hand mirror which belonged to Wanrong was built there.
Wanrong and Puyi were descentants of Qianlong Emperor, this family tree shows the relationships between them and their siblings before they married.
Wanrong had two brothers. The elder one, Runliang (潤良; 1904–1925), married Puyi's first sister, Yunying (韞媖; 1909–1925). They had no children. Wanrong's younger brother, Runqi (潤麒; 1912–2007), married Puyi's third sister, Yunying (韞穎; 1913–1992). They had two sons and a daughter.
Wanrong was portrayed by Joan Chen in Bernardo Bertolucci's 1987 film The Last Emperor.