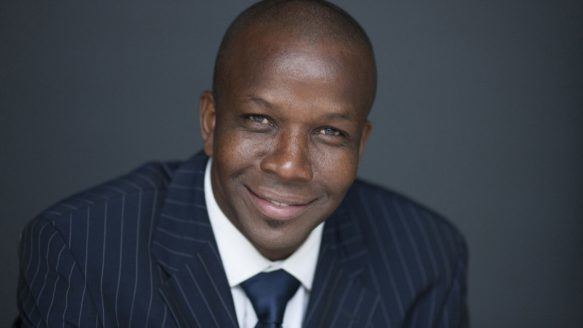 Born in Manchester, Jamaica in 1967, Bailey immigrated to Canada at age 13, and played basketball before his graduation at Queen Elizabeth Park High School in Oakville, Ontario. He began competing as a 100 m sprinter part-time in 1991, but he did not take up the sport seriously until 1994. At that time, he was also a stockbroker. He was coached by American Dan Pfaff.
In 1993-94 he competed for Fenerbahçe Athletics. At the 1995 world Track & Field Championships in Gothenburg, Sweden, Bailey won both the 100m sprint and the 4 × 100 m relay titles.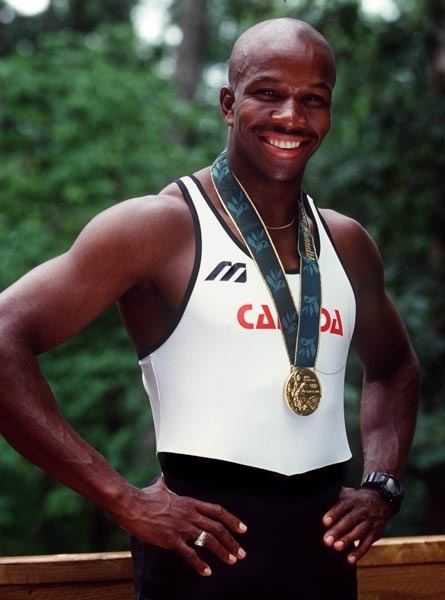 As a precursor to the centennial Olympics being held in Atlanta, Bailey broke the indoor 50 m world record during a competition in Reno, Nevada in 1996. He was timed at 5.56 seconds. Maurice Greene matched that performance in 1999, but his run was never ratified as a world record. Bailey repeated the "double" at the 1996 Atlanta Olympics, setting a world record of 9.84s +0.7 m/s wind in the 100 m. Many Canadians felt his victory restored the image of Canadian athletes, which had been tarnished by Ben Johnson's previous disqualified win at the 1988 Summer Olympics in Seoul. Bailey was only the second person to hold all the major titles in the 100 m concurrently (World Champion, Olympic Champion & World Record Holder); Carl Lewis was the first to achieve this feat.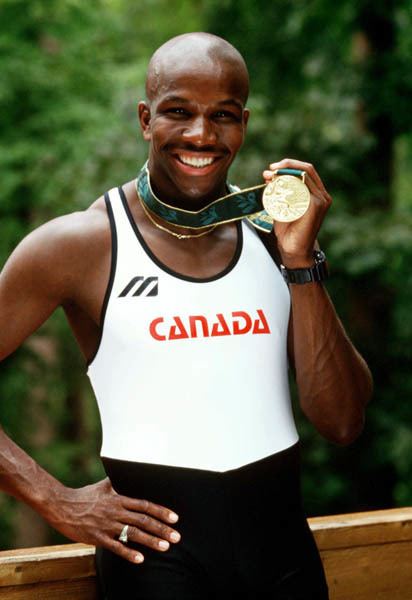 Bailey won a third world title in 1997 with the Canadian relay team, while finishing second in the 100 m behind Maurice Greene.
After the 1997 season Bailey ruptured his Achilles tendon during the post season 98, effectively ending his career. He made a second attempt in the 2000 Summer Olympics for Olympic glory, but suffered from pneumonia and dropped out during the rounds. He retired from the sport in 2001, having been a three-time World and the 2 time Olympic champion.
Bailey's time of 9.84 in Atlanta was the 100m world record from 1996 until 1999, when it was broken by Maurice Greene. The time also stood as the Commonwealth record from 1996 until 2005, when it was broken by Asafa Powell, and is the current Canadian record holder (shared with Bruny Surin since 1999). His Olympic record was broken by Usain Bolt at the 2008 Beijing Olympics.
In May 1997 he raced against Michael Johnson in a 150 m race at Toronto's SkyDome in a bid to truly determine who the world's fastest man was. Earlier in the spring of 1997, Johnson began performing television promotions in which he billed himself as "the world's fastest man" as a result of his 200 meters world record, despite the fact that the 100 m world record holders are traditionally given that unofficial title. Though Bailey ran in the competition, he initially refused to take part, stating that "the world's fastest man was decided in Atlanta."
Bailey won with a time of 14.99 seconds and received $1.5 million.
After racing, Bailey started his own company called DBX Sport Management which helps amateur athletes find a way to promote themselves. He also started a sport injury clinic in Oakville, Ontario.
He has been inducted into Canada's Sports Hall of Fame twice: in 2004 as an individual, and in 2008 as part of the 1996 Summer Olympics 4 × 100 relay team.
In August 2008 Bailey began work as a track commentator for CBC Television at the 2008 Summer Olympics. He estimated that had Usain Bolt not slowed down near the end of the 100m dash (which he still won in record time), he could have set a time of 9.55 seconds. He returned as the track analyst for CBC's coverage of the 2016 Summer Olympics.
In 2016, he was made a member of the Order of Ontario.
Bailey is a divorced father of two and has four brothers — Glenroy, Wilburn, O'Neil and Michael.