Full Name

Dina Gandhi




Died

October 11, 2002, Bandra


Role

Actor





Name

Dina Pathak




Years active

1948–2002




Ex-spouse

Baldev Pathak







Born

4 March 1922 (

1922-03-04

) Amreli, Gujarat, India


Relatives

Naseeruddin Shah (Son-in-law)Pankaj Kapoor (Son-in-law)Vivaan Shah (Grandson)Imaad Shah (Grandson)


Awards

Sangeet Natak Akademi Award (1980)Government of Gujarat's Merit Award (Theatre) for (2000–2001)


Children

Supriya Pathak, Ratna Pathak




Grandchildren

Imaad Shah, Vivaan Shah, Sanah Kapoor, Ruhaan Kapoor




Movies

Khubsoorat, Gol Maal, Umrao Jaan, Devdas, Mausam




Similar People

Ratna Pathak, Supriya Pathak, Hrishikesh Mukherjee, Naseeruddin Shah, Deven Verma
Ratna और Supriya Pathak की मां की कहानी । Dina Pathak Biography । Pankaj Kapoor । Naseeruddin Shah
Dina Pathak (née Gandhi; 4 March 1922 – 11 October 2002) was a veteran actor and director of Gujarati theatre and also a film actor. She also was an activist and remained the President of the 'National Federation of Indian Women' (NIFW).
Contents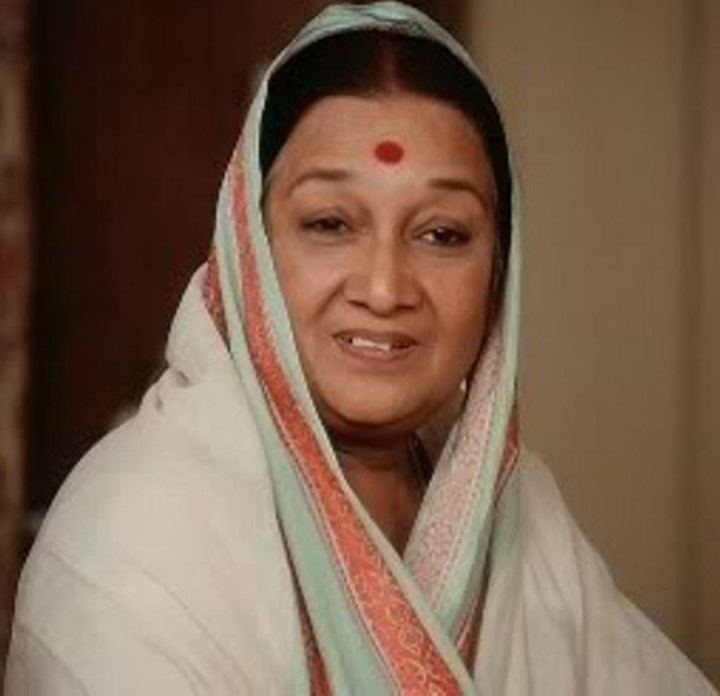 A doyenne of Hindi and Gujarati films as well as theatre, Dina Pathak acted in over 120 films in a career spanning over six decades. Her production Mena Gurjari in Bhavai folk theatre style, ran successfully for many years, and is now a part of its repertoire.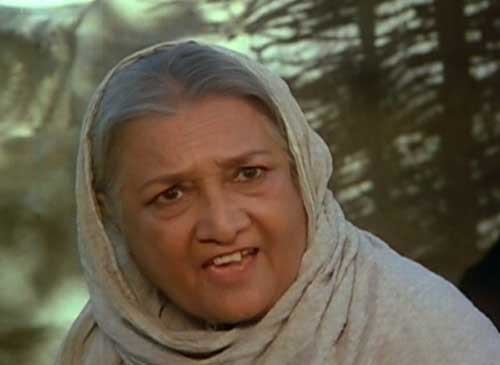 She is best known for her memorable roles in the Hindi films Gol Maal and Khubsoorat. She was a favourite of the Art Cinema in India where she played powerful roles in films like Koshish, Umrao Jaan, Mirch Masala and Mohan Joshi Hazir Ho!.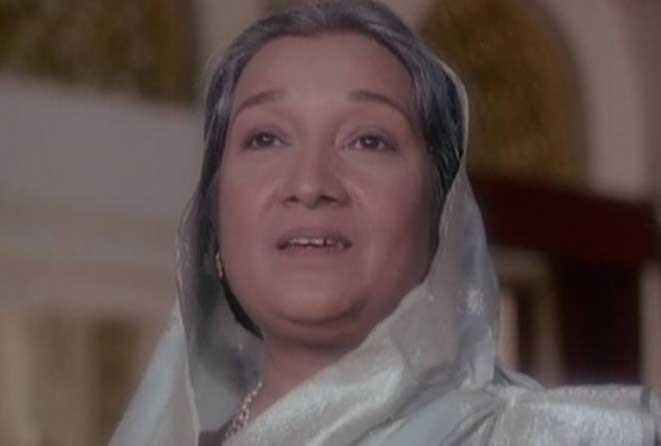 Her notable Gujarati films were Moti Ba, Malela Jeev, and Bhavni Bhavai while her well-known plays include Dinglegar, Doll's House, Vijan Sheni and Girish Karnad's Hayavadana, directed by Satyadev Dubey.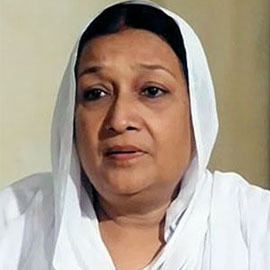 A tribute to late dina pathak rajshri special hd
Early life
Dina Pathak was born in Amreli – Gujarat on 4 March 1922. She was enamoured by fashion and films, and while a teenager started acting in plays and won rave reviews from critics.
At a young age, she joined the Indian National Theatre as an actress. She attended college in Bombay (Mumbai), and became known for her student activism, where Bhavai theatre, a folk theatre form from Gujarat, was used extensively to create awareness about British rule, in the Pre-independence era; this led to her close association with Indian People's Theatre Association (IPTA), along with her elder sister Shanta Gandhi and younger sister Tarla Mehta; while in Mumbai, she had an important hand in reviving the Gujarati theatre there, along with fellow Gujarati actors like Kailash Pandya and Damini Mehta.
Career
She created quite a stir with her plays in Gujarat in the 1940s. The audience queued up to watch her play the lead in Maina Gurjari, which is still one of the most popular Bhavai's along with sister Shanta Gandhi's Jasma Odhan. In 1957, when she performed Mena Gurjari in front then President, Dr. Rajendra Prasad at the Rashtrapati Bhawan in Delhi, it became the first and the only Gujarati play to have achieved the feat so far.
Although she made her film debut with a Gujarati film, Kariyawar (1948), she retreated back into theatre after acting just one film, only to return nearly two decades later. Meanwhile, she continued playing to packed audience in plays by Indian People's Theatre Association (IPTA) and Shanti Bardhan's Ballet troupe. Later she formed her own theatre group in Ahmedabad called 'Natmandal', even today, she is remembered as a stalwart performer and a theatre activist at IPTA.
At age 44, she made a comeback into films, with Basu Bhattacharya's Uski Kahani (1966), for which she won the Bengal Journalists Association Award. She made four films in the 1960s, including Hrishikesh Mukherjee's classic Satyakam (1969), Saat Hindustani (1969), starring Amitabh Bachchan in his debut role and the Merchant Ivory Productions, The Guru (1969). By the times 1970s, she had become a favourite of art and commercial films alike, playing powerful motherly and grandmotherly roles. It was in these films that she became recognised as the Grand-Old-Mother of Hindi films.
Films that stand out in this era are Gulzar's Mausam (1975), Kinara (1977), and Kitaab (1977), and sweet comedies like Basu Chatterjee's Chitchor (1976), Gharaonda (1977), and also in an art cinema classic, Shyam Benegal's Bhumika (1977), which saw her standing tall alongside another acting legend, Smita Patil, in career best performance.
Just as the 1970s ended, she was seen in the comedy classic, Hrishikesh Mukherjee's Gol Maal (1979), where she essayed the role of Kamala Shrivastava, a middle-aged woman who sportingly plays mother to Amol Palekar, who went on to direct her in his 1985 film, Ankahee. The next decade began with another career best, as a stern disciplinarian matriarch in Hrishikesh Mukherjee's Khoobsurat in (1980), closely followed by Bhavni Bhavai (1980). In 1980, she was also awarded the Sangeet Natak Akademi Award. During the 80s she also appeared on the popular TV series, Malgudi Days. In 1984, she appeared in A Passage to India. Though she had far from given career best she gave another powerful performance in Ketan Mehta's Mirch Masala (1985), Govind Nihalani's Tamas (1986) and once again she worked with Gulzar in Ijaazat (1987).
Perhaps her career best came in another comedy, when in 2002 she appeared in Deepa Mehta's Bollywood/Hollywood for which she was nominated for Best Performance by an Actress in a Supporting Role at the 23rd Genie Awards.
Death
She completed her last film, Pinjar (2003), but died before its release, due to heart attack, following a prolonged illness, on 11 October 2002 in Bandra, Bombay.
Personal life
She married Baldev Pathak and had two daughters, Supriya Pathak (b. 1961) and Ratna Pathak (b. 1957).
Awards
1977 – Nominated, Filmfare Award for Best Supporting Actress for Mausam
1980 – Nominated, Filmfare Award for Best Supporting Actress for Gol Maal
1981 – Nominated, Filmfare Award for Best Supporting Actress for Khubsoorat
2003 – Nominated, Best Performance by an Actress in a Supporting Role at the 23rd Genie Awards for Bollywood/Hollywood
Filmography
Actress
2003
Border Hindustan Ka
as
'Dadi' - Nargis' grandmother
2002
Khichdi (TV Series)
as
Tiwariben Parekh / Badi Maa
- Heera Locks Herself In Bathroom (2002) - Tiwariben Parekh / Badi Maa
- Heera Is Upset About Her Marriage (2002) - Tiwariben Parekh / Badi Maa
2002
Bollywood/Hollywood
as
Grandma ji
2001
Tum Bin...: Love Will Find a Way
as
Mrs. Shah
2000
Champion
as
Rajveer's Grandmother
2000
Raja Ko Rani Se Pyar Ho Gaya
as
Dodima (as Deena Pathak)
1999
Ek Mahal Ho Sapno Ka (TV Series)
as
Dadi
1999
Yehi Hai Zindagi (TV Series)
as
Shanti
1999
Silsila Hai Pyar Ka
as
Abhay's Grandmother
1994
Junoon (TV Series)(1994-1998)
1998
Zulm-O-Sitam
as
Meena's Grandfather
1998
Gharwali Baharwali
as
Dadi Maa (as Deena Pathak)
1998
Zor: Never Underestimate the Force
as
Mrs. Singh
1997
Mere Sapno Ki Rani
as
Rajnath's mom
1996
Aurat Aurat Aurat
as
Sita's chachi
1996
Yash
as
Daadima (as Deena Pathak)
1995
Tarpan (The Absolution)
as
Rammo
1995
Yaraana
as
Durga (as Deena Pathak)
1995
Sabse Bada Khiladi
as
Jamna's mom
1995
Zakhmi Sipahi
as
Shakti's Grandmother
1995
Dushmani: A Violent Love Story
as
Buaji (Singh family)
1995
Thhoda Sa Aasman (TV Series)
1994
Tehkikaat (TV Mini Series)
as
Kanchan Chowdhary
- Jealousy Turns Blood (1994) - Kanchan Chowdhary
1994
Eena Meena Deeka
as
Eena's mom
1994
Raja Babu
as
Bansi's Mother (uncredited)
1993
Jaagruti
as
Jugnu's Grandmother
1993
Chor Aur Chand
as
Dinkar's mom
1993
Phool
as
Dharamraaj's mom
1992
Talaash (TV Series)(1992)
1992
Aaj Ka Goonda Raaj
as
Grandmother
1992
Yaad Rakhegi Duniya
as
Naina's paternal grandmother
1992
Kabhi Dhoop Kabhi Chhaon
1991
Antarnaad
as
Arvind's Mother
1991
Saudagar
as
Bir Singh's elder sister
1991
Yeh Aag Kab Bujhegi
as
Professor Krishnanand's mother
1991
Sanam Bewafa
as
Fateh's Mom
1989
Hum Intezaar Karenge
as
Ravi's mother
1989
Clerk
as
Kaushalya (as Deena Pathak)
1988
Yateem
as
Mrs. Yadav (uncredited)
1988
Mile Sur Mera Tumhara (Music Video)
as
Dina Pathak
1988
Mohabbat Ke Dushman
as
Amijaan
1987
Mera Yaar Mera Dushman
as
Ashok's Mother
1987
Permission
as
School Principal
1986
Angaaray
as
Vijay's mother
1986
Ek Pal
as
Priyam's mother
1986
Haathon Ki Lakeeren
as
Geeta's mom
1986
Katha Sagar (TV Series)
as
Sardarni
- Anjam (1986) - Sardarni
1986
Naache Mayuri
as
Mayuri's Garndmother
1986
Malgudi Days (TV Series)
as
Ayah
- A Willing Slave (1986) - Ayah
1986
Ek Chadar Maili Si
as
Jindhi
1986
Mirch Masala
as
Maanki, factory worker
1986
Karamdaata
as
Govinda's mother
1986
Andheri Raat Mein Diya Tere Haath Mein
as
Mai
1985
Ankahee
as
Savitri Chaturvedi
1985
Idhar Udhar (TV Series)
as
Poonam's Nani
- Meri Beti (1985) - Poonam's Nani
- Smugglers Enters In The House (1985) - Poonam's Nani
- Ronnie Needs Sudhir (1985) - Poonam's Nani
- Ronnie Gonsalves Comes Home (1985) - Poonam's Nani
- Miss Varganasha Goes Abroad (1985) - Poonam's Nani
1985
Jhoothi
as
Seema's mother
1985
Sur Sangam
as
Kannu's Grandmother
1985
Ramkali
as
Ramkali's foster mom
1984
Mohan Joshi Hazir Ho!
as
Rohini Joshi
1984
Rakta Bandhan
as
Chandan's mom
1984
Yahan Wahan
as
Rajesh's Mother
1984
A Passage to India
as
Begum Hamidullah
1984
Asha Jyoti
as
Mangala (as Deena Pathak)
1984
Bindiya Chamkegi
as
Jeevan's wife
1984
Sasural
as
Narendra's Mother
1983
Woh 7 Din
as
Savitri (Anand's Mom)
1983
Prem Tapasya
as
Naniji (Grandmother)
1982
Bheegi Palkein
as
Mrs. Acharya
1982
Vijeta
as
Angad's grandmother (Biji)
1982
Yeh To Kamaal Ho Gaya
as
Durga Singh
1982
Lakshmi
as
Thakur-Vijay's Father
1982
Prem Rog
as
Radha's Mother-In-Law (uncredited)
1982
Dil... Akhir Dil Hai
as
Shobha Desai
1982
Dil-E-Nadaan
as
Vikram's Mother
1982
Tumhare Bina
as
Nani / Seema's Mother
1981
Sansani: The Sensation
as
Wilma Vaz
1981
Aapas Ki Baat
as
Mrs. Sinha
1981
Shama
as
Mehrunisa 'Poofi'
1981
Biwi-O-Biwi
as
Mrs. Singh (as Dina Phathak)
1981
Naram Garam
as
Bhavani's mother-in-law
1981
Bhavni Bhavai
as
Bhagat's wife
1980
Saajan Mere Main Saajan Ki
1980
Humkadam
as
Mrs. Raghunath Gupta
1980
Thodisi Bewafaii
as
Dr. Karuna's mom
1980
Khubsoorat
as
Nirmala Gupta
1979
Ahsaas
as
Anu Choudhury (as Dina)
1979
Khandaan
as
Usha's mom (as Dina Phatak)
1979
Meera
as
Mrs. Virendev Rathod
1979
Gol Maal
as
Kamala Srivastav (as Dina Phathak)
1979
Do Ladke Dono Kadke
as
Shantu (Ramu & Rani's mom)
1978
Chakravyuha
as
Chhaya's Mother
1978
Dost Asava Tar Asa
as
Owner of Francis Hotel
1978
Satyam Shivam Sundaram: Love Sublime (voice)
1978
Badaltey Rishtey
as
Mrs. Thakur
1977
Aadmi Sadak Ka
as
Owner of Francis Hotel
1977
Anurodh
as
Sushma Choudhary
1977
Paheli
as
Masterji's wife
1977
Gharaonda
as
Guha's Mother
1977
Dream Girl
as
Ratnabai (as Deena Pathak)
1977
Gher Gher Matina Chula
1976
Chitchor
as
Mrs. P. Choudhry
1976
Lagaam
as
Bheema's Mother
1975
Chaitali
as
Chaitali's Aunt
1975
Mrig Trishna
as
Sandhya's maid
1974
Charitraheen
as
Laxmidevi - indra and debu's mother
1974
Aavishkar (as Dina Gandhi)
1974
Aap Ki Kasam
as
Sunita's Mother
1972
Koshish
as
Durga (Aarti's Mother)
1971
Jal Bin Machhli Nritya Bin Bijli
as
Rajmata (as Dina Gandhi)
1970
Devi
as
Dharam Das' Sister (as Deena Gandhi)
1970
Sachaa Jhutha
as
Insp Pradhan's Mother
1970
Holi Ayee Re
as
Jamuna (as Dina Gandhi)
1969
Sara Akash
as
Mrs. Thakur (as Dina Gandhi)
1969
Satyakam
as
Harbhajan's mother (as Deena Pathak)
1969
Saat Hindustani
as
Mrs. J. Nath (as Dina Gandhi)
1969
The Guru
as
Jury member at U.P. Beauty Contest
1966
Uski Kahani (as Dina Gandhi)
1948
Kariyawar
as
Raju (as Dina Sanghvi)
Self
1973
Man Alive (TV Series documentary)
- Bombay Superstar (1973)
Archive Footage
2004
Weird Sex and Snowshoes: A Trek Through the Canadian Cinematic Psyche (TV Movie documentary)
as
Self
References
Dina Pathak Wikipedia
(Text) CC BY-SA