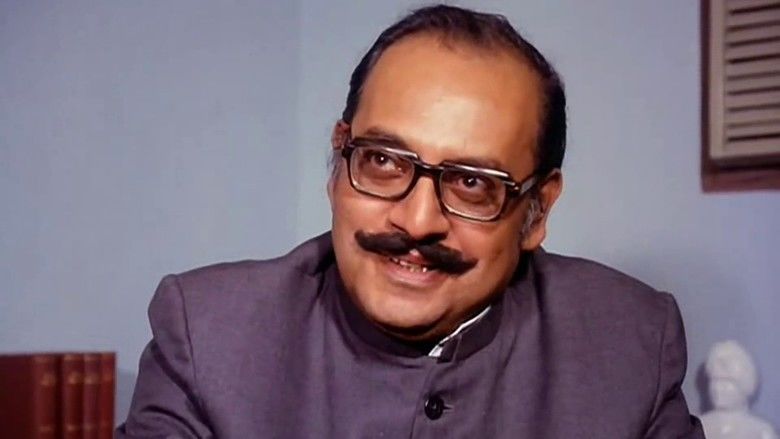 Ramprasad Dashrathprasad Sharma (Amol Palekar), a qualified CA, is looking for a job. He and his sister Ratna (Manju Singh) have no relatives or acquaintances except Dr. Kedar (David). Dr. Kedar tells him about Bhavani Shankar's (Utpal Dutt) firm known as Urmila Traders.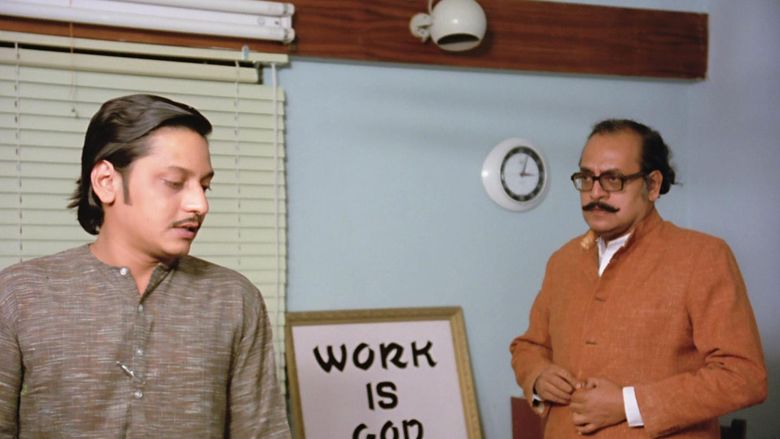 Shankar is a man of traditional values: He hates youth wearing modern clothes. He is a sports fan but thinks lowly of youth knowing anything about sports. But his weirdest trait is hatred towards men without moustaches. He thinks they are characterless.
Ramprasad has a moustache. He takes care of other problems by wearing kurta and feigning ignorance about sports. Bhavani hires him immediately. Ram is a hardworking guy, so Bhavani (and Ram) have no problems. However, one day Ram takes leave by pretending that his mother (who died many years ago) has taken ill and goes to watch a hockey match. Bhavani Shankar, who attendes the match, sees him there.
The next day Bhavani summons Ramprasad to his office and asks him about the hockey match. Remembering the plot of a movie a friend of his is shooting, Ram convinces Bhavani Shankar that he had seen his "moustache-less" identical twin Lucky (alias Lakshmanprasad Dashrathprasad Sharma) at the stadium.
Bhavani Shankar buys his argument and feels bad about accusing him. He makes amends by hiring Lucky to teach his daughter Urmila (Bindiya Goswami) music. Ramprasad reluctantly shaves his moustache to become Lucky and starts to teach Urmila. He is helped by his actor friend Deven Verma (playing himself).
Urmila (aka Urmi) is the exact opposite of her father. She takes immediate liking to Lucky, while Ram is barely noticed by her. Bhavani notices this and gives Ram another job to tutor on the pretext of her exams. Meanwhile, Mrs. Srivastav (Dina Pathak), a socialite, is roped to play the part of Ram, "Lakshman" and Ratna's mother. Like Ram, she also ends up playing her own twin in front of Bhavani.
Ram tells Urmila the truth. Urmila tells him to tell the truth to Bhavani as well. Ram goes to Bhavani to tell the truth, but Bhavani sees Ram's moustache giving away. Bhavani exposes Ram but ends up thinking that Lucky murdered Ram and impersonated him to marry Urmila.
In a hilarious chase that follows, Bhavani ends up totaling a police jeep. The senior inspector (Om Prakash) mistakes him for a thug named Pascal D'Costa and is about to lock him up in the jail. Only when his inspector identifies Bhavani Shankar by his real identity is he freed. By now, a harried Bhavani has developed hatred for twins as well.
On coming home, he finds that Urmila and Lucky are married. He refuses to give them blessings, until Dr. Kedar comes to the scene and explains the situation. Bhavani becomes even more furious but, on everybody's insistence, relents. The film ends with a family photo of Mrs. Srivastav, Ratna, Urmila, Ram, Dr. Kedar, Bhavani's sister Kalindi (Shubha Khote) and Bhavani (who is shown without a moustache).
Amol Palekar - Ramprasad Sharma/Lakshmanprasad Sharma
Utpal Dutt - Bhawani Sankar
Bindiya Goswami - Urmila
David - Doctor Kedar Mama
Deven Verma - as himself and Ramprasad's best friend
Dina Pathak - Mrs. Kamala Srivastava and as Vimla Sharma, Ramprasad/Laxmanprasad's fake mother
Anjan Srivastav - Police Officer Sharma
Keshto Mukherjee - Drunk
Manju Singh - Ratna Sharma (Ramprasad's sister)
Shubha Khote - Kalindi aka Buaji
Yunus Parvez - Bade Babu
Om Prakash - Police Officer (Guest Appearance)
Amitabh Bachchan - Guest Appearance (himself)
Rekha - Guest Appearance (herself)
Hema Malini - Guest Appearance (herself)
Zeenat Aman - Guest Appearance (herself)
Lata Mangeshkar - Guest Appearance (herself)
Aruna Irani - Guest Appearance (herself)
Moolchand - Man who was in cinema hall and came for toilet
"Aanewala Pal Jane Wala Hai" - Kishore Kumar
"Gol Maal Hai Bhai Sab Gol Maal Hai" - Sapan Chakraborty, R.D.Burman
"Ek Din Sapne Me Dekha Sapna" - Kishore Kumar
"Ek Baat Kahu Gar Maano Tum" - Lata Mangeshkar
Hrishikesh Mukherjee had first selected Rekha to enact the heroine's part but felt that he would be wasting a talented actress in film where the hero was the mainstay. He replaced her with Bindya Goswami. The very next year he made Khubsoorat, with Rekha in a pivotal role.
David Dhawan's 2002 movie Chor Machaaye Shor had many scenes plagiarised from Gol Maal. The 2012 film Bol Bachchan directed by Rohit Shetty is loosely based on Gol Maal.
Awards and nominations
Filmfare Award for Best Actor - Amol Palekar
Filmfare Best Comedian Award - Utpal Dutt
Filmfare Best Lyricist Award - Gulzar for the song "Aanewala Pal"
Filmfare Nomination for Best Director - Hrishikesh Mukherjee
Filmfare Nomination for Best Supporting Actor - Utpal Dutt
Filmfare Nomination for Best Supporting Actress - Dina Pathak
Filmfare Nomination for Best Actor in a Comic Role - Deven Verma
Filmfare Nomination for Best Story - Sailesh Dey