9.2

/

10

Alchetron

8.4

Rate This




Duration




Country

United States






Language

English







Creator

Richard LevinsonWilliam Link




Release date

February 20, 1968 (1968-02-20) – January 30, 2003 (2003-01-30)



Columbo murder by the book 1971 tv
Columbo is an American television series starring Peter Falk as Columbo, a homicide detective with the Los Angeles Police Department. The character and show, created by Richard Levinson and William Link, popularized the inverted detective story format, which begins by showing the commission of the crime and its perpetrator; the series therefore usually has no "whodunit" element. The plot revolves around how a perpetrator whose identity is already known to the audience will finally be caught and exposed (which the show's writers called a "howcatchem", rather than a "whodunit").
Contents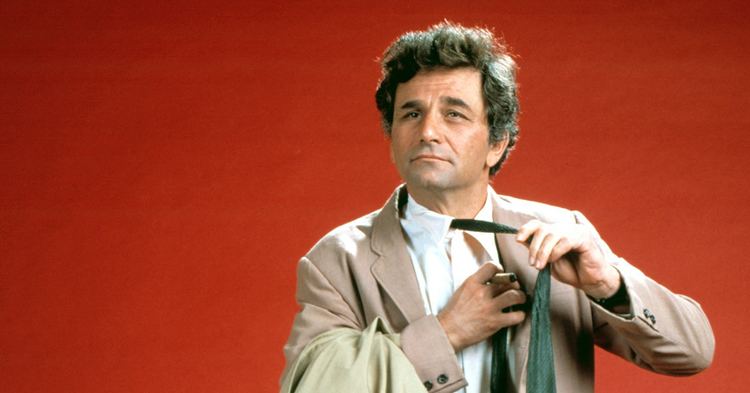 Columbo is an unassuming police detective of Italian descent whose clothes are disheveled and whose trademarks include wearing a rumpled, beige raincoat over his suit, and smoking a cigar. He is consistently underestimated by his suspects who, while initially reassured and distracted by his circumstantial speech, become increasingly annoyed by his pestering behavior. Despite his unassuming appearance and apparent absentmindedness, he is extremely intelligent and shrewdly solves all of his cases and secures all evidence needed for a conviction. His formidable eye for detail and relentlessly dedicated approach, often become clear to the killer (and even the viewer) only late in the story line.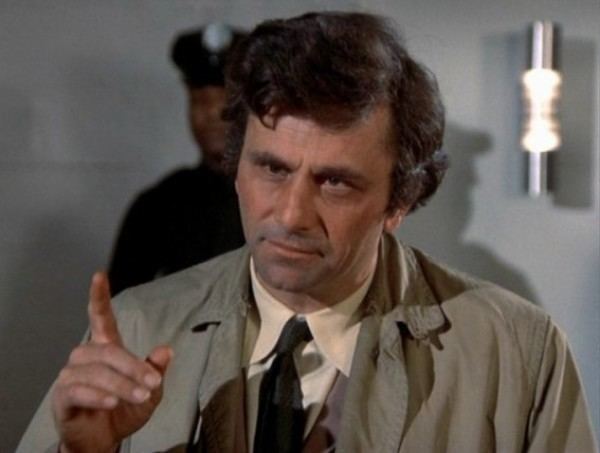 The episodes are all movie-length, between 73 and 98 minutes long, and have been broadcast in forty-four countries. In 1997, "Murder by the Book", directed by Steven Spielberg, was ranked No. 16 on TV Guides 100 Greatest Episodes of All Time and in 1999, the magazine ranked Lt. Columbo No. 7 on its 50 Greatest TV Characters of All Time list. In 2012, the program was chosen as the third-best cop or legal show on Best in TV: The Greatest TV Shows of Our Time. In 2013, TV Guide included it in its list of The 60 Greatest Dramas of All Time and ranked it at #33 on its list of the 60 Best Series. Also in 2013, the Writers Guild of America ranked it No. 57 in the list of 101 Best Written TV Series.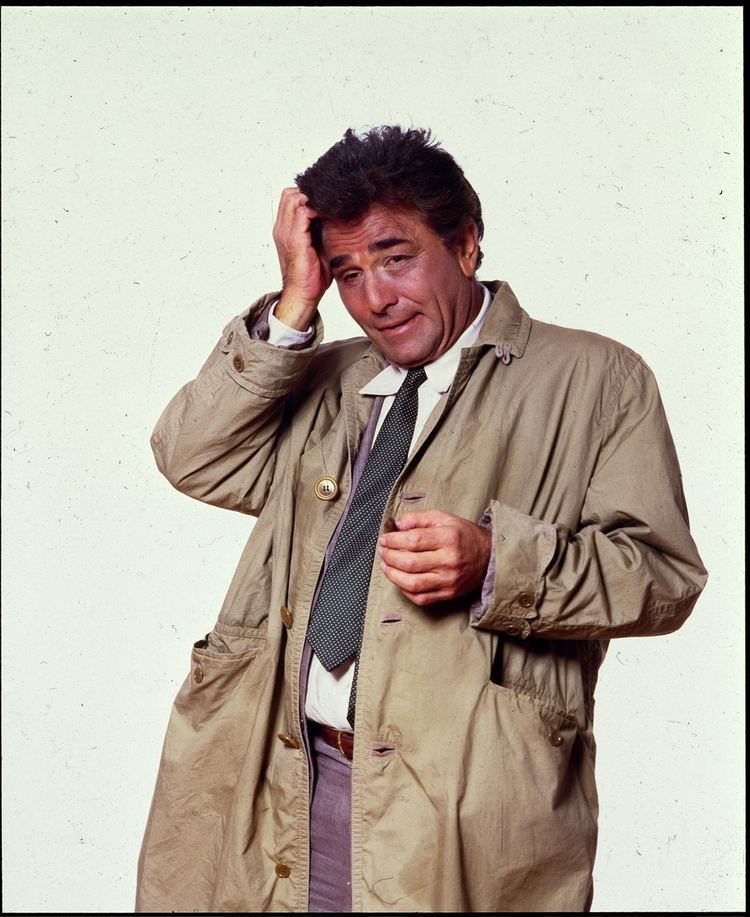 Columbo rip peter falk 1927 2011
Episodes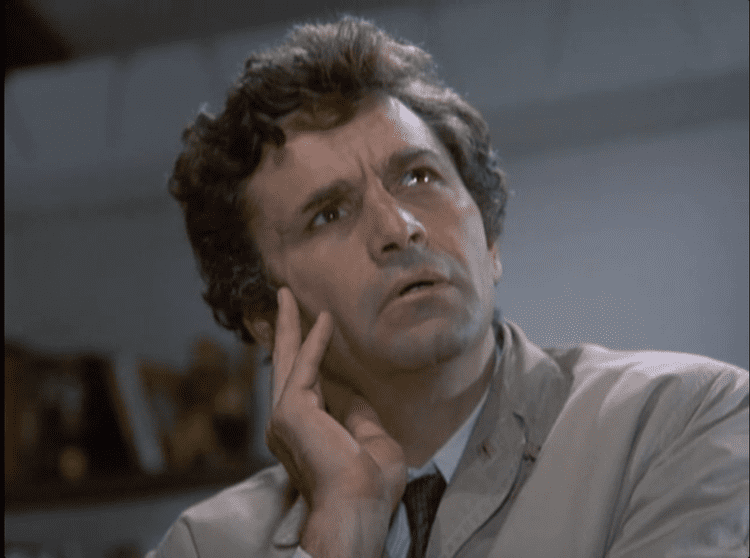 After two pilot episodes, the show originally aired on NBC from 1971 to 1978 as one of the rotating programs of The NBC Mystery Movie. Columbo then aired less regularly on ABC beginning in 1989 under the umbrella of The ABC Mystery Movie. The last film was broadcast in 2003 as part of ABC Thursday Night at the Movies.

In almost every episode the audience sees the crime unfold at the beginning and knows the identity of the culprit, typically an affluent member of society. Once Columbo enters the story, viewers watch him solve the case by sifting through the contradictions between the truth and the version presented to him by the killer(s). This style of mystery is sometimes referred to as a "howcatchem", in contrast to the traditional whodunit. Episodes tend to be driven by their characters, the audience observing the criminal's reaction to Columbo's increasingly intrusive presence. In some cases, the killer's arrogance and dismissive attitude allow Columbo to manipulate his suspects into self-incrimination. While details of the murderer's actions are shown to the viewer, Columbo's true thoughts and intentions are almost never revealed until near the end of the episode. Columbo generally maintains a friendly relationship with the murderer until the end. The point at which the detective first begins to suspect the murderer is generally not revealed, leaving the true motivations for his actions for the viewer to decide. In some instances, such as Ruth Gordon's avenging mystery writer in "Try and Catch Me", Janet Leigh's terminally ill and deluded actress in "Forgotten Lady", or Donald Pleasence's elegant vintner in "Any Old Port in a Storm", and Johnny Cash's enserfed singer in "Swan Song", the killer is more sympathetic than the victim(s).
Each case is generally concluded in a similar style, with Columbo dropping any pretense of uncertainty and sharing details of his conclusion of the killer's guilt. Following the killer's reaction, the episode generally ends with the killer confessing or quietly submitting to arrest. There are few attempts to deceive the viewer or provide a twist in the tale. One exception is "Last Salute to the Commodore", where Robert Vaughn is seen elaborately disposing of a body, but is proved later to be covering for his alcoholic wife, whom he mistakenly thought to be the murderer.
Development and character profile
The character of Columbo was created by William Link, who said that Columbo was partially inspired by the Crime and Punishment character Porfiry Petrovich as well as G. K. Chesterton's humble cleric-detective Father Brown. Although no influence was acknowledged there is a remarkably strong resemblance to Inspector Doheny in Isaac Asimov's 1958 novel The Death Dealers. Other sources claim Columbo's character is also influenced by Inspector Fichet from the French suspense-thriller film Les Diaboliques (1955).
The character first appeared in a 1960 episode of the television-anthology series The Chevy Mystery Show, titled "Enough Rope". This was adapted by Levinson and Link from their short story "May I Come In", which had been published as "Dear Corpus Delicti" in an issue of Alfred Hitchcock's Mystery Magazine. The short story did not include Columbo as a character. The first actor to portray Columbo, character actor Bert Freed, was a stocky character actor with a thatch of grey hair.
Freed's Columbo wore a rumpled suit and smoked a cigar, but he otherwise had few of the other now-familiar Columbo mannerisms. However, the character is still recognizably Columbo, and uses some of the same methods of misdirecting and distracting his suspects. During the course of the show, the increasingly frightened murderer brings pressure from the district attorney's office to have Columbo taken off the case, but the detective fights back with his own contacts.
Although Freed received third billing, he wound up with almost as much screen time as the killer and appeared immediately after the first commercial. This delayed entry of the character into the narrative of the screen play became a defining characteristic of the structure of the Columbo series. This teleplay is available for viewing in the archives of the Paley Center for Media in New York City and Los Angeles.
Levinson and Link then adapted the TV drama into the stage play Prescription: Murder. This was first performed at the Curran Theatre in San Francisco on January 2, 1962, with Oscar-winning character actor Thomas Mitchell in the role of Columbo. Mitchell was 70 years old at the time. The stage production starred Joseph Cotten as the murderer and Agnes Moorehead as the victim. Mitchell died of cancer while the play was touring in out-of-town tryouts; Columbo was his last role.
In 1968, the same play was made into a two-hour television movie that aired on NBC. The writers suggested Lee J. Cobb and Bing Crosby for the role of Columbo, but Cobb was unavailable and Crosby turned it down because he felt it would take too much time away from the golf links. Director Richard Irving convinced Levinson and Link that Falk, who wanted the role, could pull it off even though he was much younger than the writers had in mind.
Originally a one-off TV-Movie-of-the-Week, Prescription: Murder has Falk's Columbo pitted against a psychiatrist (Gene Barry). Due to the success of this film, NBC requested that a pilot for a potential series be made to see if the character could be sustained on a regular basis, leading to the 1971 hour and a half film, Ransom for a Dead Man, with Lee Grant playing the killer. The popularity of the second film prompted the creation of a regular series on NBC, that premiered in the fall of 1971 as part of The NBC Mystery Movie wheel series rotation: McCloud, McMillan & Wife, and other whodunits.
According to TV Guide, the original plan was that a new Columbo episode would air every week, but as a motion picture star, Peter Falk refused to commit to such an arduous schedule, which would have meant shooting an episode every five days. The network arranged for the Columbo segments to air once a month on Wednesday nights. The high quality of Columbo, McMillan & Wife, and McCloud was due in large part to the extra time spent on each episode. The term wheel show was coined to describe this format, and additional such series were attempted by NBC, but the astounding success of The NBC Mystery Movie series was not repeated.
Columbo was an immediate hit in the Nielsen ratings and Falk won an Emmy Award for his role in the show's first season. In its second year the Mystery Movie series was moved to Sunday nights, where it then remained during its seven-season run. The show became the anchor of NBC's Sunday night line up. Columbo aired regularly from 1971–78 on NBC. After its cancellation by NBC in 1978 Columbo was revived on ABC between 1989 and 2003 in several new seasons and a few made-for-TV movie "specials".
Columbo's wardrobe was personally provided by Peter Falk; they were his own clothes, including the high-topped shoes and the shabby raincoat, which made its first appearance in Prescription: Murder. Falk would often ad lib his character's idiosyncrasies (fumbling through his pockets for a piece of evidence and discovering a grocery list, asking to borrow a pencil, becoming distracted by something irrelevant in the room at a dramatic point in a conversation with a suspect, etc.), inserting these into his performance as a way to keep his fellow actors off-balance. He felt it helped to make their confused and impatient reactions to Columbo's antics more genuine. Some of the episodes established that Columbo carried a Colt snub-nosed revolver in his raincoat, which he pulled in rare episodes, and would occasionally remark that his wife, 'the Mrs.', would not allow him to buy a new car because it 'wasn't necessary', portraying the detective throughout the series as permanently driving an aged and battered 1959 Peugeot 403 Cabriolet.
A few years prior to his death, Falk had expressed interest in returning to the role. In 2007 he claimed he had chosen a script for one last Columbo episode, "Columbo: Hear No Evil". The script was renamed "Columbo's Last Case". ABC declined the project. In response, producers for the series announced that they were attempting to shop the project to foreign production companies. However, Falk was diagnosed with dementia in late 2007. During a 2009 court trial over Falk's care, Dr Stephen Read stated that the actor's condition had deteriorated so badly that Falk could no longer remember playing a character named Columbo, nor could he identify who Columbo was. Falk died on June 23, 2011, aged 83.
Directors and writers
The first season première "Murder by the Book" was written by Steven Bochco and directed by Steven Spielberg. Jonathan Demme directed the seventh-season episode "Murder Under Glass". Jonathan Latimer was also a writer. Actor Ben Gazzara, a friend of Falk's, directed the episodes "A Friend in Deed" (1974) and "Troubled Waters" (1975).
Falk himself directed the last episode of the first season, "Blueprint for Murder". Actor Nicholas Colasanto, best known for playing Coach on Cheers, directed two episodes, "Swan Song" with Johnny Cash, and "Étude in Black".
Patrick McGoohan directed five episodes (including three of the four in which he played the murderer) and wrote and produced two (including one of these). Vincent McEveety was a frequent director, and homage was paid to him by a humorous mention of a character with his surname in the episode "Undercover" (which he directed).
Two episodes, "No Time to Die" and "Undercover", were based on the 87th Precinct novels by Ed McBain, and thus do not strictly follow the standard Columbo/inverted detective story format.
Score composers
Columbo episodes contain a variety of music that contributes to the uniqueness of each. The score becomes of particular importance during turning points of the plots. "The Mystery Movie Theme" by Henry Mancini written for the NBC Mystery Movie was used extensively in the whole of 38 episodes, from 1971 to 1977. Unlike the other elements of the Mystery Movie wheel, Columbo never had an official theme as such, although some composers did write their own signature pieces (such as Dick DeBenedictis and Gil Mellé). Several composers created original music for the series, that was often used along with "The Mystery Movie Theme":
Series Music department included:
Henry Mancini — composer: "Mystery Movie" theme / "Sunday Mystery Movie" theme (38 episodes, 1971–77)
Hal Mooney — music supervisor (27 episodes, 1972–76)
Mike Post — composer: "Mystery Movie" theme (9 episodes, 1989–90)
Patrick Williams received two Emmy nominations for Outstanding Music Composition for a Series in 1978 (for "Try and Catch Me") and 1989 (for "Murder, Smoke and Shadows"). Billy Goldenberg was nominated in the same category in 1972 for "Lady in Waiting".
Columbo also featured an unofficial signature tune, the children's song "This Old Man". It was introduced in the episode "Any Old Port in a Storm" in 1973 and the detective can be heard humming or whistling it often in subsequent films. Peter Falk admitted that it was a melody he personally enjoyed and one day it became a part of his character. The tune was also used in various score arrangements throughout the three decades of the series, including opening and closing credits. A version of it, titled "Columbo", was created by one of the show's composers, Patrick Williams.
Awards and nominations
Columbo received numerous awards and nominations from 1971 to 2005, including 13 Emmys, two Golden Globes, two Edgar Awards and a TV Land Award nomination in 2005 for Peter Falk.
DVD releases
As of January 10, 2012, Universal Studios Home Entertainment had released all 69 episodes of Columbo on DVD. The episodes are released in the same chronological order as they were originally broadcast. On October 16, 2012, Universal released Columbo — The Complete Series on DVD in Region 1.
Because the Columbo episodes from 1989 to 2003 were aired very infrequently, different DVD sets have been released around the world. In many Region 2 and Region 4 countries, all episodes have now been released as ten seasons, with the tenth season covering the last 14 shows from "Columbo Goes to College" (1990) to the most recent "Columbo Likes the Nightlife" (2003). However, in France, and The Netherlands (also Region 2), the DVDs were grouped differently and released as twelve seasons.
In Region 1, all episodes from seasons 8 are grouped differently; all the episodes that were originally aired on ABC were released under the title COLUMBO: The Mystery Movie Collection.
Blu-ray release
To commemorate the death of Peter Falk, the complete series was released on Blu-ray in Japan as a ten-season set, taken from new HD masters and original 1.33:1 (4:3) aspect ratio (1989–2003 episodes are presented in 1.78:1 (16:9)). The set contains 35 discs and is presented in a faux-wooden cigar box. It features a brochure with episode details, and a script for the Japanese version of Prescription: Murder. Special features include the original 96-minute version of Étude In Black and the original NBC Mystery Movie title sequence. In addition, many episodes include isolated music and sound-effects tracks. Before the release of this set, only the episodes up to Murder, a Self-Portrait were released on DVD in Japan.
Streaming
Seasons one through seven had been available for streaming from Netflix, but as of January 2017 Netflix offered only the DVD version.
Stage
The Columbo character first appeared on stage in 1962 in "Prescription: Murder" with Thomas Mitchell in the role of Columbo.
In 2010, Prescription: Murder, was revived for a tour of the United Kingdom with Dirk Benedict and later John Guerrasio as Columbo.
Television
Falk appeared as Columbo in a faux episode of Alias produced for a 2003 TV special celebrating the 50th anniversary of ABC.
Falk appeared in character as Columbo in 1977 at The Dean Martin Celebrity Roast of Frank Sinatra.
Books
A Columbo series of books was published by MCA Publishing, written by authors Alfred Lawrence, Henry Clements and Lee Hays. This series of books, with the first title published in 1972, were mostly adapted from the TV series.
Columbo was also used as the protagonist for a series of novels published between 1994 and 1999 by Forge Books, an imprint of Tor Books. All of these books were written by William Harrington.
William Link, the co-creator of the series, has written a collection of Columbo short stories, entitled The Columbo Collection, which was published in May 2010 by Crippen & Landru, the specialty mystery publisher.
The Columbo character is highlighted in volume 7 of the Detective Conan manga edition of Gosho Aoyama's Mystery Library. Columbo was briefly mentioned in the anime adaptation in the episode "The Forgotten Cellphone Part 2" when Conan said one of Columbo's lines: "You know, my wife says...".
Columbo was briefly mentioned in a 1990 chapter of the long-running manga, JoJo's Bizarre Adventure, where the main character Jotaro Kujo begins to suspect the actions of a suspicious old woman. He mentions to her that he couldn't sleep at night if he had doubts, because he frequently watched Columbo as a child.
In Harry Turtledove's sf/alternate history novel Homeward Bound a non-human detective, Inspector Garanpo, is a recognizable tribute to Columbo.
Sculpture
A statue of Lieutenant Columbo and his dog was unveiled in 2014 on Miksa Falk Street in Budapest, Hungary. According to Antal Rogán, then-district mayor of the city, Peter Falk may have been related to Hungarian writer and politician Miksa Falk, although there is no evidence yet to prove it.
Podcast
A podcast about Columbo was launched in 2014, primarily considering episodes of the television series.
Mrs. Columbo spin-off
Mrs. Columbo, a spin-off TV series starring Kate Mulgrew, aired in 1979 and was canceled after only thirteen episodes. Lt. Columbo was never seen on Mrs. Columbo; each episode featured the resourceful Mrs. Columbo solving a murder mystery she encountered in her work as a newspaper reporter. Connections with the original Columbo series were made obvious: the glaring presence of Columbo's car in the driveway, Dog, and Mrs. Columbo emptying ashtrays containing the famous green cigar butts—all featured in the show's opening sequence. References were also made to Kate's husband being a police lieutenant.
References
Columbo Wikipedia
(Text) CC BY-SA
Columbo IMDb