United States




142,357 (2013)




6.4% (Feb 2015)




95.5 sq mi




Tennessee




1785




Kim McMillan




Dunbar Cave State Park, Customs House Museum and Cultural Center, Don F Pratt Memorial Museum




Austin Peay State University, Queen City College, Miller-Motte Technical College-Clarksville, Daymar Institute, North Central Institute



Clarksville is a city in and the county seat of Montgomery County, Tennessee, and the fifth-largest city in the state behind Memphis, Nashville, Knoxville, and Chattanooga, respectively. The city had a population of 132,957 at the 2010 census, and an estimated population of 135,990 in 2014.
It is the principal central city of the Clarksville, TN-KY metropolitan statistical area, which consists of Montgomery and Stewart counties in Tennessee; and Christian and Trigg counties in Kentucky.
The city was incorporated in 1785 as Tennessees first incorporated city, and named for General George Rogers Clark, frontier fighter and Revolutionary War hero, and brother of William Clark of the Lewis and Clark Expedition.
Clarksville is the home of Austin Peay State University; The Leaf-Chronicle, the oldest newspaper in Tennessee; and neighbor to the Fort Campbell, United States Army base. Site of the 101st Airborne Division (Air Assault), Fort Campbell is located approximately ten miles (16 km) from downtown Clarksville, straddling the Tennessee-Kentucky state line. It is officially Fort Campbell, Kentucky as the base U.S. Post Office is on the Kentucky side of the post. The majority of the acreage of Fort Campbell is within the state of Tennessee.
Clarksville is located at 36°31?47?N 87°21?33?W (36.5297222, -87.3594444). The elevation is 382 feet (116 m) above sea level. This altitude can be found on a section of Riverside Drive, which runs along the eastern bank of the Cumberland, but most of the city is higher. Clarksvilles civil airport, Outlaw Field, is listed as 550 feet (170 m) AMSL by survey. According to Topo USA mapping software, the city square sits at 475 feet (145 m) and the courthouse at 509 feet (155 m). There is a point on the northern side of Memorial Drive near Medical Court that reaches 598 feet (182 m).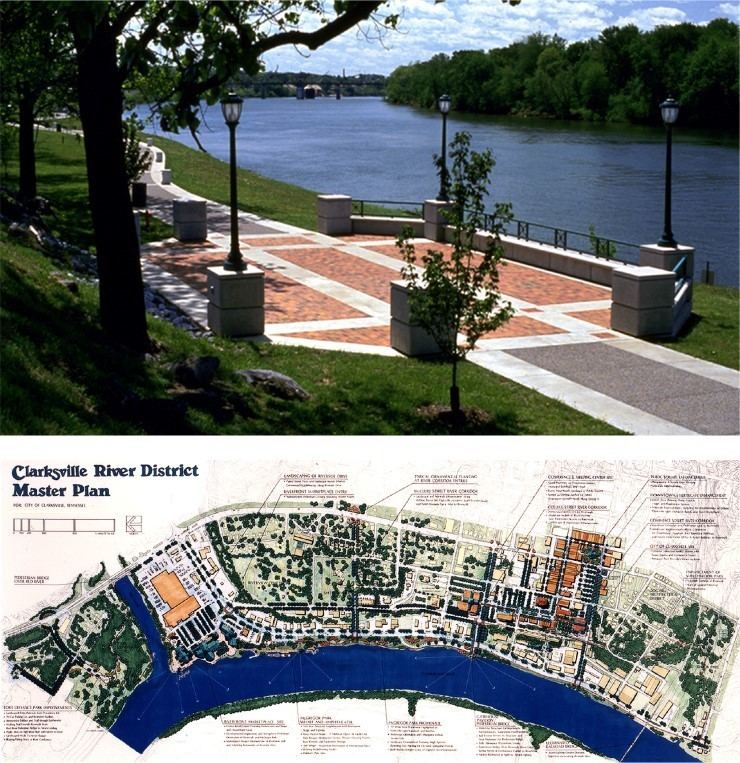 According to the United States Census Bureau, the city has a total area of 95.5 square miles (247 km2), of which 94.9 square miles (246 km2) is land and 0.7 square miles (1.8 km2) (0.71%) is water.
Clarksville is located on the northwest edge of the Highland Rim, which surrounds the Nashville Basin, and is 45 miles (72 km) northwest of Nashville.
The area now known as Tennessee was first settled by Paleo-Indians nearly 11,000 years ago. The names of the cultural groups that inhabited the area between first settlement and the time of European contact are unknown, but several distinct cultural phases have been named by archaeologists, including Archaic, Woodland, and Mississippian whose chiefdoms were the cultural predecessors of the Muscogee people who inhabited the Tennessee River Valley prior to Cherokee migration into the rivers headwaters.
When Spanish explorers first visited Tennessee, led by Hernando de Soto in 1539?43, it was inhabited by tribes of Muscogee and Yuchi people. Possibly because of European diseases devastating the native tribes, which would have left a population vacuum, and also from expanding European settlement in the north, the Cherokee moved south from the area now called Virginia. As European colonists spread into the area, the native populations were forcibly displaced to the south and west, including all Muscogee and Yuchi peoples, the Chickasaw, and Choctaw. From 1838 to 1839, nearly 17,000 Cherokees were forced to march from "emigration depots" in Eastern Tennessee, such as Fort Cass, to Indian Territory west of Arkansas. This came to be known as the Trail of Tears, as an estimated 4,000 Cherokees died along the way.
Major industrial employers in Clarksville include:
Roxy Theatre (located in downtown Clarksville)
Governors Square Mall
Clarksville City Arboretum
Ringgold Mill (located in North Clarksville)
Port Royal State Park (historic community site and location of one of the oldest points of European civilization in Montgomery County)
Historic Collinsville (Historic village restored to illustrate the living conditions of early European and African American settlers)
Customs House Museum and Cultural Center (located in downtown Clarksville, second largest general museum in Tennessee)
L & N Train Station Restored downtown train station.
Wilma Rudolph Statue (To honor one of Americas most outstanding Olympic athletes and her legacy)
Dunbar Cave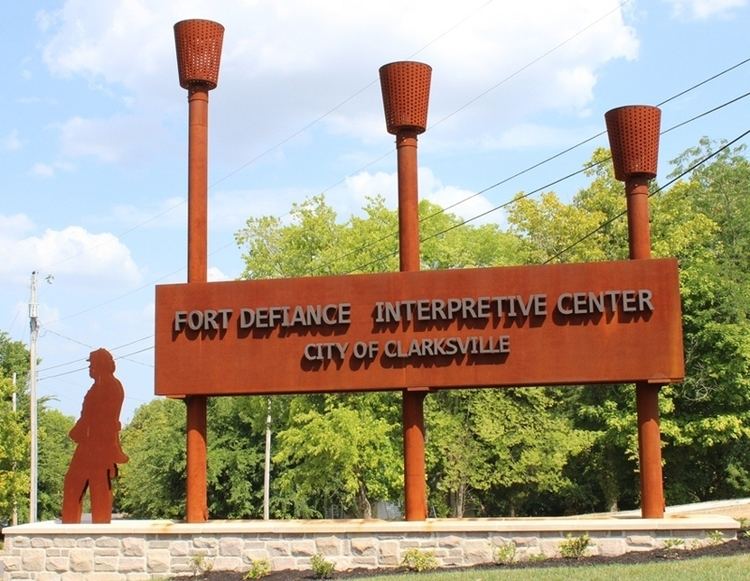 The Monkees 1966 classic #1 song "Last Train to Clarksville" was supposedly inspired by the citys train depot and about a soldier from Fort Campbell during the Vietnam War era, but the name was picked for sound. The band filmed parts of Clarksville in the songs music video.
Musician Jimi Hendrix was stationed at Fort Campbell in 1962 as a member of the 101st Airborne Division, before his career took off.
Clarksville, Tennessee Wikipedia
(,)http://clarksvillecvb.com/content/images/franklin.jpg(,)http://cmsimg.theleafchronicle.com/apps/pbcsi.dll/bilde%3FSite%3DDA%26Date%3D20120825%26Category%3DNEWS12%26ArtNo%3D308250002%26Ref%3DAR%26MaxW%3D640%26Border%3D0%26History(,)http://upload.wikimedia.org/wikipedia/commons/f/f2/Clarksville_TN.jpg(,)http://upload.wikimedia.org/wikipedia/commons/2/2e/Old_nashville_riverfront.jpg(,)http://cmsimg.theleafchronicle.com/apps/pbcsi.dll/bilde%3FSite%3DDA%26Date%3D20081012%26Category%3DANNIVERSARY%26ArtNo%3D810190311%26Ref%3DAR%26MaxW%3D640%26Border%3D0%26Local-news-merges(,)http://cmsimg.theleafchronicle.com/apps/pbcsi.dll/bilde%3FSite%3DDA%26Date%3D20120624%26Category%3DNEWS01%26ArtNo%3D306300006%26Ref%3DAR%26MaxW%3D640%26Border%3D0%26City-post-marriage-remains-tight(,)http://historicaltreasuresllc.com/wp-content/uploads/2013/11/CourtHouse.jpg(,)http://www.mcgtn.org/sites/default/files/imagecache/HeaderImage/downtown.jpg(,)http://getawaysforgrownups.com/wp-content/uploads/2013/11/AA-023-1024x768.jpg(,)http://cmsimg.theleafchronicle.com/apps/pbcsi.dll/bilde%3FSite%3DDA%26Date%3D20081012%26Category%3DANNIVERSARY%26ArtNo%3D810190313%26Ref%3DAR%26MaxW%3D640%26Border%3D0%26Higher-learning(,)https://familysearch.org/learn/wiki/en/images/e/e1/TNMontgomerycourthouse.jpg(,)http://mw2.google.com/mw-panoramio/photos/medium/51275008.jpg
(,)http://www.landscapeservicesinc.com/design/banner-locations.jpg(,)http://www.tsw-design1.com/wp-content/uploads/2013/10/ClarksvilleRiverfront02.jpg(,)http://www.creststonelandscaping.com/images/landscaping/101_0229.jpg(,)http://www.creststonelandscaping.com/images/outdoor-living/DSCI0106.jpg(,)http://www.clarksvilleonline.com/wp-content/uploads/2013/06/Clarksvilles-Rivers-and-Spires-Festival.jpg(,)http://www.creststonelandscaping.com/images/gallery_pavers2.jpg(,)http://woffordsnurseryofclarksville.com/4.jpg(,)https://i.vimeocdn.com/video/478630867_640.jpg(,)http://woffordsnurseryofclarksville.com/1.jpg(,)http://www.creststonelandscaping.com/images/outdoor-living/DSCI0099.jpg(,)http://woffordsnurseryofclarksville.com/2.jpg
(,)http://media-cdn.tripadvisor.com/media/photo-s/03/72/86/da/looking-glass-restaurant.jpg(,)http://loavesandfishestn.org/tcg/wp-content/uploads/2012/12/loaves-and-fishes-soup-kitchen-clarksville-tennessee-173-color.jpg(,)http://historicdowntownclarksville.org/wordpress/wp-content/uploads/2013/02/DCA-downtown-clarksville-hero1.jpg(,)http://libertyparkgrill.com/wp-content/uploads/2014/10/Building1.jpg(,)http://media-cdn.tripadvisor.com/media/photo-s/03/72/86/93/looking-glass-restaurant.jpg(,)http://media-cdn.tripadvisor.com/media/photo-s/03/72/86/b0/looking-glass-restaurant.jpg(,)http://thelookingglassrestaurant.com/wp-content/uploads/2013/03/Front-View.jpg(,)http://www.clarksvilleonline.com/wp-content/uploads/2014/02/Cheddars-480x270.jpg(,)http://mexicanrestaurantsblog.com/wp-content/uploads/2013/08/IMG_2164-500x373.jpg
(,)http://realestatebydebbiereynolds.com/image_store/uploads/6/9/4/5/2/ar134687887125496.JPG(,)http://activerain.com/image_store/uploads/1/8/7/9/3/ar125547599039781.jpg(,)http://clarksvillechamber.com/content/bg-clarksville.jpg(,)http://stonesmanor.com/portals/stonesmanor/Images/clarskville_header.jpg(,)http://www.clarksvilleonline.com/wp-content/uploads/2011/10/customshousemuseum.gif