Occupation

Actress




Height

1.65 m




Role

Actress





Name

Christina Applegate




Years active

1972–present




Children

Sadie Grace LeNoble









Born

November 25, 1971 (age 51) (

1971-11-25

) Hollywood, California, U.S.


Notable work

Kelly Bundy in Married... with Children




Spouse

Martyn LeNoble (m. 2013), Johnathon Schaech (m. 2001–2007)


Parents

Robert Applegate, Nancy Priddy


Movies and TV shows

Married with Children, Vacation, Anchorman: The Legend o, Anchorman 2: The Legend C, The Sweetest Thing


Similar People

Martyn LeNoble, Katey Sagal, David Faustino, Ed O'Neill, Johnathon Schaech


Profiles




Twitter
Christina Applegate Leads A Double Life As A Librarian
Christina Applegate (born November 25, 1971) is an American actress and dancer who as an adolescent actress started playing the role of Kelly Bundy on the Fox sitcom Married... with Children (1987–97). In her adult years, Applegate established a film and television career, winning an Emmy and earning Tony and Golden Globe nominations. She is also known for doing the voice of Brittany in the Alvin and the Chipmunks film series.
Contents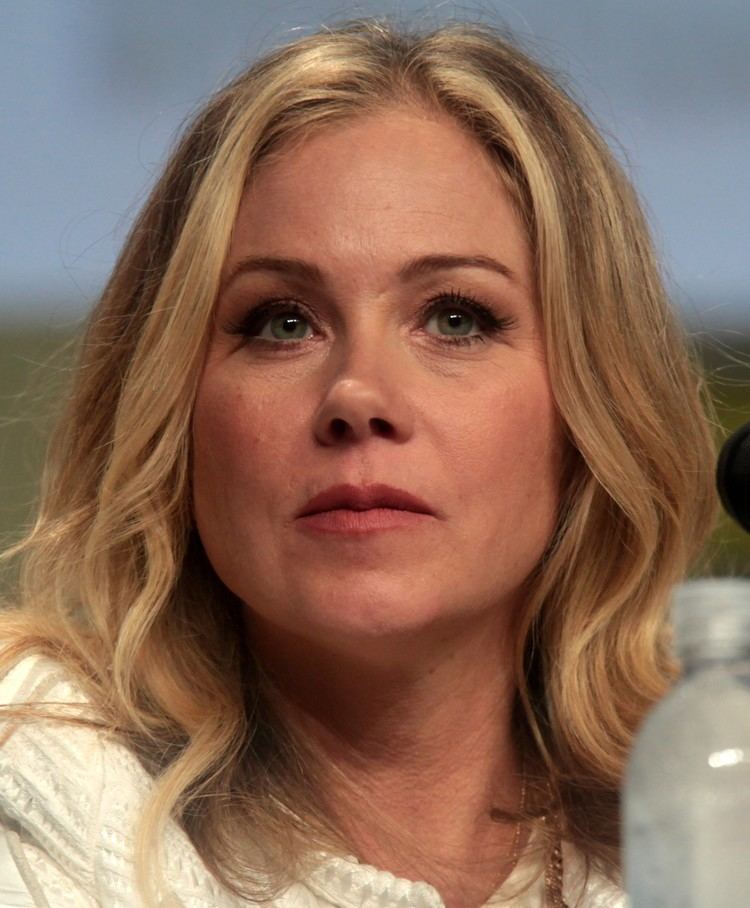 She has had major roles in several films, including Don't Tell Mom the Babysitter's Dead (1991), The Big Hit (1998), Prince Charming (2001), The Sweetest Thing (2002), Grand Theft Parsons (2003), Anchorman: The Legend of Ron Burgundy (2004) and its sequel, Anchorman 2: The Legend Continues (2013), Farce of the Penguins (2007), Hall Pass (2011), Vacation (2015) and Bad Moms (2016). She has also starred in numerous Broadway theatre productions such as the 2005 revival of the musical Sweet Charity. She played the lead role in the television sitcoms Jesse (1998–2000) and Samantha Who? (2007–09) and starred in the NBC comedy Up All Night (2011–12).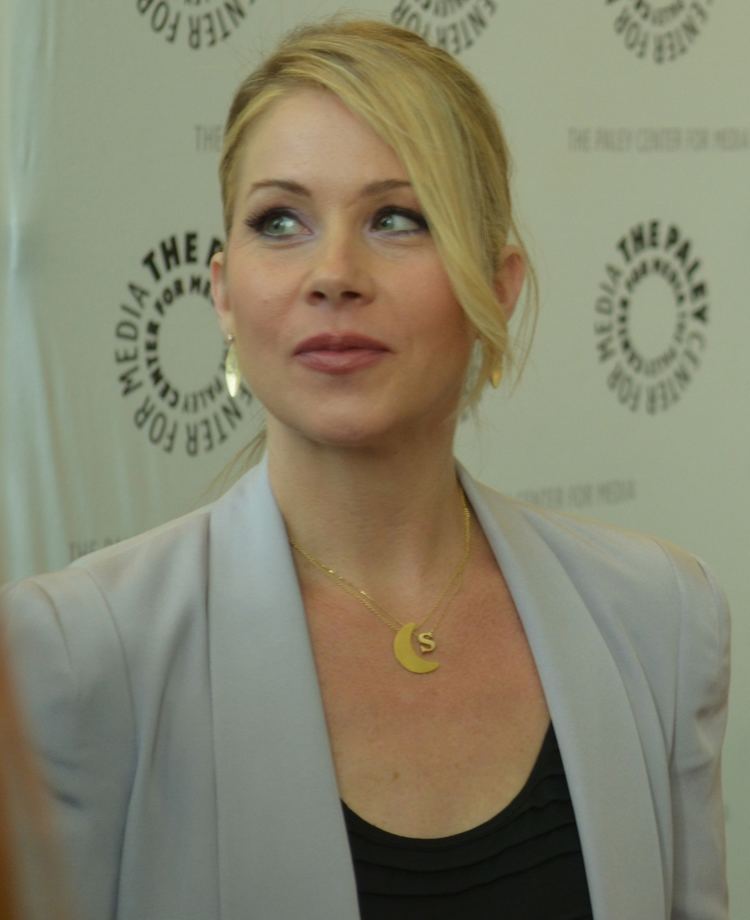 The day christina applegate decided to get a double mastectomy the oprah winfrey show own
1971–1986: Early life and projects
Applegate was born in Hollywood, California. Her father, Robert William "Bob" Applegate, was a record producer and record company executive, and her mother, Nancy Lee Priddy, is a singer and actress. Her parents were separated shortly after her birth. She has two half-siblings (Alisa and Kyle) from her father's remarriage. After her parents' divorce, her mother had a relationship with musician Stephen Stills. After her television debut with her mother in the soap opera Days of Our Lives and a commercial for Playtex baby bottles at three and five months, respectively, Applegate made her film debut in the 1979 film, Jaws of Satan (or King Cobra) at the age of seven, followed by 1981's Beatlemania. She debuted in a television movie as young Grace Kelly in the biopic, Grace Kelly (1983) and appeared in her first TV series in Showtime's political comedy, Washingtoon (1985), in which she played a Congressman's daughter. She was also seen as a guest in the shows, Father Murphy (1981), Charles in Charge (1984 and 1985), and Silver Spoons (1986). In 1986, Applegate won the role of Robin Kennedy (1986–87), a policeman's daughter, in the police drama series Heart of the City. Meanwhile, she was also seen guest starring in several other television series such as All is Forgiven, Still the Beaver, Amazing Stories, and the Family Ties episode "Band on the Run" (1987) as Kitten.
1987–2001: Married… with Children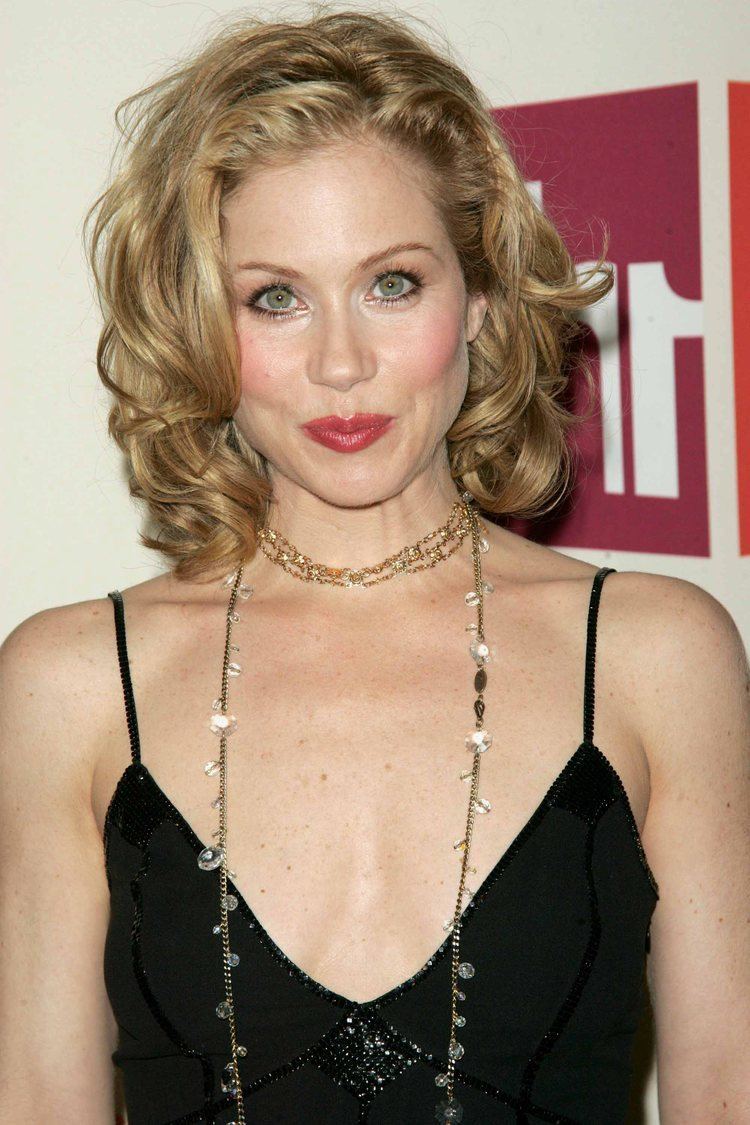 In 1987, Applegate played the role of the ditzy, sexually promiscuous daughter, Kelly Bundy, on the Fox Network's first sitcom, Married... with Children. She portrayed her character for 11 years (1987–97). While working on the series, Applegate was seen in Dance 'til Dawn (1988, NBC) and in Streets (1990), in which a teenaged drug addict is stalked by a psychotic police officer. Applegate guest-starred in 21 Jump Street (1988) and Top of the Heap (1991, as Kelly Bundy), and hosted Saturday Night Live (May 8, 1993, and October 13, 2012) and MADtv (1996).
The character of Sue Ellen Crandell in the black comedy feature Don't Tell Mom the Babysitter's Dead (1991) was Applegate's first starring role in a mainstream film, playing a rebellious teenager who is forced to take care of siblings after their summer babysitter dies. Applegate followed with roles in films such as Vibrations (1995), Across the Moon (1995), Wild Bill (1995), Tim Burton's Mars Attacks! (1996), and Gregg Araki's Nowhere (1997). After the sitcom Married... with Children was cancelled in May 1997, Applegate starred as Claudine Van Doozen in the independent feature Claudine's Return (or Kiss of Fire), was cast in the action-comedy The Big Hit, and played the fiancée of a mob descendant in the Mafia satire Jane Austen's Mafia (1998).
Applegate was one of the founding members of The Pussycat Dolls, which debuted at Johnny Depp's Viper Room on the Sunset Strip in 1995. Applegate emceed for the group when they moved to The Roxy in 2002. In 1996, Applegate auditioned for the role of Rose in James Cameron's blockbuster hit fim Titanic, but lost to Kate Winslet. In 1998, Applegate was given the title role in the NBC sitcom Jesse. The series debuted in 1998, received rave reviews, and brought Applegate a People's Choice Award for Favorite Female Performer in a New TV series and the TV Guide Award for Star of a New Series, as well as a nomination at the Golden Globe Awards for Lead Actress in a Comedy. Though the series gained critical praise, it was cancelled in 2000.
2002–present: Anchorman, stage and television
The new millennium had Applegate playing the dual role of a 12th-century noblewoman, Princess Rosalind, and her 21st-century descendant, Julia Malfete, in the time-travel comedy Just Visiting (2001). She was Princess Gwendolyn and Kate in the movie Prince Charming (2001). After playing Cameron Diaz's level-headed best friend, Courtney Rockcliffe, in The Sweetest Thing (2002), Applegate continued to play roles in such films as Heroes (2002), and the romantic airplane comedy View from the Top (2003), as well as in the true-crime film Wonderland (2003), based on the Wonderland murders, and the Gram Parsons biopic Grand Theft Parsons (2003). In 2004, Applegate starred alongside Ben Affleck in the holiday comedy Surviving Christmas, and alongside Matt Dillon in Employee of the Month. Behind the screen, she was the executive producer of Comforters, Miserable (2001).
Applegate guest-starred on two episodes of Friends, in the ninth (2002) and tenth (2003) seasons, titled "The One with Rachel's Other Sister" and "The One Where Rachel's Sister Babysits" as Amy Green, Rachel Green's (Jennifer Aniston) sister. She won the Primetime Emmy Award for Outstanding Guest Actress in a Comedy Series her performance in "The One with Rachel's Other Sister." On the silver screen, she portrayed TV anchorwoman Veronica Corningstone in the 2004 films Anchorman: The Legend of Ron Burgundy and the bonus film Wake Up, Ron Burgundy: The Lost Movie (an alternative film comprising alternate takes and deleted scenes and story elements).
In addition to her screen work, Applegate has performed on stage in such productions as The Axeman's Jazz, Nobody Leaves Empty Handed, and The Runthrough, as well as John Cassavetes' The Third Day (co-starring Gena Rowlands). In 2004, she debuted on the Broadway stage playing the title role of Charity Hope Valentine in a revival of the 1966 musical Sweet Charity. In late April 2005, she also took part in the annual Broadway Cares' Easter Bonnet Competition, being sawed in half by a magician in their Clearly Impossible sawing illusion. Sweet Charity ended its Broadway run on December 31, 2005. Applegate eventually took home the 2005 Theatre World Award and was nominated for a 2005 Tony Award for Best Actress in a Musical.
While appearing in Sweet Charity, Applegate broke her foot, and it was announced that the musical would close during previews. She persuaded the producers to rescind their decision and on April 18, 2005, she made her Broadway debut. Because of her injury, Applegate had to wear special shoes to prevent another incident, and in a 2013 interview said that because of what happened, she "actually can't dance anymore. And that is sad for me because I always wanted to go back. But I probably won't be able to." She does dance whenever the opportunity presents, but cannot do any more strenuous roles.
In 2006, Applegate appeared in Jessica Simpson's music video "A Public Affair" alongside Eva Longoria, Ryan Seacrest, and Christina Milian. She starred in the ABC comedy Samantha Who? from October 15, 2007, until it was cancelled on May 18, 2009. The series costarred Jean Smart, Jennifer Esposito, and Melissa McCarthy. The series was about a 30-year-old, who after a hit-and-run accident, develops amnesia and has to rediscover her life, her relationships, and herself. Shortly after the cancellation was announced, Applegate began a campaign to get the show back into production, which was a failure. Applegate topped the list of People's Most Beautiful People in 2009. Applegate appeared with her TV brother David Faustino (Bud Bundy from Married with Children) in an episode of Faustino's show Star-ving.
She also voiced Catherine the Cat in the three-dimensional talking animal sequel Cats & Dogs: The Revenge of Kitty Galore. Applegate said her mother was who wanted her to be involved in the film. Prior to Cats & Dogs 2, she voiced Brittany (one of the Chipettes) in Alvin and the Chipmunks: The Squeakquel (2009), Alvin and the Chipmunks: Chipwrecked (2011), and Alvin and the Chipmunks: The Road Chip (2015). She starred in the NBC sitcom Up All Night with Maya Rudolph and Will Arnett, and the show debuted on September 14, 2011. On February 8, 2013, she left the series after its second-season hiatus which was leading into a planned format change.
On July 31, 2013, Applegate was featured on the second episode of the fourth season of the revived American version of TLC's, Who Do You Think You Are? The broadcast centered around Applegate trying to find out for her father, Robert Applegate, about his mother, Lavina Applegate Walton, who was mysteriously absent for most of her son's life and who died early in his life. Applegate also hoped to find out if the hearsay concerning her grandmother's tragic death were true. The actress traveled from her home in Hollywood, California, to Trenton, New Jersey, for her search.
In 2015, Applegate starred with Ed Helms in the National Lampoon sequel Vacation, the fifth full-length movie episode of the road-trip comedies. Helms and Applegate play Rusty Griswold and his wife Debbie, who with their two sons take a trip to Walley World, just as Rusty did with his parents in the 1983 original film, National Lampoon's Vacation. Series stars Beverly D'Angelo and Chevy Chase make appearances as Rusty's parents Ellen and Clark Griswold. Also, Leslie Mann appears as Rusty's sister Audrey with Chris Hemsworth as her husband Stone Crandell.
Personal life
On October 20, 2001, Applegate married actor Johnathon Schaech in Palm Springs, California. Schaech filed for divorce in December 2005, citing irreconcilable differences, and the divorce was finalized in August 2007. In 2009, she began dating musician Martyn LeNoble. The couple became engaged on Valentine's Day 2010, and married on February 23, 2013, at their Los Angeles home. It is the second marriage for both. They have one daughter, Sadie Grace, born in January 2011. Applegate is a vegetarian, and in 2007, appeared in an anti-fur advertisement for PETA.
Breast cancer
On August 3, 2008, People reported that Applegate had been diagnosed with breast cancer. This was confirmed by her representative who said in a statement, "Christina Applegate was diagnosed with an early stage of breast cancer. Benefiting from early detection through a doctor-ordered MRI, the cancer is not life-threatening. Christina is following the recommended treatment of her doctors and will have a full recovery. No further statement will be issued at this time." On August 19, 2008, it was announced that Applegate was cancer free after a double mastectomy, though cancer was found in only one breast. She has an inherited genetic trait, a BRCA1 mutation, which can trigger breast cancer. Her mother, Nancy Priddy, is a breast cancer survivor. Applegate said when she first was diagnosed, "I was just shaking and then also immediately, I had to go into 'take-care-of-business-mode' which included a change to a more healthy diet."
Philanthropy
In 1992, Applegate joined other celebrities in a benefit show for a Hollywood children's charity, acting as a special guest assistant to a local magician and taking part in a number of illusions, including being sawn in half. In 2003, she was the spokesperson for the Lee National Denim Day, which raises millions of dollars for breast cancer education and research. Following her diagnosis with breast cancer, Applegate appeared on a television special entitled Stand Up to Cancer designed to raise funds for breast cancer research. The one-hour special was broadcast on CBS, NBC, and ABC television networks on September 5, 2008. In 2009, she announced her plans to return as the ambassador for Lee National Denim Day. Also in 2009, she founded Right Action for Women, a charitable foundation dedicated to breast-cancer screening for women, and focused on the type of MRI scan which saved her life. In February 2015, Applegate was awarded the Saint Vintage Love Cures Award from unite4:humanity and Saint Vintage, for her dedication to and work with Right Action for Women. Applegate has also supported Entertainment Industry Foundation, Adopt-A-Classroom, The Motion Picture and Television Fund Foundation, World Animal Protection, and the Trevor Project.
Filmography
Actress
-
Your Time Is Up (TV Movie) (pre-production)
2019
Dead to Me (TV Series)
as
Jen Harding
- We've Reached the End (2022) - Jen Harding
- We're Almost Out of Time (2022) - Jen Harding
- We'll Find a Way (2022) - Jen Harding
- Can We Be Honest? (2022) - Jen Harding
- We're Gonna Beat This Thing (2022) - Jen Harding
- We Didn't Think This Through (2022) - Jen Harding
- Where Do We Go Now? (2022) - Jen Harding
- Look at What We Have Here (2022) - Jen Harding
- We Need to Talk (2022) - Jen Harding
- We've Been Here Before (2022) - Jen Harding
- Where Do We Go From Here (2020) - Jen Harding
- It's Not You, It's Me (2020) - Jen Harding
- It Had to Be You (2020) - Jen Harding
- If Only You Knew (2020) - Jen Harding
- You Don't Have To (2020) - Jen Harding
- The Price You Pay (2020) - Jen Harding
- Between You and Me (2020) - Jen Harding
- You Can't Live Like This (2020) - Jen Harding
- Where Have You Been (2020) - Jen Harding
- You Know What You Did (2020) - Jen Harding
- You Have to Go (2019) - Jen Harding
- I Have to Be Honest (2019) - Jen Harding
- Try to Stop Me (2019) - Jen Harding
- I Can Handle It (2019) - Jen Harding
- Oh My God (2019) - Jen Harding
- I've Gotta Get Away (2019) - Jen Harding
- I Can't Go Back (2019) - Jen Harding
- It's All My Fault (2019) - Jen Harding
- Maybe I'm Crazy (2019) - Jen Harding
- Pilot (2019) - Jen Harding
2018
Ask the StoryBots (TV Series)
as
The Baker
- Why Can't I Eat Dessert All the Time? (2018) - The Baker
2017
A Bad Moms Christmas
as
Gwendolyn
2015
Alvin and the Chipmunks: The Road Chip
as
Brittany (voice)
2015
The Grinder (TV Series)
as
Gail Budnick
- A Bittersweet Grind (Une Mouture Amer) (2015) - Gail Budnick
2015
The Muppets. (TV Series)
as
Christina Applegate
- Bear Left Then Bear Write (2015) - Christina Applegate
2015
Meryl: The Lifetime Biopic with Christina Applegate (Short)
as
Meryl Streep
2015
Vacation
as
Debbie Griswold
2015
Web Therapy (TV Series)
as
Jenny Bologna
- Fiona Fulfilled (2015) - Jenny Bologna
- No Stranger to Scandal (2015) - Jenny Bologna
2014
Book of Life: Sugar Smash (Video Game)
as
Mary Beth (voice)
2014
The Book of Life
as
Mary Beth (voice)
2013
Deadline: The Nikki Finke Story (Short)
as
Christina Applegate
2013
Anchorman 2: The Legend Continues
as
Veronica Corningstone
2011
Up All Night (TV Series)
as
Reagan Brinkley
- The Wedding (2012) - Reagan Brinkley
- First Snow (2012) - Reagan Brinkley
- I Can't Quit You (2012) - Reagan Brinkley
- The Game of Life (2012) - Reagan Brinkley
- Thanksgiving (2012) - Reagan Brinkley
- Ma'am'd (2012) - Reagan Brinkley
- Another Saturday Night (2012) - Reagan Brinkley
- Jerry Duty (2012) - Reagan Brinkley
- Swingers (2012) - Reagan Brinkley
- Home/Office (2012) - Reagan Brinkley
- Friendships & Partnerships (2012) - Reagan Brinkley
- The Proposals (2012) - Reagan Brinkley
- Hey Jealousy (2012) - Reagan Brinkley
- Letting Go (2012) - Reagan Brinkley
- Daddy Daughter Time (2012) - Reagan Brinkley
- Baby Fever (2012) - Reagan Brinkley
- Couple Friends (2012) - Reagan Brinkley
- New Boss (2012) - Reagan Brinkley
- First Birthday (2012) - Reagan Brinkley
- Travel Day (2012) - Reagan Brinkley
- Day After Valentine's Day (2012) - Reagan Brinkley
- Preschool Auction (2012) - Reagan Brinkley
- Rivals (2012) - Reagan Brinkley
- New Year's Eve (2012) - Reagan Brinkley
- First Christmas (2011) - Reagan Brinkley
- Week Off (2011) - Reagan Brinkley
- Hiring and Firing (2011) - Reagan Brinkley
- First Night Away (2011) - Reagan Brinkley
- Parents (2011) - Reagan Brinkley
- Birth (2011) - Reagan Brinkley
- Mr. Bob's Toddler Kaleidoscope (2011) - Reagan Brinkley
- New Car (2011) - Reagan Brinkley
- Working Late & Working It (2011) - Reagan Brinkley
- Cool Neighbors (2011) - Reagan Brinkley
- Pilot (2011) - Reagan Brinkley
2011
Alvin and the Chipmunks: Chipwrecked
as
Brittany (voice)
2010
Prenatal Pole Dancing DVD (Short)
as
Roxy Fedaro
2010
Going the Distance
as
Corinne
2010
Cats & Dogs: The Revenge of Kitty Galore
as
Catherine (voice)
2009
Alvin and the Chipmunks: The Squeakquel
as
Brittany (voice)
2007
Samantha Who? (TV Series)
as
Samantha
- With This Ring (2009) - Samantha
- The Other Woman (2009) - Samantha
- The First Date (2009) - Samantha
- The Dream Job (2009) - Samantha
- Todd's Job (2009) - Samantha
- The Sister (2009) - Samantha
- The Rock Star (2009) - Samantha
- The Debt (2009) - Samantha
- The Amazing Racist (2009) - Samantha
- The Dog (2009) - Samantha
- My Best Friend's Boyfriend (2009) - Samantha
- The Park (2008) - Samantha
- The Family Vacation (2008) - Samantha
- The Farm (2008) - Samantha
- The Ex (2008) - Samantha
- Help! (2008) - Samantha
- The Building (2008) - Samantha
- The Pill (2008) - Samantha
- Out of Africa (2008) - Samantha
- So I Think I Can Dance (2008) - Samantha
- The Birthday (2008) - Samantha
- The Affair (2008) - Samantha
- The Gallery Show (2008) - Samantha
- The Butterflies (2008) - Samantha
- The Boss (2008) - Samantha
- The Girlfriend (2008) - Samantha
- The Break Up (2007) - Samantha
- The Car (2007) - Samantha
- The Hockey Date (2007) - Samantha
- The Hypnotherapist (2007) - Samantha
- The Restraining Order (2007) - Samantha
- The Virgin (2007) - Samantha
- The Wedding (2007) - Samantha
- The Job (2007) - Samantha
- Pilot (2007) - Samantha
2009
Star-ving (TV Series)
as
Christina Applegate
- Married with Children: The Movie (2009) - Christina Applegate
2008
Jimmy Kimmel & Ben Affleck: I'm Fucking Ben Affleck (Music Video short)
as
Christina Applegate
2008
Reno 911! (TV Series)
as
Seeeeemji
- Did Garcia Steal Dangle's Husband? (2008) - Seeeeemji
2006
Farce of the Penguins
as
Melissa (voice)
2006
Jessica Simpson: A Public Affair (Music Video)
as
Friend
2005
Tilt-A-Whirl (Short)
as
Customer #1
2005
Suzanne's Diary for Nicholas (TV Movie)
as
Dr. Suzanne Bedford
2004
Wake Up, Ron Burgundy (Video)
as
Veronica Corningstone
2004
Father of the Pride (TV Series short)
as
Candy
- One Man's Meat Is Another Man's Girlfriend (2004) - Candy (voice)
2004
Surviving Christmas
as
Alicia Valco
2004
Anchorman: The Legend of Ron Burgundy
as
Veronica Corningstone
2004
Anchorman: Afternoon Delight (Music Video)
as
Veronica Corningstone
2004
King of the Hill (TV Series)
as
Colette / Attorney
- My Hair Lady (2004) - Colette / Attorney (voice)
2004
Employee of the Month
as
Sara Goodwin
2003
Grand Theft Parsons
as
Barbara
2002
Friends (TV Series)
as
Amy Green
- The One Where Rachel's Sister Babysits (2003) - Amy Green
- The One with Rachel's Other Sister (2002) - Amy Green
2003
Wonderland
as
Susan Launius
2003
View from the Top
as
Christine Montgomery
2003
Sol Goode
as
Girl at the Bar (uncredited)
2002
The Sweetest Thing
as
Courtney
2001
Prince Charming (TV Movie)
as
Kate / Princess Gwendolyn
2001
Just Visiting
as
Rosalind / Julia
1998
Jesse (TV Series)
as
Jesse Warner
- My Best Friend's Wedding (2000) - Jesse Warner
- First Blood (2000) - Jesse Warner
- Diego's First Sleepover (2000) - Jesse Warner
- The Dump (2000) - Jesse Warner
- Jesse's Coat a Useful Crutch, Diego's Kitchen, Not So Much (2000) - Jesse Warner
- My Boyfriend Went to Chile and All I Got Was This Lousy Moustache (2000) - Jesse Warner
- Jesse Gives Birth (2000) - Jesse Warner
- The Rock (2000) - Jesse Warner
- Small Time Felon: The Jesse Warner Story: Part 2 (2000) - Jesse Warner
- Kurt Slips, Niagara Falls (2000) - Jesse Warner
- Jesse as Nurse, Fills In: Diego Throws Ice at Children (1999) - Jesse Warner
- The Christmas Party (1999) - Jesse Warner
- L'Eggo My Diego (1999) - Jesse Warner
- A Woman's Prerogative: The Jesse Warner Story (1999) - Jesse Warner
- Jesse's Flat Tire (1999) - Jesse Warner
- Jesse vs. Kurt (1999) - Jesse Warner
- Everything But the Grill (1999) - Jesse Warner
- Students Get Flu/Carrie at Zoo/Monkey Throw Poo (1999) - Jesse Warner
- Driving Miss Jesse (1999) - Jesse Warner
- Jesse's New Job (1999) - Jesse Warner
- I Do, I Think I Do (1999) - Jesse Warner
- Finders Keepers (1999) - Jesse Warner
- Momma Was a Rollin' Stone (1999) - Jesse Warner
- The Parent Trap (1999) - Jesse Warner
- Cecil, the Angry Postman (1999) - Jesse Warner
- Touched by an Angel (1999) - Jesse Warner
- Bar Remodel (1999) - Jesse Warner
- Crazy White Female (1999) - Jesse Warner
- Hickory, Dickory, Death (1999) - Jesse Warner
- My Casual Friend's Wedding (1999) - Jesse Warner
- The Mischevous Elf (1999) - Jesse Warner
- The Best Possible Deal (1999) - Jesse Warner
- Boo! He's Gone (1998) - Jesse Warner
- Barko, the Holiest Dog in the World (1998) - Jesse Warner
- The Cheese Ship (1998) - Jesse Warner
- The Kiss (1998) - Jesse Warner
- The Methadone Clinic (1998) - Jesse Warner
- Boo! He's Back (1998) - Jesse Warner
- Live Nude Girls (1998) - Jesse Warner
- Bees Do It, Birds Do It, But Not in a Car (1998) - Jesse Warner
- Goober Up the Nose (1998) - Jesse Warner
- A Side of Chile (1998) - Jesse Warner
1998
The Big Hit
as
Pam Shulman
1998
Claudine's Return
as
Claudine Van Doozen
1987
Married... with Children (TV Series)
as
Kelly Bundy / Ship's Navigator
- Chicago Shoe Exchange (1997) - Kelly Bundy
- The Desperate Half-Hour (1997) - Kelly Bundy
- How to Marry a Moron (1997) - Kelly Bundy
- Lez Be Friends (1997) - Kelly Bundy
- Damn Bundys (1997) - Kelly Bundy
- Birthday Boy Toy (1997) - Kelly Bundy
- A Babe in Toyland (1997) - Kelly Bundy
- Live Nude Peg (1997) - Kelly Bundy
- Breaking Up Is Easy to Do: Part 3 (1997) - Kelly Bundy
- Breaking Up Is Easy to Do: Part 2 (1997) - Kelly Bundy
- Breaking Up Is Easy to Do: Part 1 (1997) - Kelly Bundy
- T*R*A*S*H (1997) - Kelly Bundy
- Grime and Punishment (1997) - Kelly Bundy
- Bud on the Side (1997) - Kelly Bundy
- The Stepford Peg (1997) - Kelly Bundy
- Crimes Against Obesity (1996) - Kelly Bundy
- God Help Ye Merry Bundymen (1996) - Kelly Bundy
- The Juggs Have Left the Building (1996) - Kelly Bundy
- A Bundy Thanksgiving (1996) - Kelly Bundy
- Requiem for a Chevyweight: Part 2 (1996) - Kelly Bundy
- Requiem for a Chevyweight: Part 1 (1996) - Kelly Bundy
- Kelly's Gotta Habit (1996) - Kelly Bundy
- Children of the Corns (1996) - Kelly Bundy
- Twisted (1996) - Kelly Bundy
- The Joke's on Al (1996) - Kelly Bundy
- Torch Song Duet (1996) - Kelly Bundy
- Kiss of the Coffee Woman (1996) - Kelly Bundy
- Bud Hits the Books (1996) - Kelly Bundy
- Enemies (1996) - Kelly Bundy
- Al Goes to the Dogs (1996) - Kelly Bundy
- Turning Japanese (1996) - Kelly Bundy
- Spring Break: Part 2 (1996) - Kelly Bundy
- Spring Break: Part 1 (1996) - Kelly Bundy
- The Agony and the Extra C (1996) - Kelly Bundy
- Calendar Girl (1996) - Kelly Bundy
- The Hood, the Bud & the Kelly: Part 2 (1996) - Kelly Bundy
- The Hood, the Bud & the Kelly: Part 1 (1996) - Kelly Bundy
- I Can't Believe It's Butter (1995) - Kelly Bundy
- Love Conquers Al (1995) - Kelly Bundy
- Bearly Men (1995) - Kelly Bundy
- Dud Bowl II (1995) - Kelly Bundy
- The Two That Got Away (1995) - Kelly Bundy
- Blonde and Blonder (1995) - Kelly Bundy
- Flight of the Bumblebee (1995) - Kelly Bundy
- The Weaker Sex (1995) - Kelly Bundy
- How Bleen Was My Kelly (1995) - Kelly Bundy
- Reverend Al (1995) - Kelly Bundy
- Requiem for a Dead Briard (1995) - Kelly Bundy
- A Shoe Room with a View (1995) - Kelly Bundy
- Guess Who's Coming to Breakfast, Lunch and Dinner (1995) - Kelly Bundy
- The Undergraduate (1995) - Kelly Bundy
- Shoeless Al (1995) - Kelly Bundy
- Radio Free Trumaine (1995) - Kelly Bundy
- Pump Fiction (1995) - Kelly Bundy
- User Friendly (1995) - Kelly Bundy
- And Bingo Was Her Game-O (1995) - Kelly Bundy
- Something Larry This Way Comes (1995) - Kelly Bundy
- Ship Happens (1995) - Kelly Bundy
- Ship Happens (1995) - Kelly Bundy
- 25 Years and What Do You Get? (1995) - Kelly Bundy
- Get the Dodge Out of Hell (1995) - Kelly Bundy
- Kelly Takes a Shot (1995) - Kelly Bundy
- The Naked and the Dead, But Mostly the Naked (1995) - Kelly Bundy
- I Want My Psycho Dad: Part 2 (1994) - Kelly Bundy
- I Want My Psycho Dad Part 1 (1994) - Kelly Bundy
- A Man for No Seasons (1994) - Kelly Bundy
- Dud Bowl (1994) - Kelly Bundy
- No Pot to Pease In (1994) - Kelly Bundy
- Sleepless in Chicago (1994) - Kelly Bundy
- Dial 'B' for Virgin (1994) - Kelly Bundy
- Business Still Sucks (1994) - Kelly Bundy
- Business Sucks (1994) - Kelly Bundy
- Naughty But Niece (1994) - Kelly Bundy
- Kelly Breaks Out (1994) - Kelly Bundy
- Driving Mr. Boondy (1994) - Kelly Bundy
- Shoeway to Heaven (1994) - Kelly Bundy
- Kelly Knows Something (1994) - Kelly Bundy
- Al Goes Deep (1994) - Kelly Bundy
- Assault and Batteries (1994) - Kelly Bundy
- The Legend of Ironhead Haynes (1994) - Kelly Bundy
- Ride Scare (1994) - Kelly Bundy
- Nooner or Later (1994) - Kelly Bundy
- The D'Arcy Files (1994) - Kelly Bundy
- Field of Screams (1994) - Kelly Bundy
- Get Outta Dodge (1994) - Kelly Bundy
- Valentine's Day Massacre (1994) - Kelly Bundy
- How Green Was My Apple (1994) - Kelly Bundy
- Honey, I Blew Up Myself (1994) - Kelly Bundy
- Sofa So Good (1994) - Kelly Bundy
- The Worst Noel (1993) - Kelly Bundy
- A Little Off the Top (1993) - Kelly Bundy
- Change for a Buck (1993) - Kelly Bundy
- Dances with Weezie (1993) - Kelly Bundy
- No Ma'am (1993) - Kelly Bundy
- Scared Single (1993) - Kelly Bundy
- Take My Wife, Please (1993) - Kelly Bundy
- No Chicken, No Check (1993) - Kelly Bundy
- Banking on Marcy (1993) - Kelly Bundy
- Luck of the Bundys (1993) - Kelly Bundy
- Proud to Be Your Bud? (1993) - Kelly Bundy
- Hood in the Boyz (1993) - Kelly Bundy
- A Tisket, a Tasket, Can Peg Make a Basket? (1993) - Kelly Bundy
- The Proposition (1993) - Kelly Bundy
- The Wedding Repercussions (1993) - Kelly Bundy
- Old Insurance Dodge (1993) - Kelly Bundy
- 'Tis Time to Smell the Roses (1993) - Kelly Bundy
- 'Til Death Do Us Part (1993) - Kelly Bundy
- Movie Show (1993) - Kelly Bundy
- Un-Alful Entry (1993) - Kelly Bundy
- Go for the Old (1993) - Kelly Bundy
- Peggy and the Pirates (1993) - Kelly Bundy / Ship's Navigator
- You Can't Miss (1993) - Kelly Bundy
- Mr. Empty Pants (1993) - Kelly Bundy
- Heels on Wheels (1993) - Kelly Bundy
- It Doesn't Get Any Better Than This (1993) - Kelly Bundy
- Wedding Show (1993) - Kelly Bundy
- Christmas (1992) - Kelly Bundy
- The Old College Try (1992) - Kelly Bundy
- Death of a Shoe Salesman (1992) - Kelly Bundy
- Rock of Ages (1992) - Kelly Bundy
- Kelly Doesn't Live Here Anymore (1992) - Kelly Bundy
- The Chicago Wine Party (1992) - Kelly Bundy
- Frat Chance (1992) - Kelly Bundy
- What I Did for Love (1992) - Kelly Bundy
- Al on the Rocks (1992) - Kelly Bundy
- Every Bundy Has a Birthday (1992) - Kelly Bundy
- T-R-A Something, Something Spells Tramp (1992) - Kelly Bundy
- Magnificent Seven (1992) - Kelly Bundy
- England Show III: We're Spending as Fast as We Can (1992) - Kelly Bundy
- England Show II: Wastin' the Company's Money (1992) - Kelly Bundy
- England Show I (1992) - Kelly Bundy
- The Gas Station Show (1992) - Kelly Bundy
- The Goodbye Girl (1992) - Kelly Bundy
- Teacher Pets (1992) - Kelly Bundy
- High I.Q. (1992) - Kelly Bundy
- Psychic Avengers (1992) - Kelly Bundy
- My Dinner with Anthrax (1992) - Kelly Bundy
- The Egg and I (1992) - Kelly Bundy
- Rites of Passage (1992) - Kelly Bundy
- Just Shoe It (1992) - Kelly Bundy
- The Mystery of Skull Island (1992) - Kelly Bundy
- I Who Have Nothing (1991) - Kelly Bundy
- So This Is How Sinatra Felt (1991) - Kelly Bundy
- Al Bundy, Shoe Dick (1991) - Kelly Bundy
- Kelly Does Hollywood: Part 2 (1991) - Kelly Bundy
- Kelly Does Hollywood: Part 1 (1991) - Kelly Bundy
- God's Shoes (1991) - Kelly Bundy
- If I Could See Me Now (1991) - Kelly Bundy
- Buck Has a Belly Ache (1991) - Kelly Bundy
- Lookin' for a Desk in All the Wrong Places (1991) - Kelly Bundy
- Cheese, Cues, and Blood (1991) - Kelly Bundy
- If Al Had a Hammer (1991) - Kelly Bundy
- She's Having a Baby: Part 2 (1991) - Kelly Bundy
- She's Having a Baby: Part 1 (1991) - Kelly Bundy
- Buck the Stud (1991) - Kelly Bundy
- Route 666: Part 2 (1991) - Kelly Bundy
- Route 666: Part 1 (1991) - Kelly Bundy
- You Better Shop Around: Part 2 (1991) - Kelly Bundy
- You Better Shop Around: Part 1 (1991) - Kelly Bundy
- Top of the Heap (1991) - Kelly Bundy (credit only)
- Kids! Wadaya Gonna Do? (1991) - Kelly Bundy
- Weenie Tot Lovers & Other Strangers (1991) - Kelly Bundy
- Oldies But Young 'Uns (1991) - Kelly Bundy
- All-Nite Security Dude (1991) - Kelly Bundy
- A Man's Castle (1991) - Kelly Bundy
- Look Who's Barking (1991) - Kelly Bundy
- The Godfather (1991) - Kelly Bundy
- Married- with Who (1991) - Kelly Bundy
- And Baby Makes Money (1990) - Kelly Bundy
- One Down, Two to Go (1990) - Kelly Bundy
- Do Ya Think I'm Sexy (1990) - Kelly Bundy
- Wabbit Season (1990) - Kelly Bundy
- Married- with Aliens (1990) - Kelly Bundy
- Kelly Bounces Back (1990) - Kelly Bundy
- Dance Show (1990) - Kelly Bundy
- The Unnatural (1990) - Kelly Bundy
- Sue Casa, His Casa (1990) - Kelly Bundy
- Al- with Kelly (1990) - Kelly Bundy
- We'll Follow the Sun (1990) - Kelly Bundy
- Yard Sale (1990) - Kelly Bundy
- The Agony of De-Feet (1990) - Kelly Bundy
- Rain Girl (1990) - Kelly Bundy
- Peggy Made a Little Lamb (1990) - Kelly Bundy
- Peggy Turns 300 (1990) - Kelly Bundy
- What Goes Around Came Around (1990) - Kelly Bundy
- You Gotta Know When to Fold Them: Part 2 (1990) - Kelly Bundy
- You Gotta Know When to Hold Them: Part 1 (1990) - Kelly Bundy
- Rock and Roll Girl (1990) - Kelly Bundy
- A Taxing Problem (1990) - Kelly Bundy
- Who'll Stop the Rain (1990) - Kelly Bundy
- It's a Bundyful Life Part 2 (1989) - Kelly Bundy
- It's a Bundyful Life Part 1 (1989) - Kelly Bundy
- At the Zoo (1989) - Kelly Bundy
- Oh, What a Feeling (1989) - Kelly Bundy
- 976-SHOE (1989) - Kelly Bundy
- Desperately Seeking Miss October (1989) - Kelly Bundy
- Fair Exchange (1989) - Kelly Bundy
- He Ain't Much, But He's Mine (1989) - Kelly Bundy
- Tooth or Consequences (1989) - Kelly Bundy
- Buck Saves the Day (1989) - Kelly Bundy
- Dead Men Don't Do Aerobics (1989) - Kelly Bundy
- Hot off the Grill (1989) - Kelly Bundy
- Here's Looking at You, Kid (1989) - Kelly Bundy
- Life's a Beach (1989) - Kelly Bundy
- The Computer Show (1989) - Kelly Bundy
- The Dateless Amigo (1989) - Kelly Bundy
- Married- with Prom Queen: The Sequel (1989) - Kelly Bundy
- Married- with Prom Queen: Part 1 (1989) - Kelly Bundy
- The House That Peg Lost (1989) - Kelly Bundy
- A Three Job, No Income Family (1989) - Kelly Bundy
- The Harder They Fall (1989) - Kelly Bundy
- Can't Dance, Don't Ask Me (1989) - Kelly Bundy
- I'll See You in Court (1989) - Kelly Bundy
- My Mom, the Mom (1989) - Kelly Bundy
- Eatin' Out (1989) - Kelly Bundy
- Requiem for a Dead Barber (1989) - Kelly Bundy
- The Gypsy Cried (1989) - Kelly Bundy
- The Bald and the Beautiful (1989) - Kelly Bundy
- Her Cups Runneth Over (1989) - Kelly Bundy
- Dump of My Own (1989) - Kelly Bundy
- The Camping Show (1988) - Kelly Bundy
- Poke High (1988) - Kelly Bundy
- I'm Going to Sweatland (1988) - Kelly Bundy
- He Thought He Could (1988) - Kelly Bundy
- All in the Family (1988) - Kelly Bundy
- Father Lode (1988) - Kelly Bundy
- Just Married- with Children (1988) - Kelly Bundy
- Im-Po-Dent (1988) - Kelly Bundy
- The Great Escape (1988) - Kelly Bundy
- Peggy Loves Al - Yeah, Yeah, Yeah (1988) - Kelly Bundy
- Master the Possibilities (1988) - Kelly Bundy (credit only)
- Build a Better Mousetrap (1988) - Kelly Bundy
- Guys and Dolls (1988) - Kelly Bundy
- You Better Watch Out (1987) - Kelly Bundy
- Earth Angel (1987) - Kelly Bundy
- How Do You Spell Revenge? (1987) - Kelly Bundy
- The Razor's Edge (1987) - Kelly Bundy
- Alley of the Dolls (1987) - Kelly Bundy
- Born to Walk (1987) - Kelly Bundy
- For Whom the Bell Tolls (1987) - Kelly Bundy
- Girls Just Wanna Have Fun: Part 2 (1987) - Kelly Bundy
- Girls Just Wanna Have Fun: Part 1 (1987) - Kelly Bundy
- Buck Can Do It (1987) - Kelly Bundy (credit only)
- If I Were a Rich Man (1987) - Kelly Bundy
- Poppy's by the Tree: Part 2 (1987) - Kelly Bundy
- Poppy's by the Tree: Part 1 (1987) - Kelly Bundy
- Johnny Be Gone (1987) - Kelly Bundy
- Where's the Boss? (1987) - Kelly Bundy
- Nightmare on Al's Street (1987) - Kelly Bundy
- Al Loses His Cherry (1987) - Kelly Bundy
- Peggy Sue Got Work (1987) - Kelly Bundy
- The Poker Game (1987) - Kelly Bundy (credit only)
- Married- Without Children (1987) - Kelly Bundy
- Sixteen Years and What Do You Get (1987) - Kelly Bundy
- Have You Driven a Ford Lately (1987) - Kelly Bundy
- Whose Room Is It Anyway? (1987) - Kelly Bundy
- But I Didn't Shoot the Deputy (1987) - Kelly Bundy
- Thinnergy (1987) - Kelly Bundy
- Pilot (1987) - Kelly Bundy
1997
Pauly (TV Series)
as
Mariah
- Through the Ringers (1997) - Mariah
1996
Vibrations (Video)
as
Anamika
1995
Wild Bill
as
Lurline Newcomb
1991
Don't Tell Mom the Babysitter's Dead
as
Swell
1991
Top of the Heap (TV Series)
as
Kelly Bundy
- The Last Temptation of Charlie (1991) - Kelly Bundy
- Behind the Eight Ball (1991) - Kelly Bundy
1990
The Earth Day Special (TV Special)
as
Kelly Bundy
1988
Dance 'Til Dawn (TV Movie)
as
Patrice Johnson
1988
21 Jump Street (TV Series)
as
Tina
- I'm Okay, You Need Work (1988) - Tina
1987
Family Ties (TV Series)
as
Kitten
- Band on the Run (1987) - Kitten
1986
Heart of the City (TV Series)
as
Robin Kennedy
- Out on a Limb (1987) - Robin Kennedy
- Beauty and a Couple of Beasts (1987) - Robin Kennedy
- A Rough Ride on Life's Merry-Go-Round (1986) - Robin Kennedy
- Busted (1986) - Robin Kennedy
- The Chemistry of Rage (1986) - Robin Kennedy
- Rock and Rumble (1986) - Robin Kennedy
- Cezanne, and Other Dreams (1986) - Robin Kennedy
- Working Without a Net (1986) - Robin Kennedy
- Don't Sell Yourself to the Cannibals (1986) - Robin Kennedy
- Growing Up and Grinding Down (1986) - Robin Kennedy
- When Push Comes to Shove (1986) - Robin Kennedy
- Of Dogs and Cat Burglars (1986) - Robin Kennedy
- Cold Steal and Neon (1986) - Robin Kennedy
1986
Amazing Stories (TV Series)
as
Holly
- Welcome to My Nightmare (1986) - Holly
1985
The New Leave It to Beaver (TV Series)
as
Mandy / Wendy
- A Farewell to Freddie (1986) - Mandy
- Steppin' Out (1985) - Wendy
1986
All Is Forgiven (TV Series)
as
Simone
- Mother's Day (1986) - Simone
1986
Silver Spoons (TV Series)
as
Jeannie Bolens
- A Family Affair (1986) - Jeannie Bolens
1985
Washingtoon (TV Series)
as
Sally Forehead
- Episode #1.10 (1985) - Sally Forehead
- Episode #1.9 (1985) - Sally Forehead
- Episode #1.8 (1985) - Sally Forehead
- Episode #1.7 (1985) - Sally Forehead
- The God Lobby (1985) - Sally Forehead
- Episode #1.5 (1985) - Sally Forehead
- Episode #1.4 (1985) - Sally Forehead
- Who's on First? (1985) - Sally Forehead
- Episode #1.2 (1985) - Sally Forehead
- Episode #1.1 (1985) - Sally Forehead
1984
Charles in Charge (TV Series)
as
Stacy
- Snowed In (1985) - Stacy
- Slumber Party (1984) - Stacy
1983
Grace Kelly (TV Movie)
as
Young Grace Kelly
1981
Father Murphy (TV Series)
as
Ada
- A Horse from Heaven (1981) - Ada
1981
Jaws of Satan
as
Kim Perry
1972
Days of Our Lives (TV Series)
as
Baby Burt Grizzell
- Episode #1.1597 (1972) - Baby Burt Grizzell
Producer
2019
Dead to Me (TV Series) (executive producer - 24 episodes)
- We're Gonna Beat This Thing (2022) - (executive producer)
- Look at What We Have Here (2022) - (executive producer)
- We Need to Talk (2022) - (executive producer)
- We've Been Here Before (2022) - (executive producer)
- Where Do We Go From Here (2020) - (executive producer)
- It's Not You, It's Me (2020) - (executive producer)
- It Had to Be You (2020) - (executive producer)
- If Only You Knew (2020) - (executive producer)
- You Don't Have To (2020) - (executive producer)
- The Price You Pay (2020) - (executive producer)
- Between You and Me (2020) - (executive producer)
- You Can't Live Like This (2020) - (executive producer)
- Where Have You Been (2020) - (executive producer)
- You Know What You Did (2020) - (executive producer)
- You Have to Go (2019) - (executive producer)
- I Have to Be Honest (2019) - (executive producer)
- Try to Stop Me (2019) - (executive producer)
- I Can Handle It (2019) - (executive producer)
- Oh My God (2019) - (executive producer)
- I've Gotta Get Away (2019) - (executive producer)
- I Can't Go Back (2019) - (executive producer)
- It's All My Fault (2019) - (executive producer)
- Maybe I'm Crazy (2019) - (executive producer)
- Pilot (2019) - (executive producer)
2015
Hooked (Documentary) (executive producer)
2011
Up All Night (TV Series) (producer - 35 episodes)
- The Wedding (2012) - (producer)
- First Snow (2012) - (producer)
- I Can't Quit You (2012) - (producer)
- The Game of Life (2012) - (producer)
- Thanksgiving (2012) - (producer)
- Ma'am'd (2012) - (producer)
- Another Saturday Night (2012) - (producer)
- Jerry Duty (2012) - (producer)
- Swingers (2012) - (producer)
- Home/Office (2012) - (producer)
- Friendships & Partnerships (2012) - (producer)
- The Proposals (2012) - (producer)
- Hey Jealousy (2012) - (producer)
- Letting Go (2012) - (producer)
- Daddy Daughter Time (2012) - (producer)
- Baby Fever (2012) - (producer)
- Couple Friends (2012) - (producer)
- New Boss (2012) - (producer)
- First Birthday (2012) - (producer)
- Travel Day (2012) - (producer)
- Day After Valentine's Day (2012) - (producer)
- Preschool Auction (2012) - (producer)
- Rivals (2012) - (producer)
- New Year's Eve (2012) - (producer)
- First Christmas (2011) - (producer)
- Week Off (2011) - (producer)
- Hiring and Firing (2011) - (producer)
- First Night Away (2011) - (producer)
- Parents (2011) - (producer)
- Birth (2011) - (producer)
- Mr. Bob's Toddler Kaleidoscope (2011) - (producer)
- New Car (2011) - (producer)
- Working Late & Working It (2011) - (producer)
- Cool Neighbors (2011) - (producer)
- Pilot (2011) - (producer)
-
Samantha Who? (TV Series) (co-executive producer - 20 episodes, 2008 - 2009) (producer - 15 episodes, 2007 - 2008)
- With This Ring (2009) - (co-executive producer)
- The Other Woman (2009) - (co-executive producer)
- The First Date (2009) - (co-executive producer)
- The Dream Job (2009) - (co-executive producer)
- Todd's Job (2009) - (co-executive producer)
- The Sister (2009) - (co-executive producer)
- The Rock Star (2009) - (co-executive producer)
- The Debt (2009) - (co-executive producer)
- The Amazing Racist (2009) - (co-executive producer)
- The Dog (2009) - (co-executive producer)
- My Best Friend's Boyfriend (2009) - (co-executive producer)
- The Park (2008) - (co-executive producer)
- The Family Vacation (2008) - (co-executive producer)
- The Farm (2008) - (co-executive producer)
- The Ex (2008) - (co-executive producer)
- Help! (2008) - (co-executive producer)
- The Building (2008) - (co-executive producer)
- The Pill (2008) - (co-executive producer)
- Out of Africa (2008) - (co-executive producer)
- So I Think I Can Dance (2008) - (co-executive producer)
- The Birthday (2008) - (producer)
- The Affair (2008) - (producer)
- The Gallery Show (2008) - (producer)
- The Butterflies (2008) - (producer)
- The Boss (2008) - (producer)
- The Girlfriend (2008) - (producer)
- The Break Up (2007) - (producer)
- The Car (2007) - (producer)
- The Hockey Date (2007) - (producer)
- The Hypnotherapist (2007) - (producer)
- The Restraining Order (2007) - (producer)
- The Virgin (2007) - (producer)
- The Wedding (2007) - (producer)
- The Job (2007) - (producer)
- Pilot (2007) - (producer)
2001
Comforters, Miserable (executive producer)
1998
Jesse (TV Series) (co-producer - 35 episodes)
- My Best Friend's Wedding (2000) - (co-producer)
- Diego's First Sleepover (2000) - (co-producer)
- The Dump (2000) - (co-producer)
- My Boyfriend Went to Chile and All I Got Was This Lousy Moustache (2000) - (co-producer)
- Jesse Gives Birth (2000) - (co-producer)
- The Rock (2000) - (co-producer)
- Small Time Felon: The Jesse Warner Story: Part 2 (2000) - (co-producer)
- Kurt Slips, Niagara Falls (2000) - (co-producer)
- Jesse as Nurse, Fills In: Diego Throws Ice at Children (1999) - (co-producer)
- The Christmas Party (1999) - (co-producer)
- L'Eggo My Diego (1999) - (co-producer)
- A Woman's Prerogative: The Jesse Warner Story (1999) - (co-producer)
- Jesse's Flat Tire (1999) - (co-producer)
- Jesse vs. Kurt (1999) - (co-producer)
- Everything But the Grill (1999) - (co-producer)
- Students Get Flu/Carrie at Zoo/Monkey Throw Poo (1999) - (co-producer)
- Driving Miss Jesse (1999) - (co-producer)
- Jesse's New Job (1999) - (co-producer)
- I Do, I Think I Do (1999) - (co-producer)
- Momma Was a Rollin' Stone (1999) - (co-producer)
- The Parent Trap (1999) - (co-producer)
- Cecil, the Angry Postman (1999) - (co-producer)
- Touched by an Angel (1999) - (co-producer)
- Crazy White Female (1999) - (co-producer)
- Hickory, Dickory, Death (1999) - (co-producer)
- My Casual Friend's Wedding (1999) - (co-producer)
- The Mischevous Elf (1999) - (co-producer)
- Boo! He's Gone (1998) - (co-producer)
- The Kiss (1998) - (co-producer)
- The Methadone Clinic (1998) - (co-producer)
- Boo! He's Back (1998) - (co-producer)
- Live Nude Girls (1998) - (co-producer)
- Bees Do It, Birds Do It, But Not in a Car (1998) - (co-producer)
- Goober Up the Nose (1998) - (co-producer)
- A Side of Chile (1998) - (co-producer)
Soundtrack
2012
Saturday Night Live (TV Series) (performer - 1 episode)
- Christina Applegate/Passion Pit (2012) - (performer: "It's Almost Not Quite Halloween")
2012
Up All Night (TV Series) (performer - 1 episode)
- Letting Go (2012) - (performer: "Whenever I Call You Friend", "Edge of Seventeen" - uncredited)
2008
Jimmy Kimmel Live! (TV Series) (performer - 1 episode)
- Ben Affleck/Mary J. Blige/Cleto Escobedo III (2008) - (performer: "I'm F***ing Ben Affleck")
2005
The 59th Annual Tony Awards (TV Special) (performer: "Big Spender", "If My Friends Could See Me Now", "I'm a Brass Band")
1992
Married... with Children (TV Series) (performer - 3 episodes)
- The Juggs Have Left the Building (1996) - (performer: "Rockin' With The Rhythm Of The Rain")
- A Tisket, a Tasket, Can Peg Make a Basket? (1993) - (performer: "The Star Spangled Banner")
- Rock of Ages (1992) - (performer: "We Are the Old")
1987
Family Ties (TV Series) (performer - 1 episode)
- Band on the Run (1987) - (performer: "Mr. Sandman")
1985
Charles in Charge (TV Series) (performer - 1 episode)
- Snowed In (1985) - (performer: "It's a Small World (After All)" - uncredited)
Thanks
2010
1 a Minute (Documentary) (acknowlegment: Breast Cancer Survivor)
2001
Donnie Darko (special thanks)
Self
2023
Volles Haus (TV Series)
as
Self
- Premiere (2023) - Self
2023
The 29th Annual Screen Actors Guild Awards (TV Special)
as
Self - Nominee
2007
Entertainment Tonight (TV Series)
as
Self / Self - FabKids.com
- Avengers in Quarantine (2020) - Self
- ET SAG Awards Blowout! (2020) - Self
- ET's at the Emmys! (2019) - Self
- Ryan Reynolds' New Movie! (2019) - Self
2022
The Kelly Clarkson Show (TV Series)
as
Self - Guest
- Home for the Holidays #2 (2022) - Self - Guest
2015
Extra (TV Series)
as
Self
- Episode #29.63 (2022) - Self
- Episode #29.61 (2022) - Self
- Episode #25.195 (2019) - Self
- Episode #22.221 (2016) - Self
- Episode #21.227 (2015) - Self
2022
Leute heute (TV Series documentary)
as
Self
- Episode dated 15 November 2022 (2022) - Self
2021
Hollywood Insider (TV Series)
as
Self
- A Tribute to Gwyneth Paltrow: Award-Winning Actress and 'Sex, Love & Goop' Executive Producer (2022) - Self
- A Tribute to Selma Blair: The Invincible Iron Lady And Her Powerful Journey (2021) - Self
2020
The 72nd Primetime Emmy Awards (TV Special)
as
Self - Nominee
2007
Live with Kelly and Mark (TV Series)
as
Self - Guest
- Christina Applegate/Liza Koshy/Leslie Odom Jr. (2020) - Self - Guest
- Christina Applegate/Jason Mraz (2020) - Self - Guest
- Viola Davis/Christina Applegate/Asia Kate Dillon (2019) - Self - Guest
- Christina Applegate/Tiffani Thiessen (2019) - Self - Guest
- Christina Applegate/Josh Gad/Eric Harland (2015) - Self - Guest
- Episode #26.75 (2013) - Self - Guest
- Episode dated 10 April 2012 (2012) - Self - Guest
- Episode dated 15 October 2007 (2007) - Self - Guest
2020
Dead to Me Live Table Read (TV Special)
as
Self
2003
The Ellen DeGeneres Show (TV Series)
as
Self - Guest
- Ellen's Home Quarantine/Christina Applegate (2020) - Self - Guest
- Christina Applegate, Jeff Probst (2003) - Self - Guest
2019
Ok! TV (TV Series)
as
Self
- Episode #7.120 (2020) - Self
- Episode #4.191 (2019) - Self
- Episode #4.181 (2019) - Self
2020
The 26th Annual Screen Actors Guild Awards (TV Special)
as
Self - Nominee
2020
The 25th Annual Critics' Choice Awards (TV Special)
as
Self - Presenter
2020
2020 Golden Globe Awards (TV Special)
as
Self - Nominee
2019
The 71st Primetime Emmy Awards (TV Special)
as
Self - Nominee
2012
The Talk (TV Series)
as
Self - Guest
- Brigette Nielsen/Christina Applegate (2019) - Self - Guest
- Christina Applegate & Annie Mumolo/Jessica Radloff (2016) - Self - Guest
- Christina Applegate/Rebecca Ferguson/Aarti Sequeira (2015) - Self - Guest
- Christina Applegate/Jessica Radloff/Chef Roy Choi (2013) - Self - Guest
- Episode dated 18 September 2012 (2012) - Self - Guest
2007
Jimmy Kimmel Live! (TV Series)
as
Self - Guest / Self - Guest (segment "Mean Tweets")
- Christina Applegate/Anthony Jeselnik/Rob Thomas (2019) - Self - Guest
- Christina Applegate/Mike Piazza/The Last Bandoleros (2016) - Self - Guest
- Christina Applegate/Rick Springfield/Tyler the Creator (2015) - Self - Guest
- Ben Affleck/Mary J. Blige/Cleto Escobedo III (2008) - Self - Guest (uncredited)
2015
The Late Late Show with James Corden (TV Series)
as
Self - Guest
- Christina Applegate/Kenneth Branagh/Rival Sons (2019) - Self - Guest
- Mila Kunis & Christina Applegate/Jared Logan (2016) - Self - Guest
- Christina Applegate/Christian Slater/Elle King (2015) - Self - Guest
2011
Today (TV Series)
as
Self - Guest
- Episode dated 1 May 2019 (2019) - Self - Guest
- Episode dated 25 July 2016 (2016) - Self - Guest
- Episode dated 7 November 2011 (2011) - Self - Guest
2019
The Late Show with Stephen Colbert (TV Series)
as
Self - Guest
- Christina Applegate/Van Jones (2019) - Self - Guest
2014
The Insider (TV Series)
as
Self
- Episode #13.292 (2017) - Self
- Episode dated 12 May 2014 (2014) - Self
2010
Conan (TV Series)
as
Self - Guest
- Christina Applegate/Sherri Shepherd/Car Seat Headrest (2017) - Self - Guest
- Christina Applegate/Adrienne C. Moore/Lukas Graham (2016) - Self - Guest
- Christina Applegate/Nat Faxon/Tom Papa (2015) - Self - Guest
- Agnostic Santa & the Secular Humanist Christmas (2013) - Self - Guest
- Wanted: Dead- Or with Chives (2010) - Self - Guest
2009
Made in Hollywood (TV Series)
as
Self
- Bad Moms/Nerve/Into the Forest/Equity (2016) - Self
- Mission: Impossible - Rogue Nation/Vacation/Unexpected/Smosh: The Movie (2015) - Self
- Episode #9.13 (2013) - Self
- Episode #5.32 (2010) - Self
- Episode #5.12 (2009) - Self
2016
Rotten Tomatoes (TV Series)
as
Self
- The Bad Moms Play "Name That Stain!" (2016) - Self
2008
Access Hollywood (TV Series)
as
Self
- Episode dated 11 July 2016 (2016) - Self
- Episode dated 4 June 2016 (2016) - Self
- Episode dated 25 September 2009 (2009) - Self
- Episode dated 20 March 2008 (2008) - Self
2016
Rachael Ray (TV Series)
as
Self - Guest
- This Just In- Veronica Corningstone Is in the Building! Christina Applegate Is Chatting with Rachael Today! (2016) - Self - Guest
2015
Hollywood Health Report (TV Series)
as
Self
- Stars Reveal Why They Love Dance at 2015 Dizzy Feet Gala (2015) - Self
2013
Up Close with Carrie Keagan (TV Series)
as
Self - Guest
- Episode dated 29 July 2015 (2015) - Self - Guest
- Episode dated 20 December 2013 (2013) - Self - Guest
2015
Good Morning America (TV Series)
as
Self - Guest
- Episode dated 28 July 2015 (2015) - Self - Guest
2015
Inside Edition (TV Series documentary)
as
Self
- Episode dated 28 July 2015 (2015) - Self
2015
I Am Chris Farley (Documentary)
as
Self
2015
Home & Family (TV Series)
as
Self
- Christina Applegate/Harry Lennix/Steven Ho (2015) - Self
2014
WWE Tribute to the Troops (TV Special)
as
Self
2011
So You Think You Can Dance (TV Series)
as
Self - Guest Judge
- Top 6 Perform + Elimination (2014) - Self - Guest Judge
- Top 14 Perform + Eliminations (2014) - Self - Guest Judge
- Auditions #2 (2014) - Self - Guest Judge
- Top 20 Perform; 2 Eliminated (2013) - Self - Guest Judge
- Top 6 Perform (2012) - Self - Guest Judge
- Top 16 Perform (2012) - Self - Guest Judge
- Two of 6 Voted Off (2011) - Self - Guest Judge
- Top 6 Perform (2011) - Self - Guest Judge
2014
Kid President: Declaration of Awesome (TV Series)
as
Self
- What the Kids Need to Know (2014) - Self
2014
The 4th Annual Critics' Choice Television Awards (TV Special)
as
Self
2014
Hollywood Game Night (TV Series)
as
Self - Panelist
- Show Me Your Music, I'll Show You Mine (2014) - Self - Panelist
2014
19th Annual Critics' Choice Movie Awards (TV Special)
as
Self - Presenter
2013
The Graham Norton Show (TV Series)
as
Self - Guest
- Will Ferrell/Steve Carell/Christina Applegate/Paul Rudd/David Koechner/Jackie Collins/Joan Collins/Frank Skinner/John Cleese/Terry Jones/Eric Idle/Michael Palin/Terry Gilliam/Michael Bublé (2013) - Self - Guest
2013
Larry King Now (TV Series)
as
Self - Guest
- Anchorman 2: Steve Carell, Paul Rudd, Christina Applegate, James Marsden, & Meagan Good (2013) - Self - Guest
1998
The Tonight Show with Jay Leno (TV Series)
as
Self - Guest
- Howie Mandel/Christina Applegate/Randy Travis/Pat O'Brien (1998) - Self - Guest
2013
CMT Artists of the Year (TV Special)
as
Veronica Corningstone
2013
Chelsea Lately (TV Series)
as
Self - Guest
- Episode #7.151 (2013) - Self - Guest
2013
Who Do You Think You Are? (TV Series documentary)
as
Self
- Christina Applegate (2013) - Self
2013
The Doctors (TV Series)
as
Self
- Celebrity Health Challenges (2013) - Self
1993
Saturday Night Live (TV Series)
as
Self - Host / Various / Uma Thurman
- Christina Applegate/Passion Pit (2012) - Self - Host / Uma Thurman / Various
- Christina Applegate/Midnight Oil (1993) - Self - Host / Various
2012
Late Night with Jimmy Fallon (TV Series)
as
Self - Guest
- Episode dated 11 October 2012 (2012) - Self - Guest
- Episode dated 10 April 2012 (2012) - Self - Guest
2012
The 36th Annual Women in Film Crystal & Lucy Awards (TV Special)
as
Self - Recipient
2012
The Conversation (TV Series)
as
Self
- Living Deliberately (2012) - Self
2012
Red Carpet Report (TV Series short)
as
Self
- Paley Center: Up All Night (2012) - Self
2012
FOX 25th Anniversary Special (TV Special)
as
Self
2008
The Late Late Show with Craig Ferguson (TV Series)
as
Self - Guest
- Episode #8.169 (2012) - Self - Guest
- Episode #4.244 (2008) - Self - Guest
2011
The 85th Anniversary of the Macy's Thanksgiving Day Parade (TV Special)
as
Self
2011
How Will Ferrell Touched Me (Short)
as
Self
2011
In the House with Peter Bart & Peter Guber (TV Series)
as
Self - Guest
- Christina Applegate/Anthony Mackie/Chris Nolan/Alan Horn (2011) - Self - Guest
2010
Going the Distance: A Guide to Long Distance Dating (Video documentary short)
as
Self
2010
Going the Distance: How to Have a Perfect Date (Video documentary short)
as
Self
2010
The Cast of Going the Distance: Off the Cuff (Video documentary short)
as
Self
2010
Shalom Sesame (TV Series)
as
Self
- Welcome to Israel (2010) - Self
2010
ES.TV HD (TV Series)
as
Self
- Episode dated 30 September 2010 (2010) - Self
2010
Stand Up to Cancer (TV Special)
as
Self
2004
Late Show with David Letterman (TV Series)
as
Self - Guest
- Christina Applegate/Tom Dreesen/The Pretty Reckless (2010) - Self - Guest
- Episode #16.192 (2009) - Self - Guest
- Episode #16.112 (2009) - Self - Guest
- Episode dated 6 May 2005 (2005) - Self - Guest
- Episode dated 2 July 2004 (2004) - Self - Guest
2004
HBO First Look (TV Series documentary short)
as
Self
- Inside 'Going the Distance' (2010) - Self
- 'Surviving Christmas': Unwrapping the Comedy (2004) - Self
2010
The 2010 VH1 Do Something Awards (TV Special)
as
Self
2010
Biography (TV Series documentary)
as
Self
- Married with Children (2010) - Self
2010
16th Annual Screen Actors Guild Awards (TV Special)
as
Self - Nominee
2009
The Tonight Show with Conan O'Brien (TV Series)
as
Self - Guest
- Christina Applegate/David Gregory/Silversun Pickups (2009) - Self - Guest
2009
The Jay Leno Show (TV Series)
as
Self - Guest
- Episode #1.65 (2009) - Self - Guest
2009
Carrie Underwood: An All-Star Holiday Special (TV Special)
as
Self
2009
Breast Cancer: The Path of Wellness & Healing (Documentary)
as
Self
2009
The 61st Primetime Emmy Awards (TV Special)
as
Self - Nominee
2009
Don't Steal This Morning Show (TV Series)
as
Self - Guest
2009
The 7th Annual TV Land Awards (TV Special)
as
Self
2009
The 2009 Independent Spirit Awards (TV Special)
as
Self - Performer (segment 'Frozen River')
2009
15th Annual Screen Actors Guild Awards (TV Special)
as
Self - Nominee & Presenter
2009
Golden Globe Awards (TV Special)
as
Self - Nominee
2009
The 35th Annual People's Choice Awards (TV Special)
as
Self - Winner
2008
Anytime with Bob Kushell (TV Series)
as
Self - Guest (2008)
2008
Larry King Live (TV Series)
as
Self - Guest
- Episode dated 3 December 2008 (2008) - Self - Guest
- It's a Night for Heroes (2008) - Self - Guest
2008
The Oprah Winfrey Show (TV Series)
as
Self - Guest
- Christina Applegate: Why She Had a Double Mastectomy (2008) - Self - Guest
- Breast Cancer Battles (2008) - Self - Guest
2008
E! Live from the Red Carpet (TV Series)
as
Self
- The 2008 Primetime Emmy Awards (2008) - Self
- The 2008 Screen Actors Guild Awards (2008) - Self
2008
The 60th Primetime Emmy Awards (TV Special documentary)
as
Self - Presenter
2008
Stand Up to Cancer (TV Special)
as
Self
2008
Exclusiv - Das Star-Magazin (TV Series)
as
Self
- Episode dated 24 August 2008 (2008) - Self
2008
Kathy Griffin: My Life on the D-List (TV Series)
as
Self
- And the Award Goes To- (2008) - Self
2001
E! True Hollywood Story (TV Series documentary)
as
Self
- Pussycat Dolls (2008) - Self
- Married- with Children (2001) - Self
2008
TV's All-Time Funniest: A Paley Center for Media Special (TV Special)
as
Self
2008
Séries express (TV Series)
as
Self
- Episode #1.2 (2008) - Self
2005
The View (TV Series)
as
Self - Guest
- Episode dated 7 April 2008 (2008) - Self - Guest
- Episode dated 30 May 2005 (2005) - Self - Guest
1998
Late Night with Conan O'Brien (TV Series)
as
Self - Guest
- Christina Applegate/Lewis Black/Stephen Curry (2008) - Self - Guest
- Christina Applegate/Artie Lange/Thirty Seconds to Mars (2005) - Self - Guest
- Christina Applegate/Regina Hall/Black Eyed Peas (2005) - Self - Guest
- Christina Applegate/Marc Maron/Sonic Youth (2004) - Self - Guest
- John Leguizamo/Christina Applegate/Regena Thomashauer (2002) - Self - Guest
- Kevin Spacey/Christina Applegate/Naseem Hamed (1999) - Self - Guest
- Jeff Daniels/Christina Applegate/Robert Schimmel (1998) - Self - Guest
- Matt LeBlanc/Christina Applegate/Semisonic (1998) - Self - Guest
2008
The 34th Annual People's Choice Awards (TV Special)
as
Self - Accepting Award
2007
2007 American Music Awards (TV Special)
as
Self - Presenter
2007
The 61st Annual Tony Awards (TV Special)
as
Self - Presenter
2007
The 33rd Annual People's Choice Awards (TV Special)
as
Self
2006
The Mark Twain Prize: Neil Simon (TV Special documentary)
as
Self
2006
Corazón de... (TV Series)
as
Self
- Episode dated 21 September 2006 (2006) - Self
2006
Making the Video (TV Series documentary)
as
Self
- A Public Affair (2006) - Self
2006
VH1: All Access (TV Series)
as
Self
- Celeb Breakups & Scandals (2006) - Self
2006
The Reichen Show (TV Series)
as
Self - Guest
- Episode dated 23 January 2006 (2006) - Self - Guest
2005
79th Annual Macy's Thanksgiving Day Parade (TV Special)
as
Self - Performer
2005
Martha (TV Series)
as
Self - Guest
- Episode dated 15 September 2005 (2005) - Self - Guest
2002
Last Call with Carson Daly (TV Series)
as
Self - Guest
- Episode dated 21 July 2005 (2005) - Self - Guest
- Christina Applegate/Fabolous (2002) - Self - Guest
2005
Getaway (TV Series documentary)
as
Self
- Found (2005) - Self
2005
The 59th Annual Tony Awards (TV Special)
as
Self - Nominee / Presenter / Performer
2005
50th Annual Drama Desk Awards (TV Special)
as
Self - Nominee & Presenter
2005
Why Shakespeare? (Video short documentary)
as
Self
2004
Surviving Christmas: Unwrapping the Comedy (TV Short)
as
Self
2004
The 56th Annual Primetime Emmy Awards (TV Special)
as
Self - Nominee
2004
The Teen Choice Awards 2004 (TV Special)
as
Self
2004
ESPY Awards (TV Special)
as
Self
2004
The Daily Show (TV Series)
as
Self - Guest
- Christina Applegate (2004) - Self - Guest
2004
Cinemax Special: Anchorman - The Legend of Ron Burgundy (TV Movie documentary)
as
Veronica Corningstone
2004
Total Request Live (TV Series)
as
Self
- Episode dated 30 June 2004 (2004) - Self
2004
The 2004 IFP/West Independent Spirit Awards (TV Special)
as
Self - Presenter
2003
The Sharon Osbourne Show (TV Series)
as
Self - Guest
- Episode dated 1 October 2003 (2003) - Self - Guest
2003
The 55th Annual Primetime Emmy Awards (TV Special)
as
Self - Winner
2003
2003 Primetime Creative Arts Emmy Awards (TV Special)
as
Self - Winner
2003
The Teen Choice Awards 2003 (TV Special)
as
Self - Nominee
2003
Young Hollywood Awards (TV Special documentary)
as
Self
2003
Revealed with Jules Asner (TV Series)
as
Self
- Christina Applegate (2003) - Self
2003
Punk'd (TV Series)
as
Self
- Episode #1.1 (2003) - Self
2003
Heroes of Comedy: Women on Top (TV Mini Series documentary)
as
Self
- Sex & the Sitcom (2003) - Self
2003
Married... with Children Reunion (TV Movie documentary)
as
Self
2002
The Pussycat Dolls Show (Documentary short)
as
Self
2002
VH1 Big in 2002 Awards (TV Special)
as
Self
2002
The Making of 'the Sweetest Thing' (Video documentary short)
as
Self
2002
Tracey Ullman's Visible Panty Lines (TV Series)
as
Self
- Christina Applegate (2002) - Self
2002
20 Years of Must See TV (TV Special documentary)
as
Self
2002
Young Hollywood Awards (TV Special)
as
Self
2002
Comedy Central Canned Ham (TV Series)
as
Self
- The Sweetest Thing (2002) - Self
1998
The Rosie O'Donnell Show (TV Series)
as
Self - Guest
- Episode dated 12 April 2002 (2002) - Self - Guest
- Episode dated 30 September 1999 (1999) - Self - Guest
- Episode dated 28 October 1998 (1998) - Self - Guest
2002
The 29th Annual American Music Awards (TV Special)
as
Self - Presenter
1999
Intimate Portrait (TV Series documentary)
as
Self
- Katey Sagal (2001) - Self
- Cheryl Ladd (1999) - Self
2000
The 26th Annual People's Choice Awards (TV Special)
as
Self - Presenter
1996
Mad TV (TV Series)
as
Self
- Episode #5.1 (1999) - Self
- Episode #2.1 (1996) - Self
1999
The 51st Annual Primetime Emmy Awards (TV Special)
as
Self - Presenter
1999
1st Annual TV Guide Awards (TV Special)
as
Self - Host
1999
The 56th Annual Golden Globe Awards (TV Special)
as
Self - Nominee
1999
The 25th Annual People's Choice Awards (TV Special)
as
Self - Winner
1998
The 50th Annual Primetime Emmy Awards (TV Special)
as
Self - Presenter
1998
Bundymania (TV Movie documentary)
as
Self
1995
Married... with Children (TV Series)
as
Self / Kelly Bundy
- My Favorite Married- (1995) - Self / Kelly Bundy
1992
Maury (TV Series)
as
Self - Guest
- Episode dated 9 September 1993 (1993) - Self - Guest
- Episode dated 17 April 1992 (1992) - Self - Guest
1993
The Whoopi Goldberg Show (TV Series)
as
Self - Guest
- Episode #1.76 (1993) - Self - Guest
1992
1992 MTV Movie Awards (TV Special)
as
Self - Nominee
1992
Backstage with the Bundys (TV Special short)
as
Self
1992
Golden Globe Awards (TV Special)
as
Self
1991
Idols (TV Special documentary)
as
Self
1991
The 43rd Annual Primetime Emmy Awards (TV Special)
as
Self - Presenter
1990
1990 MTV Video Music Awards (TV Special)
as
Self - Presenter
1990
The 4th Annual American Comedy Awards (TV Special)
as
Self
1989
The More You Know (TV Series)
as
Self
1989
1989 MTV Video Music Awards (TV Special)
as
Self
1989
The Arsenio Hall Show (TV Series)
as
Self - Guest
- Episode #1.122 (1989) - Self - Guest
1989
The Pat Sajak Show (TV Series)
as
Self - Guest
- Episode #1.37 (1989) - Self - Guest
1989
The 31st Annual Grammy Awards (TV Special)
as
Self
1988
Win, Lose or Draw (TV Series)
as
Self
- Episode dated 19 December 1988 (1988) - Self
1988
Hour Magazine (TV Series)
as
Self
- Episode dated 13 September 1988 (1988) - Self
Archive Footage
-
Hollywood Celebrity (Documentary) (post-production)
as
Self
2015
Entertainment Tonight (TV Series)
as
Self
- ET's Evolutions (2022) - Self
- It's Game On Wednesday (2020) - Self
- Brad Pitt Exclusive! (2020) - Self
- ET Bachelor Tuesday! (2020) - Self
- Near (2018) - Self
2021
Inside Edition (TV Series documentary)
as
Self
- How Fresh Is Your Fish? (2022) - Self
- Pilot's Shocking Confession (2021) - Self
2020
The Hollywood Moment at Home Edition (TV Series)
as
Self
- S1 E8 BJ Korros/Ed Asner Talking "Dead to Me" and 72nd Annual Emmy Cast Nominations (2020) - Self
2015
Ok! TV (TV Series)
as
Self
- Episode #5.106 (2020) - Self
- Clip (2019) - Self
- Episode #3.231 (2018) - Self
- Episode dated 14 October 2015 (2015) - Self
- Episode dated 12 October 2015 (2015) - Self
- Episode dated 30 September 2015 (2015) - Self
2017
Extra (TV Series)
as
Self
- Episode #24.40 (2017) - Self
2014
The Drunken Peasants (TV Series)
as
Veronica Corningstone
- TJ's Night Off - Galen Hallcyon, GMan, Ben, and Scotty - DPP Discussion Panel (2014) - Veronica Corningstone
2014
The Graham Norton Show (TV Series)
as
Self
- Compilation (2014) - Self
2009
Biography (TV Series documentary)
as
Self
- Teen Heartthrobs (2009) - Self
2007
100 Greatest Teen Stars (TV Mini Series documentary)
as
Self
- Episode dated 13 December 2007 (2007) - Self
2004
TV's Greatest Sidekicks (TV Special)
2004
Retrosexual: The 80's (TV Mini Series documentary)
as
Self
2004
101 Most Unforgettable SNL Moments (TV Special documentary)
as
Self
2004
Reel Comedy (TV Series)
as
Veronica Corningstone
- 'Anchorman: The Legend of Ron Burgundy' (2004) - Veronica Corningstone
2003
Celebrities Uncensored (TV Series)
as
Self
- Episode #1.2 (2003) - Self
2000
Saturday Night Live: The Best of Chris Farley (TV Special documentary)
as
Various Characters (uncredited)
1999
Saturday Night Live: The Best of Chris Rock (TV Special documentary)
as
Duff (uncredited)
1998
The Bad Boys of Saturday Night Live (TV Special documentary)
as
Duff (uncredited)
1995
Married... with Children (TV Series)
as
Kelly Bundy
- Al Bundy Sports Spectacular (1995) - Kelly Bundy
- Best of Bundy (1995) - Kelly Bundy (uncredited)
1995
The Best O' Bundy: Married with Children's 200th Episode Celebration (TV Special short)
as
Kelly Bundy
1993
Hey Folks, It's Intermission Time (Video documentary)
as
Self
References
Christina Applegate Wikipedia
(Text) CC BY-SA