Nationality

French


Name

Catherine Destivelle




Role

mountaineer






Born

July 24, 1960 (age 63) Oran, French Algeria (

1960-07-24

)


Type of climber

rock climberMountaineer


Known for

Many popular rock climbing and free solo climbing movies since 1985First woman to give her name to a climbing route (1991)First woman to solo ascend the north face of the Eiger (1992)


First ascents

First woman to climb Nameless Tower, Trango, Karakoram in 1990 (with Jeff Lowe)First ascent of Mount Viets and Peak 4111 in the Ellsworth Mountains, Antarctica in 1996 (with Erik Decamp)


Named routes

Voie Destivelle in Les Drus




Similar People

Patrick Edlinger, Erik Decamp, Lynn Hill, Herve Barmasse, Patrick Berhault
Catherine destivelle amazing solo climb in mali
Catherine Monique Suzanne Destivelle (born 24 July 1960) is a French rock climber and mountaineer. In 1992 she became the first woman to complete a solo ascent of the Eiger's north face. She completed the climb in winter in 17 hours. Her other notable climbs include the Bonatti Route on the north face of the Matterhorn and the southwest pillar of the Aiguille du Dru (the Bonatti Pillar). Destivelle has been the subject of several documentaries, including French director Rémy Tezier's, Beyond the Summits (Au-delà des cimes), which won the award for best feature-length mountain film at the 2009 Banff Mountain Film Festival.
Contents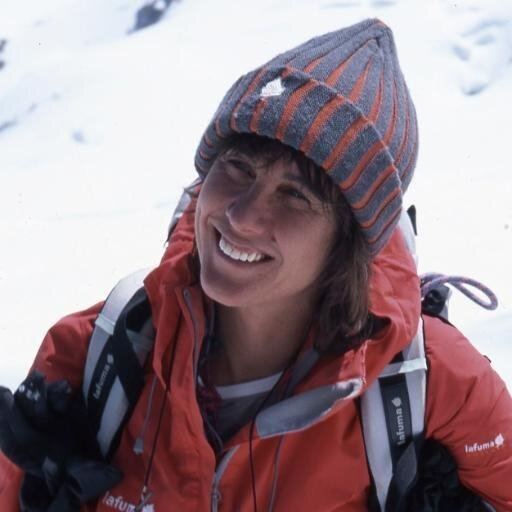 Devils tower catherine destivelle
Biography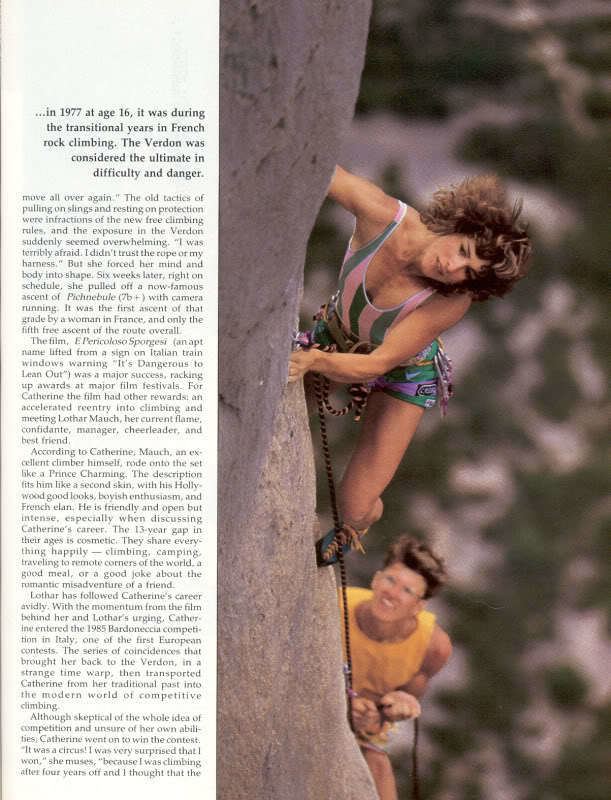 Catherine Destivelle was born in Oran, in French Algeria, to French parents, Serge and Annie Destivelle. Catherine is the eldest of six (four sisters Florence, Sophie, Martine and Claire, and one brother Hyacinthe). Her father was an amateur climber and mountaineer, and both parents were always supportive and encouraging the family in outdoor adventurous activities. When she was a young teenager, the family moved to France, where she attended the Lycée Corot in Savigny-sur-Orge.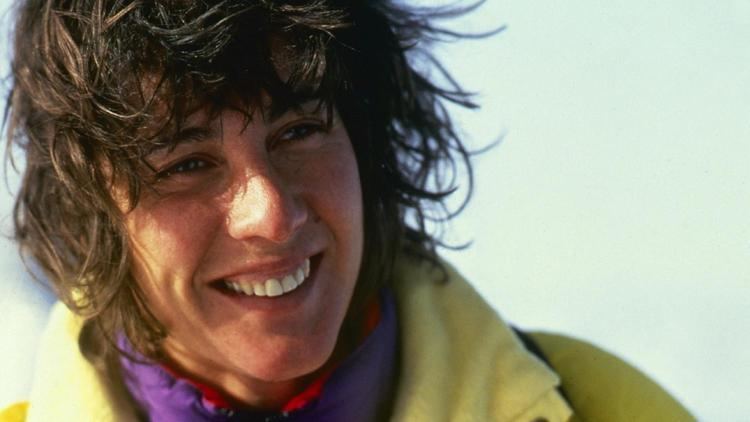 At the age of 12, she became a member of the Club alpin français, and started learning bouldering in Fontainebleau, cliff climbing in Burgundy, and alpinism in the Massif des Écrins. From the very start, Destivelle showed great skills, endurance and enthusiasm for rock climbing and mountaineering. At only 13, her parents believing she was bouldering in Fontainebleau, she went to spend several week-ends in the Rhône-Alpes mountains, climbing with the CAF instructor she met the previous summer, until her parents eventually discovered where she really was spending her week-ends. She then got to spend more time in Fontainebleau, meeting a lot of experienced climbers, all of them ten or fifteen years older than her. At this point she also met Pierre Richard, her first rope companion. With the Bleausards, Destivelle learned a lot about rock climbing, always keen on attempting the most difficult and challenging climbs, like La Javanaise in the Surgy cliffs (Burgundy), on the first time she went there.
From 1976 as she was only 16, she went spending most holiday time with them in the Verdon Gorge, climbing frenetically with Pierre Richard all the biggest and most difficult routes, both leading in turns, sometimes simul climbing. Destivelle and Richard also started to climb in the Alps some high mountaineering, more and more difficult, classic alpinism. During four years they climbed, generally at a very fast pace, a lot of prestigious routes. At barely 17, Destivelle had already climbed, leading, the Cousy-Desmaison Route (ED, 800m), north face of l'Olan (3564m), the Devies-Gervasutti Route (TD+, 1050m), northwest face of l'Ailefroide (3848m), and the American Direct (ED1: 5.10+ A0, 1100m), west face of le Petit Dru (3732m).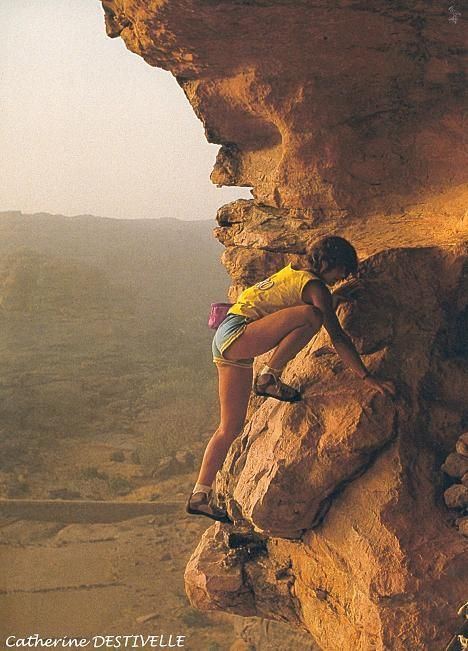 At the same time, Destivelle was studying physiotherapy at the Ecole de kinésithérapie de Paris, and she began to work as a physiotherapist from 1981 to 1985, losing touch with her climbing activities. It's only in 1985 that she started a full-time career in rock and mountain climbing, after coming back to rock climbing through some occasional stunts she was performing in the movie industry and for some TV programs, and after meeting Lothar Mauch during the shooting of E Pericoloso Sporgersi, who persuaded her to think again about her opposition to competition in rock climbing, who became her sport climbing coach, her sponsoring agent, her regular belayer, and her partner in travelling and in life.
That year 1985, she started competition, by winning Sportroccia, the very first international competition (held in Bardonecchia and Arco, Italy), which later became the Rock Master annual competition. In 1986, along with her compatriot climber Patrick Edlinger, she won again the combined final ranking of the Arco and Bardonecchia climbing championships. During the late 80s, she was the main and most mediatized rival to sport-climber Lynn Hill, alternating with her the best places in various competitions, like in Grenoble and in Snowbird in 1988 and 1989, the first International competition ever held in the US, that Jeff Lowe was organizing. In 1990, together with Christine Janin, she participated at the ski mountaineering event Pierra Menta. They placed third.
1990 was the year Destivelle stopped competition climbing, and came back to alpinism, her genuine passion. Meeting Jeff Lowe at this time of her career was a decisive move, because Lowe was one of the most inventive, innovative and best all-around climbers of the time. Preparing new climbing and expedition projects with him, training and climbing with him, made her reach yet another giant step of her mountaineering capabilities, technique and level. One of her greatest achievements, her solo ascent of the north face of the Eiger, was made possible thanks to a combination of her own constant evolution and the inspiration she got from Lowe's brilliance and talent in his career and his teachings. During the 90s, Destivelle went on performing her most beautiful, most challenging and most mediatized classic climbs as well as her most innovative projects, climbing either solo or with the best alpinists and mountain guides of the time.
With Érik Decamp, a mountain guide and experienced himalayist, Destivelle climbed the southwest face of Shishapangma (Tibet, 1994), the south face of Annapurna (Nepal, 1994), and the Losar icefall near Namche Bazaar (Khumbu, Nepal) in 1997. During their 1996 expedition to Antarctica, they made the first ascent of "Peak 4111" in the Ellsworth Mountains before the expedition was cut short after Destivelle fell 20 meters (66 ft) from the summit and received a compound fracture of her leg. The couple married in 1996 and their son, Victor, was born the following year. She began to cut back on solo climbs in the late 1990s and developed an active career as a lecturer and writer.
With Bruno Dupety since 2011, she recently became a publisher at Les Editions du Mont Blanc, specialized in books about mountain and alpinism.
Rock climbing, notable ascents
During her competition years, Destivelle was considered one of the world's best sport climbers.
1983 – La Dudule, Saussois, France (third female 7a)
1985 – Pichenibule, Verdon, France (third female 7b+)
1985 – Fleur de Rocaille, Mouriès, France (first female 7c+/8a)
1988 – Rêve de Papillon, Buoux, France (fourth female 8a)
1988 – Elixir de Violence, Buoux, France (8a)
1988 – Samizdat, Cimaï, France (8a)
1988 – La Diagonale du Fou, Buoux, France (8a)
1988 – Chouca, Buoux, France (first female 8a+)
Notable solo ascents
She is also one of the few rock climbers who naturally excel at free soloing.
1985 – El Puro, Mallos de Riglos in Spain
1987 – Bandiagara Escarpment in Mali
1989 – Phi Phi Islands in Thailand
1992 – Devils Tower in Wyoming, Indian Creek in Utah
1997 – Old Man of Hoy in Orkney Islands, Scotland
Notable first ascents in the Alps
Destivelle was the first woman to complete the following solo ascents:
1990 (October) – Bonatti Pillar of the Aiguille du Dru
1991 (June) – Opening a new route up the Aiguille du Dru in 11 days, (June 24 - July 4). The "Destivelle Route" was the first rock face to be named after a woman.
1992 (March) – north face of the Eiger
1993 (February) – Walker Spur of the Grandes Jorasses
1994 (February) – Bonatti Route on the north face of the Matterhorn
1999 (June) – north face direct of the Cima Grande di Lavaredo
Notable expeditions
She also went on many beautiful, innovative and challenging mountaineering projects.
1990 – Trango (Nameless) Tower, Yugoslav Route with Jeff Lowe.
1992 – North Ridge of Latok I (still unclimbed), one of its unsuccessful attempts with Jeff Lowe, interrupted at 5800 meters.
1994 – Shishapangma left-hand couloir, southwest face, (Kurtyka-Loretan-Troillet Route) with Erik Decamp.
1996 – Peak 4111 (Ellsworth Mountains, Antarctica), with Erik Decamp.
Books
Destivelle is the author of the following books:
Danseuse de roc, Denoël, 1987 (ISBN 978-2207233948)
Rocs nature (with photos by Gérard Kosicki), Denoël, 1991 (ISBN 978-2207238981)
Annapurna: Duo pour un 8000 (with Érik Decamp), Arthaud, 1994 (ISBN 2-7003-1059-4)
L'apprenti alpiniste: L'escalade, l'alpinisme et la montagne expliqués aux enfants (with Érik Decamp and Gianni Bersezio), Hachette Jeunesse, 1996 (ISBN 978-2012916623)
Ascensions, Arthaud, 2003 (ISBN 2-7003-9594-8)
Le petit alpiniste: La montagne, l'escalade et l'alpinisme expliqués aux enfants (with Érik Decamp and Claire Robert), Guérin, 2009 (ISBN 978-2352210382)
Rock Queen, Hayloft Publishing Ltd, 2015 (ISBN 978-1910237076)
Films
E Pericoloso Sporgersi, Robert Nicod, 1985
Seo, Pierre-Antoine Hiroz, 1987
Solo Thai, Laurent Chevallier, 1989
Nameless Tower, David Breashears, 1990
11 Jours dans les Drus, Gilles Sourice, 1991
Eiger, Stéphane Deplus, 1992
Ballade à Devils's Tower, Pierre-Antoine Hiroz, 1992
La Cascade, Pierre-Antoine Hiroz, 1997
Rock Queen, Martin Belderson, 1997
Au-delà des cimes, Rémy Tézier, 2008
References
Catherine Destivelle Wikipedia
(Text) CC BY-SA