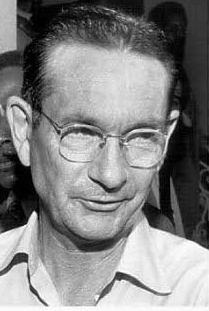 De La Beckwith was born in Colusa, California, the son of Susan Southworth Yerger and Byron De La Beckwith, Sr., who was the town's postmaster. His father died of pneumonia when he was five years old. One year later, De La Beckwith and his mother settled in Greenwood, Mississippi, to be near family. His mother died of lung cancer when he was 12 years old, and he was raised by his uncle William Greene Yerger and his wife.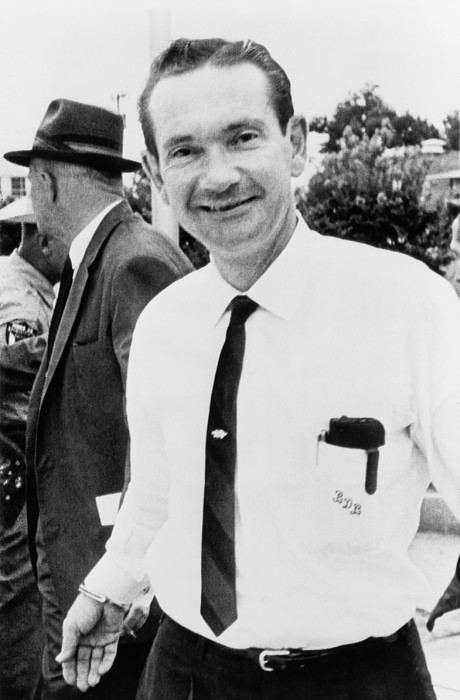 In January 1942, De La Beckwith enlisted in the United States Marine Corps and he served as a machine gunner in the Pacific theater of World War II. He fought in the Battle of Guadalcanal and was shot in the waist during the Battle of Tarawa. De La Beckwith was honorably discharged in August 1945.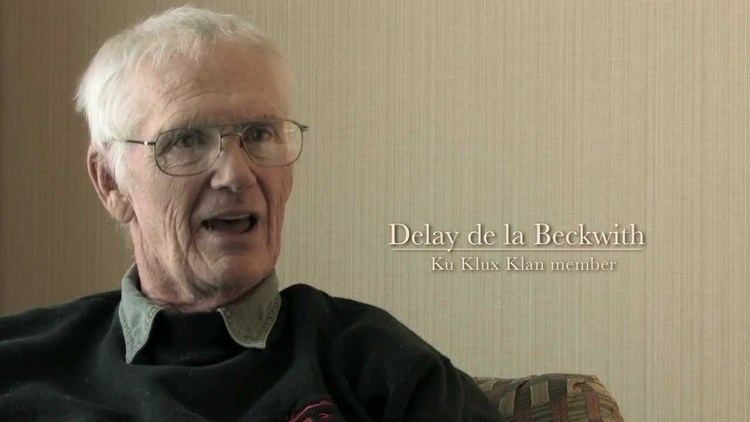 After serving in the Marine Corps, De La Beckwith moved to Providence, Rhode Island, where he married Mary Louise Williams. The couple returned to Mississippi, where they settled in his hometown of Greenwood. They had a son together. De La Beckwith and Williams divorced. He later married Thelma Lindsay Neff.
His adult son Delay De La Beckwith is prominently featured in Paul Saltzman's documentary The Last White Knight (2012) about his and his father's lives.
De La Beckwith worked as a salesman for most of his life, selling tobacco, fertilizer, wood stoves and a variety of other goods. In 1954, following the United States Supreme Court ruling in Brown v. Board of Education that segregated public schools were unconstitutional, he became a member of a newly formed chapter of the White Citizens' Council. The group was formed in Mississippi that year in order to resist integration and maintain the exclusion of most blacks from the state's political system.
The White Citizens' Council was founded in 1954 following the United States Supreme Court's ruling in Brown v. Board of Education that de jure public school segregation was unconstitutional. Begun in Mississippi, chapters arose in towns across the South in order to resist integration. Their members used a variety of economic tactics to suppress black activism and sustain segregation. The councils applied severe pressure by boycotting black businesses, denying loans and credit to African Americans, firing people from their jobs, and other means. In Mississippi they prevented school integration until 1964. Although similar in nature to the Ku Klux Klan (KKK), the White Citizens' Council was perceived to be a more reputable association than the KKK due to its lack of physical means as devices of disposition.
The state twice prosecuted De La Beckwith for murder in 1964, but both trials ended with hung juries. The jurors were all male and all white. Mississippi had effectively disenfranchised black voters since 1890, and they were excluded from serving on juries, whose membership was limited to voters. During the second trial, the former Governor Ross Barnett interrupted the proceedings so he could shake hands with De La Beckwith while Myrlie Evers, Medgar Evers' widow, was testifying.
In January 1966, De La Beckwith, along with a number of other members of the White Knights of the Ku Klux Klan, was subpoenaed by the House Un-American Activities Committee to testify about Klan activities. Although De La Beckwith gave his name when asked by the committee (other witnesses, such as Samuel Bowers, invoked the Fifth Amendment in response to that question), he answered no other substantive questions. In the following years, De La Beckwith became a leader in the segregationist Phineas Priesthood, an offshoot of the white supremacist Christian Identity Movement. The group was known for its hostility towards African Americans, Jews, Catholics, and foreigners.
According to Delmar Dennis, who acted as a key witness for the prosecution at the 1994 trial, De La Beckwith boasted of his role in the death of Medgar Evers at several KKK rallies and similar gatherings in the years following his mistrials. In 1967, he unsuccessfully sought the Democratic Party's nomination for Lieutenant Governor of Mississippi.
In 1969, Beckwith's previous charges were dismissed. In 1973, informants alerted the Federal Bureau of Investigation that De La Beckwith planned to murder A. I. Botnick, director of the New Orleans-based B'nai B'rith Anti-Defamation League, in retaliation for comments that Botnick had made about white southerners and race relations. Following several days of surveillance, New Orleans Police Department officers stopped De La Beckwith in his car as he was traveling on the Lake Pontchartrain Causeway Bridge to New Orleans. Among the contents of his vehicle were several loaded firearms, a map with highlighted directions to Botnick's house, and a dynamite time bomb. On August 1, 1975, De La Beckwith was convicted of conspiracy to commit murder; he served nearly three years in the Angola Prison in Louisiana from May 1977 until he was paroled in January 1980. Just before entering prison to serve his sentence, De La Beckwith was ordained by Reverend Dewey "Buddy" Tucker as a minister in the Temple Memorial Baptist Church, a Christian Identity congregation in Knoxville, Tennessee.
In the 1980s, the Jackson Clarion Ledger published reports on its investigation of the trial. It found that the Mississippi State Sovereignty Commission, an agency supported by residents' taxes and working against civil rights while purportedly protecting the image of the state, had assisted De La Beckwith's attorneys in his second trial. It used state resources to investigate members of the jury pool during voir dire so the defense could try to pick the best jury. This evidence would eventually lead Myrlie Evers to confront Beckwith again in trial.
Although De La Beckwith became a member of the White Citizens' Council, supposing his support for the economic approach to white supremacy, he must have thought that more direct action was needed. On June 12, 1963, at age 42, he assassinated NAACP and civil rights leader Medgar Evers shortly after the activist arrived home in Jackson. Beckwith was positioned across the street with an Enfield .30-06 caliber rifle, shooting Evers in the back. Evers died an hour later, aged 37 years. Myrlie Evers, his wife, and his three children, James Van Evers, Reena Denise Evers, and Darrell Kenyatta Evers were home at the time of the assassination. Myrlie Evers recalled being devastated at the sight of the incident, stating, "When Medgar was felled by that shot and I rushed out and saw him lying there and people from the neighborhood began to gather, there were also some whose color happened to have been white. I don't think I have ever hated as much in my life as I did at that particular moment with anyone who had white skin. I screamed at the neighbors and when the police finally got there, I told them that they had killed Medgar. And I can recall wanting so much to have a machine gun or something in my hand and just stand there and mow them all down. I was just -- I can't explain the depth of my hatred at that point". One of their sons, Darrell Kenyatta Evers recalled the night vividly, "We were ready to greet him, because every time he came home it was special for us. He was traveling a lot at that time. All of a sudden, we heard a shot. We knew what it was". Darrell and the other children then fled to the bathroom to hide in the bathtub. All three kids had been taught and forced to practice duck-and-cover drills prior to Evers death because their home had been attacked twice before.
Despite the two previously deadlocked juries, Myrlie Evers, who would later become the 3rd woman to chair the NAACP, refused to abandon the trial regarding her deceased husband's murder. She pressed authorities to re-open the case as new documents showed that jurors in the previous case were illegally screened. In the 1980s, the reporting by the Jackson Clarion Ledger of the Beckwith trials stimulated a new investigation by the state and ultimately a third prosecution, based on new evidence. By this point, De La Beckwith was living in Signal Mountain, Tennessee. He was extradited to Mississippi for his trial at the Hinds County Courthouse in Jackson. Before his trial, "Beckwith, a 71-year-old white supremacist, had asked the justices to dismiss the case against him on the grounds that it violated his rights to a speedy trial, due process and protection from double jeopardy" Yet, his attempt was unsuccessful as the court ruled against it with a 4 to 3 vote, allowing for the procedure of case with a scheduled court time in January 1994. During this third trial, the murder weapon was presented, an Enfield .30-06 caliber rifle, with Beckwith's fingerprints. Beckwith claimed that the gun was stolen from his house and that he was suffering from high blood pressure, lack of energy and kidney problems, saying "I need a list to recite everything I suffer from, and I hate to complain because I'm not the complaining type". The 1994 state trial was held before a jury consisting of eight blacks and four whites. They convicted De La Beckwith of first-degree murder for killing Medgar Evers. New evidence included testimony that he had boasted of the murder at a Klan rally and that he had also boasted of the murder to others during the three decades since the crime had occurred. The physical evidence was essentially the same as that presented during the first two trials.
De La Beckwith appealed the guilty verdict, but the Mississippi Supreme Court upheld the conviction in 1997. The court said that the 31-year lapse between the murder and De La Beckwith's conviction did not deny him a fair trial. He was sentenced to life imprisonment for first-degree murder without the possibility of parole. De La Beckwith sought judicial review in the US Supreme Court, but it was denied certiorari.
On January 21, 2001, De La Beckwith died after he was transferred from prison to the University of Mississippi Medical Center in Jackson, Mississippi. He was 80 years old. He had suffered from heart disease, high blood pressure and other ailments for some time.
Where Is the Voice Coming From? (1963), a short story by Eudora Welty, is one of the most significant works related to De La Beckwith's crime. Welty, who was from Jackson, Mississippi, later said:
Whoever the murderer is, I know him: not his identity, but his coming about, in this time and place. That is, I ought to have learned by now, from here, what such a man, intent on such a deed, had going on in his mind. I wrote his story—my fiction—in the first person: about that character's point of view.
Welty's story was published in the July 6, 1963 issue of The New Yorker, soon after De La Beckwith's arrest. So accurate was her portrayal that the magazine changed several details in the story before publication for legal reasons.
Byron De La Beckwith was the subject of the 1963 Bob Dylan song "Only a Pawn in Their Game", which deplores Evers's murder and the racial environment of the South.
In 1991, the murder of Evers and first trials of Beckwith were the basis of the episode titled "Sweet, Sweet Blues", written by author William James Royce for the NBC television series In the Heat of the Night. In the episode, actor James Best plays a character based on De La Beckwith, an aging Klansman who appears to have gotten away with murder.
The 1996 film Ghosts of Mississippi tells the story of the murder and 1994 trial. James Woods's performance as De La Beckwith was nominated for an Academy Award.
In 2001, Bobby DeLaughter published his memoir of the case and trial, Never Too Late: A Prosecutor's Story of Justice in the Medgar Evers Trial.