Nationality

American




Name

Bruce II




Parents

Bruce McCandless




Rank

Captain, USN




Spouse

Bernice Doyle





Other names

Bruce McCandless II




Space missions

STS-41-B, STS-31




Status

Retired




Role

Engineer




Grandparents

Byron McCandless






Born

June 8, 1937 (age 78) Boston, Massachusetts, U.S. (

1937-06-08

)


Other occupation

Naval aviator, engineer




Alma mater

USNA, B.S. 1958 Stanford University, M.S. 1965 UHCL, MBA 1987




Education

University of Houston–Clear Lake (1987)




Similar People

Robert L Stewart, Vance D Brand, Robert L Gibson, Loren Shriver, Steven Hawley
Distinguished graduate awards captain bruce mccandless ii 58 usn ret
Bruce McCandless II (born June 8, 1937), (Capt, USN, Ret.), is an American former naval officer and aviator, electrical engineer, and former NASA astronaut. During the first of his two Space Shuttle missions he made the first ever untethered free flight using the Manned Maneuvering Unit in 1984.
Contents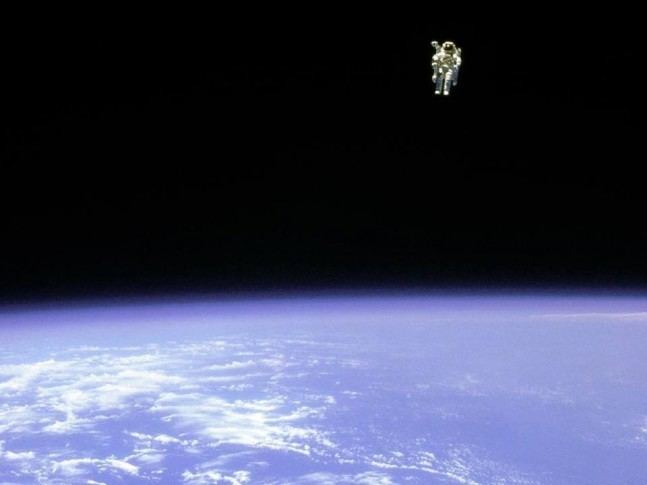 Early life and education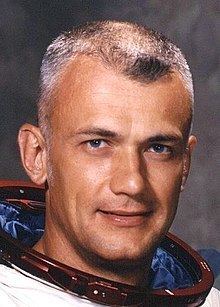 McCandless was born on June 8, 1937, in Boston, Massachusetts. A third generation U.S. Navy officer, McCandless is the son of Bruce McCandless, and grandson of Willis W. Bradley, both decorated war heroes. He graduated from Woodrow Wilson Senior High School, Long Beach, California, in 1954. With his father having been awarded the Medal of Honor, McCandless was assured of being appointed to a military academy.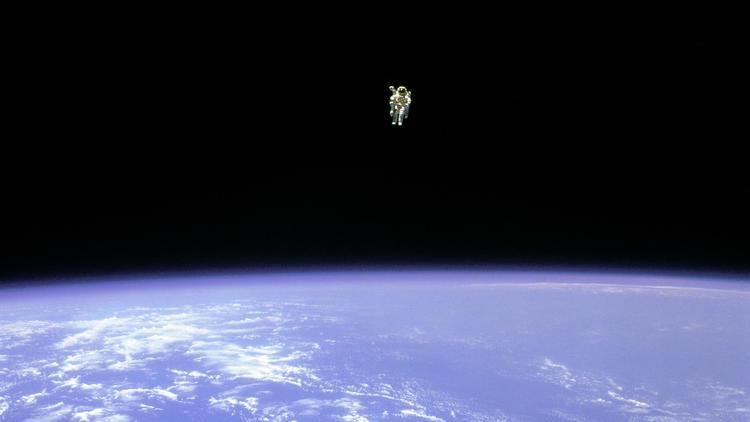 In 1958, he received a Bachelor of Science degree from the United States Naval Academy, graduating second (behind future National Security Advisor and Iran–Contra affair conspirator John Poindexter) in a class of 899 that also included John McCain. During his professional career, he also received an M.S. in electrical engineering from Stanford University in 1965 and an M.B.A. from the University of Houston–Clear Lake in 1987.
United States Navy
Following his commissioning, McCandless received flight training from the Naval Air Training Command at NAS Pensacola, Florida, and NAS Kingsville, Texas.
In March 1960, he was designated a Naval Aviator and proceeded to Naval Air Station Key West for weapons system and carrier landing training in the F-6A Skyray.
Between December 1960 and February 1964, he was assigned to Fighter Squadron 102 (VF-102), flying the Skyray and the F-4B Phantom II. He saw duty aboard USS Forrestal and USS Enterprise, including the latter's participation in the Cuban Missile Crisis.
For three months in early 1964, he was an instrument flight instructor in Attack Squadron 43 (VA-43) at NAS Oceana, Virginia and then reported to the Naval Reserve Officer Training Corps Unit at Stanford University for graduate studies in electrical engineering.
During Naval service he gained flying proficiency in the T-33B Shooting Star, T-38A Talon, F-4B Phantom II, F-6A Skyray, F-11 Tiger, F-9 Cougar, T-1 Seastar, and T-34B Mentor, and the Bell 47G helicopter.
He logged more than 5,200 hours flying time, including 5,000 hours in jet aircraft.
NASA career
At the age of 28, McCandless was selected as the youngest member of NASA Astronaut Group 5 (labelled the "Original Nineteen" by John W. Young) in April 1966. According to space historian Matthew Hersch, McCandless and Group 5 colleague Don Lind were "effectively treated... as scientist-astronauts" (akin to those selected in the fourth and sixth groups) by NASA due to their substantial scientific experience, an implicit reflection of their mutual lack of the test pilot experience highly valued by Deke Slayton and other NASA managers at the time; this would ultimately delay their progression in the flight rotation.
He was a CAPCOM on Apollo 11 during the first lunar EVA before joining the astronaut support crew for the Apollo 14 mission, on which he doubled as a CAPCOM. Thereafter, McCandless was reassigned to the Skylab program, where he received his first crew assignment as backup Pilot for the space station's first manned mission alongside backup Commander Rusty Schweickart and backup Science Pilot Story Musgrave. He again served as a CAPCOM on Skylab 3 and Skylab 4. Notably, McCandless was a co-investigator on the M-509 astronaut maneuvering unit experiment which was flown on Skylab; this eventually led to his collaboration on the development of the Manned Maneuvering Unit (MMU) used during Shuttle extravehicular activities (EVAs).
He was responsible for crew inputs to the development of hardware and procedures for the Inertial Upper Stage (IUS), Space Telescope, the Solar Maximum Repair Mission, and the Space Station Program.
McCandless logged over 312 hours in space, including four hours of MMU flight time. He flew as a Mission Specialist on STS-41-B and STS-31.
STS-41-B
Challenger launched from Kennedy Space Center, Florida, on February 3, 1984. The flight deployed two communications satellites, and flight-tested rendezvous sensors and computer programs for the first time.
This mission marked the first checkout of the Manned Maneuvering Unit (MMU) and Manipulator Foot Restraint (MFR). McCandless made the first untethered free flight on each of the two MMUs carried on board, thereby becoming the first person ever to make an untethered spacewalk.
After eight days in orbit, Challenger made the first landing on the runway at Kennedy Space Center on February 11, 1984.
STS-31
On this five-day Discovery flight, launched on April 24, 1990 from the Kennedy Space Center in Florida, the crew deployed the Hubble Space Telescope from their record-setting altitude of 380 miles (610 km).
Discovery landed at Edwards Air Force Base, California, on April 29, 1990.
Organizations
U.S. Naval Academy Alumni Association (Class of 1958)
U.S. Naval Institute
Institute of Electrical & Electronic Engineers
American Institute of Aeronautics and Astronautics
Association for Computing Machinery
National Audubon Society
He is a fellow of the American Astronautical Society and former president of the Houston Audubon Society.
Awards and honors
Defense Distinguished Service Medal (1985)
Legion of Merit (1988)
National Defense Service Medal
Armed Forces Expeditionary Medal
NASA Exceptional Service Medal (1974)
NASA Exceptional Engineering Achievement Medal (1985)
NASA Space Flight Medal (1984 and 1990)
American Astronautical Society Victor A. Prather Award (1975 and 1985)
National Aeronautic Association Collier Trophy (1985)
Smithsonian Institution National Air and Space Museum Trophy (1985)
U.S. Astronaut Hall of Fame (2005)
He was awarded a patent for the design of a tool tethering system that is currently used during Shuttle spacewalks.
Personal life
McCandless was married to Bernice Doyle McCandless for 53 years, and the couple had two grown children: Bruce III (born August 15, 1961) and Tracy (born July 13, 1963). His recreational interests include electronics, photography, scuba diving, and flying. He also enjoys cross country skiing.
On August 2005 Smithsonian magazine article about the photo quoted McCandless saying that the subject's anonymity is its best feature. "I have the sun visor down, so you can't see my face, and that means it could be anybody in there. It's sort of a representation not of Bruce McCandless, but mankind."
On September 30, 2010, McCandless launched a lawsuit against British singer Dido for unauthorized use of a photo of his 1984 space flight for the album art of her 2008 album Safe Trip Home, which showed McCandless "free flying" about 320 feet away from the Space Shuttle Challenger. The lawsuit - which also named Sony Corp.'s Sony Music Entertainment and Getty Images Inc. as defendants - does not allege copyright infringement, only infringement of his persona. This action was settled amicably on January 14, 2011.
McCandless wrote the foreword to the Apogee Books publication, Live TV From Orbit (ISBN 978-1926837-28-4), by Dwight Steven-Boniecki, released in 2014.
References
Bruce McCandless II Wikipedia
(Text) CC BY-SA