Spouse

Mila Mulroney (m. 1973)







Governor General

Jeanne SauveRay Hnatyshyn

Children

Ben Mulroney, Caroline Mulroney, Mark Mulroney, Nicholas Mulroney

Similar People
Brian mulroney on the hour with george stroumboulopoulos
Martin Brian Mulroney PC CC GOQ (born March 20, 1939) is a Canadian politician who served as the 18th Prime Minister of Canada from September 17, 1984, to June 25, 1993. His tenure as prime minister was marked by the introduction of major economic reforms, such as the Canada-U.S. Free Trade Agreement and the Goods and Services Tax, and the rejection of constitutional reforms such as the Meech Lake Accord and the Charlottetown Accord. Prior to his political career, he was a prominent lawyer and businessman in Montreal.
Contents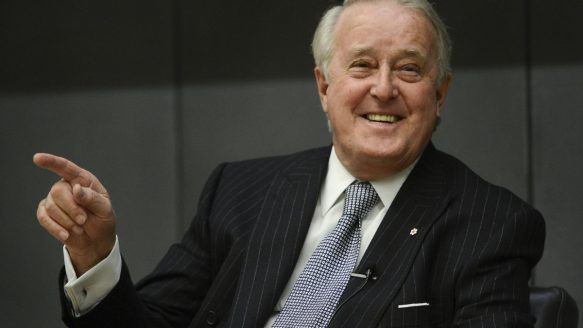 Beyond politics brian mulroney
Early life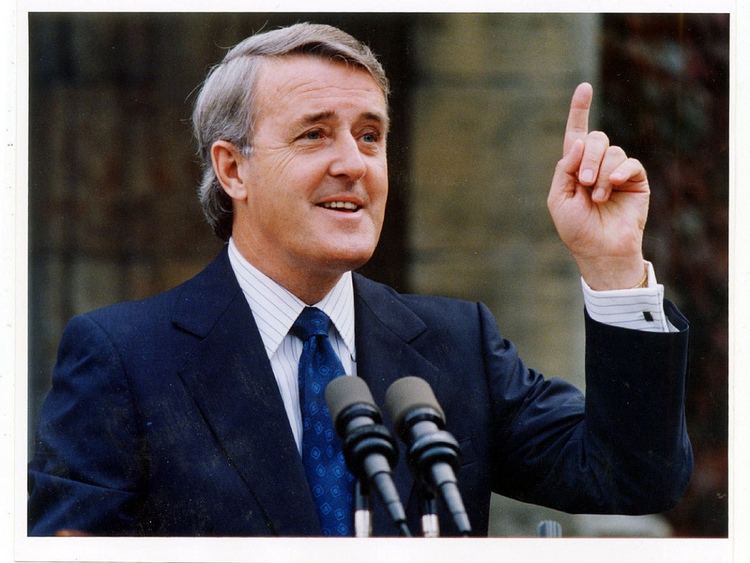 Mulroney was born on March 20, 1939, in Baie-Comeau, Quebec, a remote and isolated town in the eastern part of the province. He is the son of Irish Canadian Catholic parents, Mary Irene (née O'Shea) and Benedict Martin Mulroney, who was a paper mill electrician. As there was no English-language Catholic high school in Baie-Comeau, Mulroney completed his high school education at a Roman Catholic boarding school in Chatham, New Brunswick operated by St. Thomas University (in 2001, St. Thomas University named its newest academic building in his honour). Benedict Mulroney worked overtime and ran a repair business to earn extra money for his children's education, and he encouraged his oldest son to attend university.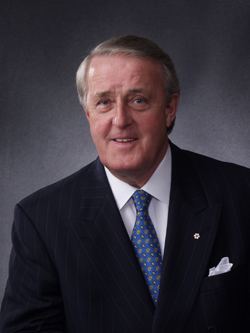 Mulroney would frequently tell stories about newspaper publisher Robert R. McCormick, whose company had founded Baie-Comeau. Mulroney would sing Irish songs for McCormick, and the publisher would slip him $50. He grew up speaking English and French fluently.
Family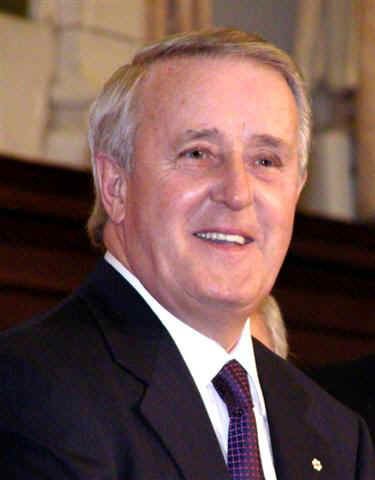 On May 26, 1973, he married Mila Pivnički, the daughter of a Serbian doctor, Dimitrije Mita Pivnički, from Sarajevo. The Mulroneys have four children: Caroline, Benedict (Ben), Mark and Nicolas.
Mulroney is the grandfather of Lewis H. Lapham III, and twins Pierce Lapham and Elizabeth Theodora Lapham, and Miranda Brooke Lapham from daughter, Caroline, and twins Brian Gerald Alexander and John Benedict Dimitri by son Ben.
Education
Mulroney had not been involved in politics at any level prior to entering St. Francis Xavier University in the fall of 1955 as a 16-year-old freshman. His political life began when he was recruited to the campus Progressive Conservative group by Lowell Murray and others, early in his first year. Murray would become a close friend, mentor, and adviser who was appointed to the Canadian Senate in 1979. Other important, lasting friendships made there by Mulroney included Gerald Doucet, Fred Doucet, Sam Wakim, and Patrick MacAdam. Mulroney enthusiastically embraced political organization, and assisted the local PC candidate in his successful 1956 Nova Scotia provincial election campaign; the PCs, led provincially by Robert Stanfield, swept to a surprise victory.
Mulroney became a youth delegate and attended the 1956 leadership convention in Ottawa. While initially undecided, Mulroney was captivated by John Diefenbaker's powerful oratory and easy approachability. Mulroney joined the "Youth for Diefenbaker" committee which was led by Ted Rogers, a future scion of Canadian business. Mulroney struck an early friendship with Diefenbaker (who won the leadership) and received telephone calls from him.
Mulroney won several public speaking contests at St. Francis Xavier University, was a star member of the school's debating team, and never lost an interuniversity debate. He was also very active in campus politics, serving with distinction in several Model Parliaments, and was campus prime minister in a Maritimes-wide Model Parliament in 1958.
Mulroney also assisted with the 1958 national election campaign at the local level in Nova Scotia; a campaign that led to the then-largest majority in Canadian history. After graduating from St. Francis Xavier with a degree in political science in 1959, Mulroney at first pursued a law degree from Dalhousie Law School in Halifax. It was around this time that Mulroney also cultivated friendships with the Tory premier of Nova Scotia, Robert Stanfield, and his chief adviser Dalton Camp. In his role as an 'advance man', Mulroney significantly assisted with Stanfield's successful 1960 re-election campaign. Mulroney neglected his studies, then fell seriously ill during the winter term, was hospitalized, and, despite getting extensions for several courses because of his illness, flunked out of Dalhousie his first year. He then applied to Université Laval in Quebec City, and restarted first-year law there the next year.
In Quebec City, Mulroney befriended future Quebec Premier Daniel Johnson, Sr, and frequented the provincial legislature, making connections with politicians, aides, and journalists. At Laval, Mulroney built a network of friends, including Lucien Bouchard, Bernard Roy, Michel Cogger, Michael Meighen, and Jean Bazin, that would play a prominent role in Canadian politics for years to come. During this time, Mulroney was still involved in the Conservative youth wing and was acquainted with the President of the Student Federation, Joe Clark.
Mulroney secured a plum temporary appointment in Ottawa during the summer of 1962, as the executive assistant to Alvin Hamilton, minister of agriculture. Then a federal election was called, and Prime Minister Diefenbaker appointed Hamilton as the acting prime minister for the rest of the campaign. Hamilton took Mulroney with him on the campaign trail, where the young organizer gained valuable experience.
Builds reputation, gains publicity
After graduating from Laval in 1964, Mulroney joined the Montreal law firm now known as Norton Rose Fulbright, which at the time was the largest law firm in the Commonwealth of Nations. Mulroney twice failed his bar exams, but the firm kept him due to his charming personality. After ultimately passing his bar exams, Mulroney was admitted to the Quebec bar in 1965, and became a labour lawyer, which was then a new and exciting field of law in Quebec. Mulroney's superb political skills of conciliation and negotiation, with opponents often polarized and at odds, proved ideal for this field. He was noted for ending several strikes along the Montreal waterfront where he met fellow lawyer W. David Angus of Stikeman Elliott, who would later become a valuable fundraiser for his campaigns.
In 1966, Dalton Camp, who by then was president of the Progressive Conservative Party, ran for re-election in what many believed to be a referendum on Diefenbaker's leadership. Diefenbaker had reached his 70th birthday in 1965. Mulroney joined with most of his generation in supporting Camp and opposing Diefenbaker, but due to his past friendship with Diefenbaker, he attempted to stay out of the spotlight. With Camp's narrow victory, Diefenbaker called for a 1967 leadership convention in Toronto. Mulroney joined with Joe Clark and others in supporting former Justice minister E. Davie Fulton. Once Fulton dropped off the ballot, Mulroney helped in swinging most of his organization over to Robert Stanfield, who won. Mulroney, then 28, would soon become a chief adviser to the new leader in Quebec.
Mulroney's professional reputation was further enhanced when he ended a strike that was considered impossible to resolve at the Montreal newspaper La Presse. In doing so, Mulroney and the paper's owner, Canadian business mogul Paul Desmarais, became friends. After his initial difficulties, Mulroney's reputation in his firm steadily increased, and he was made a partner in 1971.
Mulroney's big break came during the Cliche Commission in 1974, which was set up by Quebec premier Robert Bourassa to investigate the situation at James Bay, Canada's largest hydroelectric project. Violence and dirty tactics had broken out as part of a union accreditation struggle. To ensure the commission was non-partisan, Bourassa, the Liberal premier, placed Robert Cliche, a former leader of the provincial New Democratic Party in charge. Cliche asked Mulroney, a Progressive Conservative and a former student of his, to join the commission. Mulroney asked Lucien Bouchard to join as counsel. The committee's proceedings, which showed Mafia infiltration of the unions, made Mulroney well known in Quebec, as the hearings were extensively covered in the media. The Cliche Commission's report was largely adopted by the Bourassa government. A notable incident included the revelation that the controversy may have involved the office of the Premier of Quebec. Although Bouchard favoured calling in Robert Bourassa as a witness, Mulroney refused, deeming it a violation of 'executive privilege'. Mulroney and Bourassa would later cultivate a friendship that would turn out to be extremely beneficial when Mulroney ran for re-election in 1988.
Loses first leadership race, 1975–76
The Stanfield-led Progressive Conservatives lost the 1974 election to the Pierre Trudeau-led Liberals, leading to Stanfield's resignation as leader. Mulroney, despite never having run for elected office, entered the contest to replace him. Mulroney and provincial rival Claude Wagner were both seen as potentially able to improve the party's standing in Quebec, which had supported the federal Liberals for decades. Mulroney had played the lead role in recruiting Wagner to the PC party a few years earlier, and the two wound up as rivals for Quebec delegates, most of whom were snared by Wagner, who even blocked Mulroney from becoming a voting delegate at the convention. In the leadership race, Mulroney spent an estimated $500,000, far more than the other candidates, and earned himself the nickname 'Cadillac candidate'. At the 1976 leadership convention, Mulroney placed second on the first ballot behind Wagner. However, his expensive campaign, slick image, lack of parliamentary experience, and vague policy positions did not endear him to many delegates, and he was unable to build upon his base support, being overtaken by eventual winner Joe Clark on the second ballot. Mulroney was the only one of the eleven leadership candidates who did not provide full financial disclosure on his campaign expenses, and his campaign finished deeply in debt. Following the convention, Mulroney turned down the offer of a shadow cabinet portfolio in Clark's caucus.
Business leadership
Mulroney took the job of executive vice president of the Iron Ore Company of Canada, a joint subsidiary of three major U.S. steel corporations. Mulroney earned a salary well into the six-figure range. In 1977, he was appointed company president. Drawing upon his labour law experience, he instituted improved labour relations, and, with commodity prices on the rise, company profits soared during the next several years. In 1983 Mulroney successfully negotiated the closing of the Schefferville mine, winning a generous settlement for the affected workers. Under his leadership, the company was sold off to foreign interests. In the wake of his loss in the 1976 leadership race, Mulroney battled alcohol abuse and depression for several years; he credits his loyal wife Mila with helping him recover. In 1979, he permanently became a teetotaler. During his IOC term, he made liberal use of the company's executive jet, frequently flying business associates and friends on fishing trips. Mulroney also maintained and expanded his extensive political networking among business leaders and conservatives across the country. As his business reputation grew, he was invited onto several corporate boards. He declined an offer to run in a Quebec by-election as a federal Liberal.
Party leader
Joe Clark led the Progressive Conservative party to a minority government in the 1979 federal election which ended 16 years of continuous Liberal rule. However, the government fell after a successful no-confidence motion over his minority government's budget in December 1979. The PCs subsequently lost the federal election held two months later to Trudeau and the Liberals. Many Tories were also annoyed with Clark over his slowness in dispensing patronage appointments after he became prime minister in June 1979. By late 1982, Joe Clark's leadership of the Progressive Conservatives was being questioned in many party circles and among many Tory members of Parliament, despite his solid national lead over Prime Minister Pierre Trudeau in opinion polls, which stretched to 19 percent in summer 1982.
Mulroney, while publicly endorsing Clark at a press conference in 1982, organized behind the scenes to defeat him at the party's leadership review. Clark's key Quebec organizer Rodrigue Pageau was in fact a double agent, working for Mulroney, undermining Clark's support. When Clark received an endorsement by only 66.9 per cent of delegates at the party convention in January 1983 in Winnipeg, he resigned and ran to regain his post at the 1983 leadership convention. Despite still not being a member of Parliament, Mulroney ran against him, campaigning more shrewdly than he had done seven years before. Mulroney had been criticized in 1976 for lacking policy depth and substance, a weakness he addressed by making several major speeches across the country in the early 1980s, which were collected into a book, Where I Stand, published in 1983. Mulroney also avoided most of the flash of his earlier campaign, for which he had been criticized. Mulroney was elected party leader on June 11, 1983, beating Clark on the fourth ballot, attracting broad support from the many factions of the party and especially from representatives of his native Quebec. Two months later, Mulroney entered Parliament as the MP for Central Nova in Nova Scotia, winning a by-election in what was then considered a safe Tory seat, after Elmer MacKay stood aside in his favour. This is a common practice in most parliamentary systems.
Throughout his political career, Mulroney's fluency in English and French, with Quebec roots in both cultures, gave him an advantage that eventually proved decisive.
Because of health problems shortly after becoming party leader, Mulroney quit smoking in 1983.
By the start of 1984, as Mulroney began learning the realities of parliamentary life in the House of Commons, the Tories took a substantial lead in opinion polling. It was almost taken for granted that Trudeau would be heavily defeated by Mulroney in the general election due no later than 1985. Trudeau announced his retirement in February, and the Liberal Party chose John Turner, previously the Minister of Finance under Trudeau in the 1970s, as its new leader. The Liberals then surged in the polls, to take a lead, after trailing by more than 20 percentage points. Only four days after being sworn in as Prime Minister, Turner called a general election for September. In so doing, he had to postpone a planned Canadian summer visit by Queen Elizabeth II, who makes it her policy to not travel abroad during foreign election campaigns. But the Liberal election campaign machinery was in disarray, leading to a weak campaign.
The campaign is best remembered for Mulroney's attacks on a raft of Liberal patronage appointments. In his final days in office, Trudeau had controversially appointed a flurry of Senators, judges, and executives on various governmental and crown corporation boards, widely seen as a way to offer 'plum jobs' to loyal members of the Liberal Party. Upon assuming office, Turner, who had been out of politics for nine years while he earned a lucrative salary as a Toronto lawyer, showed that his political instincts had diminished. He had been under pressure to advise Sauvé to cancel the appointments—which convention would have required Sauvé to do. However, Turner chose not to do so, and instead proceeded to appoint several more Liberals to prominent political offices per a signed, legal agreement with Trudeau.
Ironically, Turner had planned to attack Mulroney over the patronage machine that the latter had set up in anticipation of victory. In a televised leaders' debate, Turner launched what appeared to be the start of a blistering attack on Mulroney by comparing his patronage machine to that of the old Union Nationale in Quebec. However, Mulroney successfully turned the tables by pointing to the recent raft of Liberal patronage appointments. He demanded that Turner apologize to the country for making "these horrible appointments." Turner replied that "I had no option" except to let the appointments stand. Mulroney famously responded:
"
You had an option, sir
. You could have said, 'I am not going to do it. This is wrong for Canada, and I am not going to ask Canadians to pay the price.' You had an option, sir—to say 'no'—and you chose to say 'yes' to the old attitudes and the old stories of the Liberal Party. That, sir, if I may say respectfully, is not good enough for Canadians."
Turner froze and wilted under this withering riposte from Mulroney. He could repeat only, "I had no option." A visibly angry Mulroney called this "an avowal of failure" and "a confession of non-leadership." The exchange led most papers the next day, with most of them paraphrasing Mulroney's counterattack as "You had an option, sir—you could have said 'no.'" Many observers believe that at this point, Mulroney assured himself of becoming prime minister.
On September 4, Mulroney and the Tories won the largest majority government in Canadian history. They took 211 seats, three more than their previous record in 1958. The Liberals won only 40 seats, which, at the time was their worst performance ever and the worst defeat for a governing party at the federal level in Canadian history. The Conservatives won just over half of the popular vote (compared to 53.4 percent in 1958) and led in every province, emerging as a national party for the first time since 1958. Especially important was the Tories' performance in Mulroney's home province, Quebec. The Tories had only won the most seats in that province once since 1896 – the 1958 Tory landslide. However, largely due to anger at Trudeau, and Mulroney's promise of a new deal for Quebec, the province swung over dramatically to support him. The Tories had only won one seat out of 75 in 1980 but took 58 seats in 1984. Mulroney yielded Central Nova back to MacKay and instead ran in the eastern Quebec riding of Manicouagan, which included Baie-Comeau.
In 1984, the Canadian Press named Mulroney "Newsmaker of the Year" for the second straight year, making him only the second prime minister to have received the honour both before becoming prime minister and when prime minister (the other being Lester Pearson).
First mandate (1984–1988)
The first Conservative majority government in 26 years—and only the second in 54 years—initially seemed to give Mulroney a very formidable position. The Tories had won just over half the popular vote, and no other party crossed the 50-seat mark. On paper, he was free to take Canada in any direction he wanted. However, his position was far more precarious than his parliamentary majority would suggest. His support was based on a 'grand coalition' of socially conservative populists from the West, Quebec nationalists, and fiscal conservatives from Ontario and Atlantic Canada. Such diverse interests became difficult for Mulroney to juggle.
He attempted to appeal to the Western provinces, whose earlier support had been critical to his electoral success, by cancelling the National Energy Program and including a large number of Westerners in his Cabinet (including Clark as minister of external affairs). However, he was not completely successful, even aside from economic and constitutional policy. For example, he moved CF-18 servicing from Manitoba to Quebec in 1986, even though the Manitoba bid was lower and the company was better rated, and received death threats for exerting pressure on Manitoba over French language rights.
Many of Mulroney's ministers had little government experience, resulting in conflicts of interest and embarrassing scandals. Many Tories expected patronage appointments due to the long time out of government. Indeed, Mulroney made a number of unscripted gaffes regarding patronage, including the reference to Ambassador Bryce Mackasey as "there's no whore like an old whore". The new Prime Minister's handlers were concerned by apparent unpredictability and rumours of drinking.
One of Mulroney's main priorities was to lower the deficit, which had increased from $1 billion under Lester B. Pearson to $32.4 billion under Pierre Eliott Trudeau. However, the country's debt increased during Mulroney's term from $32.4 billion to $39 billion. His attempts to reduce spending limited his ability to deliver on many promises. Also impeding his progress was the Senate, where the Liberals had a large majority due to their previous long tenure in power. Led by Allan MacEachen, the Senate took a very assertive role in legislation, forcing the government to compromise on several points despite its considerable House majority.
A major undertaking by Mulroney's government was an attempt to resolve the divisive issue of national unity. Quebec was the only province that did not sign the new Canadian constitution negotiated by Prime Minister Pierre Trudeau in 1982, and Mulroney wanted to include Quebec in a new agreement with the rest of Canada. In 1987, he negotiated the Meech Lake Accord with the provincial premiers, a package of constitutional amendments designed to satisfy Quebec's demand for recognition as a "distinct society" within Canada, and to devolve some powers to the provinces.
Another of Mulroney's priorities was the privatization of many of Canada's crown corporations. In 1984, the Government of Canada held 61 crown corporations. It sold off 23 of them including Air Canada which was completely privatized by 1989, although the Air Canada Public Participation Act continued to make certain requirements of the airline. Petro-Canada was also later privatized.
The Air India Flight 182 bombing, which originated in Montreal, happened during Mulroney's first term. This was the largest terrorist act before September 11, 2001, with the majority of the 329 victims being Canadian citizens. Mulroney sent a letter of condolence to then Indian Prime Minister Rajiv Gandhi, which sparked an uproar in Canada since he did not call families of the actual victims to offer condolences. Gandhi replied that he should be the one providing condolences to Mulroney, given that the majority of victims were Canadian or lived in Canada. Many Indo-Canadians considered this to be a racist act because they felt Mulroney did not consider them to be true Canadian citizens as they were not of European descent. Furthermore, there were several warnings from the Indian government to the Mulroney government about terrorist threats towards Air India flights. Questions remain as to why these warnings were not taken more seriously and whether the events leading to the bombing could have been prevented. The Governor General-in-Council in 2006 appointed the former Supreme Court Justice John Major to conduct a commission of inquiry. His report was completed and released on 17 June 2010.
Near the end of his first term, Mulroney gave a formal apology and a $300 million compensation package to the families of the 22,000 Japanese Canadians who had been divested of their property and interned during World War II.
Foreign policy
Mulroney's government opposed the apartheid regime in South Africa and he met with many of the regime's opposition leaders throughout his tenure. His position put him at odds with the American and British governments, but also won him respect elsewhere. Also, external affairs minister Joe Clark was the first foreign affairs minister to land in previously isolated Ethiopia to lead the Western response to the 1984–1985 famine in that country; Clark landed in Addis Ababa so quickly he had not even seen the CBC report that had created the initial and strong public reaction. Canada's response was overwhelming and led the U.S.A. and Britain to follow suit almost immediately — an unprecedented situation in foreign affairs at that time, since Ethiopia had a Marxist regime and had previously been isolated by Western governments.
The Mulroney government also took a strong stand against the U.S. intervention in Nicaragua under Reagan, and accepted refugees from El Salvador, Guatemala, and other countries with repressive regimes supported directly by the Reagan administration.
Free trade
During his tenure as prime minister, Brian Mulroney's close relationship with U.S. President Ronald Reagan helped secure a landmark treaty on acid rain and the ratification of a free-trade treaty with the United States under which all tariffs between the two countries would be eliminated by 1998.
Critics noted that Mulroney had originally professed opposition to free trade during the 1983 leadership campaign. This agreement was controversial, and the Senate demanded an election before proceeding to a ratification vote. The Canada-U.S. Free Trade Agreement was the central issue of the 1988 election, with the Liberals and NDP opposing it. With the Liberals gaining the initial momentum, a successful counterattack by Allan Gregg resulted in the PCs being re-elected with a solid but reduced majority and 43 percent of the popular vote. Mulroney thus became the only Conservative, in the 20th century, to lead his party to consecutive majority governments during peacetime. In this election, Mulroney transferred to another eastern Quebec seat, Charlevoix, after an electoral redistribution saw its boundary shift to include Baie-Comeau.
On election day, November 21, 1988, Mulroney made a controversial order in council which allowed the establishment of the AMEX Bank of Canada (owned by American Express).
Second mandate (1988–1993)
Mulroney's second term was marked by an economic recession. He proposed the introduction of a national sales tax, the Goods and Services Tax (GST), in 1989. When it was introduced in 1991, it replaced the Manufacturers' Sales Tax (MST) that had previously been applied at the wholesale level on goods manufactured in Canada. A bitter Senate battle ensued, and many polls showed that as many as 80% of Canadians were opposed to the tax. Mulroney had to use Section 26 (the Deadlock Clause), a little known Constitutional provision, allowing him in an emergency situation to ask the Queen to appoint 8 new Senators. Although the government argued that the tax was not a tax increase, but a tax shift, the highly visible nature of the tax was extremely unpopular, and many resented Mulroney's use of an "emergency" clause in the constitution.
The Meech Lake Accord also met its doom in 1990. It was not ratified by the provincial governments of Manitoba and Newfoundland before the June ratification deadline. This failure sparked a revival of Quebec separatism, and led to another round of meetings in Charlottetown in 1991 and 1992. These negotiations culminated in the Charlottetown Accord, which outlined extensive changes to the constitution, including recognition of Quebec as a distinct society. However, the agreement was overwhelmingly defeated in a national referendum in October 1992. Many blamed the GST battle and Mulroney's unpopularity for the fall of the Accord.
In 1990 Mulroney nominated Ray Hnatyshyn, an MP from Saskatoon and a former Cabinet minister, to be Governor General (1990–1995).
On December 2, 1991, Canada became the first Western nation to recognize Ukraine as an independent country, next day after the landslide referendum in favor of independence in Ukraine.
The worldwide recession of the early 1990s significantly damaged the government's financial situation. Mulroney's inability to improve the government's finances, as well as his use of tax increases to deal with it, were major factors in alienating the western conservative portion of his power base – this contrasted with his tax cuts earlier as part of his 'pro-business' plan which had increased the deficit. At the same time, the Bank of Canada began to raise interest rates in order to meet a zero inflation target; the experiment was regarded as a failure that exacerbated the effect of the recession in Canada. Annual budget deficits ballooned to record levels, reaching $42 billion in his last year of office. These deficits grew the national debt dangerously close to the psychological benchmark of 100% of GDP, further weakening the Canadian dollar and damaging Canada's international credit rating.
Mulroney supported the United Nations coalition during the 1991 Gulf War and when the UN authorized full use of force in the operation, Canada sent a CF-18 squadron with support personnel and a field hospital to deal with casualties from the ground war as well as a company of The Royal Canadian Regiment to safeguard these ground elements calling Canada's participation Operation Friction. In August he sent the destroyers HMCS Terra Nova and HMCS Athabaskan to enforce the trade blockade against Iraq. The supply ship HMCS Protecteur was also sent to aid the gathering coalition forces. When the air war began, Canada's planes were integrated into the coalition force and provided air cover and attacked ground targets. This was the first time since the fighting on Cyprus in 1974 that Canadian forces participated directly in combat operations.
For the Canadian Forces, the Mulroney years began with hope but ended with disappointment. Most members of the CF welcomed the return to distinctive uniforms for the three services, replacing the single green uniform worn since unification (1967–70). A White Paper proposed boosting the CF's combat capability, which had, according to Canadian Defence Quarterly, declined so badly that Canada would have been unable to send a brigade to the Gulf War had it desired to. The CF in this period did undergo a much-needed modernization of a range of equipment from trucks to a new family of small arms. Many proposed reforms, however, failed to occur, and according to historian J.L. Granatstein, Mulroney "raised the military's hopes repeatedly, but failed to deliver." In 1984, he had promised to increase the military budget and the regular force to 92,000 troops, but the budget was cut and the troop level fell to below 80,000 by 1993. This was, however, in step with other NATO countries after the end of the Cold War. The Mulroney government undertook a defence policy review, publishing a new statement in late 1991, but political considerations meant that no comprehensive policy for the post Cold War era was arrived at before the government's defeat in 1993. According to Granatstein, this meant that Canada was not able to live up to its post-Cold War military commitments.
The decline of cod stocks in Atlantic Canada led the Mulroney government to impose a moratorium on the cod fishery there, putting an end to a large portion of the Newfoundland fishing industry, and causing serious economic hardship. The government instituted various programmes designed to mitigate these effects but still became deeply unpopular in the Atlantic provinces.
The environment was a key focus of Mulroney's government, as Canada became the first industrialized country to ratify both the biodiversity convention and the climate change convention agreed to at the UN Conference on the Environment. His government added significant new national parks (Bruce Peninsula, South Moresby, and Grasslands), and passed the Canadian Environmental Assessment Act and Canadian Environmental Protection Act.
Retirement
Widespread public resentment of the Goods and Services Tax, an economic slump, the fracturing of his political coalition, and his lack of results regarding the Quebec situation caused Mulroney's popularity to decline considerably during his second term. An ominous sign was a 1989 by-election in the Alberta riding of Beaver River. In this election, called when Tory MP John Dahmer died before ever having a chance to attend a sitting, Reform Party candidate Deborah Grey won by a hefty 4,200 votes after finishing fourth in the general election just five months earlier. This was perhaps, the first sign that Mulroney's grand coalition was fracturing; the PCs had dominated Alberta's federal politics since the 1968 election. Another sign came before Meech Lake was finalized, when Bouchard resigned from both the cabinet and the party over changes to the proposal that he felt diluted its spirit. After the failure of Meech, Bouchard convinced several other Tories to break with the party and join him to form the Bloc Québécois, a pro-sovereigntist (i.e. independentist) party. Years later, Mulroney said that his biggest error as Prime Minister had been trusting his former university friend; indeed, he and Bouchard have not spoken to each other in over two decades.
Mulroney entered 1993 facing a statutory general election (under Canadian law, federal governments can have a maximum duration of five years, but they often have lesser duration as they must enjoy the confidence of the House of Commons in order to continue in office). By this time, his approval ratings had dipped into the teens, and were at 11% in a 1992 Gallup poll, making him one of the most unpopular prime ministers since opinion polling began in Canada in the 1940s. There was a consensus that Mulroney would be heavily defeated by Jean Chrétien and the Liberals if he led the Tories into the next election—ironically, the same situation that led to Trudeau's departure from the scene nine years earlier. He announced his retirement from politics in February and was replaced as Prime Minister by Defence Minister Kim Campbell in June. The last Gallup Poll taken before his retirement, in February 1993, showed his approval ratings had rebounded to 21%.
In his final days in office, Mulroney made several decisions that hampered the Tory campaign later that year. He took a lavish international "farewell" tour mostly at taxpayers' expense, without transacting any official business. Also, by the time he handed power to Campbell, there were only two-and-a-half months left in the Tories' five-year mandate. Further compounding the problem, Mulroney continued to live at 24 Sussex Drive for some time after Campbell was sworn in as Prime Minister. Brian and Mila Mulroney's new private residence in Montreal was undergoing renovations, and they did not move out of 24 Sussex until their new home was ready. Instead, Campbell took up residence at Harrington Lake, the Prime Minister's official summer retreat across the river in Gatineau Park, Quebec.
The 1993 election was a disaster for the Tories. The oldest party in Canada was reduced from a majority with 151 seats to two seats in the worst defeat ever suffered for a governing party at the federal level. The 149-seat loss far exceeded the 95-seat loss the Liberals suffered in 1984. The Tories were no longer recognized as an official caucus in the House of Commons, since the required minimum number of seats for official party status is 12. As an example of the antipathy toward Mulroney, his former riding fell to the Bloc by a lopsided margin; the Tory candidate finished a distant third, with only 6,800 votes—just a few votes shy of losing his electoral deposit. In her memoirs, Time and Chance, and in her response in the National Post to The Secret Mulroney Tapes, Campbell said that Mulroney left her with almost no time to salvage the Tories' reputation once the bounce from the leadership convention wore off. Campbell went as far as to claim that Mulroney knew the Tories would be defeated regardless of who led them into the election, and wanted a "scapegoat who would bear the burden of his unpopularity" rather than a true successor.
Airbus/Schreiber affair
In 1997, Mulroney settled a libel lawsuit he had brought against the Government of Canada two years previously. Mulroney received an apology and a $2.1 million reimbursement for legal and public relations costs. At issue were allegations that Mulroney had accepted bribes in the "Airbus affair" concerning government contracts. The government said the charges could not be substantiated. The principal Royal Canadian Mounted Police (RCMP) investigator on the case retired a year later. The government later dropped the investigation entirely.
But a key fact was unknown in 1997, and had not been elicited under sworn testimony in which Mulroney had denied business dealings or significant meetings with a business associate: Mulroney later confirmed that he had personally accepted cash payments from his business associate Karlheinz Schreiber, a German-Canadian businessman who had been a paid broker for Airbus and other companies. The cash changed hands in three secret meetings in hotels in Montreal and New York City, in brown paper bags of $1000 bills totaling either $225,000 (according to Mulroney) or $300,000 (according to Schrieber). The payments occurred over an 18-month period, beginning in 1993 when Mulroney had stepped down as Prime Minister but was still a member of Parliament. In 2007, Mulroney stated that he had kept the cash paid in New York in a New York safe deposit box (thus implying that he had not illegally carried it undeclared across the US-Canada border) and in a safe in his Montreal home. The cash payments had not then been declared as income for tax purposes.
Schreiber had at his disposal $20 million from Airbus for the payment of secret commissions. CBC Television reported on February 8, 2006 that the money Schreiber paid to Mulroney originated in a Swiss bank account code-named "Frankfurt". Schreiber used the same account to pay the secret Airbus commissions. Schreiber transferred $500,000 from "Frankfurt" to an account in Zürich code-named "Britan" on July 26, 1993 and used these funds to make the three cash payments to Mulroney in 1993 and 1994.
Five years after the payments began, Mulroney and Schreiber met again in a suite at the Hotel Savoy in Zurich, Switzerland. Schreiber claims Mulroney tried to extract a promise: Schreiber would never reveal the payments. Schreiber also claims Mulroney's attorneys later tried to induce him into perjury by asking that he sign an affidavit falsely stating that he had never paid any money to Mulroney. Mulroney denies this, and also denies Schreiber's claim that the payments totaled $300,000.
Testifying before the House of Commons Ethics Committee on December 13, 2007, Mulroney said the cash payments were for lobbying foreign leaders to buy armored vehicles from Thyssen industries, a company Schreiber represented. Mulroney said Schreiber had paid him as a consultant for this task only, in the context of the potential Bear Head project, which had actually been canceled three years prior to his accepting payment. Mulroney said he never had a written contract, made written reports, or issued receipts for the cash payments. Mulroney said he had destroyed records related to the transactions and received the payments in cash. Mulroney denied any illegal wrongdoing. He admitted to errors in judgment and apologized for the impropriety. Mulroney described the public revelation of his wrongdoing as "a near death experience" and said his family had suffered greatly.
For many years, Mulroney had not acknowledged receiving money from Schreiber. The payments were concealed in Mulroney's 1995 lawsuit against the Government of Canada. Mulroney falsely testified under oath that he "never had any dealings" with Schreiber, knew him only "peripherally" and they had a cup of coffee "once or twice." In his 2004 book A Secret Trial, former law professor William Kaplan describes Mulroney's testimony as evasive, incomplete and misleading.
In his testimony, Schreiber made allegations that described "...a Canadian party leader subverted and deposed by foreign interests, of federal contracts being used to funnel money back to those interests, of bid-rigging and kickbacks."
Mulroney and Schreiber question each other's truthfulness and credibility. In his testimony to the Canadian House of Commons Ethics Committee on December 13, 2007, Mulroney pointed out contradictory statements Schreiber has made over the years, including statements made under oath. Mulroney also stated that the work he had performed for his arms-trading business associate Schreiber was out-of-country, rather than lobbying his own Canadian government – such as lobbying the late President Boris Yeltsin that Russia buy arms yet to be made in Canada. Schreiber had been incarcerated in Canada following his 1999 arrest on a German warrant for tax evasion, and is currently (June 2008) free on bail. Mulroney did not declare the income or pay taxes on it until years later, when Schreiber had come under criminal investigation in Germany. Erik Nielsen, former Deputy Prime Minister for Mulroney, stated disbelief in Mulroney's account, and denied his credibility: "I think there was a phrase that attached to Brian years ago where he was known as Lyin' Brian, and for my own part, I believe that they're both in the same boat — Schreiber and Mulroney."
Canadian Prime Minister Stephen Harper had called a public inquiry in November 2007, and appointed future Governor General David Lloyd Johnston as a special adviser, to study the matter and prepare terms of reference for the inquiry. Johnston had once reported directly to Mulroney during his term as prime minister. Johnston reported to Harper on January 11, 2008 that he had found 16 significant questions which required further examination. Harper accepted the report, and stated that a limited public inquiry process would begin once the House of Commons Ethics Committee finished its work.
Schreiber lost his fight against extradition to Germany, where he is at the center of a political bribery scandal that helped bring down a government and damaged the legacy of former Chancellor Helmut Kohl. He appeared before the House of Commons Ethics Committee three times in late November and early December 2007, and again in February 2008, and will likely be called upon to testify at the future limited public inquiry. Mulroney appeared before the Ethics Committee on December 13, 2007. Six weeks later, his lawyers submitted a letter to Paul Szabo, the Ethics Committee chairman, indicating that their client would not appear again before the committee because of his "unfair" treatment on December 13. On February 26, 2008, two days before that scheduled appearance, CTV News reported that Mr. Mulroney's lawyer had reiterated Mulroney's refusal to reappear before the Committee.
After politics
Since leaving office, Mulroney has served as an international business consultant and remains a partner with the law firm Ogilvy Renault. He currently sits on the board of directors of multiple corporations, including Barrick Gold, Quebecor Inc., Archer Daniels Midland, TrizecHahn Corp. (Toronto), Cendant Corp. (New York), AOL Latin America, Inc. (New York) and Cognicase Inc. (Montreal). He is a senior counselor to Hicks, Muse, Tate & Furst, a global private equity fund in Dallas, chairman of Forbes Global (New York), and was a paid consultant and lobbyist for Karl-Heinz Schreiber beginning in 1993. He is also chairman of various international advisory boards and councils for many international companies, including Power Corp. (Montreal), Bombardier (Montreal), the China International Trust and Investment Corp. (Beijing), J.P. Morgan Chase and Co. (New York), Violy, Byorum and Partners (New York), VS&A Communications Partners (New York), Independent Newspapers (Dublin) and General Enterprise Management Services Limited (British Virgin Islands).
In 1998, Mulroney was accorded Canada's highest civilian honour when he was made a Companion of the Order of Canada.
In 2003, Mulroney received the Woodrow Wilson Award for Public Service from the Woodrow Wilson International Center for Scholars of the Smithsonian Institution at a ceremony in Montreal. The award was in recognition of his career in politics.
In January 2004, Mulroney delivered a keynote speech in Washington, D.C. celebrating the tenth anniversary of the North American Free Trade Agreement. In June 2004, Mulroney presented a eulogy for former U.S. President Ronald Reagan during the latter's state funeral. Mulroney and former British Prime Minister Margaret Thatcher were the first foreign dignitaries to eulogize at a funeral for an American president. Two years later, at the request of Prime Minister Stephen Harper, Mulroney traveled to Washington, DC along with Michael Wilson, Canada's ambassador to the United States, as Canada's representatives at the state funeral of former president Gerald Ford.
In February 2005, as part of a physical examination, a CT scan revealed two small lumps in one of Mulroney's lungs. In his youth, Mulroney had been a heavy smoker. His doctors performed a biopsy, which ruled out cancer. (His surgery is sometimes cited as an example of the dangers of unnecessary testing.) He recovered well enough to tape a speech for the Conservative Party of Canada's 2005 Policy Convention in Montreal in March, though he could not attend in person. He later developed pancreatitis and he remained in hospital for several weeks. It was not until April 19 that his son, Ben Mulroney, announced he was recovering and would soon be released.
On September 12, 2005, veteran writer and former Mulroney confidant Peter C. Newman released The Secret Mulroney Tapes: Unguarded Confessions of a Prime Minister. Based in large part on remarks from the former prime minister which Newman had taped with Mulroney's knowledge, the book set off national controversy. Newman had been given unfettered access to Mulroney for a thorough biography, and claims Mulroney did not honour an agreement to allow him access to confidential papers. After the falling out, Mulroney began work on his autobiography, without Newman's help. Mulroney himself has declared that he showed poor judgement in making such unguarded statements, but he says that he will have to live with it.
This led Mulroney to respond at the annual Press Gallery Dinner, which is noted for comedic moments, in Ottawa, October 22, 2005. The former Prime Minister appeared on tape and very formally acknowledged the various dignitaries and audience groups before delivering the shortest speech of the night: "Peter Newman: Go fuck yourself. Thank you ladies and gentlemen, and good night."
Thirteen years after leaving office, Mulroney was named the "greenest" Prime Minister in Canadian history by a 12-member panel at an event organized by Corporate Knights magazine.
In 2014, Mulroney became the chairman of Quebecor and defused tensions resulting from the continuing influence of former President and CEO Pierre Karl Péladeau.
Current political affiliation
Mulroney joined the Conservative Party of Canada following its creation in 2003 by the merger of the Progressive Conservatives and the Canadian Alliance. According to press reports his membership lapsed in 2006. In early 2009, Mulroney "called a high-ranking person in the party and asked that his name be removed from all party lists" due to his anger at the continued inquiry into his financial affairs, although he denies this claim.
Legacy
Mulroney's legacy is complicated and even emotional. Mulroney makes the case that his once-radical policies on the economy and free trade were not reversed by subsequent governments, and regards this as vindication. His Deputy Prime Minister Don Mazankowski said that his greatest accomplishment will be seen as, "Dragging Canada kicking and screaming into the 21st century." Mulroney's legacy in Canada is associated mostly with the 1988 Free Trade Agreement and the Goods and Services Tax (GST).
Although the Tories were re-elected in 1988 campaigning on free trade, they won with only 43% of the popular vote, compared to 52% of the vote which went to the Liberals and the New Democratic Party who campaigned mostly against the agreement. However, when the Liberals under Jean Chrétien came to office in 1993 promising to re-negotiate key parts of the agreement, they continued the deal with only slight changes, and signed the North American Free Trade Agreement which expanded the free trade area to include Mexico.
The visibility of the GST proved to be very unpopular. The GST was created to help eliminate the ever-growing deficit and to replace the hidden Manufacturer's sales tax, which Mulroney argued was hurting business. Mulroney's usage of a rare Constitutional clause to push the tax through, prices not falling very much with the MST removed, and the "in your face" nature of the tax infuriated politicians and the public. The succeeding Liberal government of Jean Chrétien campaigned in 1993 on a promise to eliminate the GST (as per the Red Book), but ultimately backed away from that promise. This prompted two of their members Sheila Copps and John Nunziata to resign or be expelled in protest. Mulroney's supporters argue that the GST helped the subsequent government eliminate the deficit, and that the visible nature of the tax kept politicians more accountable.
Mulroney's intense unpopularity at the time of his resignation led many Conservative politicians to distance themselves from him for some years. His government had flirted with 10 percent approval ratings in the early 1990s, when Mulroney's honesty and intentions were frequently questioned in the media, by Canadians in general and by his political colleagues. During the 1993 election, the Progressive Conservative Party was reduced to just two seats, which was seen as partially due to a backlash against Mulroney, as well as due to the fracturing of his "Grand Coalition".
Social conservatives found fault with Mulroney's government in a variety of areas. These include Mulroney's opposition to capital punishment and an attempted compromise on abortion. Fiscal conservatives likewise didn't appreciate his tax increases and his failure to curtail expansion of "big government" programs and political patronage.
In the 1993 election, nearly all of the Tories' Western support transferred into Reform, which replaced the PCs as the major right-wing force in Canada. The Tories only won two seats west of Quebec in the next decade and recovered only upon reunification the elements that had split from the party in the late 1980s. The Canadian right was not reunited until they merged with Reform's successor, the Canadian Alliance, in December 2003 to form the new Conservative Party of Canada. Mulroney played an influential role by supporting the merger at a time when former PC leaders Joe Clark, Jean Charest and Kim Campbell either opposed it or expressed ambivalence.
Military historians Norman Hillmer and J.L. Granatstein ranked Mulroney eighth among Canada's prime ministers in their 1999 book Prime Ministers: Ranking Canada's Leaders.
On March 31, 2009 it was reported by various news outlets that a Conservative official claimed Mulroney was no longer a member of the party. They claimed his membership expired in 2006 and was not renewed. Additionally, Mulroney allegedly "called a senior party official two months ago to ask that his name be pulled off all party lists and materials and that communications with him cease." However, a Mulroney confidante, speaking on condition of anonymity, called the party's claims preposterous. 'He's part of the history of this party, you can't rewrite history. If they're worried about branding, then shut the inquiry down. They're the ones who called the inquiry.' "
Memoir
Mulroney's Memoirs: 1939-1993 was released on September 10, 2007. Mulroney criticizes Trudeau for avoiding military service in World War II, and favourably references sources that describe the young Trudeau as holding anti-Semitic nationalist views and having an admiration for fascist dictators. Tom Axworthy, a prominent Liberal strategist, responded that Trudeau should be judged on his mature views. Historian and former MP and Trudeau biographer John English said "I don't think it does any good to do this kind of historical ransacking to try to destroy reputations".
An earlier book expressing Brian Mulroney's own opinions and aims, is Where I Stand (McClelland and Stewart, Toronto, 1983), which, on its front paperback cover, emblazons the words "The new Tory leader speaks out".
Honours
According to Canadian protocol, as a former Prime Minister, he is styled "The Right Honourable" for life.
Honorary degrees
Brian Mulroney has received several honorary degrees, including:
Order of Canada Citation
Brian Mulroney was appointed a Companion of the Order of Canada on May 6, 1998. His citation reads:
As the eighteenth Prime Minister of Canada, he led the country for nine consecutive years. His accomplishments include, among others, the signing of the Free Trade Agreement with the United States, the North American Free Trade Agreement with Mexico and the United States, and the Acid Rain Treaty. In other international activities, he assumed the leadership of the Commonwealth countries against apartheid in South Africa and was appointed Co-chair of the United Nations' World Summit for Children. Fiscal reform, important environmental initiatives and employment equity were also highlights of his political career.
Supreme Court appointments
Mulroney chose the following jurists to be appointed by the Governor General as Governor-General-in-Council/Governor-in-Council to be Puisne Justices of the
Supreme Court of Canada (and two subsequently were elevated to Chief Justice of Canada):
Gerard La Forest (January 16, 1985 – September 30, 1997)
Claire L'Heureux-Dubé (April 15, 1987 – July 1, 2002)
John Sopinka (May 24, 1988 – November 24, 1997)
Charles Gonthier (February 1, 1989 – August 1, 2003)
Peter Cory (February 1, 1989 – June 1, 1999)
Beverley McLachlin (March 30, 1989 – present, as Chief Justice since 7 January 2000)
Antonio Lamer (as Chief Justice, July 1, 1990 – January 6, 2000; appointed a Puisne Justice under Prime Minister Trudeau, March 28, 1980)
William Stevenson (September 17, 1990 – June 5, 1992)
Frank Iacobucci (January 7, 1991 – June 30, 2004)
John C. Major (November 13, 1992 – December 25, 2005)
References
Brian Mulroney Wikipedia
(Text) CC BY-SA