Preceded by

Rick Santorum




Preceded by

Barbara Hafer




Predecessor

Rick Santorum




Succeeded by

Robin Wiessmann




Office

Senator (D-PA) since 2007




Preceded by

Barbara Hafer




Parents

Robert P. Casey




Governor

Ed Rendell




Name

Bob Jr.









Governor

Tom Ridge Mark S. Schweiker Ed Rendell




Role

Member of the United States Senate




Children

Julia Casey, Elyse Casey, Marena Casey, Caroline Casey




Education

Columbus School of Law, College of the Holy Cross, Catholic University of America, Scranton Preparatory School




Similar People

Pat Toomey, Robert P Casey, Sherrod Brown, Ed Rendell, Robert Brady




Profiles




Twitter

Facebook

Google+

YouTube
Bob Casey, Jr. And Rick Santorum are planning to campaign throughout the day Tuesday in a Pennsylvan
Robert Patrick "Bob" Casey Jr. (born April 13, 1960) is an American attorney and politician, currently the senior United States Senator from Pennsylvania. He previously served as Pennsylvania Auditor General from 1997 to 2005 and as Pennsylvania Treasurer from 2005 to 2007.
Contents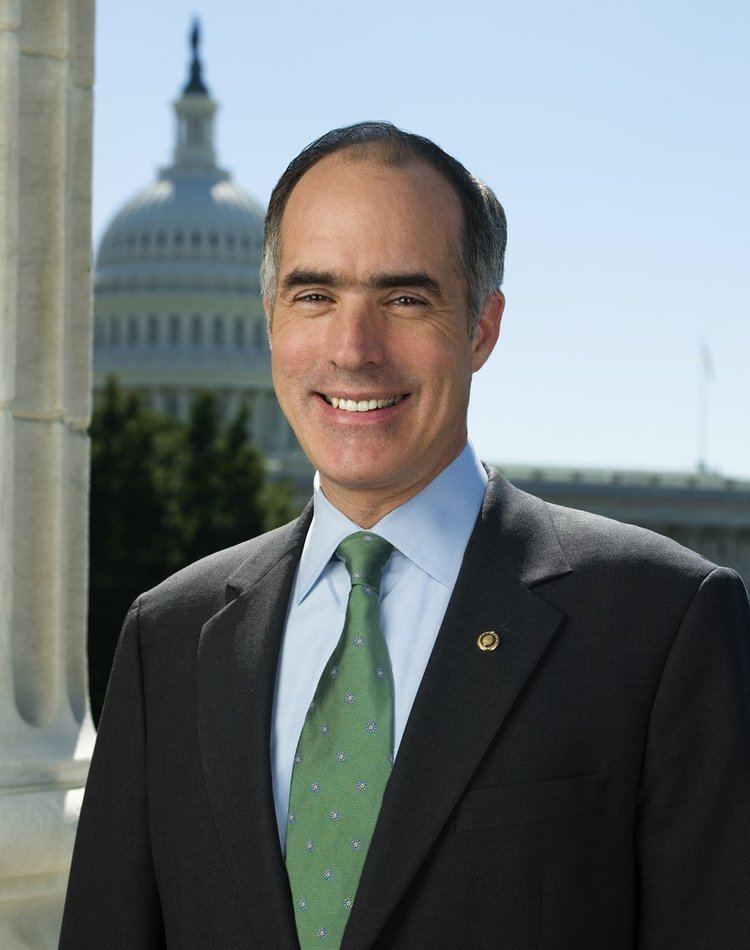 Born in Scranton, Pennsylvania, Casey is the son of Robert P. Casey, a former Governor of Pennsylvania. After graduating from Scranton Preparatory School in 1978, he attended the College of the Holy Cross. He received his law degree from the Columbus School of Law at The Catholic University of America. Casey practiced law in Scranton, Pennsylvania, before beginning his political career as Pennsylvania's Auditor General, a post to which he was elected to in 1996 and re-elected in 2000.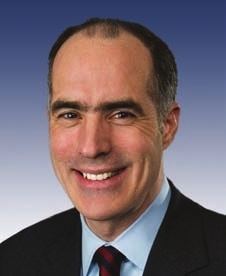 In the 2002 Pennsylvania gubernatorial election, Casey attempted to follow his father's footsteps in a run for Governor of Pennsylvania. He was defeated, however, in the Democratic primary by eventual general election victor Ed Rendell. After being term-limited out of his position as auditor general, Casey was elected state treasurer in the 2004 election.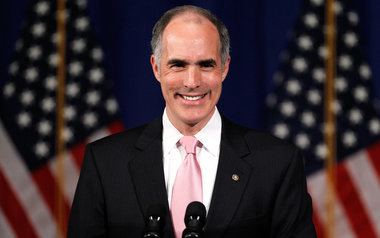 Casey defeated incumbent Republican U.S. Senator Rick Santorum in the 2006 election. He was re-elected in 2012 and is the first Democrat to be elected to a full term and the first to win re-election to the U.S. Senate from Pennsylvania since Joseph S. Clark Jr. in 1962.
Early life, education, and law career
Casey was born in Scranton, Pennsylvania, one of eight children of Ellen (née Harding) and Bob Casey, the 42nd governor of Pennsylvania. He is of Irish descent.
Casey played basketball and graduated from Scranton Preparatory School in 1978. Following in his father's footsteps, he graduated from the College of the Holy Cross in 1982, and received a Juris Doctor (J.D.) degree from the Columbus School of Law at The Catholic University of America in 1988. Between college and law school, Casey served as a member of the Jesuit Volunteer Corps, and spent a year teaching 5th grade and coaching basketball at the Gesu School in inner city Philadelphia, Pennsylvania.
Casey practiced law in Scranton from 1991 until 1996.
State Auditor General
Casey ran for and was elected Pennsylvania State Auditor General in 1996. He was re-elected in 2000, and served for two terms, from 1997 to 2005.
In a 2002 PoliticsPA feature story designating politicians with yearbook superlatives, he was named the "Most Likely to Succeed."
2002 gubernatorial election
Casey attempted to follow in his father's footsteps by running for Pennsylvania Governor. Casey faced former Philadelphia mayor Ed Rendell in the Democratic primary election. The Pennsylvania Democratic Party threw their support behind Casey, whom they saw as a more electable candidate than Rendell. In a bitter primary, Rendell won the nomination by winning only 10 out of 67 counties: Philadelphia and its suburbs: Bucks, Chester, Montgomery, and Delaware, its Lehigh Valley exurbs: Berks, Lehigh and Northampton, and Centre County, the home of Penn State University. Rendell went on to win the general election.
State Treasurer
In 2004, Casey, who was term limited in his auditor general position, ran for another statewide office. He was elected Pennsylvania State Treasurer on a platform advocating government accountability.
Elections
2006
In 2005, Casey received calls from U.S. Senator Chuck Schumer (D-NY), the chair of the Democratic Senatorial Campaign Committee, as well as Senator Harry Reid (D-NV), the Senate Minority Leader. Both men asked him to run for U.S. Senate in 2006 against Republican incumbent Rick Santorum. On March 5, 2005, Casey announced he would seek the Democratic nomination for the Senate race. Casey's run for the Senate was his fifth statewide campaign in nine years.
After he announced that he would run, Casey was almost immediately endorsed by Governor Ed Rendell, his primary election opponent from 2002. He was endorsed by two Democrats who had been mentioned as possible U.S. Senate nominees: former Congressman Joe Hoeffel who ran against Pennsylvania's other Senator, Arlen Specter, in 2004, and former State Treasurer Barbara Hafer, whom many in the pro-choice movement attempted to convince to run against Casey in the Democratic primary.
In the Democratic primary, Casey faced two Democrats with more liberal viewpoints: college professor Chuck Pennacchio and pension lawyer Alan Sandals. Both argued that Casey's views on abortion and other social issues were too conservative for most Pennsylvania Democrats. However, Casey easily defeated both challengers in the May 16 primary, receiving 85% of the vote.
On election night, Casey won the race with 59% of the vote, compared to 41% for incumbent Senator Rick Santorum. Casey's margin of victory was the highest ever for a Democrat running for the United States Senate in Pennsylvania. Casey's 17.4-point victory margin was the largest victory margin for a challenger to an incumbent Senator since James Abdnor unseated George McGovern by 18.8 points in 1980.
2012
Casey was up for re-election in 2012, and stated his intention to seek re-election in late 2010. His re-election prospects were uncertain. Observers noted that as the election approached, Casey, an early supporter of Obama, has "started to oppose the president outright or developed more nuanced responses to events that differentiate him from Mr. Obama. Analysts say Mr. Casey wants to put some distance between himself and a president whose job approval ratings in Pennsylvania are poor." In October 2011, the National Journal noted that "the Scranton area is hugely important for 2012" for both Obama and Casey, but "the city has among the worst unemployment in the state, and it's filled with the blue-collar Dems who weren't very enthusiastic about Obama when he first ran for president. How Casey navigates his relationship with the president will speak volumes about his re-election prospects." In December 2011, it was reported that the AFL–CIO would be spending "over $170,000" on pro-Casey TV ads.
Casey easily defeated challenger Joseph Vodvarka in the spring Democratic primary, and faced former coal company owner and Republican nominee Tom Smith in the fall general election. He defeated Smith on November 6, 2012, to win a second term, making him the first Democrat elected to a second term in the Senate from Pennsylvania since Joe Clark's 1962 victory.
Tenure
On March 28, 2008 Casey announced his endorsement of frontrunning candidate Senator Barack Obama in the Democratic Party presidential primary. The Pennsylvania Report said that he "struck gold" by endorsing Obama early in the 2008 Democratic presidential primary, a move that gave him "inside access to the halls of the White House.". Casey campaigned across Pennsylvania in support of Obama's candidacy in the months leading up to the primary in that state; they bowled together at Pleasant Valley Lanes in Altoona, Pennsylvania.
PIPA
Casey was among 41 Senators who co-sponsored S.968, the Preventing Real Online Threats to Economic Creativity and Theft of Intellectual Property (PROTECT IP) Act.
Health care reform
Casey supported President Barack Obama's health reform legislation; he voted for the Patient Protection and Affordable Care Act in December 2009, and he voted for the Health Care and Education Reconciliation Act of 2010.
Bob Casey won a 2012 Champion for Children Award from First Focus in honor of his commitment to improving the lives of children.
On September 27, 2013, Casey introduced the Children's Hospital GME Support Reauthorization Act of 2013 (S. 1557; 113th Congress) into the Senate. This bill would reauthorize a program that provides funding to children's hospitals in the United States to help with the training of graduate medical students.
On March 25, 2014, Casey introduced the Emergency Medical Services for Children Reauthorization Act of 2014 (S. 2154; 113th Congress) into the Senate. The bill that would amend the Public Health Service Act to reauthorize the Emergency Medical Services for Children Program through FY2019. The bill would authorize appropriations of about $20 million in 2015 and $101 million over the 2015-2019 period. Casey argued that "this low-cost program has saved the lives of countless children and adolescents in the past 30 years, and I urge my colleagues to support this critically important program."
Immigration laws
Casey supported the Secure Borders, Economic Opportunity and Immigration Reform Act of 2007 (S. 1348), a bill voted down in the 110th United States Congress, which could have provided a path to legal citizenship for undocumented persons currently residing in the United States. He has also supported the Clinton amendment, the Menendez amendment, and the Alaska amendments.
During the 2006 Senate race, Casey also expressed support for the Comprehensive Immigration Reform Act of 2006, saying this: "if I were in the United States Senate I would vote yes."
Abortion
Casey, like his father, is pro-life. He has publicly stated his support for overturning Roe v. Wade. From Casey's election until Specter's party switch in April 2009, Pennsylvania had the distinction of being represented in the Senate by a pro-life Democrat and a pro-choice Republican (Arlen Specter).
He supports the Pregnant Women Support Act, legislation that grew out of Democrats for Life of America's 95 -10 Initiative. The Initiative and the Pregnant Women Support Act seek to reduce the abortion rate by providing support to women in unplanned pregnancies. He expressed support for the confirmation of both John Roberts and Samuel Alito for seats on the Supreme Court of the United States; these judges are believed to be in favor of overturning Roe v. Wade. Casey also opposes the funding of embryonic stem-cell research.
Casey voted against barring HHS grants to organizations that provide abortion services, where such services may often not be central to the organization's chief purpose. Casey also supports over-the-counter sale of emergency contraception, and has voted to overturn the Mexico City Policy, which bars overseas organizations from using federal funds to perform or promote abortions as a method of family planning. Casey's vote for overturning that policy has prompted some pro-life Republicans to question his pro-life commitment.
In January 2010 during the Healthcare debates, Senator Bob Casey was heckled for his handling of the abortion provisions in the healthcare bill and for not taking a hard-line, uncompromising pro-life stance. Casey was the primary sponsor of an amendment to prevent government funds from being used for abortion services, but when he tried to organize a compromise that appealed to both Democrats and the party's lone holdout, Sen. Ben Nelson, he angered some religious groups.
In 2011, Casey was rated by NARAL Pro-Choice America as "anti-choice" and was not endorsed in their election guide. That year, he voted against defunding Planned Parenthood, against H.R.1 and for cloture for the nomination of Goodwin Liu, earning him a 100% rating for those three votes.
LGBT equality
Casey was a co-sponsor of and voted for the Don't Ask, Don't Tell Repeal Act of 2010.
Casey was a co-sponsor of and voted for the Matthew Shepard Hate Crimes Prevention Act.
Casey is a co-sponsor of S. 1584 (Employment Non-Discrimination Act).
Casey has been a longtime supporter of civil unions and as of April 2013, he announced his support of same-sex marriage.
Casey on several occasions supported same sex partners adopting children, and specifically expressed his opposition to legislation that would prohibit adoption by same-sex couples.
Birth control
In an diocesan survey, Casey expressed support for "requiring employers or health insurance plans to cover contraceptives in their prescription drug plans". He also stated his support for "a provision in the state's budget to fund contraceptive services." Casey's views on this extend to the federal funding of contraception, which he also supports. However, Casey also opposes laws that would "force pharmacists to fill a prescription contrary to their moral beliefs."
Economic
On economic and education-based issues, Casey falls more closely in line with mainstream Democratic policies.
Casey's website reports he has also criticized what he views as "draconian cuts to Medicare and Medicaid," and has stated that Medicare Part D is "fundamentally flawed" and in need of a "complete overhaul." Furthermore, it states Casey's support for the Family and Medical Leave Expansion Act, which would expand the Family and Medical Leave Act, authored in the early 1990s by Connecticut Senator Chris Dodd, to companies with at least 25 employees.
Casey is an opponent of privatizing Social Security, and is a critic of many recent tax cuts, which he claims have "not caused the 'trickle-down' economic growth" that was promised from them. Casey had also criticized Santorum for voting against increasing the minimum wage.
Casey voted in January 2010 to re-confirm Federal Reserve Chairman Ben Bernanke.
Education
According to the candidates' questionnaire, Casey opposes school vouchers.
Environment
Casey opposes drilling for oil in the Arctic National Wildlife Refuge. Instead, he supports increased federal investment in hybrid and alternative fuel technology to help wean the United States off of foreign oil. In a debate, Casey criticized his Republican opponent Rick Santorum for not recognizing the danger of global warming. He also supports increased funding for Brownfield cleanup, as well as a reinstatement of the polluter-pays principle for the Superfund program.
Judicial nominees
Casey voted for the confirmation of both Sonia Sotomayor and Elena Kagan to the Supreme Court of the United States.
Gun laws
Casey is generally considered a pro-gun rights senator and a strong supporter of the Second Amendment, voting against restriction of the amendment in 2012. In 2009, Casey voted to allow firearms in checked baggage on trains, and he has also voted against bills that would restrict gun ownership; in 2013 he voted to ban high-capacity magazines carrying over 10 rounds. On April 17, 2013, Casey voted in favor of the Public Safety and Second Amendment Rights Protection Act to amend the background check process and require a background check for firearms transfers made at gun shows or on the internet. His fellow Pennsylvania Senator Pat Toomey was a cosponsor in creating the bill.
Committee assignments
Committee on Agriculture, Nutrition, and Forestry
Subcommittee on Jobs, Rural Economic Growth and Energy Innovation
Subcommittee on Nutrition, Specialty Crops, Food and Agricultural Research
Subcommittee on Livestock, Dairy, Poultry, Marketing and Agriculture Security
Committee on Finance
Subcommittee on Health Care
Subcommittee on Taxation and IRS Oversight (Ranking Member)
Subcommittee on Fiscal Responsibility and Economic Growth
Committee on Health, Education, Labor, and Pensions
Subcommittee on Children and Families
Subcommittee on Employment and Workplace Safety
Special Committee on Aging (Ranking Member, 115th Congress)
Joint Economic Committee
Personal life
Casey and his wife Terese were married in 1985, and they have four daughters: Elyse, Caroline, Julia and Marena.
References
Bob Casey Jr. Wikipedia
(Text) CC BY-SA