Length

13 m




Unit cost

9,000,000–9,000,000 USD




Number of seats

13




Introduced

1981




Manufacturer

Bell Helicopter






Engine type

Pratt & Whitney Canada PT6T
The Bell 412 is a twin-engine utility helicopter of the Huey family manufactured by Bell Helicopter. It is a development of the Bell 212, with the major difference being the composite four-blade main rotor.
Contents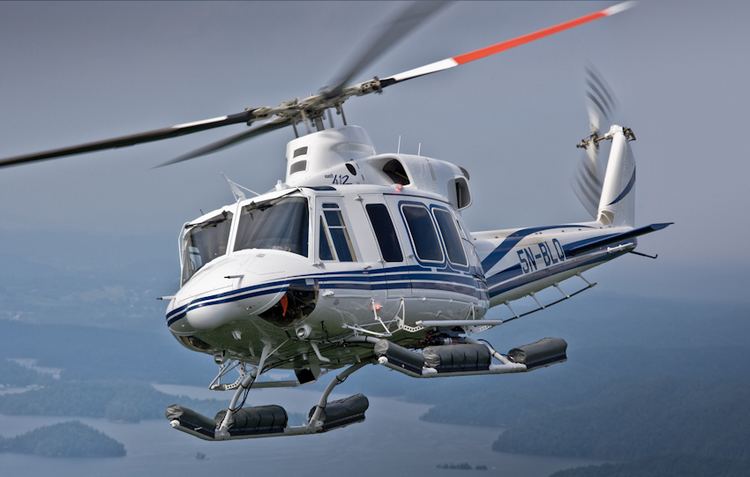 Bell 412ep air ambulance helicopter
Design and development
Development began in the late 1970s with two Bell 212s being converted into 412 prototypes. An advanced four-blade main rotor with a smaller diameter replaced the 212's two-blade rotor. A Bell 412 prototype first flew in August 1979. The initial model was certified in January 1981 with deliveries commencing in the same month.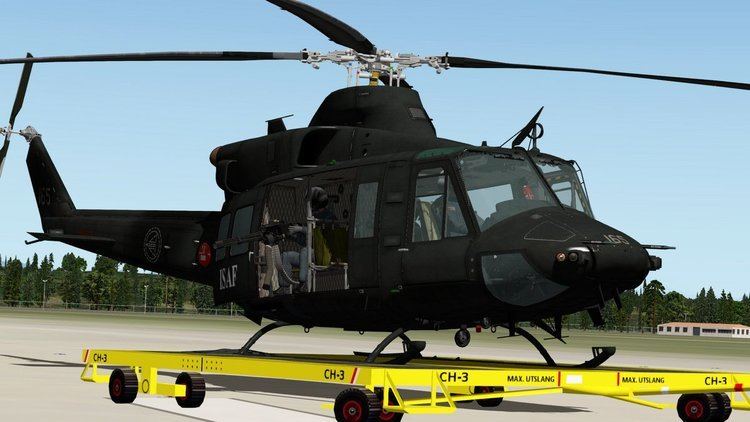 The 412 model was followed by the 412SP (Special Performance) version featuring larger fuel capacity, higher takeoff weight and optional seating arrangements. In 1991, the 412HP (High Performance) variant with improved transmission replaced the SP version in production. The current production version, 412EP (Enhanced Performance), is equipped with a dual digital automatic flight control system. In 2013 Bell introduced the 412EPI which includes an electronic engine control (FADEC) for a PT6T-9 engine upgrade, and a glass cockpit display system similar to the Bell model 429. Also featured is a Garmin touchscreen navigation system, and the BLR Strake and Fast Fin upgrades for improved hover performance.
Over 700 Model 412s (including 260 by AgustaWestland) have been built.
Variants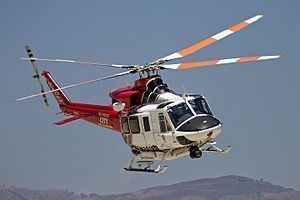 Bell 412
Standard Model with P&WC PT6T-3B
Bell 412SP
Special Performance version with P&WC PT6T-3BF engines
Bell 412HP
High performance version with P&WC PT6T-3BG or -3D engines
Bell 412EP
Enhanced performance version with P&WC PT6T-3DF engines
Bell 412EPI
Glass cockpit version with P&WC PT6T-9 electronic controlled engines
Bell 412CF (CH-146 Griffon)
100 custom-built utility transport helicopters for the Canadian Forces, based on 412EP and designated by Bell as 412CF
Bell Griffin HT1
Advanced training helicopter based on the Bell 412EP, operated by the Royal Air Force (RAF) since 1997 as an advanced flying trainer. Operated by the Defence Helicopter Flying School at RAF Shawbury and the Search and Rescue Training Unit at RAF Valley.
Bell Griffin HAR2
Search and Rescue helicopter based on the Bell 412EP, operated by No. 84 Squadron RAF since 2003 at RAF Akrotiri in Cyprus.
Agusta-Bell AB 412
Civil utility transport version, built under license in Italy by Agusta.
Agusta-Bell AB 412EP
Italian-built version of the Bell 412EP.
Agusta-Bell AB 412 Grifone
Military utility transport version, built under licence in Italy by Agusta.
Agusta-Bell AB 412 CRESO
Italian-built version, fitted with a ground surveillance radar.
NBell 412
IPTN's licensed product of Bell 412
Panha 412EP
Iranian domestically reverse-engineered version of AB 412EP, which has been in use with Iranian military. 4 of these variant were introduced at October 8, 2016 by Red Crescent of Iran.
Operators
The Bell 412 is used by private and commercial operators. It is particularly popular in the oil industries, military and for law enforcement use.
Military operators
Algeria
Algerian Air Force
Argentina
Argentine Air Force
Botswana
Botswana Defence Force
Cameroon
Cameroon Air Force
Canada
Royal Canadian Air Force
Chile
Chilean Air Force
Colombia
Colombian Navy
Dominican Republic
Dominican Air Force (2 on order)
El Salvador
Air Force of El Salvador
Eritrea
Eritrean Air Force
Ghana
Ghana Air Force
Guatemala
Guatemalan Air Force
Guyana
Guyana Defence Force
Honduras
Honduran Air Force
Indonesia
Indonesian Army
Indonesian Navy
Italy
Italian Army
Jamaica
Jamaica Defence Force
Lesotho
Lesotho Defence Force
Mexico
Mexican Air Force
Netherlands
Royal Netherlands Air Force
Nigeria
Nigerian Air Force — two seized by Nigerian Customs Service handed over to Nigerian Air Force
Norway
Royal Norwegian Air Force
Pakistan
Pakistan Air Force
Pakistan Army
Panama
Panamanian Public Forces
Peru
Peruvian Air Force
Peruvian Navy
Philippines
Philippine Air Force
Saudi Arabia
Royal Saudi Air Force
Slovenia
Slovenian Air Force
South Korea
South Korean Air Force
Coast Guard
Sri Lanka
Sri Lanka Air Force
Thailand
Royal Thai Air Force
Royal Thai Police
Turkey
Turkish Coast Guard
United Arab Emirates
United Arab Emirates Air Force
United Kingdom
Royal Air Force
Venezuela
Venezuelan Army
Venezuelan Navy
Zimbabwe
Air Force of Zimbabwe
Governmental operators
Australia
Australian Helicopters,
Department of Fire and Emergency Services
Emergency Management Queensland
New South Wales Police Force
Brazil
Federal Police
Canada
Surete du Quebec
National Research Council Canada
Canadian Coast Guard
Czech Republic
Police of the Czech Republic
Finland
Finnish Border Guard
Italy
Carabinieri
Guardia di Finanza
State Forestry Corps
Japan
Japan Ground Self-Defense Force (future user)
Japan Coast Guard
Tokyo Metropolitan Police Department
Slovenia
Slovenian National Police
United States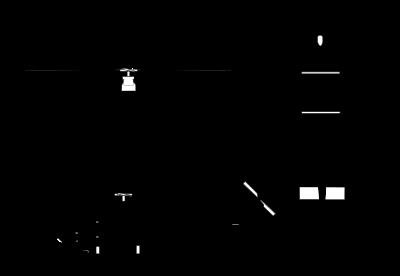 Chicago Fire Department
Delaware State Police
Los Angeles City Fire Department
Los Angeles County Fire Department
Miami-Dade County Fire Department
New York City Police Department
Orange County Fire Authority
San Diego Fire Department
United States Park Police
Incidents and accidents
On April 4, 1991, a Bell 412 collided with a small plane carrying United States Senator H. John Heinz III, which killed the senator.
On December 10, 2006, a Bell 412 medical helicopter Mercy Air 2 crashed in mountainous terrain near Hesperia, California. All three crew members on board died.
On February 6, 2008, a Bell 412 crashed due to a malfunction, killing Major General Javed Sultan, the commanding officer for Kohat garrison, along with two brigadiers and five other military personnel in South Waziristan Agency, Pakistan.
On April 7, 2009, a Bell 412EP presidential helicopter operated by the Philippine Air Force crashed in bad weather on the slopes of Mount Pulag in Tinoc, Ifugao on a flight from Loakan Airport to Lagawe. All eight on board the helicopter died, including four key aides of President Gloria Macapagal-Arroyo.
On November 22, 2010, a Bell 412 belonging to the Cameroon defense forces crashed en route from Douala to the country's capital Yaounde. According to government sources, the aircraft had three crew and two passengers.
On February 6, 2014, a Bell 412 of Panama Public Forces SENAN, crash on Mamsucum, Guna Yala Indian Reserve, killing Lieutenant Agustín Santos and injuring eight others, including SENAN Executive Director Belsio González. Witnesses reported a dense fog with reduced visibility in the area. The aircraft was undertaking anti-drug operations against drug lords and was in pursuit of a high speed boat when it crashed in the jungle.
On April 13, 2014, an Augusta-Bell 412 military helicopter slammed into a hangar and crashed as it took off at Julius Nyerere International Airport, in Dar es Salaam, Tanzania. Occupants including Tanzanian Vice President Mohamed Gharib Bilal and other top government officials narrowly survived the crash.
On March 20, 2016, a Bell 412EP crashed in Poso district (Indonesia) while flying in adverse weather conditions. The helicopter was on a mission to capture the country's most wanted militant when it crashed and burst into flames. The helicopter was carrying 13 soldiers and crew when it went down about 35 minutes after taking off from Poso district's Watutau village, said Maj. Gen. Agus Surya Bakti, the regional military chief overseeing South and Central Sulawesi provinces. All 13 people on board died.
On August 9, 2016, a Griffin HT-1 of the Defence Helicopter Flying School of the Royal Air Force caught fire after making an emergency landing on top of Yr Aran, Wales following a technical problem. All four crew exited safely.
Specifications (412EP)
Data from International Directory of Civil Aircraft, Bell 412EP Product Specifications
General characteristics
Crew: one-two pilots
Capacity: up to 13 passengers, maximum external load of almost 6,614 lb (3,000 kg)
Length: 56 ft 1 in (17.1 m)
Rotor diameter: 46 ft (14.0 m)
Height: 15 ft (4.6 m)
Disc area: 1,662 ft² (154.4 m²)
Empty weight: 6,789 lb (3,079 kg)
Max. takeoff weight: 11,900 lb (5,397 kg)
Fuselage length: 43 ft (13.1 m)
Powerplant: 1 × Pratt & Whitney Canada PT6T-3D or PT6T-3DF Twin-Pac turboshafts, 1,250 shp (932 kW), 900 shp (671 kW) for each power section
Performance
Maximum speed: 140 knots (161 mph, 259 km/h)
Cruise speed: 122 knots (140 mph, 226 km/h)
Range: 609 mi (up to 980km)
Service ceiling: 20,000 ft (6,096 m)
Rate of climb: 1,350 ft/min (6.86 m/s)
Power/mass: 0.2663 hp/lb (437 W/kg)
References
Bell 412 Wikipedia
(Text) CC BY-SA