Commander-in-Chief and President of Botswana

Ian Khama




Active personnel

9,000




Budget

467 million USD




Founded

1977




Minister of Defence, Justice and Security

Shaw Kgathi




Percent of GDP

3.24%




Commander in chief

Ian Khama




Headquarters

Gaborone





Chief of Defence

Lieutenant General Placid Segokgo




History

Military history of Botswana


Ranks

Botswana military ranks and insignia


Service branches

Botswana Defence Force Air Wing, Botswana Ground Force


Similar

Zambian Defence Force, Namibian Defence Force, Eritrean Defence Forces, Benin Armed Forces, Malawian Defence Force
The Botswana Defence Force (BDF) is the military of Botswana. It was formed in 1977. The commander in chief is the President of Botswana.
Contents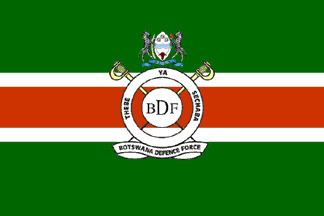 History
At independence in 1966, Botswana made a conscious decision to not establish a standing military and focus instead on development and poverty alleviation, and instead created a small military police force for security. However, cross border incursions by Rhodesian and South African security forces in the mid-1970s led the government to conclude that the country needed a military to protect its sovereignty. The BDF was established in 1977. Following political changes in South Africa and the region, the BDF's missions have increasingly focused on anti-poaching activities, disaster-preparedness and response (including search and rescue), support to civil authorities and foreign peacekeeping. The United States has been the largest single contributor to the development of the BDF, and a large segment of its officer corps has received U.S. training. A well respected and trusted institution by the political leadership, the BDF has seen its role increase over time to include non-traditional missions such as disaster response and reinforcement of the police during the holiday season and high crime periods. The BDF's professionalism and ability to successfully accomplish any task the government gives it has, at times, resulted in over tasking in support to civil authorities. In 2015 the BDF recruited its first female privates.
Organisation
Botswana Defence Force consists of three separate service components each of which is commanded by a major general: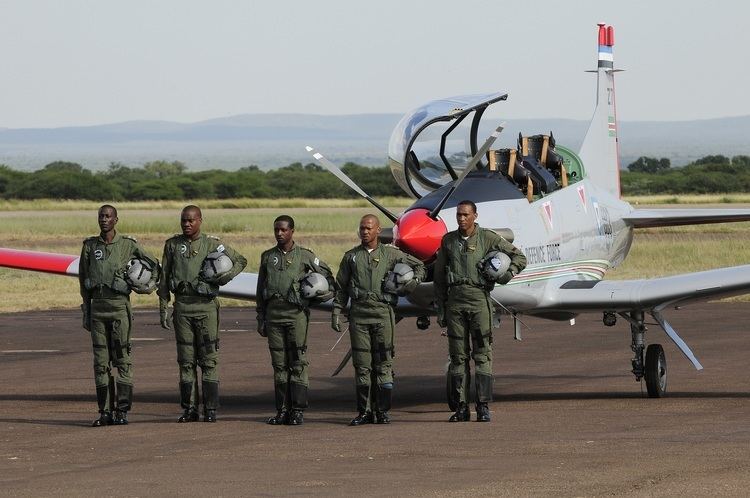 Ground Forces Command (HQ at Glenn Valley near Gaborone),
Air Arm (HQ at Thebephatswe Air Base) and
Defence Logistics Command (HQ at Sir Seretse Khama Barracks (SSKB) in Gaborone).
The BDF Command and Staff College is located at Glenn Valley.
The BDF ground forces consists of the following units: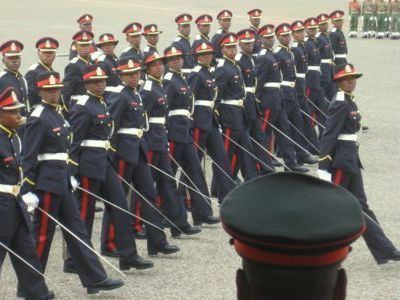 1 Armoured brigade
2 Infantry brigades (one armoured reconnaissance regiment, four infantry battalions, one commando unit, two air defence artillery regiments, one engineer regiment and one logistics battalion.)
1 Artillery brigade
1 Air Defence brigade
1 Engineering company
1 Signals company
Equipment
The army's doctrine is to maintain a small tactical, capable and trained force capable of defending itself, and also for rapid deployment anywhere in the continent.
The standard infantry rifle is the Kalashnikov AKM/AK-47. Some units are equipped with 5.56mm selective-fire rifles including the 5.56mm US M-4, M16A2 and M16A4, the British Sterling Armament AR-18 and Sterling L-82A-2/SA-80, and the Israeli IMI Galil ARM. Some reserve and police units utilize the Belgian FN FAL 7.62mm rifle. Machine guns include the Bren 0.303 MK-IIMK-III 0.303 L-4A4 LMG, the 5.56mm FN Minimi and 7.62mm FN MAG LMG, the ex-Soviet PKT HMG (for GAZ BTR-60PB APCs), the SG-43 MMG, the MG-74 (ex. MG-4259) MMG for the SK-105A-1 Kurassier LT, the US 7.62mm M1919A4 MMG, and the .50BMG M2 Browning HMG. The Botswana LDF are equipped with a variety of armoured cars, of which the Israeli-built AIL M325 Command Car served from the mid-1970s to present. They are currently being phased out in favour of the French ACMAT.
Military education and training
U.S. International Military Education and Training funds from the USA remain important to Botswana's officer training programme. Over 50 Botswana officers receive military training in the US each year; by 1999 approximately 85% of the BDF officers are said to have been trained through this arrangement.
BDF Air Wing
The Air Wing comprises an estimated 500 trained personnel.
Thebephatshwa/Molepolole – FBTP
Z.1 Air Transport squad
Z.7 Training squad
Z.10 Air Transport squad
Z.21 Helicopter squad
Z.23 Helicopter squad
Z.28 FGA squad
Gaborone Sir Seretse Khama international airport – FBSK
VIP Flight
Francistown – FBFT
Z.3 Air Transport squad
Z.12 Air Transport squad
Z.18 FGA squad
Domestic operations
1995 – BDF undertook rescue missions during floods that hit major parts of the country.
1996 – BDF deployed soldiers and equipment at Sua Pan in 'Operation Save Sua' to save the berm wall of Botswana Ash (Botash) plant, which was being threatened by heavy floods. The soldiers laid 90,000 sandbags and 12,000 tires in the operation.
2006 – In the floods that hit Ramotswa and its surrounding areas in February 2006, BDF teams carried out rescue missions and saved hundreds of lives.
2009– BDF provided assistance during the flooding that affected a large community around the Kasane area.
International cooperation
In 1992 and 1993, a BDF contingent participated in Operation Restore Hope, a United States led coalition of forces to restore peace in Somalia. From 1993 to 1994, a team of BDF officers participated in a UN peacekeeping mission in Rwanda as observers. Those same years, BDF troops participated in ONUMOZ, the UN peacekeeping operation in Mozambique.
The BDF also participated in Operation Boleas, a SADC military intervention in Lesotho in 1998. This operation culminated in a re-training programme for Lesotho Defence Force members. From 1998–99, 380 BDF soldiers formed part of a Southern African Development Community (SADC) task force to quell an internal uprising in Lesotho. Botswana withdrew its contingent when the situation was thought to be stable enough to no longer require their presence.
The BDF has also been successfully deployed as part of the UN peacekeeping operations in both Somalia and the Darfur region of Sudan.
BDF has been conducting operational exercises with Defence Forces of neighbouring countries and other friendly forces. "Exercise Thokgamo" was one such exercise conducted in June 2005 in which SADC member states participated. Currently, the BDF has its personnel serving on an African Union Liaison Mission in Ethiopia/Eritrea and has military observers in Darfur, Sudan with UNAMID.
References
Botswana Defence Force Wikipedia
(Text) CC BY-SA