Abbreviation

JCG




Employees

12,671




Preceding agency

Maritime Safety Agency




National agency (Operations jurisdiction)

Japan






Formed

1948 (As Maritime Safety Agency) April 2000 (As Japan Coast Guard)




Legal personality

Governmental: Government agency
Japan coast guard vessels
The Japan Coast Guard (海上保安庁, Kaijō Hoan-chō), formerly the Maritime Safety Agency, is the Japanese coast guard. Comprising about 12,000 personnel, it is under the oversight of the Ministry of Land, Infrastructure, Transport and Tourism, and is responsible for the protection of the coastline of Japan. It was founded in 1948.
Contents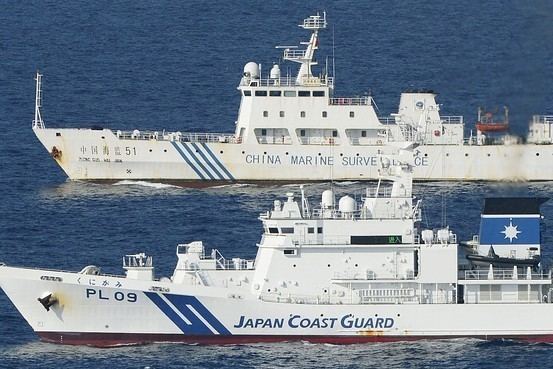 Visit to japan coast guard jcg 10 27 2016
Overview
The duty of the JCG is to ensure security and safety at sea.This provided through the following services:
Maritime patrol – patrols Japan's territorial seas and Exclusive Economic Zone (EEZ) of (12–200 nautical miles out from the shore which is approximately 4,470,000 km2).
Countermeasures against Smuggling and Illegal Immigration
Countermeasures against Piracy (Regional Cooperation Agreement on Combating Piracy and Armed Robbery against Ships in Asia-ReCAAP)
Counter Terrorism
Security against Maritime Conflict – includes the Special Guard Team
Surveillance of Illegal Operations by Foreign Fishing Vessels
Countermeasures against Suspicious Vessels and/or Spy Ships
Dealing with Unlawful Acts by Foreign Oceanographic Research Vessels
Patrolling and Guarding the Waters near the disputed Senkaku Islands, Takeshima, and the Northern Territories
Search and rescue
Hydrographic and oceanographic surveying
Maritime traffic management
National Headquarters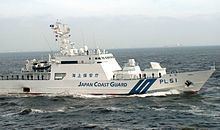 The Japan Coast Guard is led by a Commandant and two Vice Commandants. Lower ranking officers include the director general, directors and inspector generals.
Organization (as of April 1, 2009)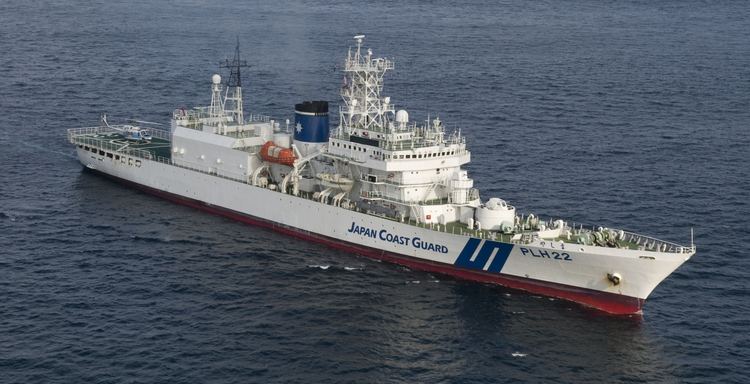 Commandant
Vice Commandant
Vice Commandant for Operations
Administrative Inspector General
Administration Department
Coast Guard Research Center
Equipment and Technology Department
Guard and Rescue Department
Hydrographic and Oceanographic Department
Maritime Traffic Department
Coast Guard Academy (Kure)
Coast Guard School (Maizuru)
Moji Branch school (Kitakyushu)
Miyagi Branch school (Iwanuma)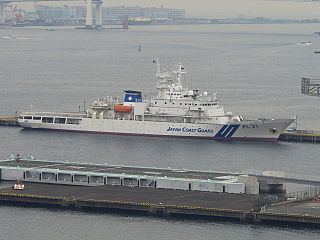 The Japan Coast Guard Academy is a 4-year-training institution, located in Kure, Hiroshima prefecture, established within the Coast Guard for the purpose of training students to become officers. Graduates are given a bachelor's degree upon graduation. About 40 cadets graduate from the academy each year.
The JCG maintains two special forces units:
the Special Security Team (SST) (

特殊警備隊

,

Tokushu Keibi Tai) and
the Special Rescue Team (SRT) (

特殊救難隊

,

Tokushu Kyūnan Tai).
History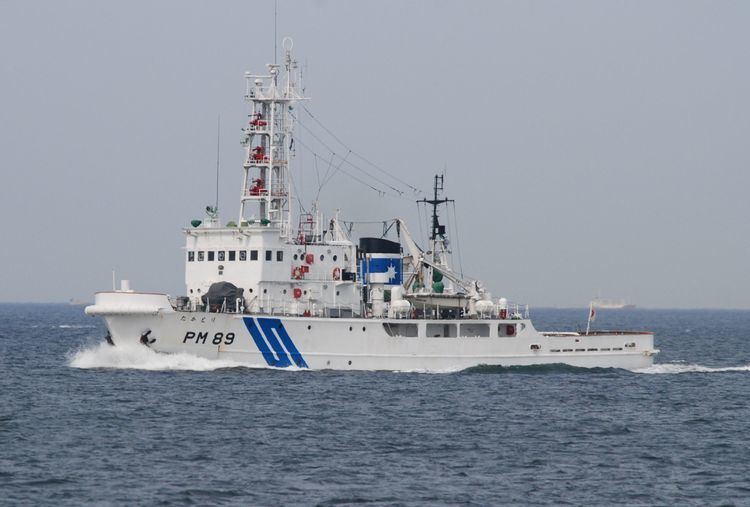 Founded in 1948 as the Maritime Safety Agency of Japan, its English name was changed to Japan Coast Guard in April 2000. In 1950, the Maritime Safety Agency sent minesweepers to the Korean Peninsula under the United Nations flag during the Korean War.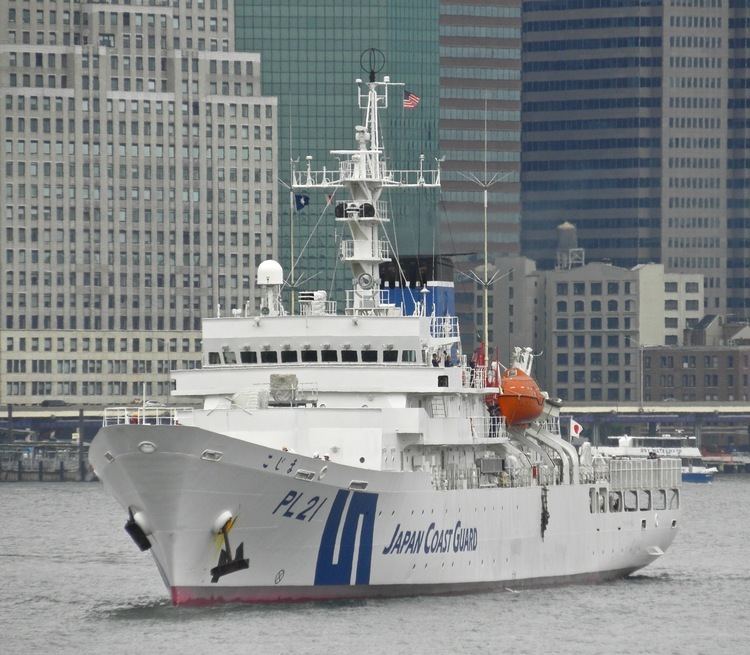 On December 22, 2001, JCG ships intercepted a Chinese-flagged vessel believed to be North Korean in origin, in the Japanese Exclusive Economic Zone between Kyushu and China. When the vessel failed to respond, she was fired upon by the JCG and an exchange of gunfire resulted. The unidentified vessel sank in the Chinese EEZ with all hands. The ship, later salvaged by the JCG, was found to be carrying weapons and spy equipment. The wreck and its contents were put on display at the Japanese Coast Guard Museum at Yokohama.
During the Liancourt Rocks dispute in April 2006, Youngest Members of Japan Coast Guard prepared for the worst and push ahead the research of around the Liancourt Rocks. Japanese Authorities fall in a state of great agitation this situation and call this incident as "a Coup d'état launched by the Japan Coast Guard(海保のクーデター)". Ministry of Foreign Affairs sent hastily a permanent secretary to Seoul, and Japanese Minister of Defense was in the Unite States at that moment. the Research Plan was Reported already to the Prime Minister's house. but at the moment, Prime Minister Junichiro Koizumi and Chief Cabinet Secretary Shinzō Abe was queer for the Chiba by-election. so they did not expect the Youngest Members of Japan Coast Guard has been out of control. one of Government Official report the intel about Japan Coast Guards' Research Plan to Former Prime Minister Yasuhiro Nakasone and president of the Democratic Party of Japan Ichirō Ozawa. the Government Official said "the Research of Area of the Liancourt Rocks was Planned by the Youngest Members of JCG. if Research Vessel captured by Koreaan authorities, they can claiming South Korea taken Liancourt Rocks Illegally. this is the JCG's Frenzy to the Japanese authorities whose acting passive in the Liancourt Issue for the relationship between South Korea. the success rate for diplomatic settlement of disputes Unclear, so We must consider all possible contingencies."
Operational regions
Headquartered in Tokyo, the JCG has divided the nation into eleven regions to facilitate its coast guard operations. Each region maintains a Regional Coast Guard Headquarters, under which there are various Coast Guard Offices, Coast Guard Stations, Air Stations, Hydrographic Observatory, and Traffic Advisory Service Centers.
1st Regional Coast Guard Headquarters: Otaru, Hokkaidō (claim to include southern Kuril islands but never conduct cruise operations under Soviet Union's/Russian presence)
2nd Regional Coast Guard Headquarters: Shiogama, Miyagi
3rd Regional Coast Guard Headquarters: Yokohama
4th Regional Coast Guard Headquarters: Nagoya
5th Regional Coast Guard Headquarters: Kobe
6th Regional Coast Guard Headquarters: Hiroshima
7th Regional Coast Guard Headquarters: Kitakyūshū
8th Regional Coast Guard Headquarters: Maizuru, Kyoto
9th Regional Coast Guard Headquarters: Niigata, Niigata
10th Regional Coast Guard Headquarters: Kagoshima
11th Regional Coast Guard Headquarters: Naha, Okinawa
Vessels
The JCG operates 455 watercraft, these include the following:
Patrol vessels: 121
Patrol craft: 234
Special guard and rescue craft: 63
Hydrographic survey vessels: 13
Aids to navigation evaluation vessels: 1
Buoy tenders: 2
Aids to navigation tenders: 18
Training boats: 3
Aircraft
The JCG operates 74 aircraft, these include:
Fixed Wing: 27
Helicopters: 46
Vehicles
Oddly, JCG using a Civil vehicles(known as "Onebox Car(ワンボックスカー)") with JCG Marking instead a Patrol Vehicle. one of SST Operator says "JCG dosen't designated Any Emergency Vehicle. Even SST too. so no matter how urgent situations we have, We must stop at red lights, keep the speed limit. we even pay the highway tolls. It might look miserable, but this is the The 'Reality of the Law' which restrain the SST.(海保は緊急車両の指定を受けていません。もちろんSSTもです。だから、どんな緊急事態であっても、赤信号では止まらなければならないし、法定速度も守る。高速料金も払います(笑)。情けなく見えるかもしれませんが、これがSSTをめぐる、現在の『法的な現実』なんですよ)"
References
Japan Coast Guard Wikipedia
(Text) CC BY-SA