Preceded by

Nancy Reagan


Full Name

Barbara Pierce




Succeeded by

Hillary Clinton


Residence

Houston, Texas


Preceded by

Joan Mondale


Name

Barbara Bush




Succeeded by

Marilyn Quayle






Born

June 8, 1925Queens, New York City, New York (

1925-06-08

)


Died

17 April 2018, Houston, Texas, United States




Relations

Marvin Pierce (father)Scott Pierce (brother)


Role

Former First Lady of the United States


Spouse

George H. W. Bush (m. 1945)


Children

George W. Bush, Jeb Bush, Neil Bush, Dorothy Bush Koch, Marvin Bush, Robin Bush




Grandchildren

Barbara Pierce Bush, Jenna Bush Hager


Parents

Marvin Pierce, Pauline Robinson




Similar People

George H W Bush, George W Bush, Jeb Bush, Laura Bush, Dorothy Bush Koch
First lady biography barbara bush
Barbara Bush (née Pierce; born June 8, 1925) was the wife of George H. W. Bush, the 41st President of the United States, and served as First Lady of the United States from 1989 to 1993. She is the mother of George W. Bush, the 43rd President, and Jeb Bush, the 43rd Governor of Florida. She served as the Second Lady of the United States from 1981 to 1989.
Contents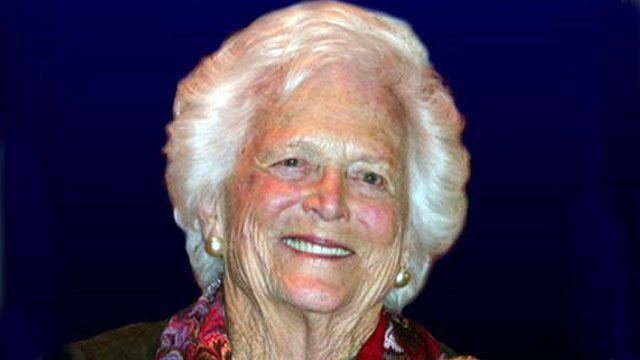 Barbara Pierce was born in Flushing, New York. She graduated from Ashley Hall School in Charleston, South Carolina. She met George Herbert Walker Bush at age 16, and the two married in Rye, New York in 1945, while he was on leave during his deployment as a Naval officer in World War II. They had six children together. The Bush family soon moved to Midland, Texas, where George Bush entered political life.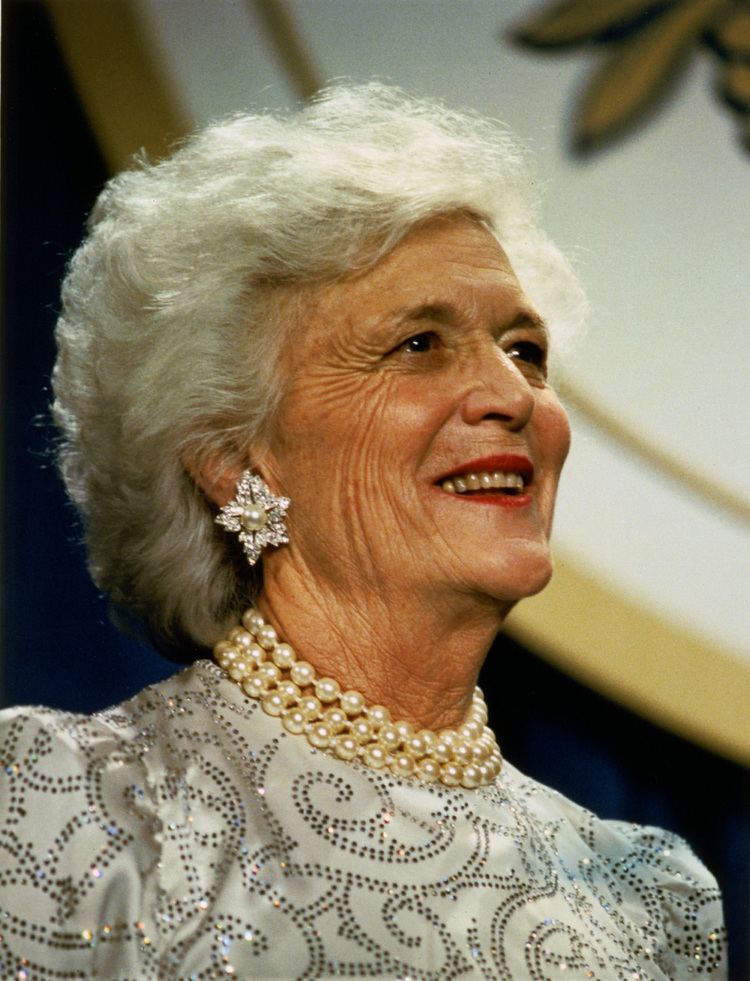 While First Lady of the United States, Barbara Bush worked to advance the cause of universal literacy, and founded the Barbara Bush Foundation for Family Literacy.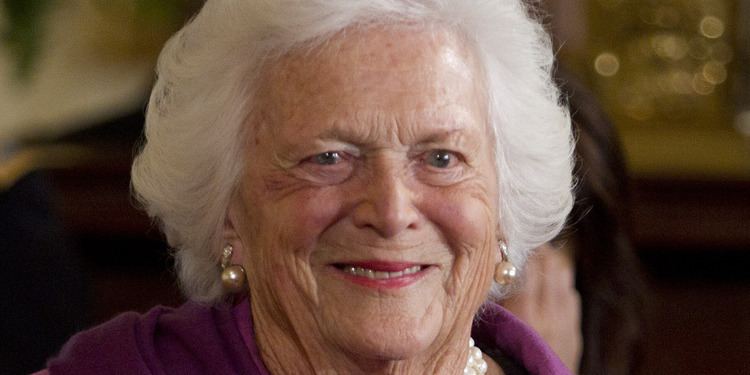 First ladies preview barbara bush
Early life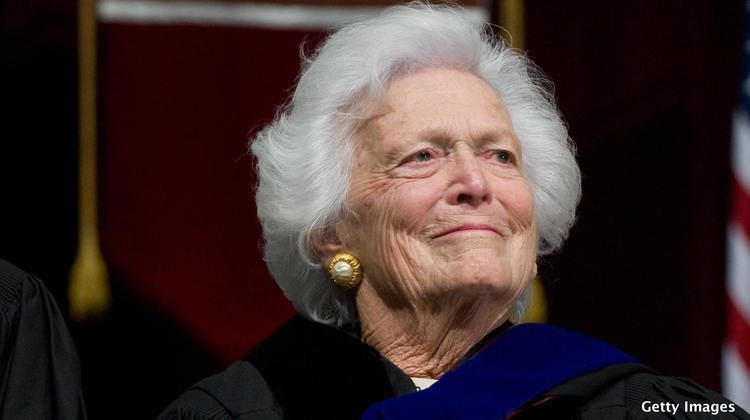 Barbara Pierce was born at Booth Memorial Hospital in Flushing, Queens, in New York City, and raised in the suburban town of Rye, New York. She is the third child of Pauline (née Robinson; 1896–1949) and her husband Marvin Pierce (1893–1969), who later became president of McCall Corporation, the publisher of the popular women's magazines Redbook and McCall's. Her siblings include Martha Pierce Rafferty (1920–1999); James Pierce (1921–1993), and Scott Pierce (born 1930). Her ancestor Thomas Pierce, Jr., an early New England colonist, was also an ancestor of Franklin Pierce, the 14th president of the United States. She is the fourth cousin, four times removed, of Franklin Pierce and Henry Wadsworth Longfellow.
Barbara attended Rye Country Day School from 1931 to 1937 and later boarding school at Ashley Hall in Charleston, South Carolina from 1940 to 1943. She was athletic as a youth and enjoyed swimming, tennis, and bike-riding. Her interest in reading began early in her life; she recalls gathering with her family during the evenings and reading together.
Marriage and family
She met George Herbert Walker Bush, a student at Phillips Academy in Andover, Massachusetts at age 16 during a dance while on Christmas vacation. After a year-and-a-half, the two became engaged to be married, just before he went off to World War II as a Navy torpedo bomber pilot. He named three of his planes after her: Barbara, Barbara II, and Barbara III. When he returned on leave, she had dropped out of Smith College in Northampton, Massachusetts; two weeks later, on January 6, 1945, they were married at the First Presbyterian Church in Rye, New York.
For the first eight months of their marriage, the Bushes moved around the Eastern United States, to places including Michigan, Maryland, and Virginia, as George Bush's Navy squadron training required his presence at bases in such states.
Over the next 13 years, George and Barbara Bush had six children. They also have fourteen grandchildren and seven great-grandchildren:
George W. Bush (July 6, 1946) married Laura Welch on November 5, 1977. They have twin daughters and two granddaughters.
Pauline Robinson "Robin" Bush (December 20, 1949 – October 11, 1953) died of leukemia at the age of three.
John Ellis "Jeb" Bush (February 11, 1953) married Columba Gallo on February 23, 1974. They have three children and four grandchildren.
Neil Mallon Bush (January 22, 1955) married Sharon Smith in 1980 and they divorced in April 2003. They have three children and one grandson. He remarried Maria Andrews in 2004.
Marvin Pierce Bush (October 22, 1956) married Margaret Molster in 1981. They have two children.
Dorothy "Doro" Bush Koch (August 18, 1959) she married William LeBlond in 1982 and they divorced in 1990. They have two children. She remarried Robert P. Koch in June 1992. They have two children.
Texas years
After the war ended, George Bush graduated from Yale University and the young family soon moved to Odessa, Texas, where Bush entered the oil business. They moved to several small suburbs around Los Angeles, California, before settling in Midland, Texas, in 1950. The Bushes would move some twenty-nine times during their marriage. Over time, Bush would build a business in the oil industry and found the successful Zapata Corporation. Barbara raised her children while her husband was usually away on business. In 1953, the Bushes' daughter, Robin, died of leukemia.
While in Texas, in 1959, George Bush was elected Harris County Republican Party chairman, in the first of what would become many elections. His first run for a prominent political office was in 1964, for U.S. Senator from Texas and although he lost, the exposure of the Bush family put George and Barbara Bush on the national scene.
A political wife
George Bush would be elected as a U.S. Representative in Congress from Texas two years later in 1966; while her husband campaigned, Barbara raised her children, occasionally joining him on the trail. Over the ensuing years, George Bush would be elected or appointed to several different positions in the U.S. Congress or the Executive branch, or government-related posts, and Barbara Bush would accompany him every step of the way.
As the wife of a Congressman, Barbara immersed herself in projects that piqued her interest, included various charities and Republican women's groups in Washington, D.C. Though her husband lost a second bid for the Senate in 1970, President Richard Nixon appointed him the United States Ambassador to the United Nations, which enabled Barbara to begin forming relationships in New York with prominent diplomats. As the Watergate scandal heated up in 1973, Nixon asked Bush to become Chairman of the Republican National Committee; Barbara advised her husband to reject the offer because of the harsh political climate, but he accepted anyway.
Nixon's successor, Gerald R. Ford, appointed Bush head of the U.S. Liaison Office in the Peoples Republic of China in 1974, and thus the Bushes moved internationally. Barbara enjoyed her time spent in China, and often rode bicycles with her husband to explore the cities and regions that few Americans had traveled to. Just three years later Bush was recalled to the U.S. to serve as Director of Central Intelligence during a crucial time of legal uncertainty for the agency. Her husband was not allowed to share pertinent aspects of his job with Barbara, as they were classified; the ensuing sense of isolation, coupled with her perception that she was not achieving her goals while other women of her time were, plunged her into a depression. She did not seek professional help and instead began delivering speeches and presentations about her time spent in the closed-off China and began volunteering at a hospice.
Barbara Bush defended her husband's experience and personal qualities when he announced his candidacy for President of the United States in 1980. She caused a stir when she said that she supported ratification of the Equal Rights Amendment and was pro-choice on abortion. This placed her at odds with the conservative-wing of the Republican party, led by California Governor Ronald Reagan; Reagan would receive the presidential nomination over her husband. Reagan, however, chose Bush to be his running mate and the team was elected in 1980.
Second Lady of the United States
Barbara Bush's eight years as Second Lady allowed her to become a common household name. She took an interest in literacy issues after her son Neil was diagnosed with dyslexia and began working with several different literacy organizations. She spent much time researching and learning about the factors that contributed to illiteracy – she believed homelessness was also connected to illiteracy – and the efforts underway to combat both. She traveled around the country and the world, both with the Vice President on official trips and by herself. In 1984 she wrote a children's book about her family told from the point of view of her dog C. Fred entitled C. Fred's Story.
She donated all proceeds from the book to literacy charities. Now comfortable speaking in front of groups, she routinely spoke to promote issues she believed in and became famous for expressing a sense of humor and self-deprecating wit. During the 1984 presidential campaign, Barbara made headlines when she told the press that she could not say on television what she thought of Vice-Presidential candidate Geraldine Ferraro, but "it rhymes with rich". She later apologized to Ferraro.
In 1988, Vice President Bush announced his candidacy for President to succeed Reagan. By this time Barbara had experienced two presidential campaigns, but broke new ground by becoming the second candidate's spouse to speak at the national party convention that nominated her husband (after Eleanor Roosevelt in 1940). She promised voters that she would be a traditional first lady and campaigned actively for her husband. The campaign at times focused on the large Bush family, and contrasted her with the First Lady, Nancy Reagan, by highlighting her interest in domestic staples such as church, gardening, and time spent with family while placing less emphasis on style sense and fashion; she drew attention to both her famous white hair and disinterest in wearing designer clothes. She generally avoided discussion of political issues during the campaign, particularly those on which she and her husband differed, and those closely involved with the campaign have reported that she was actively involved in campaign strategy. Bush was elected in November 1988 and sworn in on January 20, 1989 – and the nation had a new first lady.
First Lady of the United States
Barbara Bush's cause as First Lady was family literacy, and she called it "the most important issue we have". She became involved with many literacy organizations, served on literacy committees and chaired many reading organizations. Eventually, she helped develop the Barbara Bush Foundation for Family Literacy. She continues to be dedicated to eliminating the generational cycle of illiteracy in America by supporting programs where parents and their young children are able to learn together. During the early 1980s, after statistics had shown that foreign born immigrants from Latin America had nearly quintupled just since 1960, statistics showed that 35 million adults could not read above the eighth-grade level and that 23 million were not able to read beyond a fourth-grade level. Mrs. Bush appeared on The Oprah Winfrey Show to discuss the situation and spoke regularly on Mrs. Bush's Story Time, a national radio program that stressed the importance of reading aloud to children. Today, her children Jeb Bush and Doro Bush Koch serve as co-chairs of the Barbara Bush Foundation for Family Literacy. Mrs. Bush remains active in the foundation and serves as honorary chair.
She was active in the White House Historical Association, and worked to revitalize the White House Preservation Fund, which she renamed the White House Endowment Trust. The trust raises funds for the ongoing refurbishment and restoration of the White House. She met her goal of raising $25 million towards the endowment. The White House residence staff generally found Barbara Bush to be the friendliest and most easygoing of the First Ladies they dealt with.
Bush was known for her affection for her pet English Springer Spaniel Millie and wrote a children's book about Millie's new litter of puppies. She even included Millie in her official white house portrait, painted by Candace Whittemore Lovely. Barbara Bush became the first U.S. First Lady to become a recipient of the Henry G. Freeman Jr. Pin Money Fund, receiving $36,000, most of which she gave to favorite charities.
She was struck everyday by "how much things had changed" for her and her husband since becoming President and First Lady. As opposed to a limousine, Bush tried to use a smaller car and travel by train and commercial airplane for out-of-town trips. However, Bush was partially opposed in her wishes by the heads of her Secret Service detail, who agreed to the small car but did not approve to the commercial traveling given the number of threats to the First Lady being higher than that of the vice president. Despite their opposition, what put Bush most off was the fact that her flights would be delayed while agents checked out the planes and luggage. The plane Bush traveled on was nicknamed "Bright Star," in honor of the leukemia foundation her husband and Hugh Liedtke founded after her daughter Robin died.
Her Wellesley College commencement address, given in 1990, was listed as #45 in American Rhetoric's Top 100 Speeches of the 20th Century (listed by rank).
During her husband's 1992 presidential campaign, Barbara Bush stated that abortion and homosexuality are personal matters and argued that the Republican Party platform should not take a stand on it, saying that "The personal things should be left out of, in my opinion, platforms and conventions." Her personal views on abortion were not known, although her friends reported at that time that she "privately supported abortion rights." She explained, "I hate abortions, but I just could not make that choice for someone else."
Bush disclosed she was suffering from an overactive thyroid ailment known as Graves' disease when she lived at the White House. George H.W. Bush came down with the same malady not long after his wife. It is rare for two biologically unrelated people in the same household to develop Graves disease within two years of each other. The Bush dog, Millie, came down with Graves' disease, too, although there are reports that she had a different auto-immune disease, lupus.
Because of the remarkable coincidence of three cases of auto-immune disease in one household, the Secret Service tested the water in the White House, at Camp David, at the Vice President's residence, and at Walker's Point (Bush's home in Maine) for lithium and iodine, two substances "known to cause thyroid problems". Bush was more popular than her immediate predecessor Nancy Reagan and successor Hillary Clinton because she carefully "avoided controversy," and took very few positions publicly on issues.
Life after the White House
Since leaving the White House, she and her husband reside in the River Oaks community in Houston, Texas and at the Bush compound in Kennebunkport, Maine. Bush described January 20, 1993, the day of Bill Clinton's inauguration, a "tough day" for her and George. After returning to Houston, the two were visited by their son George W. and at that point Barbara realized she had not cooked in twelve years, and had difficulty driving on her own to the point where she did not drive far from home for a long time and her husband warned people to get out of the way if they saw her car. A month after they left office, in February 1993, Bush was surprised by her husband when he booked them on the "Love Boat" ship Regal Princess. On April 27, 1993, Bush and her husband had breakfast with Margaret Thatcher during her speaking tour. Thatcher mentioned the most recent celebration of former President Ronald Reagan's birthday at the Ronald Reagan Presidential Library and Museum, where he orated the same card twice. Bush read about the incident after Reagan was diagnosed with Alzheimer's disease, which she called a "tragedy for both" Mr. and Mrs. Reagan. On January 16, 1995, Bush flew to Austin, Texas with her husband to attend her son George W.'s inauguration as Governor of Texas. After attending a church service, the family went to the state capitol for the ceremony. While waiting, the Bushes had visits from former governors and their wives. After dining in the Governor's Mansion, the Bushes and their son Marvin flew back to Houston.
Bush attempted to persuade her son George W. to not run for Governor of Texas in the 1994 gubernatorial election, convinced he could not defeat Ann Richards. Several days after George W. was sworn in, Bush went to a Distinguished Speakers Event at the LBJ Library for Lady Bird Johnson. There, she was introduced by George W. and the following day, received a letter from her son dated January 18, 1995 in which he asserted that he would not be governor had it not been for them. Bush described the letter as having "moved" both her and her husband.
On April 19, 1995, the Alfred P. Murrah Federal Building was the target of a terrorist bombing that left 168 people dead. One of the people who died in the attack was Al Whicher, who had served on George H. W. Bush's Secret Security Detail. Bush called the man who served under her husband, "a devoted husband and father." The next day, April 20, 1995, the Bushes were scheduled to go to Tulsa, Oklahoma. Barbara was supposed to speak at a Junior League event in the noon and accompany her husband at the Salvation Army annual dinner. The Bushes debated whether or not they should continue with their plans due to the bombing, ultimately deciding to go because "both groups help people in need." On September 3, 1995, the Bushes went to Vietnam. This was "unbelievable" to Barbara because she "never expected to set foot in what had been North Vietnam." The Bushes first went to Hanoi and then to Ho Chi Minh City. The Bushes met with President Lê Đức Anh and party secretary Đỗ Mười. On September 28, 1995, the Bushes drove to Portland, Maine for the announcement of the Barbara Bush Children's Hospital. Bush said her life was being stretched, adding, "Long after I am gone this hospital will be there with my name." The Bushes visited the children there, and Mrs. Bush started to recall her daughter Robin after seeing them. The Bushes returned home early that month.
Bush campaigned for her son George W., after his announcement of a presidential campaign in June 1999. Throughout the country, she met with women in support of his campaign, but remained doubtful of his chances of winning. The resentment toward the campaign continued with her rejecting any criticism of her son said in her presence and refused to watch any debates, a contrast to her husband's willingness to listen and his watching of every debate, creating friction between the couple.
Several schools have been named for her: three primary schools and two middle schools in Texas and an elementary school in Mesa, Arizona. Also named for her is the Barbara Bush Library in Harris County, Texas and the Barbara Bush Children's Hospital at Maine Medical Center in Portland, Maine. She serves on the Boards of AmeriCares and the Mayo Clinic, and heads the Barbara Bush Foundation for Family Literacy.
On March 18, 2003, two days before the beginning of the 2003 invasion of Iraq, when her son George W. Bush was holding the office of the presidency, ABC's Good Morning America asked her about her family's television viewing habits; she replied:
I watch none. He [former President George H. W. Bush] sits and listens and I read books, because I know perfectly well that, don't take offense, that 90 percent of what I hear on television is supposition, when we're talking about the news. And he's not, not as understanding of my pettiness about that. But why should we hear about body bags and deaths, and how many, what day it's gonna happen, and how many this or that or what do you suppose? Or, I mean, it's not relevant. So, why should I waste my beautiful mind on something like that, and watch him suffer.
While visiting a Houston relief center for people displaced by Hurricane Katrina, Bush told the radio program Marketplace,
Almost everyone I've talked to says, 'We're gonna move to Houston.' What I'm hearing, which is sort of scary, is they all want to stay in Texas... Everybody is so overwhelmed by the hospitality, and so many of the people in the arenas here, you know, were underprivileged anyway, so this (as she chuckles slightly) is working very well for them.
The remarks generated controversy. In 2006, it was revealed that Barbara Bush donated an undisclosed amount of money to the Bush–Clinton Katrina Fund on the condition that the charity do business with an educational software company owned by her son Neil Bush.
On October 3, 2008, Barbara Bush and her husband George opened the "George and Barbara Bush Center" on the University of New England waterfront Biddeford Campus a few miles north of Walker's Point. The George and Barbara Bush Center lays the foundation for the heritage of Barbara Bush in New England and houses "The Bush Legacy Collection", material securing the Bush legacy in Maine, including memorabilia on loan from the George H. W. Bush Presidential Library at Texas A&M University. Particular attention is given to the family's New England heritage and to Barbara Bush's love for Maine.
In November 2008 Bush was hospitalized for abdominal pains. On November 25, a dime-sized hole in her small intestine, that was caused by an ulcer, was closed by surgeons. She was released December 2, 2008 and was reported to be doing well.
Bush underwent aortic valve replacement surgery on March 4, 2009; she was released from the hospital on March 13, 2009.
In September 2010, in partnership with the University of New England, Barbara and George Bush established the "George and Barbara Bush Distinguished Lecture Series", an annual event honoring the legacy of Barbara and George Bush as political and community leaders.
In a November 2010 interview with Larry King, Bush was asked about former Alaska Governor Sarah Palin. Bush remarked, "I sat next to her once, thought she was beautiful, and I think she's very happy in Alaska, and I hope she'll stay there." Palin responded, "I don't want to, sort of, concede that we have to get used to this kind of thing, because I think the majority of Americans don't want to put up with the blue-bloods – and I say it with all due respect, because I love the Bushes – but, the blue-bloods, who want to pick and choose their winners, instead of allowing competition to pick and choose the winners."
On December 31, 2013, Bush was hospitalized at Houston Methodist Hospital for a "respiratory related issue"; she was in stable condition and had received a visit from her family, according to the Bush family's statement to the media. On January 4, 2014, Bush was released from the hospital and it was announced she had been suffering from pneumonia. She was quoted as saying, "I cannot thank the doctors and nurses at Houston Methodist enough for making sure I got the best treatment and got back to George and our dogs as quickly as possible."
Bush was initially opposed to a potential presidential bid for her son Jeb Bush, believing that other families should have a try at the presidency and that "we've had enough Bushes." However, she reversed her position and appeared in a campaign ad for him. Beginning in February 2016, she was reported to begin campaigning for him in New Hampshire, an early voting state. Jeb Bush joked that a town hall meeting attended by his mother featured a larger gathering than town halls prior to her involvement. Concerning her son, she believes Jeb is nearly too well-mannered, but also is confident that he is "decent and honest, and everything we need in a president." Bush weighed in on Jeb's rival for the nomination, Donald Trump, by her own admission not understanding how women "can vote for someone who said what he said about Megyn Kelly". She also indicated that she had tired of Trump over the course of the campaign and due to her gender, she was "not crazy about what he says about women." During the CBS Republican debate in February 2016, Jeb defended his mother by saying she "is the strongest woman I know", to which Trump replied that Barbara Bush "should be running."
Upon the death of Nancy Reagan on March 6, 2016, Bush became the oldest living First Lady.
Awards
In 1995, Bush received the Award for Greatest Public Service Benefiting the Disadvantaged, an award given out annually by Jefferson Awards. In 1997, she was the recipient of The Miss America Woman of Achievement Award for her work with literacy programs.
In 2016, she received honorary membership in Phi Beta Kappa from the University of Houston chapter.
Death
It was announced on April 15, 2018, that Bush would no longer seek medical treatment and had instead chosen the option of "comfort care".Bush died in her Houston home of complications from COPD at the age of 92 on April 17, 2018
References
Barbara Bush Wikipedia
(Text) CC BY-SA