CEO

John H. Noseworthy




Revenue

3.137 billion USD (2010)





Assets

6.947 billion USD (2010)







Recent posts on Google+






Nonprofit category

Community Health Systems




Founders

Donald Balfour, Melvin Millet, Charles Horace Mayo




Founded

Rochester, Minnesota, United States (1889)



Map of Mayo Clinic
The Mayo Clinic is a nonprofit medical practice and medical research group based in Rochester, Minnesota. It employs more than 4,500 physicians and scientists and 57,100 allied health staff. The practice specializes in treating difficult cases through tertiary care. It spends over $660 million a year on research.
Contents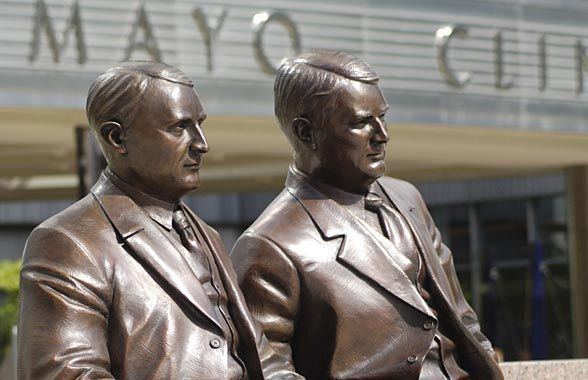 William Worrall Mayo settled his family in Rochester in 1863 and opened a medical practice that evolved under his sons into Mayo Clinic. Mayo Clinic is widely regarded as one of the United States' greatest hospitals and ranked No. 1 in the country on the 2016–2017 U.S. News & World Report List of "Best Hospitals" of the United States, maintaining a position near the top for more than 25 years. It has been on the list of "100 Best Companies to Work For" published by Fortune magazine for fourteen consecutive years. It continued to achieve this ranking through 2017.
In addition to their flagship hospital in Rochester, the Mayo Clinic has major campuses in Arizona and Florida. The Mayo Clinic Health System also operates affiliated facilities throughout Minnesota, Wisconsin, and Iowa.
Mayo clinic ranked no 1 in phoenix and arizona by us news & world report
Thinking differently about health care mayo clinic
Early years
In 1863, William Worrall Mayo (1819–1911) came to Rochester, Minnesota as part of his appointment as an examining surgeon for the military draft board during the American Civil War. The city was to his liking, and his wife and children joined him in early 1864. William Worrall Mayo opened his medical practice after the war, and served in several leadership roles in the community. Both of W.W. Mayo's sons, William James Mayo (1861–1939) and Charles Horace Mayo (1865–1939) grew up in Rochester, and when old enough both attended medical school. William graduated in 1883 and joined his father's practice, with Charles joining after he completed his training in 1888.
On August 21, 1883, a tornado struck Rochester, causing at least 37 deaths in the area and over 200 injuries. One-third of the town was destroyed, but the Mayo family escaped serious harm. The relief efforts began immediately with a temporary hospital being established at Rommell's Hall, and the doctors Mayo (W.W. and Will) as well as other local doctors, were extensively involved in treating the injured who were brought there for help. Mother Alfred Moes and the Sisters of Saint Francis (a teaching order) were called in to act as nurses despite having been trained as teachers and with little if any medical experience.
After the crisis subsided, Moes approached W.W. Mayo about establishing a hospital in Rochester, and Mayo agreed to work in the hospital, and soon other local doctors agreed to work in the hospital as well. On September 30, 1889, Saint Marys Hospital was opened by the Sisters. W.W. Mayo, 70 years old, was one of the consulting physicians at the hospital. His two sons began seeing patients and performing surgeries at the hospital.
Group practice
In 1892, W. W. Mayo asked Augustus Stinchfield, whom he considered to be the best doctor in the area, to join the practice. After Stinchfield agreed, W.W. Mayo retired at the age of 73 and the practice continued to grow. The founders of Mayo Clinic are the Mayo brothers Will and Charlie, Stinchfield, Graham, Henry Plummer, Millet, Judd, and Balfour. These early founders and partners shared in the profits of the private group practice, while other staff hired by the partners were salaried. W.W. Mayo died in 1911 and in 1919 the remaining founders, with the exception of Graham, created the Mayo Properties Association, and their private practice became a not-for-profit entity. The founders gave the Clinic properties and furnishings to this newly formed association. The integrated practice model developed primarily by Plummer, created a foundation for what would grow into the Mayo Clinic.
Growth and current practice
As the private practice grew, it required additional space. In 1914, the partners planned, designed and built a new clinic building. Ellerbe Architects are the architect of record for the 1914 Mayo "Red" building, as well as for the 1922 Mayo Institute of Experimental Medicine, the 1927 Plummer building, the 1954 Mayo Clinic building, and the 2002 Gonda building. In 1914, and under the guidance of Henry Plummer, the new building allowed the integrated group medical practice concept to be fully expressed.Many highly innovative medical systems, tools, and equipment were incorporated into the building design. This was groundbreaking work, and the first building designed to facilitate the integrated group medical practice. Plummer worked closely with Frederic Maass, of Maass & McAndrew, to design and fabricate many of the building systems innovations like the steam sterilization rooms, metal surgical tools and equipment, pneumatic tube system, knee operated sinks, and a state of the art HVAC system.The air exchange rate for the building was three minutes. One intriguing innovation was the Rookwood fountain in the main lobby that was designed to clean and humidify air from the outside. It also heated and humidified air in the winter, and provided cool air in the summer. To fight infection, steam sterilizer rooms were designed to hold much of the operating rooms metal surgical furniture, tools and equipment. These and other aseptic procedures helped bring the overall patient infection rates down.In 1928, the Plummer Building was completed with considerable input from Clinic staff, and again under the guidance of Henry Plummer. Mr. Maass again worked closely with Plummer and staff on system design. After this project was complete he assumed the position as the "Chief Engineer" for the Clinic. Working hand-in-hand with physicians, scientists and other Mayo Clinic staff, the engineering department developed unique medical devices and systems, many designed to meet the needs of individual patients.At the time of its completion, the Plummer Building was the tallest building in Minnesota and remained so until the Foshay Tower was finished in Minneapolis in 1929. It was added to the National Register of Historic Places in 1969, and has recently undergone a complete restoration of its bell tower. The historic 1914 "Red" Mayo Clinic building, a National Landmark listed on the National Register, was demolished by the Clinic in the 1980s to make way for the Hammel, Green and Abrahamson-designed Siebens building.Since 1986, the Mayo Clinic campus has formally included the Rochester Methodist Hospital and Saint Marys Hospital, as all operations were integrated under one governing board to more efficiently serve the needs of Mayo patients. In 2011, the foundation went before the Supreme Court to argue that medical residents should remain exempt from Social Security deductions. In Mayo Foundation v. United States the court sided with the Social Security Administration and required FICA to be deducted going forward. The same year, Tarek Obaid made a major donation in the name of his family to establish the Essam and Dalal Obaid Center for Reconstructive Transplant Surgery.
In 2015, Mayo Clinic had about 1,318,300 different patients.
Locations
Mayo Clinic has a large presence in three U.S. metropolitan areas: Rochester (Minnesota), Jacksonville (Florida), and Phoenix (Arizona). The Clinic employs more than 34,000 people at the main campus in Rochester and the Arizona and Florida sites employ approximately 6,000 persons at each site. In addition, the Mayo Clinic owns and operates the Mayo Clinic Health System, which consists of more than 70 hospitals and clinics across Minnesota, Iowa, Wisconsin and Georgia with an employment of over 17,000 people. Mayo Clinic also operates several colleges of medicine, including Mayo Medical School, the Mayo Graduate School, and the Mayo School of Graduate Medical Education, Mayo School of Health Sciences.
Core values
As the Mayo Clinic logo suggests, the institution has a three-part focus. First and primary to the organization is the patient care practice, represented by the central shield. This is in accordance with the primary statement of the organization that "the needs of the patient come first." The other two shields represent the areas of education and research, two areas of Mayo Clinic which have become more prominent over time.
Patient care
Each year, more than 1.3 million patients from all 50 states and from more than 150 countries are seen at one of the Mayo Clinic facilities. Mayo Clinic offers highly specialized medical care, and a large portion of the patient population are referrals from smaller clinics and hospitals from across the upper Midwest and the United States as a whole. Mayo Clinic physicians are paid a fixed salary that is not linked to patient volume (relative value units) or income from fee-for-service payments. This practice is thought to decrease the monetary motivation to see patients in large numbers and increase the incentive to spend more time with individuals. Salaries are determined by the marketplace salaries for physicians in comparable large group practices.
Research
Mayo Clinic researchers contribute to the understanding of disease processes, best clinical practices, and translation of findings from the laboratory to the clinical practice. Nearly 600 doctoral level physicians and research scientists are employed, with an additional 3,400 other health personnel and students with appointments in research. In 2015, more than 2,700 research protocols were reviewed by the Mayo Clinic Institutional review board and 11,000 ongoing human research studies. These research initiatives led to more than 7,300 research publications and review articles in peer-review journals.
Education
The founding partners in the private practice were proponents of education very early on. In 1917, the Mayo Foundation helped with the establishment of the medical school at the University of Minnesota with a two million dollar donation. Many new graduates were sent to the Mayo Clinic for further training. The Mayo Clinic was a pioneer in helping to establish the current residency education system. Until the early 1970s, consulting physicians at Mayo Clinic in Rochester, Minnesota held joint appointments as professors at the University of Minnesota medical school. In 1972, Mayo Clinic opened the doors of its own medical school (Mayo Medical School) in Rochester, which is known for its contributions in the medical field. Also, Mayo Clinic established its graduate school (Mayo Graduate School) in 1989, to educate biomedical sciences PhD and Master students.
Innovation
Mayo Clinic issued an open letter stating the healthcare reform bills as written in July 2009 would not reduce costs or increase quality nationwide.
Mayo Clinic has adopted more than 15,000 mobile devices from Apple for patient care; including the iPad, iPad Mini and iPhone. Mayo Clinic then created an app for these devices called Synthesis Mobile which integrated hundreds of their health systems. Other apps were also created for Mayo Clinic Care Network members that assists patients with seeing their medical records or asking clinicians for assistance. Mayo Clinic is also developing an app for Apple's HealthKit that would help users maintain healthy lifestyles and warns users of certain health signs that need attention.
Mayo Clinic, in collaboration with real estate firm Delos Living, in September 2015 launched the Well Living Lab. This research facility is designed to simulate real-world, non-hospital environments to allow Mayo Clinic researchers to study the interaction between indoor spaces and human health.
The Mayo Clinic Center for Innovation, established in 2008, was one of the pioneers of innovation in healthcare. It has since worked on over 270 projects and is often looked to as a role model for using design in healthcare.
Leadership
Mayo Clinic is led by President and CEO John Noseworthy, M.D. The previous CEO Denis Cortese retired in November 2009
Contributions to medicine
Mayo Clinic developed the concept of an integrated, multi-speciality group practice of medicine.
Mayo Clinic has also developed many medical and surgical specialities, including cancer research, heart and lung surgery, laboratory techniques and many others.
Rankings
In 2016-17, Mayo Clinic, Rochester, was ranked as the #1 overall hospital in the United States by U.S. News & World Report. A total of almost 5,000 hospitals were considered and ranked in 16 specialties from cancer and heart disease to respiratory disorders and urology; 153 (just over 3 percent of the total) were ranked in at least one of the 16 specialties. Of the 153 hospitals that are ranked in one or more specialties, 20 qualified for the Honor Roll by earning high scores in at least six specialties. Mayo Clinic, Rochester, was ranked in the top 10 in all but one of 16 specialties, in the top 4 in 13 specialties, and was the #1 ranked hospital in 8 of the 12 data-driven specialties. This year U.S. News expanded their common procedures and conditions list to 9 individual measures, and Mayo was one of less than 70 hospitals to score High Performing in every category. Additionally, Mayo was the only hospital on the 2016-2017 honor roll to also receive 5 stars from CMS. Every Mayo Clinic hospital received an "A" safety rating from Leapfrog in its April 2017 report.
References
Mayo Clinic Wikipedia
(Text) CC BY-SA