Created by

Hats Off Productions




Creative director(s)

Deven Bhojani


Written by

Aatish Kapadia




Genre

Comedy, Family drama




Starring

See Below




Directed by

Sameer Kulkarni, Dipesh Shah




Similar

Byaah Hamari Bahoo Ka, Parvarrish – Kuchh Khattee Kuchh Meethi, Yeh Pyar Na Hoga Kam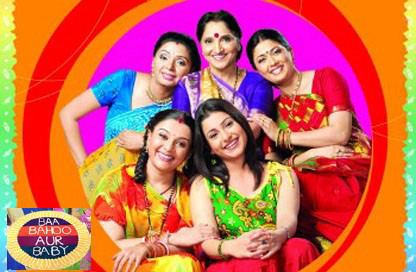 Baa Bahoo Aur Baby (colloquially known as BBB or B3) was a primetime Indian television dramedy series, aired on Star Plus between 2005 and 2010. The series was produced by Hats Off Productions and centered on a fictitious Thakkar family, living in Parla East, Mumbai. It has been rated the 7th best show by production by Star Plus.
Contents
The series tracks the story of an elderly woman Godavari Thakkar and her family, consisting of 6 sons, 2 daughters and their spouses and children. Godavari, who hails from a very rich family, lives in her father's huge mansion, the famous Krishna Villa in Parla East, Mumbai, given to her by her late brother and sister-in-law Guvanti, who, with her child Raju, are settled in the United States.
Why Off Air Baa Bahoo Aur Baby Serial ? | Woh Kahaniyaan Puraani EP 09 | Violamhe
Title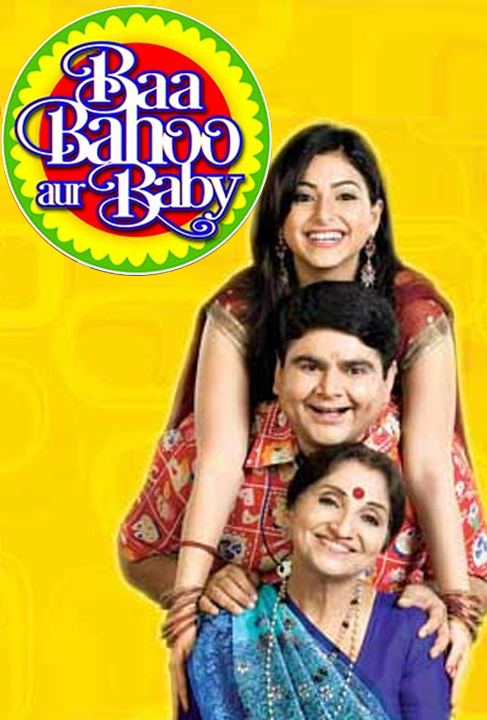 The title has two meanings. A simple meaning tells that this show is about "Baa" (Mother in Gujarati), Bahoo (Daughter-in-law in Hindi), and Baby: Referring to Beti (Daughter). Another meaning told in Season 2, Episode 1 was that the title refers to Godavari. She is Baa, Bahoo and Baby i.e. daughter (as the house is her father's) of Krishna Villa.
Broadcasting
The series premiered on 5 August 2005 on Star Plus channel airing Friday through Sunday evenings. In mid-2006, the show started airing for 1 hour on Fridays.
Plot summary
This series revolves around Godavari Thakkar (Sarita Joshi) and her family. She is the head of the Thakkar Family, despite her husband Labhshankar Thakkar (Arvind Vaidya) being alive, who is indulged in drinking and he is accused for never supporting his family financially or morally. Labhshankar ruined his whole working years, by spending all his money on alcohol (a reason Arvind hates him) and Godavari had to run a tiffin service to raise up her children, and they lived in a small room, until Gunvanti gave them the Krishna Villa to live. Godavari has 5 sons, Arvind; a strict and old fashioned insurance agent, Pravin; a mischievous and stingy saree businessman, Harshad; a very successful doctor, Subodh; a playful actor, Gopal; a mentally ill grown child, and Hemal; the adopted son who works in a Call Centre and later in a bank. The family also includes her daughter-in-laws, Leela; Arvind's playful wife, Praveena; Praveen's wife who is naughty and athletic and a saree businesswoman, Shilpa; wife of Harshad and also a doctor, Meenakshi; the shy and slow wife of Subodh, and Gudiya; the Punjabi wife of Hemal (introduced late in the series). Godavari's two daughters are Charubala: a sophisticated woman who always shows off, married to Tushar and living in the town, and Radhika, who is handicapped and a very stubborn girl who is often seen talking rudely. Among the children are Dimple and Jigar, quite grown up children of Arvind and Leela, Mehul, Maitali and Chaitali, children of Praveen and Praveena, Simrun Bhyani: daughter of Charubala and Tushar, Saumil and Saloni, children of Harshad and Shilpa, Manav and later Disha, children of Subodh and Meenakshi, and Lucky, adoptive child of Hemal and Gudiya. Also, the house has a cook Rajja and a worker, Narsi Kaka.
Godavari rules her family strictly and is often called "Hitler","JhogMaya" and "MogamBaa" by her family members mostly by Praveena. Her sons have different qualities and share the blessings of life. Their wives are often worried due to household burdens, but they end up being happy. They face different problems and misunderstanding that were often created between the family members. Normal day to day scenarios are shown as the family deals with their lives in a joint family and deal with challenges. Due to being handicapped, Baby is unable to find a husband, and even Anish does not accept her, instead he admits he loves Dimple, while Baby loved Anish. This is often shown as a sign of grief for Baby throughout the series. Godavari's Krishna Villa has certain rules, saying no one can come in the house with shoes, no food from outside can come, and each brother had to give 10000 per month (later 150000) for household expenses. Throughout the series, Baa writes in a secret Red Book no one else is allowed to read.
The first season showed that Baa (Godavari) ruled her family strictly and responsibly. Her daughter Baby (Radhika Thakkar) had polio (making her legs of no use) and her son Gattu (Gopal Thakkar) is a little bit mentally disturbed due to the poverty she faced and her unavailability as working as a cook to raise her children. Hemal was told to be adopted by Godavari, when her sister-in-law Gunvanti insisted. After nearly 175 episodes, Baa invited her son Dr. Harshad Thakkar back to the house after a 5-year period. Harshad was expelled from the house due to an unknown reason which was later revealed. Midway through the season, Godavari's daughter-in-law, Praveena, died in a building collapse. Her son Hemal then got married to Gudiya. Dimple (Godavari's granddaughter) was married to Anish Kotak. Baby finds a husband, Birju: a pleasant young man, and gets engaged to him. In the end of the first season, an author, Asha Ji, proposed to Baa to write her biography, and Baa agrees.
In the second season, The Krishna Villa is renovated. Baby finally marries Birju, and they later settle in America with Birju's Mother and Taima. Jigar also gets engaged to Rim Jhim Talwar and later marries her, pursuing his career as an actor.
In the final episode of Season 2, Harshad returns home and tells Godavari that Asha Ji has completed the book. The book gets published titled 'Baa, Bahoo Aur Baby'. A launching ceremony for the book is held where Godavari gives an impressive speech. She addresses a meeting of her family members, each of which have the book's copy, telling the book is all about them, and Baa is grateful to them. In the end, a 3-year later scenario is shown. Arvind and Leela finally are visiting America to welcome Dimple's coming child. Pravin is shown with his children, Mehul, now a fashion designer; Mitali, an Air-Hostess; and Chaitali, a model. Harshad and Shilpa open a hospital on Godavari's name. Meenakshi is again becoming a mother and is joined by her son and daughter while crying. Gudiya gave birth to two twin girls. Rim Jhim starts a catering house and Babuji stops drinking, now helping Rim Jhim. Baby returns with Birju from Germany, with her polio cured and she is finally able to walk, and has a son named Ahan. The family opened a child-care centre for Gattu, where he would take care of all the children who came there: on the name of Gattuki. The Thakkar Family won the "Family of The Decade Award". Saloni wrote a poem on the different members of the family and their attributes. The season ends with a final photo of the family.
Success
Baa Bahoo aur Baby was highly appreciated by fans around the world. The simplistic soap opera taught people the act of friendship, teamwork, trustworthiness, coming-of-age, love, respect and obedience. Baa Bahoo aur Baby emerged as a success and was watched by all age groups. When its final end news was viral, even kids of small age were recorded to be sad. It was one of the best dramas ever produced and remains a gem in the History of Indian Classics.
Further Use
Gattu's character, portrayed by Deven Bhojani, was used in the 2012 Drama Serial Alaxmi Ka Super Parivar where he came as the nephew of Natwarlal and Mohandas.
The Drama was dubbed in Gujarati and English and aired on many channels.
Baa Bahoo aur Baby also aired on many channels after the official end, most recent being on Express Entertainment in Pakistan, during December 2014-February 2016.
Cast
Main Cast
Changes in Cast
Other Cast
Special appearances
Sharman Joshi (Appears in Season 1, Episode 36), to promote Shaadi No. 1
Soha Ali Khan (Appears in Season 1, Episode 36), to promote Shaadi No. 1
Ayesha Takia (Appears in Season 1, Episode 37), to promote Shaadi No. 1
Fardeen Khan (Appears in Season 1, Episode 37), to promote Shaadi No. 1
Esha Deol (Appears in Season 1, Episode 38) to promote Shaadi No. 1
Zayed Khan (Appears in Season 1, Episode 38), to promote Shaadi No. 1
Falguni Pathak (Appears in Season 1, Episode 175, the Navratri Special Episode)
Jay Chhaniyara (Appears in Season 1, Episode 187), to promote The Great Indian Laughter Challenge
Bakhtiyar irani (Appears in season 1,Episode 187),to promote [The Great Indian Laughter Challenge]]""
Tanaaz Currim (Appears in Season 1, Episode 187), to promote Nach Baliye 2
Rakhi Sawant (Appears in Season 1, Episode 327), to promote Nach Baliye 3
Abhishek Avasthi (Appears in Season 1, Episode 327), to promote Nach Baliye 3
Juhi Chawla (Appears in Season 1, Episode 403), to promote Bhoothnath
Katrina Kaif (Appears in Season 1, Episode 449), to promote Singh Is Kinng
References
Baa Bahoo Aur Baby Wikipedia
(Text) CC BY-SA