Genre

Drama




Created by

Aatish Kapadia




Written by

StoryAatish KapadiaSonali JaffarScreenplaySwapnil DeshpandeRajesh SoniSneha DesaiDialoguesReetlal Pandit




Directed by

Aziz KhanDipesh ShahDhawal ShuklaHemen Chauhan




Starring

Gaurav KhannaShrenu Parikh(For full cast see Below)




Theme music composer

ThemesSajjad Ali ChandwaniBackground ScoreParesh Shah




Similar

Baa Bahoo Aur Baby, Yeh Pyar Na Hoga Kam, Sanskaar Laxmi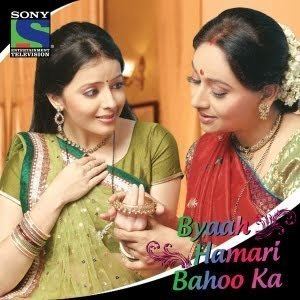 Byaah Hamari Bahoo Ka (Hindi: ब्याह हमारी बहू का, English: Wedding of our daughter-in-law) is an Indian soap opera which started telecasting on Sony Entertainment Television India from 28 May 2012 onwards. It starred Gaurav Khanna and Shrenu Parikh in the lead roles.
Contents
The show went off-air on 23 November 2012 due to low TRPs. The show was told to get an extension of 2 months instead of going off air which assured that the show would surely stay till December. However, it didn't get any extension. The show was replaced by Sony TV's new show Anamika.
Plot
The story revolves around a Gujarati Vaishnav family from Baroda. The family owns the "Kanhaiya Dairy Farm". Yashoda, the female head of the family, is busy in search for the perfect wife for her son, Gopikishan Vaishnav, lovingly called Krish, the middle son of the family.
When Yashoda encounters a poor Vaishnav couple, the couple's daughter, Rajnibala "Rajni" impresses Yashoda with her good behavior, etiquette, innocence and beauty, as this is the kind of daughter-in-law Yashoda wants. Krish meets Rajni and falls in love with her at first sight. Rajni's family agrees to the marriage and their grand wedding takes place. However, Rajni has an aspect of her past which the Vaishnav family does not know.
Rajni reveals that she has a son named Aryan; at the age of 17, her father was ill so she donated blood and became falsely involved in a surrogacy racket. As a result, she got pregnant and wished to abort the baby. Her friend, Archana, was childless and wanted a baby, so she asked Rajni to give her baby to her. However, Archana died and Rajni's baby, named Aryan, was left with Archana's husband, Yash. When the family learns of this, it leaves them shocked but they eventually accept Rajni.
A sudden twist comes into the story when Aryan gets to know that Rajni is his mother and leaves no stone upturned to get her, Krish realising this decides to make Yash marry Rajni. But soon later Aryan disappears and Yash returns with Archana, who is revealed to be alive. Rajni suddenly undergoes a drastic change in her personality, becoming evil, merciless and heartless, as opposed to her sweet, caring nature. It is also found that her parents were fake and Yash's house and address was fake too. Rajni thus, quickly turning into an antagonist. She takes the Vaishnav family's property, home and business. Along with Archana and Yash, she denies Aryan's existence and treats the family cruelly. Krish and his mother refuse to believe that this is the same Rajni they had brought into their home and Krish becomes determined to uncover the reasons Rajni is doing this. Rajni claims that she took revenge because Krish betrayed her sister, Shikha, by promising to marry her and then left her. Shikha could not bear the shock and was paralysed. But Krish and the family does not accept these allegations as they are all false. Krish leaves no stone upturned to reveal the truth and also reaches the actual wrongdoer but fails to catch hold of him. In mean time Yash and Archana ask Krish to marry Shikha as in only that way he could repay his misdeeds. So the wedding preparations start.
As time passes Yash gets a note saying that Krish is innocent, but Krish stops him from revealing the truth as the wrongdoer was keeping an eye on him. An unknown man tries to kill Shikha many times, but every time in vain. The wrongdoer tries to kill Shikha once again. This time she gets scared and gets up from her wheelchair and starts running, thus she is cured. But the wrongdoer finally ends up killing Yash. After this everyone gets to know that Krish is innocent and Rajni apologises. However Krish accepts Rajni, who promises to find the actual culprit. The culprit calls up Krish and asks him to meet him at a place. When Krish and Rajni reach there they find Krish's brother-in-law, Rajan there. Krish rings up the culprit's number and at the same time Rajan's cellphone also rings. Krish brings Rajan to house where Rajan reveals that he destroyed Shikha's life and also killed Yash. Rajan's wife, Surbhi and other family members are shocked to hear this. Rajan is arrested by the police and Rajni starts living with Krish once again.
Rajni and Krish go for a honeymoon to Mumbai. There they meet a man named, Satya and his mother Tuljabai Dolkar. They are moneylenders. There Krish gets some memories of his childhood and says that he is very familiar to Tuljabai's voice and the place. He also says Tuljabai's house to be his house. After a lot of requests Tuljabai finally reveals that long back she used to work in the Vaishnav family's house as servant and her husband was a fisherman and she had a son named Satya while Yashoda and Vrajlal's son was Krish. Krish and Satya were best friends. One day when Satya and Krish were in the beach and Yashoda and Vrajlal were sightseeing, Satya got drowned and no one was able to save him. An enraged Tuljabai took revenge by kidnapping Krish. He grew up Krish and named him Satya. However she didn't like him much and made him a hooligan by keeping him uneducated and investing him in her business. Krish says this to be false but when Tuljabai starts crying, he says that he is her son and he also starts helping her in her business by taking money from those who have taken money and not returned it yet. But he has other plans in store. He requests Satya to go to his real mother and Satya finally agrees.
When Krish and Rajni return to their house with Satya, on asking Yashoda reveals that she did not give birth to Krish. Krish introduces Satya to her and she at once realises her as her son and everyone accepts him. Later Yashoda tells that some fisherman brought Tuljabai's real son to the Vaishnav family's house unconscious. They told that they found him in their net and the doctor has given him some injection. They also tell that they brought him there as he came with Kanhaiya Dairy people. Yashoda wondered how to find Tuljabai and how to exchange the kids, for which Vrajlal said that since they cannot find Tuljabai, it's better to forget about that and raise up the kid as their son. So Yashoda told Vrajlal that she will wait for Tuljabai her whole life. So Yashoda raised up Taljabai's son as Krish.
But Krish tells Yashoda that Tuljabai has asked him, her real son in return. Next day Tuljabai reaches the Vaishnav family's house and drags Krish out with her. But Vrajlal asks to give them some time to spend with Krish before she takes him. So Tuljabai grants them 20 days. However on the 20th day Tuljabai's saree catches fire and Yashoda saves her. After this Tuljabai announces that no one is going anywhere and everyone is going to stay together.
But Tuljabai keeps a condition that she will celebrate Krish and Rajni's wedding in her own way. So she rearranges Krish and Rajni's wedding according to the Marathi culture but after the marriage she says that she will not return to Baroda and she will stay back in Mumbai. She also promises that from now on she will leave her business and live for others. Krish and Rajni return to their house after the marriage and Rajni promises that like before she entered the house with a lot of revenge this time she has no such feelings and she is entering the house as someone's daughter-in-law or someone's sister-in-law and she will always live for her family. Thus the story ends on a good note.
Cast and characters
Gaurav Khanna as Gopikishan Vrajlal Vaishnav/Satya Dolkar
Shrenu Parikh as Rajnibala Gopikishan Vaishnav
Falguni Desai as Devaki Mangal Kumar Vaishnav
Prateeksha Lonkar as Yashoda Vrajlal Vaishnav
Aksan Tripathi as Vrajlal Mangal Kumar Vaishnav
Trishikha Ashish Tripathi as Namita Vaishnav
Leena Shah as Surbhi Rajan Gandhi.
Anurag Sharma as Rajan Gandhi
Hastakshar Jhulan / (Later replaced) as Vishal Trishulbhai Makwana/Vishal Rajan Gandhi
Sarita Joshi as Tuljabai Dolkar However nearly 23 years later after this incident he finally meets her biological son. However she lets him live his life peacefully with the Vaishnavs.
Aadesh Chaudhary as Satya
Benaf Dadachandji as Paulomi Chopra
Dolly Minhas as Avantika Chopra
Leena Balodi as Uma Trishulbhai Makwana
Aanjjan Srivastav as Trishulbhai Bhavinbhai Makwana
Rita Sachdeva as Ruchika Trishulbhai Makwana
Yash Tonk as Yash Purohit
Tushar Kapadia as the only Son - in - law of Vaishnav family.
Gaurav Sharma as Akash
References
Byaah Hamari Bahoo Ka Wikipedia
(Text) CC BY-SA