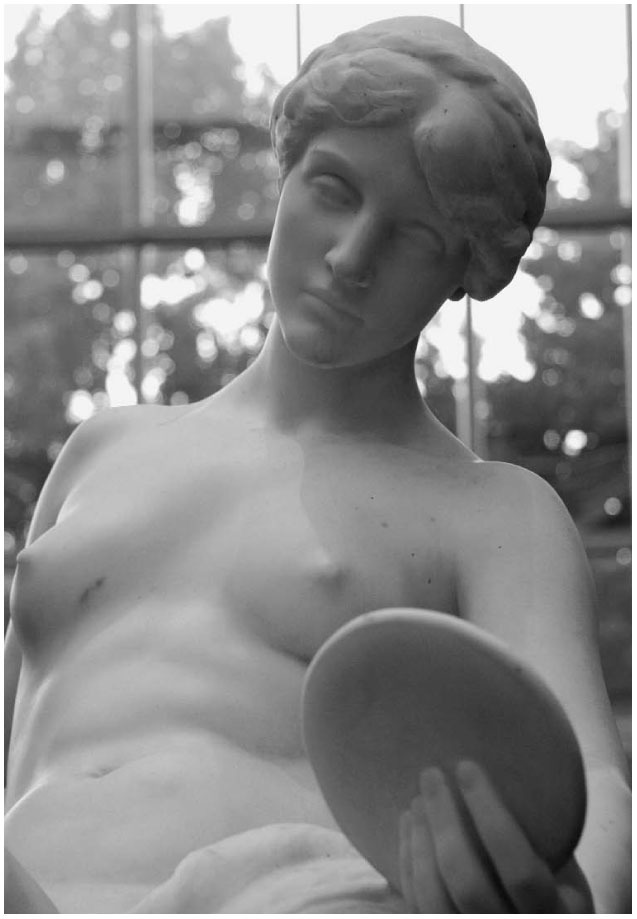 Long after she and everyone else of this generation shall have become dust, Audrey Munson, who posed for three-fifths of all the statuary of the Panama–Pacific exposition, will live in the bronzes and canvasses of the art centers of the world.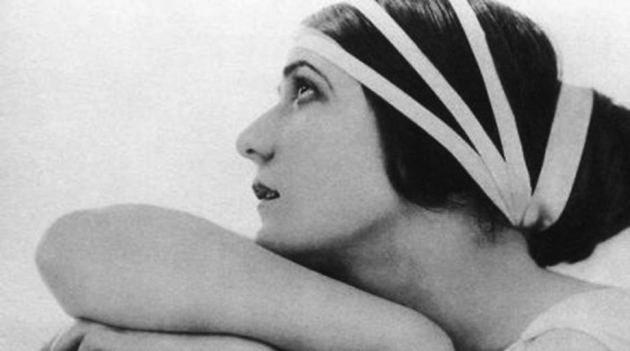 Audrey Marie Munson was born in Rochester, New York, on June 8, 1891. Her father was from Mexico, New York, and she later lived there. Her parents, Edgar Munson and Katherine "Kittie" Mahaney, divorced when she was eight, and Audrey and her mother moved to Providence, Rhode Island.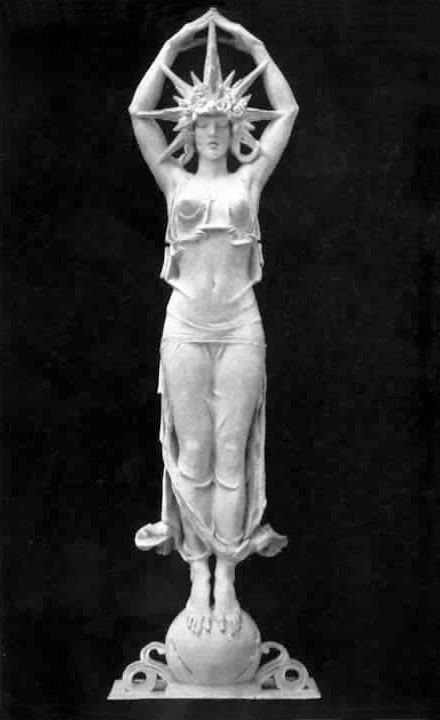 In 1909, when she was 17 years old, Audrey Munson moved to New York with her mother to become an actress and chorus girl. Her first role on Broadway was as a "footman" in The Boy and The Girl at the Aerial Garden, which ran from May 31-June 19, 1909. She also appeared in The Girl and the Wizard, Girlies and La Belle Paree.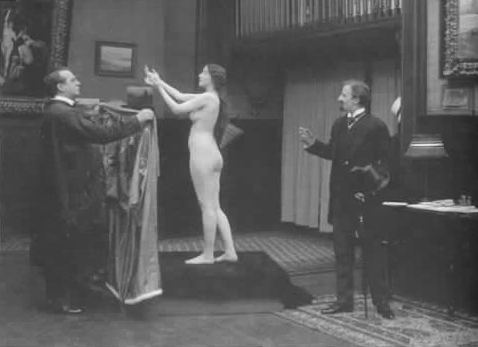 While window-shopping on Fifth Avenue with her mother, she was spotted by photographer Felix Benedict Herzog, who asked her to pose for him at his studio in the Lincoln Arcade Building on Broadway and 65th Street. Herzog introduced her to his friends in the art world, and she began to pose for numerous artists. It was the sculptor Isidore Konti who first persuaded her to pose nude, using her as his model for the three figures in his "Three Graces" for the new Grand Ballroom at the Hotel Astor in Times Square. For the next decade, Munson became the model of choice for a host of sculptors and painters in New York. According to The Sun in 1913, "Over a hundred artists agree that if the name of Miss Manhattan belongs to anyone in particular it is to this young woman." By 1915, she was so well established that she became Alexander Stirling Calder's model of choice for the Panama–Pacific International Exposition held that year. She posed for three-fifths of the sculpture created for the event and earned fame as the "Panama–Pacific Girl".
Her newfound celebrity helped launch her career in the nascent film industry and she starred in four silent films. In the first, Inspiration (1915), the story of a sculptor's model, she appeared fully nude, the first woman to do so in an American motion picture. The censors were reluctant to ban the film, fearing they would also have to ban Renaissance art. Munson's films were a box office success, although the critics were divided. The studio hired a lookalike named Jane Thomas to do Munson's acting scenes, while Munson did the scenes where she posed nude. Her second film, Purity (1916), made in Santa Barbara, California, is the only one of her films to survive, being rediscovered in 1993 in a "pornography" collection in France and acquired by the French national cinema archive. Her third film, The Girl o' Dreams, also made in Santa Barbara, was completed by the fall of 1916 and was copyrighted on December 31, 1918, but appears never to have been released.
Munson returned to the East Coast by train via Syracuse in December 1916 and became involved with high society in New York and Newport, Rhode Island. Her mother insisted she marry "Comstock Lode" silver heir Hermann Oelrichs Jr., then the richest bachelor in America, but there is no record of Audrey Munson's making this claim herself. On January 27, 1919, she wrote a rambling letter to the US State Department denouncing Hermann Oelrichs Jr. as part of a pro-German network that had driven her out of the movie business. She said she planned to abandon the United States to restart her movie career in England.
At the time, Audrey Munson was living with her mother in a boarding house at 164 West 65th Street, Manhattan, owned by Dr. Walter Wilkins. Wilkins fell in love with Munson and murdered his wife, Julia, so he could be available for marriage. Munson and her mother left New York, and the police sought them for questioning. After a nationwide hunt, they were located. They refused to return to New York, but were questioned by agents from the Burns Detective Agency in Toronto, Ontario, Canada. The contents of the affidavits they supplied have never been revealed, but Audrey Munson strongly denied she had any romantic relationship with Dr. Wilkins. Wilkins was tried, found guilty, and sentenced to the electric chair. He hanged himself in his prison cell before the sentence could be carried out.
By 1920, Munson, unable to find work anywhere, was living in Syracuse, New York, supported by her mother, who sold kitchen utensils door to door. In February 1921, agent-producer Allan Rock took out advertisements showing a $27,500 check he said he had paid Munson to star in a fourth film titled Heedless Moths. She later said the $27,500 check was just a "publicity stunt," and she filed suit against Allan Rock. The 1921 film was based on her life story, which was then being serialized in dozens of newspapers, and on short stories and other articles she had written for Hearst's Sunday Magazine. In the series of twenty articles that recounted her life story, she asked the reader to imagine her future:
What becomes of the artists' models? I am wondering if many of my readers have not stood before a masterpiece of lovely sculpture or a remarkable painting of a young girl, her very abandonment of draperies accentuating rather than diminishing her modesty and purity, and asked themselves the question, "Where is she now, this model who was so beautiful?"
On May 27, 1922, Munson attempted suicide by swallowing a solution of bichloride of mercury.
On June 8, 1931, her mother petitioned a judge to commit her to a lunatic asylum. The Oswego County judge ordered Munson be admitted into a psychiatric facility for treatment. She remained in the St. Lawrence State Hospital for the Insane in Ogdensburg, where she was treated for depression and schizophrenia, for 65 years, until her death at the age of 104. For decades, she had no visitors at all, but she was rediscovered in the asylum by a half-niece, Darlene Bradley, in 1984, when Munson was 93. Munson died February 20, 1996 at the age of 104. She was buried without a gravestone of her own in the Munson family plot in New Haven Cemetery, New Haven, New York until 2016, 20 years after her death when her family decided to add a simple tombstone for what would have been her 125th birthday.
Decades after her career ended, she was sufficiently famous to serve as the subject of an anecdote in a memoir that P.G. Wodehouse and Guy Bolton wrote of their years on Broadway, Bring on the Girls! (1953), though that memoir is considered more fiction than fact by Wodehouse's biographer.
PPIE = Panama–Pacific International Exposition
Herbert Adams
Priestess of Culture (1914) – PPIE, now in Fine Arts Museums of San Francisco
James McMillan Fountain - McMillan Reservoir, Washington DC
Robert Ingersoll Aitken
Fountain of Earth (1915) – PPIE - Court of the Universe
Panama-Pacific International Exposition medal (1915)
Figure on doors of the Greenhut & John W. Gates Mausoleums, Woodlawn Cemetery
Karl Bitter
Pomona or Abundance (1915) – Pulitzer Fountain in Grand Army Plaza, NYC
Venus de Milo ("Venus with arms") for Queen Wilhelmina of the Netherlands
Liberty - East Pediment, Wisconsin State Capitol, Madison WI
Alexander Stirling Calder
Star Maiden (1915) – PPIE - Court of the Universe, now in the Oakland Museum
Eastern Hemisphere (1915) – PPIE - Fountain of Energy
Daniel Chester French
Melvin Brothers Memorial (1908) – Sleepy Hollow Cemetery, Concord, Massachusetts
Commerce and Jurisprudence (1910) – Federal Building, Cleveland Ohio
Genius of Creation and Eve (1915) – PPIE, plaster now at Chesterwood in Stockbridge, Massachusetts
Brooklyn and Manhattan – Brooklyn Museum of Art, NYC
Memory – Metropolitan Museum of Art, NYC
Mourning Victory – Metropolitan Museum of Art, NYC
Evangeline, Longfellow Memorial (1912) – Longfellow Park, Cambridge, Massachusetts
The Spirit of Life (1915) – Spencer Trask Memorial, Congress Park, Saratoga Springs, New York (and smaller bronze castings in Indianapolis Museum of Art, Indianapolis, Indiana and Newark Museum, Newark, New Jersey)
Wisconsin (1912) – figure on top of Wisconsin State Capitol dome
Sherry Edmundson Fry
Torch Bearer (1915) – PPIE
Muse and Pan (1915) – PPIE
Maidenhood – Metropolitan Museum of Art, NYC; Brookgreen Gardens, South Carolina
pediment (1913) – Frick Collection Building, NYC
Albert Jaegers
Rain (1915) – PPIE
Harvest (1915) – PPIE
Carl Augustus Heber
Figures on tablet outside the Little Theatre (now the Helen Hayes Theatre), NYC
Spirit of Commerce – Manhattan Bridge, NYC
Isidore Konti
Mother and Child – private collection of Richard & Lydia Kaeyer
Three Muses – Hudson River Museum
Three Graces – Grand Ballroom of the Hotel Astor, NYC
Pomona
Figure within the Column of Progress (1915) – PPIE
Widowhood
Genius of Immortality (1911) – Hudson River Museum
Evelyn Beatrice Longman
Fountain of Ceres (1915) – PPIE - Court of Four Seasons
Consecration (1915) – PPIE, now in the Wadsworth Atheneum, Hartford, Connecticut
Augustus Lukeman
Ida Straus and Isidor Straus Memorial – Straus Park, Manhattan, NYC
Frederick MacMonnies
Beauty – New York Public Library, NYC
Allen Newman
Music of the Waters Fountain – Riverside Drive, NYC
Monument to Women of the Confederacy - Jacksonville, FL
The Triumph of Peace - Piedmont Park, Atlanta, GA.
Attilio Piccirilli
Alone (1915) – PPIE
Maine Memorial, figure on top and figure at base – Central Park, NYC
Duty and Sacrifice (1913) – Firemen's Memorial, NYC
Wisdom (Sapienta) - North Pediment, Wisconsin State Capitol, Madison WI
Furio Piccirilli
Fountain of Spring (1915) – PPIE
Frederick Ruckstull
South Carolina Women's Monument (1911) – Columbia, South Carolina
Adolph Alexander Weinman
Descending Night – PPIE - Fountain of Setting Sun and various museums
Civic Fame (1913) – figure on top of the Manhattan Municipal Building
US Walking Liberty Half Dollar, and possible model for the Mercury dime (both 1916)
Day and Night (1906) – figures from Pennsylvania Station, NYC
Albert G. Wenzel
Madam Butterfly
Gertrude Vanderbilt Whitney
The Fountain of El Dorado (1915) – PPIE
Other sculptures at the Panama-Pacific International Exposition
Fountain of Ceres, Court of Four Seasons
Fountain of Rising Sun, Court of Universe
Pedestal & Friezes, Columns of Human Progress
Air, Court of Universe
Spirit of Creation, Court of Universe
Nature, Feast of Sacrifice, Court of Four Seasons
Pylon Groups, Festival Hall
Conception, Wonderment, and Contemplation, Palace of the Fine Arts
The four films in which Munson appeared were thought to have been lost until a copy of Purity (1916) was recovered in France.