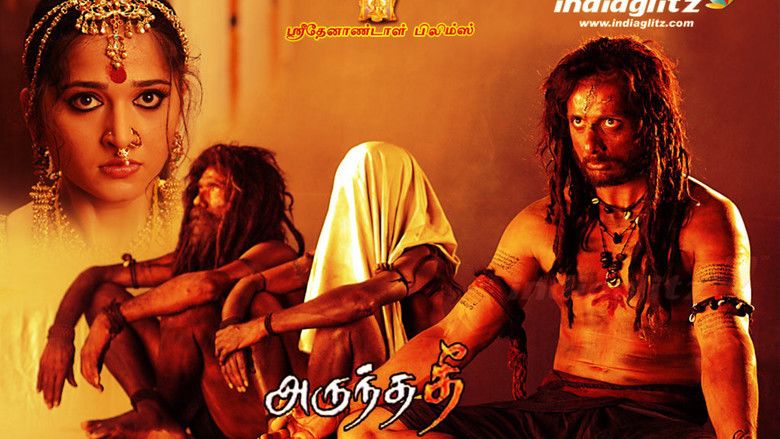 Arundhati (Anushka Shetty) is the great-great-granddaughter of the Raja of Gadwal, Mahasamsthan. Arrangements are being made for her marriage. Arundhati is the first female to be born since her great grandmother and is especially revered in the family. She then goes to Gadwal where her grandfather resides to visit him. Her grandfather, the head of the family, talks to her with respect as if she were older than him. She receives a misleading phone call in her fiance Rahul's (Arjan Bajwa) voice asking her to come to the fort of Gadwall, where she faces a horrible revelation. Learning the story from an aged servant maid, Chandramma (Manorama), Arundhati comes to know that she is a look alike of her great-grandmother Arundhati/Jejjamma.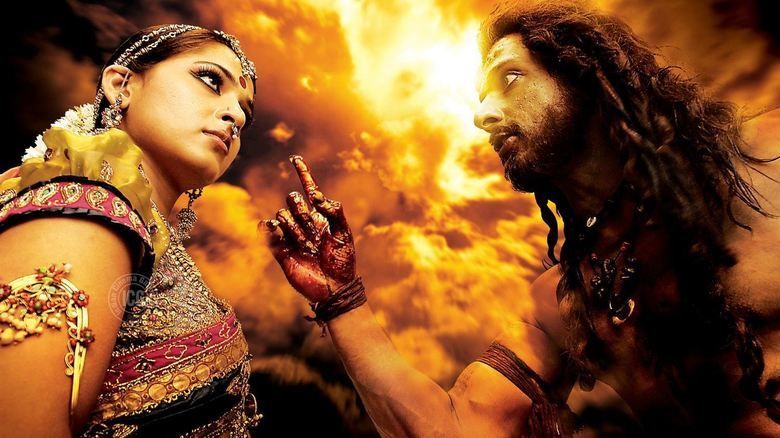 Jejjama is an expert in painting, dancing and martial arts. Her elder sister is married to her cousin Pasupathi (Sonu Sood). Pasupathi, a womanizer, rapes the women he likes and kills those who object. While Jejjama was still a young girl, he raped and killed her blind dance teacher while a horrified Jejjama watched through the peephole. Jejjama, furious, demands that he be killed but the King tells her that this would ruin her sister's life. Hearing this, Jejjamma's sister commits suicide. The people of Gadwal furiously thrash Pasupathi and tie him to his horse. Though Gadwal celebrates his death, he is saved by Aghoras (saints who practice the dark arts). Pasupathi masters the Tantric arts and returns to Gadwal many years later to exact his revenge.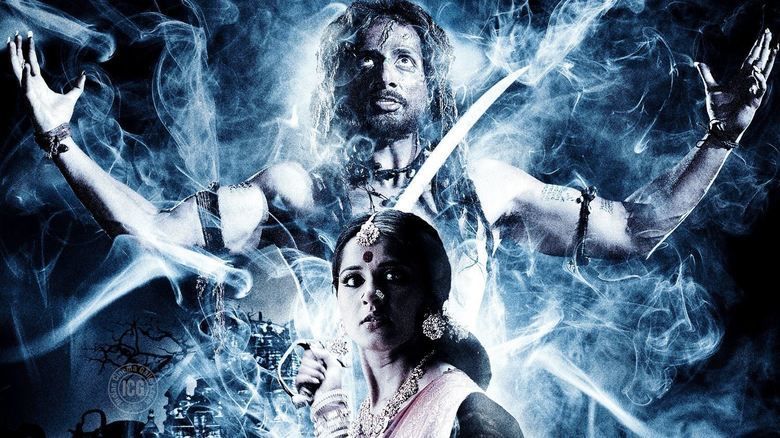 He unleashes carnage as he uses his powers to torture innocent people—something the Aghoras don't do. He arrives on Jejjama's marriage day and magically starts removing her clothes but Jejjama seduces him and performs a special dance imbued with martial arts to lull Pasupathi. She then cuts off his tongue (thus ending the incantations) and pins his hands, allowing a chandelier to fall on his body. She spares him from being killed to prevent him from becoming a 'pretatma' (a demonic poltergeist). Pasupathi is buried alive in a tomb and powerful 'yantras' (defensive spells) are put on it to prevent him from coming out. Though pasupathi's corpse is buried , his soul moves out all around Gadwal destroying peoples' lives by causing famine and diseases. Jejjamma then visits many temples and sages for solution, but no one is able to solve the problem. She finally meets some Agories who tell her that she can only destroy Pasupathi's vengeful spirit on her next birth. Hence to initiate her re-incarnation, she agrees to give up her life. They instruct her to bid goodbye to everyone before the sacrifice and before leaving she tells everyone that the first girl who will be born in their race will be a replica of her and they all ought to respect the child as they would respect her. She then returns to the aghoras asking for a painful death that will magnify her revenge on Pasupathi. She then undergoes a painful death by having coconuts broken open on her skull. The queen then dies and her skeletal remains are fashioned into a dagger – the one weapon that could destroy Pasupathi forever.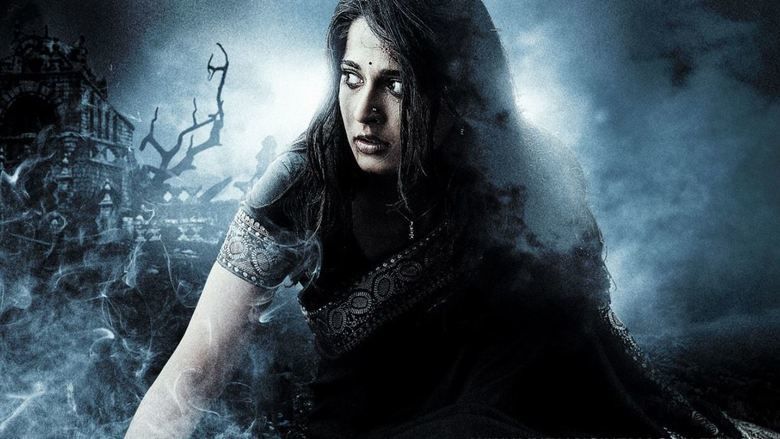 A mad person unknowingly breaks the tomb and releases Pasusathi's spirit - 'pretatma'. Anwar (Sayaji Shinde) who treats patients through sorcery asks her to fight Pasupathi. Arundhati comes to know that her great-grandmother had prepared a 'weapon' with her own bones and had kept it with the sages. Pasupathi stabs Arundhati and she goes to Anwar's palace after recovering. During their attempts to procure the weapon their family are threatened and she loses Chandramma. Later the spirit apparently kills Anwar by throwing him off a cliff.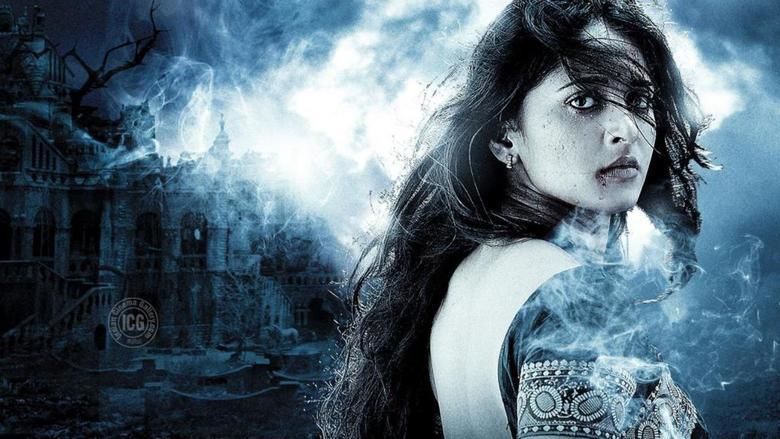 Arundhati, believing that Anwar is dead, returns to the fort to surrender herself to Pasupathi to prevent the death of her family members. But Anwar, who had survived the fall, hands the weapon to Arundhati. The weapon has to be soaked in Arundhathi's blood before it can be used. Before Anwar can tell her this, Pasupathi kills him. As a last resort to save herself, Arundhati tries to kill herself with the same weapon. The dagger glows from her blood showing that Jejjamma had come. She kills Pasupathi and the building sets fire and blasts. Then Arundhati is shown walking out of the place as Jejjamma.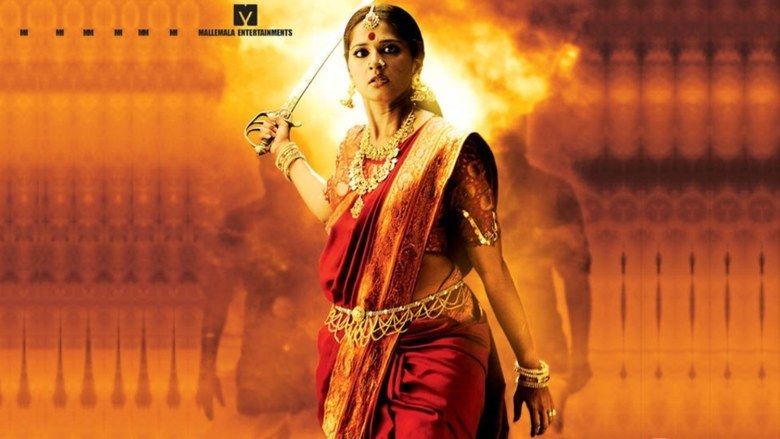 Anushka Shetty as Arundhathi/Jejamma
Sonu Sood as Pasupathi
Arjan Bajwa as Rahul
Sayaji Shinde as Anwar
Manorama as Chandramma
Kaikala Satyanarayana as Bhupathi Raja
Subhashini as Pasupathi's Mother
Bhanu Chander as Arundhati's Father
Anita Raichurkar
Chalapathi Rao
Siva Parvati
Divya Nagesh as Young Arundhati
Leena siddu as Dance teacher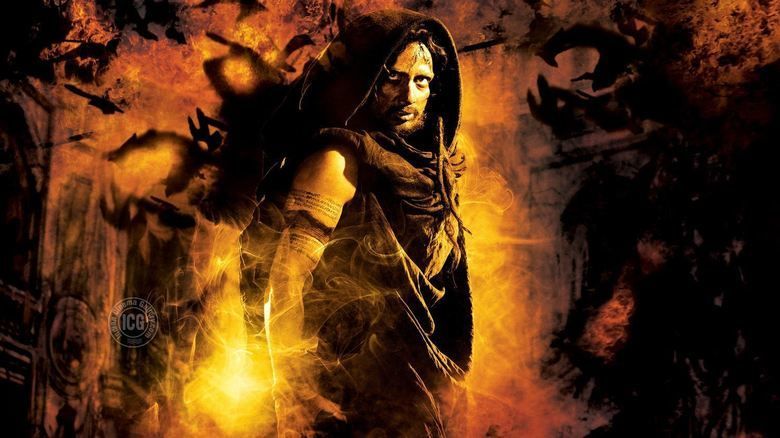 Shyam Prasad Reddy revealed that he got the idea of Arundhati while receiving National Awards for the film Anji (2004). Being inspired from films like Chandramukhi and Exorcist, he made it a female oriented story "for a bigger appeal so that entire family can watch it. I added classical dance to it. I wanted to mount the film on a grandeur scale.[sic] I wanted to play the film on 'fear of the evil spirit'. Arundhati is about good fighting evil. Hence I had to make sure that both the characters of Arundhati and Pasupati equally powerful [sic]".
Shyam wanted somebody with 5 feet and 10 inches height and "should look royal because she the queen, she rides on horses and elephants". Gemini Kiran suggested Shyam to choose Anushka for the role. After conducting her photoshoot, Shyam explained the story and Arundhati's characterisation. Sowmya Sharma had dubbed for the character of modern day Arundhati and Shilpa for Jejjama. Shyam wanted Tamil actor Pasupathy to enact the role of antagonist of same name but since the character has "a royal side to the character where he has to look princely", he had chosen Sonu Sood for the role after seeing his performance in Ashok (2006). Dubbing voice for Sonu Sood was provided by P. Ravishankar. Ravishankar completed the dubbing within 14 days and found it to be "most challenging work" and his voice "has gone sore for 5 times during this process".
For the characterisation of Fakira who helps Anushka's character in present era, Shyam drew inspiration from the priest character in 1976 American horror film The Omen. Shyam considered Nasiruddin Shah, Nana Patekar and Atul Kulkarni for the role however none of their dates were available. Sayaji Shinde was finally chosen for the character.
Though this film was released in 2009, it was registered for 2008 films for Nandi Awards, and took the lion's share. Nandi Awards won by the film are
Best Villain – Sonu Sood
Best Child Actress – Divya Nagesh
Best Editor – Marthand K Venkatesh
Best Art Director – Ashok
Best Audiographer – Radhakrishna & Madhusudhan Reddy
Best Costume Designer – Deepa Chandar
Best Makeup Artist – Ramesh Mahanti
Best Male Dubbing Artist – P. Ravi Shankar
Nandi Award for Best Special Effects – Rahul Nambiar
Special Jury Award – Anushka Shetty
Filmfare Best Actress Award (Telugu) – Anushka Shetty (2009)
Filmfare Best Supporting Actor Award (Telugu) – Sonu Sood (2009)
Best Director - Kodi Ramakrishna
Best Producer - Shyam Prasad Reddy
Best Actress - Anushka Shetty
Best villain - Sonu Sood
Best Dubbing Artist Male - Ravi Shankar
Best Cameraman - K. K. Senthil Kumar
Rediff gave it three stars out of five and said "The main plus points of the film are screenplay (creative director Rahul Nambiar and the Mallemalla Unit), art direction (Ashok), cinematography (Senthil Kumar), editing (Marthand K. Venkatesh), special effects and the performances of Anushka [Images], Sonu Sood and Sayaji Shinde. On the whole, Arundhati is a watchable film provided you don't have a weak heart and don't get into discussing logic, science and rationality. Just watch what unfolds on the screen – for that's visual grandeur". Sify gave verdict as "Worth a watch" with four stars noted "The film has come across with some really mind blowing graphics and presentation, even the performances were top notch that helped. While the drums scene is a take from the Chinese movie 'House of Flying Daggers' it was well taken and presented. The shock points are high and one can say that the film is definitely not for the weak hearted. There are enough chilling moments to shake the audience off their chair. The film is one of the best made ever in the history of Telugu cinema in terms of technical values so it deserves to be a good hit".
The film grossed ₹ 300 million domestically at the box office and ₹ 30 million from overseas markets. The satellite telecast rights fetched another ₹ 70 million.
Arundhati's success turned Anushka into one of the most sought-after actresses in Telugu cinema and catapulted her into the foray of leading Telugu actresses. Sonu Sood attained stardom with this film and went on to work in several South Indian films as an antagonist. After the release of Arundhati, people began recognising him as Pasupathi. P. Ravishankar who dubbed for him also became popular and was referred to as 'Bommali Ravi Shankar' by the media there after.
According to writer Gopimohan, Arundhati made audience to "welcome creative content" and Magadheera started a trend of experimentation with period, socio-fantasy and spiritual themes that was continued in films like Panchakshari (2010), Nagavalli (2010), Anaganaga O Dheerudu (2011), Mangala (2011), Sri Rama Rajyam (2011) and Uu Kodathara? Ulikki Padathara? (2012). Tammareddy Bharadwaja said "Ever since Arundhati and Magadheera did well at the box office, the rest of the industry started following their footsteps. Also, since there is an irrational craze to make high budget films right now, producers are turning towards mythological films. It is the only genre where you can boast of spending crores for creating the sets and the look of the film. But what they don't realize is that if these films flop, the blow to the producer will be severe." Films like Anaganaga O Dheerudu (2011) and Shakti (2011) were commercial failures and Badrinath (2012) was an average grosser; all being fantasy films in which the protagonist is a warrior.