6.8

/

10

Alchetron

3.6

Rate This









Writer

Satyanand (dialogues)

Release date

1 April 2011 (2011-04-01)

Songs

Thalia Thaliya





Similar

Kantri, Pokiri, Adhurs
Shakti telugu full movie jr ntr ileana manjira sri balaji video
Shakti is a 2011 Telugu historical action-fantasy film directed by Meher Ramesh starring Jr. NTR, Ileana D'Cruz and Manjari Phadnis in the lead roles.The film, produced by C. Ashwini Dutt under the Vyjayanthi Movies banner, features an extensive supporting cast including Sonu Sood, S. P. Balasubrahmanyam, Jackie Shroff, Pooja Bedi and Tamil actor Prabhu Ganesan, was released on 1 April 2011. A dubbed Tamil version was simultaneously released in Tamil Nadu as Om Shakthi. It has been dubbed in Hindi as Ek Tha Soldier. It received largely negative reviews and was a utter flop as its box office earnings were considerably less than its budget. Shakti budget varies from ₹67 crore (US$10 million) to ₹45 crore (US$7.0 million) including marketing and print costs.
Contents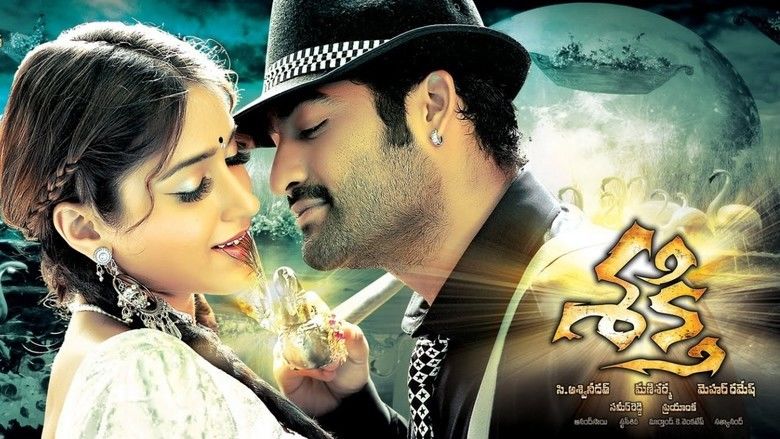 Plot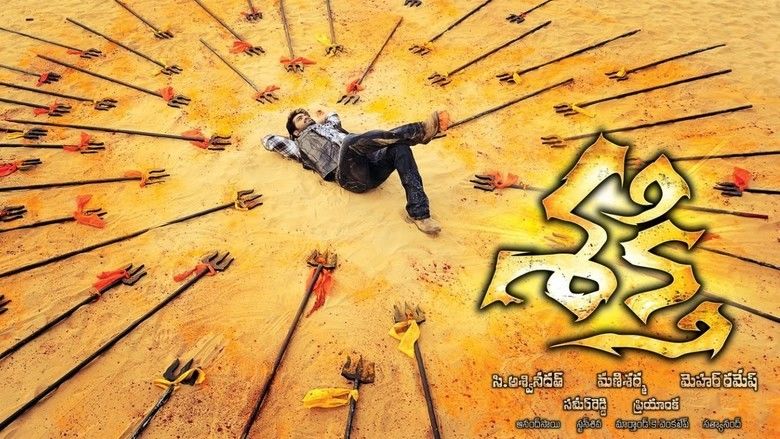 Aishwarya (Ileana D'Cruz) is the daughter of central union home minister Mahadevraya (Prabhu Ganesan). Due to security reasons, he doesn't allow his daughter to go on a trip with friends. She nonetheless goes to the trip. She then meets a guide, Shakti (Jr. NTR), who takes the group on a trip to several places. At first, she hates him because he uses every chance to get money from her. But when he saves her, she starts liking him. Afterwards, a few people who are chasing her finally find her in Haridwar and try to kill Shakti as he hurt them earlier. Their plan fails as Shakti turns out to be a Secret Agent and defends himself and catches the main person in this plan. When Aishwarya goes back to her father, he forgives her and asks whether she had taken a box in which there is a holy stone. When she replies in the negative, he says that it is more important than his own daughter. Later, when Shakti goes to a temple, the box falls off a basket his mother brought with flowers on top of it. They inform Mahadevaya who asks them to immediately come to Hampi with the box and Aishwarya. Their travel is blocked by a strong man named Raakha who is son of an Egyptian enemy Faqtooni (Pooja Bedi) who is then defeated by Shakti. He then kills one more person who tries to grab the box. Then Mahadeva Raya and a Swami (Nassar) come to him and then the flashback is revealed.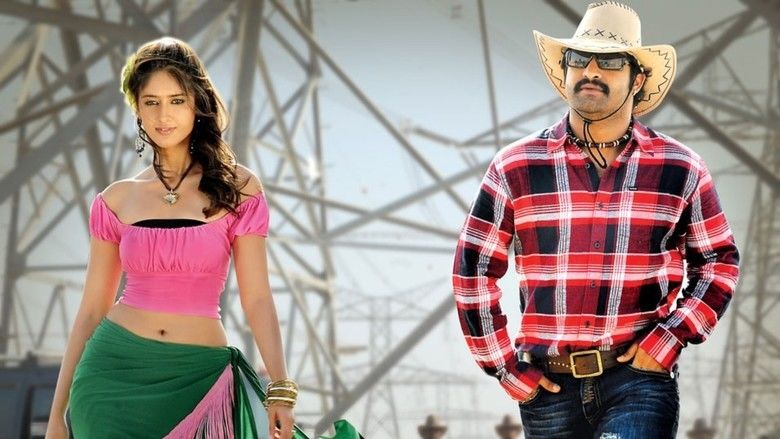 It is said that Mahadeva Raya'a father Vijayraya (S. P. Balasubrahmanyam) was a royal king who was extremely generous and had the blessings of god which gave him the power that whenever he touched the stone, it used to shine brightly emitting light. He reveals that apart from the 18 Shakti peeths there is a secret one which protects India and only their family knows of it. There is also a protector who guards it at all times. His name is Rudra (Jr. NTR). After every 27 years, they must go to the shakti peeth where the protector will perform several spiritual rites which must be compulsorily performed. When he starts performing them, an Egyptian king Mukhtar (Sonu Sood) who knows of this comes to destroy the shakti peeth. The protector kills the king but a person who works under the Mahadeva Raya's father, Janaki Varma (Jackie Shroff) cheats him and kills both the protector and Vijayraya as he sought money from the king. He also steals a sword (Maha Trishulam) which is necessary for the rites to be performed. When the protector is killed, his wife (Manjari Phadnis), at the same time, delivers a baby boy (Shakti) whom Rudra gives to his loyal servant. The servant tries his best to save the boy but circumstances force him to throw the boy into the river. The boy is then found by a childless couple who adopt him. After finding out his past, he sets out for revenge.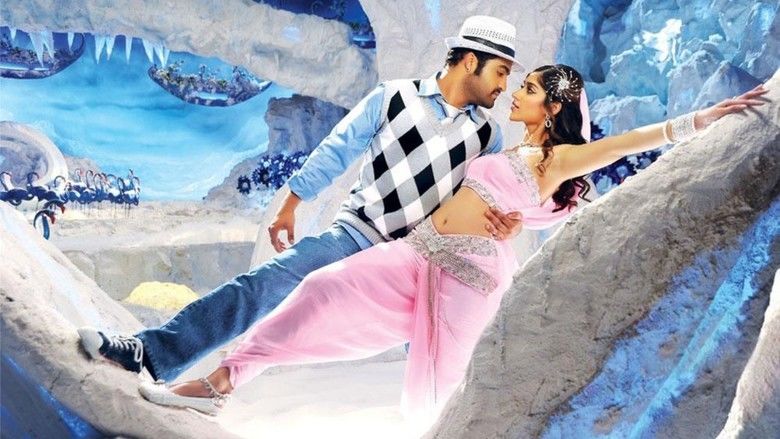 Shakti then goes to Janaki's country where he is presently the underworld don and a multimillionaire. He kills Janaki and gets the sword. Finally he goes to perform the rites but is stopped by the Faqtooni and her powerful son Raakha who comes back and cannot be defeated. The swami then tells him that the strong man can only be defeated by damaging his eyes. He then kills him and performs the rites.
Cast
NTR Jr. in a dual role as Shakti Swaroop and Rudra
Jackie Shroff as Janaki Varma (Jackie) (Antagonist)
Ileana D'Cruz as Aishwarya Mahadevaraya, Shakti's love interest
Manjari Phadnis as Gauri, Rudra's wife
Prabhu Ganesan as Mahadevaraya
Vinod Kumar as Prachanda
S. P. Balasubrahmanyam as Vijayaraya
Pooja Bedi as Faqtooni (Antagonist)
Nassar as sage
Sonu Sood as Mukthar (Antagonist)
Ali as Tommy
Krishna Bhagavaan as Devudu / David
Reza Ashtarian
Sayaji Shinde as Siva
Pragathi as Siva's wife
Brahmanandam as Avatar
Dharmavarapu Subramanyam as Subba Rao
Venu Madhav as Satti Babu
M. S. Narayana as priest
Daniel as Raakha (Faqtooni's elder son) (Antagonist)
Vidyut Jamwal as Faqtooni's younger son (Antagonist)
Reception
The high-budget socio-fantasy film was panned by critics. Sify stated "A major drawback of Shakti is that Meher Ramesh failed to club the periodic frames with the contemporary story. The flashback doesn`t suit the time factor. The story is nothing but the weird imagination of director (also story writer) Meher Ramesh. Technically speaking, there is no screenplay and editing at all, but the senseless play of the director`s wild and stoic imagination."
Rediff, which gave a two star said, "Needless to say the story lacks clarity and there is no logical thread either. As a result, the audience has to bear the tedium and the meandering plot. Sadly Shakti does not seem to have much 'shakti' to sustain."
CNN-IBN noted "Shakthi, touted as the costliest film ever made in the Telugu film industry, may not appeal to the viewers because of illogical and contradictory sequences. There are many bloomers like this in the film, which has many plots and sub-plots to confuse the audience."
Timesofindia also gave a negative review with two stars and said "The blame for this epic failure, however, should be taken by the director. In an attempt to make history, he ended up confusing the audience, thanks to the meagre story-line, poor narration and far-fetched imagination."
Box office
The film opened to great response collected ₹4.25 crore (Share) in its first day. On weekend collected ₹10 crore (Worldwide Share) which is very good though disastrous talk. The film opened to very good response in USA collected $89,571 (₹55.57 lakhs)in 3 Days. The film collected ₹14.4 crore during its first week. The film collected ₹19.01 crore in its final worldwide Share at the box office. The film declared 'Disaster' at the box office.
Soundtrack
The soundtrack, composed by Mani Sharma, was released on 27 February 2011.
Shakti telugu full movie part 1 2 jr ntr ileana with english subtitles
References
Shakti (2011 film) Wikipedia
(Text) CC BY-SA
Shakti (2011 film) IMDb
Shakti (2011 film) themoviedb.org