Covid-19
Andala Ramudu is a 1973 Telugu, comedy drama film, film produced by N. S. Murthy on Chitra Kalpana banner and directed by Bapu. Starring Akkineni Nageswara Rao, Latha in the lead roles and music composed by K. V. Mahadevan.The film is based on Mullapudi Venkata Ramana's Janata Express (novel). The film is first debut to veteran artist Nutan Prasad & Latha. The film won Nandi Award for Best Feature Film in 1973. The film has given enthusiastically drawing atmosphere and spirit to the movie Godavari (2006), directed by Sekhar Kammula.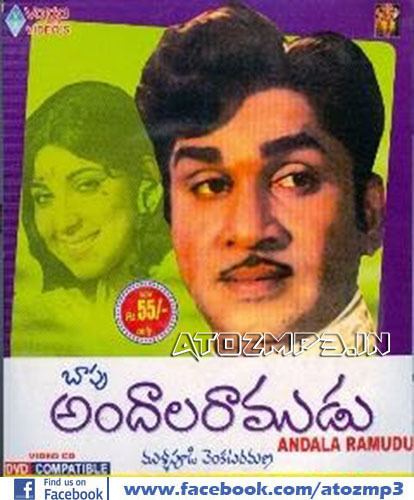 Akkineni nageswara rao romantic scene from andala ramudu movie
Andala Ramudu Movie Songs || Raamudemannaadoy || ANR || Latha
Seetarama Rao / Ramudu (Akkineni Nageshwara Rao) is an orphan brought up by an old lady who doesn't have anyone in the world whom Ramu calls as his grandmothar. One day, Ramu finds a suitcase full of money. He returns the money to the owner J. B. Rao (Nagabhushanam). Seetha (Latha), the only daughter of J.B. Rao loves him for his honesty. His grandmother completes RamaKoti and wishes to visit Bhadrachalam to submit it to Sri Rama. Ramu gets a job as an assistant collector and posted at Bhadrachalam (It is kept as a secret until the end). He takes his grandmother along with others in Panchavati Colony on a boat on Godavari river. J.B. Rao also starts in a luxury boat to Bhadrachalam at the same time, along with Seetha to marry her to Giri (Nutan Prasad). J.B. Rao thinks money is everything. Ramu, with the help of Seetha, changes J.B. Rao and finally get married at Bhadrachalam, the abode of Sri Rama.
Akkineni Nageshwara Rao as Seetarama Rao / Ramudu
Latha Sethupathi as Seeta
Nagabhushanam as J.B.Rao
Allu Ramalingaiah as Teesena Tasaldaru / Teeta
Raja Babu asAppula Appa Rao
Suryakantham as Samalamma
Dhulipala Seetharama Sastry as Secretary
Mada as Sarangu
Sakshi Ranga Rao as Subba Rao Mamagaru
Raavi Kondala Rao as Dasu
Kakarala as Bantrothu Bhadraiah
Venkateswara Rao
K.K.Sarma as Priest
Nutan Prasad as Giri Babu
Potti Prasad as Butler
Jhansi as Balanagamma
Manimala as Raani
Art: G. V. Subba Rao
Choreography: Pasumarthi, Taara-Sundaram, Raju-Seshu
Story - Dialogues: Mullapudi Venkata Ramana
Screenplay: Seetaramudu, Boodlumandi
Lyrics: Arudra, C. Narayana Reddy, Kosaraju Raghavaiah
Playback: M. Balamuralikrishna, V. Ramakrishna, J. V. Raghavulu, P. Susheela, Madhavapeddi Satyam, Raghuram, Vijayalakshmi
Music: K. V. Mahadevan
Editing: Akkineni Sanjeeva Rao, Mandapati Ramachandraiah
Cinematography: V. S. R. Swamy
Producer: N. S. Murthy
Director: Bapu
Banner: Chitra Kalpana
Release Date: 12th September 1973
Music composed by K. V. Mahadevan. Music released on Audio Company.
VCDs & DVDs on - VOLGA Videos, Hyderabad
The film ran for more than 100 days.
Andala ramudu songs maa talli godaari dhanyudanaitini o rama anr latha rajababu
Andala Ramudu (1973 film) Wikipedia
(Text) CC BY-SA
Andala Ramudu (1973 film) IMDb