Residence

Mayfair London


Spouse(s)

George Forsyth




Movies

Volumen




Occupation

Fashion designer




Books

Alexander McQueen





Education

Central Saint Martins


Role

Fashion designer




Nationality

British




Name

Alexander McQueen







Full Name

Lee Alexander McQueen




Born

17 March 1969 (

1969-03-17

) Lewisham, London, England, United Kingdom


Parent(s)

Joyce McQueen(deceased, 1934–2010)Ronald McQueen




Died

February 11, 2010, Mayfair, London, United Kingdom


Similar People

Alexander Wang, Stella McCartney, John Galliano, Tom Ford, Christian Louboutin



Organizations founded

Alexander McQueen



Fashion in motion interview with alexander mcqueen at the v a in 2000
Lee Alexander McQueen, CBE (17 March 1969 – 11 February 2010) was a British fashion designer and couturier. He is known for having worked as chief designer at Givenchy from 1996 to 2001 and for founding his own Alexander McQueen label. His achievements in fashion earned him four British Designer of the Year awards (1996, 1997, 2001 and 2003), as well as the CFDA's International Designer of the Year award in 2003. McQueen committed suicide in 2010, at the age of forty, at his home in Mayfair, London.
Contents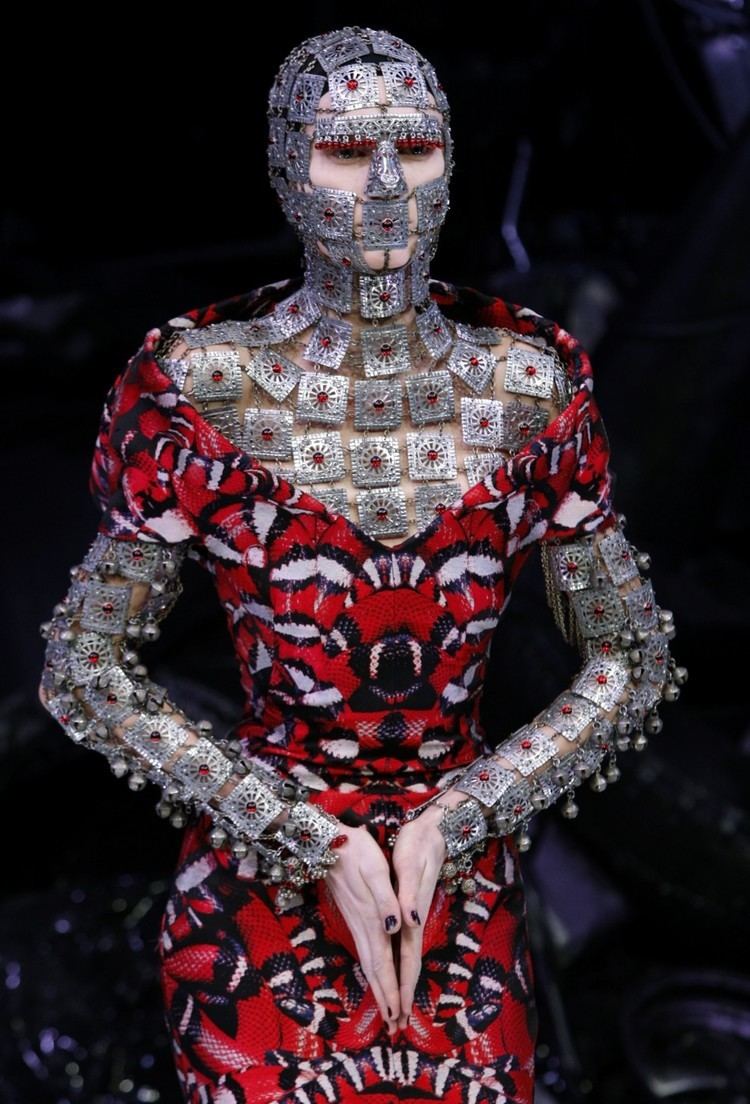 Ft the incredible life and tragic death of alexander mcqueen preview
Early life and education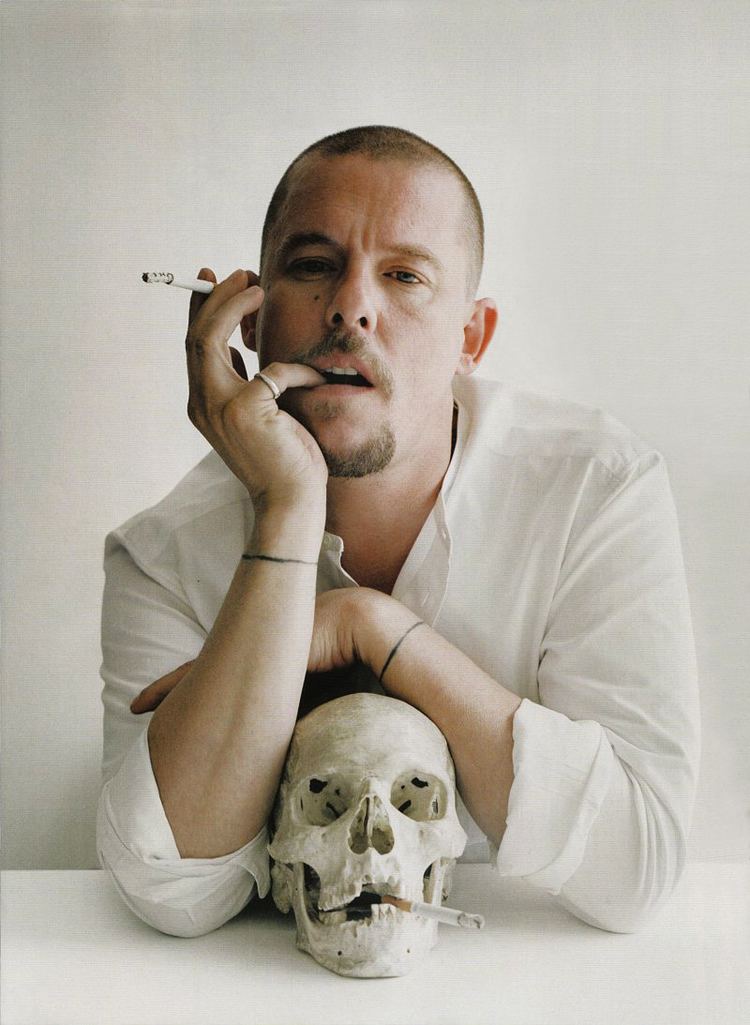 Born on 17 March 1969 in Lewisham, London, to Scottish taxi driver Ronald and social science teacher Joyce, McQueen was the youngest of six children. He reportedly grew up in a council flat, but, in fact, the McQueens moved to a terraced house in Stratford in his first year.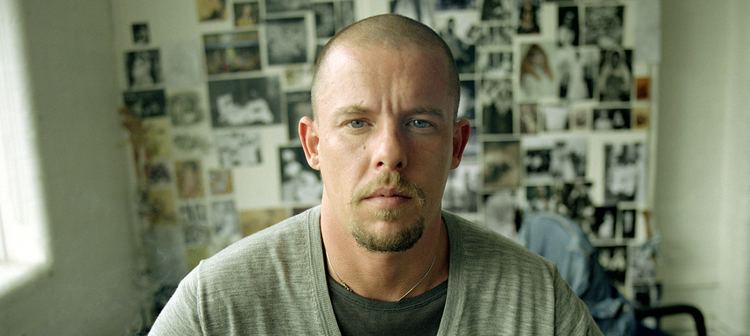 McQueen later attended Rokeby School and left aged 16 in 1985 with one O-level in art, going on to complete a tailoring course at Newham College and serve an apprenticeship with Savile Row tailors Anderson & Sheppard, before joining Gieves & Hawkes and, later, the theatrical costumiers Angels and Bermans. While serving his apprenticeship, McQueen attended the Rosetta Art Centre led by Yvonne Humble, who also wrote his reference that saw him go straight on to an MA course at Central St Martins. The skills he learned as an apprentice on Savile Row helped earn him a reputation in the fashion world as an expert in creating an impeccably tailored look.
Career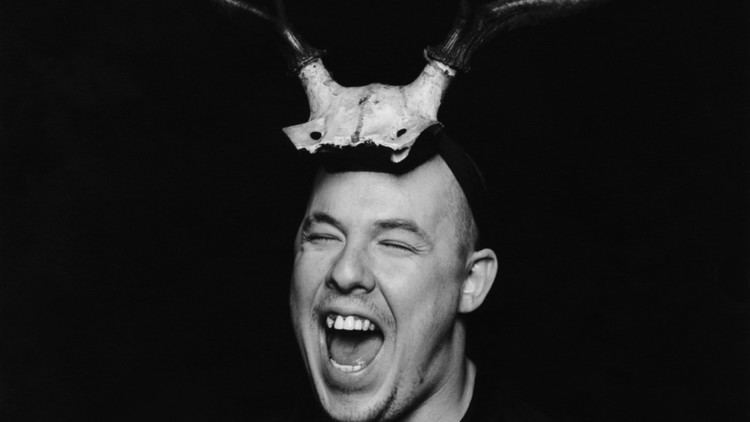 McQueen returned to London and applied to Central Saint Martins College of Art and Design, to work as a pattern cutter tutor. Because of the strength of his portfolio he was persuaded by Bobby Hillson, the Head of the Masters course, to enroll in the course as a student. He received his master's degree in fashion design and his 1992 graduation collection was bought in its entirety by influential fashion stylist Isabella Blow, who was said to have persuaded McQueen to become known as Alexander (his middle name) when he subsequently launched his fashion career. Isabella Blow paved the way for Alexander McQueen using her unique style and contacts to help him she was in many ways his mentor. It was during this period that McQueen relocated to Hoxton, which housed other new designers, including Hussein Chalayan and Pauric Sweeney. It was shortly after creating his second collection,"McQueen's Theatre of Cruelty", that McQueen met Katy England, his soon to be "right hand woman", when outside of a "high profile fashion show" trying to "blag her way in". He promptly asked her to join him for his third collection, "The Birds" at Kings Cross, as "creative director". Katy England continued to work with McQueen thereafter, greatly influencing his work – his "second opinion".
McQueen designed the wardrobe for David Bowie's tours in 1996-1997, as well as the Union Jack coat worn by Bowie on the cover of his 1997 album Earthling. Icelandic singer Björk sought McQueen's work for the cover of her album Homogenic in 1997. McQueen also directed the music video for her song "Alarm Call" from the same album and later contributed the iconic topless dress to her video for "Pagan Poetry". McQueen also collaborated with dancer Sylvie Guillem, director Robert Lepage and choreographer Russell Maliphant, designing wardrobe for theater show "Eonnagata", directed by Robert Lepage. The film "Sylvie Guillem, on the edge" produced by French production company A DROITE DE LA LUNE, traces whole history of the creation of the show, from first rehearsals which took place in Quebec until world premiere which was held in 2008 at Sadler's Wells theatre in London.
McQueen's early runway collections developed his reputation for controversy and shock tactics (earning the title "l'enfant terrible" and "the hooligan of English fashion"), with trousers aptly named "bumsters" and a collection titled "Highland Rape". In 2004, journalist Caroline Evans also wrote of McQueen's "theatrical staging of cruelty", in 032c magazine, referring to his dark and tortured renderings of Scottish history. McQueen was known for his lavish, unconventional runway shows: a recreation of a shipwreck for his spring 2003 collection; spring 2005's human chess game; and his autumn 2006 show "Widows of Culloden", which featured a life-sized hologram of supermodel Kate Moss dressed in yards of rippling fabric.
McQueen's "bumsters" spawned a trend in low rise jeans; on their debut they attracted many comments and debate. Michael Oliveira-Salac, the director of Blow PR and a friend of McQueen's said, "The bumster for me is what defined McQueen." McQueen also became known for using skulls in his designs. A scarf bearing the motif became a celebrity must-have and was copied around the world.
McQueen has been credited with bringing drama and extravagance to the catwalk. He used new technology and innovation to add a different twist to his shows and often shocked and surprised audiences. The silhouettes that he created have been credited for adding a sense of fantasy and rebellion to fashion. McQueen became one of the first designers to use Indian models in London.
Givenchy appointment
Upon arrival at Givenchy, McQueen insulted the founder by calling him "irrelevant". His first couture collection with Givenchy was unsuccessful, with even McQueen telling Vogue in October 1997 that the collection was "crap". McQueen toned down his designs at Givenchy, but continued to indulge his rebellious streak, causing controversy in autumn 1998 with a show which included double amputee model Aimee Mullins striding down the catwalk on intricately carved wooden legs. This year also saw McQueen complete one of his most famous runway shows previewing Spring/Summer 1999, where a single model, Shalom Harlow, graced the runway in a strapless white dress, before being rotated slowly on a revolving section of the catwalk whilst being sprayed with paint by two robotic guns. Givenchy designs released by Vogue Patterns during this period may be credited to the late designer.
McQueen received press attention after the May 2007 suicide of international style icon Isabella Blow. Rumours were published that there was a rift between McQueen and Blow at the time of her death, focusing on McQueen's under-appreciation of Blow. In response to these rumours, McQueen told an interviewer:
"It's so much bollocks. These people just don't know what they're talking about. They don't know me. They don't know my relationship with Isabella. It's complete bullshit. People can talk; you can ask her sisters ... That part of the industry, they should stay away from my life, or mine and Isabella's life. What I had with Isabella was completely dissociated from fashion, beyond fashion."
VOSS
McQueen's most celebrated and dramatic catwalk show was his 2001 Spring/Summer collection, named VOSS. The centre piece tableau that dominated the room was an enormous glass box. But because the room outside the box was lit and the inside of the box was unlit, the glass walls appeared as large mirrors, so that the seated audience saw only their own reflection. Finally, after an hour, and when the show began, lights came on inside the enormous glass case and revealed the interior to be filled with moths and, at the centre, a naked model on a chaise longue with her face obscured by a gas mask. The glass walls then fell away and smashed on the ground.
The model chosen by McQueen to be the centre of the show was the British writer Michelle Olley. (The show also featured Kate Moss and Erin O'Connor). McQueen said that the tableau was based on the Joel Peter Witkin image Sanitorium. The British fashion photographer Nick Knight later said of the VOSS show on his SHOWstudio.com blog:
"The girl in the box was Michelle Olley. She modelled for me in a story I did called Sister Honey... She was a writer and I remember she wrote a great piece on being the Butterfly Girl in the middle of that (McQueen) Glass Box show. I was sat on the front row, inbetween Alexandra Schulman and Gwyneth Paltrow. It was probably one of the best pieces of Fashion Theatre I have ever witnessed."
Alexander McQueen later described his thoughts on the idea used during VOSS of forcing his audience to stare at their own reflection in the mirrored walls for over an hour:
"Ha! I was really pleased about that. I was looking at it on the monitor, watching everyone trying not to look at themselves. It was a great thing to do in the fashion industry—turn it back on them! God, I've had some freaky shows."
In 2011, Michelle Olley was asked by the Metropolitan Museum of Art in New York to contribute to their Alexander McQueen exhibition, Savage Beauty. She was interviewed by The Met about VOSS for the audio guide to the show. Olley's detailed diary/journal of modelling for McQueen – written between 18–27 September as the show was being planned and staged – was included in the Met Museum website coverage of the Savage Beauty exhibition. The VOSS diary relates details of the show and encounters with McQueen, ending with how Olley returned home after the show to find:
"...a MASSIVE bouquet of flowers has arrived, with a note [from McQueen] saying, "Thank you for everything – you were beautiful! – Lee xxx"
Accomplishments
Some of McQueen's accomplishments included being one of the youngest designers to achieve the title "British Designer of the Year", which he won four times between 1996 and 2003; he was also awarded the CBE and named International Designer of the Year by the Council of Fashion Designers in 2003.
December 2000 saw a new partnership for McQueen, with the Gucci Group's acquiring 51% of his company and McQueen's serving as Creative Director. Plans for expansion included the opening of stores in London, Milan, and New York, and the launch of his perfumes Kingdom and, most recently, My Queen. In 2005, McQueen collaborated with Puma to create a special line of trainers for the shoe brand. In 2006, he launched McQ, a younger, more renegade lower-priced line for men and women.
McQueen became the first designer to participate in MAC's promotion of cosmetic releases created by fashion designers. The collection, McQueen, was released on 11 October 2007 and reflected the looks used on the Autumn/Winter McQueen catwalk. The inspiration for the collection was the 1963 Elizabeth Taylor movie Cleopatra, and thus the models sported intense blue, green, and teal eyes with strong black liner extended Egyptian-style. McQueen handpicked the makeup.
Company
By the end of 2007, Alexander McQueen had boutiques in London, New York, Los Angeles, Milan, and Las Vegas. Celebrity patrons, including Nicole Kidman, Penélope Cruz, Sarah Jessica Parker, and Rihanna, Monica Brown and J-pop queens, such as Ayumi Hamasaki, Namie Amuro, and Koda Kumi, have frequently been spotted wearing Alexander McQueen clothing to events. Björk, Ayumi Hamasaki and Lady Gaga have often incorporated Alexander McQueen pieces in their music videos.
Personal life
McQueen was openly gay and said he realized his sexual orientation when he was six years old. He told his family when he was 18 and, after a rocky period, they accepted his sexuality. He described coming out at a young age by saying, "I was sure of myself and my sexuality and I've got nothing to hide. I went straight from my mother's womb onto the gay parade".
In 2000, McQueen had a marriage ceremony with his partner George Forsyth, a documentary filmmaker, on a yacht in Ibiza. The marriage was not official, as same-sex marriage in Spain was not legal at that time. The relationship ended a year later, with McQueen and Forsyth maintaining a close friendship.
McQueen was an avid scuba diver and used his passion as a source of inspiration in his designs, including spring 2010's "Plato's Atlantis". Much of his diving was done around the Maldives.
Death and memorial
McQueen's death was announced on the afternoon of 11 February 2010. In the morning, his housekeeper found him hanged at his home in Green Street, London W1. Paramedics were called and they pronounced him dead at the scene.
David LaChapelle, a friend of the designer, said that McQueen "was doing a lot of drugs and was very unhappy" at the time of his death. McQueen's death came just days before London Fashion Week, although he was not scheduled to appear there.
McQueen left a note saying, "Look after my dogs, sorry, I love you, Lee." The Metropolitan Police stated that the note was not suspicious, but did not confirm that the death was a suicide. On 17 February 2010, Westminster Coroner's Court was told that a post-mortem examination found that McQueen's death was due to asphyxiation and hanging. The inquest was adjourned until 28 April 2010, where McQueen's death was officially recorded as suicide. McQueen, who had been diagnosed with mixed anxiety and depressive disorder, took an overdose prior to hanging himself. He had taken drug overdoses in May and July 2009. Coroner Dr Paul Knapman reported finding "a significant level of cocaine, sleeping pills, and tranquillizers in the blood samples taken after the designer's death."
On behalf of Lee McQueen's family, Alexander McQueen [the company] today announces the tragic news that Lee McQueen, the founder and designer of the Alexander McQueen brand, has been found dead at his home. At this stage it is inappropriate to comment on this tragic news beyond saying that we are devastated and are sharing a sense of shock and grief with Lee's family. Lee's family has asked for privacy in order to come to terms with this terrible news and we hope the media will respect this.
On 3 February 2010, McQueen wrote on his Twitter page that his mother had died the day before, adding: "RIP mumxxxxxxxxxxxxxxxxxxxxxxxxxxx." Four days later, he wrote that he had had an "awful week" but said "friends have been great", adding: "now i have to some how pull myself together". McQueen is survived by his father, three sisters, and two brothers.
McQueen's funeral took place on 25 February 2010 at St. Paul's Church, Knightsbridge, West London. His ashes were later scattered on the Isle of Skye at Kilmuir. His Skye ancestory had been a strong influence in his life and work. McQueen's Scottish heritage - his father was born and had ancestral roots in Skye - was evident in his life and work. Collections including Banshee (AW94-95) and Highland Rape (AW95-96) draw on both Celtic culture and dark periods of Scotland's history, notably the 18th century suppression of Scotland's Highland clan system following the final defeat of the Jacobite rebellions. In asking for his remains to be interred in Kilmuir, looking over the sea in the north of Skye, Alexander McQueen has joined members of his clan going back over many generations.
A memorial was held for McQueen at St. Paul's Cathedral on 20 September 2010. It was attended by Björk, Kate Moss, Sarah Jessica Parker, Naomi Campbell, Stella McCartney, Lady Gaga and Anna Wintour amongst 2,500 other invited guests. On 18 February 2010, Robert Polet, the president and chief executive of the Gucci Group, announced that the Alexander McQueen business would carry on without its founder and creative director.
The BBC reported that McQueen had reserved £50,000 of his wealth for his pet dogs so they could live in the lap of luxury for the rest of their lives. He also bequeathed £100,000 each to four charities; these include the Battersea Dogs and Cats Home in South London, and the Blue Cross animal welfare charity in Burford, Oxfordshire.
Tributes
On 16 February 2010, pop musician and friend Lady Gaga performed an acoustic, jazz rendition of her hit single "Telephone" and segued into "Dance in the Dark" at the 2010 Brit Awards. During the performance, Gaga paid tribute to McQueen, by dedicating a song to him. She also commemorated McQueen after accepting her award for Best International Artist, Best International Female, and Best International Album. Gaga dedicated a song to him, titled "Fashion of His Love", on the special edition of her third album, Born This Way.
Björk, wearing a McQueen outfit, sang her rendition of "Gloomy Sunday" at the memorial at St. Paul's Cathedral in London. Various other musicians, who were friends and collaborators with McQueen, commentated on his death, including Kanye West, Courtney Love, and Katy Perry.
In March 2010, celebrities including Naomi Campbell, Kate Moss and Annabelle Neilson, among others, paid visual tribute to McQueen by wearing his distinctive 'manta' dresses. The 'manta' dresses, inspired by a scuba-diving holiday McQueen took to the Maldives in 2009, came from McQueen's 'Plato's Atlantis' collection of Spring-Summer 2010 which was at the time currently available to purchase. 'Manta' dresses had been worn by celebrities such as Daphne Guinness, Noot Seear, Anna Paquin, and Lily Cole prior to his death, and following the announcement that he had died, remaining stocks sold out despite prices starting at £2,800.
The Metropolitan Museum of Art in New York City hosted a posthumous exhibition of McQueen's work in 2011 titled Savage Beauty. The exhibition's elaborate staging includes unique architectural finishes and soundtracks for each room. Despite being open for only three months, it was one of the most popular exhibitions in the museum's history. The exhibition was so successful that Alexander McQueen fans and industry professionals worldwide began rallying at Change.org to "Please Make Alexander McQueen's Savage Beauty a Traveling Exhibition" to bring honour to McQueen and see his vision become a reality: to share his work with the entire world. The exhibition then appeared in London's Victoria & Albert Museum between 14 March and 2 August 2015. It sold over 480,000 tickets, making it the most popular show ever staged at that museum.
In 2012, McQueen was among the British cultural icons selected by artist Sir Peter Blake to appear in a new version of his most famous artwork – the Beatles' Sgt. Pepper's Lonely Hearts Club Band album cover – to celebrate the British cultural figures of his life that he most admires. McQueen is also given homage in the popular MMO World of Warcraft. There is an NPC dedicated to Alexander McQueen that is a Tailoring Trainer. This trainer is also the only one on the horde side that gives a special quest Cloth Scavenging.
In February 2015, on the fifth anniversary of McQueen's death, a new play based on the designer was unveiled. 'McQueen', written by James Phillips, will be set over one night in London and follows a girl who breaks into the designer's home to steal a dress and is caught by McQueen. The production takes inspiration from his imaginative runway shows and will be directed by John Caird. It has been described by McQueen's sister Janet as 'true to his spirit'. Stephen Wight and Dianna Agron will play the leading roles.
Final runway presentation
Alexander McQueen's last appearance on a fashion show was in Plato's Atlantis, presented during Paris Fashion Week on 6 October 2009. This Spring/Summer 2010 collection was inspired in the post-human manifesto featuring 46 full looks.
The show began with a video of Raquel Zimmerman lying naked on sand with snakes on her body. McQueen installed 2 giant cameras in the catwalk that moved back and forth documenting the entire show and broadcasting it live on SHOWstudio. The inspiration for Plato's Atlantis was nature and the post-human movement depicted by sea-reptile prints. The fashion show and the collection addresses Darwin's evolution theories along with current global warming concerns. The fantasy collection, named after Plato's island that sunk in the sea, forecasted a future in which humans had to evolve from earth to water to survive. The color scheme changed from green and brown to blue and acqua and the models had a strong androgynous touch as well as post-human. The prints also shifted from reptilian such as snakes to prints of water creatures such as jellyfish and stingrays. The collection's final silhouettes gave the models marine features while the McQueen's signature Armadillo shoe also transformed completely the form of the models' anatomic foot. Plato's Atlantis was yet another way in which McQueen joined fashion with technology.
Final show
Right before Alexander McQueen's death, he had an eighty percent finished Autumn/Winter collection, 16 pieces, presented during Paris Fashion Week on 8 March 2010, to a select handful of fashion editors in a mirrored, gilded salon at the 18th-century Hôtel de Clermont-Tonnerre.
Fashion editors picked his final designs. Editors said the show was hard to watch because it showed how McQueen was obsessed with the afterlife. The clothes had a medieval and religious look. Basic colours that were repetitively used were red, gold and silver with detailed embroidery. His models were accessorised to show his love for theatrical imagery. "Each piece is unique, as was he", McQueen's fashion house said in a statement that was released with the collection.
After company owner Gucci confirmed that the brand would continue, McQueen's long-term assistant Sarah Burton was named as the new creative director of Alexander McQueen in May 2010. In September 2010, Burton presented her first womenswear collection in Paris.
In film
In 2016, it was announced that Jack O'Connell will play McQueen in an upcoming biographical film about his life. In 2017, O'Connell said he was no longer attached to the project.
References
Alexander McQueen Wikipedia
(Text) CC BY-SA