He is the most prolific goalscorer in the history of Russian football, with the number of goals scored in competitive games standing at 209 as of 15 October 2013. He is described as a forward who likes to "drop deep to link with the midfield, expecting players to break beyond him" for whom he creates space.
A full international since 2002, Kerzhakov has earned 90 caps for Russia and played at two World Cups and two European Championships. In 2014, he surpassed the record held by Vladimir Beschastnykh for most goals for Russia.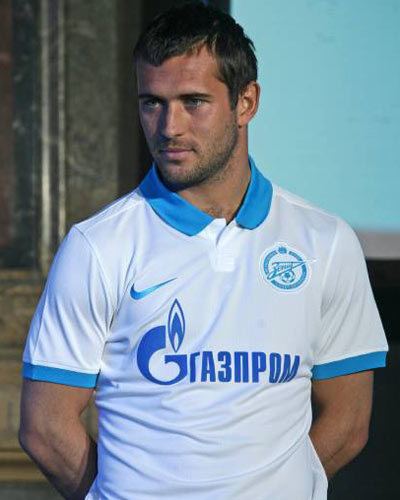 Born in Kingisepp, Leningrad Oblast, he spent the 2000 season at amateur club FC Svetogorets Svetogorsk, helping them win the Northwest regional league by scoring 18 goals.
In 2001 Kerzhakov transferred to FC Zenit Saint Petersburg, debuting in March and scoring his first goal in June against Spartak Moscow. In his first season, Kerzhakov was the second choice striker behind Hennadiy Popovych. However, later in 2001, he helped Zenit finish third in the Russian Premier League and runners-up in 2003. In 2002, Kerzhakov quickly developed a striking partnership with Andrei Arshavin which earned them both call-ups to the Russian national team. That year Kerzhakov went to represent Russia at the 2002 FIFA World Cup.
In 2003, Czech manager Vlastimil Petržela promoted Kerzhakov as first choice striker and he became the top scorer of the Russian Premier League in 2004. While under Petržela, Kerzhakov was given a starting position in all four group games of the 2004–05 UEFA Cup and went on to score a hat trick in a 5–1 victory over AEK Athens. The following season, he was in the starting line up once again in Zenit's second straight UEFA Cup campaign. Zenit qualified for the round of 32 by overcoming Vitória, Beşiktaş, Bolton, and Sevilla. In the knockout stages, Kerzhakov scored against Rosenborg and Olympique de Marseille as Zenit reached the quarterfinals to face Sevilla. Kerzhakov gave his best performance by scoring a goal in the away leg but could not save his team as they lost out 5–2 on aggregate.
The appointment of Dick Advocaat in 2006 resulted in a drastic drop of appearances after being demoted to the bench. Kerzhakov decided to leave Zenit after his relationship with Advocaat deteriorated.
On 28 December 2006, Kerzhakov transferred to Sevilla, signing a five-and-a-half-year contract worth €5 million, as part of the deal of the partnership of the clubs. Under then manager Juande Ramos, Kerzhakov was third choice striker behind Luís Fabiano and Frédéric Kanouté. He played his first match on 14 January 2007 and scored his first goal on 28 January 2007 in a 4–2 victory against Levante UD. He scored the winning goal against Tottenham in a 4–3 victory in the UEFA Cup quarter-finals on 5 April 2007. Kerzhakov later contributed to Sevilla's victorious run in the 2006–07 UEFA Cup season.
After Juande Ramos resigned at Sevilla to manage Tottenham Hotspur in October 2007, Kerzhakov's playing time decreased under caretaker manager Manuel Jiménez. He made only four appearances, being the fifth striker behind Luís Fabiano, Frédéric Kanouté, Javier Chevantón, and Arouna Koné. It was speculated that Kerzhakov would quit Sevilla following interest from Tottenham, Manchester United, and Paris Saint-Germain. However, according to Russian newspaper Sport-Express, on 30 January 2008, Kerzhakov stated he would stay at Sevilla to help in the La Liga and UEFA Champions League campaigns.
In February 2008, after being left out of Sevilla's Champions League tie against Fenerbahçe, Kerzhakov signed a three-year contract with Russian side Dinamo Moscow. Kerzhakov quickly established himself as a first choice striker with Tsvetan Genkov and Cícero. He scored his first goal for Dynamo with a powerful strike from outside of the penalty area against FC Moscow. During the 2008 season Kerzhakov become the top scorer in the squad as Dynamo finished third to earn a play off spot in the qualifiers for the UEFA Champions League.
During the 2009 season Kerzhakov maintained his spot as a first choice striker ahead of Aleksandr Kokorin and Fedor Smolov but the season turned out to be less successful as Dynamo finished eighth and lost to Celtic and CSKA Sophia in an attempt to qualify for the Champions League and inaugural Europa League.
In January 2010, Kerzhakov rescinded the last year of his contract with Dynamo and returned to his first professional club Zenit St. Petersburg,. Under incoming manager Luciano Spalletti, Kerzhakov was designated the first choice striker and managed twenty six appearances. He scored his first goal against CSKA Moscow in April of that year and followed this up with two hat tricks against R.S.C. Anderlecht in the UEFA Europa League and Saturn Moscow in the domestic league.
The following season began with a disappointing loss to FC Twente in the Europa League round of 16. However, Kerzhakov went on to have a stellar season netting 23 goals in 32 appearances in the Russian Premier League. Zenit finished first in the regular season and then won the championship group in the spring of 2012 to claim their second league title in two years.
Kerzhakov officially retired on 13 July 2017 and was appointed the coordinator of Zenit's youth and academy teams.
Kerzhakov began playing for the Russian U21 team in 2001. He made his senior debut for Russia in a friendly against Estonia on 27 March 2002. Two months later, he was selected by Oleg Romantsev for the 2002 FIFA World Cup. He was on the bench for Russia's first two games against Tunisia and Japan, but came on for Valery Karpin against Belgium in the 82nd minute of the last group game. Russia lost the match 3–2 and were eliminated.
After Romanstev's sacking, new manager Valery Gazzaev made Kerzhakov a regular call up in the squad. Just prior to the start of the UEFA Euro 2004 qualifiers, Kerzhakov scored his first goal for Russia in a friendly 1–1 draw against Sweden on 21 August 2002. Despite making eight appearances in the qualification tournament, for the final tournament he was selected by Georgi Yartsev as one of four strikers in the squad behind with Dmitri Bulykin, Dmitri Kirichenko, and Dmitri Sychev. He was on the bench for Russia's games against Spain and Greece, but played a full game against Portugal.
After Euro 2004, Yartsev continued to pick Kerzhakov as a substitute for the 2006 World Cup qualifiers. Russia started strongly but after a 7–1 loss to Portugal and a 1–1 draw with Estonia, Yartsev resigned. Yartsev's successor Yuri Semin, promoted Kerzhakov to the starting position after Bulykin and Kirichenko were dropped from the squad. Along with the recall of his then clubmate Andrei Arshavin, he made a strong contribution with by scoring three goals including a double against Liechtenstein. However, his impact did little as they failed to qualify for the playoffs behind Portugal and Slovakia.
Under Guus Hiddink, Kerzhakov continued his role as the first choice striker but was dropped after limited appearances for Zenit in late 2006. Upon moving to Spain, Hiddink overlooked Kerzhakov for a friendly against the Netherlands in February 2007, but recalled him a month later to face Estonia following impressive performances for Sevilla. Kerzhakov went on to score both goals in the 2–0 victory over Estonia. In June 2007, Kerzhakov scored a hat-trick in a 4–0 victory over Andorra. He made a further contribution to Russia's Euro 2008 qualification campaign by scoring a goal in a 3–0 victory over Macedonia on September 2007. Despite being the top scorer for Russia with five goals, Kerzhakov was not included in Hiddink's squad for the tournament finals. His poor form at Sevilla and less than impressive season at Dynamo Moscow led to a period of exclusion from the national team that lasted nearly 18 months.
Kerzhakov was finally recalled in May 2009 for the 2010 FIFA World Cup Qualifier against Finland in Helsinki. He started the game and celebrated his return by scoring two goals as Russia defeated Finland 3–0. Kerzhakov was reinstated as the first choice striker and made a further four appearances in the qualifiers, helping his team finish behind Germany with 24 points. During the playoff against Slovenia, Kerzhakov was on the bench for first leg but was introduced at half-time for Roman Pavlyuchenko in the return fixture. In the 66th minute he received a straight red card after what was interpreted by referee Terje Hauge to be a deliberate kick at Slovenian goalkeeper Samir Handanović. Slovenia managed to hold on to a 1–0 win and Russia were eliminated on away goals after an aggregate 2–2 draw.
Kerzhakov's red card against earned him a suspension for two matches causing him to miss the first two qualifiers of the Euro 2012 campaign. Upon being recalled by Dick Advocaat, Kerzhakov scored in the victories over Ireland and Macedonia. Kerzhakov failed to score but managed to make three additional appearances as Russia topped Group B to qualify directly for the final tournament. He was confirmed for the final UEFA Euro 2012 squad, but the tournament turned into a major disappointment, as he scored no goals and Russia were eliminated in the first round.
After the Euro 2012 disappointment, former England manager Fabio Capello was appointed and Kerzhakov was made the undisputed first choice striker after Andrei Arshavin, Roman Pavlyuchenko, and Pavel Pogrebnyak were dropped. Kerzhakov was Russia's top goalscorer during their 2014 FIFA World Cup qualification campaign with five goals, including the winning goal in a 1–0 defeat of Portugal.
On 2 June 2014, he was included in Russia's 2014 FIFA World Cup squad. In the team's first match of the tournament, a 1–1 draw with South Korea, Kerzhakov appeared as a 71st-minute substitute for Yuri Zhirkov and scored the team's equalising goal three minutes later. The goal was his 26th for Russia, equaling Vladimir Beschastnykh's record for the national team. On 3 September 2014, in a 4–0 friendly win over Azerbaijan, he scored two goals and thus became the outright top scorer for the Russian national team.
Aleksandr was married to Maria Golova from 2005 to 2010, and has a daughter Darya (b. 2005) from that marriage. From 2010 to 2014 he was in a relationship with Yekaterina Safronova, the ex-wife of the hockey player Kirill Safronov. They had a son Igor in 2013, Kerzhakov successfully sued to gain primary custody of him from Safronova in 2014. In 2015 he married Milana Tyulpanova, a daughter of the senator Vadim Tyulpanov, and they had a son born in 2017.
His younger brother, Mikhail, is a professional footballer who also plays for Zenit St Petersburg as a goalkeeper.
In 2002, Kerzhakov authored his autobiography titled Up to 16 and older. (Russian: До 16 и старше)
As of 21 May 2017
Zenit Saint Petersburg
Russian Premier League: 2010, 2011–12, 2014–15
Russian Cup: 2009–10
Russian Super Cup: 2011, 2016
Russian Premier League Cup: 2003
Sevilla
UEFA Cup: 2006–07
Copa del Rey: 2006–07
Supercopa de España: 2007
FC Zürich
Swiss Cup: 2015–16
Russian Premier League top scorer: 2004