Confederation

UEFA (Europe)




Top scorer

Jari Litmanen (32)




Founded

1907




Manager

Mixu Paatelainen




Head coach

Markku Kanerva




Most caps

Jari Litmanen (137)




FIFA code

FIN




Arena/Stadium

Helsinki Olympic Stadium




Captain

Niklas Moisander






Nickname(s)

Huuhkajat (The Eagle-owls)




Home stadium

Helsinki Olympic Stadium




Association

Football Association of Finland
The Finland national football team (Finnish: Suomen jalkapallomaajoukkue, Swedish: Finland fotbollslandslag) represents Finland in international football competitions and is controlled by the Football Association of Finland.
Contents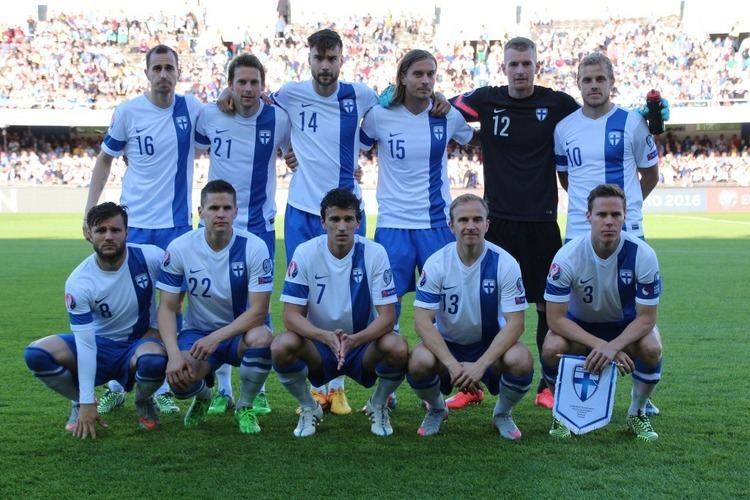 Although the Finnish national team has never qualified for a finals tournament of the World Cup or the European Championships, the Nordic nation made remarkable progression in the 2000s, reaching a peak of 30th on the Elo Rankings, under coach of Roy Hodgson they achieved notable results against much more established European teams.
Early history
The Football Association of Finland was founded as early as 1907 and became a member of FIFA in 1908, although at that time Finland was still an autonomous grand duchy of the Russian Empire and did not gain independence until 1917. Finland played its first international match on October 22, 1911, losing to neighboring Sweden 2–5 in Helsinki.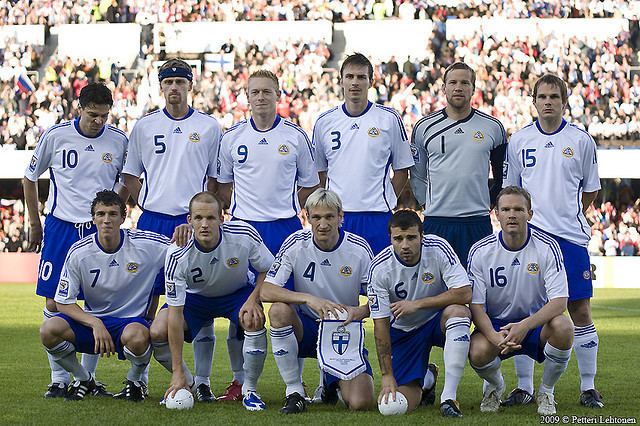 Finland also took part in European Championship qualifying since the 1968 event, but had to wait for its first win until 1978. The 1952 Summer Olympics in Helsinki saw the Finnish hosts lose to Austria in the first round. Finland did, however, win the unofficial Nordic championship in 1964 and 1966.
Later 20th century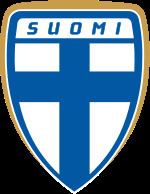 The results of the team improved somewhat in the late 1970s and the 1980s. Finland missed out on qualification for Euro 1980 by just a point and for the 1986 World Cup by two points. Finland was invited to take part in the 1980 Summer Olympics in Moscow after many Western countries announced they would boycott the games, but failed to progress from its group.
By the mid-1990s Finland started to have more players in high-profile European leagues, led by the Ajax superstar Jari Litmanen. In 1996 Danish Euro 1992 winning coach Richard Møller Nielsen was hired to take Finland to the 1998 World Cup. The team enjoyed mixed fortunes in the campaign, high points of which were a draw and a win away to Norway and Switzerland respectively. Going into the last match, Finland would have needed a win at home to Hungary to earn a place in the play-offs. They led the game 1–0 going into injury time, but scored an own goal, and once again the dreams of qualification were over. Møller Nielsen also tried to lead Finland to Euro 2000. In this campaign the Finns recorded a sensational win away to Turkey, but couldn't compete with Germany and Turkey in the long run.
Antti Muurinen succeeded Møller Nielsen as coach in 2000. He had arguably the most talented group of Finnish players ever at his disposal, including players such as Antti Niemi, Sami Hyypiä, Teemu Tainio and Mikael Forssell in addition to the legendary Litmanen. The team also performed quite well under him in qualification for the 2002 World Cup despite a difficult draw, earning two draws against Germany and a home draw with England as well as beating Greece 5–1 in Helsinki. In the end, however, England and Germany proved too strong, and the Finns finished third in the group, but were the only team in that group not to lose at home. Hopes were high going into qualification for Euro 2004 after the promising last campaign and friendly wins over the likes of Norway, Belgium and Portugal (which seen the Finns jump from 40th–30th in the Elo ranking). However, Finland started the campaign by losing to Wales and Yugoslavia (later Serbia and Montenegro, now two separate nations). These losses were followed by two defeats by Italy, and a 3–0 home win over Serbia and Montenegro was little consolation, as the Finns finished fourth in the group. In qualification for the 2006 World Cup Finland failed to score a single point in six matches against the top three teams in their group, the Netherlands, the Czech Republic and Romania. Muurinen was sacked in June 2005, and he was replaced by caretaker Jyrki Heliskoski, but results didn't improve.
In August 2005, it was announced that Roy Hodgson would become the new Finland coach in 2006, and he started in the job in January of that year. Hodgson stepped down as manager after they failed to qualify for Euro 2008. His replacement was a Scotsman, Stuart Baxter, who signed a contract until the end of the 2012 European Championship qualification campaign.
Recent history
At the time when Finland was competing in Euro 2008 qualifying for a place in the UEFA Euro 2008 tournament, Finland was at the point of their "golden generation", with a team consisting of players such as Jari Litmanen, Sami Hyypiä, Mikael Forssell, Hannu Tihinen, Petri Pasanen, Joonas Kolkka, Mika Väyrynen and Teemu Tainio. With this squad Finland was closer to reach the tournament stage than ever before. Finland would only have needed three more points (one more win) from the Euro 2008 qualifying to reach the Euro 2008 competition. Finland was placed in Group A together with Portugal, Poland, Serbia, Belgium, Armenia, Azerbaijan and Kazakhstan. The team started the campaign very well, beating Poland 3–1 away and earning a 1–1 draw with Portugal at home. The Finns then gained four points from their difficult away ties against Armenia and Kazakhstan, drawing 0–0 with the former and beating the latter 2–0. On 15 November 2006, Finland beat Armenia 1–0 at home, thus remaining undefeated in the qualifying. In Finland's first match of 2007, they were in poor form when they lost against Azerbaijan 1–0. On early June they lost to Serbia 2–0 at home. But the next match was against Belgium and team Finland gained the trust of their fans back by winning 2–0 at home. This was followed by a series of wins including a 2–1 win against Azerbaijan, with the team needing to win the last game, the away game against Portugal, to be able to qualify. However, the match ended 0–0 meaning the team missed out on qualification to the tournament, with Finland ending the group stage with 24 points and Portugal with 27 points. However, the performance in qualifying led to the Finns gaining their best-ever FIFA world ranking to date at the position of 33rd.
In 2010 World cup qualification campaign Finland fared little better, with the team under new head coach Stuart Baxter not winning matches as consistently like they did under Roy Hodgson. However the team were within touching distance of a win over Euro 2008 finalists Germany, but had to settle for a 3–3 draw. The team again finished third in their group with five wins, three draws and two defeats. They were the only team in qualifying not to lose to eventual 3rd-place finishers Germany, but came close to a win in the second meeting only to concede an equaliser in stoppage time.
Qualification for the European 2012 European Championship has so far been underwhelming, with three straight defeats against Moldova (2–0), the Netherlands and Hungary (both 2–1), before closing 2010 with an 8–0 success against minnows San Marino which saw Mikael Forssell the first player of the group to score a hat trick. Before their first win of the campaign, the team slipped to 87th in the FIFA World Rankings, despite still staying in the top 100 and therefore keeping up their consistency in the top half of the monthly table, this was however their lowest-ever position in their history since the rankings were established in 1993. The team then moved up to 76th place after a disappointing 1–0 win over San Marino, that team's best result in their group having lost every game with no goals scored. This was then followed up by a 5–0 mauling by their neighbours Sweden, giving them their fourth defeat in the group.
For the Qualification for the 2014 World Cup, Finland has seen significant improvement despite up and down results. Being ranked the weakest team in the group, they started the qualification with little success with a 1–0 loss to France, and a disappointing 1–1 home draw with Georgia in Helsinki. They then achieved a historic 1–1 draw against number 1 ranked Spain who are reigning European and World Cup champions in Gijon, with Teemu Pukki scoring the equalizing goal in the 79th minute. They followed that up with a 1–0 win over Belarus. These two results propelled Finland right back into the conversation for a potential playoff spot. However they were held to a 1–1 draw at Belarus 4 days later. Next up Finland hosted Spain in Helsinki, hoping to achieve another upset result that would have increased their chances for a playoff spot greatly, however they lost 2–0 with goals coming from Jordi Alba and Álvaro Negredo with Teemu Tainio giving Finland's only real threat to score but his shot was well saved by Iker Casillas. Despite the loss, Finland still had a slight chance to finish second, but they need to win against Georgia in Tbilisi, and France to lose against Belarus in Minsk. Finland achieved their task of defeating Georgia 1–0 thanks to a Roman Eremenko penalty kick. However France ended up coming back to defeat Belarus 4–2, despite trailing 2–0 at halftime. Because of the French victory, Finland were eliminated from a playoff spot. They finished the campaign third in their group after losing 3–0 against France in the final game in Paris.
Stadia
Most of Finland's important home matches are played at the Helsinki Olympic Stadium in the capital Helsinki. It has been Finland's principal home stadium ever since its construction was completed in 1938. Before that Pallokenttä in Helsinki was mainly used.
Today, some qualifying matches against lower profile opponents and some friendlies are hosted at the Ratina Stadion in Tampere. Helsinki's Sonera Stadium, which has artificial turf, is also used for some friendlies and qualifiers. During reconstruction of Helsinki Olympic Stadium in 2016–19 Ratina Stadion serves as the main stadium for qualifying games.
All–time record against all nations
This list is Finland national team complete records, both friendlies and competitive matches. As of 9 January 2017
Current squad
The following players have been called up for the friendly matches against Morocco on 9 January 2017 and against Slovenia B on 13 January 2017.
Caps and goals as of 9 January 2017 after the game against Morocco.
Recent call-ups
The following players have been called up for the team in the last twelve months. Only players available for call-up, not retired players.
INJ = Withdrew due to an injury.
Top goalscorers
Correct as of January 24, 2014
Players who are still active and available for selection are in bold
Managers
Last updated: 13 Oct 2015.
Sortable table available in Finnish Wikipedia: Finland national football team.
Kit supplier
Finland's kit are currently supplied by American brand Nike, Inc. They replaced German company Adidas who supplied Finland's kits between 1979 and 2014.
References
Finland national football team Wikipedia
(Text) CC BY-SA