Years active

2003–present









Full Name

Alan Michael Ritchson

Born

November 28, 1984 (age 31) (

1984-11-28

)

Occupation

Actor, model, singer, songwriter

Spouse

Catherine Ritchson (m. 2006)

Siblings

Brian Ritchson, Eric Ritchson

Movies and TV shows




Similar People

Noel Fisher, Jeremy Howard, Darin Brooks, Jonathan Liebesman, William Fichtner




Profiles



Actor alan ritchson sings star spangled banner charity event
Alan Michael Ritchson (born November 28, 1984) is an American actor, model, and singer. He is known for his modeling career as well as his portrayals of the superhero Aquaman on The CW's Smallville and Thad Castle on Spike TV's Blue Mountain State.
Contents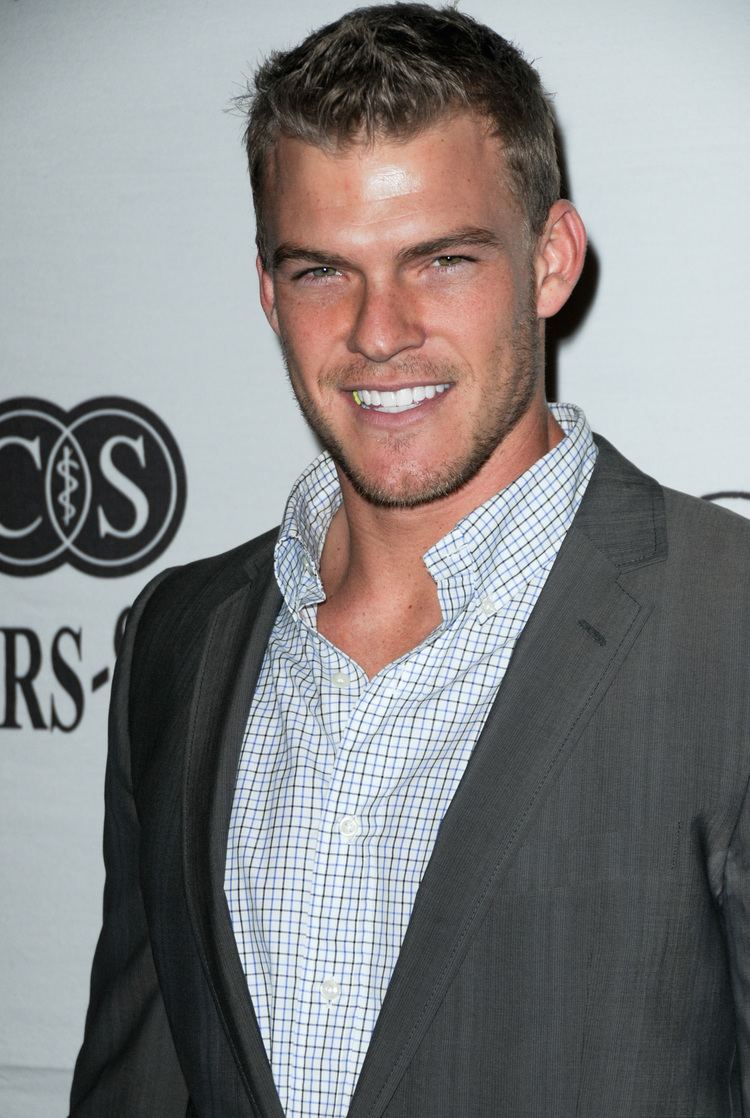 Ritchson also starred as Gloss in 2013's The Hunger Games: Catching Fire, Raphael in 2014's Teenage Mutant Ninja Turtles reboot, and its sequel, Teenage Mutant Ninja Turtles: Out of the Shadows, and Adam in 2016's Lazer Team.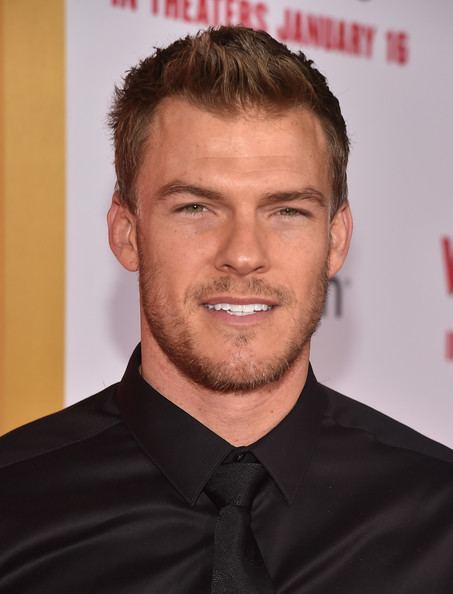 Hunger games catching fire actors alan ritchson and stephanie leigh schlund on cashmere and gloss
Personal life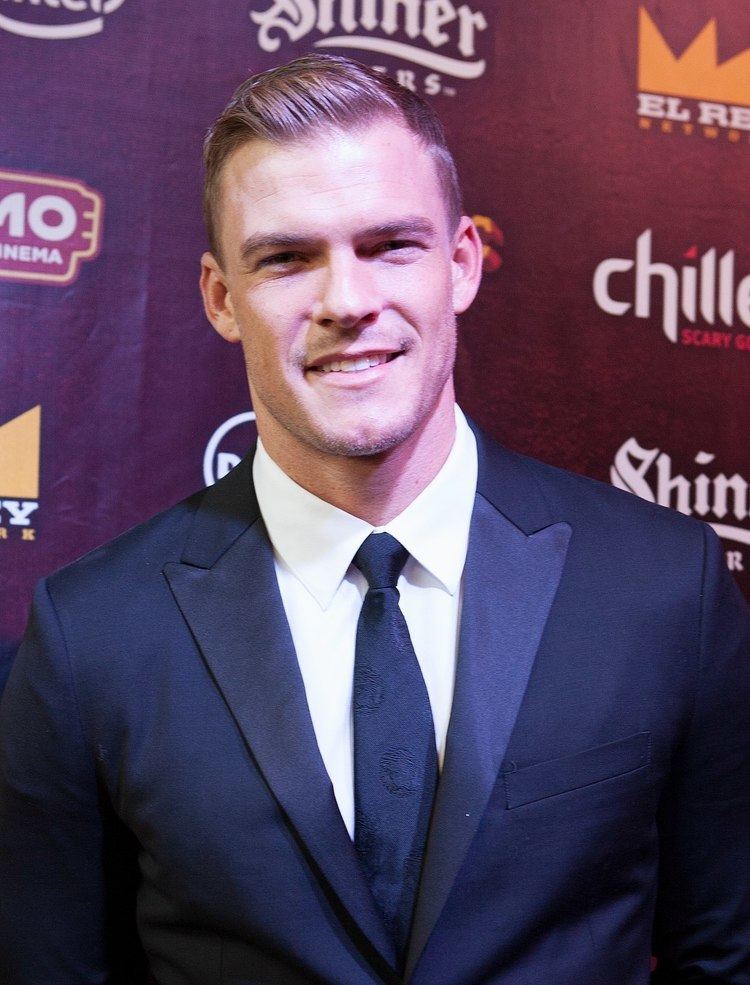 Ritchson was born in Grand Forks, North Dakota, the son of Vickie (born June 21, 1958), high school teacher and David Ritchson (born June 5, 1956), a retired U.S. Air Force chief master sergeant. He is the middle of three brothers; Eric, the oldest, and Brian, the youngest. During his childhood, his family moved to Rantoul, Illinois. At age 10, Ritchson's family settled in Niceville, Florida. He attended Niceville High School and graduated in 2001. In a 2013 interview with Indonesian magazine Da Man, he stated that he once obtained a full music scholarship. From 1999 to 2003, he attended as a dual-enrollment student and graduated with an Associate of Arts degree at Okaloosa Walton Community College, now Northwest Florida State College. He was a member of the Fine Arts division's Soundsations and Madrigal Singers.
Modeling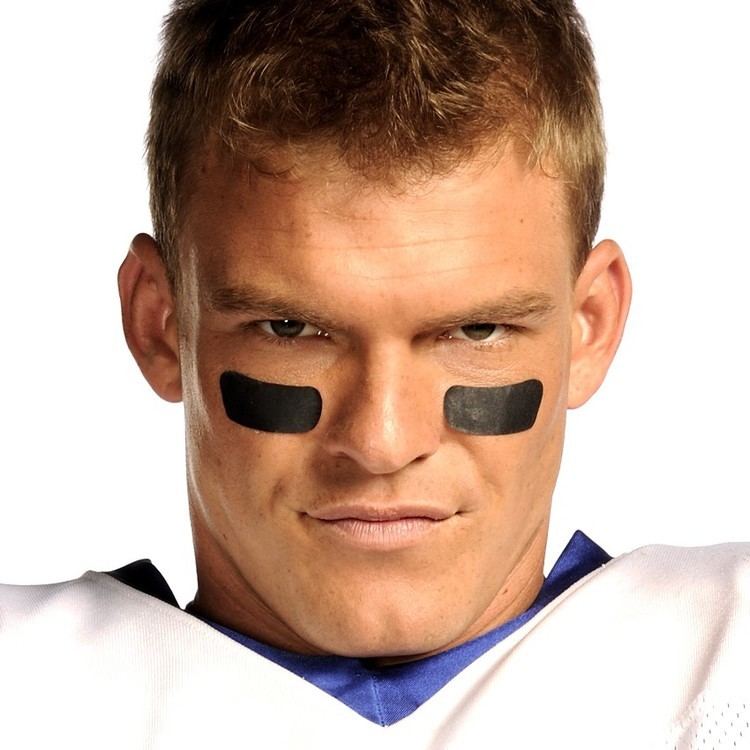 He began his modeling career in the Abercrombie and Fitch catalogue; he also modeled underwear for the men's online underwear store internationaljock.com. In 2008, he was signed to Los Angeles agency Vision Model Management and appeared on N2N Bodywear. By early 2009, Ritchson made his final appearance in his modelling career for Abercrombie and Fitch.
Television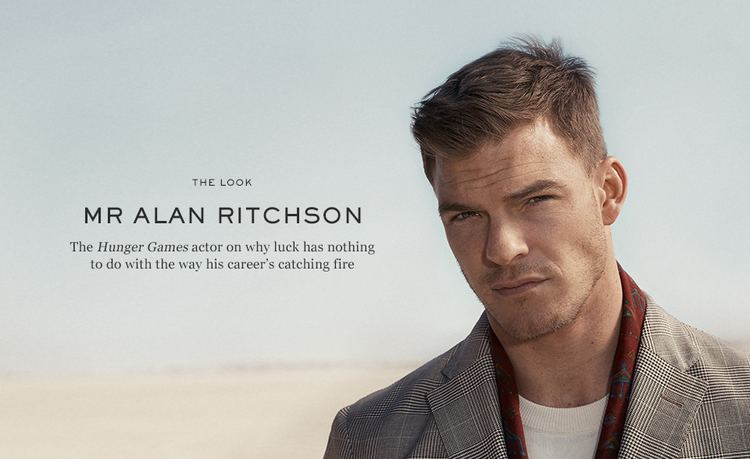 Alan Ritchson first came to the attention of the public in 2004 when he appeared on American Idol as one of the top 87 contestants in the third season before being cut in Hollywood. His appearance on the show was noted for his striptease in one episode in which he wooed judge Paula Abdul.
His television acting credits include a recurring guest star role on the television series Smallville as Arthur Curry, a.k.a. Aquaman, a small role as an army officer in the 2006 Hallmark Channel movie Though None Go with Me alongside Cheryl Ladd, and the role of Lucian Manet in the 2009 Lifetime original film Nora Roberts' Midnight Bayou. His role in Smallville marked the first time that an actor portrayed Aquaman in an officially licensed live-action production. His Smallville co-star, Justin Hartley, has since portrayed Aquaman in an unaired pilot of the same name. Ritchson reprised his role as Aquaman for a cameo appearance in the animated film: Justice League: The New Frontier, and the final season of Smallville. In 2009, he appeared on a third-season episode of Starz's Head Case in which he played a male stripper. Ritchson also made an appearance on CSI: Miami, in which he played a dead victim in episode 19 of season 8. In 2011, he appeared in an episode of season 3 of 90210 as a love interest for main character Teddy Montgomery (Trevor Donovan). He played Thad Castle in Spike TV's Blue Mountain State as a captain on a college football team, until the show was cancelled in February 2012, after its third season. In 2015, Ritchson is a current regular on the NBC variety show I Can Do That (based on Israeli variety show) alongside Nicole Scherzinger, Ciara, Joe Jonas, Cheryl Burke and Jeff Dye, and hosted by Marlon Wayans. In 2016, he appeared in "Nosedive", an episode of the anthology series Black Mirror.
Films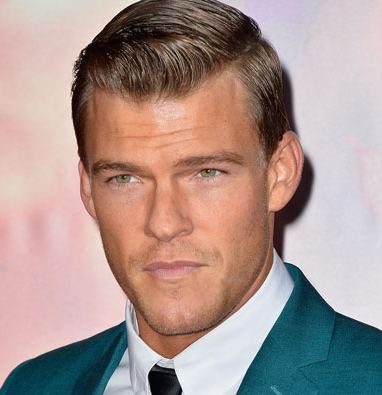 Movie credits include a role in the 2006 film The Butcher, as well as a minor role in 2009's Fired Up! In 2007, director Robert Zemeckis used Ritchson for his facial image, physique and movement for actor Ray Winstone of the title character of Beowulf.
Ritchson portrayed Gloss, a tribute in the 75th Hunger Games, in The Hunger Games: Catching Fire (2013). Ritchson also portrayed Raphael in Teenage Mutant Ninja Turtles, a reboot to the Teenage Mutant Ninja Turtles film series after the four previous films. He returned to his role as Thad Castle in the Blue Mountain State movie, Blue Mountain State: The Rise of Thadland. Ritchson co-starred in Rooster Teeth Production's first feature-length movie—the science fiction comedy Lazer Team in January 2016.
Other work
Other projects include an independent album called This Is Next Time, released in late 2005 and appearing in a Russian commercial for Orbit gum. Alan also appears in a web series entitled, "Enormous Friends" with his Blue Mountain State co-star, Rob Ramsay.
Discography
Albums
This Is Next Time (2006)
Filmography
Actor
-
Bad Seeds of Loving Spring (pre-production)
as
Isaiah
2024
The Ministry of Ungentlemanly Warfare (filming)
2023
Ordinary Angels (post-production)
as
Ed Schmitt
2023
Fast X (post-production)
as
Aimes
-
Spring Break '83 (completed)
as
Brad
2022
Reacher (TV Series)
as
Jack Reacher
- In a Tree (2022) - Jack Reacher
- No Apologies (2022) - Jack Reacher
- Papier (2022) - Jack Reacher
- Spoonful (2022) - Jack Reacher
- First Dance (2022) - Jack Reacher
- Pie (2022) - Jack Reacher
- Reacher Said Nothing (2022) - Jack Reacher
- Welcome to Margrave (2022) - Jack Reacher
- Episode #2.1 - Jack Reacher
2018
Titans (TV Series)
as
Hank Hall / Hawk
- Souls (2021) - Hank Hall
- Red Hood (2021) - Hank Hall / Hawk
- Hank & Dove (2021) - Hank Hall / Hawk
- Nightwing (2019) - Hank Hall
- Faux-Hawk (2019) - Hank Hall / Hawk
- Atonement (2019) - Hank Hall
- Jericho (2019) - Hank Hall / Hawk
- Bruce Wayne (2019) - Hank Hall
- Deathstroke (2019) - Hank Hall
- Aqualad (2019) - Hank Hall / Hawk
- Ghosts (2019) - Hank Hall
- Rose (2019) - Hank Hall
- Trigon (2019) - Hank Hall
- Dick Grayson (2018) - Hank Hall
- Koriand'r (2018) - Hank Hall
- Hank and Dawn (2018) - Hank Hall / Hawk
- Origins (2018) - Hank Hall
- Hawk and Dove (2018) - Hank Hall / Hawk
2021
Dark Web: Cicada 3301
as
Agent Carver
2020
DC's Legends of Tomorrow (TV Series)
as
Earth-9 Hooded Vigilante
- Crisis on Infinite Earths: Part Five (2020) - Earth-9 Hooded Vigilante (uncredited)
2019
Supergirl (TV Series)
as
Hank Hall / Hawk
- Crisis on Infinite Earths: Part One (2019) - Hank Hall / Hawk (uncredited)
2019
The Turkey Bowl
as
Ronnie Best
2019
Above the Shadows
as
Shayne
2019
Brooklyn Nine-Nine (TV Series)
as
Young Scully
- Hitchcock & Scully (2019) - Young Scully
2018
Alexa & Katie (TV Series)
as
Robbie
- Thanksgiving (2018) - Robbie
2017
Tree House Time Machine (Short)
as
Jason
2017
Blood Drive (TV Series)
as
Arthur Bailey
- Finish Line (2017) - Arthur Bailey
- Faces of Blood Drive (2017) - Arthur Bailey
- Rise of the Primo (2017) - Arthur Bailey
- Scar Tissue (2017) - Arthur Bailey
- The Chopsocky Special (2017) - Arthur Bailey
- A Fistful of Blood (2017) - Arthur Bailey
- The Gentleman's Agreement (2017) - Arthur Bailey
- Booby Traps (2017) - Arthur Bailey
- The F-ing Dead (2017) - Arthur Bailey
- In the Crimson Halls of Kane Hill (2017) - Arthur Bailey
- Steel City Nightfall (2017) - Arthur Bailey
- Welcome to Pixie Swallow (2017) - Arthur Bailey
- The F-ing Cop (2017) - Arthur Bailey
2016
Black Mirror (TV Series)
as
Paul
- Nosedive (2016) - Paul
2016
Teenage Mutant Ninja Turtles: Out of the Shadows
as
Raphael
2016
Blue Mountain State: The Rise of Thadland
as
Thad Castle
2015
Workaholics (TV Series)
as
Torpey
- Speedo Racer (2015) - Torpey
2015
The Wedding Ringer
as
Kip / Carew
2014
Alpha Chow (TV Short)
as
Kent Ross
2014
New Girl (TV Series)
as
Matt
- Micro (2014) - Matt
2014
Holloway Heights (TV Series)
as
James
- The Grenade (2014) - James
2014
Teenage Mutant Ninja Turtles
as
Raphael
2014
The Rebels (TV Series)
as
Tyler Stokley
- Pilot (2014) - Tyler Stokley
2013
Super Fun Night (TV Series)
as
Jason
- Unaired CBS Multi-Camera Pilot (2013) - Jason
2013
The Hunger Games: Catching Fire
as
Gloss
2013
Don't Talk in the Kitchen Presents (TV Series)
as
Actor
- Harry's Haunted Hayride: The Audition Tapes (2013) - Actor
2013
Hawaii Five-0 (TV Series)
as
Freddie Hart
- Olelo Pa'a (2013) - Freddie Hart
2012
Fred: The Show (TV Series)
as
Expired Cow
- Expired Cow (2012) - Expired Cow
2011
Prattle: Your Words Are Empty and So Is Your Heart (now in black and white!) (Short)
2010
Blue Mountain State (TV Series)
as
Thad Castle
- The Corn Field: Part 2 (2011) - Thad Castle
- The Corn Field (2011) - Thad Castle
- Death Penalty (2011) - Thad Castle
- One Week (2011) - Thad Castle
- The C-Word (2011) - Thad Castle
- Fun Facts (2011) - Thad Castle
- Superstition (2011) - Thad Castle
- Blackout (2011) - Thad Castle
- Training Day (2011) - Thad Castle
- The Peak (2011) - Thad Castle
- Thad's Back (2011) - Thad Castle
- The Captain (2011) - Thad Castle
- Dic Pics (2011) - Thad Castle
- Riot (2011) - Thad Castle
- Trap Game (2011) - Thad Castle
- Drunk Tank (2011) - Thad Castle
- Hockey (2010) - Thad Castle
- The Badger (2010) - Thad Castle
- Vision Quest (2010) - Thad Castle
- Debra (2010) - Thad Castle
- Nerds (2010) - Thad Castle
- Pregnant (2010) - Thad Castle
- Pay for Play (2010) - Thad Castle
- Born Again (2010) - Thad Castle
- Controversy (2010) - Thad Castle
- The Fingering (2010) - Thad Castle
- Bowl Game (2010) - Thad Castle
- Piss Test (2010) - Thad Castle
- Ransom (2010) - Thad Castle
- Marathon Monday (2010) - Thad Castle
- Midterms (2010) - Thad Castle
- LAX (2010) - Thad Castle
- The Legend of the Golden Arm (2010) - Thad Castle
- Drug Olympics (2010) - Thad Castle
- There's Only One Second Best (2010) - Thad Castle
- Rivalry Weekend (2010) - Thad Castle
- Pocket P***y (2010) - Thad Castle
- Promise Ring (2010) - Thad Castle
- It's Called Hazing, Look It Up! (2010) - Thad Castle
2011
90210 (TV Series)
as
Tripp Willinson
- The Enchanted Donkey (2011) - Tripp Willinson
2005
Smallville (TV Series)
as
Arthur Curry / Aquaman
- Patriot (2010) - Arthur Curry / Aquaman
- Odyssey (2008) - Arthur Curry
- Justice (2007) - Arthur Curry / Aquaman
- Aqua (2005) - Arthur Curry
2010
CSI: Miami (TV Series)
as
Paul Arnett
- Spring Breakdown (2010) - Paul Arnett
2009
Head Case (TV Series)
- Tying the - Not (2009)
2009
Midnight Bayou (TV Movie)
as
Lucian Manet
2008
Justice League: The New Frontier (Video)
as
Aquaman (voice, uncredited)
2007
Beowulf: The Game (Video Game)
as
Beowulf Character Model
2006
Though None Go with Me (TV Movie)
as
Army Officer
2006
Wonder Pets! (TV Series)
as
Chris
- Save the Crane (2006) - Chris (voice)
Producer
-
Bad Seeds of Loving Spring (producer) (pre-production)
2021
Dark Web: Cicada 3301 (producer)
2019
The Turkey Bowl (executive producer)
2017
Tree House Time Machine (Short) (producer)
2016
Blue Mountain State: The Rise of Thadland (producer)
2014
Mojito (Short) (executive producer) / (producer)
Director
-
Bad Seeds of Loving Spring (pre-production)
2021
Dark Web: Cicada 3301 (directed by)
2017
Tree House Time Machine (Short)
Writer
2021
Dark Web: Cicada 3301 (written by)
2017
Tree House Time Machine (Short) (writer)
2016
Blue Mountain State: The Rise of Thadland (written by)
Animation Department
2007
Beowulf (character model)
Soundtrack
2019
Titans (TV Series) (performer - 1 episode)
- Atonement (2019) - (performer: "Ain't No Mountain High Enough")
Self
2022
All About (TV Series)
as
Self
- All About Alan Ritchson (2022) - Self
2022
Ok! TV (TV Series)
as
Self
- Episode #9.58 (2022) - Self
2022
57th Annual Academy of Country Music Awards (TV Special)
as
Self - Presenter
2022
The Talk (TV Series)
as
Self
- Alan Ritchson/Food Face-Off: Cincinnati vs. Dallas (2022) - Self
2022
Inside of You with Michael Rosenbaum (Podcast Series)
as
Self
- Reacher's Alan Ritchson: Finding Your Identity (2022) - Self
2022
The Kelly Clarkson Show (TV Series)
as
Self - Guest
- Derek Hough/Kunal Nayyar/Alan Ritchson/Katsuji Tanabe (2022) - Self - Guest
2021
Film Threat (TV Series)
as
Self
- DARK WEB: CICADA 3301 WATCH PARTY - WATCH WITH US ON VOD - Film Threat Watch Party (2021) - Self
2021
Popternative (TV Series)
as
Self
- Alan Ritchson (2021) - Self
2020
DC Fandome (TV Special)
as
Self
2020
Yo Mama (TV Series short)
as
Self
- I PAID Celebs $3,000 for YO MAMA JOKES (2020) - Self
2019
Sidewalks Entertainment (TV Series)
as
Self - Guest
- Alan Ritchson and Patrick Wilson (2019) - Self - Guest
2019
Collider Live (TV Series)
as
Self
- Why Alan Ritchson HATED Filming Teenage Mutant Ninja Turtles (2019) - Self
2017
EXTRAS-The Hunger Games (TV Mini Series documentary)
as
Self
- Taking Aim Stunts and Weapons (2017) - Self
2015
I Can Do That! (TV Series)
as
Self
- Blue Man Group, Double Dutch, Ben Blaque (2015) - Self
- Jabbawockeez, Christian and Scooby, the Quiddlers (2015) - Self
- The Harlem Globetrotters/Penn and Teller/AiRealistic (2015) - Self
2014
TakePart Live (TV Series)
as
Self - Guest
- Episode #3.67 (2014) - Self - Guest (as Raphael - Teenage Mutant Ninja Turtles)
2013
Surviving the Game - Making the Hunger Games: Catching Fire (Documentary)
as
Self
2013
Blue Mountain State: Behind the Scenes Documentary (Documentary short)
as
Self
2010
2010 MTV Video Music Awards (TV Special)
as
Self (uncredited)
2010
Entertainment Tonight (TV Series)
as
Self
- Episode dated 12 April 2010 (2010) - Self
2009
Spike TV VGA Video Game Awards (TV Special)
as
Self - Presenter
2009
Scream Awards 2009 (TV Special)
as
Self
2004
American Idol (TV Series)
as
Self
- First Show, First Recap (2004) - Self
Archive Footage
2014
Hawaii Five-0 (TV Series)
as
Freddie Hart
- Hoku Welowelo (2014) - Freddie Hart (uncredited)
References
Alan Ritchson Wikipedia
(Text) CC BY-SA