Education

Acadia University







Full Name

Robert James Ramsay

Born

September 2, 1986 (age 29) (

1986-09-02

)

Toronto, Ontario, CAN

Movies and TV shows

Blue Mountain State, Patch Town, Blue Mountain State: Th, Cell 213, It's a Boy Girl Thing




Similar People

Chris Romano, James Cade, Craig Goodwill, Lev L Spiro, Brian Robbins
patch town trailer 2015 zoie palmer rob ramsay
Robert James "Rob" Ramsay (born September 2, 1986) is a Canadian actor. Rob is best known for his role as Donnie Schrab in Blue Mountain State, Percy Budnick in Aaron Stone, Barnabis in XIII: The Series and Jay Jay in Nickelodeon's The Thundermans.
Contents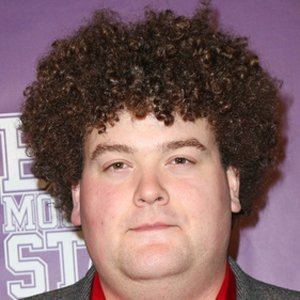 Rob ramsay valedictorian speech
Personal life
'Rob' Ramsay was born in Toronto, Ontario, Canada. He grew up in both Toronto and Saint John, New Brunswick. In his youth he performed in countless plays and musicals as well as playing for several football teams in Toronto. These two passions never mixed until a casting director came to practice scouting football players to be in a movie called 'It's a Boy Girl Thing'. On set, Rob was approached by the director who cast him in his first role.
Ramsay studied dramatic arts at Acadia University while simultaneously appearing on Disney's 'Aaron Stone', 'Pure Pwnage' and 'The Jon Dore Show' for the Comedy Network.
Ramsay graduated in 2010 as the valedictorian of Acadia University and was accepted to the New School of Drama in New York City. He eventually had to turn this opportunity down because he was cast as 'Donnie', the lovable lineman in the football comedy 'Blue Mountain State'.
In 2011, Ramsay was cast as the lead in 'Patchtown'; a satirical, dark comedic short about "oppression, consumerism and a culture of discarded love". The film garnered high praise at the Toronto International Film Festival, The Cannes Film Festival, The Palm Springs International Film Festival and several others. Production wrapped on a feature film version of the same story in 2013.
In 2014, Rob and the rest of the cast of Blue Mountain State raised 1.9 million on Kickstarter to make 'Blue Mountain State: The Rise of Thadland'. Production started in November the same year.
Filmography
Actor
-
The Invisibles (post-production)
as
Jimmy
2023
Pretty Hard Cases (TV Series)
as
Leo
- Creatures of Habit (2023) - Leo
- Right Hand Red (2023) - Leo
2022
Hudson & Rex (TV Series)
as
Randy Kinneman
- Nightmare on Water St. (2022) - Randy Kinneman
2022
Take Note (TV Series)
as
Max
- Acceptance (2022) - Max
- Community (2022) - Max
- Trust (2022) - Max
- Courage (2022) - Max
2021
In the Dark (TV Series)
as
Dougie
- Planes, Trains and Automobiles (2021) - Dougie
2021
Good Witch (TV Series)
as
Kyle Ritter
- The Wishes (2021) - Kyle Ritter
2019
Popsy (Short)
as
Sheridan
2017
Anne with an E (TV Series)
as
Mr. Avery
- Great and Sudden Change (2019) - Mr. Avery
- I Am No Bird, and No Net Ensnares Me (2017) - Mr. Avery
2019
Bigfoot (TV Series)
as
Orion
- Gunga Mu - Orion
2019
It Chapter Two
as
Meaner Nurse
2019
Canadian Reflections (TV Series short)
as
Adam
- Missy (2019) - Adam
2019
What We Do in the Shadows (TV Series)
as
Biff
- Werewolf Feud (2019) - Biff
2018
Star Falls (TV Series)
as
Exterminator
- The Boys vs the Girls (2018) - Exterminator
2018
Cahoots (Short)
as
The Guy With Big News
2018
Private Eyes (TV Series)
as
Bob Sterling / King Lucien
- Long Live the King (2018) - Bob Sterling / King Lucien
2016
First Round Down
as
Bobby Finkelman
2016
Blue Mountain State: The Rise of Thadland
as
Donnie Schrab
2014
The Thundermans (TV Series)
as
Jay Jay
- One Hit Thunder (2015) - Jay Jay
- Meet the Evilmans (2015) - Jay Jay
- Blue Detective (2014) - Jay Jay
- Shred It Go (2014) - Jay Jay
2014
Darknet (TV Mini Series)
as
Serviceman
- Darknet 3 (2014) - Serviceman
2013
Don't Talk in the Kitchen Presents (TV Series)
as
Casting Director #2
- Harry's Haunted Hayride: The Audition Tapes (2013) - Casting Director #2
2013
Satisfaction (TV Series)
as
Todd
- Confrontations (2013) - Todd
2012
XIII: The Series (TV Series)
as
Barnabis
- Battlezone (2012) - Barnabis
- Breakout (2012) - Barnabis
- Rampage (2012) - Barnabis
2011
Mudpit (TV Series)
as
Phillipe
- Bro the Switch (2011) - Phillipe
- Muzika's Most Wanted (2011) - Phillipe
2010
Blue Mountain State (TV Series)
as
Donnie Schrab
- The Corn Field: Part 2 (2011) - Donnie Schrab
- The Corn Field (2011) - Donnie Schrab
- Death Penalty (2011) - Donnie Schrab
- One Week (2011) - Donnie Schrab
- The C-Word (2011) - Donnie Schrab
- Fun Facts (2011) - Donnie Schrab
- Superstition (2011) - Donnie Schrab
- Blackout (2011) - Donnie Schrab
- Training Day (2011) - Donnie Schrab
- The Peak (2011) - Donnie Schrab
- Thad's Back (2011) - Donnie Schrab
- The Captain (2011) - Donnie Schrab
- Dic Pics (2011) - Donnie Schrab
- Riot (2011) - Donnie Schrab
- Drunk Tank (2011) - Donnie Schrab
- The Badger (2010) - Donnie Schrab
- Debra (2010) - Donnie Schrab
- Nerds (2010) - Donnie Schrab
- Pregnant (2010) - Donnie Schrab
- Controversy (2010) - Donnie Schrab
- The Fingering (2010) - Donnie Schrab
- Bowl Game (2010) - Donnie Schrab
- Piss Test (2010) - Donnie Schrab
- Midterms (2010) - Donnie Schrab
- Drug Olympics (2010) - Donnie Schrab
- There's Only One Second Best (2010) - Donnie Schrab
- Pocket P***y (2010) - Donnie Schrab
2011
Patch Town (Short)
as
Jon
2011
The Listener (TV Series)
as
Aaron
- The Magician (2011) - Aaron
2010
Pure Pwnage (TV Series)
as
Ruben
- Pwnageddon (2010) - Ruben
2009
Aaron Stone (TV Series)
as
Percy Budnick / Budnick
- Face-Off (2010) - Budnick
- Gauntlet, But Not Forgotten (2010) - Budnick
- Mind Games (2009) - Percy Budnick
- My Two Stans (2009) - Percy Budnick
- From Hero to Xero (2009) - Percy Budnick
- Time Out (2009) - Percy Budnick
2008
Jesus on a Fish Stick (Video short)
2007
The Jon Dore Television Show (TV Series)
as
Chunks
- Fit (2007) - Chunks
2006
It's a Boy Girl Thing
as
Team Guy #3 (as Robert James Ramsay)
Producer
-
Pub Crawl (TV Series) (producer - 11 episodes, 2020 - 2022) (series producer - 1 episode, 2022)
- Citadel Hill/Alexander Keith's Birthday (2022) - (producer)
- Bearly's House Of Blues & Ribs (2022) - (producer)
- Durty Nellys (2022) - (producer)
- The Waegwoltic (2022) - (producer)
- The Seahorse (2022) - (series producer)
- The Arms Public House (2022) - (producer)
- The Lower Deck (2020) - (producer)
- The Halifax Club (2020) - (producer)
- The Ale House (2020) - (producer)
- The Split Crow (2020) - (producer)
- The Red Stag - (producer)
- The Press Gang - (producer)
2019
Popsy (Short) (producer)
2019
Canadian Reflections (TV Series short) (co-producer - 1 episode)
- Missy (2019) - (co-producer)
2018
Missy (Short) (producer)
2018
Cahoots (Short) (producer)
2015
Rearview (Short) (producer)
Writer
2020
Pub Crawl (TV Series) (12 episodes)
- Citadel Hill/Alexander Keith's Birthday (2022)
- Bearly's House Of Blues & Ribs (2022)
- Durty Nellys (2022)
- The Waegwoltic (2022)
- The Seahorse (2022)
- The Arms Public House (2022)
- The Lower Deck (2020)
- The Halifax Club (2020)
- The Ale House (2020)
- The Split Crow (2020)
- The Red Stag
- The Press Gang
2018
Cahoots (Short) (story)
Soundtrack
2014
Patch Town (performer: "Revolution", "I Miss You")
Thanks
2012
Drink 'Em Dry (Documentary) (acknowledgment)
Self
2022
WWSD Podcast (Podcast Series)
as
Self
- EP77: Actor & Writer Rob Ramsay (2022) - Self
2020
Pub Crawl (TV Series)
as
Self - Host
- Citadel Hill/Alexander Keith's Birthday (2022) - Self - Host
- Bearly's House Of Blues & Ribs (2022) - Self - Host
- Durty Nellys (2022) - Self - Host
- The Waegwoltic (2022) - Self - Host
- The Seahorse (2022) - Self - Host
- The Arms Public House (2022) - Self - Host
- The Lower Deck (2020) - Self - Host
- The Halifax Club (2020) - Self - Host
- The Ale House (2020) - Self - Host
- The Split Crow (2020) - Self - Host
- The Red Stag - Self - Host
- The Press Gang - Self - Host
2013
Blue Mountain State: Behind the Scenes Documentary (Documentary short)
as
Self
References
Rob Ramsay Wikipedia
(Text) CC BY-SA