Covid-19
5.2

/

10

Alchetron

5.2

Rate This




Arjun Sajnani




India







Hindi






30 August 2002


"The Fire and the Rain" by Girish Karnad
Girish Karnad (play), Anil Mehta (screenplay), Arjun Sajnani (screenplay), Jayshree T. (screenplay), Atul Tiwari (dialogue)


An Epic Tale of Love & Scrifice
Agni varsha full movie amitabh bachchan raveena tandon nagarjuna jackie shroff hindi movie
Agni Varsha is 2002 critically acclaimed epic Hindi film produced by Kashish Bhatnagar on I Dream Productions banner, directed by Arjun Sajnani. Starring Amitabh Bachchan, Jackie Shroff, Nagarjuna, Raveena Tandon in lead roles and music composed by Sandesh Shandilya & Taufiq Qureshi. The film is a silver screen adaptation of Girish Karnad's Mahabharat play "The Fire and The Rain". The film's art direction was handled by Shashidhar Adapa and Choreography was handled by Prabhu Deva. The film recorded as flop at box-office.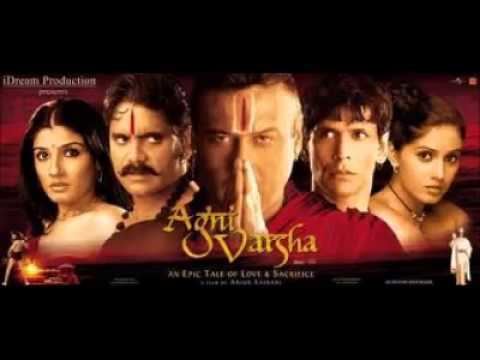 In a kingdom stricken with drought for past few years, Arvasu (Milind Soman), a brahman loves Nittilai (Sonali Kulkarni) a tribal girl, who seeks approval of her father and village's elders before marrying him. Arvasu's brother, Parvasu (Jackie Shroff) has been conducting a major prayer ceremony to appease the god of rains, Indra (Amitabh Bachchan). Arvasu's father, Raibhya dislikes both his sons and suspects Vishaka (Raveena Tandon) Parvasu's wife, of having an affair with Yavakri (Nagarjuna),based on the fact that Yavarki and Vishaka loved each other, before Yavarki left village to worship Devraj Indra. On a day of his return, Yavakri finds Vishakha returning from well. She, at first, refuses him but ultimately gives up and they start making love in the woods. Nittilai and Aravasu see them.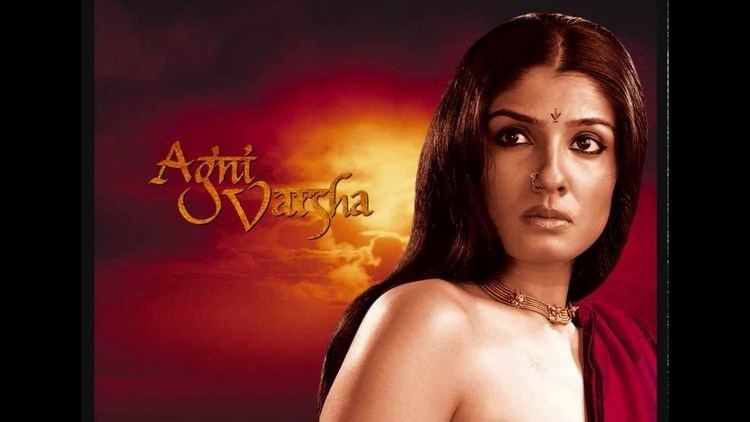 Upon reaching home, on being accused of adultery by Raibhya, Vishakha enraged tells him that she was with Yavakri. An enraged Raibhya summons a Brahm Rakshas (Prabhu Deva) to kill Yavarki. He also declares that Yavakri can save himself if he enters the ashram of his father, this shall declare him as a coward. Yavakri, wanting to prove his strength waits for the demon to arrive. Vishakha warns him and tells him to flee to his father's ashram, which shall force Raibhya to immolate himself. The demon slays Yavakri in one shot. Vishakha pleads Arvasu to cremate him; this delays his appointment with Nittilai's father and her village elders, and, as a result, she is forced to marry a fellow tribesman.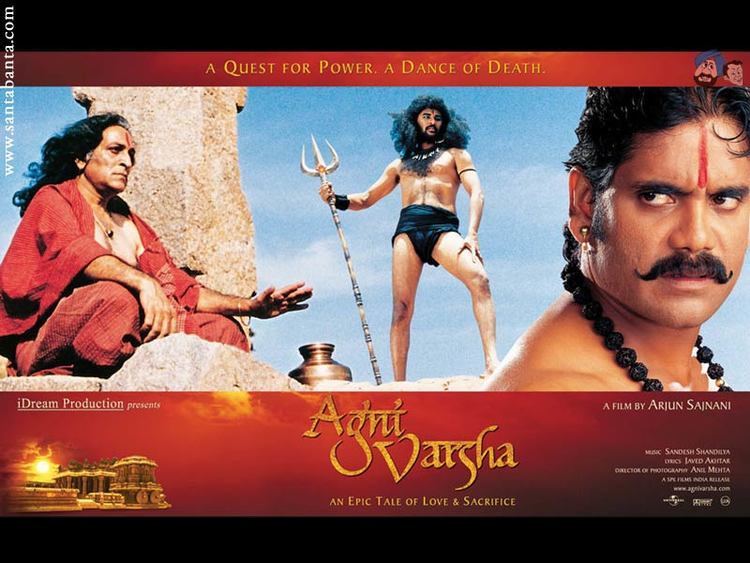 Parvasu sneaks in the night to meet Vishakha. Vishakha confesses everything and begs him to kill her, but Paravasu raises the arrow and shoots at his father. The next day when Aravasu comes to the city after cremating his father Paravasu subsequently blames Arvasu for this and has him badly beaten up. When Nittilai hears of this, she comes to the rescue of Arvasu and finds that she is being hunted by her husband and her brother, who will kill her on sight for dishonoring the tribe's customs.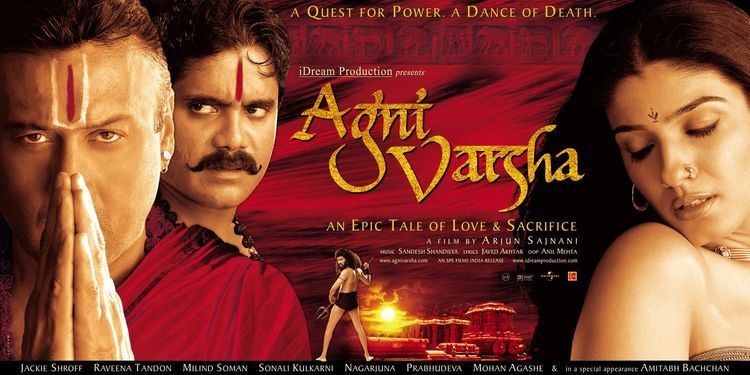 Sutradhar (Raghuvir Yadav) arranges an act to entertain the Devas and chooses Arvasu an important role. During the act, under the influence of bhang, Arvasu goes berserk, destroying the haven and throwing the offerings to the starved locals. Nittilai, in an attempt to stop Arvasu, exposes herself and is killed by her husband; Parvasu admits failure, confessing his murder of his father and cremate's himself in the yajna's pyre. Finally appeased, Devraj Indra appears, and Arvasu is allowed a wish of his choice. Brahm Rakshas comes and begs him to set his soul free while Aravasu himself wants Nittilai back to live. Aravasu, with teary eyes, asks Indra to set the Demon's soul free, which is followed by rain.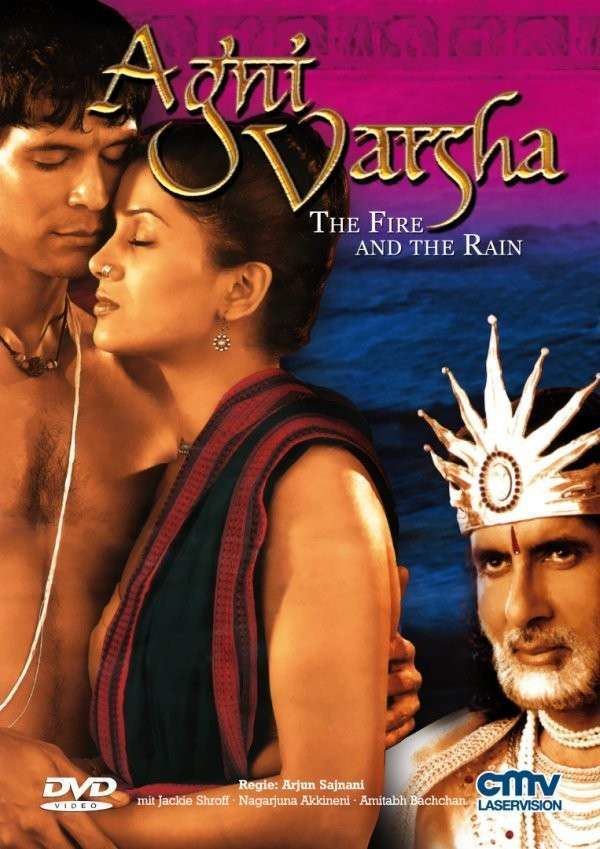 Amitabh Bachchan - Indra
Nagarjuna - Yavakri
Jackie Shroff - Paravasu
Raveena Tandon - Vishakha
Milind Soman - Arvasu
Prabhu Deva - Rakshasa
Mohan Agashe - Raibhya
Kumar Iyengar - Senior Courtier
Sonali Kulkarni - Nittilai
Raghuvir Yadav - Actor Manager (Sutradhar)
Nikita Athena Rajwade
Music composed by Sandesh Shandilya. Lyrics written by Javed Akhtar. Music released on T-Series Ausio Company.
Agni Varsha Wikipedia
(Text) CC BY-SA
Agni Varsha IMDb
Agni Varsha themoviedb.org