Nationality

American




Role

Film actor




Occupation

Actor




Height

1.83 m





Years active

1992–present




Name

Aaron Eckhart




Upcoming movie

London Has Fallen





Full Name

Aaron Edward Eckhart




Born

March 12, 1968 (age 55) (

1968-03-12

) Cupertino, California, U.S.


Awards

People's Choice Award for Favorite Cast


Movies

I - Frankenstein, The Dark Knight, Olympus Has Fallen, Battle: Los Angeles, Erased




Similar People

Gerard Butler, Heath Ledger, Christian Bale, Morgan Freeman, Maggie Gyllenhaal


Profiles




Twitter




Education

Brigham Young University

Aaron Eckhart shares his acting secrets "If another actor has to hate me, I'll make him hate me"
An Actor Has To Have A Fighter's Mentality To Work In Hollywood by Aaron Eckhart
Aaron Edward Eckhart (born March 12, 1968) is an American actor.
Contents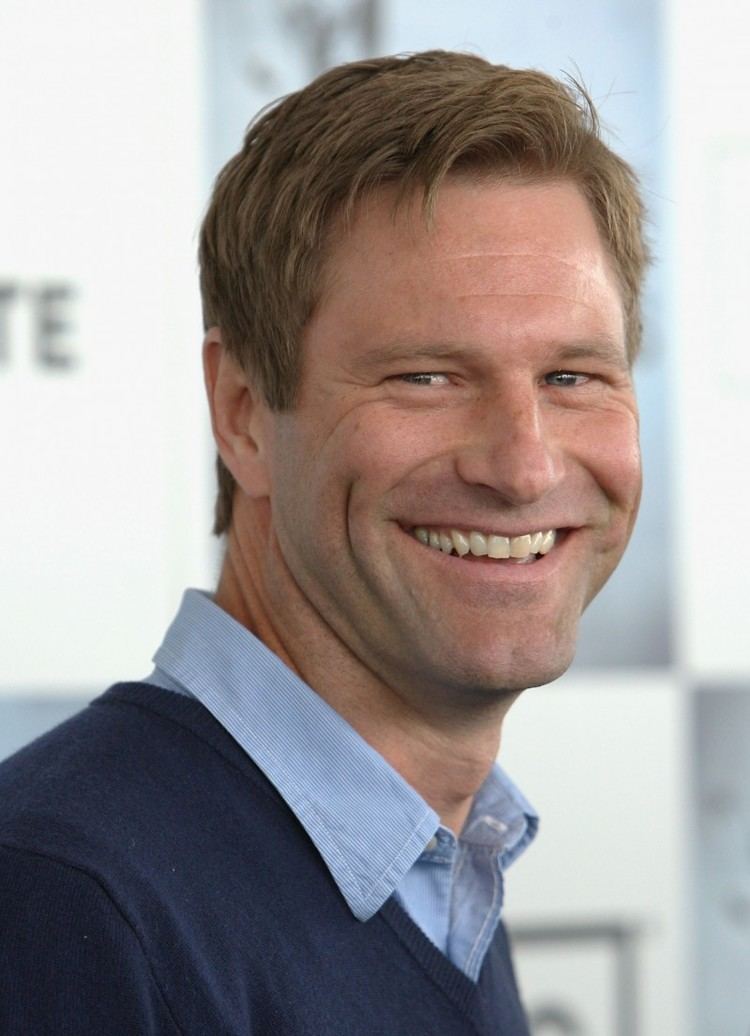 Born in Cupertino, California, Eckhart moved to England at age 13, when his father relocated the family. Several years later, he began his acting career by performing in school plays, before moving to Australia for his high school senior year. He left high school without graduating, but earned a diploma through an adult education course, and graduated from Brigham Young University (BYU) in 1994 with a Bachelor of Fine Arts degree in film. For much of the mid-1990s, he lived in New York City as a struggling, unemployed actor.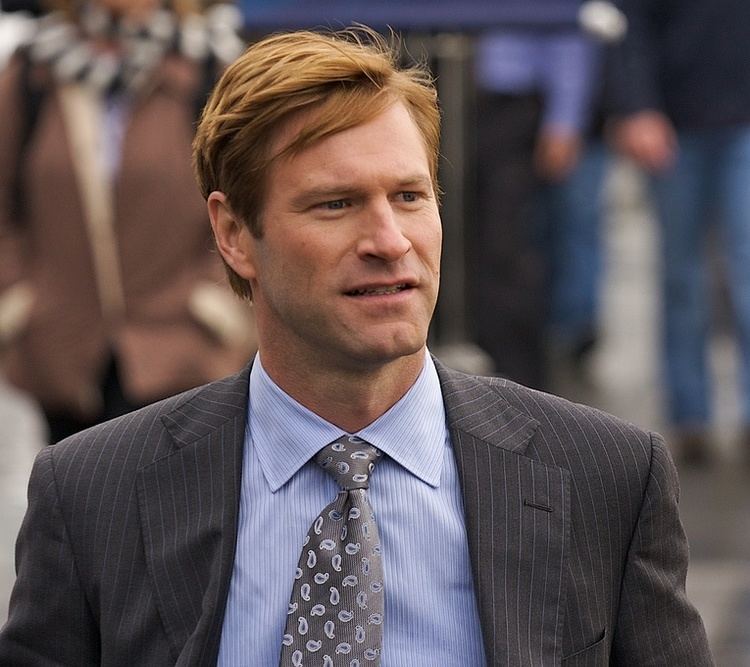 As an undergraduate at BYU, Eckhart met director and writer Neil LaBute, who cast him in several of his own original plays. Five years later Eckhart made a debut as an unctuous, sociopathic ladies' man in LaBute's black comedy film In the Company of Men (1997). Under LaBute's guidance he worked in the director's films Your Friends & Neighbors (1998), Nurse Betty (2000), and Possession (2002).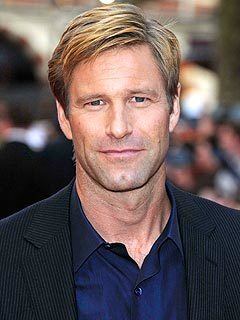 Eckhart gained wide recognition as George in Steven Soderbergh's critically acclaimed film Erin Brockovich (2000), and in 2006 received a Golden Globe nomination for Best Actor for his portrayal of Nick Naylor in Thank You for Smoking. Another mainstream breakout occurred in 2008 when he starred in the blockbuster Batman film The Dark Knight as District Attorney Harvey Dent. Other key roles include The Pledge (2001), The Core (2003), Rabbit Hole (2010) Battle: Los Angeles (2011), Olympus Has Fallen (2013) and its sequel London Has Fallen (2016), I, Frankenstein (2014), and Sully (2016).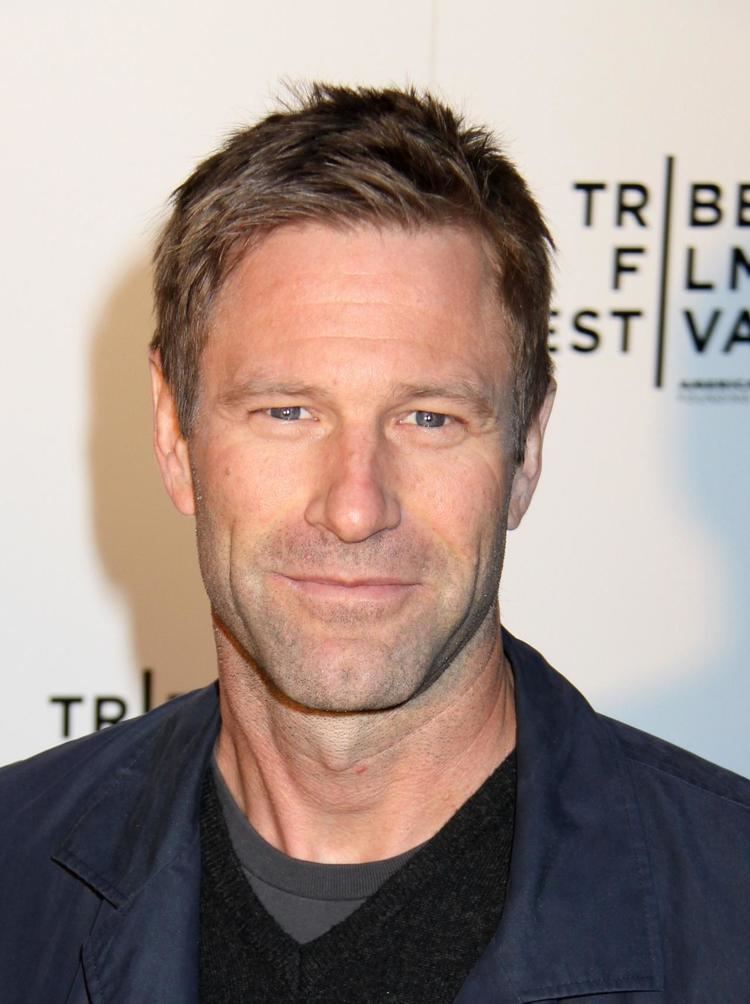 Early life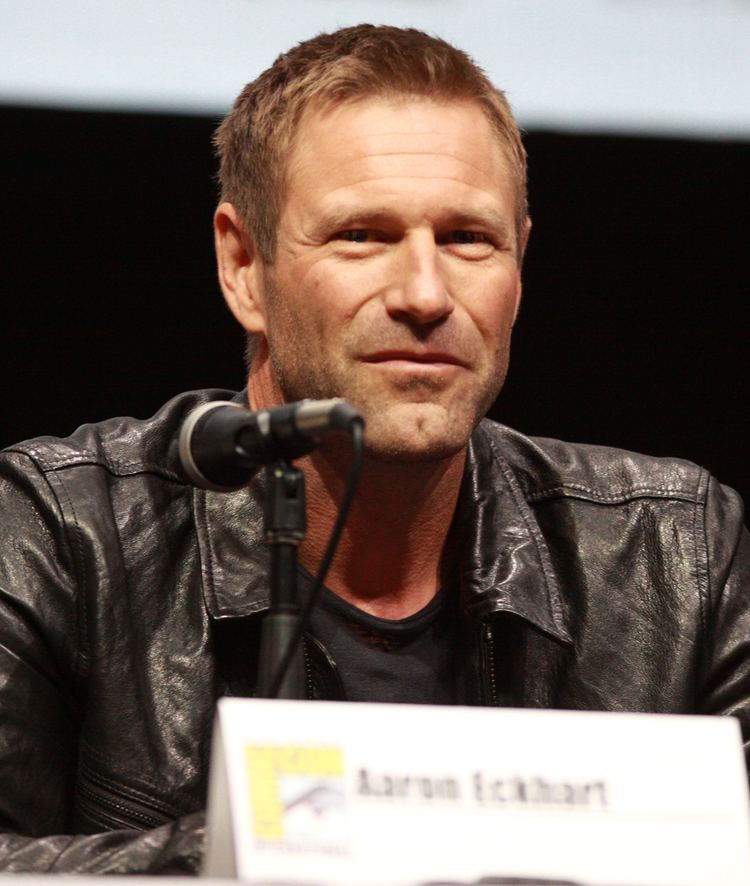 Eckhart was born on March 12, 1968, in Cupertino, California, the son of Mary Martha Eckhart (née Lawrence), a writer, artist, and poet, and James Conrad Eckhart, a computer executive. He is the youngest of three brothers. His father is of German and Russian descent, while his mother has English, German, Scotch-Irish, and Scottish ancestry. He was raised as a Mormon in The Church of Jesus Christ of Latter-day Saints, and served a two-year mission in France and Switzerland. Eckhart's family relocated to England in 1981, following his father's job in information technology. The family moved around Surrey, living in towns such as Cobham, Ripley, and Walton-on-Thames. While living in England, Eckhart attended American Community School, where he was first introduced to acting, starring in a school production as Charlie Brown.
In 1985, Eckhart moved to Australia and settled in Sydney, where he attended American International School of Sydney for his high school senior year; he further developed his acting skills in productions like Waiting for Godot, where he admits that he gave a "terrible" performance. In the autumn of his senior year, Eckhart left school to take a job at the Warringah Mall movie theater. He eventually earned his diploma through an adult education course. This also allowed Eckhart time to enjoy a year of surfing in Hawaii and France, as well as skiing in the Alps. In 1988, Eckhart returned to the United States and enrolled as a film major at Brigham Young University–Hawaii, but later transferred to Brigham Young University (BYU) in Provo, Utah. He graduated in 1994 with a Bachelor of Fine Arts degree. His fortunes changed for the better when he was offered the role of George in the film Erin Brockovich, which gave his failing career a much needed boost. He was then flooded with film offers and before long established himself as a respected character actor in Hollywood.
Early work
While at Brigham Young University, Eckhart appeared in the Mormon-themed film Godly Sorrow, and the role marked his professional debut. At this time he met director/writer Neil LaBute, who cast him in several of his own original plays. After graduating from BYU, Eckhart moved to New York City, acquired an agent, and took various occasional jobs, including bartending, bus driving, and construction work. His first television roles were in commercials. In 1994 he appeared as an extra on the television drama series Beverly Hills, 90210. Eckhart followed this small part with roles in documentary re-enactments (Ancient Secrets of the Bible: Samson), made-for-television movies, and short-lived programs like Aliens in the Family.
In 1997 Eckhart was approached by Neil LaBute to star in a film adaptation of LaBute's stage play In the Company of Men. He played a frustrated white-collar worker who planned to woo a deaf office worker, gain her affections, then suddenly dump her. The film, his first feature to reach theaters, was critically well received, with Desson Howe of The Washington Post reporting that Eckhart is the "movie's most malignant presence" and that he "is in chilling command as a sort of satanic prince in shirtsleeves". In the Company of Men was a critical success, winning Best First Film at the 63rd annual New York Film Critics Circle Award. His performance won him the Independent Spirit Award in the category of Best Debut Performance. The film was ranked as one of "The 25 Most Dangerous Movies" by Premiere magazine.
The following year Eckhart starred in another LaBute feature, Your Friends & Neighbors (1998), as Barry, a sexually frustrated husband in a dysfunctional marriage. For the role Eckhart was required to gain weight. In 1999 he starred opposite Elisabeth Shue in Molly, a romantic comedy-drama in which he played the self-absorbed brother of an autistic woman who was cured by surgery. Eckhart also starred that year as a football coach, an offensive coordinator in Oliver Stone's Any Given Sunday.
Critical success
Eckhart first gained wide exposure in 2000 as George, a ponytailed, goateed biker, in Steven Soderbergh's drama Erin Brockovich. The film was met with reasonable reviews, and was a box office success, earning $256 million worldwide. His performance was well received by critics; Entertainment Weekly's Owen Gleiberman wrote that Eckhart "may be playing a bit of an ideal [...] but he makes goodness as palpable as he did yuppie evil in 'In the Company of Men'." In an August 2004 interview, Eckhart claimed that he had not worked for nearly a year before he was cast in the movie. "I felt like I sort of was getting away from what I wanted to do as an actor. [...] I had nine months off, but it wasn't a vacation. Sure, I didn't earn any money for nine months, but every day I was reading scripts, I was producing my own material, I was taking meetings, I was working on my craft."
Following the release of Erin Brockovich, Eckhart co-starred with Renée Zellweger in LaBute's Nurse Betty (2000). He next appeared in Sean Penn's mystery feature The Pledge (2001), in which he played a young detective partnered with a veteran detective, played by Jack Nicholson. The movie received generally favorable reviews, but it did not fare particularly well at the box office. The following year, he collaborated with LaBute in a film adaptation of the Man Booker Prize-winning novel Possession (2002). In 2003, Eckhart co-starred with Hilary Swank in The Core, a film about a geophysicist who tries to detonate a nuclear device in order to save the world from destruction. The film was critically and financially unsuccessful. Also in 2003, he appeared in The Missing, in which he played Cate Blanchett's lover, and in the action-thriller Paycheck opposite Ben Affleck. Paycheck, based on a short story by science fiction writer Philip K. Dick, garnered generally negative reception. Film critic Roger Ebert of the Chicago Sun-Times gave the film two stars (out of four), saying that he "enjoyed the movie" but felt that it "exploits [Dick's story] for its action and plot potential, but never really develops it."
The following year, away from film, Eckhart guest starred in two episodes of NBC's comedy sitcom Frasier, where he played a boyfriend of Charlotte, Dr. Frasier Crane's love interest. His next film role was in E. Elias Merhige's thriller Suspect Zero, a movie about an FBI agent who tracks down a killer who murders serial killers. Upon release, the movie received broadly negative reviews. Despite the reception, Eckhart's performance was favored by critics; Newsday wrote that Eckhart was a "classically handsome leading man ... but Merhige demands of him complexity and anguish." Suspect Zero was a box office disappointment, earning $11 million worldwide. Also in 2004, Eckhart starred on the London stage, opposite Julia Stiles, in David Mamet's Oleanna at the Garrick Theatre. The drama ran until mid-2004. For this performance, Eckhart received favorable critical reviews. In 2005, returning to film, Eckhart appeared in Neverwas as a therapist who takes a job at a rundown mental hospital that once treated his father (Nick Nolte). The feature was never given a full theatrical release, eventually being released straight to DVD in 2007.
Worldwide recognition
Eckhart's next project was Thank You for Smoking, in which he played Nick Naylor, a tobacco lobbyist whose firm researched the link between smoking cigarettes and lung cancer. Eckhart said that he felt challenged playing the role: "You have to say these words that are crazy, and yet do it with a smile on your face and have the audience like you. At one point, I'm doing a talk show with a kid who's dying of cancer, and he's going through chemotherapy and the whole thing, and I spin it so the anti-smoking people are the bad guys and I'm the good guy, and I'm this guy's best friend. I mean, it's whacked out." The film was screened at a special presentation at the 30th annual Toronto International Film Festival in 2005. It had a limited release in March 2006 and was released worldwide the following month. For his performance, Eckhart received a Golden Globe nomination for Best Actor in a Motion Picture Musical or Comedy. A contributor of USA Today wrote that he gave a "standout, whip-smart performance" citing that as Nick Naylor he kept him "likable even in his cynicism." In the Seattle Post-Intelligencer review of the film, it was reported that "Under his chummy but compassionless smile" Eckhart radiated charm and "Naylor's true joys: manipulating arguments, steering debate, cooking words."
In this same year, he starred with Helena Bonham Carter in Conversations with Other Women (2006). While promoting this film, Eckhart revealed that he wishes not to be typecast or repeat himself, saying he does not want to play any more villains. He appeared in the 2006 film noir The Black Dahlia—based on a real 1947 crime—as Sergeant Leland "Lee" Blanchard, a detective investigating the murder of Elizabeth Short, later dubbed the "Black Dahlia". The film premiered at the 63rd Venice International Film Festival. Reception for the movie was mixed, but many critics enjoyed Eckhart's performance; Time Out magazine praised Eckhart and co-star Hilary Swank for their performances, writing "...both [are] great in their secondary roles."
Internationally viewed as a sex symbol, he was named one of People magazine's 100 Most Beautiful People in 2006. The following year, Eckhart was invited to join the Academy of Motion Picture Arts and Sciences. He starred in No Reservations (2007), a remake of the 2001 German romantic comedy Mostly Martha. He starred opposite Catherine Zeta-Jones as an up-and-coming hotshot chef. The film was met with mixed reviews and was unfavorably compared to the original film. Eckhart starred in the 2008 comedy Meet Bill, in which he played the eponymous character, a sad executive working at his father-in-law's bank. He gained 30 pounds and donned a fat suit for the role.
Also in 2008, Eckhart portrayed the comic book character Harvey Dent in Christopher Nolan's The Dark Knight, the sequel to the 2005 film Batman Begins. Nolan's decision to cast Eckhart was based on his portrayal of corrupt characters in the films In the Company of Men, The Black Dahlia, and Thank You For Smoking. He noted in his depiction of the character that "[he] is still true to himself. He's a crime fighter, he's not killing good people. He's not a bad guy, not purely", while admitting "I'm interested in good guys gone wrong." The Dark Knight was a big financial and critical success, setting a new opening weekend box office record for North America. With revenue of $1 billion worldwide, it became the fourth highest-grossing film of all time, and the highest-grossing film of Eckhart's career. Roger Ebert opined that Eckhart did an "especially good job" as his character in the feature, while Premiere magazine also enjoyed his performance, noting that he "makes you believe in his ill-fated ambition ... of morphing into the conniving Two-Face."
Following the success of The Dark Knight, Eckhart next appeared in Alan Ball's Towelhead (2008), an adaption of the Alicia Erian novel of the same name, in which he played a Gulf War Army reservist who sexually abuses his 13-year-old Arab-American neighbor. The film was screened under the name Nothing is Private at the 2007 Toronto International Film Festival. When he was first approached for the role, Eckhart revealed that he did not want to play a "pedophile". When asked about the sex scenes, Eckhart said: "Those were difficult times .... The way I did it was to really trust Alan. It was in the words. I really trusted Summer [Bishil], and I tried to get her to trust me, to build a relationship when we were doing physical scenes. We'd really rehearse them mechanically, and I'd say, 'OK, I'm going to put my hand here, I'm going to do this.' ... I think I found it more difficult." Towelhead was critically and financially unsuccessful.
He next co-starred with Jennifer Aniston in the romantic drama Love Happens, released in September 2009, as a motivational speaker coming to terms with his own grief. The movie received ambivalent reviews, with a contributor of the Orlando Sentinel reporting that Eckhart plays "broken" for the whole movie. The following year he starred alongside Nicole Kidman in Rabbit Hole (2010), an adaption of David Lindsay-Abaire's 2005 drama of the same name. The feature premiered at the 2010 Toronto International Film Festival. In 2011, Eckhart starred in Jonathan Liebesman's science fiction film Battle: Los Angeles, in which he portrayed a combat veteran Marine platoon sergeant. The film was set in modern-day Los Angeles during a global alien invasion, and followed a platoon of U.S. Marines who are joined by an Air Force special operations sergeant and some Army infantry soldiers in combat operations against the alien enemy. He appeared alongside Johnny Depp, Richard Jenkins, and Amber Heard in Hunter S. Thompson's novel adaptation The Rum Diary, directed by Bruce Robinson. In the film, Eckhart played Sanderson, a wealthy landowner, who believes everything has a price and introduces Paul Kemp (Depp) to a different standard of living. He recently appeared as the U.S. President who has been taken hostage in the 2013 action thriller Olympus Has Fallen.
Personal life
Eckhart met actress Emily Cline during the filming of In the Company of Men and they became engaged, but they separated in 1998. He has always been reluctant to speak about his relationships in interviews. Eckhart dated songwriter and member of SHeDAISY, Kristyn Osborn, from 2006 to 2007. He appeared in the group's video for their song "I'm Taking the Wheel".
Eckhart has talked much about his beliefs, his way of life, and his future career ambitions. Talking to Entertainment Weekly regarding his Mormon faith, he revealed, "I'm sure people think I'm a Mormon, but I don't know that I'm a Mormon anymore, you know? To be honest, to be perfectly clear, I'd be a hypocrite if I did say that I was, just because I haven't lived that lifestyle for so many years." In other interviews, he has said that hypnosis helped him to quit drinking, smoking, and partying, and that he undertakes amateur photography in his spare time. In an interview with Parade magazine, Eckhart revealed that before he discovered acting, he wanted to become a songwriter.
Filmography
Actor
-
Chief of Station (post-production)
-
Classified (post-production)
as
Evan Shaw
2023
The Bricklayer (post-production)
as
Vail
-
Muzzle (completed)
as
Jake Rosser
-
Rumble Through the Dark (completed)
as
Jack Boucher
2023
Ambush
as
Capitaine Drummond
2022
Pantheon (TV Series)
as
Cary
- The Gods Will Not Be Slain (2022) - Cary (voice)
- We Are You (2022) - Cary (voice)
- You Must Be Caspian (2022) - Cary (voice)
- Zero Daze (2022) - Cary (voice)
- The Gods Will Not Be Chained (2022) - Cary (voice)
- Reign of Winter (2022) - Cary (voice)
- Cycles (2022) - Cary (voice)
- Pantheon (2022) - Cary (voice)
2022
The First Lady (TV Series)
as
Gerald Ford
- Victory Dance (2022) - Gerald Ford
- Rift (2022) - Gerald Ford
- Punch Perfect (2022) - Gerald Ford
- Nadir (2022) - Gerald Ford
- Shout Out (2022) - Gerald Ford
- See Saw (2022) - Gerald Ford
- Cracked Pot (2022) - Gerald Ford
- Please Allow Me (2022) - Gerald Ford (credit only)
- Voices Carry (2022) - Gerald Ford
- That White House (2022) - Gerald Ford
2019
Line of Duty
as
Frank Penny
2019
Midway
as
Jimmy Doolittle
2018
The Romanoffs (TV Series)
as
Greg
- The One That Holds Everything (2018) - Greg (uncredited)
- The Violet Hour (2018) - Greg
2016
Bleed for This
as
Kevin Rooney
2016
London Has Fallen
as
Benjamin Asher
2015
My All-American
as
Coach Royal
2013
Olympus Has Fallen
as
President Benjamin Asher
2011
The Rum Diary
as
Sanderson
2011
Battle Los Angeles
as
Ssgt. Michael Nantz
2008
Gotham Tonight (TV Mini Series)
as
Harvey Dent
- Gotham's White Knight (2008) - Harvey Dent
2008
The Dark Knight
as
Harvey Dent
2007
Towelhead
as
Travis Vuoso
2007
Vanity Fair: Killers Kill, Dead Men Die (Video short)
as
The Cop (credit only)
2006
The Wicker Man
as
Truck Stop Patron
2006
The Black Dahlia
as
Lee Blanchard
2005
Thank You for Smoking
as
Nick Naylor
2005
Conversations with Other Women
as
Man
2004
Suspect Zero
as
Thomas Mackelway
2004
Paycheck: Deleted/Extended Scenes (Video short)
as
Rethrick
2004
Frasier (TV Series)
as
Frank
- And Frasier Makes Three (2004) - Frank
- Miss Right Now (2004) - Frank
2003
The Missing
as
Brake Baldwin
2002
Possession
as
Roland Michell
2001
The Pledge
as
Stan Krolak
2000
Erin Brockovich
as
George
1999
Any Given Sunday
as
Nick Crozier
1998
Your Friends and Neighbors
as
Barry
1997
In the Company of Men
as
Chad
1996
Aliens in the Family (TV Series)
- Meet the Brodys (1996)
1993
Slaughter of the Innocents
as
Ken Reynolds
1993
Ancient Secrets of the Bible, Part II (TV Movie documentary)
as
Samson
1992
Double Jeopardy (TV Movie)
as
Dwayne
Producer
2010
To Be Friends (executive producer)
2007
Meet Bill (executive producer)
2005
Neverwas (co-producer)
Soundtrack
2001
The Pledge (performer: "Ten Little Indians" - uncredited)
Thanks
2017
Name That Film (TV Series) (special thanks - 1 episode)
- We'd All Be Dead (2017) - (special thanks)
Self
2022
Heath Ledger: A Tragic Tale (Documentary)
as
Self
2019
Hollywood Insider (TV Series)
as
Self
- The Rise and Journey of Miles Teller: From 'Whiplash' to 'Bleed For This' (2022) - Self
- Reactions at premiere of 'Midway' (2019) - Self
- Reactions From Stars on Midway (2019) - Self
2009
Made in Hollywood (TV Series)
as
Self
- Soul/Sylvie's Love/Fatale/We Can Be Heroes (2020) - Self
- Fantastic Beasts and Where to Find Them/Bleed for This/The Edge of Seventeen/Manchester by the Sea (2016) - Self
- London Has Fallen/Whiskey Tango Foxtrot/Zootopia/The Other Side of the Door (2016) - Self
- Courage/The 33 (2015) - Self
- Episode #9.16 (2014) - Self
- Episode #8.28 (2013) - Self
- Episode #8.22 (2013) - Self
- Episode #7.5 (2011) - Self
- Episode #6.19 (2011) - Self
- Episode #5.3 (2009) - Self
2006
Live with Kelly and Mark (TV Series)
as
Self - Guest
- Live's Holiday Gift Guide 2020 - Day 5 (2020) - Self - Guest
- Guest Co-Host Billy Gardell/Aaron Eckhart/Ali Wentworth/Ming Tsai (2016) - Self - Guest
- Guest Co-Host Morris Chestnut/Aaron Eckhart/Ben McKenzie (2016) - Self - Guest
- Guest Co-Host Anderson Cooper/Aaron Eckhart/A Great Big World (2014) - Self - Guest
- Episode #23.124 (2011) - Self - Guest
- Episode #22.6 (2009) - Self - Guest
- Episode dated 24 July 2008 (2008) - Self - Guest
- Episode dated 25 July 2007 (2007) - Self - Guest
- Episode dated 23 March 2006 (2006) - Self - Guest
2020
Roland Emmerich: Man on a Mission (Short)
as
Self
2020
The Men of Midway (Short)
as
Self
2019
Sidewalks Entertainment (TV Series)
as
Self - Guest
- Aaron Eckhart (2019) - Self - Guest
2018
Ok! TV (TV Series)
as
Self
- Episode #4.37 (2018) - Self
2017
The Envelope (TV Mini Series)
as
Self
- Oscars 2017 - Supporting Actors (2017) - Self
2016
Sully: Neck Deep in the Hudson: - Shooting Sully (Video documentary short)
as
Self
2006
Tavis Smiley (TV Series)
as
Self - Guest
- Episode dated 25 November 2016 (2016) - Self - Guest
- Episode dated 10 March 2011 (2011) - Self - Guest
- Episode dated 30 November 2006 (2006) - Self - Guest
2016
The Late Late Show with James Corden (TV Series)
as
Self - Guest
- Aaron Eckhart/Trevor Noah/Green Day (2016) - Self - Guest
2016
Late Night with Seth Meyers (TV Series)
as
Self - Guest
- Aaron Eckhart/Michelle Dockery/Margo Price/Atom Willard (2016) - Self - Guest
2016
Hollywood Film Awards (Video)
as
Self
2016
The Late Show with Stephen Colbert (TV Series)
as
Self - Guest
- Aaron Eckhart/Tig Notaro/Ron Suskind (2016) - Self - Guest
2016
Celebrity Conversations (TV Series)
as
Self
- Celebrity Conversations: Aaron Eckhart (2016) - Self
2014
Good Morning America (TV Series)
as
Self - Guest
- Episode dated 7 September 2016 (2016) - Self - Guest
- Episode dated 21 January 2014 (2014) - Self - Guest
2016
WGN Morning News (TV Series)
as
Self
- Episode dated 7 September 2016 (2016) - Self
2016
Chelsea (TV Series)
as
Self - Guest
- Oh, This Isn't Funny Anymore (2016) - Self - Guest
2004
Jimmy Kimmel Live! (TV Series)
as
Self - Guest
- Aaron Eckhart/Cat Deeley/Nathaniel Rateliff & the Night Sweats (2016) - Self - Guest
- Episode #6.120 (2008) - Self - Guest
- Episode #3.155 (2004) - Self - Guest
2016
London Has Fallen: Guns, Knives & Explosives (Video documentary short)
as
Self / Benjamin Asher
2016
The Making of 'London Has Fallen' (Video documentary short)
as
Self / Benjamin Asher
2015
A Nobel Peace Prize Behind the Scenes (Documentary short)
as
Self
2014
Random Pop (TV Series)
as
Self
- I, Frankenstein & Paranormal Activity: The Marked Ones (2014) - Self
2014
Extra (TV Series)
as
Himselt
- Episode dated 1 February 2014 (2014) - Himselt
2014
The Queen Latifah Show (TV Series)
as
Self - Guest
- Aaron Eckhart and "True Detective's" Michelle Monaghan (2014) - Self - Guest
2014
The Arsenio Hall Show (TV Series)
as
Self - Guest
- Episode #1.84 (2014) - Self - Guest
2014
Beyond the Trailer (TV Series)
as
Self
- I Frankenstein Interview: Aaron Eckhart 2014 (2014) - Self
2014
Weekend Ticket (TV Series short)
as
Self
- Episode #2.46 (2014) - Self
2006
The Late Late Show with Craig Ferguson (TV Series)
as
Self - Guest
- Aaron Eckhart/Rhea Perlman (2014) - Self - Guest
- Episode dated 20 March 2013 (2013) - Self - Guest
- Episode #7.122 (2011) - Self - Guest
- Episode #4.116 (2007) - Self - Guest
- Episode #2.192 (2006) - Self - Guest
2000
The Tonight Show with Jay Leno (TV Series)
as
Self - Guest
- Episode #22.60 (2014) - Self - Guest
- Episode #21.144 (2013) - Self - Guest
- Episode #20.16 (2011) - Self - Guest
- Episode #19.106 (2011) - Self - Guest
- Episode #19.50 (2010) - Self - Guest
- Episode #16.116 (2008) - Self - Guest
- Episode #15.134 (2007) - Self - Guest
- Episode #14.227 (2006) - Self - Guest
- Episode #14.146 (2006) - Self - Guest
- Episode #8.84 (2000) - Self - Guest
2014
71st Golden Globe Awards (TV Special)
as
Self - Presenter (uncredited)
2014
The Jonathan Ross Show (TV Series)
as
Self - Guest
- Aaron Eckhart, Jayne Torvill, Christopher Dean, Karren Brady, Griff Rhys Jones and Kodaline (2014) - Self - Guest
2013
Nerd HQ (TV Series)
as
Self
- I, Frankenstein: Conversation with the Cast & Creators - Nerd HQ (2013) HD (2013) - Self
2013
Larry King Now (TV Series)
as
Self - Guest
- Aaron Eckhard (2013) - Self - Guest
2013
Speakeasy: With Paul F. Tompkins (TV Series)
as
Self
- Aaron Eckhart Is an Old Pro (2013) - Self
2013
Evening Urgant (TV Series)
as
Self - Guest
- Gerard Butler/Aaron Eckhart/Sergey Lazarev (2013) - Self - Guest
2013
Chelsea Lately (TV Series)
as
Self - Guest
- Episode #7.41 (2013) - Self - Guest
2013
Young Hollywood (TV Series)
as
Self
- Aaron Eckhart on Becoming I, FRANKENSTEIN (2013) - Self
2012
MSN Exclusives (TV Series)
as
Self (2014)
2011
Film Fiend (TV Series)
as
Self - Guest
- Sucker Punch (2011) - Self - Guest
- Battle Los Angeles (2011) - Self - Guest
2011
X-Play (TV Series)
as
Self - Facetime / SSgt. Michael Nantz, Battle: Los Angeles
- Aaron Eckhart (2011) - Self - Facetime / SSgt. Michael Nantz, Battle: Los Angeles
2011
La boîte à questions (TV Series short)
as
Self
- Episode dated 17 March 2011 (2011) - Self
2011
Le grand journal de Canal+ (TV Series documentary)
as
Self
- Episode dated 15 March 2011 (2011) - Self
2011
Attack of the Show! (TV Series)
as
Self - Guest
- Aaron Eckhart (2011) - Self - Guest
- Mr. Moviefone/Garfunkel & Oates (2011) - Self - Guest
2011
Cubed (TV Series)
as
Self
- Episode #2.26 (2011) - Self
2004
The Daily Show (TV Series)
as
Self - Guest
- Aaron Eckhart (2011) - Self - Guest
- Aaron Eckhart (2008) - Self - Guest
- Aaron Eckhart (2004) - Self - Guest
2007
Up Close with Carrie Keagan (TV Series)
as
Self - Guest
- Episode dated 8 March 2011 (2011) - Self - Guest
- Episode dated 15 July 2008 (2008) - Self - Guest
- Episode dated 24 July 2007 (2007) - Self - Guest
2011
The 2011 Independent Spirit Awards (TV Special)
as
Self - Nominee
2011
Jump Start Live (TV Series)
as
Self
- Nicole Kidman/Aaron Eckhart/Josh Groban/Carney (2011) - Self
2010
Love Happens: Deleted Scenes (Video short)
as
Self
2010
Conan (TV Series)
as
Self - Guest
- Fa-La-La-La-La, La-La-La-Murder (2010) - Self - Guest
2010
The 4th Annual CNN Heroes: An All-Star Tribute (TV Special)
as
Self - Presenter
2010
Scream Awards 2010 (TV Special)
as
Self
2010
In the House with Peter Bart & Peter Guber (TV Series)
as
Self - Guest
- Tom Sherak/Tony Goldwyn/Aaron Eckhart (2010) - Self - Guest
2010
Asia Uncut with Jon Niermann (TV Series)
as
Self
- Episode dated 21 March 2010 (2010) - Self
2009
2009 Golden Globe Awards Red Carpet Special (TV Special)
as
Self
2009
The Tonight Show with Conan O'Brien (TV Series)
as
Self - Guest
- Aaron Eckhart/Michael Strahan/Yeah Yeah Yeahs (2009) - Self - Guest
2009
Charlie Rose (TV Series)
as
Self - Guest
- Episode dated 17 March 2009 (2009) - Self - Guest
2009
The 2009 Independent Spirit Awards (TV Special)
as
Self - Presenter
2009
Golden Globe Awards (TV Special)
as
Self - Presenter
2008
Entertainment Tonight (TV Series)
as
Self
- Episode dated 9 January 2009 (2009) - Self
- Episode dated 31 July 2008 (2008) - Self
- Episode dated 30 July 2008 (2008) - Self
- Episode dated 21 July 2008 (2008) - Self
- Episode dated 15 July 2008 (2008) - Self
2009
The 14th Annual Critics' Choice Awards (TV Special)
as
Self - Presenter
2008
Jiminy Glick: Independent Spirit Awards (Short)
as
Self
2008
HBO First Look (TV Series documentary short)
as
Self
- Towelhead (2008) - Self
- The Dark Knight: Escalation (2008) - Self
- The Dark Knight (2008) - Self
2008
Els matins a TV3 (TV Series)
as
Self - Interviewee
- Episode #4.218 (2008) - Self - Interviewee
2008
Late Night with Conan O'Brien (TV Series)
as
Self - Guest
- Episode #15.101 (2008) - Self - Guest
2008
Today (TV Series)
as
Self - Guest
- Episode dated 16 July 2008 (2008) - Self - Guest
2006
Late Show with David Letterman (TV Series)
as
Self - Guest
- Episode #15.145 (2008) - Self - Guest
- Episode dated 11 April 2006 (2006) - Self - Guest
2008
2008 Film Independent's Spirit Awards (TV Special)
as
Self - Presenter
2006
Shootout (TV Series)
as
Self
- Toronto Film Festival: Part 2 (2007) - Self
- Episode #4.2 (2006) - Self
2007
Shownieuws (TV Series)
as
Self
- Episode #5.72 (2007) - Self
2007
Getaway (TV Series documentary)
as
Self - Celebrity Traveller
- Episode #16.28 (2007) - Self - Celebrity Traveller
2007
Rachael Ray (TV Series)
as
Self - Guest
- Episode #1.141 (2007) - Self - Guest
2007
Operation Homecoming: Writing the Wartime Experience (Documentary)
as
Road Work (voice)
2007
Film Independent's 2007 Spirit Awards (TV Special)
as
Self - Nominee & Accepting for Jason Reitman
2007
The 12th Annual Critics' Choice Awards (TV Special)
as
Self - Presenter
2007
E! Live from the Red Carpet (TV Series)
as
Self
- The 2007 Golden Globe Awards (2007) - Self
2007
The 64th Annual Golden Globe Awards (TV Special)
as
Self - Nominee
2006
2006 Independent Spirit Awards (TV Special)
as
Self - Presenter
2005
What We See When We Close Our Eyes (Video documentary short)
as
Self
2004
From Hong Kong to Hollywood: The Making of John Woo (TV Movie documentary)
as
Self
2004
Remembering the Future: Paycheck & the Worlds of Philip K. Dick (TV Movie documentary)
as
Self
2004
T4 (TV Series)
as
Self
- Episode dated 29 May 2004 (2004) - Self
2004
Paycheck: Designing the Future (Video documentary short)
as
Self
2004
New Frontiers: Making 'the Missing' (Video documentary short)
as
Self
2003
To the Core and Back (Video documentary short)
as
Self / Josh
2002
Behind the Scenes of 'Possession' (TV Movie documentary)
as
Self
1997
Nulle part ailleurs. 1ère partie (TV Series)
as
Self
- Episode dated 10 September 1997 (1997) - Self
Archive Footage
2023
Tom Hanks: The Nomad
as
Self
2020
The Late Show with Stephen Colbert (TV Series)
as
Harvey Dent
- Fears of a Clown (2020) - Harvey Dent
2016
Nostalgia Critic (TV Series)
as
Two-Face
- Is This the Best Batman Movie? (2016) - Two-Face (uncredited)
2015
Extra (TV Series)
as
Self
- Episode dated 5 September 2015 (2015) - Self
2015
The Third Annual 'on Cinema' Oscar Special (Video)
as
Adam (uncredited)
2014
Lennon or McCartney (Documentary short)
as
Self - Actor
2013
The Fire Rises: The Creation and Impact of the Dark Knight Trilogy (Video documentary)
as
Self
2012
The Dark Knight Rises
as
Harvey Dent (uncredited)
2011
Hollywood's Top Ten (TV Series)
as
Self
- Best of the Decade (2011) - Self
2009
Premio Donostia a Ian McKellen (TV Special short)
as
Zach Riley (uncredited)
2008
Gotham Tonight (TV Mini Series)
as
Harvey Dent
- Cops and Mobsters (2008) - Harvey Dent
- Top Cop (2008) - Harvey Dent
- Escalation (2008) - Harvey Dent
- Billionaire Without a Cause (2008) - Harvey Dent
- Election Night (2008) - Harvey Dent
2007
Cámara negra. Teatro Victoria Eugenia (TV Short documentary)
as
Self
2004
Frasier: Analyzing the Laughter (TV Movie)
as
Frank (uncredited)
References
Aaron Eckhart Wikipedia
(Text) CC BY-SA