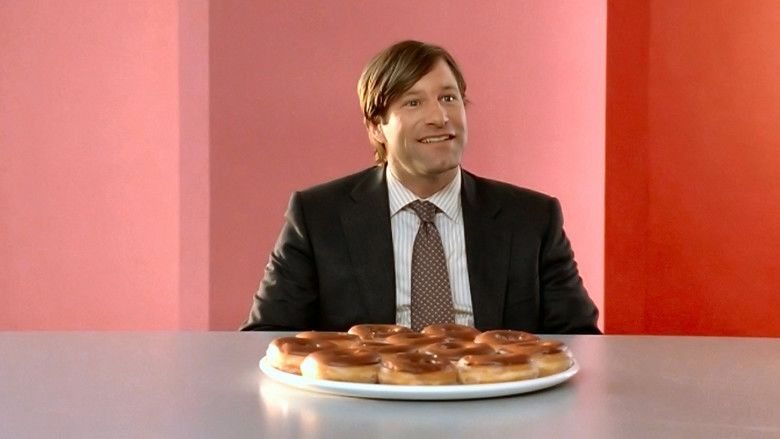 Bill (Aaron Eckhart) is an overweight, middle-aged man who dissatisfies himself and works at his father-in-law, Mr. Jacoby's (Holmes Osborne) bank, where he has a meaningless, made-up job, and his in-laws don't take him seriously, especially his brother-in-law (Todd Louiso). He also struggles with his weight and has body image issues, which he makes worse by keeping candy around his home and office. Jacoby is a pillar in the community and is considering a mayoral run. Bill and his wife Jess (Elizabeth Banks) live in a house provided by her father and lead a comfortable lifestyle. Bill tries to purchase a doughnut franchise with the Whitmans (Jason Sudeikis and Kristen Wiig), a friendly married couple who own the franchise business. Bill's interest in purchasing a franchise is an attempt to wean himself and his wife off Jacoby's finances. At a public donation ceremony sponsored by his in-laws, Bill first meets "the Kid" (Logan Lerman), a spunky and easygoing teenager, who is running from the school principal for possession of marijuana. Bill protects the Kid by pretending he did not see anyone and there is no one hiding in the bathroom. In the hallway, after the principal suggests a school mentoring program, he sees his wife talking with Chip Johnson (Timothy Olyphant), the local, pompous newscaster. Bill begins to get mildly suspicious, and also begins to "mentor" the Kid. Before a hunting trip with his in-laws and the students they are all mentoring, he places a hidden camera in his and Jess' bedroom, and learns that his wife is having an affair with Chip. In a rage, he shows her the camera, the two argue causing Jess to seek Chip and tell him about the tape, where Bill ends up beating him up on live TV and is arrested. After the sex tape has been taken in by the police and viewed, they later find that it circulates the bank and local community, furthering Bill and Jess' embarrassment, particularly concerning Jess' offensive comments to Chip about Bill, their sex life and his penis size. Jess fears the video could ruin her father's mayoral bid and tries to conceal the news of her affair and the video from him.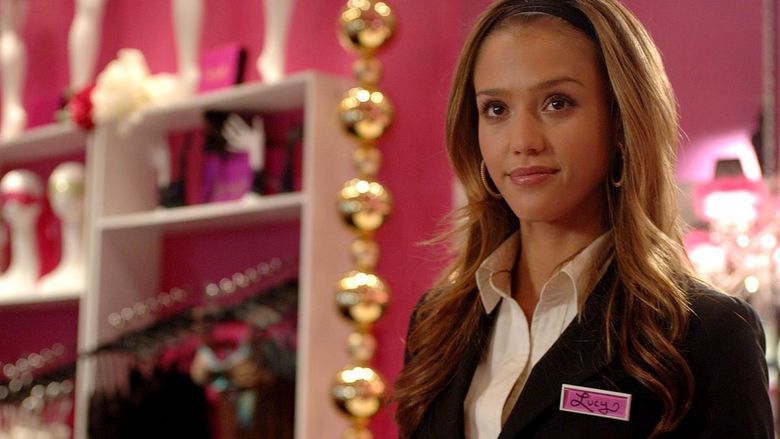 Bill's brother (Craig Bierko) bails him out of jail, and Bill stays at the home of his brother and his husband (Reed Diamond). He gets into a fight about the sex tape with his wife, and the two of them go to Chip's house. Chips makes rude comments to Jess, and Bill then beats up Chip again and it's once again broadcast by the local TV station, which labels Bill as Chip's "deranged fan." Random people frequently yell "Apologize!" at Bill throughout the film, a reference to him punching Chip while yelling "Apologize!" on the air. Bill moves in with Sargeant (Craig Bierko), his successful older brother. Sargeant's boyfriend Paul (Reed Diamond) encourages Bill to take up swimming, a former pastime of Bill's. He starts doing so and it helps clear his mind. He continues mentoring the Kid, who sees the best in Bill, and the Kid devises a plan to win back Bill's wife. Introducing the lingerie salesgirl Lucy (Jessica Alba), he makes it appear as if Lucy and Bill are romantically involved to make Jess jealous. Meanwhile, Bill is still trying to get the doughnut franchise, but Jess is required to meet with the owners as co-partner, and so Bill and the Kid have Lucy act as Bill's wife.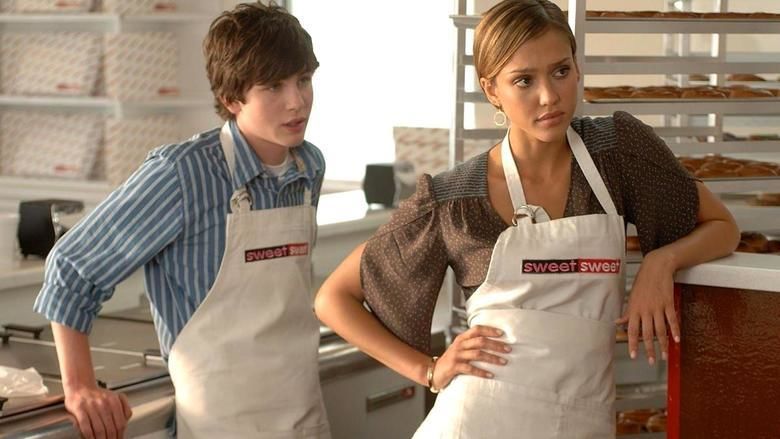 Bill slowly begins to get a hand on his life again, cutting his addiction to sweets, losing weight, swimming daily, mentoring the Kid, and trying to win back Jess. At a family dinner, Bill volunteers to buy the fireworks for the 'club picnic' where his father-in-law intends to announce that he is running for Mayor. After a fun-filled day, Bill invites the Kid, Lucy, and her friend back to the tent he has set up in his brother's back yard, where he gets very high and has meaningless sex with Lucy's friend. Bill attends the picnic at the golf course. At the picnic, Bill gets too close to his wife and Chip, breaking Chip's restraining order. Chip then promptly has security throw him out of the picnic, which the Whitmans witness. Bill tells the Kid to meet him at the back entrance, and while driving his car to the back of the golf course, he gets into a car accident, causing the fireworks to explode early. The Kid comes to his rescue on a golfing cart, takes Bill to the hospital, where Jess shows up, and tells her husband that she's aware of his attempt to purchase the franchise. They end up discussing their marriage, where Bill reveals his unhappiness and his dislike of their dependence on her father's money and concludes "our lives suck." After making vague decisions, Bill goes home and stares into a mirror. Seeing what his life has become, he cuts his hair (which he despises throughout the film) and changes his wardrobe. He later visits Jacoby at his office and hands in his resignation, pointing out that he doesn't fit in or belong in the company. His father-in-law understands and accepts his resignation. Jacoby commends Bill for attacking Chip, as he explains that he would have done the same if he were in that situation. Despite his daughter's attempt to conceal the news, Jacoby knew about her affair.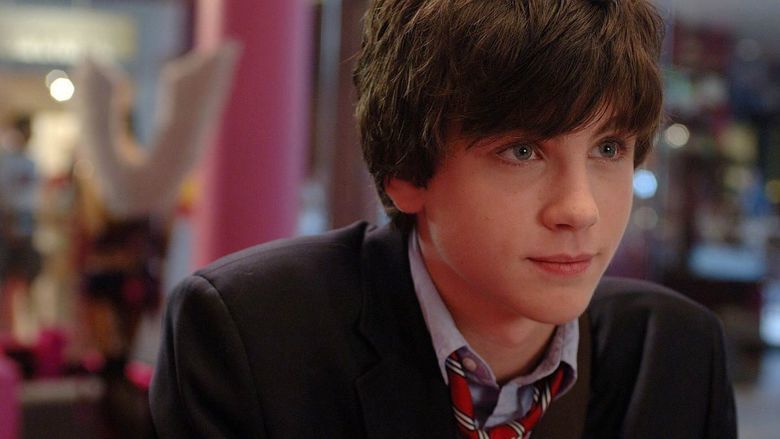 Bill meets the Whitmans and is surprised to see Jess, who is clearing up the misunderstanding. Jess convinces the Whitmans to let the couple buy the franchise. During a private conversation, Bill confesses that he was going to call off the deal. He has a change of heart and lets the purchase go through, allowing Jess to keep the business. They reconcile their differences and agree to go their separate ways, putting their house up for sale.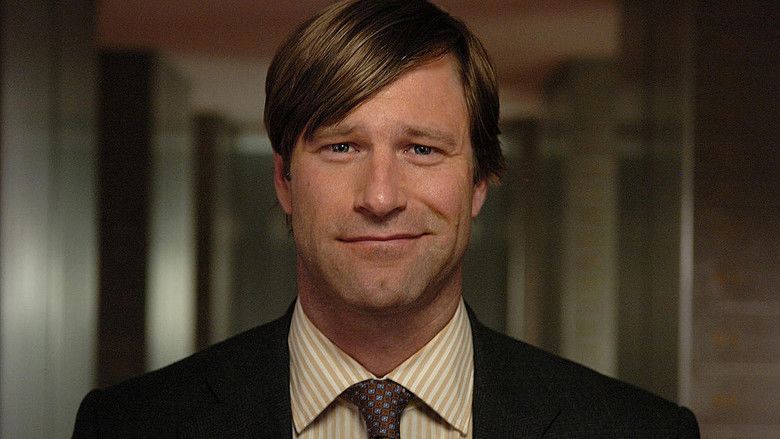 Bill goes to the Kid's school to bid him farewell, as he is excited to start a new, unknown chapter in his life. He says goodbye with the promise to keep in touch, and tells the Kid to look in his locker. The locker explodes with fireworks, much to the Kid's delight.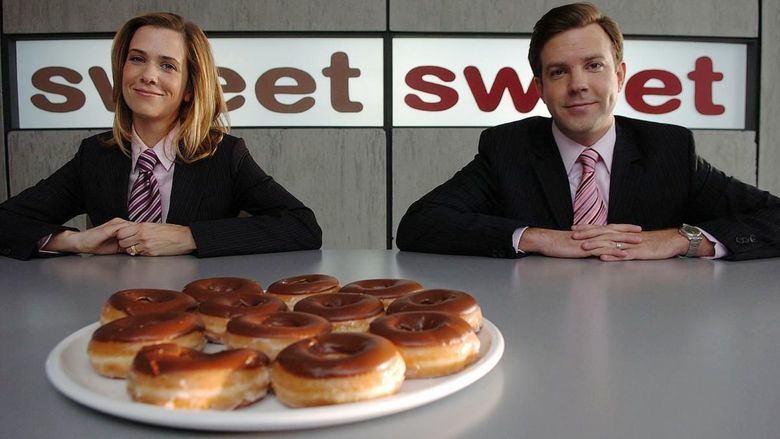 Aaron Eckhart as Bill Anderson
Jessica Alba as Lucy
Elizabeth Banks as Jess
Logan Lerman as The Kid
Holmes Osborne as Mr. Jacoby
Todd Louiso as John Jr.
Timothy Olyphant as Chip Johnson
Craig Bierko as Sargent Anderson (uncredited)
Reed Diamond as Paul
Kristen Wiig as Jane Whitman
Jason Sudeikis as Jim Whitman
Andy Zou as Donald Choo
Ana Mackenzie as Sarah Sheldon (credited as Ana Lucasey)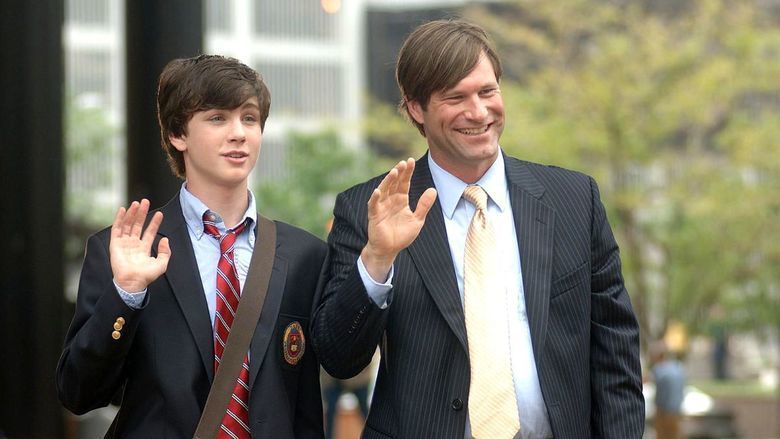 The film was shot in St. Louis, Missouri from June 11 - July 20, 2006; the school scenes of the film were shot at Mary Institute and St. Louis Country Day School (MICDS) and additional scenes were filmed at Washington University in St. Louis. Scenes were also shot at: the Oberweis Dairy in Oakville, Missouri, in Dick's Sporting Goods store at West County Mall, in Des Peres, Missouri, at the Saint Louis Galleria in Richmond Heights, Missouri, and an exterior scene at Molly Brown's Fireworks in Pacific, Missouri. KPLR-TV, a St. Louis television station, is the station that Chip Johnson works for, and movie co-anchor Rick Edlund was an anchor on the station in real life. Filming for several scenes took place at St. Albans Country Club in St. Albans, Missouri. Additionally, some scenes were shot at Bellerive Country Club in Town and Country, Missouri. Although shot in the St. Louis area, the setting of the movie is Minnesota, as indicated by the license plates of vehicles, and a "Twin Cities Realty" for-sale sign.
Re-shoots and additional scenes were shot in Los Angeles, California, after major production had finished.
The film officially premiered on September 8, 2007 at the Toronto International Film Festival and was immediately picked up for distribution. It was released in limited engagement on April 4, 2008 in St. Louis and Minneapolis, with a wider release in 36 theaters on May 9, 2008.
Rotten Tomatoes gives the film a score of 21% based on reviews from 19 critics.