The film won an Academy Award for Best Cinematography in 1993 and was nominated for two other Oscars, for Best Music, Original Score and Best Adapted Screenplay. The film grossed $43 million in US domestic returns.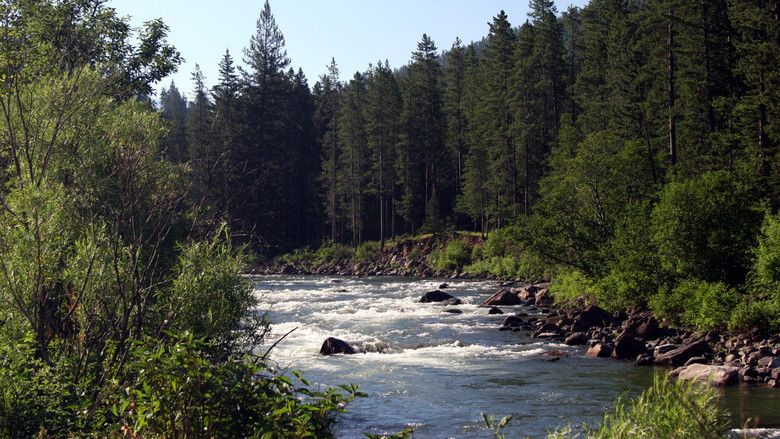 The film follows the true story of the Maclean brothers, Norman and Paul, growing up in Missoula, Montana with their father, Presbyterian minister John. A common theme in the film is the men's love of fly fishing for trout in the Blackfoot River and how it impacted their lives. The film is told from Norman's point of view, with director Robert Redford as narrator.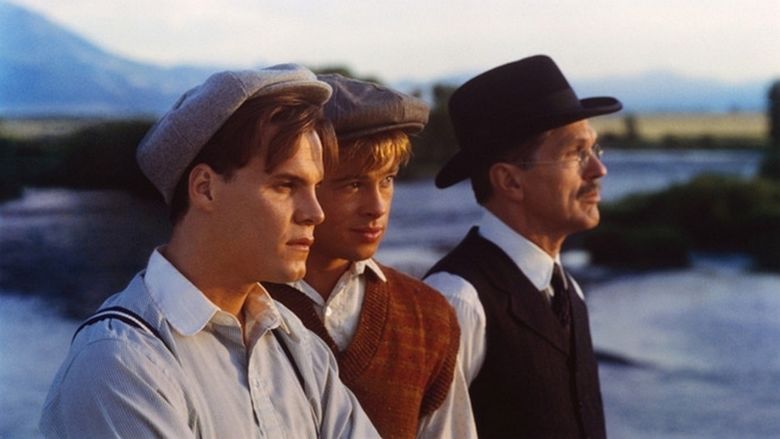 The film opens with a scene of Norman Maclean in his old age tying a fly onto his line. This establishes that Norman is telling this story in the past-tense as he is fishing.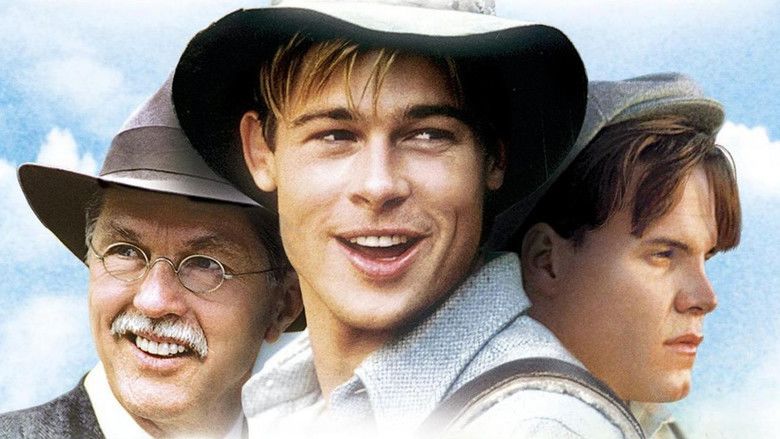 The story begins with the brothers learning to fish from their father, a preacher who treats fishing as a sacred act. They learn to cast by a ticking metronome. The boys become accomplished fishermen as a result. Norman and Paul are home taught and must adhere to the strict moral and educational code of their father. However, whenever they get a chance they enjoy practicing the art of fly fishing. As they grow older, it becomes clear that Norman is the more disciplined and studious brother, while Paul is the fun loving, wild one and the more talented fly fisherman.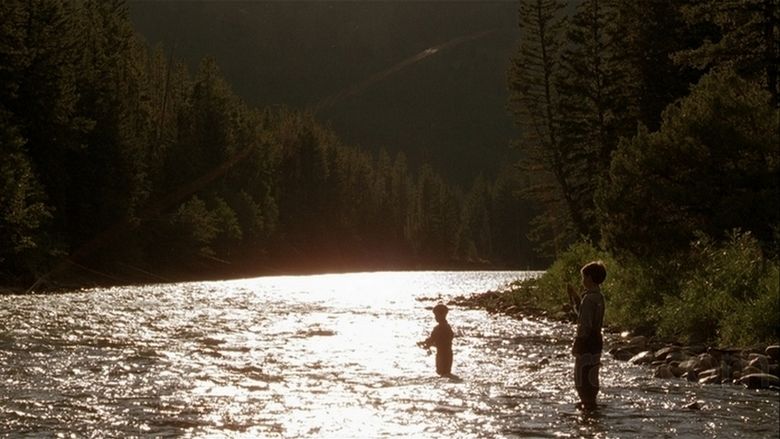 Norman attends a July 4th dance with his friends after returning home from six years away at Dartmouth, where he meets his future wife, Jessie Burns. Paul has become a reporter at a newspaper in Helena, the state capital. He has angered many of the locals by falling behind in a big poker game at Lolo, a hamlet near Missoula with a popular bar that is also a front for gambling and prostitution, and by dating a beautiful Blackfoot Indian woman, Mabel, who is deemed to be of an inferior race by the community. Paul gets arrested after fighting a man who insulted her, and Norman is awakened in the middle of the night by a phone call from the police to come bail Paul out of jail.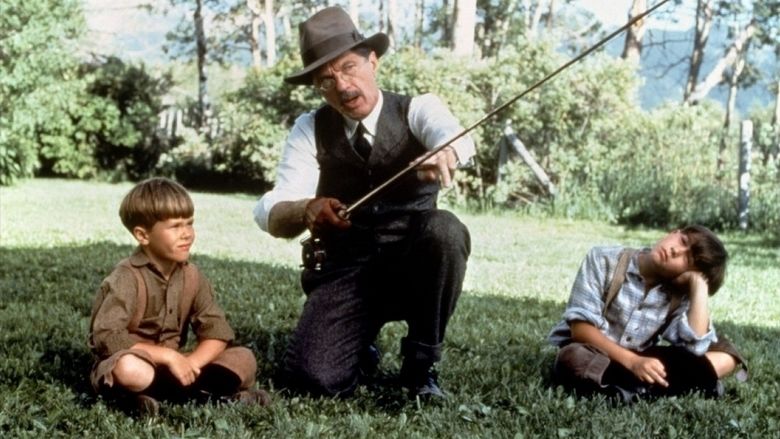 After Norman and Jessie go on several dates, she insists that Norman make an effort to get along with her brother Neal, who is back in Montana, visiting from California. Norman and Paul do not like the self-centered Neal, who tells tall tales of socializing with film stars in Hollywood, but at Jessie's insistence they invite him to go fishing. Neal shows up drunk with a woman (a part-time prostitute) he met at a bar the evening before. Norman and Paul decide to fish anyway and return to their car hours later to find Neal and his ladyfriend "Rawhide" have drunk all their beer and passed out naked in the sun.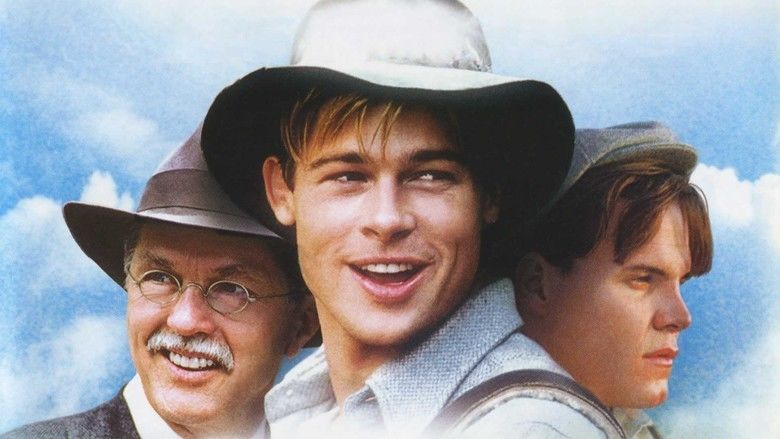 Norman returns a painfully sunburned Neal home, where Jessie is waiting for them. She is angry that the brothers did not fish with Neal. When Norman asks Jessie to drive him home, he tells her that he is falling for her. She drives away angry but a week later asks Norman to come to the train station to see Neal off back to California. After the train departs, Norman shows Jessie a letter from the University of Chicago that is a job offer for an English Literature teaching position. Norman asks Jessie to marry him.
When Norman tells Paul about the job offer and marriage proposal, he also urges Paul to come with him and Jessie to Chicago. Paul tells Norman that he will never leave Montana. Just before leaving for Chicago, Norman, Paul and their father go fly fishing one last time as a family. Paul catches a huge fish that carries him down the river. John proudly tells his son Paul what a wonderful fisherman he has become, and how he is an artist in the craft, much to Paul's delight. They pose for pictures with the huge fish for their mother.
Soon after the fishing excursion, Norman is again contacted by the police. They tell him that Paul has been found beaten to death in an alley, and that all the bones in his right hand have also been broken. Norman goes home and tells his parents the sad news. The story then jumps ahead a few years to a sermon being given by John with Mrs. Maclean, Norman, Jessie and their two children in attendance. The narrator mentions that John dies soon after this sermon. The last scene is of Norman as an old man, back in the Montana river where he used to fish with his family many years ago. He mentions that nearly everyone from his youth is dead, and that he is haunted by waters.
Craig Sheffer as Norman Maclean
Brad Pitt as Paul Maclean
Tom Skerritt as Reverend John Maclean
Brenda Blethyn as Clara Maclean
Emily Lloyd as Jessie Burns
Stephen Shellen as Neal Burns
Edie McClurg as Mrs. Burns
Joseph Gordon-Levitt as Young Norman Maclean
Vann Gravage as Young Paul Maclean
Nicole Burdette as Mabel
Susan Traylor as "Rawhide"
Michael Cudlitz as Chub
Rob Cox as Conroy
Buck Simmonds as Humph
Although both the book and movie are set in Missoula and on the Blackfoot River, it was filmed in late June, early July 1991 in south central Montana in Livingston and Bozeman, and on the nearby upper Yellowstone, Gallatin, and Boulder Rivers. The waterfall shown is Granite Falls in Wyoming. Filming was completed in early September 1991.
An article published in the Helena Independent Record in July 2000 and based on recollections of people who knew both brothers noted a number of specifics about the Macleans — notably various chronological and educational details about Paul Maclean's adult life — that differ somewhat from their portrayal in the film and novella.
Mark Isham, who would go on to compose the scores to most Robert Redford-directed films, composed the musical score for the film. Originally, Elmer Bernstein was hired to score the film. However, after Redford and Bernstein disagreed over the tone of the music, Bernstein was replaced by Isham. Rushed for time, Isham completed the score within four weeks at Schnee Studio of Signet Sound Studios in Hollywood, CA. Upon release, the music was met with positive reviews earning the film both nominations for Grammy and Academy awards. The A River Runs Through It (Original Motion Picture Soundtrack) was released on October 27, 1992.
In some home video releases of the film, Elmer Bernstein is credited as the film's composer despite his score being rejected during post-production.
Released on October 9, 1992, the film grossed $43,440,294 in US domestic returns. The film holds an 83% rating on Rotten Tomatoes based on polled critical reviews. The site's consensus reads: "Tasteful to a fault, this period drama combines a talented cast (including a young Brad Pitt) with some stately, beautifully filmed work from director Robert Redford." Much of the praise focused on Pitt's portrayal of Paul, which has been cited as his career making performance.
Awards and honors
The film was nominated for three Academy Awards in 1993, including Best Cinematography (Philippe Rousselot); Best Music, Original Score (Mark Isham); and Best Writing, Screenplay Based on Material from Another Medium (Richard Friedenberg). Rousselot won for Best Cinematography. At the Golden Globes, Robert Redford was nominated for Best Director - Motion Picture, but did not win.