52 Pick-Up is a 1986 neo-noir crime thriller film directed by John Frankenheimer. The film stars Roy Scheider, Ann-Margret, and Vanity, and is based on Elmore Leonard's novel of the same name.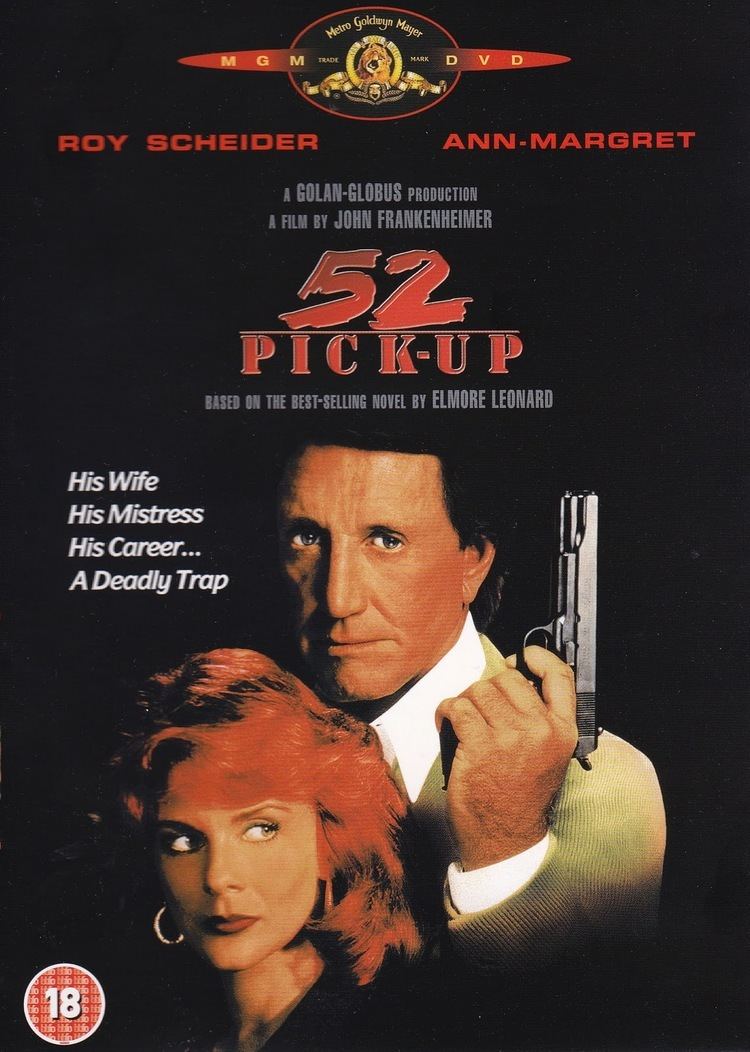 Harry Mitchell (Roy Scheider) is a successful industrialist living in the suburbs of Los Angeles whose wife Barbara (Ann-Margret) is running for city council while he is having an affair. Harry is confronted by three blackmailers demanding $105,000 for a videotape of him and his mistress, Cini (Kelly Preston).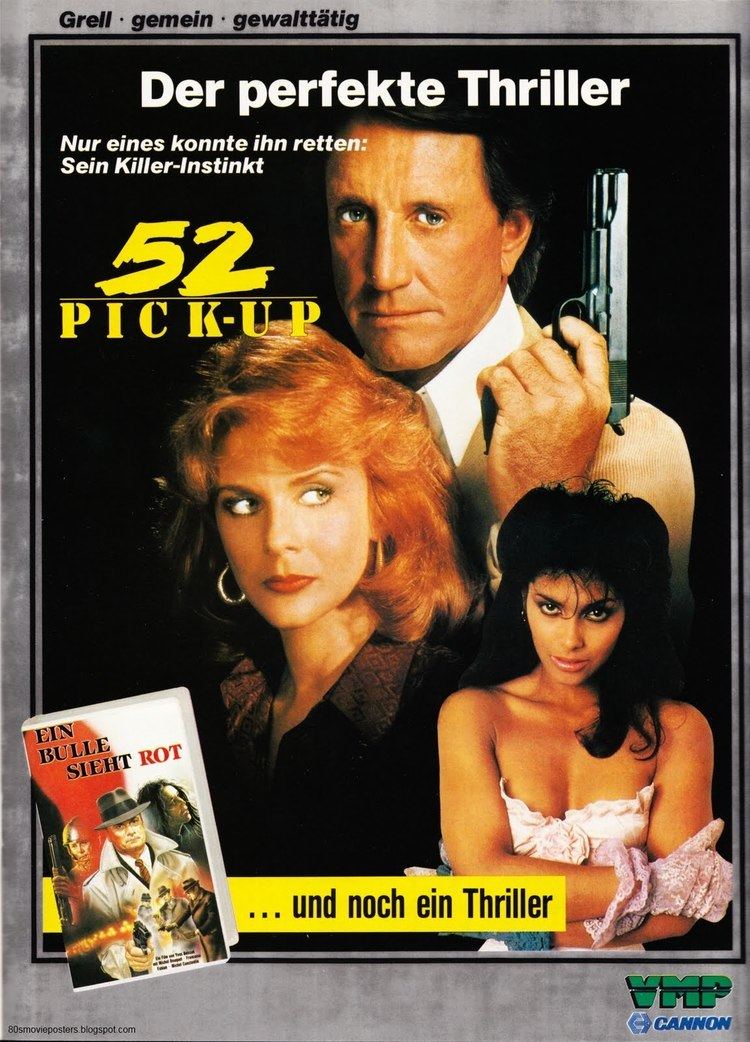 Because of his wife's political aspirations, he can't go to the police. Harry's lawyer advises him that paying the blackmailers won't likely make them go away, so he refuses to pay. The three criminals up the ante by murdering Cini, capturing the killing on videotape and framing Harry for the murder, demanding $105,000 a year for the rest of his life to keep the evidence they have on him under wraps.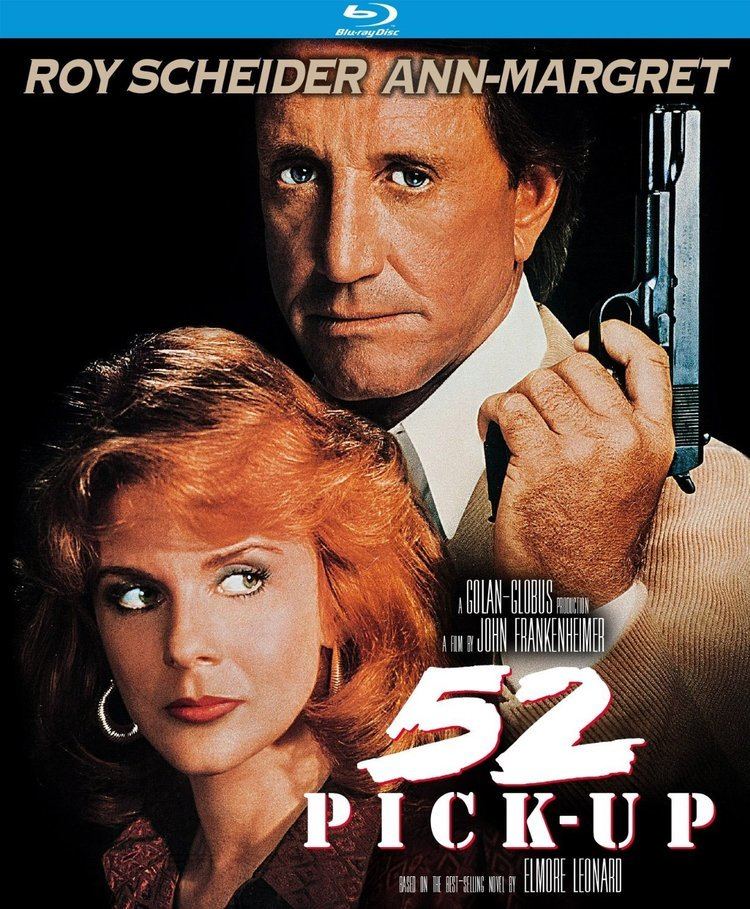 Harry opens his financial records to one of the blackmailers, Alan Raimy (John Glover), the ringleader of the group and who also has a background in accounting. Seeing that their mark owes money to the government and cannot afford the $105,000, Raimy agrees to accept Harry's counter offer of $52,000, at least as a first payment. Harry then turns the blackmailers against one another, putting his wife's life in grave danger in the process.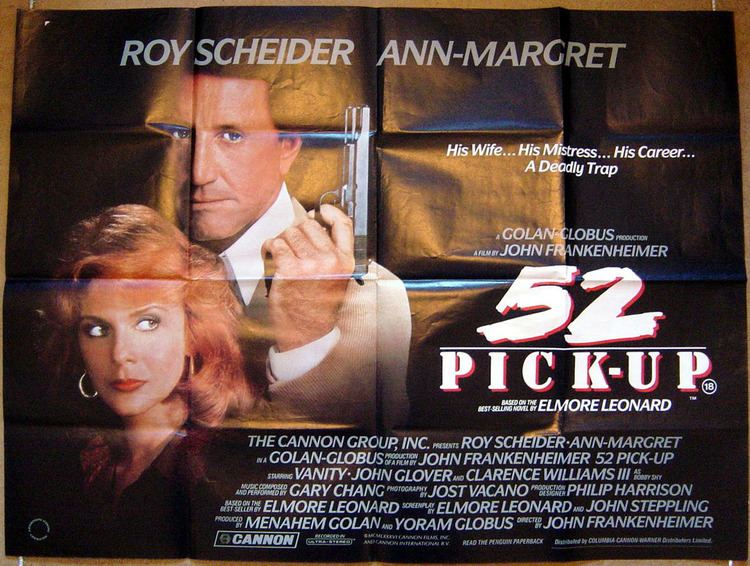 A stripper, Doreen (Vanity), helps Harry, is assaulted by Raimy's accomplice, Bobby Shy (Clarence Williams III), who then kills their third partner, Leo, believing he has betrayed them. Raimy successfully ambushes and kills both Bobby and Doreen, then kidnaps Harry's wife and sedates her with a hypodermic needle. In the final scene, Harry brings the $52,000 ransom and also gives Raimy his sports car, which explodes after Raimy turns the key.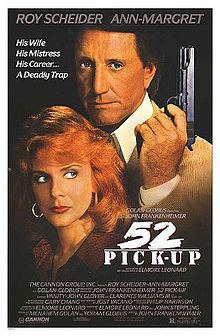 Roy Scheider as Harry Mitchell
Ann-Margret as Barbara Mitchell
Vanity as Doreen
John Glover as Alan Raimy
Clarence Williams III as Bobby Shy
Lonny Chapman as Jim O'Boyle
Kelly Preston as Cini
Robert Trebor as Leo Franks
Doug McClure as Mark Arveson
Tom Byron as Party Goer
Herschel Savage as Party Goer (as Harvey Cowen)
Ron Jeremy as Party Goer (as Ron Jeremy Hyatt)
Amber Lynn as Party Goer
Sharon Mitchell as Party Goer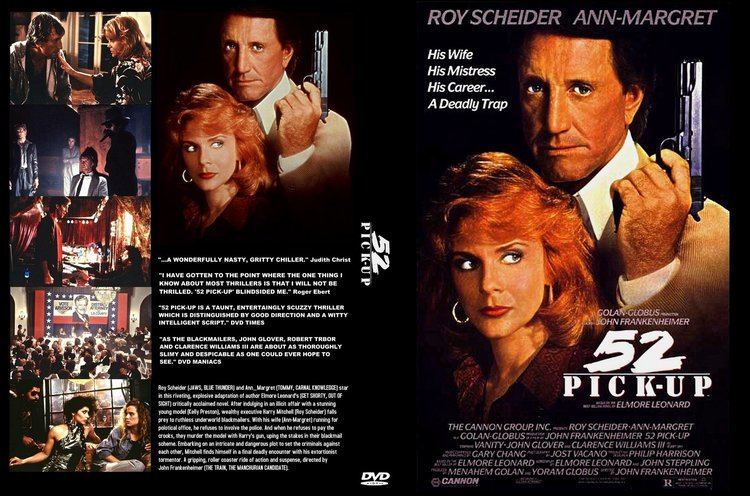 52 Pick-Up opened in New York and Los Angeles on November 7, 1986. The film was distributed by the Cannon Group. It debuted poorly at the box office.
Patrick Goldstein, writing in the Los Angeles Times, described it as "a dull, plodding thriller that finds Mitchell in a deadly war with a trio of crazed blackmailers." On the other hand, Roger Ebert, writing in the Chicago Sun-Times, claimed it "provides us with the best, most reprehensible villain of the year and uses his vile charm as the starting point for a surprisingly good film. ... This is a well-crafted movie by a man who knows how to hook the audience with his story; it's Frankenheimer's best work in years." The New York Times film critic Janet Maslin described it as "fast-paced, lurid, exploitative and loaded with malevolent energy. John Frankenheimer, who directed, hasn't done anything this darkly entertaining since Black Sunday." Tom Milne (Monthly Film Bulletin) describted the film as "enjoyable, up to a point, as anything Frankenheimer has done in recent years." while noting that the weakness in the film was that "the protagonist and his wife are much too sketchily realised"