The Women's Army Corps (WAC) was the women's branch of the United States Army. It was created as an auxiliary unit, the Women's Army Auxiliary Corps (WAAC) on 15 May 1942 by Public Law 554, and converted to full status as the WAC on 1 July 1943. Its first director was Oveta Culp Hobby, a prominent society woman in Texas. The WAC was disbanded in 1978, and all units were integrated with male units.
Contents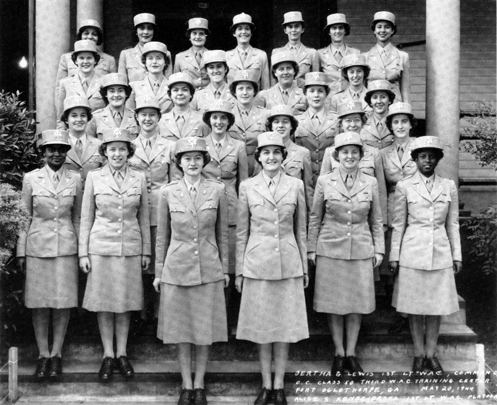 Women s army corps part 1
History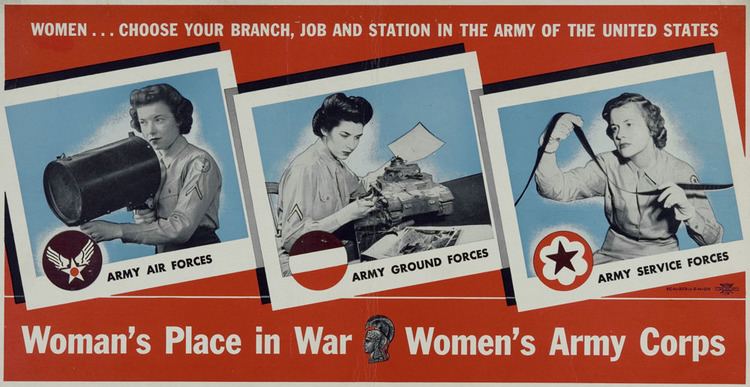 The WAAC's organization was designed by numerous Army bureaus coordinated by Lt. Col. Gilman C. Mudgett, the first WAAC Pre-Planner; however, nearly all of his plans were discarded or greatly modified before going into operation because he expected a corps of only 11,000 women. Without the support of the War Department, Representative Edith Nourse Rogers of Massachusetts introduced a bill on 28 May 1941, providing for a women's army auxiliary corps. The bill was held up for months by the Bureau of the Budget but was resurrected after the United States entered the war and became law on 15 May 1942. A section authorizing the enlistment of 150,000 volunteers was temporarily limited by executive order to 25,000.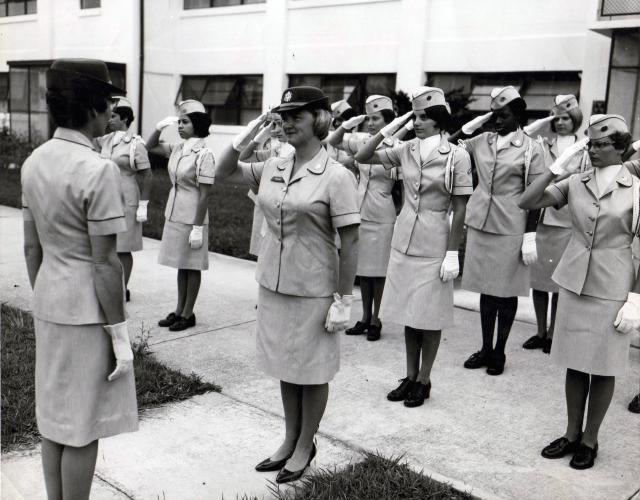 The WAAC was modeled after comparable British units, especially the ATS, which caught the attention of Chief of Staff George C. Marshall. In 1942, the first contingent of 800 members of the Women's Army Auxiliary Corps began basic training at Fort Des Moines Provisional Army Officer Training School, Iowa. The women were fitted for uniforms, interviewed, assigned to companies and barracks and inoculated against disease during the first day.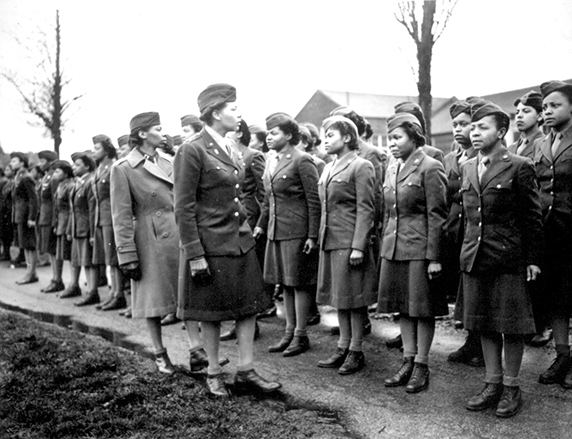 The WAAC were first trained in three major specialties. The brightest and nimblest were trained as switchboard operators. Next came the mechanics, who had to have a high degree of mechanical aptitude and problem solving ability. WAC armorers maintained and repaired small arms and heavy weapons. The bakers were usually the lowest scoring recruits and were stereotyped as being the least intelligent and able by their fellow WAACs. This was later expanded to dozens of specialties like Postal Clerk, Driver, Stenographer, and Clerk-Typist. The WAC provided enlisted seamstresses to tailor WAC uniforms to their wearer - a service they also provided to male officers.
A physical training manual titled "You Must Be Fit" was published by the War Department in July 1943, aimed at bringing the women recruits to top physical standards. The manual begins by naming the responsibility of the women: "Your Job: To Replace Men. Be Ready To Take Over." It cited the commitment of women to the war effort in England, Russia, Germany and Japan, and emphasized that the WAC recruits must be physically able to take on any job assigned to them. The fitness manual was state-of-the-art for its day, with sections on warming up, and progressive body-weight strength-building exercises for the arms, legs, stomach, and neck and back. It included a section on designing a personal fitness routine after basic training, and concluded with "The Army Way to Health and Added Attractiveness" with advice on skin care, make-up, and hair styles.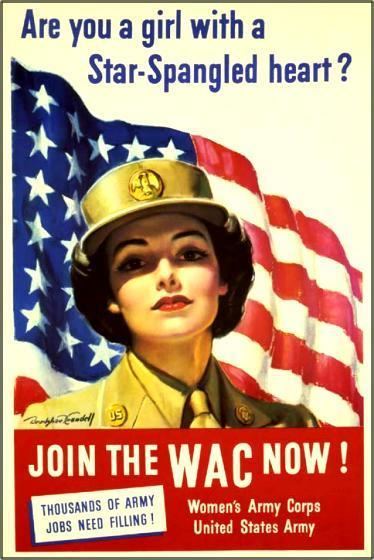 Inept publicity and the poor appearance of the WAAC/WAC uniform, especially in comparison to that of the other services, handicapped recruiting efforts. A resistance by senior Army commanders was overcome by the efficient service of WAACs in the field, but the attitude of men in the rank and file remained generally negative and hopes that up to a million men could be replaced by women never materialized. The United States Army Air Forces became an early and staunch supporter of regular military status for women in the Army.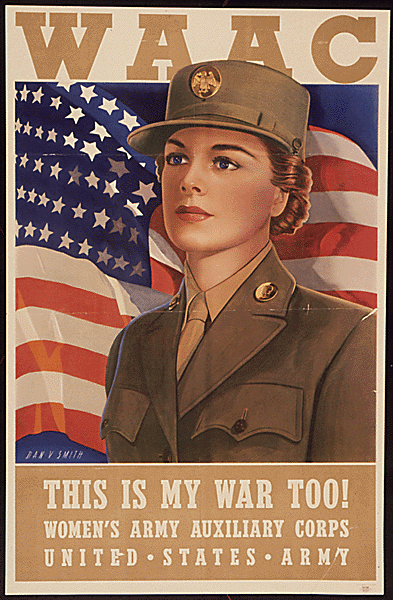 About 150,000 American women eventually served in the WAAC and WAC during World War II. They were the first women other than nurses to serve with the Army. While conservative opinion in the leadership of the Army and public opinion generally was initially opposed to women serving in uniform, the shortage of men necessitated a new policy. While most women served stateside, some went to various places around the world, including Europe, North Africa, and New Guinea. For example, WACs landed on Normandy Beach just a few weeks after the initial invasion.
Slander campaign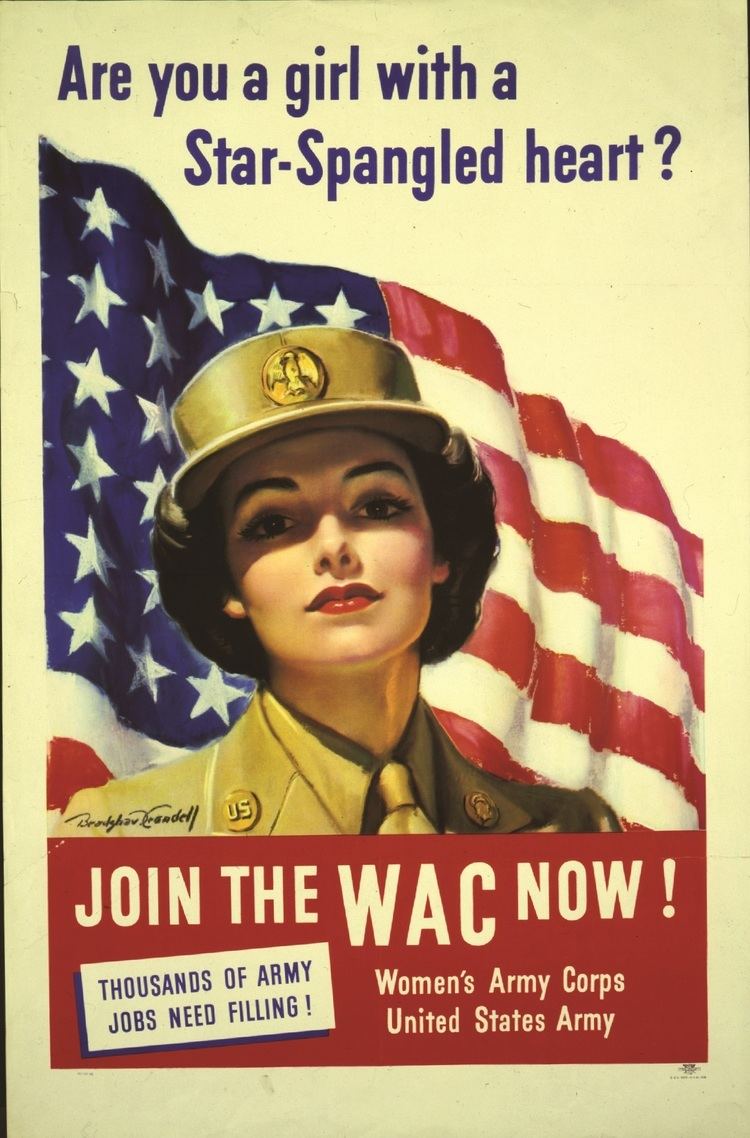 In 1943 the recruiting momentum stopped and went into reverse as a massive slander campaign on the home front challenged the WACs as sexually immoral. Many soldiers ferociously opposed allowing women in uniform, warning their sisters and friends they would be seen as lesbians or prostitutes. Their lewd humor and snide comments betrayed a fear that if women became soldiers they would no longer serve in a masculine preserve and their masculinity would be devalued. Other men, seeing the posters that called on women to volunteer in order to "Free a Man to Fight" feared being sent into combat units if women took the safe jobs. Critics outside the military included those with religious objections, reactionaries who wanted to prevent social change, and right-wing critics of Roosevelt's social programs. Other sources were from other women - servicemen's and officer's wives' idle gossip, local women who disliked the newcomers taking over "their town", female civilian employees resenting the competition (for both jobs and men), charity and volunteer organizations who resented the extra attention the WAACs received, and complaints and slander spread by disgruntled or discharged WAACs. All investigations showed the rumors were false, but they had originated with American soldiers, not with enemy agents.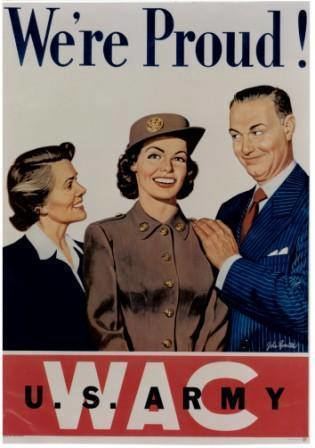 Another factor was that the WAAC uniform was widely copied. Women factory workers often wore military-looking utilitarian beige, khaki, olive drab, or pearl-gray slacks or skirts with matching jackets and white, beige, khaki, or olive drab blouses that looked like a uniform. Similar uniforms were worn by female civilian workers and members of civilian women's volunteer and auxiliary organizations. Department stores sold exact copies of the uniform to patriotic young girls ("Junior WAACs") and women who were working for women's volunteer and auxiliary organizations like Military Canteens, Civil Defense, the American Red Cross, and the USO. The dressmaking firms who manufactured them ironically got priority over the WAACs for allotments of Olive Drab and Khaki cloth because they also made men's uniforms for the military. If women wearing these faux uniforms got in fights or brawls, were publicly intoxicated, or were caught "behaving inappropriately" (everything from walking after dark with a man to having sex with him) while in uniform, they were initially assumed to be WAACs. Add to them the number of "Victory Girls" (thrill-seeking local teen girls who slept with servicemen), local "townie" women, and prostitutes - they often dressed in uniform as either a kink, a means to commit fraud by pretending to be servicewomen, or get access to military installations to meet servicemen. Legitimate WACs who had duties off base often had to wear a "field sign" (an expedient symbol to tell friend from foe) to distinguish them from the throngs of imitators trying to sneak on base.
African American women eager to serve experienced bias on multiple levels: they were organized in segregated units, often assigned to janitorial or orderly roles well below their training and education, sent as dates to sites where African American men were stationed (so those men would not seek out the company of local white women), denied access to many Red Cross and officers' clubs, and, like their male counterparts, subject to having their donated blood segregated from that of white donors. Lesbians in the WACs were initially supported by a military that needed bodies, with chaplains instructed to be sympathetic to young women far from home who formed intense friendships. However, more overt and butch-appearing lesbians could be subject to random prosecution if caught; in a famous incident well documented in the film Before Stonewall, former WAC sergeant Johnnie Phelps recalls being ordered by General Eisenhower to "get rid" of the lesbians in her battalion. Her response--that her name would be first on that list--led him to concede, "Forget the order."
Evaluations
General Douglas MacArthur called the WACs "my best soldiers", adding that they worked harder, complained less, and were better disciplined than men. Many generals wanted more of them and proposed to draft women but it was realized that this "would provoke considerable public outcry and Congressional opposition", and so the War Department declined to take such a drastic step. Those 150,000 women who did serve released the equivalent of 7 divisions of men for combat. Gen. Dwight D. Eisenhower said that "their contributions in efficiency, skill, spirit, and determination are immeasurable". Nevertheless, the slander campaign hurt the reputation of the WAC and WAVES; women did not want it known they were veterans.
During the same time period, other branches of the U.S. military had similar women's units, including the Navy WAVES, the SPARS of the Coast Guard, United States Marine Corps Women's Reserve, and the (civil) Women Airforce Service Pilots. The British Armed Forces also had similar units, including the Women's Royal Naval Service ("Wrens"), the Auxiliary Territorial Service. and the Women's Auxiliary Air Force.
According to historian D'Ann Campbell, American society was not ready for women in military roles:
The WAC and WAVES had been given an impossible mission: they not only had to raise a force immediately and voluntarily from a group that had no military traditions, but also had overcome intense hostility from their male comrades. The situation was highly unfavorable: the women had no clear purpose except to send men to the battlefront; duties overlapped with civilian employees and enlisted male coworkers, causing confusion and tension; and the leadership cadre was unprestigious, inexperienced, and had little control over women, none over men. Although the military high command strongly endorsed their work, there were no centers of influence in the civilian world, either male or female, that were committed to the success of the women's services, and no civilian institutions that provided preliminary training for recruits or suitable positions for veterans. Wacs, Waves, Spars and women Marines were war orphans whom no one loved.
Disbanded
The WAC as a branch was disbanded in 1978 and all female units were integrated with male units. Women serving as WACs at that time converted in branch to whichever Military Occupational Specialty they worked in. Since then, women in the US Army have served in the same units as men, though they have only been allowed in or near combat situations since 1994 when Defense Secretary Les Aspin ordered the removal of "substantial risk of capture" from the list of grounds for excluding women from certain military units. In 2015 Jeanne Pace, at the time the longest-tenured female warrant officer and the last former member of the WAC on active duty, retired. She had joined the WAC in 1972.
WAAC Ranks
Originally there were only four enlisted (or "enrolled") WAAC ranks (Auxiliary, Junior Leader, Leader, and Senior Leader) and three WAC officer ranks (First, Second and Third Officer). The Director was initially considered as equivalent to a Major, then later made the equivalent of a Colonel. The enlisted ranks expanded as the organization grew in size. Promotion was initially rapid and based on ability and skill. As members of a volunteer auxiliary group, the WAACs got paid less than their equivalent male counterparts in the US Army and did not receive any benefits or privileges.
WAAC organizational insignia was a Rising Eagle (nicknamed the "Waddling Duck" or "Walking Buzzard" by WAACs). It was worn in gold metal as cap badges and uniform buttons. Enlisted and NCO personnel wore it as an embossed circular cap badge on their Hobby Hats, while officers wore a "free" version (open work without a backing) on their hats to distinguish them. Their auxiliary insignia was the dark blue letters "WAAC" on an Olive Drab rectangle worn on the upper sleeve (below the stripes for enlisted ranks). WAAC personnel were not allowed to wear the same rank insignia as Army personnel. They were usually authorized to do so by post or unit commanders to help in indicating their seniority within the WAAC, although they had no authority over Army personnel.
WAC Ranks
The organization was renamed the Women's Army Corps in July 1943 when it was authorized as a branch of the US Army rather than an auxiliary group. The US Army's "GI Eagle" now replaced the WAAC's Rising Eagle as the WAC's cap badge. The WAC received the same rank insignia and pay as men later that September and received the same pay allowances and deductions as men in late October. They were also the first women officers in the Army allowed to wear officer's insignia; the Army Nursing Corps didn't receive permission to do so until 1944.
The WAC had its own branch insignia (the Bust of Pallas Athena), worn by "Branch Immaterial" personnel (those unassigned to a Branch of Service). US Army policy decreed that technical and professional WAC personnel should wear their assigned Branch of Service insignia to reduce confusion. During the existence of the WAC (1943 to 1978) women were prohibited from being assigned to the combat arms branches of the Army - such as the Infantry, Cavalry, Armor, Tank Destroyers, or Artillery and could not serve in a combat area. However, they did serve as valuable staff in their headquarters and staff units stateside or in England.
The Army's Technician grades were technical and professional specialists similar to the later Specialist grade. Technicians had the same insignia as NCOs of the same grade but had a "T" insignia (for "Technician") beneath the chevrons. They were considered the same grade for pay but were considered a half-step between the equivalent pay grade and the next lower regular pay grade in seniority, rather than sandwiched between the junior enlisted (i.e., private - private first class) and the lowest NCO grade of rank (viz., corporal), as the modern-day specialist (E-4) is today. Technician grades were usually mistaken for their superior NCO counterparts due to the similarity of their insignia, creating confusion.
There were originally no Warrant Officers in the WAC in July, 1943. Warrant Officer appointments for Army servicewomen were authorized in January 1944. In March 1944 six WACs were made the first WAC Warrant Officers - as Administrative Specialists or Band Leaders. The number grew to 10 by June, 1944 and to 44 by June, 1945. By the time the war officially ended in September 1945, there were 42 WAC Warrant Officers still in Army service. There was only a trickle of appointments in the late 1940s after the war.
Most WAC officers were company-grade officers (Lieutenants and Captains), as the WAC were deployed as separate or attached detachments and companies. The field grade officers (Majors and Lieutenant-Colonels) were on the staff under the Director of the WAC, its solitary colonel. Officers were paid by rank rather than by grade and didn't receive a pay grade until 1955.
There were no Chief Warrant Officer appointments in the WAC because they did not meet the skill or seniority requirements for the rank. However, few servicemen did either - as it required ten or more years of time in grade as a Warrant Officer (Junior Grade) - a rank first created in 1941; Staff Warrant Officer - a rank waitlisted since 1936; or Army Mine Planter Service Warrant Officer.
Women's Army Corps Veterans' Association
The Women's Army Corps Veterans' Association was organized to serve those who have served honorably with the Women's Army Auxiliary Corps, The Women's Army Corps, or those who have served or are serving honorably in the United States Army, the United States Army Reserve or the Army National Guard of the United States.
Notable WACs
Lt. Col. Charity Adams was the first commissioned African-American WAC and the second to be promoted to the rank of Major. Promoted to Major in 1945, she commanded the segregated all-female 6888th Central Postal Battalion in Birmingham, England. The 6888th landed with the follow-on troops during D-Day and were stationed in Rouen and then Paris during the invasion of France. It was the only African-American WAC unit to serve overseas during World War II.
Lt. Col. Harriet West Waddy (b.1904-d.1999 [served 1942-1952]) was one of only two African-American women in the WAC to be promoted to the rank of Major. Due to her earlier experience serving with director Mary McLeod Bethune of the Bureau of Negro Affairs, she became Colonel Culp's aide on race relations in the WAC. After the war, she was promoted to the rank of Lieutenant-Colonel in 1948.
Major Elna Jane Hilliard [served 1942-1946] commanded the 2525th WAC unit at Fort Myer, Virginia. She was the first woman to serve on an United States Army General Court Martial.
Colonel Geraldine Pratt May (b.1895 - d.1997 [served 1942-19??). In March, 1943 May became one of the first female officers assigned to the Army Air Forces, serving as WAC Staff Director to the Air Transport Command. In 1948 she was promoted to Colonel (the first woman to hold that rank in the Air Force) and became Director of the WAF in the US Air Force, the first to hold the position.
Lieutenant Colonel Florence K. Murray served at WAC headquarters during World War II. She became the first female judge in Rhode Island in 1956. In 1977 she was the first woman to be elected as a justice of the Supreme Court of Rhode Island.
Louisiana Register of State Lands Ellen Bryan Moore attained the rank of captain in the WACs and once recruited three hundred women at a single appeal to join the force.
Sgt. Vashti R. Rutledge performed administrative work at the Army-Navy Staff College in Washington, DC. In March, 1944 WO(JG) Rutledge was one of the first six WACs to be granted a Warrant Officer's warrant.
Chief Warrant Officer 4 Elizabeth C. Smith USAF (WAC / USAAF 1944-1947, WAF / USAF 1948-1964) was one of the first WAF Warrant Officers in 1948.
Chief Warrant Officer 5 Jeanne Y. Pace, was the longest serving female in the Army and the last active duty Soldier who was a part of the WAC as of 2011. Her final assignment was Bandmaster of the 1st Cavalry Division where she retired after 41 years of service. She is also a recipient of the Daughters of the American Revolution Margaret Cochran Corbin Award which was established to pay tribute to women in all branches of the military for their extraordinary service with previous recipients including Major Tammy Duckworth, Major General Gale Pollock, and Lt General Patricia Horoho.
Popular culture
During the war years, popular comic strip Dick Tracy, drawn by Chester Gould, featured a young WAC spurning the romantic advances of a villain.
A series of cartoon postcards distributed during the war years depicted WACS hitting Adolf Hitler over the head with a rolling pin ["We're Giving Him A Big WAC!"], standing in morning formation exercises ["Don't Worry--Uncle Sam Is Keeping Us in Line!"], and window-shopping for civilian-style dresses ["Just Looking..."]
The 1945 film Keep Your Powder Dry features Lana Turner joining the WACs, which starred Agnes Moorehead, while sporting uniforms designed by Hollywood designer Irene and hair styled by Sydney Guilaroff.
The 1949 film I Was a Male War Bride depicts Cary Grant as a French officer who married an American WAC, played by Ann Sheridan and their escapades as he attempts to emigrate to the United States under the auspices of the 1945 War Brides Act.
The 1954 film Francis Joins the WACS stars Francis the Talking Mule, who joins the Women's Army Corps.
General Blankenship's secretary, Corporal Etta Candy (Beatrice Colen) in the first season of Wonder Woman was a WAC veteran.
The song Surrender by Cheap Trick is about a babyboomer child of a former member of the WAC who served in the Philippines.
Mare's War, a novel by Tanita S. Davis, centers around an African-American girl who joins the WAC.
On an episode of The Looney Tunes Show, Granny tells Daffy Duck a story where she served as a WAC and prevented the theft of the Eiffel Tower and numerous artworks from The Louvre.
Miss Grundy, a teacher in the Archie Comics series, was a WAC.
The Phil Silvers Show makes numerous references to the WACs. Several of the supporting cast, such as Sgt. Joan Hogan (Elisabeth Fraser), are members of the WAC and many of the gags and jokes in the show revolve around woman in the army.
References
Women's Army Corps Wikipedia
(Text) CC BY-SA