Nationality

Dutch, American




Name

Willem Kooning





Role

Artist




Known for

Abstract expressionism





Born

April 24, 1904 (

1904-04-24

) Rotterdam, Netherlands


Notable work

Woman I, Easter Monday, Attic, Excavation




Awards

Praemium ImperialeNational Medal of Arts (1986)




Died

March 19, 1997, East Hampton


Spouse

Elaine de Kooning (m. 1943)


Influenced by

Vincent van Gogh, Edward Hopper, Josef Albers, John D. Graham




Artwork

Woman I, Woman III, Excavation, Woman and Bicycle, Police Gazette


Similar People

Jackson Pollock, Mark Rothko, Franz Kline, Elaine de Kooning, Robert Rauschenberg
Willem de kooning a dutch american abstract expressionist artist
Willem de Kooning (; [ˈʋɪləm də ˈkoːnɪŋ]; April 24, 1904 – March 19, 1997) was a Dutch-American abstract expressionist artist who was born in Rotterdam, Netherlands, and moved to New York in 1927.
Contents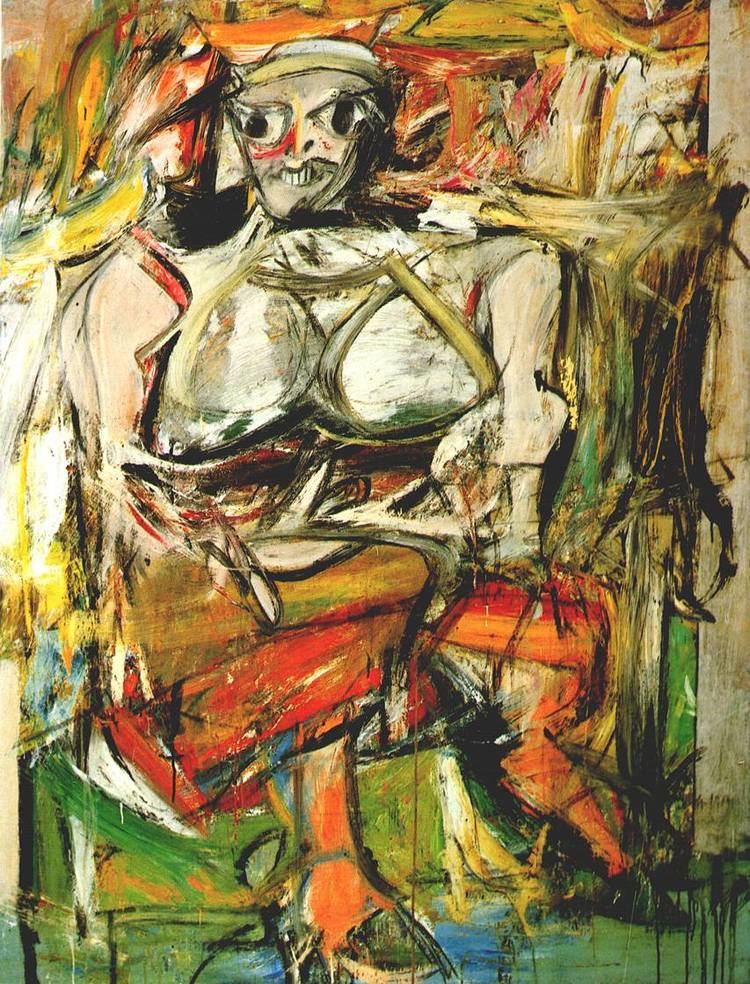 In the post-World War II era, de Kooning painted in a style that came to be referred to as Abstract expressionism or "action painting", and was part of a group of artists that came to be known as the New York School. Other painters in this group included Jackson Pollock, Elaine de Kooning, Lee Krasner, Franz Kline, Arshile Gorky, Mark Rothko, Hans Hofmann, Adolph Gottlieb, Anne Ryan, Robert Motherwell, Philip Guston, Clyfford Still, and Richard Pousette-Dart.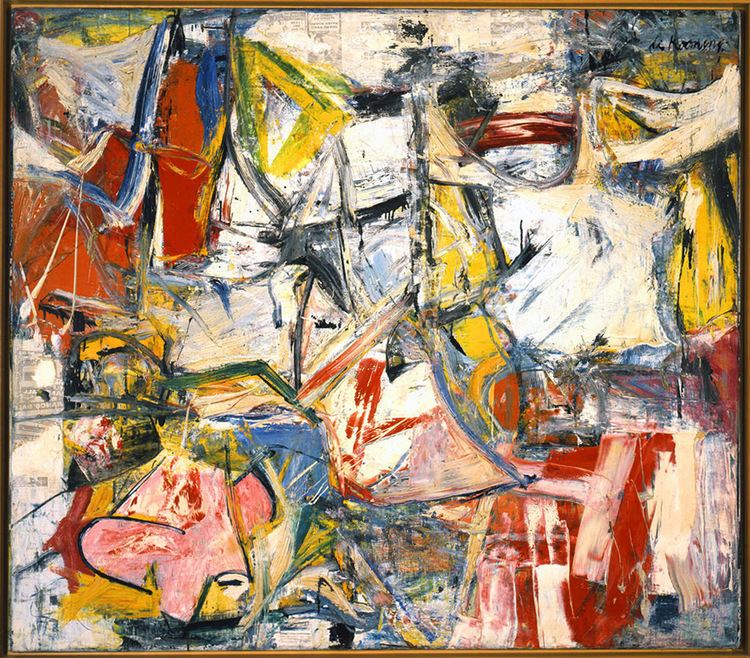 Willem de kooning a retrospective at moma part i
Biography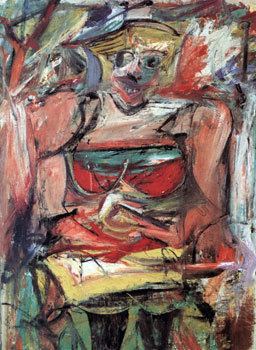 Willem de Kooning was born in Rotterdam, the Netherlands, on April 24, 1904. His parents, Leendert de Kooning and Cornelia Nobel, were divorced in 1907, and de Kooning lived first with his father and then with his mother. He left school in 1916 and became an apprentice in a firm of commercial artists. Until 1924 he attended evening classes at the Academie van Beeldende Kunsten en Technische Wetenschappen (the academy of fine arts and applied sciences of Rotterdam), now the Willem de Kooning Academie.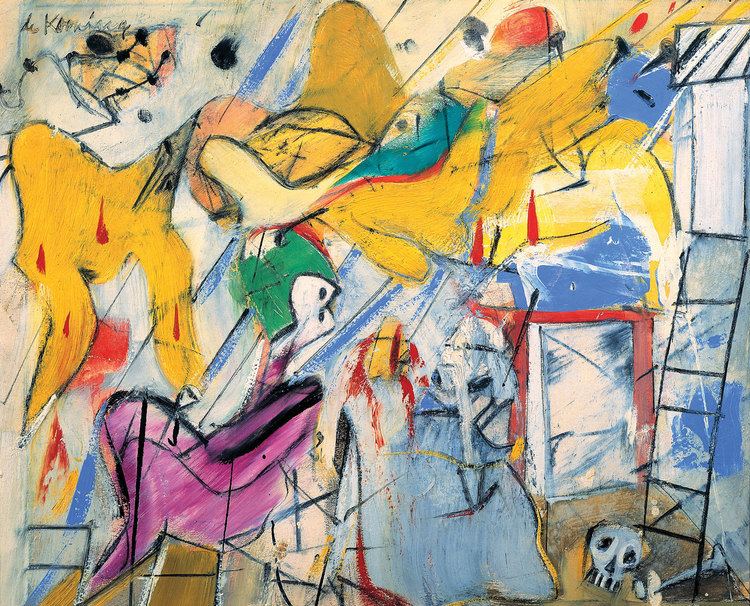 In 1926 de Kooning travelled to the United States as a stowaway on the Shelley, a British freighter bound for Argentina, and on August 15 landed at Newport News, Virginia. He stayed at the Dutch Seamen's Home in Hoboken, New Jersey, and found work as a house-painter. In 1927 he moved to Manhattan, where he had a studio on West Forty-fourth Street. He supported himself with jobs in carpentry, house-painting and commercial art.
De Kooning began painting in his free time and in 1928 he joined the art colony at Woodstock, New York. He also began to meet some of the modernist artists active in Manhattan. Among them were the American Stuart Davis, the Armenian Arshile Gorky and the Russian John Graham, whom de Kooning collectively called the "Three Musketeers".:98 Gorky, who de Kooning first met at the home of Misha Reznikoff, became a close friend and, for at least ten years, an important influence.:100 Balcomb Greene said that "de Kooning virtually worshipped Gorky"; according to Aristodimos Kaldis, "Gorky was de Kooning's master".:184 De Kooning's drawing Self-portrait with Imaginary Brother, from about 1938, may show him with Gorky; the pose of the figures is that of a photograph of Gorky with Peter Busa in about 1936.:184
De Kooning joined the Artists Union in 1934, and in 1935 was employed in the Federal Art Project of the Works Progress Administration, for which he designed a number of murals including some for the Williamsburg Federal Housing Project in Brooklyn. None of them were executed, but a sketch for one was included in New Horizons in American Art at the Museum of Modern Art, his first group show. Starting in 1937, when De Kooning had to leave the Federal Art Project because he did not have American citizenship, he began to work full-time as an artist, earning income from commissions and by giving lessons. That year de Kooning was assigned to a portion of the mural Medicine for the Hall of Pharmacy at the 1939 World's Fair in New York, which drew the attention of critics, the images themselves so completely new and distinct from the era of American realism.
De Kooning met his wife, Elaine Fried, at the American Artists School in New York. She was 14 years his junior. Thus was to begin a lifelong partnership affected by alcoholism, lack of money, love affairs, quarrels and separations. They were married on December 9, 1943. De Kooning worked on his first series of portrait paintings: standing or sedentary men like Two Men Standing, Man, and Seated Figure (Classic Male), even combining with self-portraits as with Portrait with Imaginary Brother (1938–39). At this time, de Kooning's work borrowed strongly from Gorky's surrealist imagery and was influenced by Picasso. This only changed when de Kooning met the younger painter Franz Kline, who was also working with the figurative style of American realism and had been drawn to monochrome. Kline died young and he was one of de Kooning's closest artist friends. Kline's influence is evident in de Kooning's calligraphic black images of this period.
In the late 1950s, de Kooning's work shifted away from the figurative work of the women (though he would return to that subject matter on occasion) and began to display an interest in more abstract, less representational imagery. He became a US citizen in 1961 and moved to East Hampton in 1963. This became his primary residence and he remained there until the end of his life.
On Long Island, de Kooning, in addition to his painting, also began creating sculpture. Inspired in part by the work of Henry Moore, de Kooning created highly abstracted figurative sculpture very reminiscent of his figurative paintings. In stark contrast to Moore's sculptures which are refined and polished and have a seemingly timeless quality, de Kooning's sculptures, having a lumpy, unfinished expression of clay—their initial medium before they were cast in bronze—are restless and energetic.
It was revealed toward the end of his life that de Kooning had begun to lose his memory in the late 1980s and had been suffering from Alzheimer's disease for some time. This revelation has initiated considerable debate among scholars and critics about how responsible de Kooning was for the creation of his late work.
Succumbing to the progress of his disease, William de Kooning painted his final works in 1991. He died in 1997 at the age of 92 and was cremated.
Early work
De Kooning's paintings of the 1930s and early 1940s are abstract still-lifes characterised by geometric or biomorphic shapes and strong colours. They show the influence of his friends Davis, Gorky and Graham, but also of Arp, Joan Miró, Mondrian and Pablo Picasso. In the same years de Kooning also painted a series of solitary male figures, either standing or seated, against undefined backgrounds; many of these are unfinished.
Black and white abstracts
By 1946, de Kooning had begun a series of black and white paintings, which he would continue into 1949. During this period he had his first one-man show at the Charles Egan Gallery in 1948 consisting largely of black and white works, although a few pieces have passages of bright color. De Kooning's black paintings are important to the history of abstract expressionism owing to their densely impacted forms, their mixed media, and their technique.:25
The Woman series
De Kooning's well-known Woman series, begun in 1950 (after meeting his future wife) and culminating in Woman VI, owes much to Picasso, not least in the aggressive, penetrative breaking apart of the figure, and the spaces around it. Picasso's late works show signs that he, in turn, saw images of works by Pollock and de Kooning.:17
De Kooning led the 1950s art world into a new movement known as American abstract expressionism. "From 1940 to the present, Woman has manifested herself in de Kooning's paintings and drawings as at once the focus of desire, frustration, inner conflict, pleasure, … and as posing problems of conception and handling as demanding as those of an engineer." The female figure is an important symbol for de Kooning's art career and his own life. The Woman painting is considered as a significant work of art for the museum through its historical context about the post-World War II history and American feminist movement. Additionally, the medium (oil, enamel, and charcoal on canvas) of this painting makes it different from others of de Kooning's time.
Notable works
The painter is noted for his paintings: Woman III (1953), Woman VI (1953), Interchange (1955), and Police Gazette (1955). Some notable sculptures are Clamdigger (1972/1976) and Seated Woman on a Bench (1972/1976).
Market reception
Some of de Kooning's paintings have been sold in the 21st century for near record prices. In November 2006, David Geffen sold his oil painting Woman III to Steven A. Cohen for $137.5 million, just below the record at the time of $140 million, which involved the same people in the same month for Jackson Pollock's No. 5, 1948. A month earlier Cohen had already paid Geffen $63.5 million for Police Gazette by de Kooning. In September 2015 David Geffen sold de Kooning's oil painting Interchange for $300 million to hedge fund billionaire Ken Griffin. As of 2016 this is the highest price paid for a painting, even when inflation is taken into account, almost matched by the sale of Paul Gauguin's When Will You Marry? in February 2015 for close to $300 million. In November 2016, Untitled XXV sold for $66.3 million at Christie's in New York. This was a record price for a Kooning piece sold at auction.
Solo exhibitions
The artist was featured in a number of solo exhibitions from 1948 to 1966, many in New York but also nationally and internationally. Specifically, he had fourteen separate exhibitions and even had two exhibitions per annum in the years 1953, 1964, and 1965. He was featured at the Egan Gallery, the Sidney Janis Gallery, the Museum of Fine Arts, Boston, the Arts Club of Chicago, the Martha Jackson Gallery, the Workshop Center, the Paul Kantor Gallery, the Hames Goodman Gallery, the Allan Stone Gallery, and the Smith College Museum of Art. Most of the exhibitions lasted for 3 weeks to one month.:126
References
Willem de Kooning Wikipedia
(Text) CC BY-SA