Nationality

American




Role

Painter




Name

Elaine Kooning




Known for

Painting






Full Name

Elaine Marie Fried




Born

March 12, 1918 (

1918-03-12

) Brooklyn, New York


Movement

New York Figurative Expressionism, Abstract Expressionism


Died

February 1, 1989, Southampton




Spouse

Willem de Kooning (m. 1943)


Artwork

Bacchus #69 (purple and green), Harold Rosenberg


Parents

Mary Ellen O'Brien Fried, Charles Frank Fried




Similar People

Willem de Kooning, Lee Krasner, Mark Rothko, Joan Mitchell, Milton Resnick



Education

Erasmus Hall High School

A look at abstract expressionism through the art of elaine de kooning
Elaine de Kooning (March 12, 1918 – February 1, 1989) was an Abstract Expressionist and Figurative Expressionist painter in the post-World War II era. She wrote extensively on the art of the period and was an editorial associate for Art News magazine. On December 9, 1943, she married painter Willem de Kooning.
Contents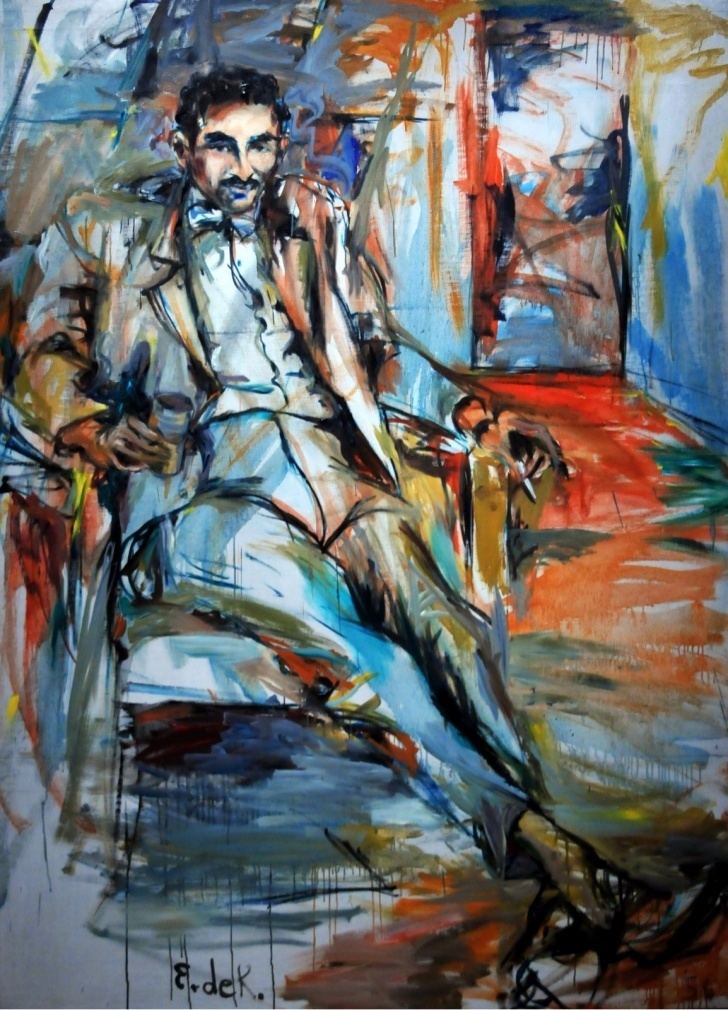 elaine de kooning portraits opening march 13 2015
Early life and education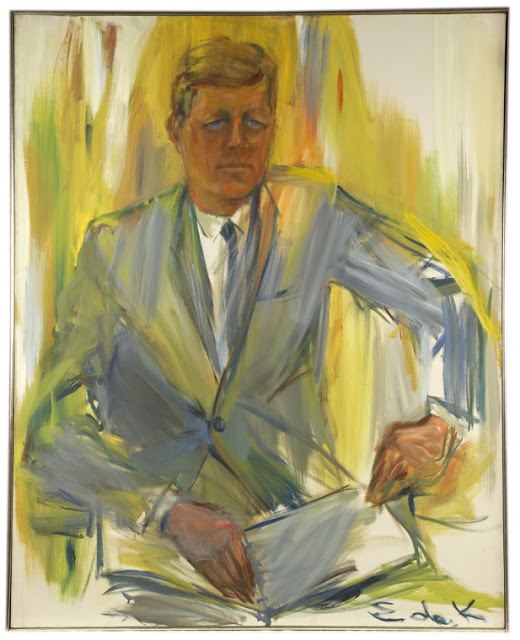 Elaine de Kooning was born Elaine Marie Catherine Fried in 1918 in the Flatbush, New York. Later in life Elaine told people she was born in 1920. Her parents were Mary Ellen O'Brien, an Irish Catholic, and Charles Frank Fried, a Protestant of Jewish descent. Her father Charles was a plant manager for the Bond Bread Company.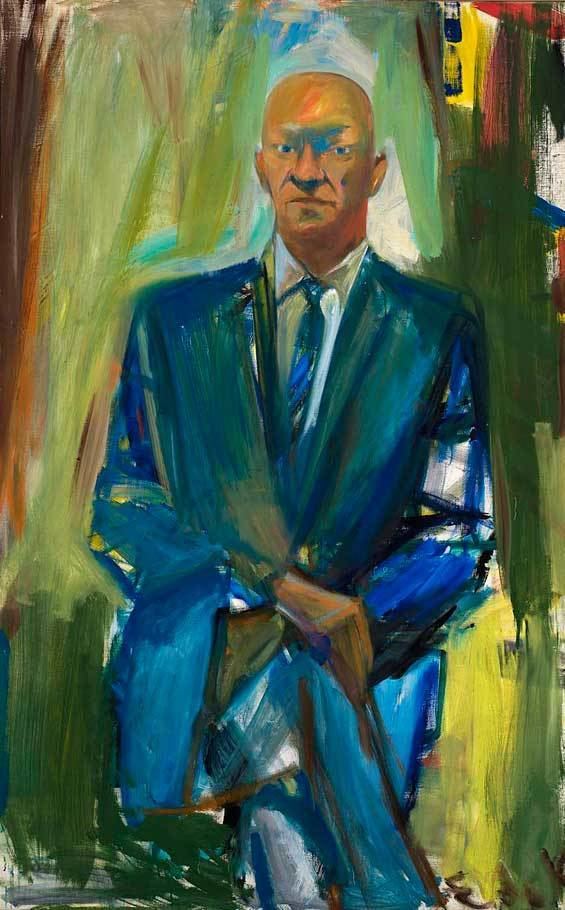 Elaine was the eldest of four children; Marjorie Luyckx, Conrad and Peter Fried. Her mother, despite being recalled as less loving and attentive than some parents by Elaine's younger sister, supported her artistic endeavors.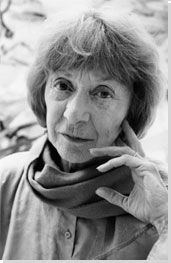 Elaine's mother started taking Elaine to museums at the age of five and taught her to draw what she saw. Elaine's childhood room was decorated with painting reproductions. Mary Ellen was committed to the Creedmoor Psychiatric Center for a year during Elaine's childhood after a neighbor reported her for neglect of her children.
Studies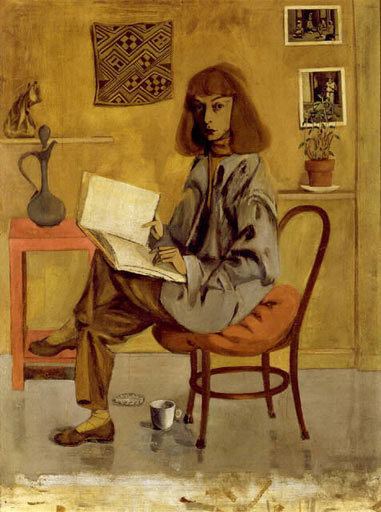 In grade school, Elaine began drawing and selling portraits of children attending her school. She was interested in and did well at sports as well as art. Elaine studied at Erasmus Hall High School in Brooklyn. After graduating from High School, she briefly attended Hunter College in New York City, where she befriended a group of abstract and Social Realist painters. In 1937, she attended the Leonardo da Vinci Art School and went on to study at the American Artists School, both in New York City. While attending school, Elaine made money working as an art school model.
Marriage to Willem de Kooning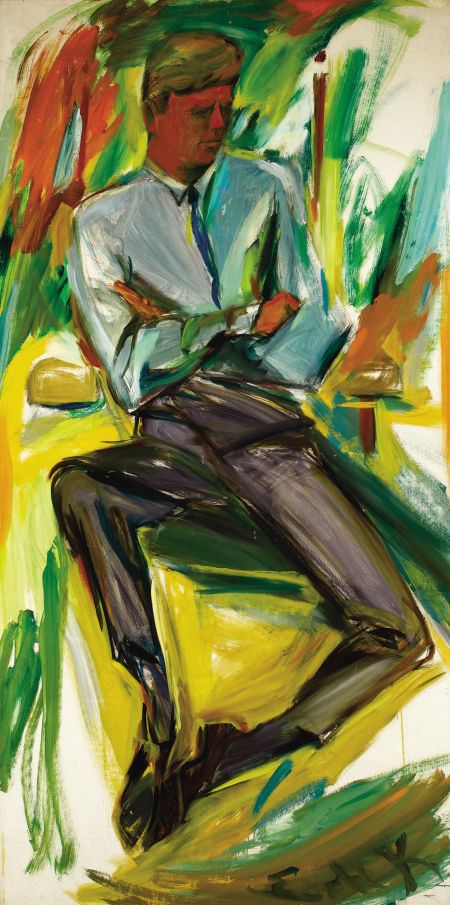 Elaine had admired Willem's artwork before meeting him, in 1938 her teacher introduced her to Willem de Kooning at a Manhattan cafeteria when she was 20 and him 34. After it he began to instruct her in drawing and painting. They painted in Willem's loft at 143 West 21st Street, and he was known for his harsh criticism of her work, "sternly requiring that she draw and redraw a figure or still life and insisting on fine, accurate, clear linear definition supported by precisely modulated shading." He even destroyed many of her drawings, but this "impelled Elaine to strive for both precision and grace in her work". When they married in 1943, she moved into his loft and they continued sharing studio spaces.
Elaine and Willem de Kooning had what was later called an open marriage; They both were casual about sex and about each other's affairs. Elaine had affairs with men who helped further Willem's career, such as Harold Rosenberg, who was a renowned art critic, Thomas B. Hess, who was a writer about art and managing editor for Artnews, and Charles Egan, owner of the Charles Egan Gallery. Willem had a daughter, Lisa de Kooning, in 1956, as a result of his affair with Joan Ward.
Elaine and Willem both struggled with alcoholism, which eventually led to their separation in 1957. While separated, Elaine remained in New York, struggling with poverty, and Willem moved to Long Island and dealt with depression. Despite struggling with alcoholism, they both continued painting. Although separated for nearly twenty years, they never divorced, and ultimately reunited in 1976.
Career
Elaine de Kooning was an accomplished landscape and portrait artist active in the Abstract Expressionist movement of the early twentieth century. She was a member of the Eighth Street Club (the Club) in New York City. The Club functioned as a space to discuss ideas. Among this group of artists were Willem de Kooning, Jimmy Rosati, Giorgio Spaventi, Milton Resnick, Pat Passlof, Earl Kerkam, Ludwig Sander, Angelo Ippolito, Franz Kline, Clyfford Still, and Hans Hofmann. A membership position for a woman was rare at this time.
Elaine promoted Willem's work throughout their relationship. Along with her own work as a painter, she was committed to gaining recognition for her husband's work. Though she was very serious about her own work, she was well- aware that it was often overshadowed by her husband's fame. After showing their work in their 1951 exhibition at the Sidney Janis Gallery, Artists: Man and Wife, which also included Jackson Pollock and Lee Krasner, Ben Nicholson and Barbara Hepworth, and Jean Arp and Sophie Taeuber-Arp, Elaine said, "It seemed like a good idea at the time, but later I came to think that it was a bit of a put-down of the women. There was something about the show that sort of attached women-wives- to the real artists". Despite this effect on her own career, Elaine continued to promote her husband.
In 1952's Elaine present her first Solo exhibition and spend the summer at Art dealer Leo Castelli's house at The Hamptons.
Women were often marginalized in the Abstract Expressionist movement, functioning as objects and accessories to confirm the masculinity of their male counterparts. For that reason, she chose to sign her artworks with her initials rather than her full name, to avoid her paintings being labeled as feminine in a traditionally masculine movement, and to not be confused with her husband Willem de Kooning.
Elaine de kooning was also part of the New York School scene. Which included Jackson Pollack as well as Willem de Kooning.
Elaine de Kooning was an important writer and teacher on art. She began working at the magazine Artnews in 1948, and wrote articles about major figures in the art world. She wrote about one hundred articles to the Art News magazine. Elaine de Kooning was the first American artist in the 1950s to take a role of the artists critic. "As an writer, she wrote about culture, art, and new ideas to her generation of artists and readers." Although Elaine was a successful writer, she considered herself a "painter by nature." Elaine de kooning's art and writing were all devoted to art and humanity.
Over the course of her life, she held teaching posts at many institutions of higher education. In 1957, after Elaine and Willem de Kooning separated she took on a series of short-term teaching job to support herself. She taught at the University of New Mexico in Albuquerque, the University of California in Davis, at Carnegie Mellon, at Southampton College on Long Island, at the Cooper Union and Pratt Institute in New York, at Yale, at RISD in Rhode Island, Bard College, the University of Georgia and the New York Studio School in Paris. Between 1976 and 1978, she served as the first Lamar Dodd Visiting Professor of Art at the University of Georgia (UGA) in Athens. In 1985 she was elected into the National Academy of Design as an Associate member, and became a full academician in 1988.
"For Elaine, everything was always new, never resolved, always being unmade and made, as if it had never been made before. She did not accumulate experience and learn what to expect... Life was a constant surprise." Being the wife of the famous painter Willem de Kooning, she did not receive real recognition for her own achievement until a few years before she died. Her works are in the collections of the Museum of Modern Art and the Solomon R. Guggenheim Museum in New York.
Painting
Elaine de Kooning made both abstract and figurative paintings and drawings of still life, cityscapes, and portraits. Her work was influenced by the artists Willem de Kooning and Arshile Gorky, artists that worked abstractly and also in a figurative way. Her earlier work comprised watercolors and still lifes, including fifty watercolor sketches inspired by a statue in the Luxembourg Gardens in Paris. Later in her career, her work fused abstraction with mythology, primitive imagery, and realism. Her gestural style of portraiture is often noted, although her work was mostly figurative and representational, and rarely purely abstract. She produced a diverse body of work over the course of her lifetime, including sculpture, etchings, and work inspired by cave drawings, all in addition to her many paintings. Her work presents a combination between painting and drawing, surface and contour, stroke and line, color and light, transparency and opacity.
A large portion of Elaine de Kooning's work was in portraiture. Her subjects were often fellow artists—usually men—including poets Frank O'Hara and Allen Ginsberg, art critic Harold Rosenberg, choreographer Merce Cunningham, and painters Fairfield Porter and her husband, Willem de Kooning. Although she worked in a gestural Abstract Expressionist mode, she never abandoned working with the figure ensuring the person's likeness.
In regard to her portraiture, Elaine de Kooning wrote, "when I painted my seated men, I saw them as gyroscopes. Portraiture always fascinated me because I love the particular gesture of a particular expression or stance...Working on the figure, I wanted paint to sweep through as feelings sweep through..." She studied each person "to find the characteristic pose that would define them." A great example of this, is the series of studies and finished portraits of President John F. Kennedy, which was the most important commission in her career. De Kooning also did a series of men with children, and a series of women after she resumed painting a year after John F. Kennedy's death.
Paleolithic art
Later in life, Elaine produced a series of paintings inspired by the paleolithic cave paintings of Lascaux in France and Altamira in Spain. In Paleolithic art she found the roots of Abstract Expressionism, since they have the same improvisational processes and spontaneous technique. In others words, "she found Paleolithic art close in spirit to twentieth-century art." In 1985 when Elaine de Kooning visited the cave in the Spanish Pyrenees, she realized that the geological formations and textures of the cave wall were the same as her ground of flying color, drips, washes, and strokes, animal forms and drawing rising out of its contours; giving her the affirmation to her own way of working. These series of paintings were shown at the Fischbach Gallery in November 1988, three months before her death.
Exhibitions
De Kooning's work has been featured in numerous solo exhibitions as well as in a multitude of group shows in commercial art galleries as well as in major art museums and institutions. The artist's work has received increasing critical acclaim posthumously, resulting in exhibitions such as the major museum show "Elaine De Kooning: Portraits" hosted by the National Portrait Gallery in 2015 in Washington, DC.
Selected solo exhibitions
1952, 1954, 1956: Stable Gallery, New York;
1957: Tibor de Nagy Gallery, New York;
1958: Museum of New Mexico Art Gallery, [Santa Fe, New Mexico];
1959: Lyman Allyn Art Museum, New London, Connecticut;
1960: Ellison Gallery, Fort Worth, Texas;
1960, 1963, 1965, 1975: Graham Gallery, New York;
1964: "25 Portraits of J.F.K.", Peale House Gallery, Pennsylvania Academy of Fine Arts, Philadelphia, Pennsylvania;
1979: "Bacchus, Works on Paper", Lauren Rogers Museum of Art and Library, Laurel, Mississippi;
1982: 86: Gruenebaum Gallery' New York;
1983: "Elaine de Kooning and the Bacchus Motif", Arts Club of Chicago, Chicago, Illinois;
1984: "Elaine de Kooning: New Paintings", C. Grimaldis Gallery, Baltimore, Maryland;
1991: "Black Mountain Paintings from 1948", Joan T. Washburn Gallery, New York;
2015: "Elaine de Kooning: Portraits", National Portrait Gallery, Washington, D.C.
Selected group exhibitions
1951, 1953-1957: 9th Street Art Exhibition, the first "New York Painters and Sculptors Annual Exhibition" and subsequent 5 New York Artists' Annual Exhibitions, Stable Gallery, New York;
1956: "Abstract Expressionism", circ., by the Walker Art Center, Minneapolis, Minnesota; "Young American Painters", circ., The Museum of Modern Art, New York; "Pittsburgh International", Carnegie Institute, Pittsburgh;
1958: "Action Painting, 1958", The Dallas Contemporary, Dallas, Texas;
1960: "Abstract Expressionists Painting of the Fifties", The Walker Art Center, Minneapolis, Minnesota;
1961: The Whitney Museum of American Art Annuals and Biennials, New York;
1964: "67th Annual American Exhibition: Directions in Contemporary Painting and Sculpture", The Art Institute of Chicago;
1980: "The Fifties: Aspects Painting in New York", Hirshhorn Museum and Sculpture Garden, Washington, D.C.; "Heads: An Exhibit of Portraits", C. Grimaldis Gallery, Baltimore, Maryland.
1990: "Four Centuries of Women's Art", the National Museum of Women in the Arts, Washington, D.C.; "East Hampton Avant-Garde, A Salute to the Signa Gallery", Guild Hall Museum, East Hampton, New York.
1997: "Preserving the Past, Securing the Future: Donations of Art 1987–1997", the National Museum of Women in the Arts, Washington, D.C.
2015: "Marks Made: Prints by American Women Artists from the 1960s to the Present", Museum of Fine Arts, St Petersburg, Florida
2016: "Expanding the Narrative: Women Artists and Abstract Expressionism", The Virginia Museum of Fine Arts, Richmond, VA
2017: "Women in Abstract Expressionism", Palm Springs Art Museum, Palm Springs, California
Teaching positions
During her lifetime, Elaine de Kooning taught at some of the most prestigious universities:
1958-59: University of New Mexico
1960: The Pennsylvania State University
1963-64: University of California Davis
1967: Yale University
1968: Pratt Institute
1968-70: Carnegie-Mellon University
1971-72: University of Pennsylvania
1971: Wagner College
1974: New York Studio School
1974-75: Parsons School of Design
1976-79: University of Georgia
Public collections
Notable works by this artist are in the permanent collections of:
The Museum of Modern Art, New York, NY
The Solomon R. Guggenheim Museum, New York, NY
The Metropolitan Museum of Art, New York, NY
The Denver Art Museum, Denver, CO
The National Academy Museum and School, New York, NY
The Los Angeles County Museum of Art (LACMA), Los Angeles, CA
The National Portrait Gallery, Washington, D.C.
Guild Hall Center for the Visual and Performing Arts, East Hampton, Long Island, NY
The National Museum of Women in the Arts, Washington, D.C.
The Smithsonian Institution's National Portrait Gallery reportedly holds the largest museum collection of portraits by De Kooning.
Death
De Kooning died on February 1, 1989, in Southampton, New York, a year after having a lung removed due to lung cancer.
Legacy
In 2015, the Pollock-Krasner House and Study Center hosted "Elaine de Kooning Portrayed," an exhibition dedicated to portraits, likenesses, and reflections on de Kooning by other artists, including her husband Willem as well as Arshile Gorky, Fairfield Porter, Hedda Sterne, Alex Katz, Robert De Niro, Sr., Ray Johnson, Joop Sanders, Paul Harris, and Edvins Strautman.
One of the few residences owned by Elaine de Kooning during her lifetime was a studio at Alewive Brook Road in East Hampton. The current owners are reportedly developing an artists' residency/alternative exhibition space referred to as "the Elaine de Kooning house."
References
Elaine de Kooning Wikipedia
(Text) CC BY-SA