Covid-19
South Africa




Sotho


14.1 km2


Lejweleputswa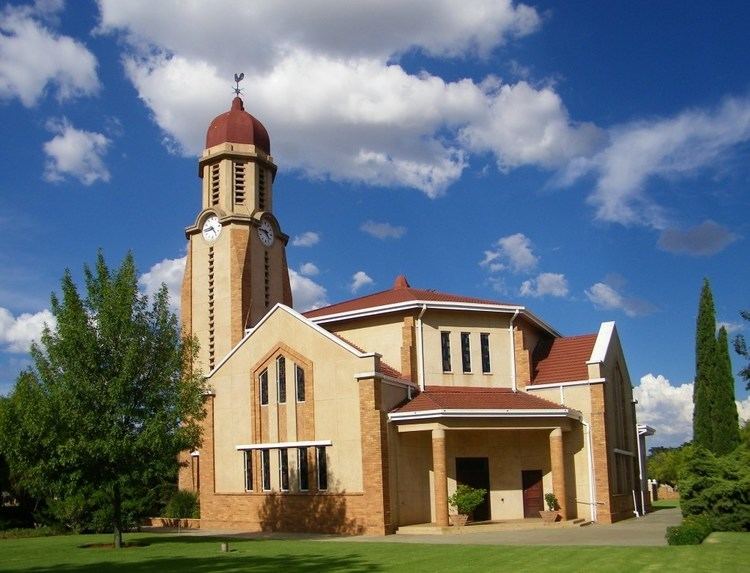 Wesselsbron is a small maize farming town 75 kilometres south of Bothaville in Free State province of South Africa.
Town 32 km east of Hoopstad and 48 km north-west of Welkom. It was laid out in 1920 and became a municipality in 1936. Named after Commandant Cornelis J Wessels who was in command of the Siege of Kimberley from 13 October 1899 to 12 February 1900. Bron is Afrikaans for 'source', 'spring'.
Wesselsbron has a vast district which stretches from the Vet River in the south to the Vaal River in the north. The main cultivation is corn, but also wheat, sunflower and peanuts are cultivated. The grain silos of Senwes are the biggest silo complex in the Southern Hemisphere and can cope with the enormous amount of 275,000 tons of grain. Escorted tours can be organized to visit the silos as well as a private milling complex next to Senwes. Because of the growing demand for liquidated fertilizer, Omnia opened a factory in Wesselsbron in 1997, one of the biggest factories in South Africa. Raw material is obtained from overseas, Richards Bay, Sasolburg and Rustenburg to be processed in the Wesselsbron factory. Tons of liquidated fertilizer is distributed to the rich cultivated fields of the Western Free State, Northwest and North Cape.
Wesselsbron Wikipedia
(,)http://www.safarinow.com/db/id/1390618/g374922.jpg(,)http://www.safarinow.com/db/id/1390618/g374915.jpg(,)http://www.safarinow.com/db/id/1390618/g374923.jpg(,)http://www.safarinow.com/db/id/1390618/g374924.jpg(,)http://www.sa-venues.com/visit/diekuierhuis/1.jpg(,)http://www.sa-venues.com/visit/feathersguesthouse/1.jpg(,)http://www.eatout.co.za/wp-content/uploads/2015/01/Papas-Real-Food-featt.jpg(,)http://www.sa-venues.com/visit/frandoriguesthouse/1.jpg(,)http://www.eatout.co.za/wp-content/uploads/2015/04/LOCO-Lounge-.jpg(,)http://www.sa-venues.com/visit/monarchhouse/1.jpg(,)http://i.ebayimg.com/00/s/NDUwWDgwMA%3D%3D/z/UvcAAOSwstxVBuRB/%24_20.JPG(,)http://thenewage.co.za/cms/gall_content/2012/12/2012_12%24thumbimg112_Dec_2012_114701433-ll.jpg(,)http://mw2.google.com/mw-panoramio/photos/medium/86268012.jpg(,)http://www.safarinow.com/db/id/1265398/360684a.jpg(,)http://mw2.google.com/mw-panoramio/photos/medium/86268017.jpg