Nickname(s)

The King, Duck




Height

1.92 m




Parents

Kevin Carey, Lynne Carey




Name

Wayne Carey




Ex-spouse

Sally Carey




Position(s)

Centre half-forward




Children

Ella Carey




Height/Weight

192 cm / 97 kg




Weight

97 kg










Date of birth

(1971-05-27) 27 May 1971 (age 44)




Place of birth

Wagga Wagga, New South Wales


Original team(s)

North WaggaNorth Adelaide


Role

Australian Rules Footballer




Similar People

Anthony Stevens, Kate Neilson, Gary Ablett - Sr, Glenn Archer, Tony Lockett


Profiles




Twitter
Afl retro wayne carey v glen jakovich
Wayne Carey (born 27 May 1971) is a former Australian rules footballer who played with North Melbourne and the Adelaide Crows in the Australian Football League (AFL).
Contents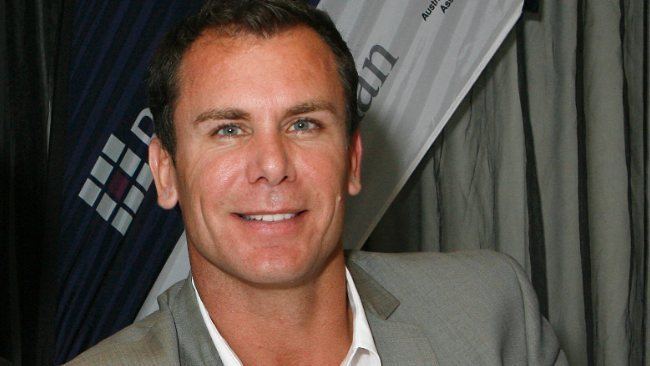 A dual-premiership captain at North Melbourne, four-time North Melbourne best-and-fairest (Syd Barker Medallist) and seven-time All-Australian, Carey, is nicknamed "The King", or "Duck". In 2001, he was named as centre half-forward and captain of North Melbourne's Team of the Century, and in 2008 was named as Australian football's greatest ever player, as part of a list of the top 50 players of all time, published in the book The Australian Game of Football, which was released by the League to celebrate 150 years of Australian rules football.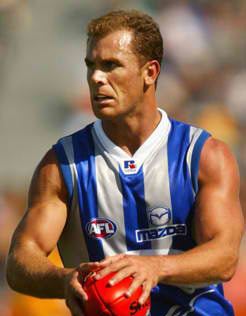 Early life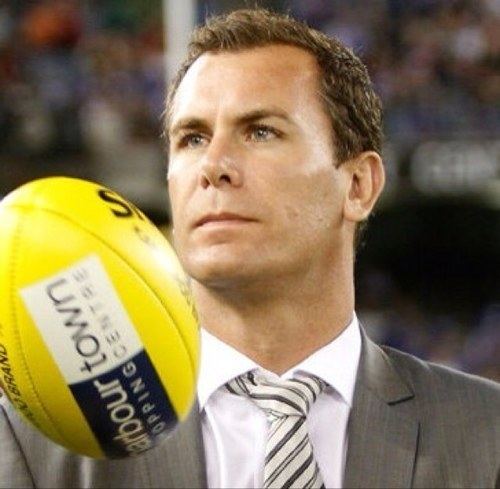 The son of Kevin and Lynne, Carey was one of five children who grew up in Wagga Wagga, New South Wales. His mother and father separated when Carey was aged six, with his mother taking four of the children to Adelaide, living in a homeless shelter. According to Carey's autobiography, his father was a violent man who had spent time at Mannus Correctional Centre and was troubled by alcoholism. A few months later, Kevin Carey retrieved the children from his estranged wife and they returned to Wagga Wagga.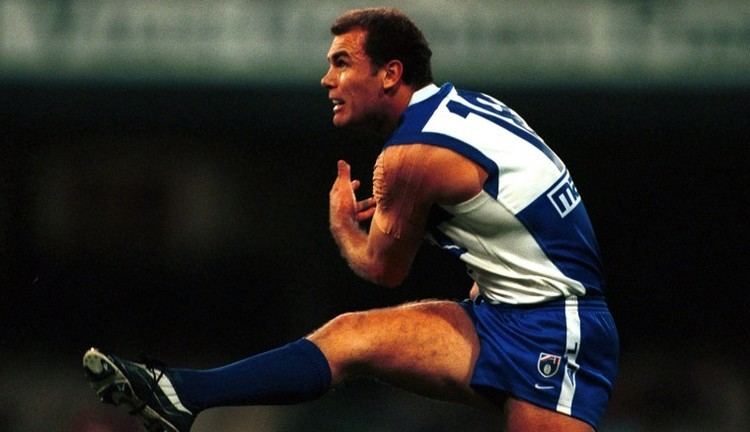 Carey played rugby league as a junior, and began playing Australian rules football at the age of eight. At the age of thirteen, Carey returned to Adelaide, where he attended The Heights School and played junior football for North Adelaide.
VFL debut: 1987–1989
In 1987, Carey was recruited by North Melbourne after their CEO, Greg Miller, met with the Sydney Swans' football department to discuss the transfer to North Melbourne of John Longmire, a highly regarded junior key-position player. Once that deal was concluded, Miller then inquired about Carey who, like Longmire, was zoned to the Swans due to having lived in New South Wales. He made a token offer of $10,000 as a transfer fee, to which the Swans surprisingly agreed. As a 16-year-old, Carey made the move to Melbourne and played for the North Melbourne under-19s, originally at centre half back because centre half forward was held down by the promising and talented Brad Anderson until he injured a knee, where he starred in their 1988 premiership side under coach Denis Pagan. Carey was promoted to the senior list prior to the 1989 season and, after recovering from dislocating his left shoulder in a practice match early in the year, made his first appearance for the seniors as an 18-year-old in round 11 of 1989 against Fitzroy.
Rise to stardom: 1990–1992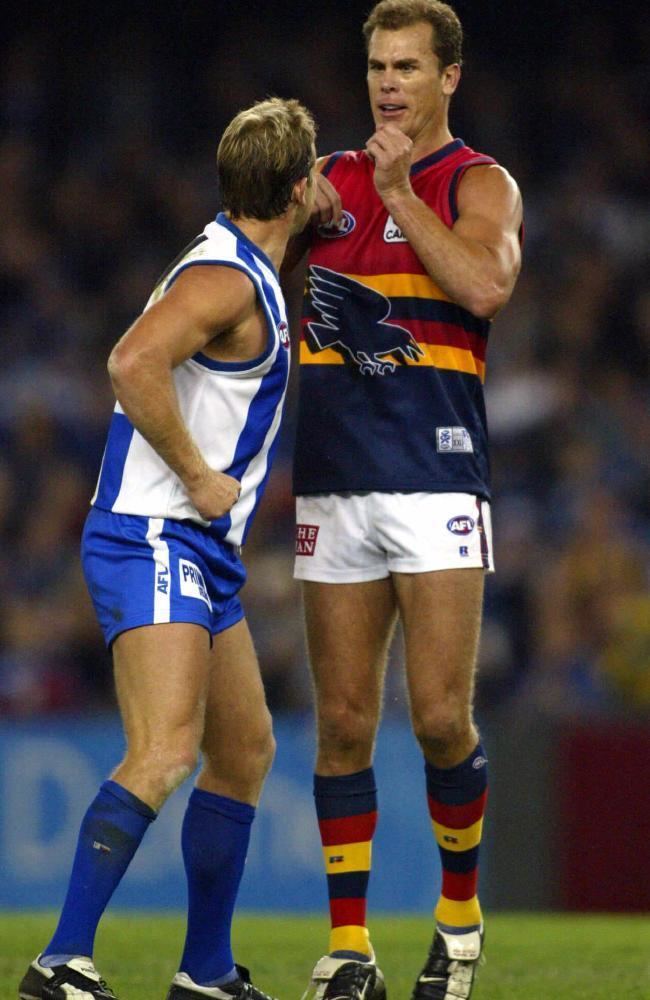 After playing only four games in his debut year, Carey burst onto the scene in 1990 as a goal-kicking centre half-forward and as perfect support to their full forward in Longmire (who was that year's Coleman Medallist as the AFL's leading goal-kicker). Carey immediately drew the attention of the football world and built a reputation early in his career as an aggressive, big marking and long kicking key position player. That year, Carey would become the 1990 season runner up in North Melbourne's best and fairest, behind Longmire. In round 13, a then 19-year-old Carey took 8 marks, had 22 disposals and kicked 7 goals in a big win over Sydney. It was the first of many times Carey would dominate up forward for North. In 21 games in 1990 Carey averaged 5 marks, 14 disposals and 1.8 goals.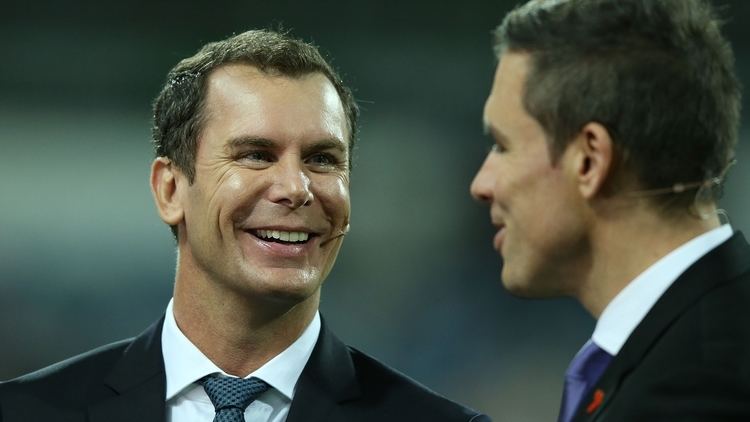 The 1991 season started very promisingly for Carey and after nine rounds he was averaging 7 marks, 16 disposals and 2.4 goals. At that stage he was leading North Melbourne's best and fairest and, despite still being a teenager, was arguably the Kangaroos' most important player. In Round 10 against Footscray, Carey started brilliantly, kicking two first quarter goals, before an injury to his right shoulder forced him to sit out the rest of that game and the next eight. He struggled to regain form when he returned for the last 5 rounds.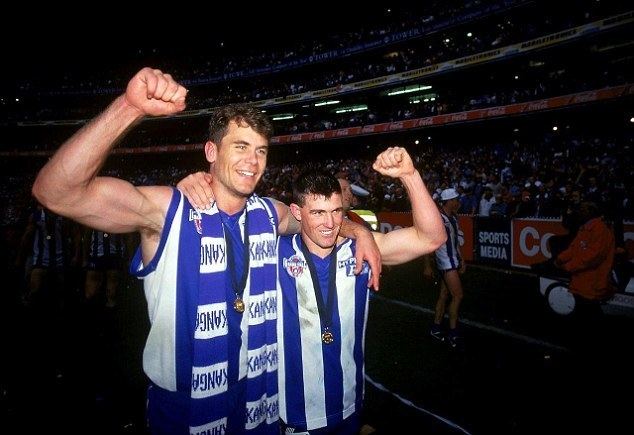 Early in 1992 Carey considered leaving North Melbourne and returning to Adelaide due to internal unrest within the leadership of the club. He was convinced to stay by the coaching staff and, in the latter half of the season, Carey began to show signs that he was destined for greatness. In the second half of 1992 Carey would put a string of outstanding performances to close the season out. By season's end Carey was dominating Centre Half Forward like no one else in the league, his play trademarked by big marks and long goals. He finished the year with an impressive 7 goal performance against Fitzroy and averaged 10 marks, 20 disposals and 3.3 goals during North Melbourne's last 8 games. For the season, he averaged 7 marks, 18 disposals and 2.2 goals per game. Carey had his first top five finish in the Brownlow Medal, claimed his first club best and fairest and was named club captain by new coach Denis Pagan ahead of the 1993 season.
Captaincy: 1993–2001
As captain, Carey led North Melbourne to the finals for eight consecutive years from 1993 to 2000. This streak included seven straight preliminary finals, three grand finals and two premierships (1996 and 1999). During this eight-year period, Carey played 170 games, averaged 8 marks and 19 disposals per game and kicked 524 goals at 3.1 per game. He won three further club best and fairests, was a five-time club leading goal kicker, All Australian centre half forward seven times, including four times as captain and once as vice-captain, and he was named MVP by the AFL Players Association twice, in 1995 and 1998.
Carey was criticised widely for both his on and off field behaviour. On the field he was reported three times and suspended twice for a total of five weeks in 1994. An off the field charge of sexual assault in 1996 put a damper on his otherwise stellar form. Bookies had Carey as pre-count favourite for the Brownlow Medal on four separate occasions (1993, 1995, 1996 and 1998), but many believe his on field arrogance and backchat to umpires were the primary reason he never claimed the game's highest individual honour.
First years as captain and "No Carey, No North": 1993–1995
In 1993, at age 21, Carey was the second youngest club captain in VFL/AFL history. Carey consistently won games off his own boot, including a game against reigning premiers the West Coast Eagles at the WACA in round 12, and then against that year's eventual premiers in Essendon in round 15, where he played a dominant final quarter that marked him as an out-and-out champion. Amazingly, after 15 rounds of the 1993 season, with North Melbourne on top of the AFL ladder, Carey was leading the club in marks, disposals and goals, before he was injured in their round 16 clash with Brisbane and did not play again until round 20. For the season he averaged 8 marks, 19 disposals and 3.4 goals per game. At the end of the season, Carey became the youngest ever All-Australian captain at 22 years of age and finished third in the Brownlow Medal count, after being outright favourite to take out the prestigious award. But for the freakish efforts of Gary Ablett, many experts had Carey as the game's best player at the conclusion of the season, and he was runner-up behind Ablett in the Leigh Matthews Trophy.
The following year Carey appeared to have improved again. After round 6 of the 1994 season, Carey was averaging 12 marks, 21 disposals and 4.8 goals per game. This included a 17 mark, 26 disposal, 7 goal performance against Hawthorn, 13 marks, 21 disposals and 6 goals against Footscray and a 15 mark, 21 disposal, 5 goals in a loss to the West Coast Eagles. Carey's mid season suspensions subdued him somewhat, before he turned it on again to dominate in the finals with two of the all-time great individual finals performances.
In the qualifying final against Hawthorn, Carey kicked the last goal of the final quarter to level the score and force the game into extra time. Carey then kicked the goal to seal the win during extra time and earn North Melbourne a week break before the preliminary final. He finished the game with 10 marks, 32 disposals and 4 goals in an inspiring performance. Two weeks later Carey was irrepressible in the preliminary final against Geelong. With North down by four goals at half time, it was Carey's four third quarter goals that kept them in the game. He played a lone hand up forward with 14 marks, of which 10 were contested, 24 disposals and 6 goals, to once again have the scores level at full-time, before Geelong won by a goal, kicked after the final siren by Gary Ablett. Carey's 10 contested marks in the preliminary final were an all time AFL record at the time, and his finals performances were made more impressive by the fact that he played both games with a torn calf muscle. "In the 21 days between tearing the muscle and the end of the Geelong game, Wayne trained for approximately 10 minutes. To then be best on ground in two finals was nothing short of freakish, and a testament to his talent and commitment." Coach Denis Pagan later said of Carey's finals performances. For the season Carey averaged 9 marks, 19 disposals and 3.3 goals per game.
During the first two years of Carey's captaincy at North Melbourne, the Kangaroos registered an impressive 25 wins from the 35 home and away games in which Carey played. In contrast, they lost all but one of the seven games in which he was absent during the same period. Such was the influence that Carey had on games in which he played, and so much did the Kangaroos struggle in his absence that, in mid-1994, the phenomenon was given a name – 'No Carey, no North'.
After leading North Melbourne to the Ansett Cup Premiership in the pre-season, Carey's reputation as the games number one player continued to grow early in 1995. He kicked 18 goals in North's four pre-season games and was the dominant player on the ground on each occasion. By mid season, Carey was an unbackable favorite to take out the Brownlow Medal as he dominated games like none before him. Over nine games, from rounds 6 to 14, Carey averaged 11 marks, 22 disposals and 3.8 goals per game in a brilliant run of form. In round seven, he registered a career high 33 disposals against Fitzroy. His best games of the year, however, came later in the season, both against Premiership contenders Richmond. The first was in a come-from-behind last quarter win in round 19, and then four weeks later in a Qualifying Final win – Carey's third dominant finals game in succession. In both games Carey kicked five goals and had 25 and 22 disposals respectively. The season ended on a sour note for Carey, being well held by Jakovich in the Semi-final and then Full back of the Century Stephen Silvagni in the Preliminary Final, where North Melbourne went down to eventual Premiers Carlton. For the season, Carey averaged 7 marks, 18 disposals and 2.6 goals per game, led the league in marks and contested marks and took out a host of individual awards from the media and AFL Players Association as the season's best player.
Premiership years: 1996, 1999
By 1996, Carey was all but unanimously considered the best player in the AFL. He became known as a master of the pack mark and the long goal. He again led the league in marks and contested marks and kicked a career high 82 goals in 1996, one of his most consistent seasons. He kicked a career high 11 goals against Melbourne in Round 17 – a game in which he also tallied 15 marks, 31 disposals and 3 tackles – and followed it up in the next game with 27 disposals and 7 goals against Hawthorn. His 12 contested marks in round 17 broke his own record for the most contested marks in a game, which he set two years earlier and remains a record to this day. North went on to win the 1996 premiership, with Carey again a stand out in all three finals games, including the grand final against Sydney, where he was runner-up to Glenn Archer in the Norm Smith Medal voting. He averaged 11 marks, 23 disposals and 2.3 goals during the finals and 8 marks, 19 disposals and 3.3 goals for the season. He won his third best and fairest award in 1996, but finished runner-up to team mate Corey McKernan in the Players' Association MVP award.
Eight minutes into the second quarter of the 1997 AFL season, Carey dislocated his left shoulder for the second time in his career and missed much of the season. Upon his return in round 13, he spent much of the remainder of the home and away season at centre half back. There was some concern as to whether he would regain top form as he struggled with mobility through the injured shoulder. As North entered the finals campaign, Carey assumed his customary centre half forward position and re-established himself as the games pre-eminent player in a qualifying final against Geelong. In a low scoring game, played in very wet conditions, Carey was dominant with 10 marks and 23 disposals. He also kicked 7 goals and created 2 others, in a team total of 11 goals. It was a performance that Mike Sheahan named Carey's best in the book The Australian Game of Football, released in 2008.
Prior to round one of the 1998 season, Carey kicked six second half goals in the Ansett Cup Grand Final against St Kilda, earning himself the Michael Tuck Medal as the best on ground in the pre-season grand final and issuing an ominous warning to the rest of the competition that he was over his injury woes of the previous year.
In one of his greatest seasons, Carey hit arguably the best form of his career in 1998 as he led North Melbourne on a club record 11-game winning streak. During the streak he registered 20 or more disposals and 5 or more goals on 6 separate occasions. Coach Denis Pagan designed the team's offence around Carey, instructing other forwards to draw their direct opponents outside the 50-metre arc to make space for Carey, a tactic which became known as "Pagan's Paddock". In round 15, Carey demolished St Kilda with 14 marks, 26 disposals and 6 goals. The following week five first half goals against West Coast, including one of the goals of the year in the second quarter, saw Glen Jakovich taken to the bench. His form continued the next week when he kicked 8 goals against Melbourne, to go with 11 marks, 24 disposals and 4 tackles and, three weeks later, Fremantle received the same treatment as Carey again kicked 8 goals and had 25 disposals. In the final two rounds Adelaide and the Western Bulldogs had no answers to limit his influence and he was completely dominant in each game, kicking 5 and 4 goals respectively and taking contested marks at will, all around the ground. After Carey kicked another 5 goals in the first round of the finals to ensure a comfortable win over Essendon, he had kicked 45 goals in the previous nine games and averaged 22 disposals and 9 marks per game. The winning streak ended on Grand Final day with a loss to Adelaide. For the season, Carey averaged 8 marks, 20 disposals and 3.2 goals per game. He again led the league in marks and contested marks and was runner up in the league goal kicking race behind Tony Lockett, with 80 goals. Carey once again won almost every individual award on offer at season's end, with the noticeable exception of the Brownlow.
Carey missed five games early in 1999 through injury, and spent much of the year in the forward line closer to goals. He averaged a career high 3.8 goals per game for the season, to go with 7 marks and 18 disposals. He helped North to a 15 and 2 record after his return from injury, in another premiership year for the Kangaroos. In round 8, Carey's first game back from injury, he kicked 7 goals against Hawthorn. Once again Carey's late season form was unparalleled, and in the nine games leading up to the Grand Final he averaged 8 marks, 19 disposals and 5.1 goals per game. He kicked 9 goals against Geelong in Round 16, followed it up the next week with a 10-goal, 12 mark and 24 disposal performance in a losing side against Essendon and in the wet in a qualifying final against Port Adelaide had 11 marks, 24 disposals and 6 goals in one of his greatest finals performances. Matched up against Carlton's Stephen Silvagni in the grand final, Carey played a slightly unfamiliar role. After marking and kicking North Melbourne's opening goal in the first quarter, he struggled to get on top of the Carlton champion and was moved to the midfield after half time. He then gathered the most disposals afield in the third quarter and was the catalyst in a dominant quarter for North, before returning to the forward line in the final term to take a spectacular one handed mark and kick the final goal of the game.
Final years with North Melbourne: 2000–2001
By season 2000, Carey had firmly established himself in the minds of most as the greatest player of the modern era and greatest centre half forward ever to play the game. Stints at centre half back and in the midfield that year had him notch consecutive 30-plus possession games and add yet another dimension to his game. In an incredible run of form over 6 games between rounds 4 and 10, Carey averaged 12 marks, 27 disposals and 3.5 goals per game, playing in a variety of positions. Carey's 7 goals and 25 disposals in round 10 against Fremantle, made him only the second player, after Leigh Matthews, to record 5 plus goals and 20 plus disposals in a game for the 30th time in his career. Games against Brisbane and Melbourne in rounds 14 and 17 saw him repeat this feat for the 31st and 32nd time; the most by any player apart from Matthews. Statistically, 2000 was shaping up as one of Carey's best years and, with just two games left of the Home and Away season, he held averages of 9 marks, 20 disposals and 3.2 goals per game. Towards the end of the season however, Carey began to suffer heavily from the debilitating groin condition Osteitis pubis and his mobility and form subsequently slumped going into the finals. For the season he finished with averages of 8 marks, 18 disposals and 3.0 goals. Carey was runner-up in the Leigh Matthews Trophy for the second year in a row and the fourth time in his career, this time behind Carlton's Anthony Koutoufides. It was his sixth top two finish in the League's MVP award in eight seasons.
Going into 2001, his 13th season at North Melbourne and 9th as captain, Carey struggled to maintain consistent form as he battled various injuries. The physical nature of his play throughout his career began to take its toll on Carey's body, particularly his back, neck and shoulders and he was not able to string more than 5 games together at any point during the season. After round 13, Carey had played just seven games and averaged only 11 disposals and 2.0 goals per game. A comparatively injury-free second half of the season saw him play seven of the next eight games and average an improved 14 disposals and 3.0 goals per game. He kicked six goals in round 14 against Melbourne, and the next week, against West Coast, Carey kicked five goals and had a season high 18 disposals in his final game in North Melbourne colours matched up against long time adversary Glen Jakovich. In round 21, after playing 14 games and kicking 35 goals that year, Wayne Carey played what would end up being his last game for the North Melbourne Football Club.
Extramarital affair and leaving North Melbourne: 2002
In March 2002 Carey had an extramarital affair with then-best-friend North Melbourne stalwart and Vice Captain Anthony Stevens's wife, Kelli. Carey and Stevens were attending a party at team mate Glenn Archer's house. Carey is quoted as saying Kelli followed him into the toilets, in front of a large crowd including her husband. An argument ensued between Carey and Stevens and both subsequently failed to attend football training. In the face of his team being united against him, as well as nationwide condemnation, Carey resigned in disgrace from North Melbourne. Carey's then manager Ricky Nixon famously stated that his client was on "suicide watch" during the aftermath. To avoid media attention Carey fled to Las Vegas. Carey's management later denied speculation that he had trained with the NFL's Dallas Cowboys.
Adelaide Crows: 2003–2004
For some time, it was unclear whether Carey would return to AFL football, but after the end of the 2002 season and a 12-month absence from football, Carey was signed by the Adelaide Crows where he played for the next two seasons.
Age and injury plagued Carey in 2003 and prevented him from dominating as he once did. He did manage to earn a top ten finish in the club best and fairest and kicked the second most goals of any Crow for the year, despite missing eight games. The 2003 season was most memorable for Carey's fiery encounters with his former North Melbourne team mates Glenn Archer and Anthony Stevens in round 6. On that day he kicked four goals, including one of the goals of the year. Carey's best performance for 2003 once again came in the finals, an elimination final against West Coast, when he had the most kicks and marks afield and became the 14th player to kick 700 career goals in AFL/VFL history.
Carey played the first 11 games in 2004, after which he had taken the most contested marks at Adelaide, was 11 goals clear in the Crows' goal kicking and was coming second in the club best and fairest. Carey's best performance in the Adelaide colours came a week before his 33rd birthday, in round 8 of the 2004 season. He took 9 marks, had 17 disposals and kicked 6 goals, out of a team total of 12, in a heavy loss to Essendon. Two weeks later, Carey's fourth goal against Hawthorn was one of the goals of the year. Taking a contested mark on the wing, Carey played on, having three bounces and shrugging off a tackle as he ran inside the forward 50. He gave off a handball to teammate Tyson Edwards, who in turn gave the ball back to Carey deep in the forward pocket. Carey's left foot snap for goal was a highlight in a big win for the Crows. In round 12, Carey left the field early in the second quarter and was later forced to retire with a disc-related neck injury, marking the end of a career that spanned 16 seasons and 272 games and included 727 goals.
State of Origin
Carey had a relatively short, but successful State of Origin career, and what he describes as significant in his career. Carey first played at the games highest level in 1990 for New South Wales, in a famous win over Victoria, in the sides only 3rd ever win against the State, Carey scored one goal. In 1992, playing for South Australia against Victoria, Carey played an outstanding game, dominating at centre half forward and kicking two goals. Including the match winner from 55 meters out in the dying moments. Carey had four opponents in the game, dominating them all, including Chris Langford, Danny Frawley and Garry Lyon. Carey has described this game as the moment he knew he belonged in the AFL. Saying if he could do well at State of Origin level, a higher level than the AFL, he knew he belonged at AFL level. Carey played for NSW/ACT the following year in the State of Origin Carnival scoring one goal. In the latter half of the 1990s clubs began putting pressure on players to pull out of games due to fear of injury and players began to stop participating.
Australian Football Hall of Fame
Carey was inducted into the AFL Hall of Fame in 2010. Although as he was eligible for induction in 2008, his off field troubles with drugs delayed his induction. His induction places Carey among the greatest players of all time.
Carey vs Jakovich
Throughout much of the 1990s Glen Jakovich was regarded as the premier centre half back in the AFL, and his battles with Carey were a talking point and a season highlight whenever the Eagles and Kangaroos met. Jakovich was one of the very few players who could match Carey for strength in a one-on-one contest and as a result he was often able to limit Carey's dominance. The rivalry gained significant media attention during 1995 when the pair met three times, with Carey being held to a combined total of just 7 marks, 35 disposals and 2 goals. Carey had dominated their encounters in 1993 and 1994, polling brownlow votes in two out of three games. Statistically, Jakovich held Carey to fewer disposals and goals than any other player could consistently manage. In all they played against each other 18 times, 16 while Carey was at North Melbourne and two when he was at Adelaide, first meeting in round 12 of 1992 and last in round 19 of 2003, with Jakovich being able to hold Carey to averages of 6 marks, 14 disposals and 2.1 goals per game. By comparison, in the 188 games Carey played against all other opponents in the same period, he averaged 7 marks, 18 disposals and 3.0 goals per game.
Legacy
Carey has been named by many media commentators as the greatest footballer to play the game. In 1999, Leigh Matthews, who was voted the greatest player of the 20th century, honoured Carey by saying that he was the best player he had ever seen. In 2008, Carey was named as Australian Football's greatest ever player as part of a list of the top 50 players of all time, published in the book The Australian Game of Football, and placed third in a similar list put together by a panel of football legends in The Age newspaper the same year. In 2011, the Herald Sun polled 21 past and present AFL greats, including Carey, to find the players' opinion as to the greatest player of the AFL era. Carey topped the list, polling 85 of a possible 100 votes, 26 votes ahead of second placed Gary Ablett, Sr..
"Sure Got Me" on Paul Kelly's 2004 double album Ways & Means recounts the love triangle involving Carey, Anthony Stevens, and Stevens' wife, Kelli. Hunters & Collectors frontman Mark Seymour also wrote a song inspired by the affair, but declined to release it after learning of Kelly's take on the events. Jock Cheese, bassist of the satirical Melbourne band TISM, released a tribute to Carey titled "Why Don't You Get A Bigger Set of Tits?" on his 2002 solo album Platter.
Statistics
Carey's career total of 727 goals ranks him equal 16th in VFL/AFL history, and his 671 goals for North Melbourne is the club record.
Post-playing career
In early 2005, Carey agreed to assist former coach and mentor Denis Pagan at the Carlton Football Club, acting voluntarily as a part-time skills coach. In 2006 he was an assistant coach at Collingwood Football Club. Carey also worked as a commentator and host of shows on the Fox Footy Channel throughout the 2006 season. In 2007 he participated in the Nine Network football analysis program Footy Classified, as well as special comments for radio station 3AW's football coverage. Subsequent to his dual arrests for domestic violence and assault he was sacked from both positions.
In 2012 Carey joined the Triple M Melbourne AFL commentary team and One HD's The Game Plan, however the latter was cancelled mid-season. In 2013, he joined The Marngrook Footy Show on National Indigenous Television as a regular pannelist. Later that year he joined the Seven Network to host a series of Talking Footy specials alongside Bruce McAvaney, Luke Darcy and Andrew Demetriou, to cover both the Essendon drugs scandal and the finals series. In 2014, Carey joined the Seven Network as a Friday night commentator and also a permanent panelist on Talking Footy.
Scandals, domestic violence, arrests and drug abuse
In 1997 Carey pleaded guilty to indecent assault after grabbing a passing woman's breast on a Melbourne city street after 12 hours of drinking with team mates. He allegedly told her "Why don't you get a bigger pair of tits". Carey later settled out of court when the woman filed a civil suit against him.
In 2000 Carey provided character evidence for Jason Moran, an infamous gangster who was subsequently murdered in Melbourne's gang war.
In 2004, while holidaying with his then wife, Carey was subject to arrest for a misdemeanour battery report while holidaying in Las Vegas. He was placed in custody for one night then released. The local District Attorney elected not to pursue the case.
Carey again became the subject of public comment in February 2006 when he announced he was leaving his pregnant wife Sally for model Kate Neilson. His daughter Ella was born six weeks later. In December 2006 Neilson allegedly reported Carey to Australian police for domestic violence, alleging he had punched her in the face. Neilson and Carey denied this report. Subsequently, US security guard Kyle Banks told the Nine Network's A Current Affair he saw Carey attacking Neilson while working at the exclusive W Hotel in New York City in October 2006. Banks said he saw Carey break a bottle of French champagne over his own head.
On 27 January 2008 Carey was arrested after reports of a disturbance at his Port Melbourne apartment. Police had to subdue Carey with capsicum spray and he was seen hand-cuffed after allegedly assaulting the officers.
Two days later, the Nine Network announced it would not renew the television contract of Carey after it was revealed that Carey had been arrested and charged with assaulting a police officer and Neilson in Miami, Florida on 27 October 2007, after he allegedly glassed Neilsen in the face and neck with a wine glass. Police Lieutenant Bill Schwartz, however reported:
When officers went and spoke to him, he immediately was belligerent, starting striking out at the officers, in fact, kicked one of the female officers in the face with his foot, elbowed another one in the side of the face. They had to wrestle him down and handcuff him. When he was in the police car, he used his head as a battering ram and tried to smash a hole between the front compartment of the police car and the prisoner compartment.
To stop Carey harming himself and damaging the car, the officers put him into a leather hobble restraint around his hands and legs. Carey faced up to fifteen years in jail and US$30,000 fines. Additionally Carey was fired from commentary jobs at 3AW and the Nine Network following the coverage of the two arrests. Ultimately Carey pleaded guilty to assaulting and resisting Miami police. In exchange for his guilty pleas, prosecutors agreed that Carey should only serve 50 hours of community service, attend alcohol and anger-management classes, serve two years probation, and pay US$500 to a Miami police charity. As a consequence of his criminal record in the United States, Carey was refused an entry visa in October 2009.
In March 2008 Carey publicly revealed he was, for a long period, an abuser of alcohol and cocaine. He was interviewed by Andrew Denton on Enough Rope, where he talked candidly about his life and recent controversies. 1.5 million viewers tuned into the highly publicised interview.
Carey was attempting to visit Barwon Prison in February 2012 to speak to indigenous inmates as part of a mentoring program, however he was found to have traces of cocaine on his clothing following a routine drug scan. Carey was informed that he could enter the prison if he submitted to a strip search. He declined and left the correctional facility.
References
Wayne Carey Wikipedia
(Text) CC BY-SA