Originally published mainly in small presses, since 1997 Pugmire has produced a steady stream of book collections. His stories have also been published in magazines and anthologies such as The Year's Best Horror Stories, Weird Tales, The Children of Cthulhu, The Book of Cthulhu, and many more. The Tangled Muse, a major retrospective of his work, was published in 2010.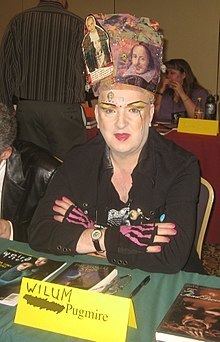 Born May 3, 1951, to a father active in the Church of Jesus Christ of Latter-day Saints and a Jewish mother, Pugmire grew up in Seattle. Pugmire served as a Mormon missionary in Omagh, Northern Ireland, where he corresponded with Robert Bloch and first began writing fiction. After returning to the United States in 1973, he discovered Arkham House and the fiction and Selected Letters of H. P. Lovecraft. In a press release for one of Pugmire's books, it is said that Pugmire's discovery of punk rock "saved his soul and gave him a new fictive voice."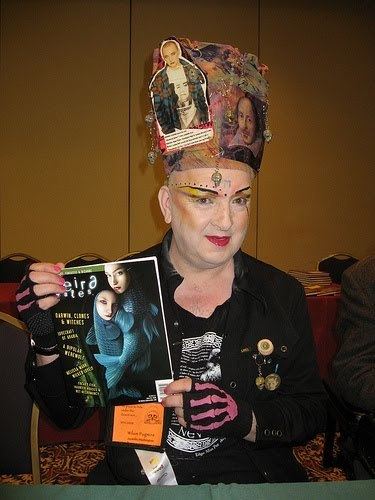 When a student at Franklin High School and into circa the 1970s he played vampire "Count Pugsly" at Jones' Fantastic Museum in Seattle. Issue #69 of Famous Monsters of Filmland was dedicated to Pugmire. The cover feature was Lon Chaney, Jr.'s vampire in London After Midnight, who inspired the look of Pugmire's Count Pugsly.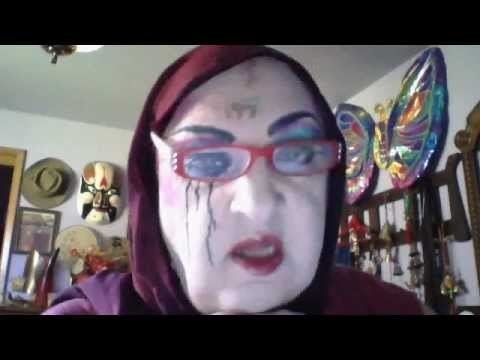 Pugmire is a self-proclaimed eccentric recluse, "the Queen of Eldritch Horror, " as well as a self-identified "punk rock queen and street transvestite". He has worked in various theatrical capacities, sometimes appearing at parties as characters including 'Count Pugsly', a vampire. In the documentary film, The AckerMonster Chronicles!, about Forrest J Ackerman, Pugmire describes how he was influenced by Ackerman's magazine, Famous Monsters of Filmland and shows the audience the issue in which his photo appears in 'Count Pugsly' makeup.
Pugmire states that after returning from his Mormon mission he came out as gay to the church, was given psychiatric treatment, and requested excommunication. Pugmire's lover of many years, Todd, died in his arms from a heroin overdose in March 1995. In the last decade he has reconnected with the church and was rebaptized, but only after telling the church's leadership that he would be a "totally queer Mormon, but celibate."
Pugmire also edited the magazine Tales of Lovecraftian Horror, which ran from 1988 to 1999.
Strongly influenced by the works of H. P. Lovecraft, many of Pugmire's stories directly reference "Lovecraftian" elements (such as Yog-Sothoth of the Cthulhu Mythos). Pugmire has been quoted as saying that his goal as a writer is "to dwell forevermore within Lovecraft's titan shadow."
Pugmire's major original contribution to the Cthulhu Mythos is the Sesqua Valley, a fictional location in the Pacific Northwest of the United States and his equivalent of the Arkham/Dunwich/Innsmouth nexus which features in many of Lovecraft's New England stories.
Originally published mainly in magazines and anthologies from small press imprints such as Necropolitan Press, Mythos Books, Delirium Books, and Hippocampus Press, since 1997 Pugmire has produced a steady stream of book collections. The Tangled Muse, a major 456-page retrospective of his work, was published in October 2010 by Centipede Press.
Pugmire has been called "the Oscar Wilde of our time ... the most revered and beloved figure in the Lovecraftian movement today."
Pugmire's writing style has been described as "richly evocative" with a "distinct homoerotic theme or undercurrent that is neither gratuitous nor inconsistent but rather genuine and often central to characterization and storytelling. Author Laird Barron has described him as "an important figure in the fields of modern horror and the weird". Editor and scholar Scott Connors has written that "Stylistically (Pugmire) owes as much to Oscar Wilde and Henry James as to HPL and Poe, creating a truly unholy fusion that defies academic boundaries between 'mainstream' and 'genre' fiction."
Writing in his scholarly "The Rise and Fall of the Cthulhu Mythos", S. T. Joshi notes that "Pugmire's volumes... contain some of the richest veins of neo-Lovecraftian horror seen in recent years." However, Joshi has been more critical of Pugmire's nonfiction writing, proclaiming "no one takes him seriously as a critic."